Vietnam in a nutshell
Vietnam has been a French colony for years and formed part of "Indochina", together with Cambodia and Laos. After the bloody struggle for independence in the period, two states actually came into being: North Vietnam, under communist influence, and South Vietnam, more under the influence of the US. There was increasing tension between the two states, resulting in war. America, which was afraid of a further advance of communism in Southeast Asia, started to actively interfere in the war by supporting South Vietnam militarily.
This "American war" lasted for years, with enormous consequences. Because of the huge scale of carpet bombing used by the Americans, including agent orange, a carcinogenic agricultural poison, and later napalm, there have been many casualties.
Even now the consequences are still noticeable in Vietnam today, as more birth defects and cancer are diagnosed than average. Peace and reunification of North and South Vietnam followed. The Socialist Republic of Vietnam was founded in July 1976. Hanoi became the capital. From then on, the city of Saigon in the south was called Ho Chi Minh City.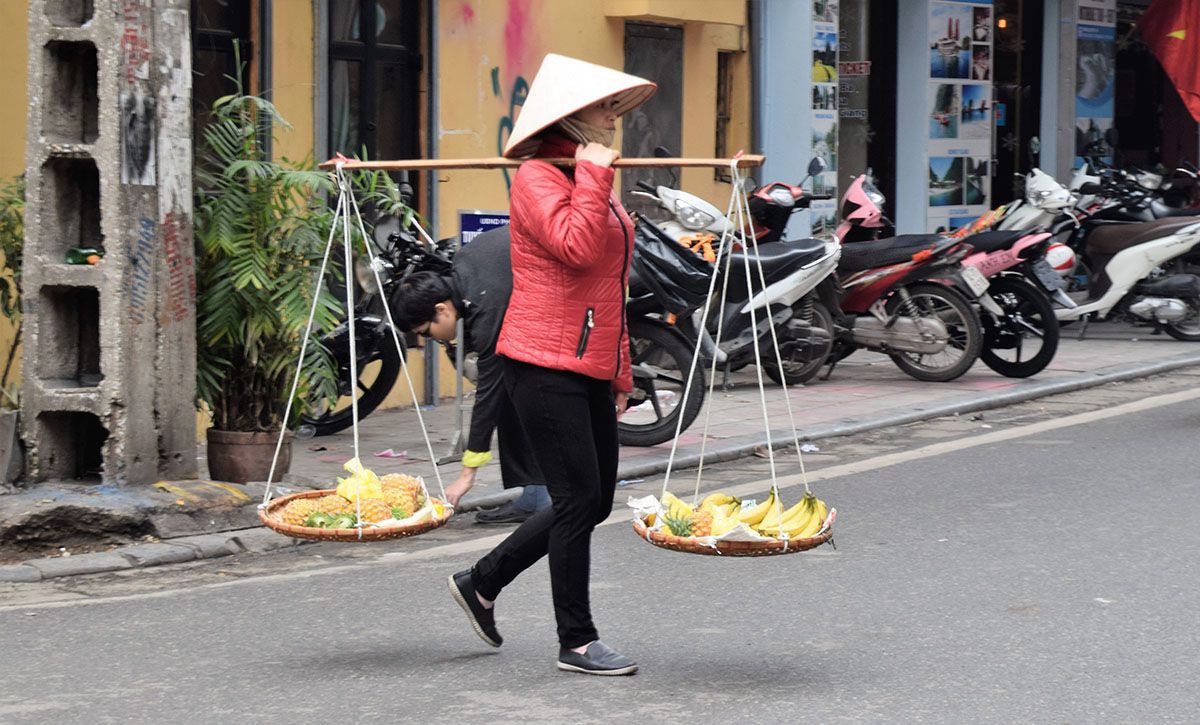 A visit to Vietnam is not complete without visiting some monuments that recall the "American War" In Hanoi, it is an absolute must to visit "Hanoi Hilton", this is the Hoa Lo Prison. American prisoners of war were imprisoned here. You can also visit the Demilitarised Zone (DMZ) near Hue. This is a strip of several kilometres around the 17th parallel and formed the divide between North and South Vietnam.
Finally, a visit to the museum of the Cu Chi tunnels near Ho Chi Minh City is very worthwhile. The Vietcong fighters had made tunnels and villages throughout the country to shelter the Americans and carry out guerrilla activities at night. In the tunnels, there were entire hospitals, weapons factories and sewing workshops, among other things. The Cu Chi tunnels are partly open to visitors.
Today's Vietnam is a highly developed tourist country. It also attracts many tourists, including many Chinese and Russians. Despite the crowds in some places, Vietnam remains a great country to visit with many highlights.
Accommodation in Vietnam
The hotel prices in the high season are significantly higher than in other periods. Count on a middle-class hotel with private bathroom and good breakfast at a price between €40 and €70. Budget hotels are much cheaper, but often have a shared bathroom and a simple breakfast (instant coffee, toast, jam). However, they are often nice and the room is clean. The lodges in the Amazon rainforest are not cheap.
But keep in mind that all meals and excursions during the days you stay there are included. You only pay for the drinks separately. It is an experience you should not miss, because of the overwhelming nature and the sound of all the animals in the night. There are lodges in all price categories, ranging from middle class to very luxurious.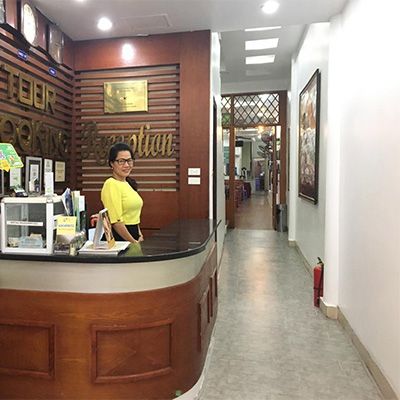 This hotel is located in the middle of the busy old quarter and yet has very quiet, large rooms with an excellent bathroom. The staff is very service-minded. You can also book various tours through the hotel. We arranged the 3-day cruise to Halong Bay through the hotel and this was perfect. They can also book train and bus tickets for you. Through the hotel, we also arranged the train to Sapa. This was also nicely taken care of.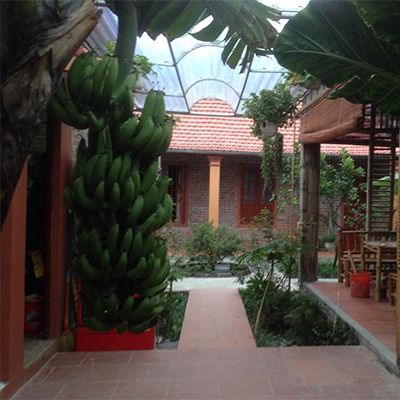 A small and cosy hostel with lots of bamboo just outside the centre of Tam Coc. You have a beautiful view of the mountains. The rooms are fabulous and have very good beds. The family is very nice. Only the daughter speaks good English. She can also help you with booking tickets and excursions. There are scooters or bicycles for rent to explore the beautiful surroundings.
A beautiful hotel with excellent facilities, located about 10 minutes' walk from the old town. The rooms are spacious and have a nice bathroom. The extensive breakfast buffet is perfect. The hotel offers free bicycles.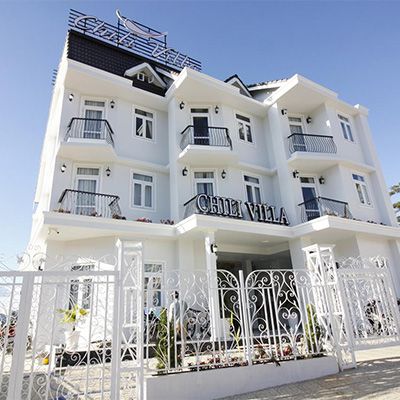 This hotel was only just opened when we were there. Everything was brand new. The room is not that big, but good enough. The beds were lovely. One nice thing is that the hotel, on the first evening, organises a free welcome dinner for the new guests. A nice way to get to know fellow travellers. There is an indoor pool and pool table. The owner also organises Easy Rider motorcycle tours. We did that and it was super.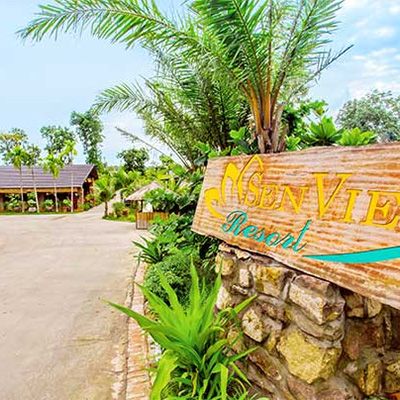 This is a small resort consisting of semi-detached bungalows with the notable "bathroom" in the backyard of your cottage. Fully shielded, so privacy is guaranteed. There is a swimming pool at the resort and a restaurant. Breakfast is fine. The staff can arrange many things for you. The disadvantage is that the resort is located quite far from the centre of Duong Dong. With the bike you get at the resort, you're there in no time.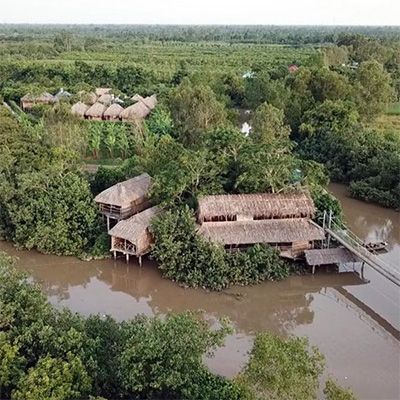 Instead of Tam Coc, the plan was actually to book a bungalow with Nguyen Shack, because friends of ours were very enthusiastic about that. The bungalows are beautifully situated on the river with a phenomenal view of the surroundings. The rooms are perfect and you can lie in your hammock. Unfortunately, it was fully booked during our period.
Travel advice for Vietnam
Before departure, check the current Travel Advice for Vietnam. Due to the "American War", unexploded mines and ammunition can still be found in former war zones. The risk is greatest in central Vietnam and along the border with Laos, because there was the famous Ho-Chi-Minh route. Access to the border areas between Vietnam and its neighbours is not always possible. The situation and access to these areas may change unexpectedly.
In large cities, do not accept the offer of a stranger to have a drink. There are cases where people are known to have been drugged and then robbed. The purse thieves who snatch bags from people and quickly disappear on their scooter in the busy traffic are notorious.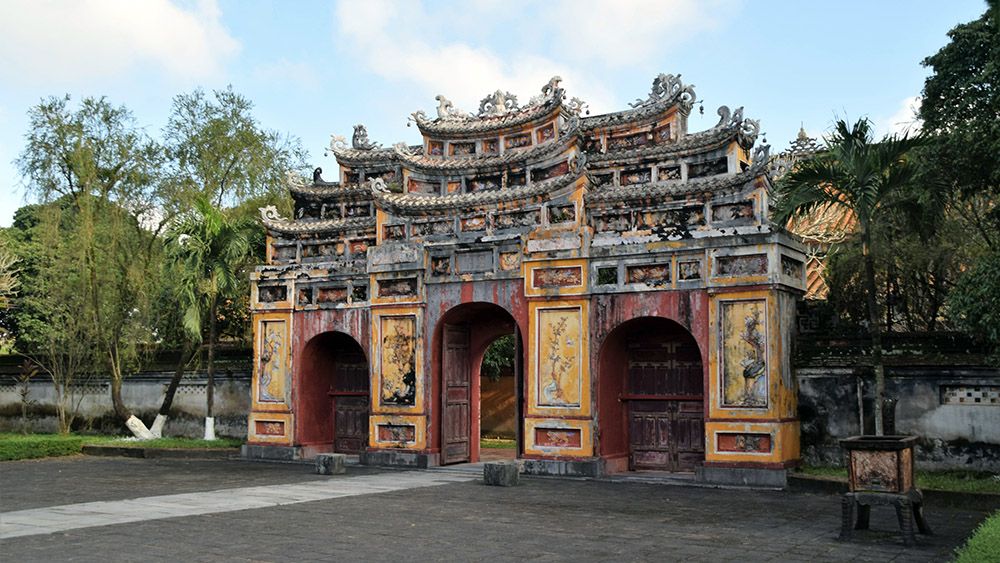 Healthcare in Vietnam
You must be able to prove that you have been vaccinated against yellow fever if you have been in an area with yellow fever shortly before your visit to Vietnam. Recommended vaccinations are also DTP and Hepatitis A. You should submit your itinerary to a medical expert in advance to see if other vaccinations are desirable. The same applies to protection against malaria. Check this website for more information.
The medical facilities in the big cities are good. Outside the city, the quality of the medical facilities seriously deteriorates, especially if you go to remote areas. That's why you should bring a good travel pharmacy kit with plenty of medicine. In rural areas, these drugs are scarce, or products have often expired.
Many accidents happen in traffic. So be careful if you're on a scooter or bike and you're moving around on the road. All types of traffic rush along the same road and road users shoot up a junction without looking. You really have to be very alert to avoid accidents.
Never drink water from the tap. In the big cities, the water is very chlorine-rich, but it is still better to use bottled water. Ice cubes are made from bottled water in most large cities. Check this in advance. If in doubt, order your drink without ice.
Air pollution is common in large cities, especially due to the thousands of mopeds and scooters. In case of asthma and breathing difficulties, it is wise to seek prior advice from your doctor. Wearing a mouth cap, just like almost all Vietnamese people, can help to prevent irritated airways.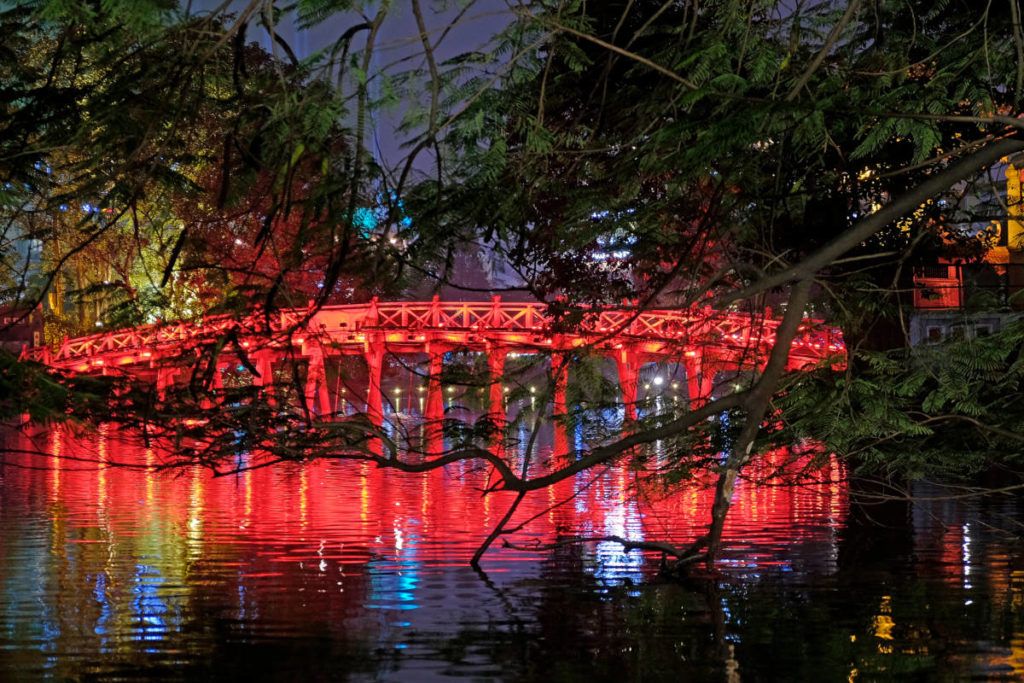 Best time to visit Vietnam
Roughly speaking, Vietnam can be divided into three zones: North Vietnam, Central Vietnam and South Vietnam. Because of the length and the different climate zones, there are differences in the weather. The purpose of your activities (active, beach or culture, for example) also partly determines the best travel period.
The high season is in July and August. In the most important tourist places, prices can then rise sharply. The chance of a warm, wet time is high. The mid-season falls in the months December to March. In the north it can be fresh, even cold in the far north. We did some trekking in Sapa in January and had rain and fog during the day, at night it was even freezing.
When we returned to Hanoi, we heard that it was snowing heavily in Sapa. In the days around the Tet festival (Vietnamese New Year, usually late January or early February) the whole country is on holiday. Prices then rise and you definitely have to book transport and accommodation in advance.
The months April to June are the least busy. Generally, the weather is good, but the humidity increases strongly. These are months to visit the whole country, often with good weather. September is also a good time to travel throughout Vietnam. However, cyclones can occur in autumn.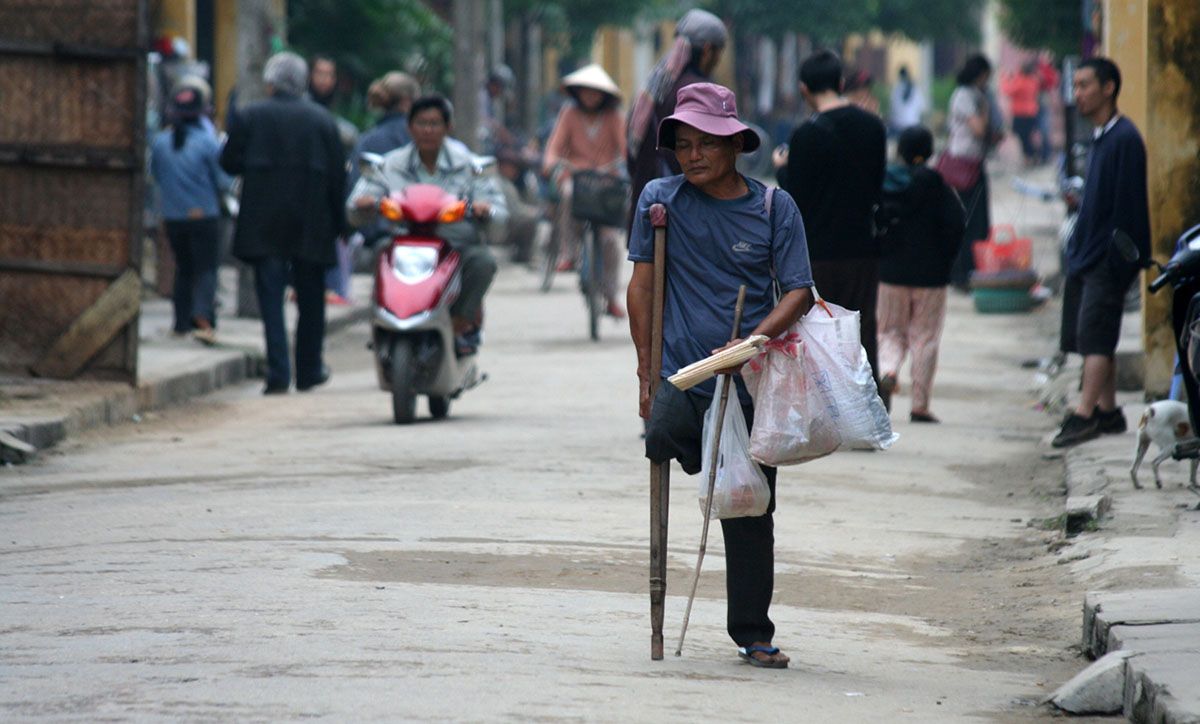 Visa for Vietnam
Most visitors require a valid visa to visit Vietnam and are eligible to apply for a visa on arrival if they enter Vietnam by air at one of the International airports. In addition you need a pre-approved visa letter. A good option might be to just hand over the visa application to a visa agency like iVisa. Although this will cost you slightly more, it will save you the hassle!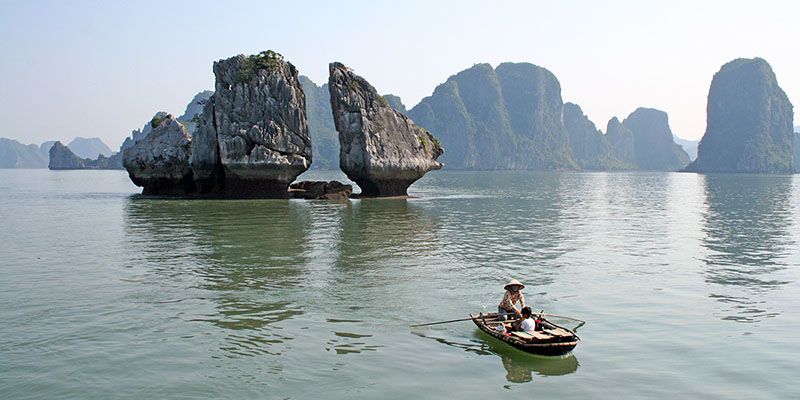 Eating and drinking
Vietnam is a true paradise for delicious food. If you have the time, it is definitely recommended to do a cooking workshop. In the major tourist places, this is possible everywhere and it is a way to get to know the local cuisine well.
It is also fun to participate in a "street-food tour". Eating on the street in Hanoi is highly recommended. You sit on the much too small plastic chair and have great specialties served on the low table. But if you want to go to a 'real' restaurant, there are also plenty of possibilities. There is something for every taste and budget. It is almost impossible to mention all the delicious specialties here because of the quantity. That's why it's all about trying, tasting and enjoying.
A special experience is to enjoy the traditional Vietnamese coffee specialties. What we really liked was the "egg coffee" or in Vietnamese "cà phê trúng". There are some coffees around Lake Hoan Kiem, well hidden behind and above the shops. The hotel can probably advise you where you can find the typical coffees that serve the best cà phê trúng.
If you want to drink alcohol, there is good Vietnamese beer to get. You can also drink delicious cocktails. A special experience is to do this on a beautiful roof terrace with an amazing view over the surroundings.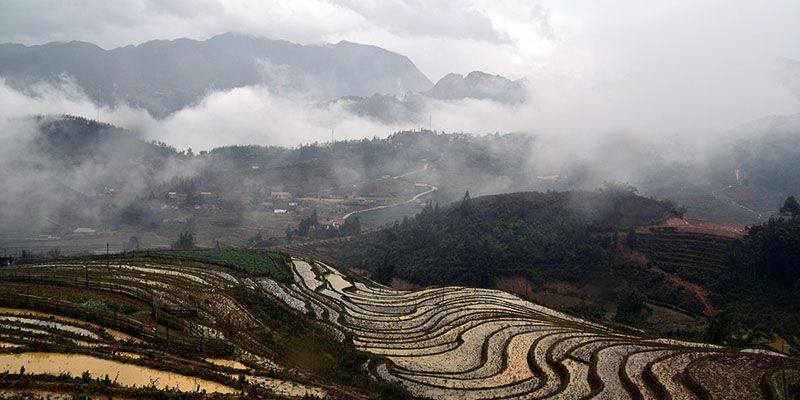 Getting around in Vietnam
Of all the countries in Southeast Asia, Vietnam is probably the easiest place to plan and organise your trips. The road network on the biggest routes is also reasonably good.
A good website to book transportation in Vietnam is Baolau. You can book all kinds of air, train and bus tickets here. You can also compare the different options in terms of cost and duration.
Vietnam has a good network of domestic flights. If you book well in advance, you can travel comfortably for little money. Unfortunately, flights can sometimes be cancelled unexpectedly. Therefore, be careful with a tight time schedule after a domestic flight and preferably build in a large margin.
The night trains are reasonably comfortable, provided you book a soft sleeper with air conditioning. Book a compartment for 2 or a maximum of 4 people for most comfort.
There is a possibility to book a so-called "Open Bus Ticket" from for example Hanoi to Ho Chi Minh City. This is especially intended for budget backpackers. In itself, it is a fun experience to have, but the buses are often very full and there is a Vietnamese person right next to you standing in the aisle. It is better to book a Deluxe Bus. You are assured of a reserved seat and there is enough space. Always bring warm clothing in the bus, because the air conditioning is running at full speed. Also, earplugs and eye masks are ideal to shut yourself off from the noisy movies and videos that are played in the bus.
We do not recommend motorcycling in Vietnam. It is quite hectic in traffic. It is also necessary to have a Vietnamese motorcycle license. A Dutch or even international driving licence issued in the Netherlands is not enough. Although there is not much control, you are never insured if something happens. In addition, on some routes there are 24-hour police traps.
If you are caught there, you have to pay a huge amount to the corrupt police. If you want to explore the country on a motorcycle, book a tour with Easy Rider. There are many agencies that operate under that name, so be well informed about the route, the drivers and the equipment (helmet, protective clothing). You can read more about this in this blog: Motor tour with Easy Rider.
In the countryside, it is great to explore the area by bike. You can often rent bikes at your hotel or they are even free. They usually also have a simple roadmap for you to map out a trip.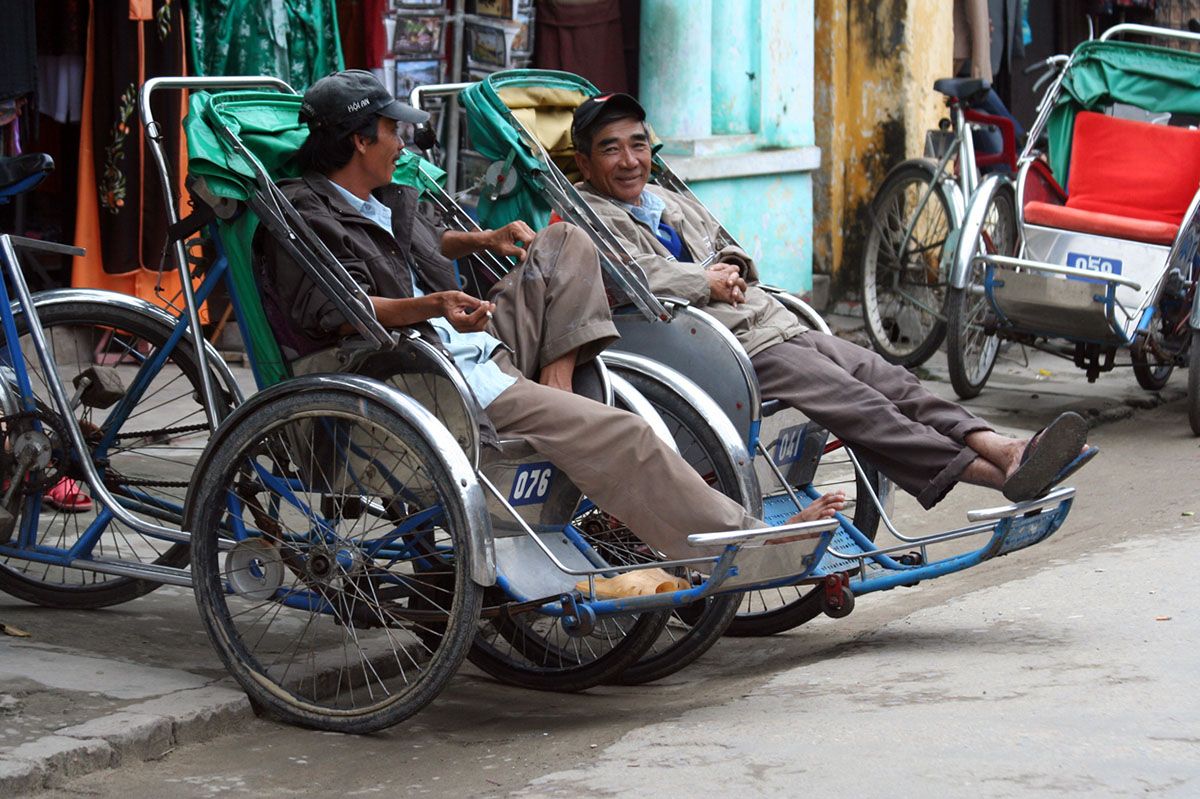 Electricity
The mains voltage in Vietnam is 220 volts/50 Hz. You need a power plug adapter when living in the UK or Ireland.​
Money matters
You pay with Dong (abbreviated as "d"). Paying with Dollars is also possible in the tourist areas, but you will receive the change in Dong. ATMs are actually found everywhere in Vietnam to a large extent. There is often a maximum amount you can withdraw, usually 2 million Dong (about €70 to €75). Credit cards are accepted in modern and larger hotels and restaurants, but there is a surcharge of about 3%. This is also the case if you withdraw money with a credit card.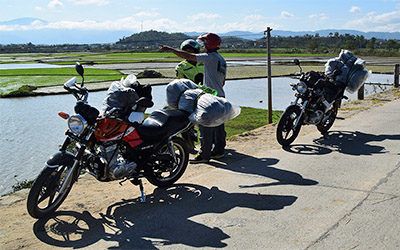 In Vietnam, you can go on beautiful motorcycle trips with Easy Rider. Following a guide, you will go through less touristy regions. Your luggage goes on the back of the bike. You can sit back and relax during the trip. However, there are many providers...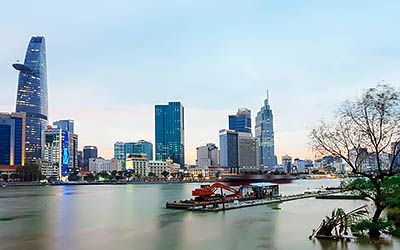 The southern Vietnamese city of Ho Chi Minh is still known to many by its old name of Saigon. The city bore this name until the end of the Vietnam War. Since then, apart from the name, so much has changed. For instance, Ho Chi Minh has...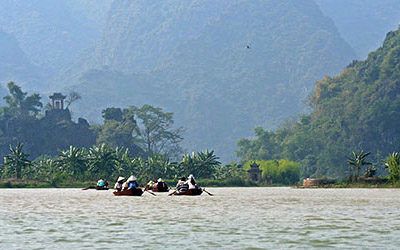 From Hanoi we also went on a very nice, beautiful and interesting day trip to the Chua Trong, better known as the 'Perfume Pagoda'. The Chua Trong is a complex of pagodas and Buddhist temples in a protected nature reserve. This is located about 60...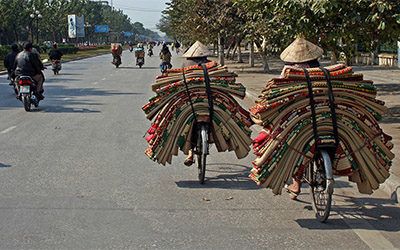 When you arrive in Hanoi from the Netherlands, you will be amazed by the very busy and chaotic traffic during the first hours. Thousands of scooters, mopeds and motorcycles struggle through narrow streets, often with their mobile phones in their hands....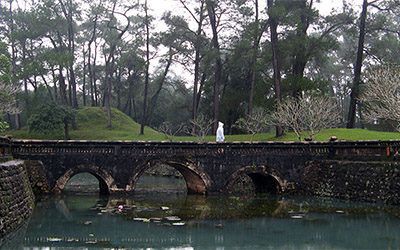 The city of Hue is divided in two by the Perfume River. East of the river you will find the Citadel of Hue, a former fortress. In the beginning of the 1800s, a 10 km-long wall, 2 metres' thick, was built, surrounded by a moat. Within the citadel is the "Imperial Enclosure". This was once the fortress of the former Vietnamese Kings. To visit the citadel, a ticket is required. If you also want to see the royal tombs outside the city, which we certainly recommend, you should buy a combination ticket.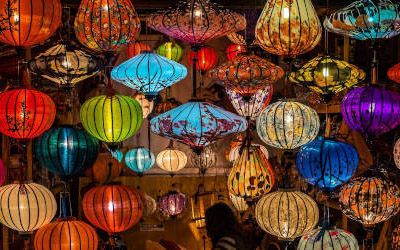 The old town of Hoi An is a lovely city, situated on the Thu Bon river that flows a little further east into the South China Sea. The old city is a UNESCO World Heritage site since 1999. That is all the truer with its special atmosphere, beautiful...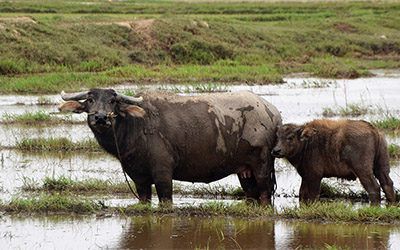 Het oude centrum van Hoi An is mooi, maar het achterland is ook de moeite waard. Verken het op de fiets of per scooter en laat je verrassen door de prachtige omgeving en de bevolking.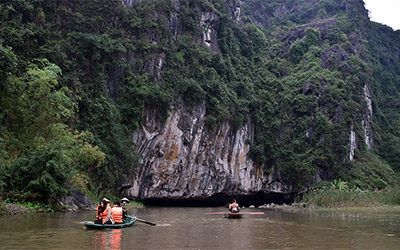 Ninh Binh is het "Halong Bay" op het vasteland in Vietnam. Mooie karstgebergtes liggen in een prachtige omgeving. Met een boottocht in Tom Coc en Trang An zie je het landschap op zijn best. Je vaart door vele grotten en hebt een mooi uitzicht op diverse tempels.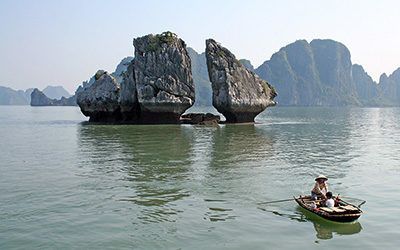 Halong Bay is een prachtige baai in de Golf van Tonkin, met rimpelloos blauwgroen water. Uit de zee doemen honderden eilandjes op met karstgebergte. Sommige zijn groot, sommige heel klein. Je ziet dat er veel grotten zijn in de grotere eilanden. Met een meerdaagse cruise kun je het gebied het beste zien.