Laos in a nutshell
Laos, officially the "Lao People's Democratic Republic", is a country that is not so well known or visited in Southeast Asia. We think that should not be the case! No, you will not find large temple cities from antiquity or very special cultural sights, but Laos has a lot of beauty to show off: first of all, the relaxed way of life of its inhabitants. Furthermore, its nature is beautiful and, in contrast to Vietnam and Thailand for example, is not yet flooded by tourists. In about four weeks we enjoyed the tranquillity, the landscape and the people and we would not like to have missed this for anything.
Laos was a French colony for many years. You can still see the influence of this in several cities. After independence in 1954, Laos suffered for years in the Vietnam War, although it was officially not involved. The Americans dropped millions of cluster bombs in the north and northeast of the country to bomb supply lines to Vietnam. Laos is the most bombed country in the world: more bombs fell here than on all the countries combined during the entire Second World War! Every year, people still die by accidentally stepping on an unexploded bomb.
Just over half of the Laotian population consists of the original Lao. In addition, there are about 50 ethnic minorities. These "tribes" live mainly in the northeast of the country.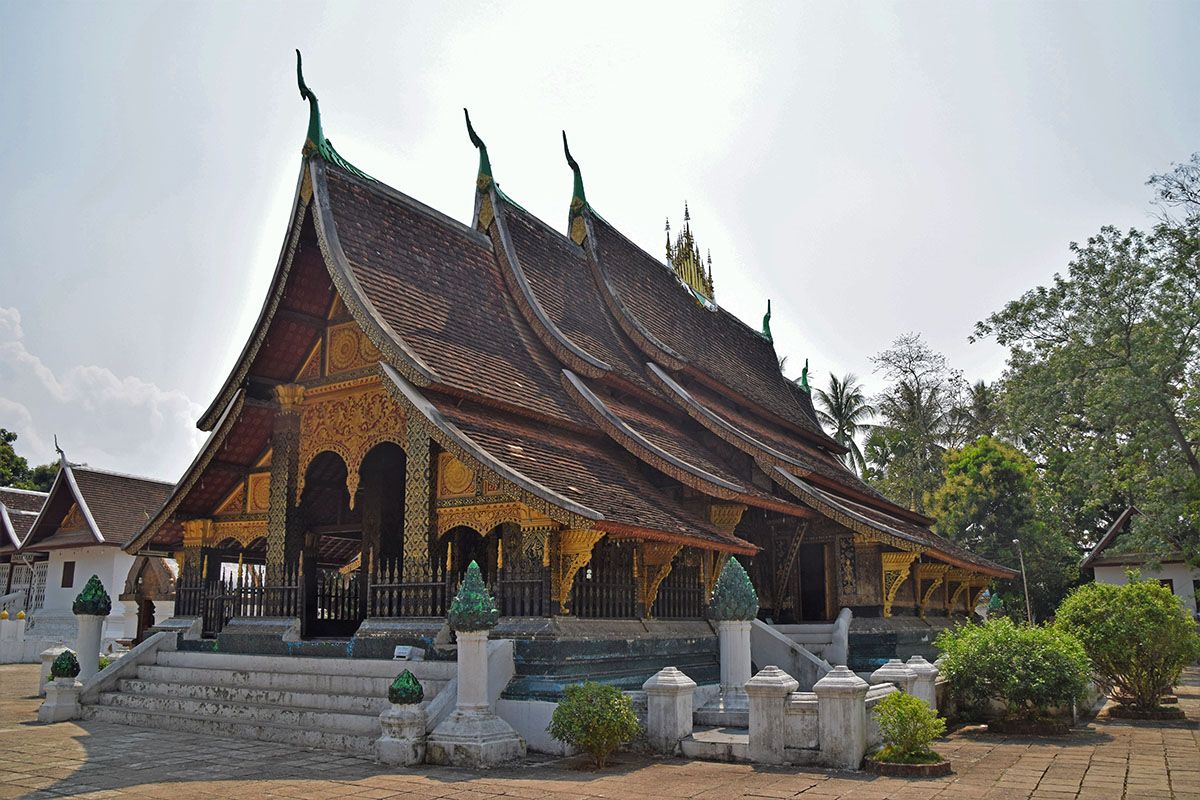 Accommodation
In Laos you will find good accommodation for pretty cheap prices in all major tourist cities. These include hostels, guesthouses or hotels. We did not spend more than €25 per day for a double room including breakfast. Please note that mattresses are often harder than we are used to in Western Europe. We just had to get used to it. Laotians often sleep on the ground on just a bamboo mat and find that hotels should use hard mattresses.
If the hotel has a swimming pool, the loungers have no cushions. Almost all middle-class hotels offer rooms with air conditioning, which is recommended, and a private bathroom. However, you should consider that the bathrooms are small and the shower is often very awkwardly placed between the sink and toilet, without curtain or screen. After a shower, the whole bathroom is completely soaked. However, that is the case almost everywhere in Southeast Asia.
Below you will find some of our tips but if you want to have a truly unforgettable experience by sleeping in a tree house in the jungle, about 40 to 50 metres above the ground, then you really should book the Gibbon Experience! We really recommend this: you hear lots of animal sounds at night, the rain shower overlooking the jungle is perfect and you eat and drink well, thanks to good care from the guides.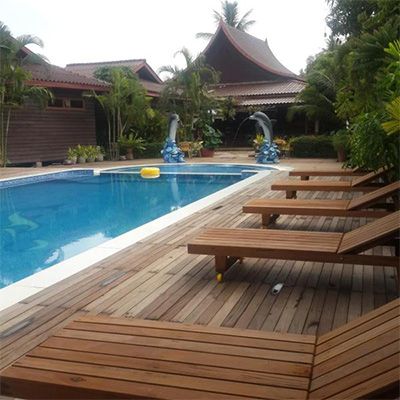 A beautiful hotel with fine rooms and a swimming pool, just off the old French bridge. The view from the terrace at the restaurant is great, especially at sunset. You can also enjoy good food at the restaurant. The breakfast buffet is excellent. The hotel offers bike rental. This hotel was a bit more expensive; we paid a little more than average for it but found it to be more than worth the money.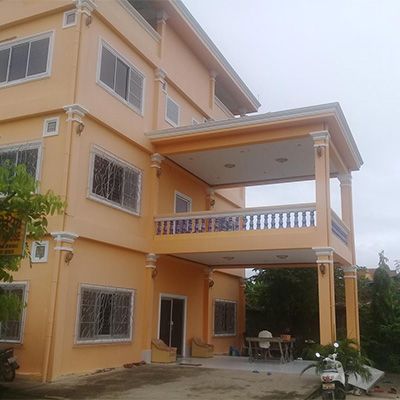 A simple but clean and dirt-cheap guesthouse with air conditioning in the centre of this area. A very wide bed (quite something else in Asia!) in a large room with a good bathroom. The friendly owner provides a delicious breakfast and you can get free coffee/tea/water and bananas all day.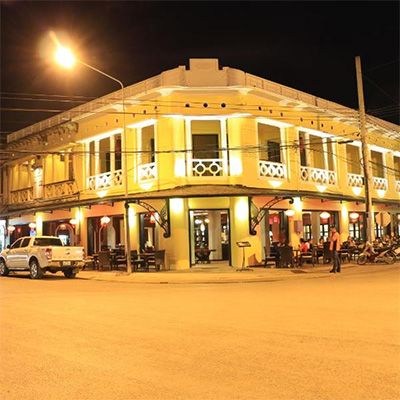 This hotel has a colonial atmosphere with lots of wood. The rooms are not very large, but nice with good beds. Fortunately, there is a separate toilet and shower here. There is a cosy terrace where you can have breakfast and dinner. The hotel is home to a well-known Laotian tour operator, where you can book treks and other activities. The only downside is that the staff is a bit distant and less involved than we had experienced elsewhere.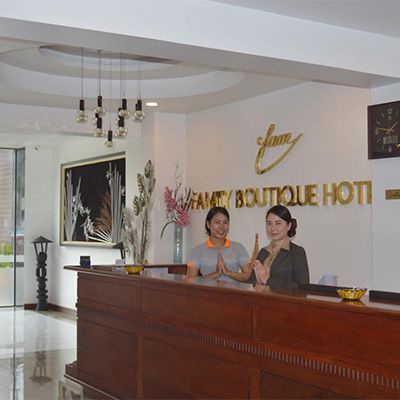 This is a modern hotel in the heart of the city centre. We visited almost all the tourist attractions on foot from the hotel. A beautiful room with a very elegant bathroom. The breakfast buffet is fantastic and there is plenty of choice. The friendly staff will help you plan your visits to the city and further trips in the country. One of our top destinations during our trip through Southeast Asia.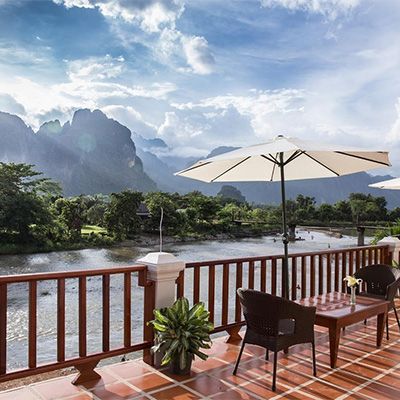 Neat hotel with a very mixed group of guests as there are also dormitories. Great room with good beds and a lovely shower. The hostel is within walking distance of all the city's attractions. During our stay, there was a Belgian who really wanted to organise and book everything for us.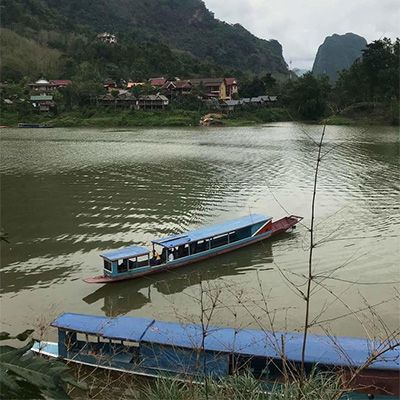 A simple bungalow on the river near Nong Khiaw. In this small village along the river Nam Ou are numerous bungalows. Just have a look, see what pops out and rent a house including a hammock. The view is phenomenal, especially at sunset. The accommodation is basic, but clean and has its own bathroom. You pay about €10 to €15 per night. A very nice hostess who could also cook deliciously. We were there every evening for dinner, there was nowhere better!
Travel advice for Laos
The current travel advice for Laos gives up-to-date information about risks. Especially in the months May to October a lot of damage can occur due to the rainy season. In July 2018, for example, an important dam in the southeast of the country broke, causing many people to drown and many more to be left homeless. We strongly advise against crossing the country from Laos to Myanmar. In the border region with Myanmar and Thailand, earthquakes can often occur. In addition, there is still a danger of "Unexploded Ordnance", unexploded bombs from the Vietnam War.
There are often warning signs to prevent you from deviating from the indicated route in the forest. Heed them! Although Vang Vieng is mainly a youth destination because of the popular "water tubing" (letting yourself drift on the strong flowing river in a rubber ring, while bars are visited and a great deal of alcohol is consumed. This is why serious accidents happen regularly). Perhaps because there are many young people coming, there is a warning for providers of food about narcotics in and around Vang Vieng.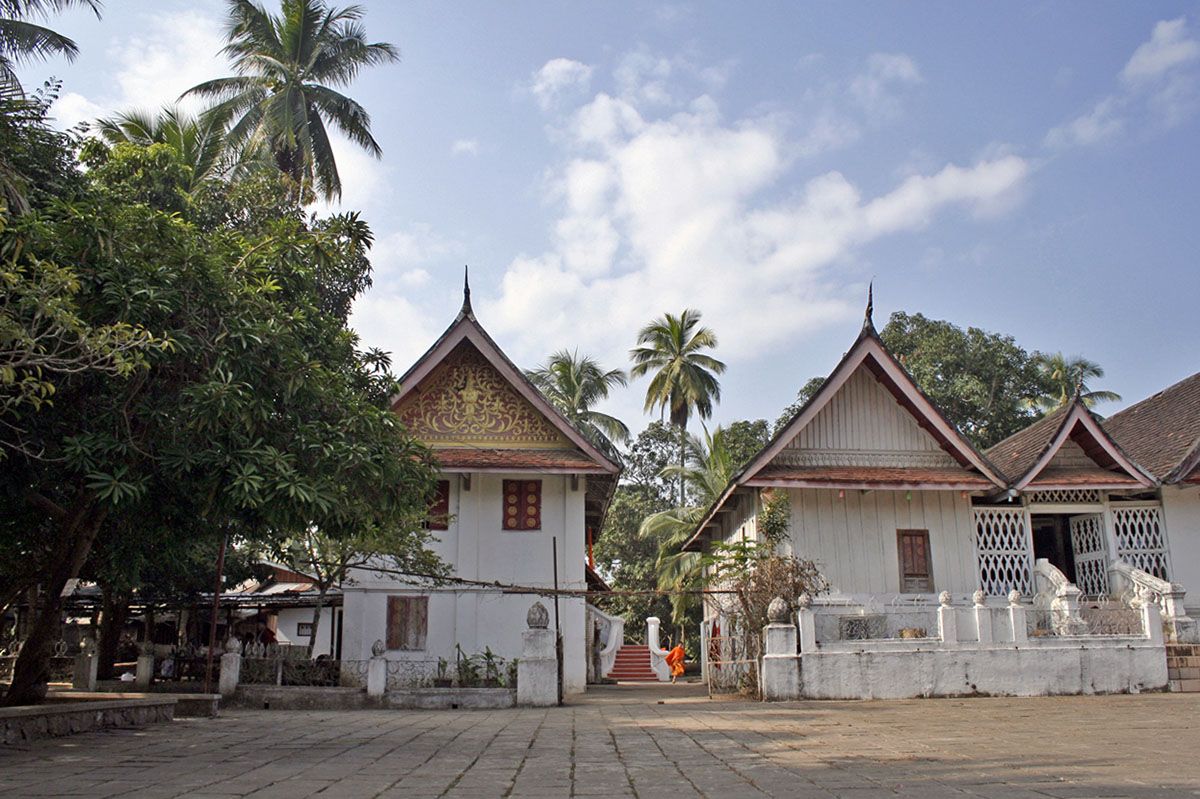 Healthcare in Laos
Vaccinations are necessary for Laos. See the advice of your Area Health Authority for travel vaccinations. Malaria is also present, so it is good to get some information on what medicines prevent this. In any case, bring anti-mosquito spray with a high DEET factor to reduce the risk of mosquito bites. Because of the many insects, especially in the woods, it is wise to cover your body well with clothing.
Bilharzia occurs in the Mekong Delta. This is a worm disease transmitted by the larvae of freshwater snails You can be infected in less flowing or stagnant water. Therefore, you should not swim or paddle in that kind of water. You can even catch an infection by washing your hands.
The temperature in Laos is much higher than we are used to. So, drink a lot of bottled water (absolutely no tap water!) and allow your body a few days to acclimatise. In Laos the meat is always out in the sun for hours to "slow cook". For Laotians this is very common, they see that it is fresh meat delivered that morning. For us it can be a big risk for stomach and intestinal problems. So always make sure that the food is heated well and for a long time.
Make sure you have a hat to prevent sunstroke. The medical facilities are very poor in Laos. So also make sure you have a good travel pharmacy kit. If something bad does happen, check whether repatriation to the Netherlands can be organised. It is important to check whether your health insurance covers these costs. Make sure you have good travel insurance.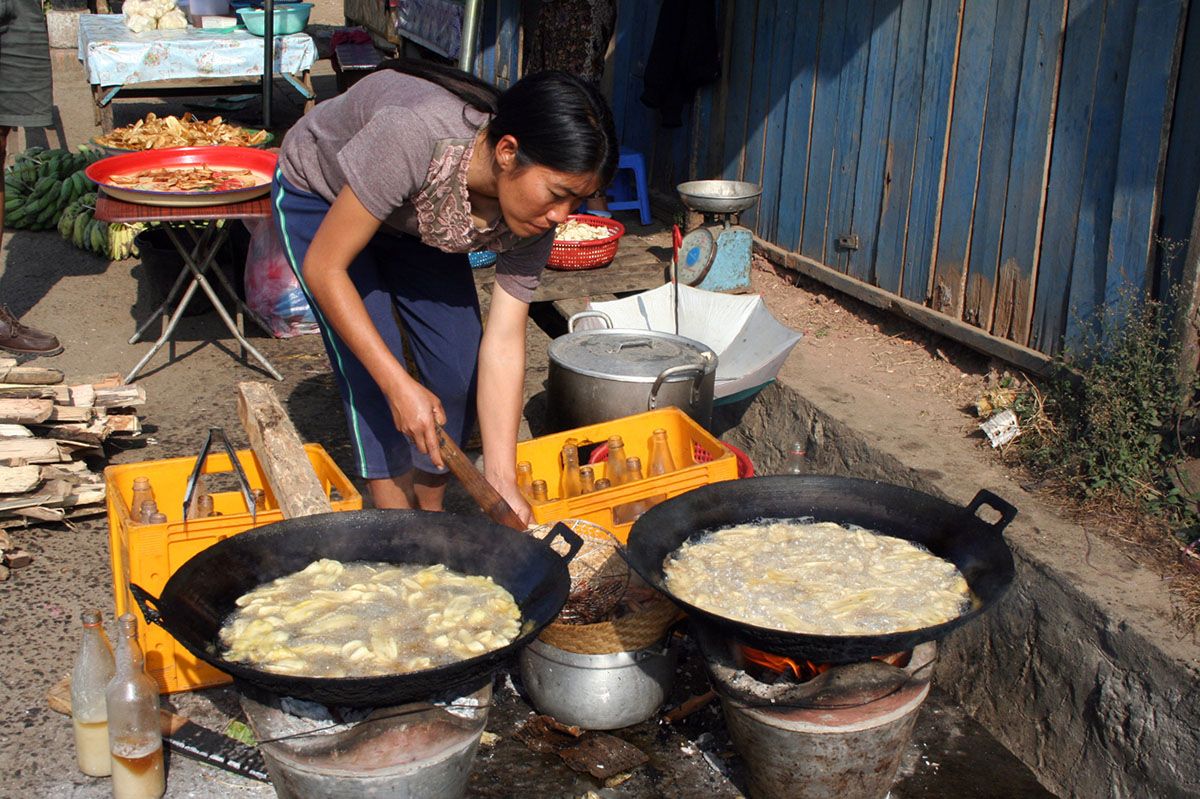 Best time to visit Laos
The best time to visit Laos is from November to February. In that period, there is little or no rain and the temperatures are not too high. In the months of March and April the temperature gradually rises to even 40 degrees and the chance of occasional heavy rainfall also increases. In May the rainy season starts, which lasts until October. We were in Laos in March and did not have a drop of rain during that time. On some days it was quite hot. Especially during a climb in Nong Khiaw or a trekking in the Hin Bun National Park we were certainly sweating plenty.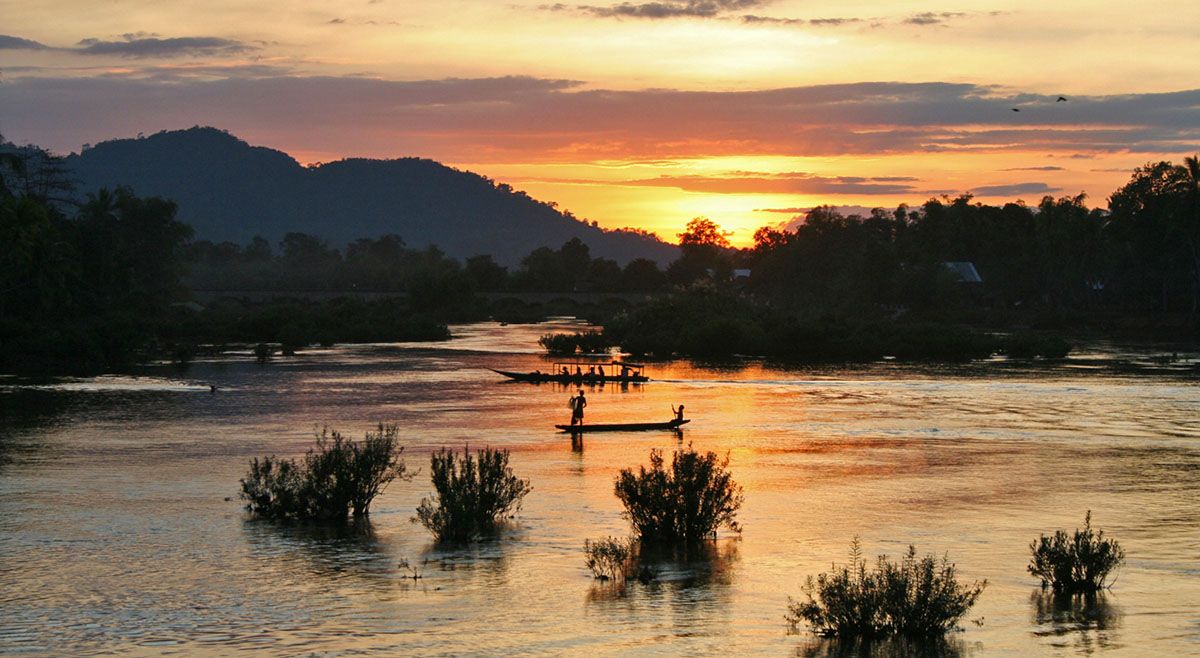 Visa for Laos
A visa is required for Laos. To obtain a visa, your passport must be valid for six months after departure. The easiest way is to get a Visa on Arrival. This is possible at the airports of Laos, but also at almost all border posts by land. With a payment of $50, having a digital photo taken by customs, taking fingerprints and filling in the necessary documents, you have a visa that is valid for 30 days. That is enough to see all the highlights of Laos at a nice pace.
A better option, however, might be to just hand over the visa application to a visa agency like iVisa. Although this will cost you slightly more, it will save you the hassle!
Food and drinks
The Laotian cuisine is slightly less refined than the Thai. People use less herbs, so it is also less spicy. They eat a lot of noodles or rice, especially sticky rice. No other country in the world eats as much sticky rice as Laos. These "sticky rice" balls are dipped in everything and eaten by hand. The national dish is "laap" (or larb or laab). It is a salad based on finely chopped and marinated meat (beef, pork or chicken) or fish with all kinds of herbs. This gives it a varied taste, from sweet, fresh to sour.
Laap is also served with raw meat. Never take that because it is guaranteed to cause stomach and intestinal problems. You can also see a lot on the menu that says "tam mak hoong". This is a spicy salad with papaya. Laotians are less likely to eat outdoors than people in neighbouring countries. So, you mainly meet travellers in the restaurants and there are also fewer restaurants. The price level is therefore slightly higher than in other countries in Southeast Asia but still very affordable.
The drink for Laotians is Lao Bear. a fine-tasting, cheap beer, often sold in large bottles. Wine is often made by the people themselves and has a very peculiar taste. The alcohol content is also extremely high. It did not taste very genuine to us. They also make Lao Lao, a strong drink based on rice. This "happy water" can be found everywhere. The alcohol content of this is also very high.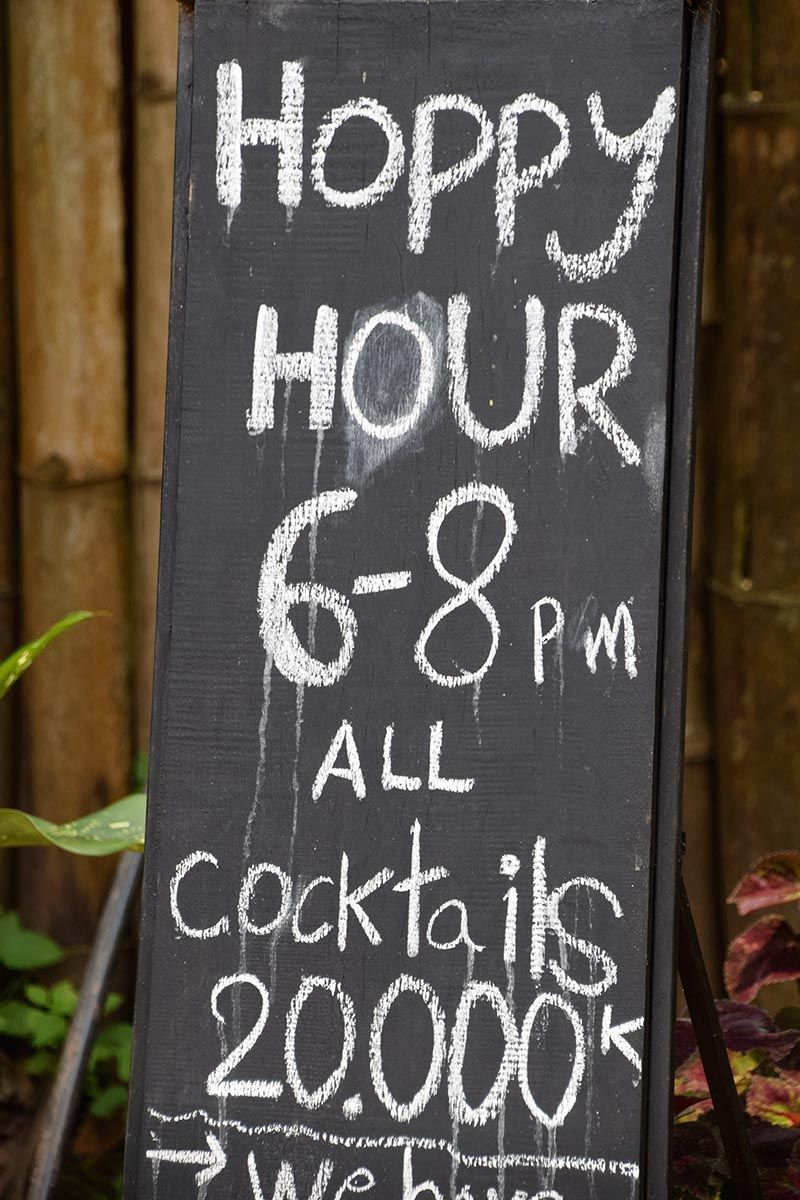 Getting around in Laos
The national airline, Lao Airlines, operates domestic flights between the main cities. This is the most comfortable and fastest way of moving within the country. However, flights are sometimes cancelled due to fog or wind. Therefore, always check a day in advance if the flight will still take place.
Travelling by bus in Laos takes a lot of time. This is mainly due to the not-so-good roads and the sometimes-mountainous route. Even if it seems like a short distance, in practice you are often on the road for a long time. Our "record" was eleven hours travelling time from Champasak to Savannakhet, a distance of about 250 kilometres. We needed 1 tuk tuk, a ferry and five different buses to get to our destination. Buses are often overcrowded and stop everywhere when they see people walking in the hope that they can pick up another passenger.
Always try to book a VIP bus with a good company, or a minivan with reserved seats and the guarantee that there will be no more passengers than the official number of seats in the minivan. Be sure to avoid night buses. They have 24 too-small double beds on board and take many more people with them. On the route from Luang Prabang to Huay Xai we counted 76 people instead of 48.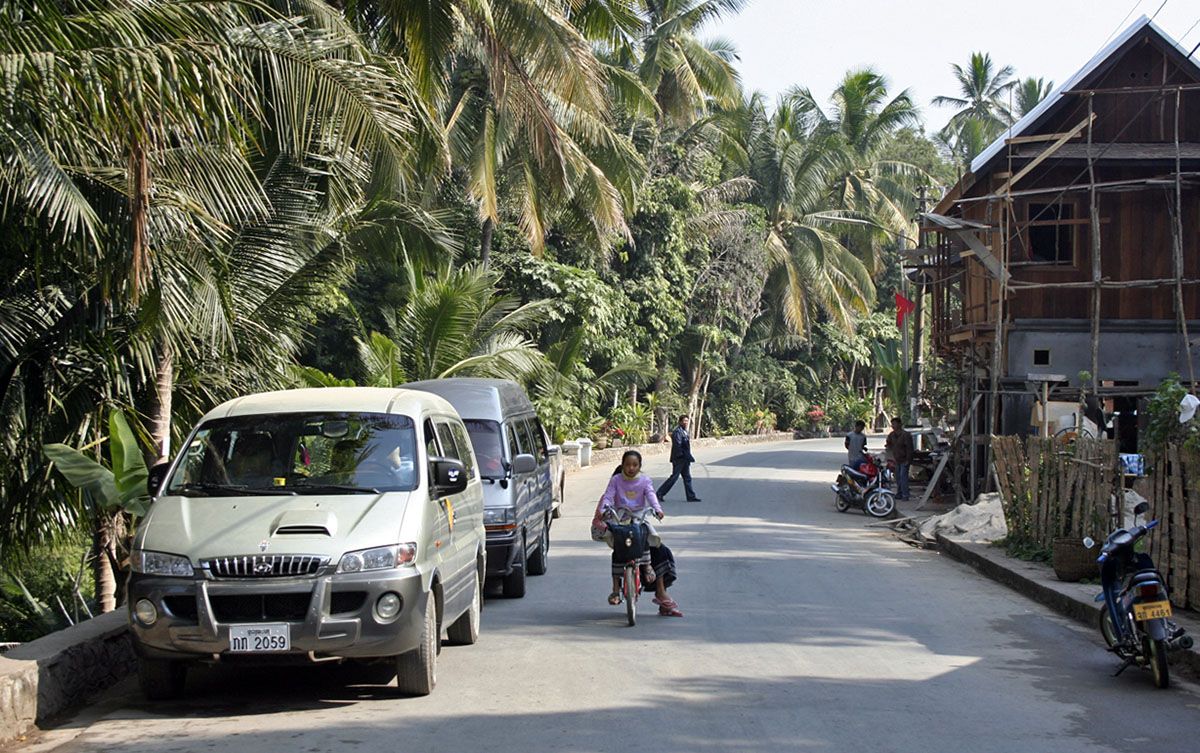 Electricity
The mains voltage is 230 V with a frequency of 50 Hz. In Laos the socket of type C is the most common, but types A, B and E also occur. You need a power plug adapter when living in the UK or Ireland.​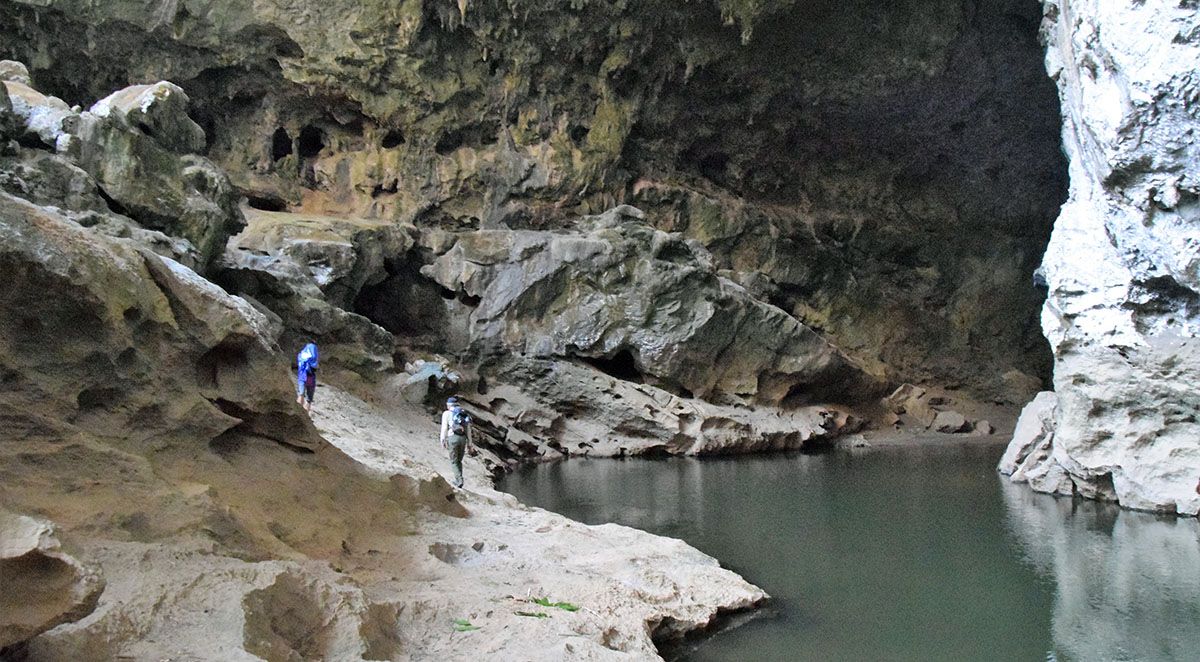 Money matters
The local currency is the Laotian Kip, only available in notes. In most places you can pay with Dollars, along the border with Thailand you can also pay with Thai Baht. Change is always given back in "Kip". Pinning is possible in almost all touristic places, but just to be sure, take some extra cash with you when you travel to remote areas. It will happen that just that one ATM in your place of residence is out of order. Make sure that you have used up all your Kip when you leave Laos. You can't use it in any other country and you can't exchange it either, not even with neighbouring countries.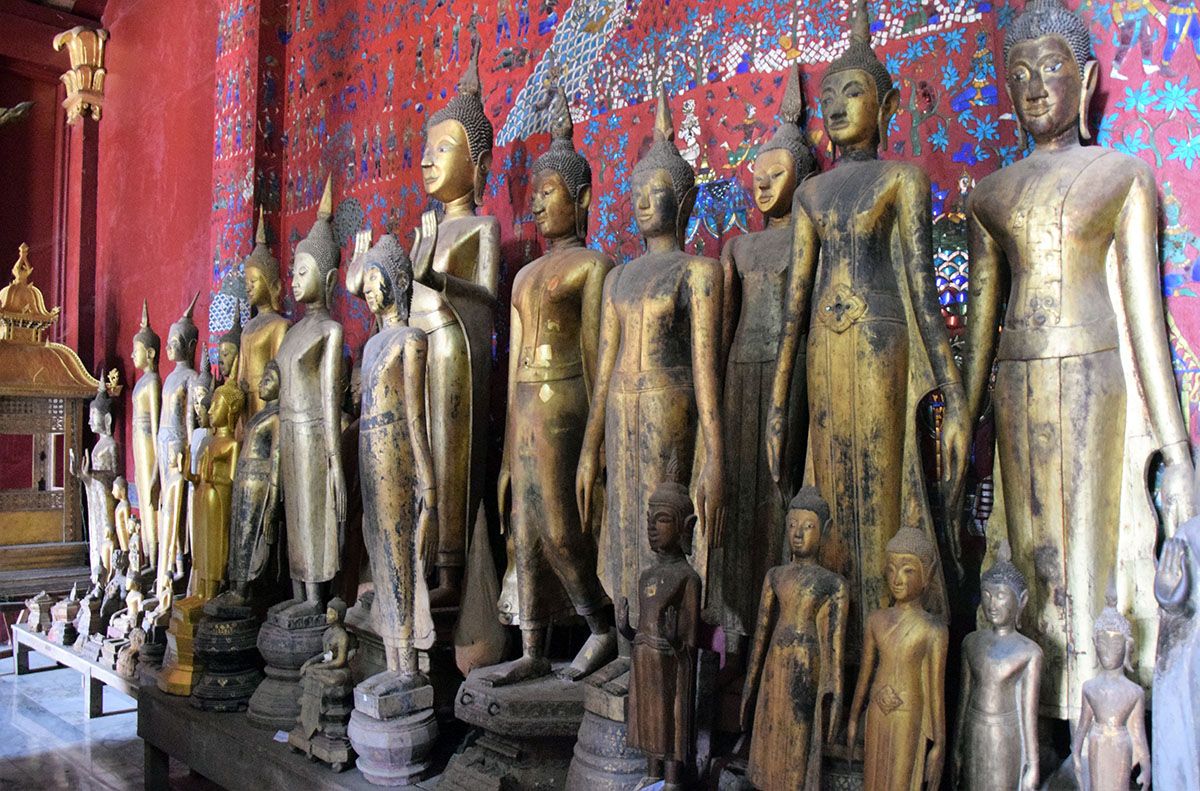 Do's and Don'ts while travelling in Laos
| | |
| --- | --- |
| Do's | Don'ts |
| Show respect for the local population. Laugh in a friendly way when you say goodbye. Ask if you can take a picture and talk to locals without raising your voice. | As a woman, do not touch a monk. Never touch the heads of others, not even children. Do not show the soles of your feet to others. |
| Dress well when visiting temples and other holy places. In other words, keep your shoulders and knees covered. Do not wear a hat or cap when entering a temple. Take off your shoes, even when entering someone's home. | Don't give money, sweets, or other things to children. This encourages begging. Be careful with visits to so-called orphanages. These children often have a parent and you only serve to encourage the exploitation of children. |
| In particular, encourage local traders and farmers by buying things from them instead of a megastore. This way, you stimulate the local economy. | Waste should not be thrown on the streets or in nature, even when you are on a trek. Collect it during the day and throw it away in a responsible place. Set a good example to the population. |
| If you want to watch the begging procession of the monks in Luang Prabang, there are signs everywhere with guidelines to show you how to behave respectfully. Adhere to them and don't interrupt the row of monks just because you want to take a nice picture. | Kissing is not appreciated in public. The same goes for hugging. It is also forbidden to have sexual relations with a Laotian. |
| Try to learn a few words of Laotian. People really appreciate it when you try to speak to them in their own language. When you greet people by putting your palms against each other in front of your face, you show even more respect. | The use and possession of drugs is absolutely forbidden in Laos. This can result in severe penalties. In certain places you can easily buy some from a dealer. But in the worst case, he will then give you up to the police for a lot of money. |
Si Phan Don: 4000 islands in the Mekong River In the south of Laos, the Mekong River is 14 kilometres' wide at a certain stretch. In that area is "Si Phan Don", 4,000 islands. Many of these islands are very small. There are three islands that are...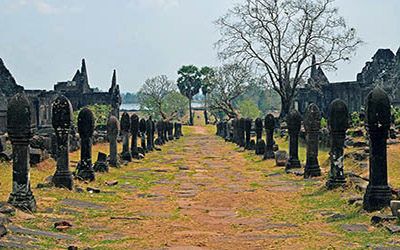 The temple complex Angkor Wat in Cambodia is world famous, and rightly so. The downside is that here, you and thousands of other interested people enjoy the building arts from the Khmer heyday. Very different is that at the Wat Phu (or mountain temple)...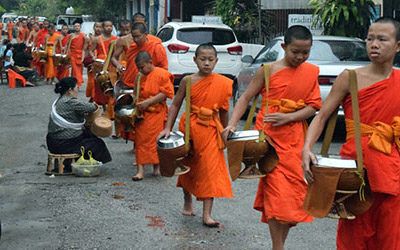 Luang Prabang was the highlight for us in Laos, besides of course the Gibbon Experience. What a nice city! Here, there is something for everyone. If you like special temples, you can be indulged here. For souvenirs, there are some very nice shops and the...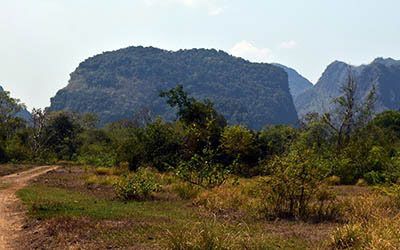 Near the village of Thakhek lies the Hin Bun National Park, where a lot of game still lives, such as elephants, tigers, deer and endangered langurs, a certain species of monkey. The landscape is spectacular with the many karst mountains and caves....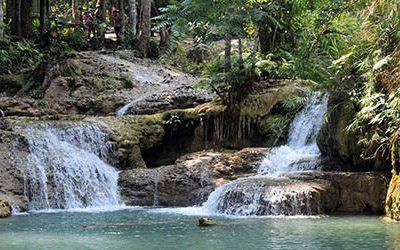 In the surroundings of Luang Prabang, you can find several waterfalls, some small and in the dry season almost no longer active, others large where the water flows all year round. We took the scooter to "Tat Kuang Si", about 30 kilometres southwest of...