Cambodja in a nutshell
In the 8th to 12th centuries, Cambodia was the centre of the Khmer dynasty. In its heyday, this kingdom even extended to Thailand, Laos and Vietnam. During this period, the various kings built beautiful temples, such as Angkor Wat. This is Asia's largest temple and a real bucket list destination.
After 1400, the influence of the Khmers decreased and the country was occupied by Thailand. Later, the French annexed Cambodia as a colony. There are still many colonial buildings from that time, which can be seen in various places. After independence in 1953, the situation in the country seemed to be calmer. Unfortunately, Cambodia has also suffered tremendously because of the Vietnam war.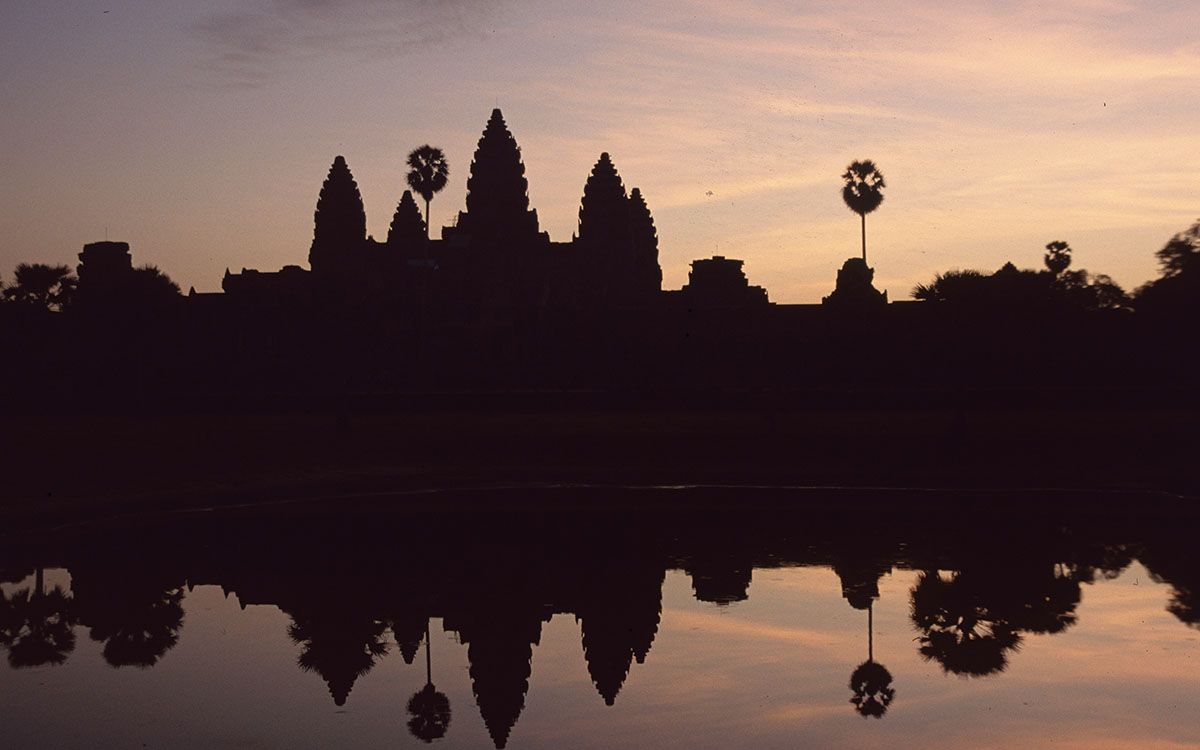 Red Khmer
When, in 1975, Pol Pot with his Khmer Rouge ended the war that Cambodia was suffering, the joy was short lived. Pol Pot, with his communist and absurd ideas (if you wore glasses, you were intellectual and that meant your death sentence), killed about 25% of the population in a horrific manner. Furthermore, many died of starvation.
This jet-black period in the country's history is still felt and audible everywhere. For example, a visit to "Prison 21" in the capital Phnom Penh, one of the many killing fields a little outside the city, is a particularly emotional and oppressive event. It left an indelible impression on us, not least because these massacres are of such a recent date but also the stories from the people you meet. Almost everyone has lost one or more family members and when they talk about it you get goose bumps.
In 1991, there was a peace treaty and the country could work on reconstruction. Since that time, it has been quiet in Cambodia. However, there is no real democracy. The CPP, the Cambodian People's Party, provides both legislative and executive powers. Moreover, corruption plays a very big role in the country. However, Cambodia has a lot in store for travellers. We enjoyed travelling around a lot and have now got unforgettable memories.
Accommodation in Cambodia
Excellent middle-class hotels with a double room including private bathroom are well-priced. We never spent more than €30 for an overnight stay with breakfast. However, it is often still possible to stay for less. It is not often that no accommodation is available, even in high season. It is convenient to book your accommodation online, for example, via Booking.com, TripAdvisor or Agora.com. This saves you from wasting time and energy on arrival to find something suitable.
We can recommend a few places: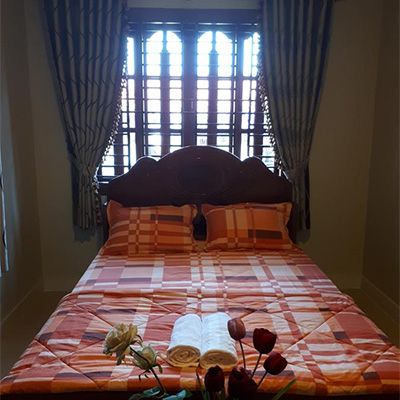 This small guesthouse is located a little further from the city centre, but the friendly owner will take you everywhere you want with his car. The rooftop bar serves a welcome drink and snack. The staff were very friendly and helpful.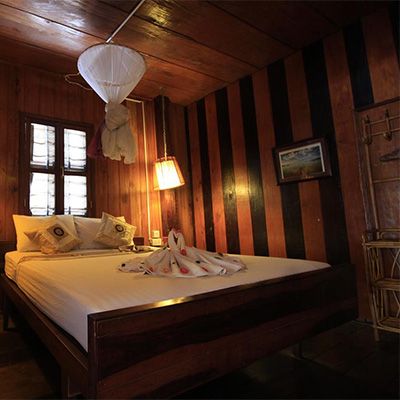 Beautiful teak wooden hostel with delightful rooms. The restaurant is perfect. The staff is in training for hospitality management. As far as we are concerned, they all succeeded with first-class honours.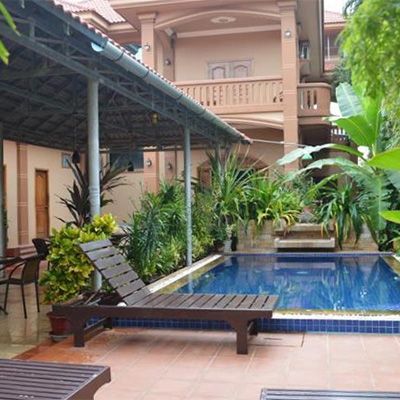 Just outside the centre is this beautiful guesthouse with a small swimming pool. Lovely to cool off after a day of temple-seeing. Very nice rooms, nice breakfast and very quiet location. Friendly staff.
Travel advice for Cambodia
You can find the current travel advice for Cambodia by clicking on the link. We found Cambodia a very safe country. The people are nice and helpful and the crime rate is low. There are, especially in crowded places such as bus stations, gangs of pickpockets active. Moreover, in Phnom Penh it sometimes happens that motorbike gangs rob tourists of their handbag while they ride by on a scooter. So, take precautions to prevent pickpocketing or handbag snatching. If you pay attention to your belongings, there is a good chance that nothing will happen to you during your stay.
Healthcare
Various vaccinations are necessary for Cambodia. For good advice you can check out the website of CDC. Malaria can also occur, so it is good to know about medication to prevent this. In any case, take anti-mosquito items with a high factor of Deet to reduce the risk of mosquito bites.
In the Mekong delta, Bilharzia occurs. This is a worm disease that is transmitted by larvae of freshwater snails, you can get infected in still or stagnant water. You should not swim or paddle there. Even by washing your hands in the river you can already get infected.
The temperature in Cambodia is always on the high side. So, drink a lot of bottled water (absolutely no tap water!) and give your body a few days to acclimatise. Remember a hat or cap to avoid a heat stroke. The medical facilities are, especially in the somewhat remote areas, subpar compared to the rest of Southeast Asia. So, make sure you have a good travel pharmacy kit. Because of the many insects it is wise, especially in the woods, to cover your body well with light clothing.
Finally, a practical point for contact lens carriers: the roads are often so dusty that you are sometimes "crying" on the way through the amount of dust that hits your eyes, especially when you rent a bike or scooter. Fabric glasses or sunglasses that wrap around the sides prove their value. Contact lens solution is hard to get in Cambodia. Make sure you have enough!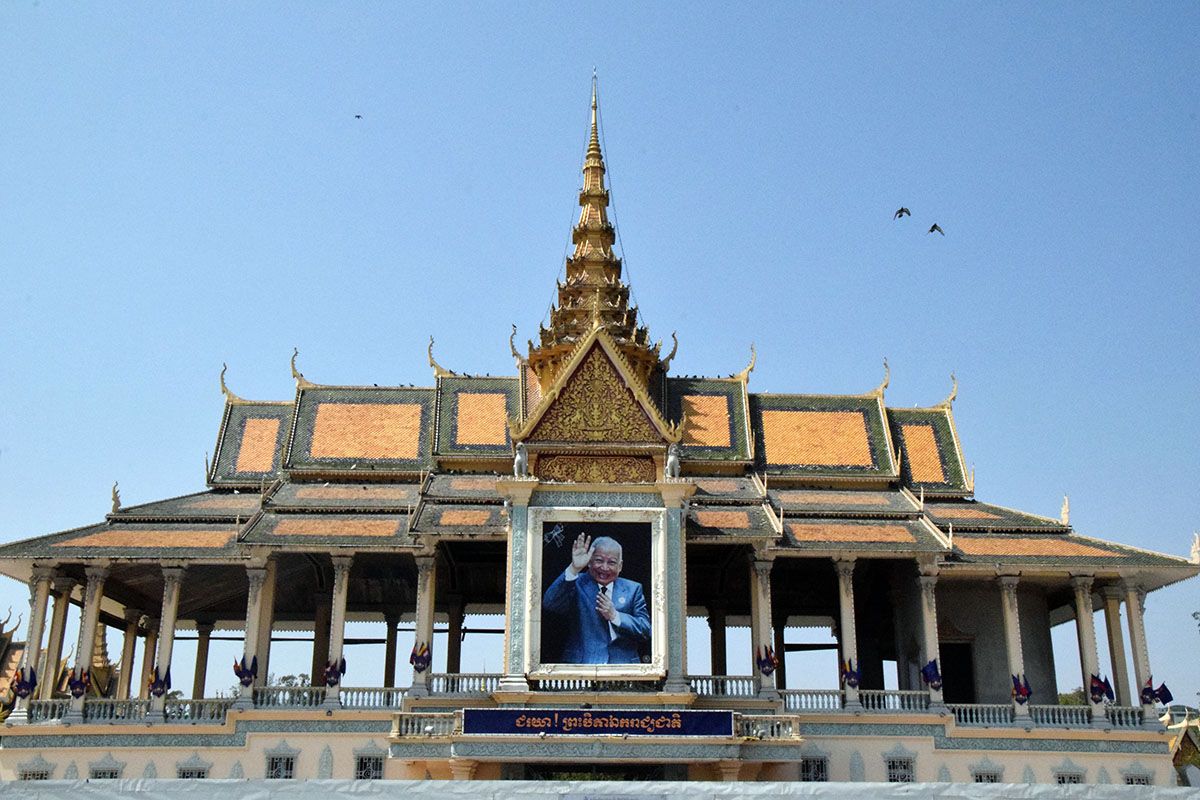 Best time to visit Cambodia
Cambodia has a tropical climate, so it's hot all year round. The coolest months are those between November and March. That is also the best time to visit the country. The temperature will then be between 25 and 30 degrees. In April and May the temperature is rising nicely and it becomes almost too hot to visit Angkor Wat. The chance of rain is also rising from those months onwards. From June to October it rains often, especially in the afternoon and evening. There is also a strong wind and humidity is very high.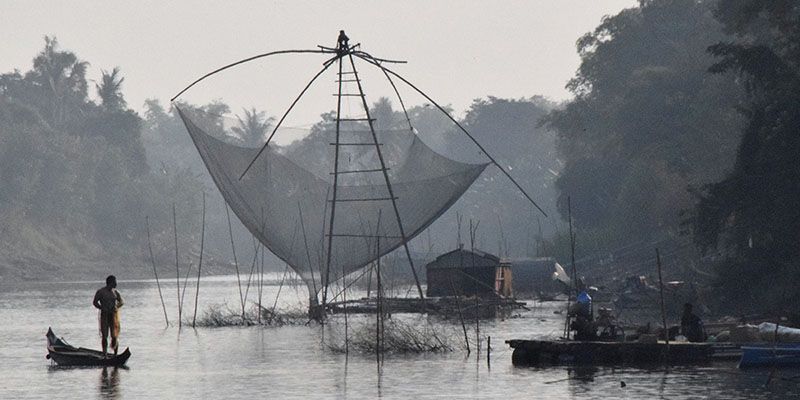 Visa for Cambodia
A visa is required for Cambodia. You can request this online beforehand. Within a period of 3 months, you can enter the country on your visa once in order to get one for up to 30 days. However, you can also arrange a visa easily and quickly upon entry to international airports (Phnom Penh or Siem Reap). Even if you arrive in Cambodia by land, you can arrange a visa at almost all border posts. There are often commercial agencies active, which will get your visa in order at a slightly higher amount than if you sort it out yourself.
It is important that you have 2 passport photos and your vaccination booklet, otherwise you will have to pay more. Finally, please note that you pass customs before 5 pm; after that time, the border posts to enter the country mostly close. Because the paperwork requires a lot of patience, you really need to leave a safe margin, otherwise there is no other option than to stay overnight and the next day becomes your first…
A better option, however, might be to just hand over the visa application to a visa agency like iVisa. Although this will cost you slightly more, it will save you the hassle!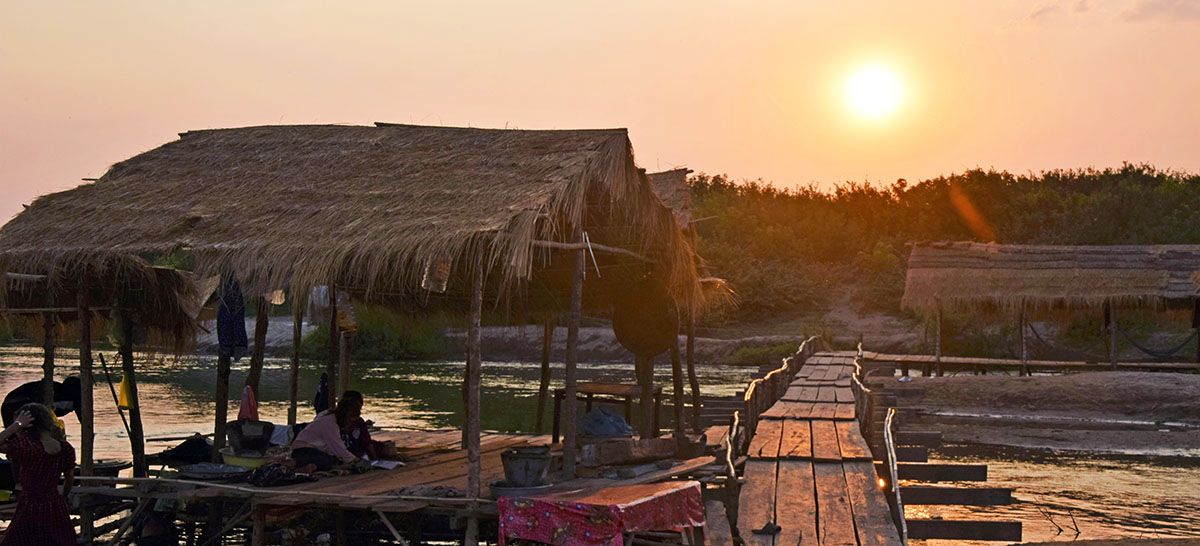 Eating and drinking in Cambodia
he Cambodian cuisine resembles that of Thailand, but slightly less spicy. Peppers are often not used in the dish, but served separately. This allows you to decide how spicy you want to eat. The fish specialty is Amok, fish with curry pasta, lemongrass, coconut oil and chili, which is steamed in a banana leaf. Furthermore, there is a lot of rice on the menu, supplemented with chicken, pork or beef. For the daredevils, crickets, larvae, ants and even duck foetuses are available. Vegetarian dishes are very much in the minority, but are gradually becoming more available. You will most likely find Indian restaurants in the big cities. For dessert you just go to a street stand and buy your delicious fresh fruit. Wine is often homemade and fermented for so long that it has a very high alcohol percentage. We mostly drank the local Angkor beer, which was good and inexpensive.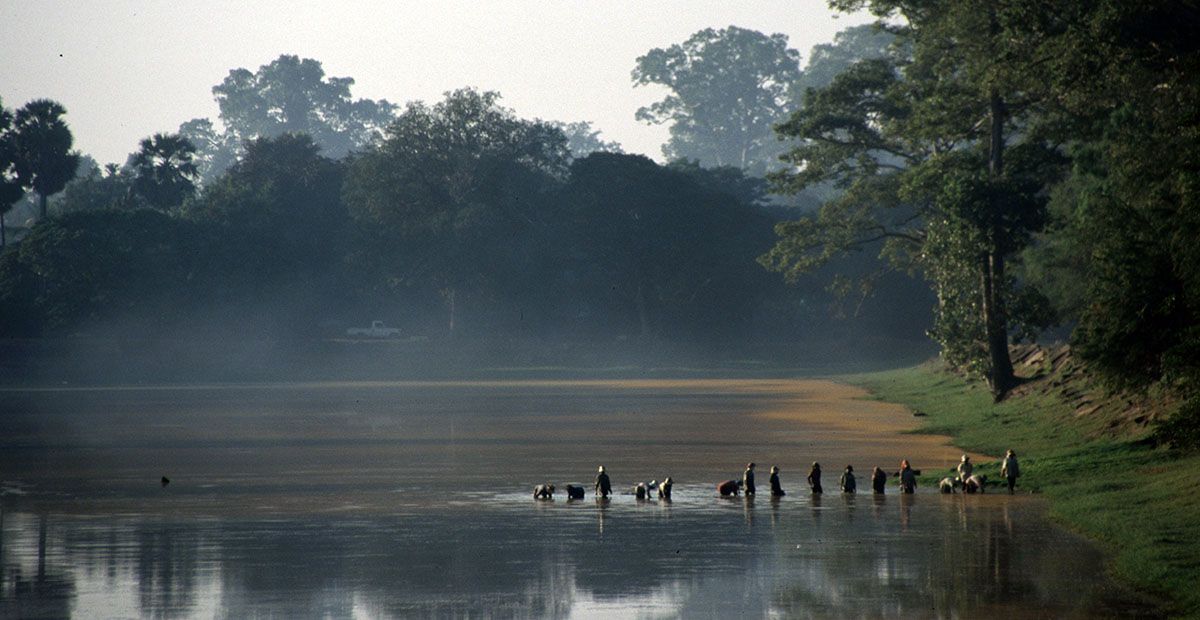 Getting around in Cambodia
The bus is the most used means of transport in Cambodia. Coaches or minivans drive to all major destinations. We prefer a minivan from a well-known carrier, such as Mekong Express, Orient Express 1907 or Giant Ibis (this carrier is part of the sales to conservation projects of Grand Ibis). They use modern minivans with air conditioning, never more passengers than chairs and offer extra service in the form of water and snacks. They are a little more expensive than other companies, but the comfort is good and the drivers are reliable. A pickup service is also often available.
It is also possible to move by water. It is the way to see a lot of the hard life on and around the water. You will also come across many "floating villages" that are very photogenic. Count on a long journey. Be sure to take a cushion to use when you are sitting on the upper deck. We sailed from Battambang to Siem Reap and found it a very nice trip. In total we spent over 8 hours on this route. By low tide the crew had to push the boat again smoothly with bamboo sticks. Despite the delay, we enjoyed it.
Electricity
The mains voltage is 230 V with a frequency of 50 Hz. In Cambodia the mains socket of type C is the most widely used. But types A and G also turn up. You need a power plug adapter when living in the UK or Ireland.​
Money matters
In Cambodia you pay with the Riel. There is only paper money in circulation, no coins. You can also pay in Dollars. The change is actually always in the local currency. Be aware that many traders and retailers only want to receive "gift" notes. In the major tourist places, you can easily withdraw money. If you're going to be more "off the beaten track", it's a good idea to include an extra amount at the ATM in order to avoid any money problems in remote areas.
Do's and Don'ts for your visit to Cambodia
| | |
| --- | --- |
| ☝ | 👎 |
| Learn a few words of Khmer. It creates a bond and people appreciate it tremendously | Never leave your shoes on when you come into people's homes. You can also take your shoes off at temples. |
| Eat with chopsticks. After some exercise you can even leave the dish of rice empty. Cambodians appreciate it if you eat as much as they do and you respect it. | Never put the chopsticks in a V-shape back in your bowl or plate. That symbolises death. |
| Grab something with both hands if you receive something from a Cambodian. | Never use your left hand with food or to give something to another. The left hand is only used on the toilet according to a Cambodian. |
| Always keep smiling and speak up. | Do not show the sole of your feet to others, especially not towards a Buddha image. |
| Dress neatly as you visit sacred places. Shoulders and knees covered in other words. | Never keep your hat on in a temple |
| Show respect for the cultural heritage and the sanctuaries of the country. Taking a 'funny' photograph (e.g. dropping your trousers at the Angkor Wat) is not only very strange, but could lead to you being arrested with a chance of imprisonment! | Do not touch the heads of children or Buddha images. The head is the Temple of the body according to Cambodians. Never turn your back or sit down by a Buddha statue. |
| Try to haggle everywhere. Nothing has a fixed price, so negotiating is the name of the game. | Don't be upset if you don't get your price. Always stay friendly, laughing. |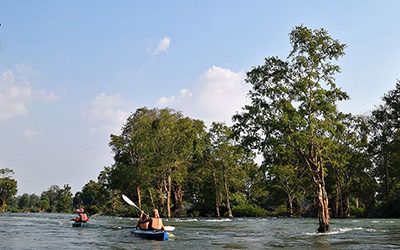 The quiet village of Kratie, 260 km northeast of Phnom Penh, is located on the banks of the Mekong River. The most important landmark is seeing the Irrawaddy dolphins, which are at risk of extinction. In all of Cambodia there is no better place to spot...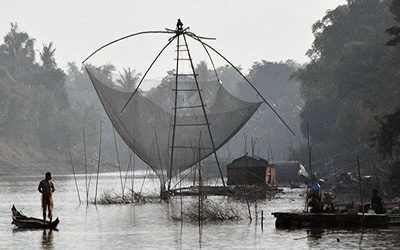 The most beautiful boat trip in Cambodia is the one from Battambang to Siem Reap. The other way around is also possible. It offers the opportunity to watch life on and around the river during the tour. It is a long boat trip, in which...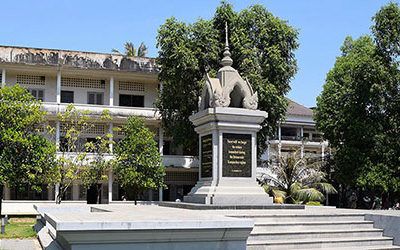 Cambodia has a jet-black period in the country's history. Under the deterrent leadership of Pol Pot and his Khmer Rouge, more than a quarter of its own population was tortured and murdered. Pol Pot wanted to make the country an agrarian state....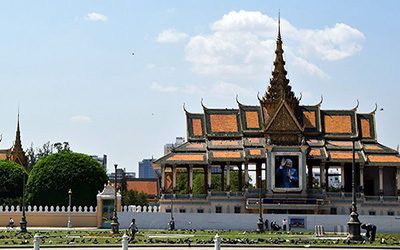 The Royal Palace in Phnom Penh cannot be missed. From afar you see the golden roof shining in the sunlight. It is a nice large complex to enjoy a few hours of architecture and works of art. With a guide you will learn more about the history and function...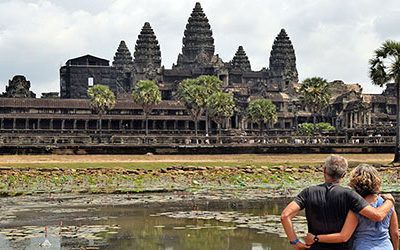 One of the most important landmarks in Southeast Asia and certainly the best known in Cambodia: Angkor at Siem Reap, the city of temples with the phenomenal Angkor Wat as the largest temple. Between the 10th and 12th centuries, the...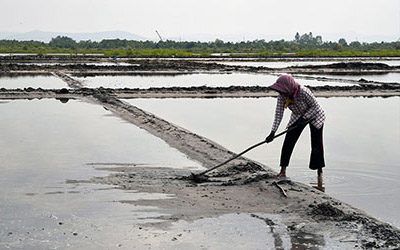 Kampot is a nice sleepy village on the river. It is nice to stay here and there is also plenty to do. For the active, there are plenty of possibilities: you want to enjoy the beautiful nature and the hinterland, as such the region certainly offers a...