Bolivia in a nutshell
This still very poor country of South America, where almost 50% of the population lives below the poverty line, has stolen our hearts. We have witnessed the most beautiful nature in this delightful country. For us, one of the absolute highlights is a four-day jeep trip from Tupiza to the immense salt plains of Uyuni. Beautiful nature, colourful rock formations, red lakes full of flamingos… it is a great trip. However, the great Lake Titicaca, on the border with Peru, is also fantastic. There are many splendid National Parks, where a great variety of game can be seen. Nobody should miss the white city of Sucre or simply relax in the small and friendly Samaipata. In Potosí, once the richest city on earth thanks to the many silver mines, you can see the raw and hard life of working in the mines.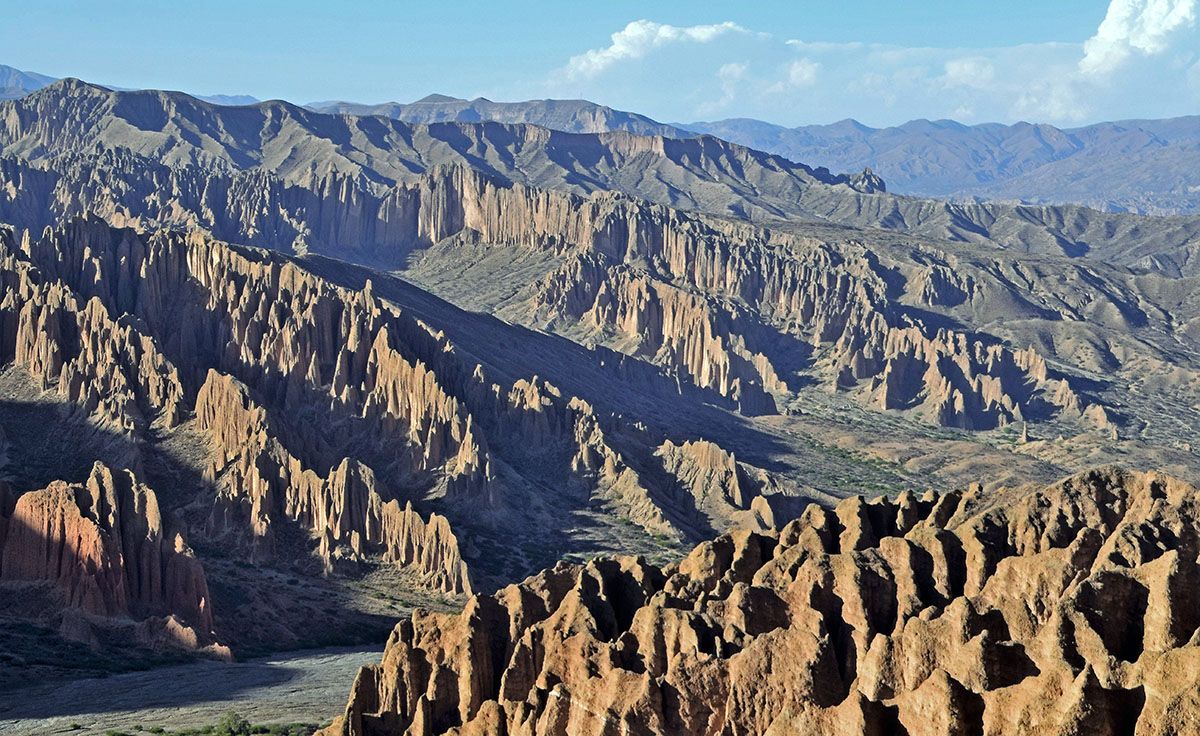 Accommodation in Bolivia
The hotels in Bolivia are among the cheapest in all of South America. Don't be fooled by the stars that some of the hotels have, this system is not comparable to the classification we know. Because prices are low, a middle-class hotel with a good room including breakfast and a private bathroom with hot water is a good choice. This is often done by electric heating. Do not touch the shower head while showering, otherwise you will get a shock! It is also best to wear rubber slippers when showering.
The quality of the WIFI network can be disappointing. Often you only have access at the reception or in central areas. The signal is usually lost in the room. On a jeep safari, you will spend three nights in a basic accommodation. We always slept in a room with our fellow passengers. It can also happen that you end up in a dormitory with bunk beds. You share the simple bathroom with your fellow passengers. But don't be put off by this, the jeep safari is more than worth it! You also have the chance to stay in a real "salt hotel".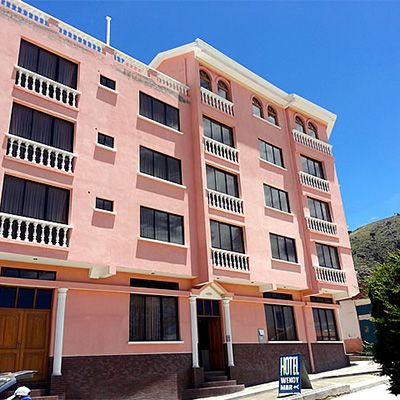 We liked our first hotel during our trip in Bolivia. The rooms are spacious, neat and have a nice view of Lake Titicaca. The shower in the private bathroom is fine. We enjoyed a delicious breakfast buffet. This hotel is good value for money.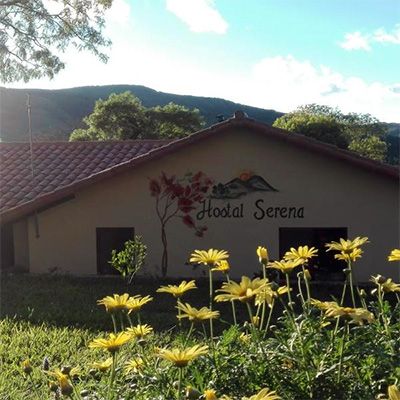 What a beautiful location! Located on a mountain looking out over Samaipata and the surrounding area. The Dutch owner and his Bolivian wife have built a beautiful hostel, with lovely rooms and a cosy, homely atmosphere. The breakfast buffet is really good with many home-grown ingredients. You can lie in the hammock or on the terrace overlooking the surrounding area. There are also cheaper cabanas for rent at this hostel. It is a little further from the town of Samaipata (10 minutes' walk).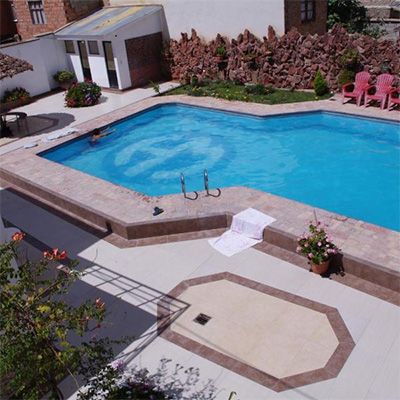 For Bolivian standards, this is a fine hotel in Tupiza. You won't find much better in that region. The rooms are clean and the beds are good. The shower is fine. There is a swimming pool with sun loungers, which is lovely after a hot day. The breakfast room is a bit lacking in ambience, but the breakfast itself is good.
Travel advice for Bolivia
Always read the current travel advice for Bolivia before you leave. Demonstrations, often including a roadblock, are common in Bolivia. Do not try to break a roadblock, as this can trigger a strong reaction from the demonstrators. Avoid demonstrations as much as possible.
Be careful when taking a taxi. Have this arranged through your hotel and do not take any taxis on the street. In any case, order a "radio taxi" and have the driver confirm the fare by the taxi company. Never let a taxi driver pick up other passengers during your trip and do not let your taxi stop if not necessary. A rogue driver can thus enable accomplices to rob you.
In Bolivia there are sometimes "fake agents". They stop you and when you show them your passport they want money in exchange for getting your passport back. Or they take you in a "fake police car" to a "fake police station" to rob you. Always stay friendly when you are arrested and ask if the policeman can identify himself. Never give your passport without reason. We never came across this ourselves, but a traveller we met had been robbed in this way.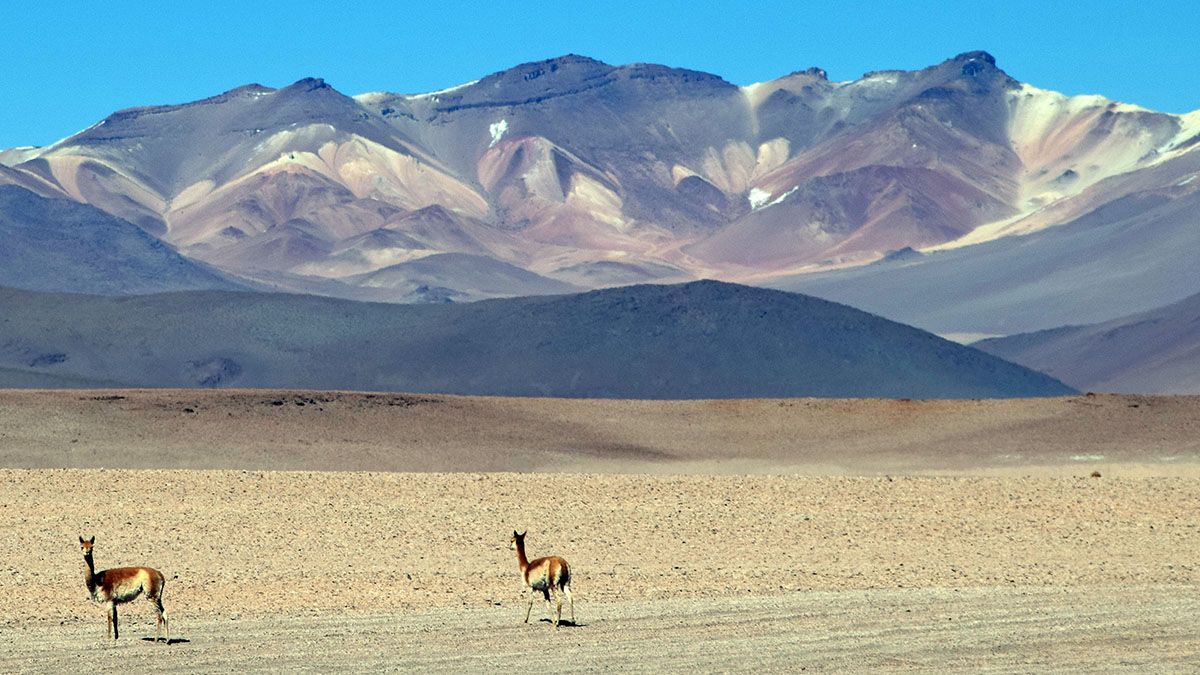 Healthcare in Bolivia
Vaccinations against DTP, hepatitis A and yellow fever are recommended. If you come from an area with yellow fever, vaccination against it is compulsory. Consult a medical expert beforehand. This website also gives good information.
Malaria occurs in some areas. Protect yourself well against mosquito bites by wearing body-covering clothing and using a good insect repellent with DEET. Sometimes it is necessary to take tablets to prevent malaria. The type of remedy is personal. Therefore, get timely advice from an expert in this field.
The number of street dogs in Bolivia is enormous. They can transmit rabies. Attract neither dogs nor cats, to avoid being bitten or scratched. If you do, go to a doctor immediately.
If you arrive in the capital La Paz from Europe, you are at an altitude of over 3,600 metres. Your body has to adapt to this and you can therefore suffer from altitude sickness. In mild cases, you should stay at the same altitude for a few days. In serious cases, you will have to descend to a lower place as soon as possible. Read more about this on the page on altitude sickness.
You should absolutely not drink tap water, to avoid the risk of traveller diarrhoea. Buy bottled water and brush your teeth with that too. If you order a drink, always ask if you can get it without ice cubes. Even if you order fruit juice, you should ask for pure juice without water.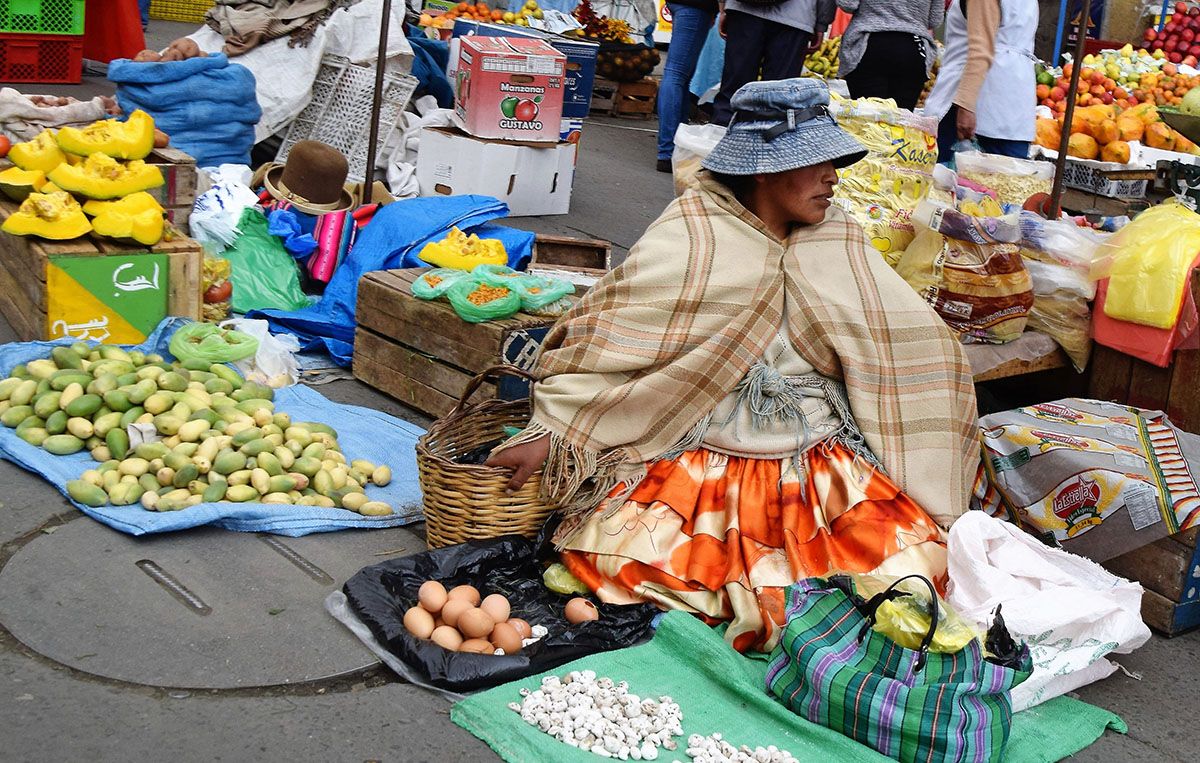 Best time to visit Bolivia
May to September is winter in Bolivia. This is the best time to travel through the country. It is usually sunny and dry with pleasant temperatures. If you are at high altitude, and that is quite probable in Bolivia, then the nights can be cold. In October and early November, a visit to Salar de Uyuni is spectacular as there is a small "film layer" of water on the salt plains, causing a very nice effect. It is summer from November to April but it rains a lot and it is better not to go to Bolivia. The rain can lead to road closures. There is even a chance of landslides. Although it does not rain much in the mountains, it is difficult to get there because the access roads run the risk of being closed.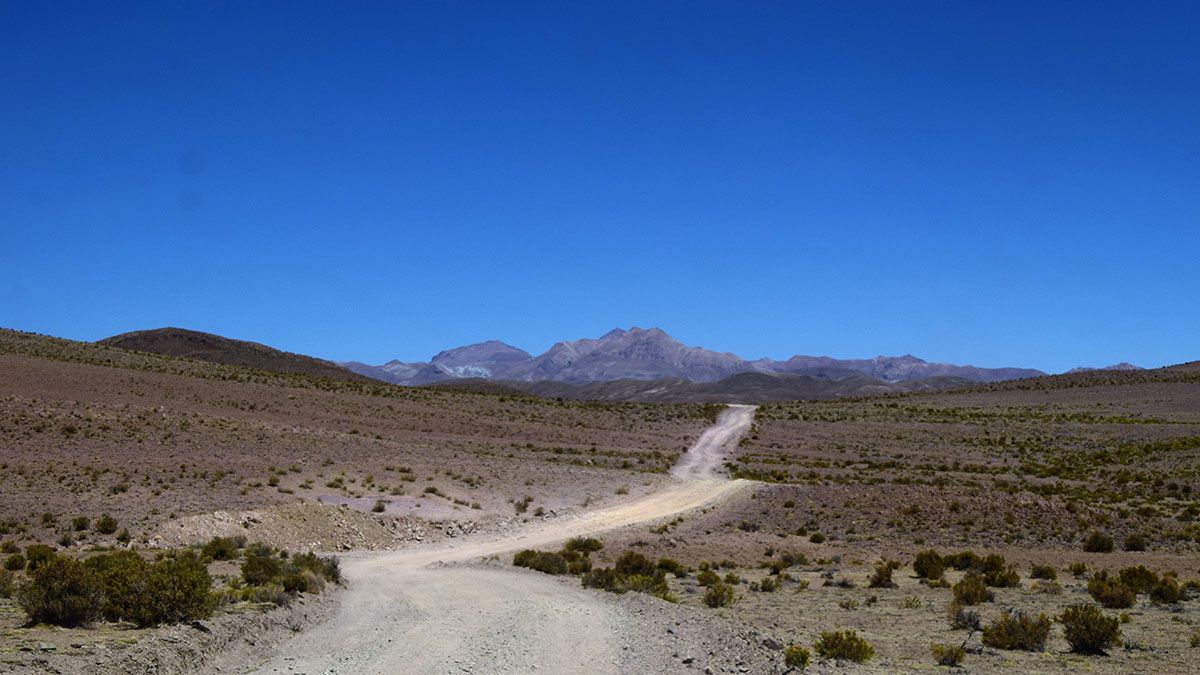 Visa for Bolivia
No visa is required for Bolivia if you stay less than 90 days in Bolivia. Your passport must be valid for at least 6 months upon arrival in the country.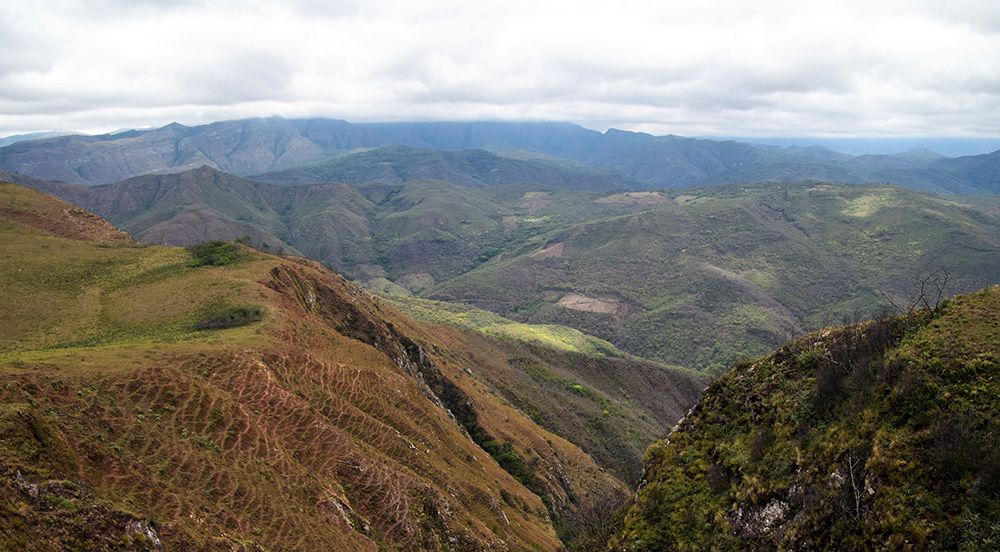 Eating and drinking
Breakfast in Bolivia is usually not very extensive. Guests often complain about this at hotels but they are just not used to it. In the more luxurious hotels, breakfast is well taken care of. They consider the preferences of Western guests there. Lunch (almuerzo) is very important for Bolivians. In restaurants, you can get a three-course menu ("menu del día") for a good price.
Dinner mainly consists of meat, accompanied by potatoes, lettuce and sauce. Vegetables are eaten much less. For vegetarians it is sometimes difficult but the choice of vegetarian dishes is slowly increasing. The chef does want to cook vegetables sometimes. They also eat a lot of roast chicken. You will find stands or shops everywhere with the name "pollos a brasa".
Although Bolivia has no access to the sea, you will find quite a few fish dishes. The fish comes from Lake Titicaca. The trout tastes good. You can also find "ceviche" in Bolivia. This is raw fish, marinated in lime juice.
Drinks
Because of the large variety of delicious fruit, you can also find fantastic fruit juices. Make sure they are pure and not diluted with tap water. In the high areas, you drink a lot of "mate de coca", a kind of tea with dried coca leaves. This is good for altitude sickness. If you want to drink alcohol (at high altitude even in moderation alcohol worsens altitude sickness!), there is nice wine, especially in the region around Tarija.
The local beers (Pacena and Huari are well-known brands) are also fine. Inca Kola, a fizzy yellow drink, that tastes like chewing gum, is everywhere. Western soft drinks are also generally available. Tap water is not potable. Only drink bottled water.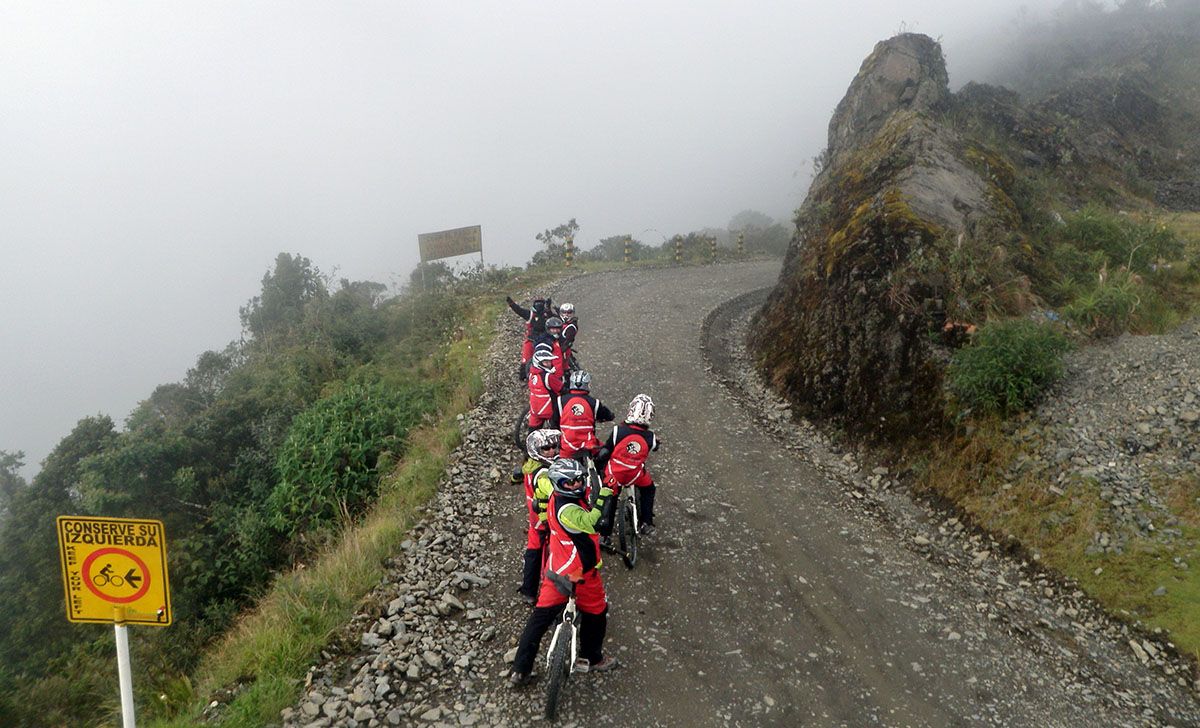 Getting around in Bolivia
In Bolivia, there are many so-called "roadblocks". Demonstrators barricade the road and this can take hours, sometimes days, to sort. There is nothing else to do but wait or take a detour. This can cause a lot of delay. The authorities or hotel owners often know a day in advance that a blockade is coming. You may be able to leave earlier or just wait. Because waiting for hours in the burning sun is not fun. If you travel by bus, always bring enough water and snacks, because the ride can unexpectedly take much longer due to these roadblocks.
The quickest way to get around in Bolivia is by domestic flight. Amaszonas and BOA are the best-known airlines. The costs are very low and you avoid roadblocks. Unfortunately, sometimes flights are changed or cancelled shortly before departure. Therefore, never make a tight schedule when you fly.
The bus is the most commonly used means of transport. There are many different classes and coaches to book. If you want to be assured of comfort, where you can put your seat right back, choose a coach from the category "cama". These coaches are a bit more expensive, but the difference in comfort is worth it. Try to avoid night buses, because there are many stories of drunken bus drivers getting up to dangerous antics. Moreover, you won't see any of the beautiful landscape if you take a night bus. Drunk drivers are a common issue in Bolivia. Never get in if you notice that your driver is drunk. Be sure to bring warm clothing if you are taking a night bus. The temperature can drop to as much as -30 degrees at night, so a warm sweater is really necessary if you don't want to be very cold in the bus.
Although people are working hard to improve the road network, you will often drive on dusty sandy roads. It also happens that the bus has to stop for a while due to road works. When we drove from Samaipata to Sucre, we first stopped for about an hour because part of a motocross race track was on the road. When we finally drove off again, we next had to wait two hours for road workers to remove rocks to build a better road.
Electricity
The main voltage is 230 V with a frequency of 50 Hz. In Bolivia there are sockets of type A and C. You need a power plug adapter when living in the UK or Ireland.​
Money matters 
You pay in Bolivianos. In the big cities, you can find ATM's where you can withdraw money. To be on the safe side, take enough cash with you. In Samaipata, for example, there was only one ATM and it only accepted VISA credit cards. To withdraw money, you have to go to the bank and after filling out a lot of forms you can get cash with your credit card.
The price level is very low compared to the Netherlands. Sleeping, eating and drinking is very cheap. The organized tours, such as a Jeep safari, are comparatively pricey. But they do include all the costs of accommodation, meals and snacks.
Do's and Don'ts when visiting Bolivia
For the most part, the people are Catholic. Bolivians like to show their faith and it is inappropriate to disturb them. In the country, you will often hear the term "Pachamama". This is Mother Earth, which is glorified by almost all Bolivians. When you go for a drink or a meal, you often throw the first one on the ground, to make a sacrifice. If you see that, react respectfully and throw something on the ground too. The population can appreciate that.
Learning some Spanish concepts and words makes conversation with Bolivians easier. They appreciate it very much and contact becomes much more personal. This also gives you the opportunity to ask if they would like to be photographed. If they refuse, respect their choice.
Cars or buses are often blessed before departure by a priest. With this, one hopes for a safe journey. There is often a long line of motorists who want to undergo this ritual. Treat this event with respect. For the rest, the dos & don'ts are mainly focused on safe travel through the country; please see the specific section on travel safety.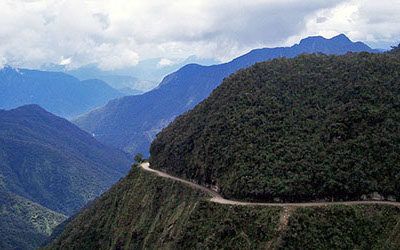 From La Paz runs a road to Coroico. This gravel road, in most places slightly wider than 3 metres, descends 3,600 metres of altitude in about 64 kilometres. Next to the road, the deep abyss is flush beside you. There is almost no crash barriers or other...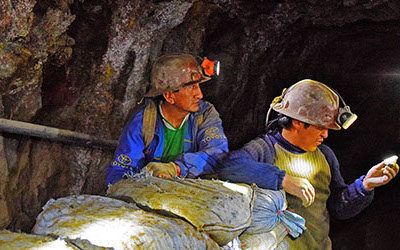 Potosi is located about 150 kilometres southwest of the 'white city' of Sucre. The main attraction of the city - once the largest and richest place on the entire continent of America - is the silver mine of the Cerro Rico. Over the...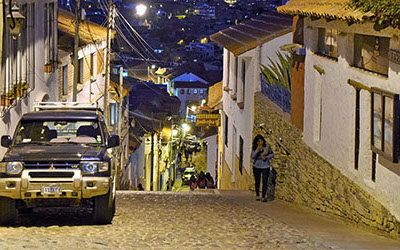 Sucre has played an important role in the history of Bolivia. Independence was declared here on 6 August 1825. In the beautiful museum "Casa de la Libertad", you can learn everything about the independence struggle and the ensuing period....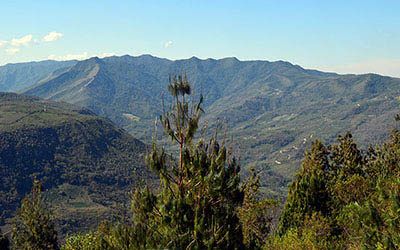 About 10 kilometres outside Samaipata, lies the impressive and mystical archaeological site El Fuerte, a UNESCO World Heritage site since 1999. In the period between 1470 and 1600, this was an important place for the Incas. People still...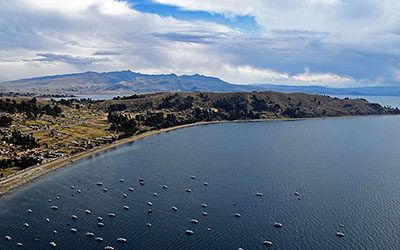 Lake Titicaca, situated on the border between Peru and Bolivia, is the highest navigable lake in the world and has an area of over 8,300 m2. For comparison, that is about as much as Devon and Dorset together! Bolivia used to have access to the Pacific...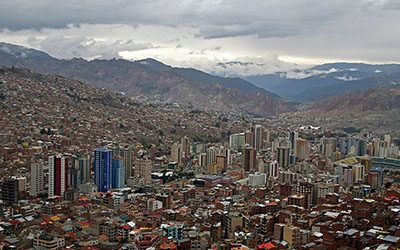 The capital of Bolivia is situated at a respectable altitude: 3,700 metres above sea level. We didn't stay long in La Paz as it was cold and wet during our trip. When we arrived by night bus, we even had a lot of snow on the way....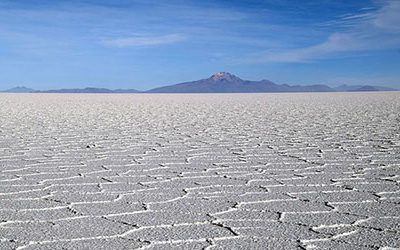 Near Uyuni, you will find "Salar de Uyuni". With an area of over 12,000 kilometres this is the world's largest salt plain. It is a particularly surrealistic landscape where you see an immense white plain. When it has been raining, there may be a thin...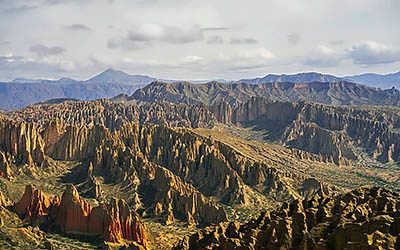 El Canyon del Duende is a phenomenal area to get the "wild west feeling". The region is not very far from Tupiza. Beautiful red coloured rocks make this a spectacular area. You can also see enormous cacti. You can see the cacti in...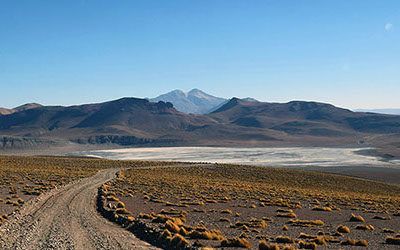 During our four-day jeep tour from Tupiza to Salar de Uyuni, we saw one of the most amazing landscapes we had ever seen in our lives. Because we didn't book the jeep safari in Uyuni, but in Tupiza, we had the opportunity to tour through the magnificent...