Take a look behind the former 'Iron Curtain' and discover a particularly rich culture, history and nature. You will find, for instance, beautiful old cities, thousands of castles and a hospitable population. But also an enormous diversity in landscape and culture, vast primeval forests and rugged mountains with surprisingly interesting winter sports opportunities.
There is as yet uncertainty about which countries exactly belong to Eastern Europe. This blog is based on the United Nations classification, according to which Eastern Europe takes up more than half of the European continent.
Belarus
The predominantly flat Belarus is an interesting holiday destination, especially for nature lovers. There are many primeval forests, marshes and rivers. Even the oldest primeval forest in the world can be seen here. For culture lovers, the many castles and historic towns are interesting.
Bulgaria
Bulgaria is attracting more and more attention as a holiday destination. There are well-known seaside resorts with beautiful sandy beaches. There is also rich, mountainous nature. It is an ideal country for a walking or cycling holiday. The capital Sofia is certainly not to be missed during a visit to Bulgaria.
Czech Republic
The capital Prague is an ideal destination for a long weekend away. If you like beer, then the Czech Republic is your country. Beer has been brewed here for more than 1000 years. Culture lovers will find numerous castles, palaces and churches in the country. In the many forests, you can go for nice walks and bike rides.
Hungary
The capital Budapest is a great city for a city trip. In addition, Hungary still has a lot of unspoiled nature. Other attractions are the many hot springs and Lake Balaton. In Hungary, there is a surprising amount of wine growing, with good wines yet the price level is still low.
Moldova
If you want to see one of the largest caves in the world, you should definitely go to Moldova. In the north, near Cricova is a cave with an enormous system of corridors of over 100 kilometres. The country is fairly flat with many traditional villages. Moldova is one of the poorest countries in Europe.
Poland
Poland is a holiday country with a lot of variation. The cities of Warsaw and Krakow are impressive with their many attractions. You will find plenty of nature, with 23 national parks. Poland also is getting more attention among winter sports enthusiasts. A visit to the concentration camp at Auschwitz is an absolute must.
Romania
Nature lovers will find what they are looking for in Romania since there are many primeval forests and natural parks with various game species. The coast of Romania has many sandy beaches that are popular with tourists. For the active, the Carpathians are a beautiful walking area. In winter there are winter sports facilities here.
Russia
Russia is the largest country in the world. The main reason why foreign tourists visit Russia is because of the country's rich history and many historical sights. The most famous are in and around the main cities of Moscow and St. Petersburg.
Slovakia
Slovakia has many mountain areas. In addition, you will find several nice historical cities in Slovakia. The largest castle ruins in Europe lie in the east of the country. Slovakia is also becoming increasingly popular as a wine country. The capital Bratislava is definitely worth a visit.
Ukraine
Ukraine offers the holidaymaker beautiful beaches on the Black Sea. In addition, there are beautiful, ancient towns in the country to admire. You will find many protected nature reserves scattered throughout the country. The unspoiled landscape of Ukraine consists of many forest areas and marshes.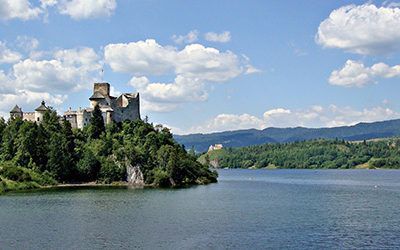 Poland is a holiday country with so much variation. Most people know the big country mainly for the beautiful cities of Kraków, Krynica-Zdroj, Warsaw and Wroclaw, though also for the particularly impressive and poignant concentration camps at Auschwitz. However,...
read more
Climate in Eastern Europe
Eastern Europe has the most capricious climate of the European continent. In winter, it can be very cold in the Balkans and in European Russia, in summer, it can be very hot. It can also rain heavily in Eastern Europe in spring. Together with the melt water from the mountains, this can cause major floods.
Travelling within Eastern Europe
One of the most ideal ways to travel in Eastern Europe is by train. It is particularly cheap. For example, in most cases you will not pay more than 20 Euro to travel from one end to the other of a country. If you are travelling from one country to another, consider taking a night train that will save you an overnight stay if you book in time.
Another option is to fly in combination with car rental. There are many, good value flights between the countries of Eastern Europe. Keep in mind that the quality of the road network varies greatly between countries, but also between urban and provincial areas.
Healthcare in Eastern Europe
If you mainly visit the cities in Eastern Europe and do not go too deep into the wilderness, no specific health precautions are needed for this region. However, if something unexpected should happen, the medical facilities are basic but well organised. Make sure you check the latest recommendations from the NHS.
Personal travel advice for Eastern Europe
In our opinion, Eastern Europe is particularly suitable for city trips to the many, incredibly beautiful cities in this region. For the adventurous, however, there are also great tours possible, especially where these cities are alternated with rugged forests and mountain landscapes in the relatively unexplored nature. We are happy to give you some personal travel advice, considering your own wishes. See the dedicated page where you can request personal travel advice.