Trekking through the rice fields of Sapa
In the north of Vietnam, about 350 kilometres from Hanoi, lies Sapa. Around this city are beautiful rice fields. The best way to visit them is by going on an organised tour under the guidance of an experienced guide. We booked the tour via Sapa Sisters. This organisation is very well known and has female guides from the Hmong tribe. They all come from this region and know the area like the back of their hand. The organisation supports the local population with all kinds of projects. We were very pleased with the tour and the guide was fantastic.
Homestay
We visited the rice fields at the beginning of January 2018. During that time, it can be cold, we even had night frost during the nights we were there. There is also often a thick fog. Yet the three-day trek was very special, not least because of the information our guide gave us about life as a woman in the Hmong tribe. It was also very special to experience two homestays in the primitive shelters of families. The food they prepared for us was delicious. The beds were hard but good and we both had a hot shower.
In three days, you go on a beautiful trip by the rice fields, sometimes balancing on the edges. It was very muddy because of precipitation and the boots provided by the organisation came in very handy. The guide also regularly had to lend a helping hand to prevent us from falling into the mud. You also pass small villages, where the locals greet you enthusiastically. Despite the weather, we had a great trip with beautiful views of the rice fields.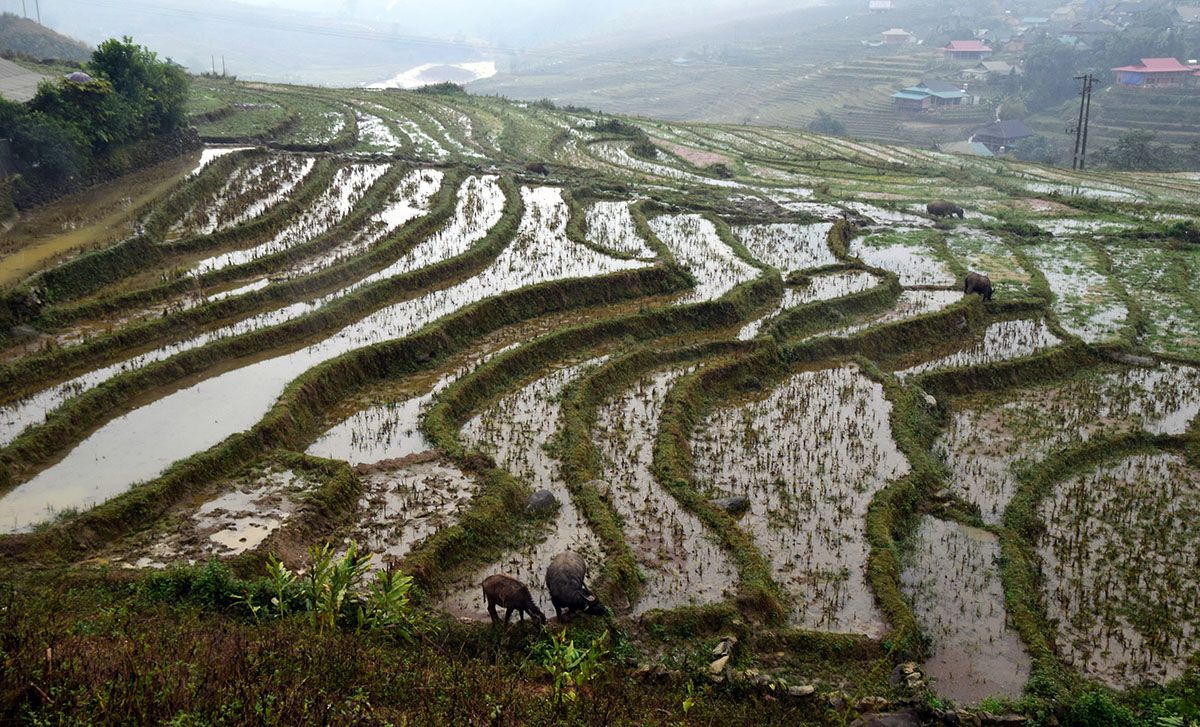 A few tips for your visit to Sapa
There are two ways to get to Sapa from Hanoi: take the night train to Lao Cai and your organisation will pick you up there. You can also take the night bus. We went back and forth with the night train, which was great. Book at least a softsleeper carriage for 2-4 people.
Upon arrival at the Sapa Sisters office, you will meet the guide. Together with her you make out a schedule. She can give you good advice on how to take easy or slightly more challenging routes. She also knows well which routes are busier and which have fewer tourists.
Before departure and upon return, you can shower at the Sapa Sisters office. You can also have breakfast on arrival in Sapa.
Make sure you have clothes that can get dirty. Bring a rain jacket too. It is better to wear boots than mountain or hiking boots when wet. We sometimes sank up to 20 cm in the mud and then you have really cold, wet feet after a while.
Especially in January it can be cold in the evening and at night. So, bring some warm clothes that you can put on when you have arrived in your homestay.
If you start from Sapa on your walk, there are undoubtedly some women who want to sell something to you. These are often acquaintances or even relatives of your guide, but the guide would rather not say something about it to keep the relationship good. If you ignore them, they'll stop selling. In the first village you come to, they'll leave.