Madagascar in a nutshell
Madagascar is a fantastic country to visit for a holiday. Nature lovers get their money's worth in the beautiful national parks. These give you the chance to enjoy the enormous biodiversity of the island of Madagascar. In addition, there are fantastic walking areas scattered all over the country. Divers and snorkelers can indulge themselves in tropical areas with beautiful coral reefs. Finally, it is a pleasure to get to know the culture of the country. Because of the melting pot of cultures and the large number of tribes in the country, each region has its own customs. A road trip through Madagascar is an adventure in itself. In particular with a 4×4 you will reach the most beautiful, otherwise inaccessible places.
Madagascar is one of the largest islands in the world. It is also called the eighth continent in the world. It owes its name to the fact that the country has so many plant and animal species that are not present anywhere else. Millions of years ago, Madagascar broke away from the African continent. As a result, a flora and fauna has developed that is unique in the world. During a tour of Madagascar, you can really discover them. Meet the many lemurs. Enjoy the impressive baobabs. Marvel at the wide variety of chameleons. Birdwatchers are delighted with the special bird species that only occur here.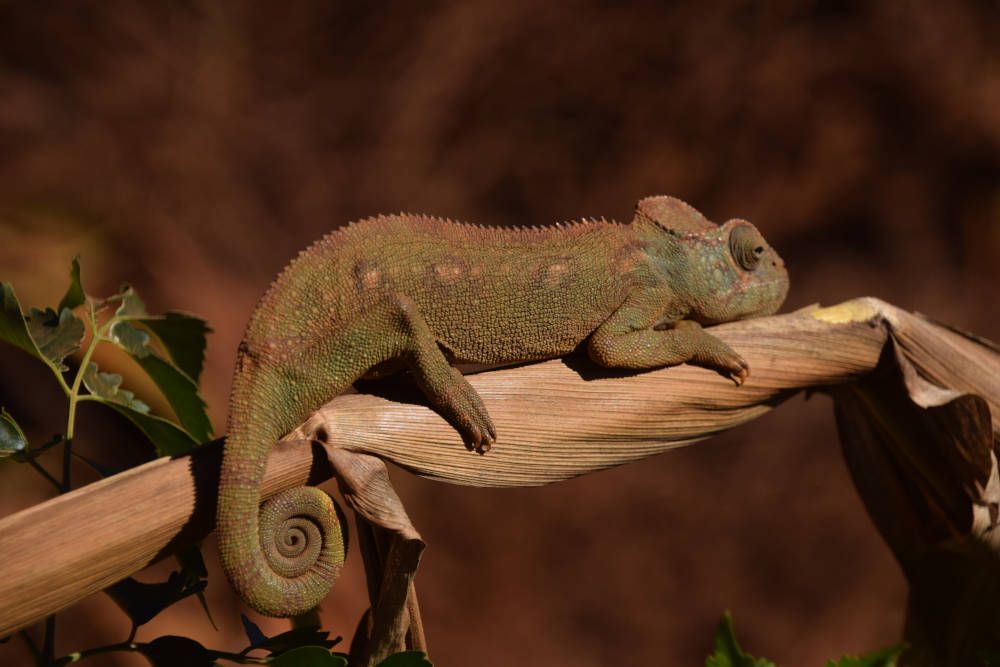 Large country
Madagascar is a huge country with a surface area similar to that of France. The distances are enormous and the infrastructure is poor. This means that you have to make choices about what you want to see during your holiday. The best thing to do is to explore a small part of the country. For instance, many holidaymakers opt for a drive from the capital Antananarivo to Tulear in the southwest. This route lets you visit some of the most famous national parks. The country has a coastline of no less than 5,000 kilometres. On the coast, about 250 islands are scattered. The most famous and largest of these are Nosy Be and Ile Sainte Marie. Many people visit one of those islands for a relaxing end to their holiday in Madagascar.
Madagascar is a poor country. A large part of the population has to live on less than €2 per day. Many live from the meagre harvest obtained by agriculture or from fishing. Moreover, because the families are often large, there are many mouths to be fed. Nevertheless, the population has a cheerful, optimistic attitude to life. They are not very worried and live by the day. Life is taken as it is. The population accepts the bad condition of the roads. These often lead to many breakdowns on journeys, often resulting in delays. The residents in poor areas have simple thatched houses without toilets. That is why you regularly come across "poop fields", which the population uses for its needs.
Unique holiday destination
As a holiday destination, Madagascar is a unique country to visit. It has made a big impression on us. The friendliness of the population gave us a warm feeling. For that reason, we were willing to tolerate the often-bad roads. Although we were travelling for four weeks, we were only able to see a fraction of the country. So, I'm glad I'm going to get the chance to go back to beautiful Madagascar soon!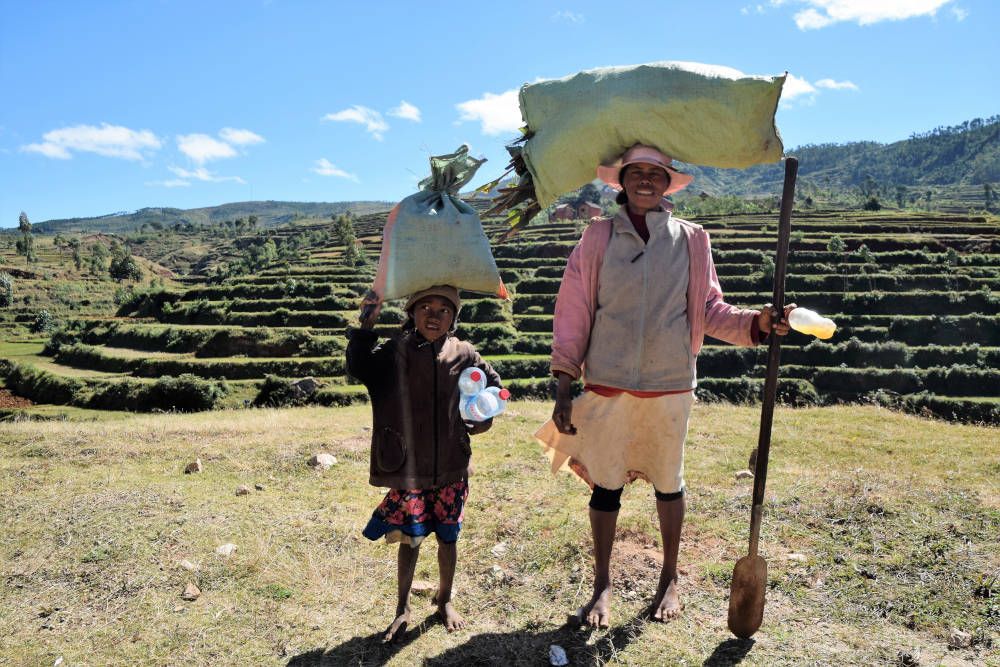 Accommodation
In the tourist areas of Madagascar, there is generally a diverse range of accommodation. There is plenty of choice for every budget. Prices are low compared to European standards. We have never paid more than €30 for a room with an ensuite. In high season, July to September, it is highly recommended to book in advance.
In various areas of the country, internet is not always available or it is only available for a few hours a day. The same applies to electricity. Often one uses solar energy or generators. Therefore, electricity is only available in the morning and evening. Hot water can sometimes be scarce in budget and mid-range accommodations.
Bungalows
Many accommodations offer bungalows. They are especially available along the coast and at the national parks. Along the coast, they are very simple in design, often made of bamboo and reed. However, in various regions the bungalows are very luxurious and equipped with all sorts of modern conveniences.
In most tourist areas it is possible to book accommodation via booking.com or expedia.nl. In other cases, it is important to contact the desired accommodation in advance by e-mail or telephone. Especially in high season this is important. Unfortunately, people do not always respond quickly to requests via e-mail.
Among the various highlights, we mention several options for good accommodation in the place concerned.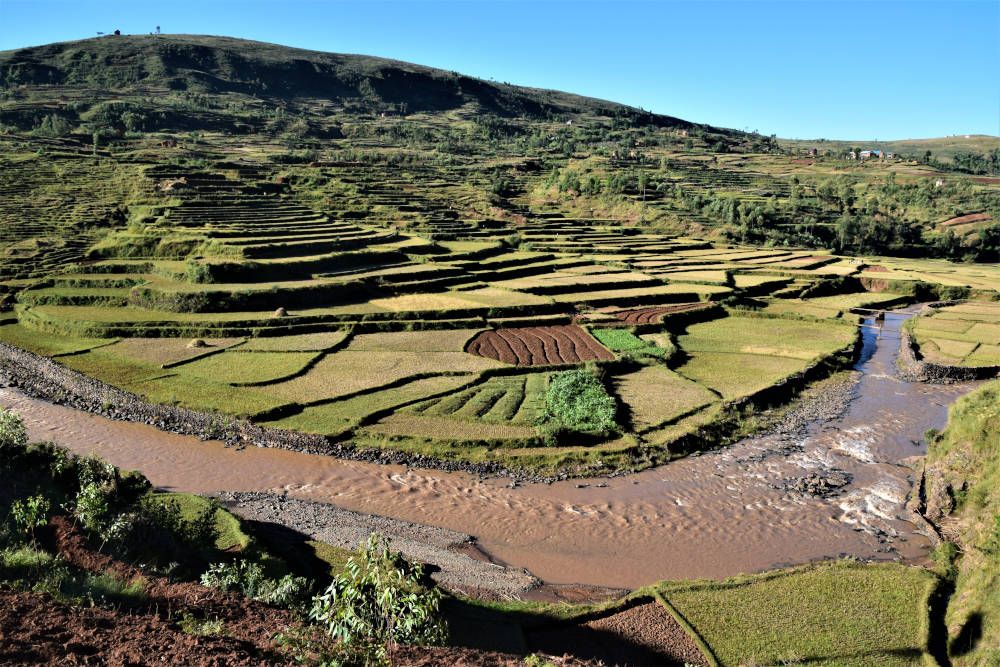 Travel advice for Madagascar
We felt utterly safe during our one-month road trip. However, there are some precautions for a safe holiday in Madagascar. For example, it is wise to avoid political gatherings. It may also be necessary to drive in convoy to the entrance of Tsingy de Bemaraha National Park. The police will accompany you on your trip because sometimes robberies take place here, so this measure is sometimes used. It is quite self-explanatory.
In addition, it is really not recommended to travel at night. The sometimes-bad condition of the unlit roads makes this not at all fun and even dangerous. It also increases the risk of robbery.
In the capital Antananarivo pickpockets are active at busy places. Here, extra vigilance is required. It is advisable to carry your backpack in front of you, so that you have a view of your belongings.
Always read the current travel advice for Madagascar before you leave to avoid any unpleasant surprises.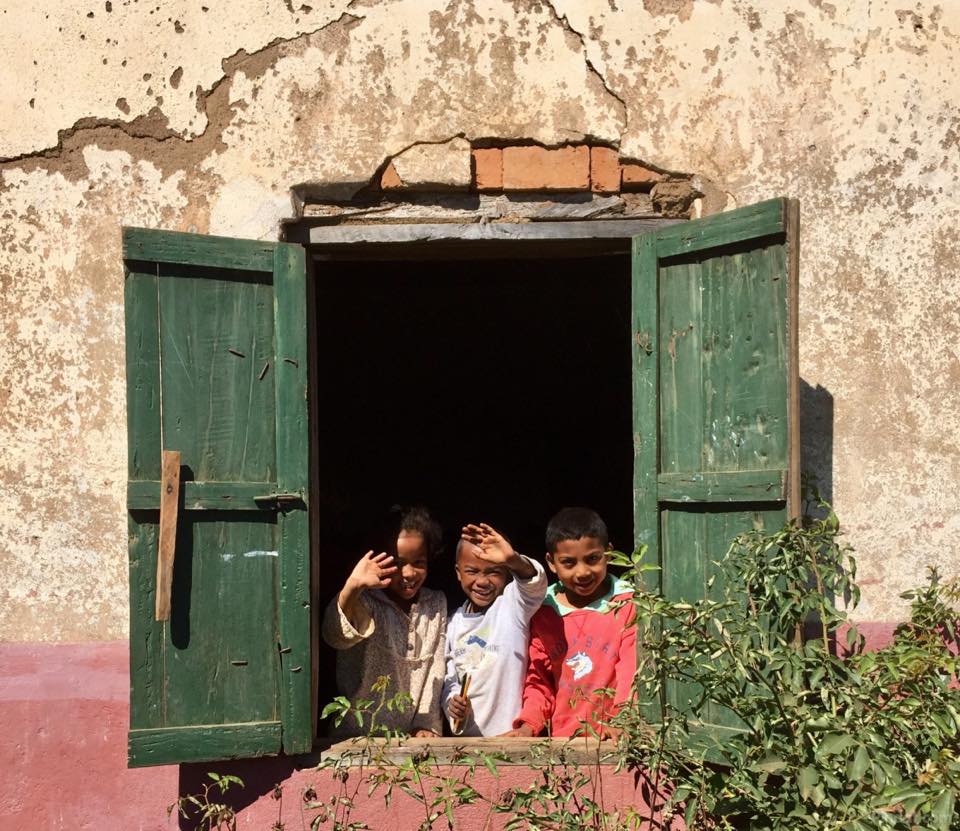 Healthcare in Madagascar
It is wise to have an interview with an expert about 8 weeks before leaving for Madagascar. Depending on your own medical background, specific precautions may be necessary. During a consultation you will receive personalised advice.
Madagascar is one of the few countries in the world that officially requires incoming travellers to have a "cholera temple". This is a stamp in the vaccination booklet that says "cholera medically not indicated". Its sole purpose is to prevent problems at these border posts. It is not checked, but in the very exceptional case that it does happen, you may have to get vaccinated on the spot, or you may have to "buy away" the problem from the corrupt customs officer. Recommended vaccinations for Madagascar are those against DTP and Hepatitis A.
Malaria
Malaria is prevalent in Madagascar, particularly in coastal areas. Depending on your itinerary and personal situation, it is necessary to take malaria pills. We only need an emergency treatment package. You only use it when symptoms of malaria occur. By the way, in Madagascar a very good working local medicine is cheaply available. This medicine is called Coartem and contains artemisinin. This only works as an emergency treatment, it is not preventive.
Tap water should not be drunk in Madagascar. You can buy large and small bottles of mineral water cheaply everywhere. If you order something to drink, it is wise to ask in advance whether ice cubes are made from filtered water. If this is not the case, ask for a drink without ice cubes.
The medical facilities in Madagascar are less than we are used to in Europe. For small problems you can go to the pharmacy. They are well trained and can give you advice. Medicines are readily available and effective there. In most of the major tourist places there are hospitals, sometimes also private clinics. If very serious health problems arise, evacuation to Réunion (a French colony) or South Africa is often necessary.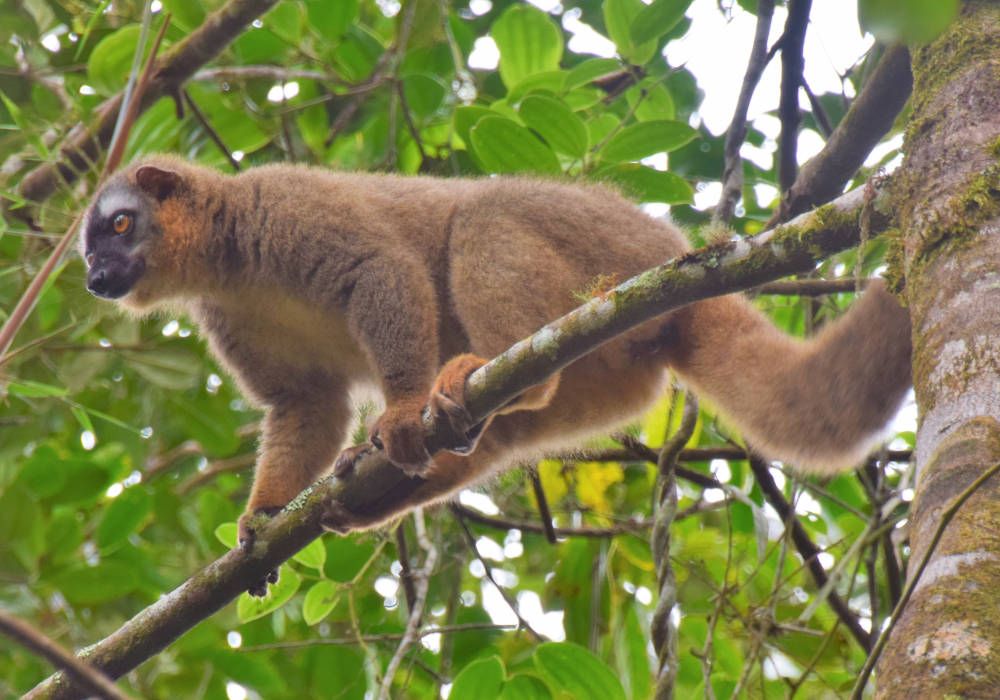 Best time to visit Madagascar
Madagascar has a tropical climate. The seasons are opposite to those in the Netherlands. In the Malagasy winter months, the temperatures are around 20 to 25 degrees and in the summer months around 25 to 30 degrees.
The best time for a holiday in Madagascar is May to November. You avoid the rainy season in which cyclones can occur. In the rainy season, roads in large parts of the country are inaccessible and many areas too. In the rainy season, it can be special to visit. You can be sure that you have the whole country to yourself. According to Malagasy connoisseurs it is the most beautiful time of the year though you are limited in the areas you can visit.
Peak season starts at the end of June and continues until September. It can be busy throughout the country. Sometimes it happens that there are not enough guides at the national parks and tourists are therefore not allowed to enter the park (guides are required in all parks). In addition, hotel accommodation is more difficult to obtain. The months of May, June, September and October are much calmer.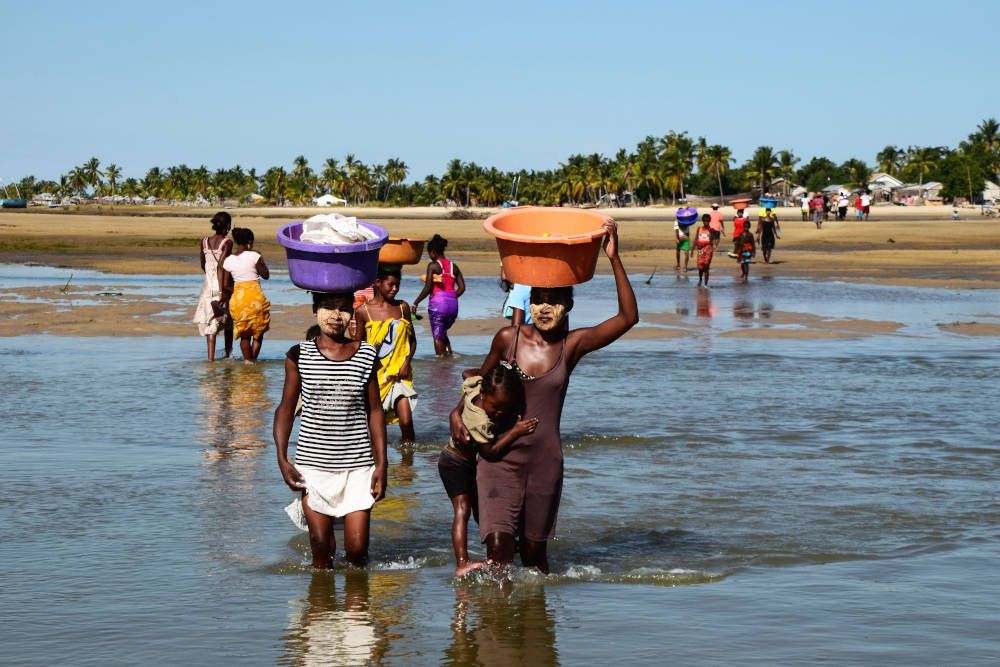 Visa for Madagascar
Madagascar requires a visa. This can be obtained upon arrival at the airport in Antananarivo. A passport photo is not required. It is important that your passport is valid for at least 6 months. The visa costs €35 and has to be paid in cash. Make sure you have the right money with you, because by default they say that there is no change. The visa is valid for 30 days and has a so-called "single entry". If you want to fly to Mauritius and then return to Madagascar, you need a "multiple entry" visa.
As of 1 June 2019, the Malagasy authorities have introduced an obligation for visitors to apply for a landing permit online. This must be done no later than 72 hours before arrival in Madagascar. At present, this process is not entirely flawless. The website regularly crashes, or there is no reply once you have sent the request. Customs is aware of this. Therefore, a leniency programme is in force for the time being if you can prove that you have applied. To be on the safe side, take a print screen of the application. Or bring the default e-mail after you have made the application. If necessary, you can send a reminder to the authorities via the e-mail address evisamdg.contact@gmail.com. The website for the landing permit in Madagascar is unfortunately unsafe. It also gives the impression that you are applying for a visa online. This is not the case. At customs you show the landing authorisation and then you get the visa.
A better option, however, might be to just hand over the visa application to a visa agency like iVisa. Although this will cost you slightly more, it will save you the hassle!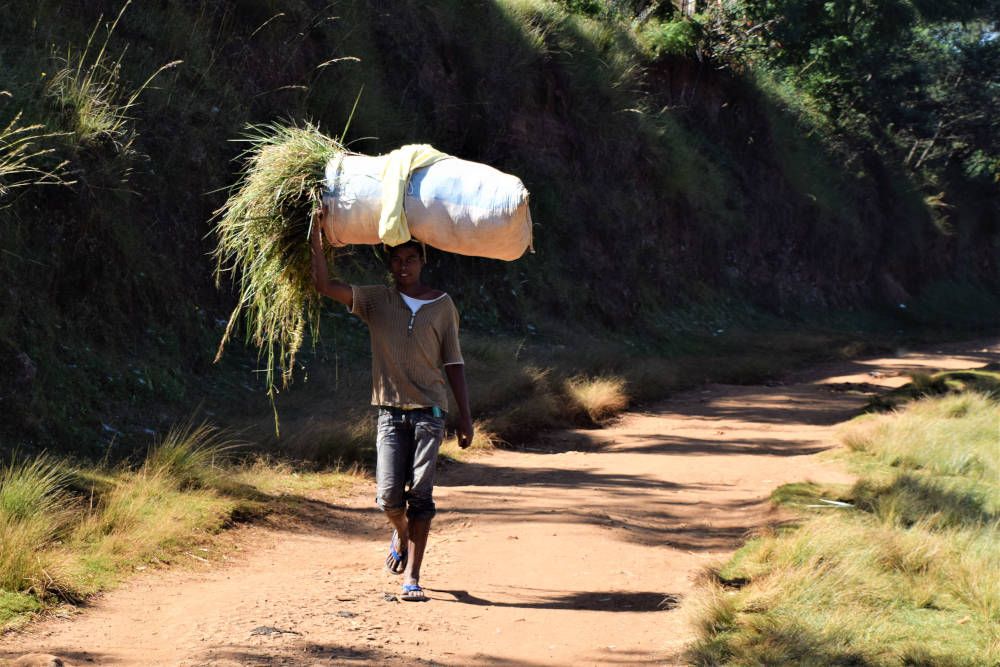 Food and drinks
Rice is the main ingredient of the Malagasy cuisine. So, you can enjoy a delicious romazava (a stew of beef and vegetables). Or you can opt for a ravitoto (pork and manioc stew). You can use spicy sauces such as rougaille (of tomato, ginger, onion, lemon and hot peppers) or achards (a hot vegetable curry). Many meat dishes are made from the zebu, an ox that is very common in Madagascar. A tender zebu steak, well prepared, tastes delicious. On the coast you can feast on fish dishes. These are often grilled and served with a coconut sauce. The national dessert is banana flambée (banana flambéed with rum). You can also order other flambéed fruit for dessert.
Rhum arrangé
Soft drinks and mineral water are widely available in Madagascar. You can also buy many fruit juices in various flavours, such as baobab juice. The most famous beer is Three Horses Bear (THB). You can order this in bottles up to 650 ml for really cheap prices. Rum is widely available and also available as rhum arrangé, rum mixed with fruit and herbs. Delicious as a finishing touch to a meal. Wine is grown in the area around Ambalavao and Fianarantsoa. When we asked for a glass of wine in Ambalavao, the hotel owner didn't recommend it. After tasting we knew why…
Vegetarian options are often not on the map. If you ask for it, they will be happy to make you a vegetable dish with rice or chips.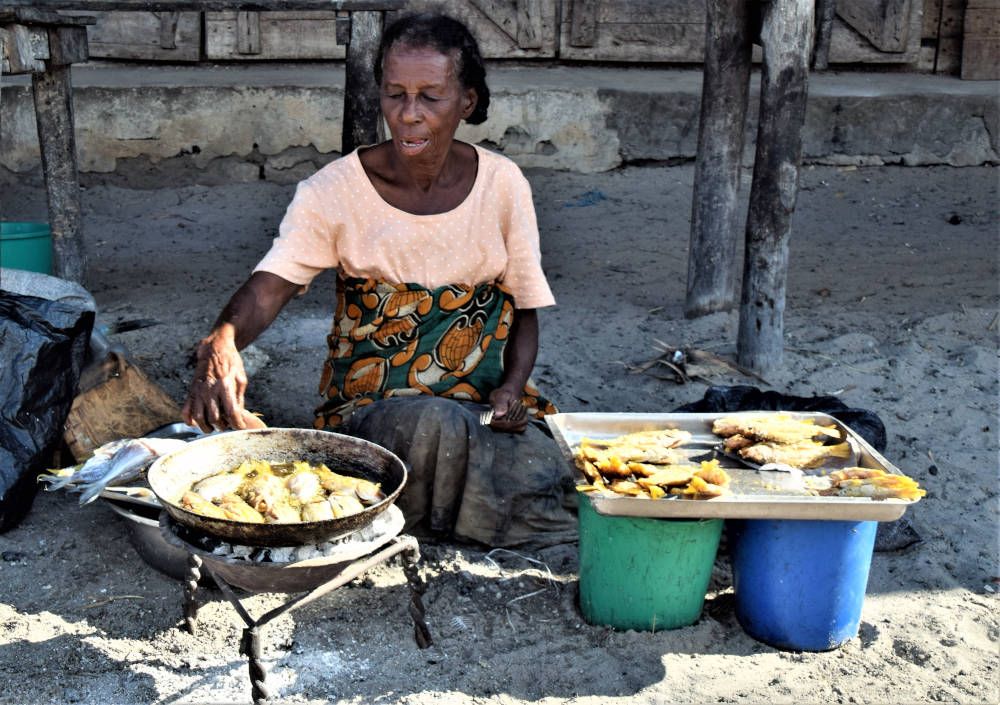 Getting around in Madagascar
In Madagascar, the infrastructure is not great. There are a few paved roads in the country, but some of them are in (very) bad condition. Asphalt that has disappeared over the entire width of the road, potholes, large holes, it makes driving a challenge. Therefore, count on an average speed of 45 km/h for most routes. Our "record" was the route from Morondava to Bekopaka, gateway to the famous Tsingy de Bemaraha National Park. We covered this stretch of less than 200 kilometres in a whole day. That included two trips on a ramshackle ferry. You solely drive on dirt roads here.
For travelling by car there are two options: renting a car with driver or without driver. Most holidaymakers choose a car with a driver. The advantage is of course that you don't have to drive yourself. Driving is quite strenuous in Madagascar because you have to be constantly alert for holes in the road. The disadvantage of a car with driver is that you always travel together with someone. If it doesn't click with the driver, it gets a bit annoying in the long run. Renting a car without a driver is difficult, but not impossible. We chose this option because we thought freedom and flexibility were very important during our trip. Through the company Cineroutes, owned by an emigrated Dutchman, we rented our 4×4. Great car, perfect support from the company and with detailed route information we were able to discover the country.
Taxi brousse
Travelling through Madagascar by bus (taxi brousse) is certainly not recommended. The small and outdated minivans are overcrowded and extremely uncomfortable. Often, they are imported vans from the Netherlands or Western Europe. The advertisement of the original owner is still there. The drivers drive very fast and fly over the pits and holes. Breakdowns are more the rule than the exception, so a ride often takes much more time than expected.
A faster way to get around is by plane. The national airline Tsaradia, formerly Air Madagascar has a large network that connects most of the major tourist places with the capital Antananarivo. We did not take any domestic flights in Madagascar. Others told us that there would be regular delays and/or cancellations of domestic flights. More information about domestic flights in Madagascar.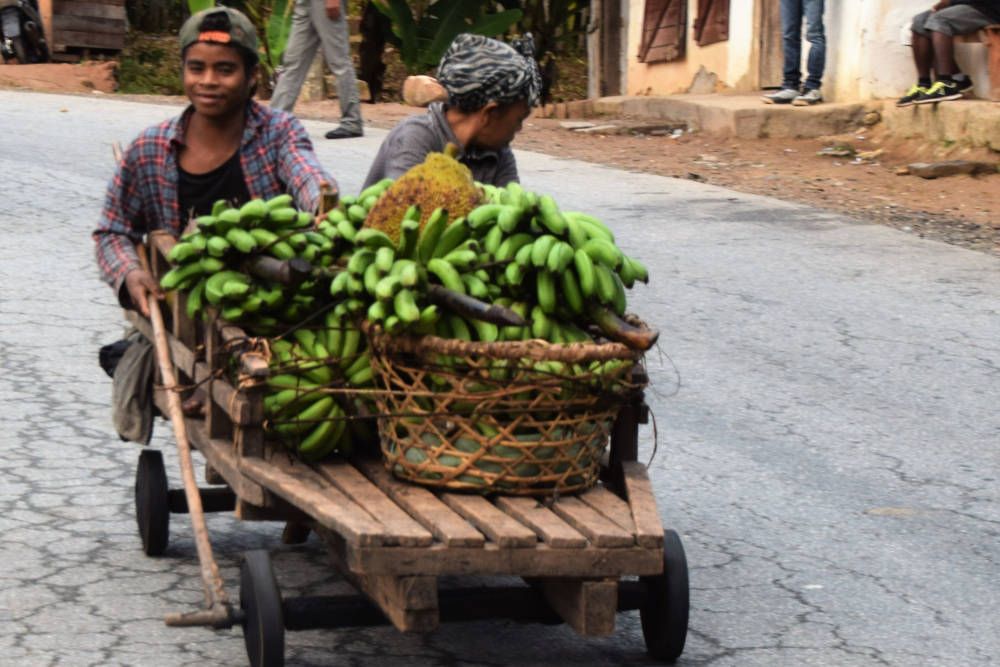 Electricity in Madagascar
The mains voltage in Madagascar is 220 volt/50 Hz. In general, you need a type C plug. The sockets are not always good. It sometimes seems impossible to push the plug into the socket. Some force is needed. In other cases, the plug is so loose, that it continuously disconnects.
In some areas you may need type E plugs. If you visit more countries where there are other types of sockets during your trip, we advise you to buy a universal world plug.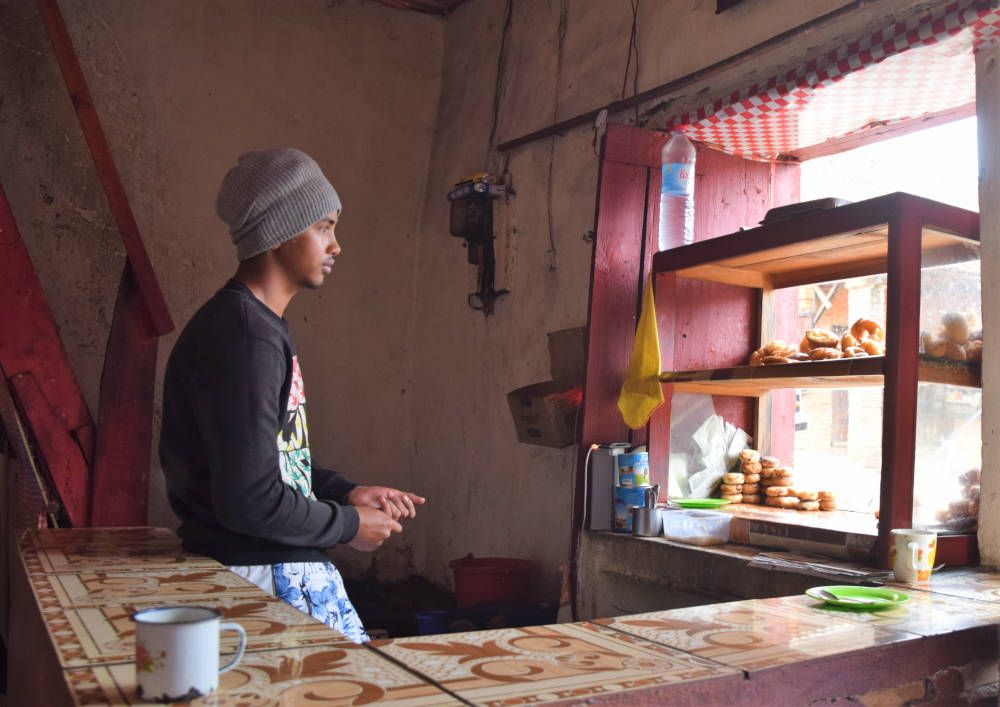 Money matters
In Madagascar, you pay with the ariary. Coins are rare, paper money is available in notes of 100, 200, 500, 1000, 2000, 5000, 10,000 and 20,000 ariary. It is becoming easier and easier to withdraw money in Madagascar's main cities. Although several sources suggest that you can only withdraw cash with a VISA credit card, this is no longer the case. At the ATMs of the BFV-SG bank, you can use a Maestro card to withdraw money without any issues. This bank can be found in every major city of Madagascar.
Payment by credit card is only possible in luxury hotels. Furthermore, it is especially important to take a thick wallet with cash: If you pull out 90 GBP, you will get about 400,000 ariary from the ATM. Often you can only withdraw a maximum of 400,000 ariary per transaction. It is no problem to make multiple cash withdrawals in a row with the same bank card. Especially if you go to less visited areas, you have to take cash in large quantities, because there are no options for withdrawing cash.
Small denominations
Make sure you always carry enough money in small denominations. If you want to buy something at a market, you definitely don't get change for 10,000 or 20,000 ariary. In a hotel they are usually prepared to exchange a 10,000 note for small change. This way you can pay for small groceries without any problems.
The price level in Madagascar is much lower than in the Netherlands. You can eat delicious food for next to nothing. And for a hotel we only had to pay more than 27 GBP once every so often. Access to the national parks is relatively expensive. On top of that, there are the costs for a mandatory guide. If you travel with a rental car, this is a pretty big expense. In addition, fuel for Malagasy is relatively expensive (one litre of diesel in May 2019 converted to 0.75 GBP).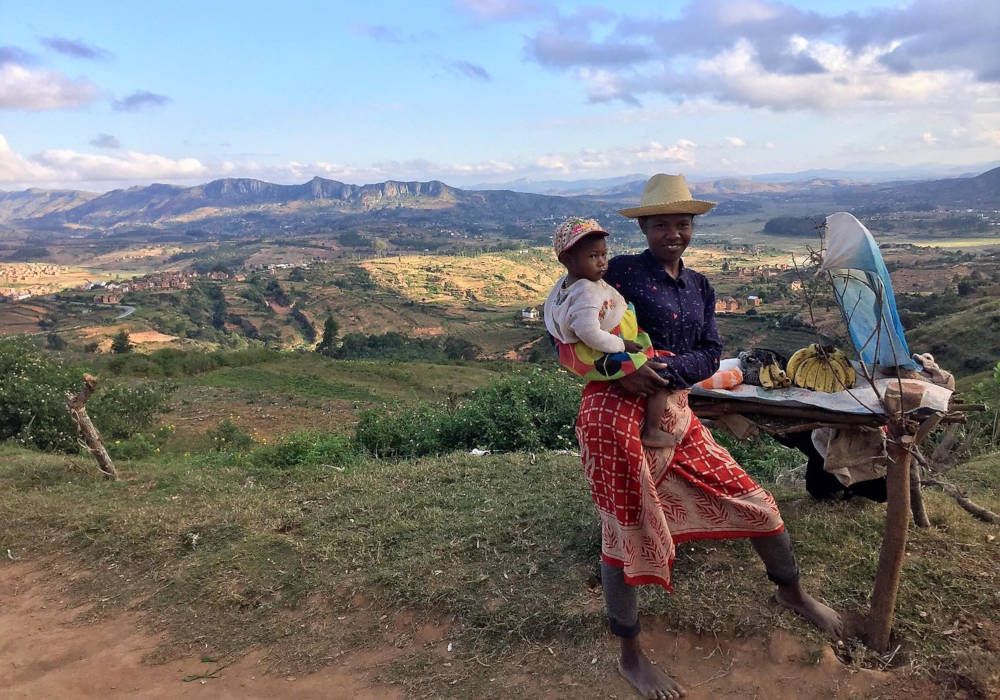 Do's and Don'ts while staying in Madagascar
| | |
| --- | --- |
| Do's | Don'ts |
| Be polite to people |   |
| Point with bent fingers at people, tombs and holy places | Ask questions that are too personal |
| Be patient | Point at people, tombs and holy places |
| Accept drink or food from host or hostess. Eat or drink all of it. | Be impatient, push forward |
| Stick to the "fady", local customs and taboos to show respect for especially ancestors. | Refuse to eat or drink something offered to you |
| Be careful, drive at walking pace in a village where there is a market. | Give money or sweets to begging children |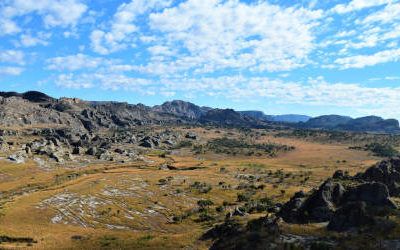 Madagascar has many national parks. One of the most beautiful is Isalo National Park. With an area of over 800 km², it is also the second largest park in the country. It is especially known for its beautiful rock formations. That's why...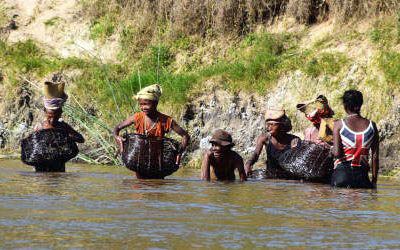 One of the best ways to get to know the landscape and people is via a boat trip on a river. From the water, you can observe life on and along the water at its best. It is even more special if you can take such a trip in a real pirogue....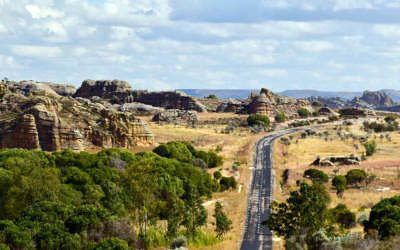 For us, the ultimate way to get to know Madagascar in every aspect was to do a road trip. And because we wanted to go on a tour, the only option was to rent a 4x4. This allowed us to cross from Tulear to Morondava. With our tough...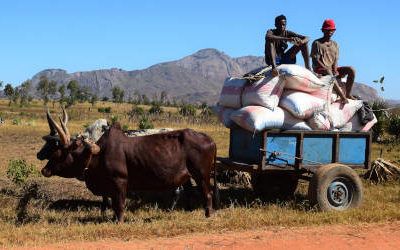 Ambalavao is a nice town located on the RN 7 on the way south. The most famous thing is the village because of the weekly zebu market on Wednesday. For us, the reason for a visit to Ambalavao was an introduction to the Betsileo tribe....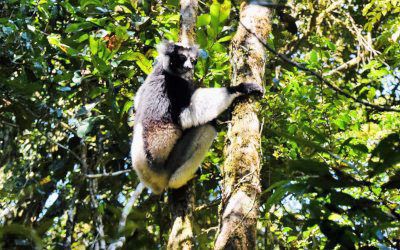 About four hours' drive from the capital Antananarivo lies the small town of Andasibe. Andasibe National Park, or Perinet Reserve as it used to be called, is a tropical rainforest. It is a place where you can spot the Indri. The Indri...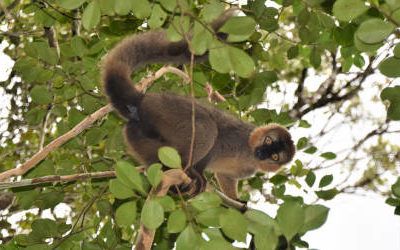 For many tourists who visit Madagascar, the Ranomafana National Park is the first introduction to the beautiful nature of the country. From Antananarivo on the way south via the RN 7, this is the first park on the route. For us, this was...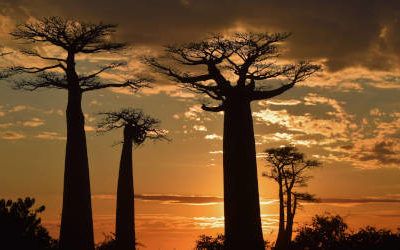 The most famous road in Madagascar is the Allée des Baobabs, near Morondava. Here you will find a large number of beautiful baobabs. A visit to the Allée des Baobabs is one of the highlights of a holiday in Madagascar. Especially at...