South Africa in a nutshell

South Africa lies on the southern tip of Africa with northern Namibia, Botswana and Zimbabwe, and has Mozambique and Swaziland as eastern neighbours. The independent state of Lesotho, lies like an enclave in the middle of South Africa.
South Africa has a rich colonial history going back to the middle of the 17th century when the Dutch founded a post on the Cape for supplies and drinking water for the Dutch East India Company (VOC). Around 1800, the British occupied the vast country. The Dutch, also known as the Boers, went into the interior and founded several states there. It took another century before the British also took those states and made the country a united South Africa. In the 20th century, apartheid was only abolished in 1990. Four years later, Nelson Mandela became the first black president of South Africa.
South Africa is inhabited by many population groups. The country is one of the most developed countries in Africa but you also see a lot of poverty and the crime figures are high.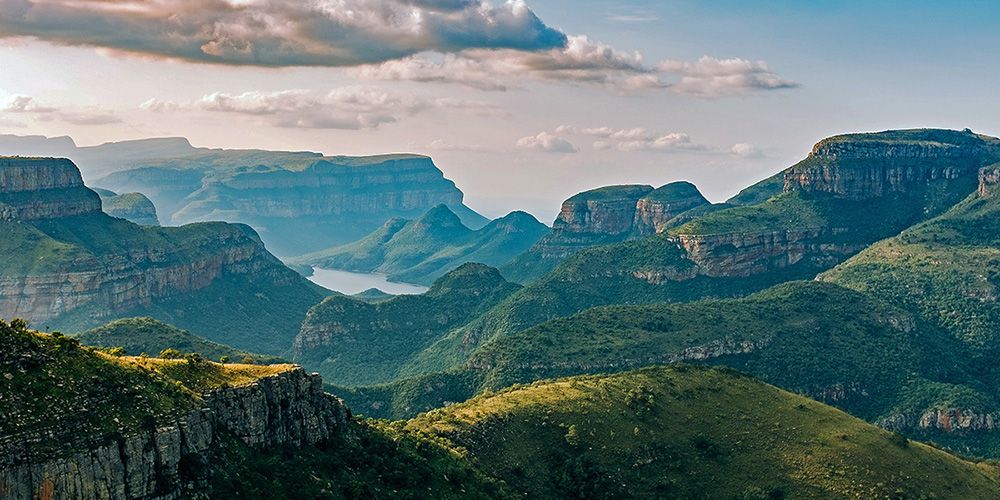 Accommodation
The accommodation offer is huge in South Africa. You have cheaper hostels where the younger backpackers especially stay, luxury lodges in game parks or comfortable Bed & Breakfasts. In low season, you can often find a safe, comfortable accommodation for relatively little money.
Hotels are fine to use. However, do not rely on the number of stars given. The truly luxurious hotels are often extremely luxurious. For us, this wasn't necessary when we were there. Instead, we usually slept in a bed and breakfast. The ideal thing is that in many places you can use a compact guide with a large list of low- to high-priced B & B's. An alternative is that on your phone, with a prepaid SIM card you buy at the airport, you can look up your next stay via a booking site like Booking.com. We never actually booked well ahead but were always able to spend the night at a reasonable rate.
In the game parks, but also in the wine regions in the south, another option is to spend the night in a so-called rondavel, a typical round African house with a straw roof. We did that in the Addo Elephant National Park which we liked very much. The houses are available in various shapes and sizes, from primitive to extremely comfortable.
Lovers of camping can also enjoy themselves in South Africa. Although we'd like to add that you should do it in the wild parks for safety reasons.
The picture below: the homestay/Bed & Breakfast where we stayed for the first nights in Cape Town.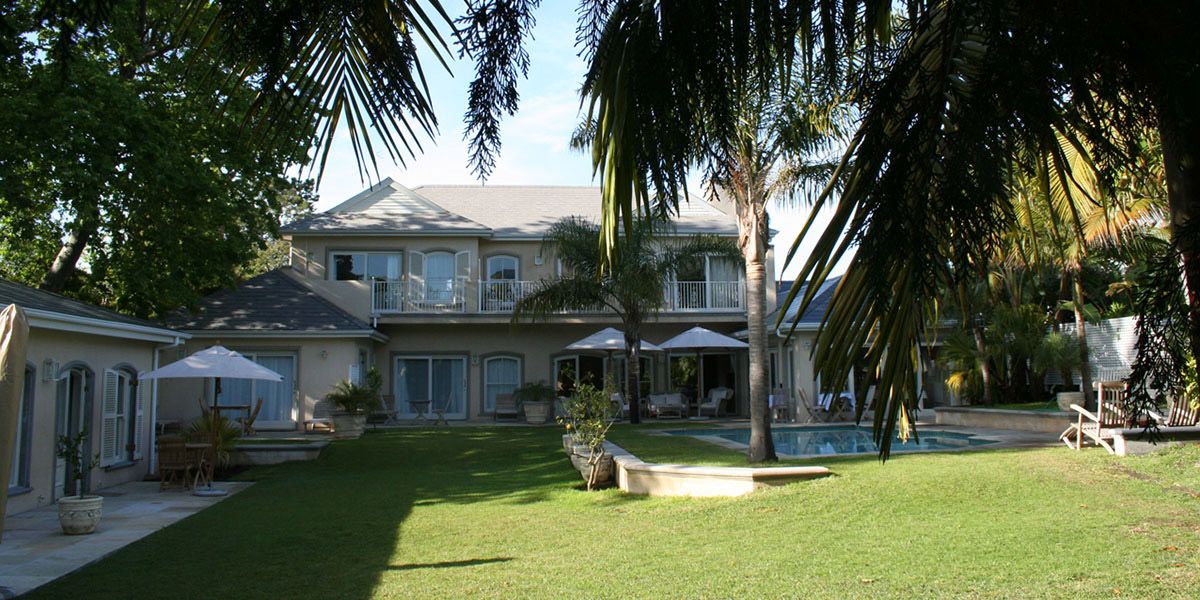 Travel advice
Although we find South Africa a fantastic country to visit, certain safety risks apply. Especially around the big cities there are violent, criminal gangs that are active and can make the life of the tourist, especially immediately after arrival, pretty miserable. The advice from the Dutch Ministry of Foreign Affairs is therefore not to get money out directly at the airport or at the border office. Before leaving, study the current Travel Advice for South Africa and Lesotho. Also take a look at our travel blog on safety with some general advice.
Healthcare
In South Africa, diseases occur that are transmitted by mosquitoes. Examples are dengue (dengue fever), zika and chikungunya. Malaria also occurs in some areas. The advice is to always protect yourself from mosquito bites. See also our blog with practical on-site tips.
In addition, there is a risk of Bilharzia, which is caused by a freshwater worm, in fresh surface water. The illness that you can get from this is easy to treat but prevention is of course better by simply not swimming in such water pools in the first place.
View this website about which vaccinations are recommended and required and make an appointment in time to be vaccinated.
The medical facilities in the country are excellent. In the larger cities, you can go to a pharmacy for many types of medicines.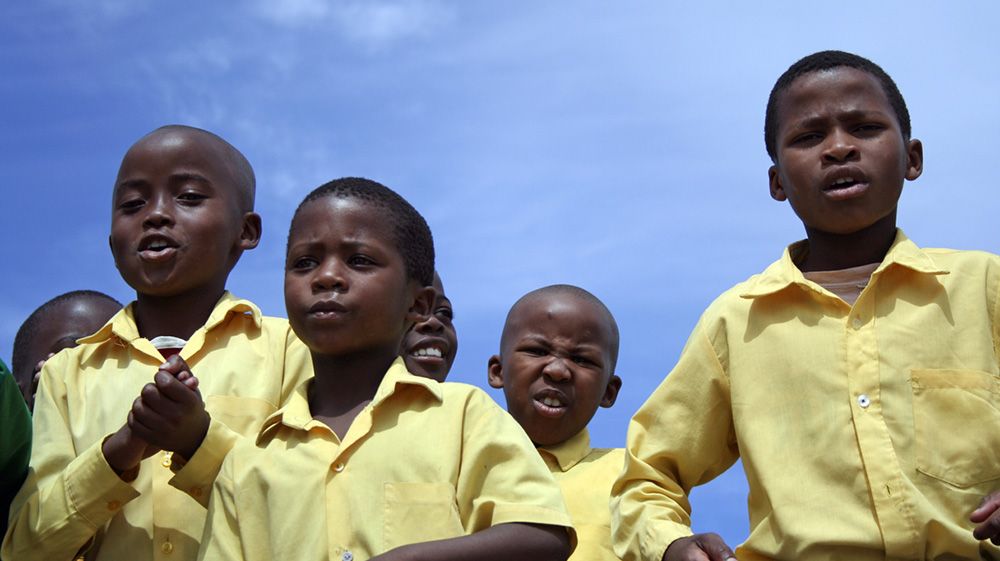 Best travel time
A tour of South Africa can be done throughout the year. In their winter (when it is summer with us), it is fortunately not too hot. Especially the parks in the northeast, such as the Kruger Park, are pleasantly warm then. If it is winter with us, you may well be in the heat of their summer, but then you mainly limit yourself to the southwest, as it can be quite stuffy in the northeast of the country. We were there in October and found that to be an exceptionally pleasant period. March and April are also good months for a round trip. April, July and September are less suitable travel months because there are so many people travelling then. Everything becomes more expensive and busier because of this.
Visa
As a tourist, you can stay in the country for up to three months without a visa. However, you must have a machine-readable passport with at least two empty pages, valid for at least 30 days after departure from South Africa. You must be able to prove that you are indeed a tourist, have sufficient financial means, have a return ticket or a ticket to the next destination, and are in possession of all documents required for the next destination. If you wish to stay longer than three months, you are advised to contact the South African embassy in your country.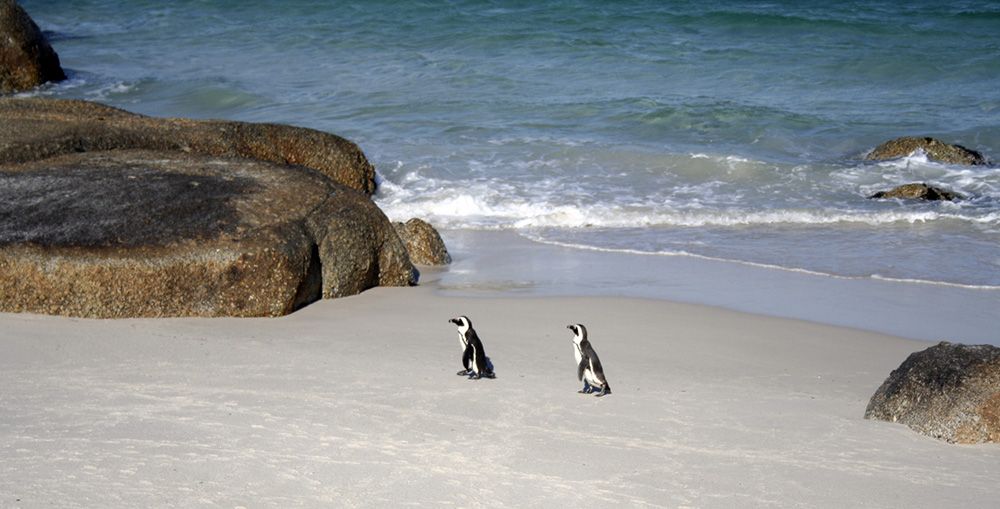 Eating and drinking
We have generally eaten pretty well to even delicious in South Africa. Because of the many international influences, the cuisine is very diverse. You can enjoy Dutch, English, Indian (e.g. 'Bunny Chow'), Cape-Malaysian (e.g. Bobotie) and even Swiss food (cheese fondue at the Swiss Manor House).
But the most special thing about South African cuisine was the braai, or the barbecue. Large pieces of meat are laid on the grill, from one to two kilos, after which they are cut into smaller pieces. In the Netherlands, you would expect a piece of beef, here you can expect everything: from ostrich to springbok. Provided there is a surplus of those animals in a game park. No worries: nature management in the country is well organised and there are severe penalties for poaching. Animals are only hunted when nature is clearly no longer in balance. Incidentally, the preparation of food meets international standards in most cases.
The tap water in South Africa is generally of good quality. If not, it will be indicated and you will find a bottle of water in your room. As a wine lover, you will enjoy yourself in South Africa. Except for the best wines, even fine to good wines are sometimes even cheaper than soft drinks. It is definitely worth a visit to the wine region. At many wineries, including the old and famous Stellenbosch, you can taste great wines. More information.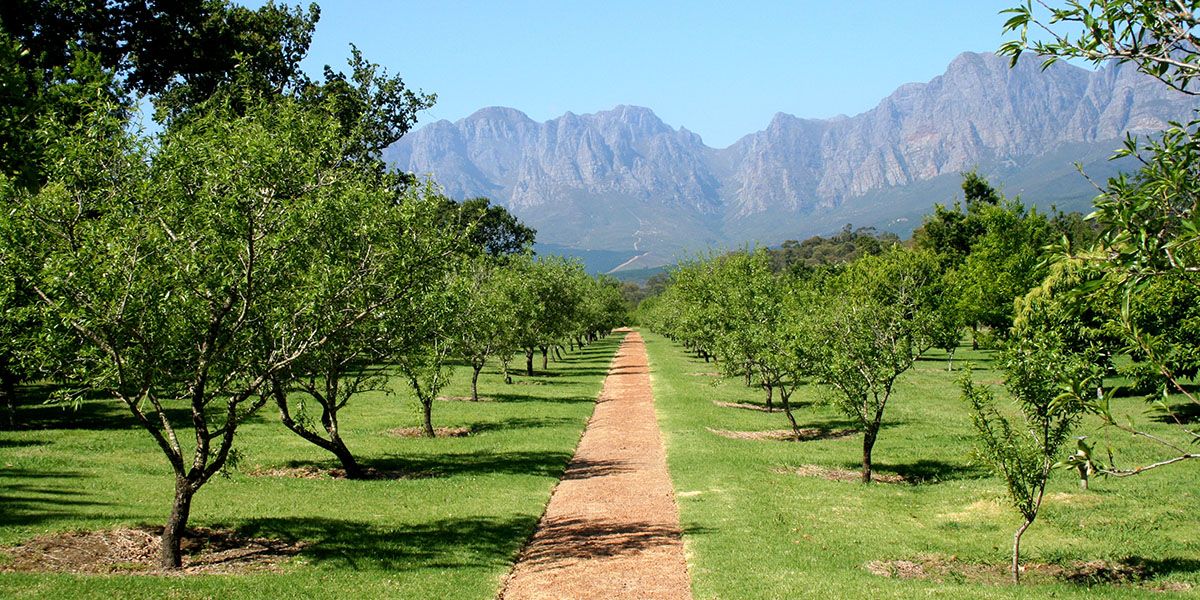 Transport
Transport is well organised in South Africa. The country is very big. Depending on the duration of your journey and what you wish to see in the country anyway, you can travel by rental car, bus, train or plane. Because we had 'only' four weeks to see a maximum of half of the country, we travelled for the first two weeks with a rental car, after which we took the plane from the south to Durban. Here we got another rental car with which we drove to the northeast. The roads are generally good, although you also have many gravel roads.
There are good train connections between the major cities. You have compartments with great luxury to cheaper alternatives. However, a faster and cheaper way to travel by public transport is the bus. And you also get those in different variants. The bus that we would like to advise for the active traveller who wants to draw his own plan, is the so-called Baz Bus, a hop-on hop-off bus company, fairly similar to the Peru Hop. There are hop-on hop-off tickets for five different, beautiful routes where you can make up to 40 stops. These stops can often also be combined with an excursion. More information can be found on the Baz Bus site
Flying is also an option. If you only stay in the country and do not go to neighbouring countries like Botswana, Mozambique and Madagascar, having an airpass (multiple coupons) makes little sense. There are various budget companies that fly to all major cities in South Africa. We think, however, that rental cars or the bus is a much better option because then you really see some of the beautiful country.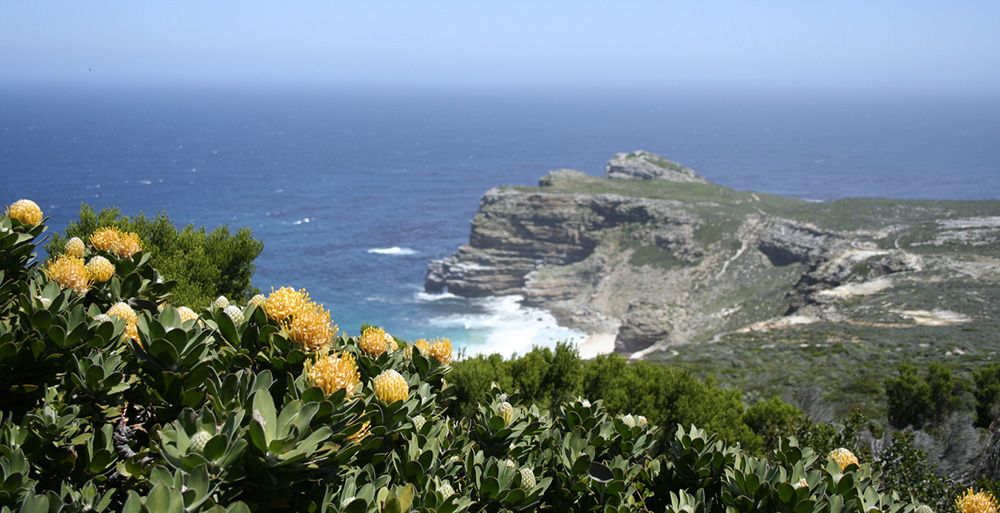 Electricity
The type of outlet in South Africa is D, M and N. The standard voltage is 230 V at 50 Hz. You need a power plug adapter when living in the UK or in Ireland
Money matters
In South Africa, the Rand is the currency. Please note that the exchange rate for this currency changes quite regularly. The price level is lower than in the Netherlands and Belgium, but still a lot higher than in, for example, Southeast Asia. For an overnight stay in a guesthouse or Bed & Breakfast, for example, you do not spend as much as in the UK.
Do's and Don'ts
Do's:
Don'ts:

give 10 to 20% tip in restaurants and cafes
ask permission in advance to take a photo of someone
greet others with your right hand
give a powerful handshake
lock the doors when you drive around

feed or touch the animals
put petrol in yourself. Give everyone a job!
be impatient
underestimate the power of the sun
walk in an unfamiliar area
Highlights of South-Africa
There are many things to do in South Africa. Below we only mention some of the many highlights of this country. We expect to regularly expand this blog to include other highlights. So, return to this page regularly!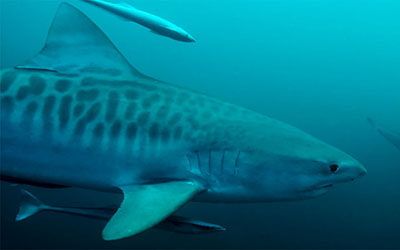 Although in the Gansbaai we also "dived" with the white sharks in masks and a snorkel in a cage, we found our "real" dive with tiger sharks at Durban a very special experience. Sharks at the reef of Aliwal Shoal You dive here at the now worldwide famous...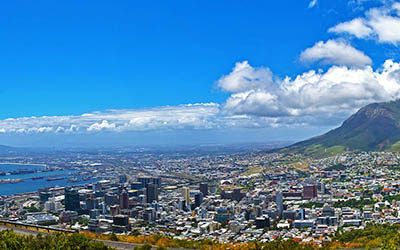 Bustling Cape Town is one of the most popular tourist destinations in all of South Africa. This is partly due to the wonderful Mediterranean climate but also thanks to its beautiful natural surroundings. The city is also known for its...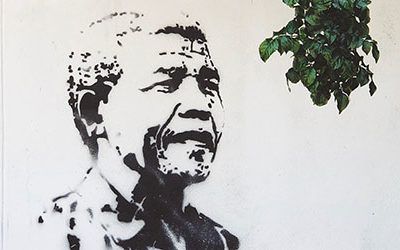 This infamous, iconic island off the coast of Cape Town was home to prisoners and exiles for almost four centuries. Most people know the island mainly because of Nelson Mandela who was imprisoned here for a long time during the apartheid regime. The...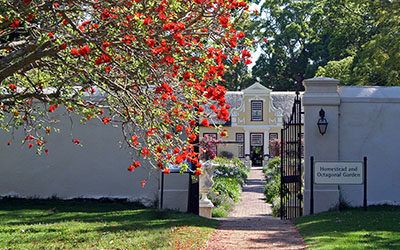 Half an hour's drive from Cape Town is the impressive Cape Winelands, a fantastic green and mountainous landscape full of vineyards. One of the best-known places in this wine country is the surroundings of the university town of Stellenbosch. For...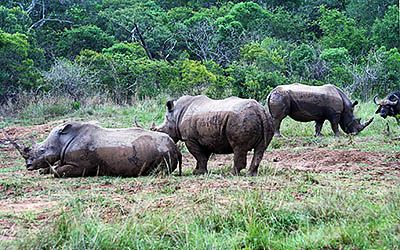 ​South Africa is one of the most popular wildlife safari destinations in the world. In this country, chances are you will soon get to see the 'Big Five'. But South Africa is also an ideal destination for activities other than just a...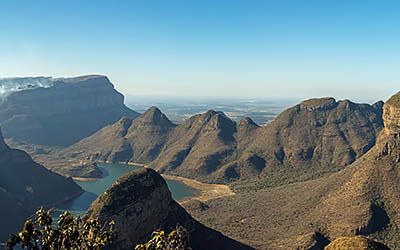 During our tour of South Africa, we also visited the third largest canyon in the world: the Blyde River Canyon (Blyderivierpoort in Afrikaans). The whole area is a famous nature reserve, popular among tourists visiting Kruger National...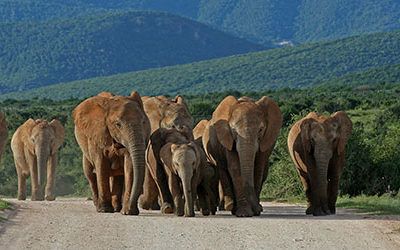 We visited several wildlife parks in South Africa, including Kruger National Park, Makalali Game Reserve, Kapama Game Reserve, Umfelozi and Hluhluwe, and the Bontebok National Park. However, the wildlife park that impressed us most was not Kruger Park...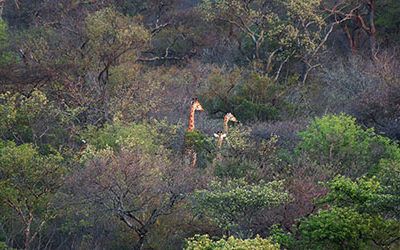 An unforgettable experience for us during our tour of South Africa was a hot air balloon ride over the wildlife parks at Hoedspruit. It was the first time in our lives that we had gone on a balloon ride. Above the African wilderness, we...