Myanmar in a nutshell
Myanmar was called Burma until 1989. The first Burmese Kingdom had a growth period around the 11th to 13th century. Bagan was the capital at the time and every king had many temples built in that region. There are still many of those temples left to see and this is the highlight of a visit to Myanmar. The recent history of the country has been turbulent and violent, with military rule for many years. Aung San Suu Kyi (1991 Nobel Peace Prize winner) has been a key figure in the transformation to a more normal regime. She is now formally the head of government.
However, Myanmar still has a long way to go to a real democracy. The ethnic cleansing, directed against the Muslim community in the country, the Rohingya, is very violent and gives the country a bad name. Tourism also suffers. Everyone must decide for themselves whether this country is worth a visit. We decided to go and did not notice any human rights' violations. The region where the Rohingya live is not accessible to tourists in any case. In fact, we only experienced that the population is extremely friendly, curious and welcoming. Such a contrast with the atrocities committed against the Muslim population. Myanmar was the highlight of our journey in Southeast Asia!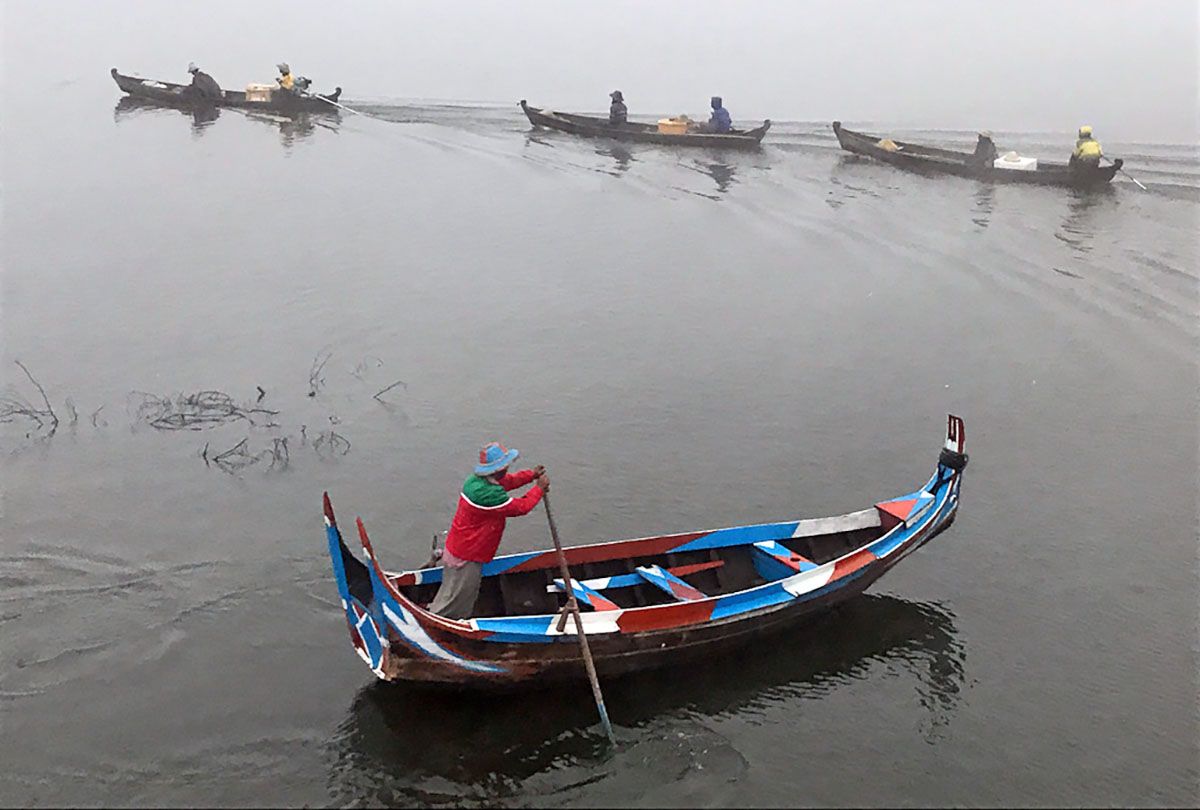 The first thing you notice when you enter Myanmar, is that almost all the women and children have rubbed their faces with a brown-yellow substance, sometimes in very beautiful shapes. This is thanaka and is only found in Myanmar. It is used as a natural anti-burning agent and as a cosmetic (Asians like white skin). The bark of the thanaka tree is rubbed over a wet stone plate. The resulting paste is applied to the face.
When we travelled around in April, the 3-month school holidays had just begun so many inhabitants were also visiting the tourist spots in Myanmar. They sometimes come from areas where they have never seen a Western tourist before. They were very interested in us and would like to have a chat. We have never been photographed as much as in those days! All the more since we were wearing the traditional longyi when visiting the temple. This is the garment that almost all men and women wear. At the market, you can buy this wide "wrap skirt" that you tie around your waist, it is not expensive. In this way, you show a lot of respect for their customs and you also make it very easy for them to talk to you.
It is striking that most people speak English reasonably well, probably another consequence of the British colonisation. A lot of people also want to practice English with you. We regularly had a whole group of schoolchildren and their teacher talking about cows and calves. Monks also want to get in touch with you this way. All very nice. What we also noticed there is that many people also use an English first name, next to their official Burmese name. They introduce themselves to you with their English first name.
Accommodation
More and more hotels have been set up in the most important areas, almost all of which can also be booked online via a booking site. The quality of the hotels has improved considerably in recent years and they are more geared towards Western tourists. The prices are also very low here, you can book a good room for next to nothing, including air conditioning and a private bathroom. As far as we are concerned, we recommend: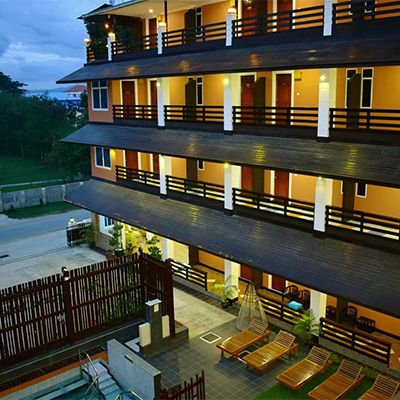 This hotel has very neat, spacious rooms with a perfect bathroom. The breakfast buffet is also delicious. You can use free bikes to explore the area. If desired, a simple route map can be provided. There is also a small swimming pool. The staff is very helpful. We booked a private boat trip through the hotel, which all went smoothly.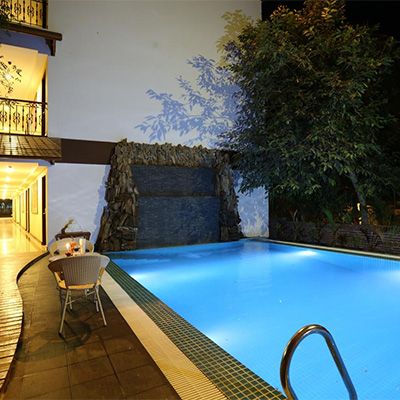 A lovely hotel with spacious rooms and a nice big bathroom. A very extensive breakfast buffet for both western and eastern tastes. A pool to cool down but too few sunbeds. The staff is very service-minded and thinks of everything. They helped us tremendously when a problem arose during our trip. Just do not use the hotel's scooter rental and laundry service, which are very expensive compared to other providers just next to the hotel.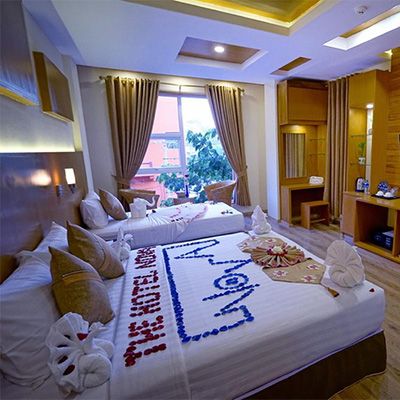 We found this to be our best hotel during the trip through Southeast Asia. It all started with the personal welcome. Top service, super room, lovely bathroom and good location. The staff is so nice! We were even brought home by car from a restaurant by an employee of the hotel who had seen us there. It was also the best internet we had during our trip. There is a rooftop terrace with beautiful views over the city. We booked a private driver through the hotel who drove us around the area. It was inexpensive and very good.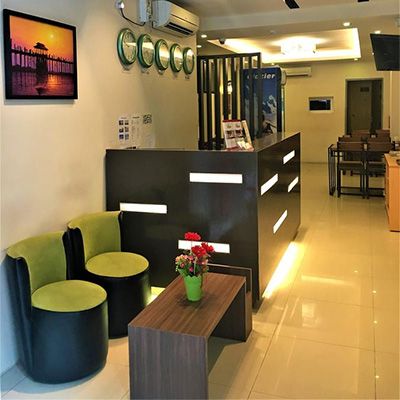 This hotel is located in the middle of the very busy and hectic, yet cosy Chinatown district. The rooms are average (clean, good beds, but no real window). The bathroom is fine. The biggest disadvantage is that you have to go through a not-so-clean external staircase to a higher floor (we were on the 5th). This hotel is not recommended for people with mobility problems.
Travel advice for Myanmar
The current travel advice for Myanmar can be found here. In Myanmar there are certain "no-go zones". Some areas are not yet open to tourists. Others have to do with the tensions between the regime and the ethnic minorities, especially the Rohingya. You should avoid the state of Rakhine. An exception is Ngapali Beach. This is safe. The ministry does indicate to travel to Ngapali via the airport of Thandwe however.
In addition, the northern border area of Myanmar is seeing some violence. There are cities that are safe, but generally you should not visit the states of Kachin and Shan. The Bermuda Triangle or Golden Triangle is also better avoided, given the activity of drug gangs. It is also advisable not to cross the border area with Thailand by land. Although there is a ceasefire between the army of Myanmar and armed groups, there are still incidents taking place. There are also many landmines and unexploded explosives in this area. If you are planning a trip to Myanmar, it is really important to be informed about the current security situation!
Now all this doesn't sound very appealing to go to this beautiful country. However, in practice we did not notice any tensions or violence at all. We thought Myanmar was one of the safest countries to travel to. The people do their utmost to make you feel good and have no bad intentions. Of course, it is wise to pay close attention to your belongings. If you do this, you will have a great time in Myanmar. One more piece of advice: during the Water Festival, (too) much alcohol is drunk. On the street you have to be careful not to be hit by a drunk driver. As everyone just gets into their car or gets on their scooter anyway. Finally, take a look at our general tips on travel safety.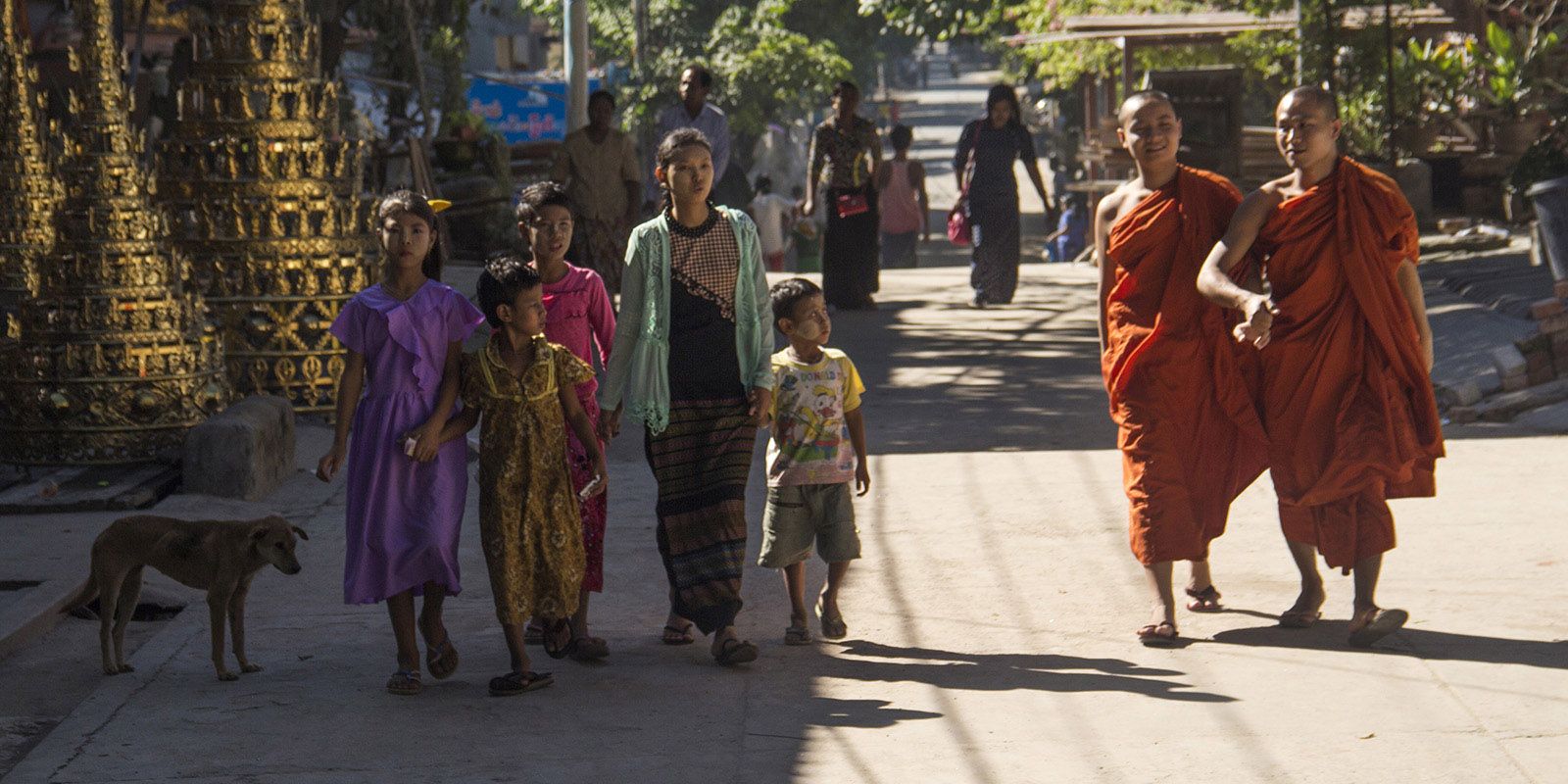 Healthcare
You must be able to prove, via the yellow medical passport, that you have been vaccinated for yellow fever if you come from an area where yellow fever occurs. In addition, the advice is to have vaccinations against DTP, typhoid fever and Hepatitis A too. It is advisable to have a prior consultation with specialised agencies on your itinerary, so as to determine which vaccinations are really needed. Malaria also occurs in certain areas. So, check beforehand whether you need to take any precautions. Be sure to bring sufficient DEET anti-insect medicines.
Drink a lot of water, especially if you visit the country during the warm period. Always check whether the bottle of bottled water is still sealed before drinking, they are sometimes filled with tap water. Water from the tap should really be avoided, just like the use of ice cubes.
In Myanmar, you can't buy many medicines from a chemist. Often, the quality is not good (vis-à-vis the date) and fake medicines are sometimes sold. So, take enough with you when you travel.
The medical facilities in Myanmar are not good yet. If there is a serious problem, it is best to contact the embassy for advice. Perhaps repatriating to Bangkok or the Netherlands is a better option. This costs a lot of money, so check if health or travel insurance covers these costs.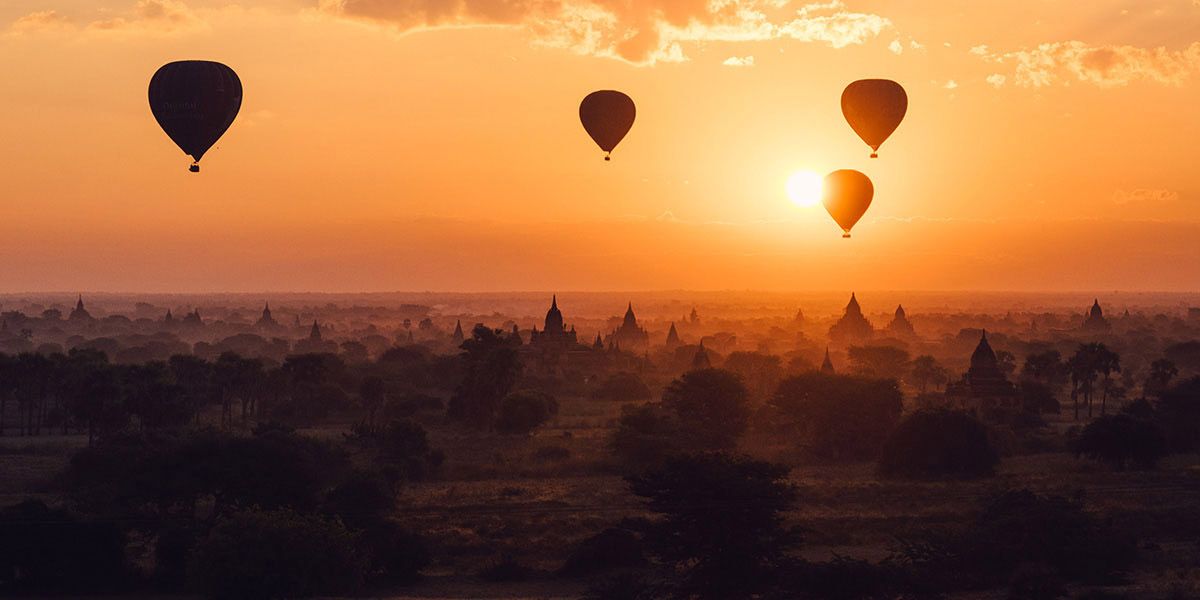 Best time to visit Myanmar
The period from November to February is most suitable for a visit. In that time, it is dry and not too hot. March and April are very hot. We were there in April and adjusted our itinerary because of the heat. Especially in the city of Yangon, but also in Mandalay and Bagan, the temperature will rise to around or over 40 degrees. The rainy season starts from May and many hotels close their doors for a large number of months, especially on the coast.
When we ended our trip at the end of April at Ngapali Beach, we were about the last guests there. In the rainy season, especially in August, many roads are impassable or even damaged by the abundant rain. Moreover, in the rainy season there is a chance of tropical storms and cyclones.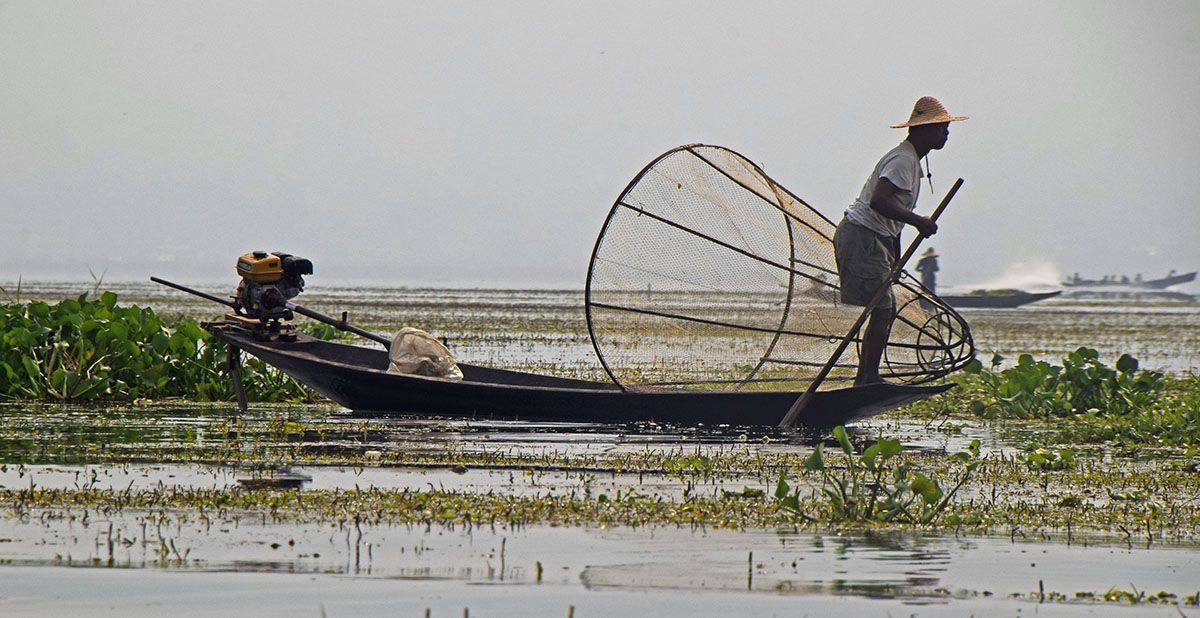 Visa for Myanmar
A visa is required for Myanmar. You can easily apply for this visa via the internet at the Myanmar government website via eVisa Myanmar. After filling in the documents and uploading a passport photo, you will quickly receive an "approval letter" (this was arranged within one working day for us). You take this letter with you and hand it over when you arrive at customs. After this, you receive your official visa. Please note that the "approval letter" is valid for 90 days. During that time, you must enter the country. If you do this later, the letter will no longer be valid and you will have to apply again. The costs for the tourist visa in Myanmar are high, namely $50, to be paid via the internet. We found the procedure to be very quick. Even when we landed at the airport of Yangon, we were through customs and our visa was arranged in no time.
A better option, however, might be to just hand over the visa application to a visa agency like iVisa. Although this will cost you slightly more, it will save you the hassle!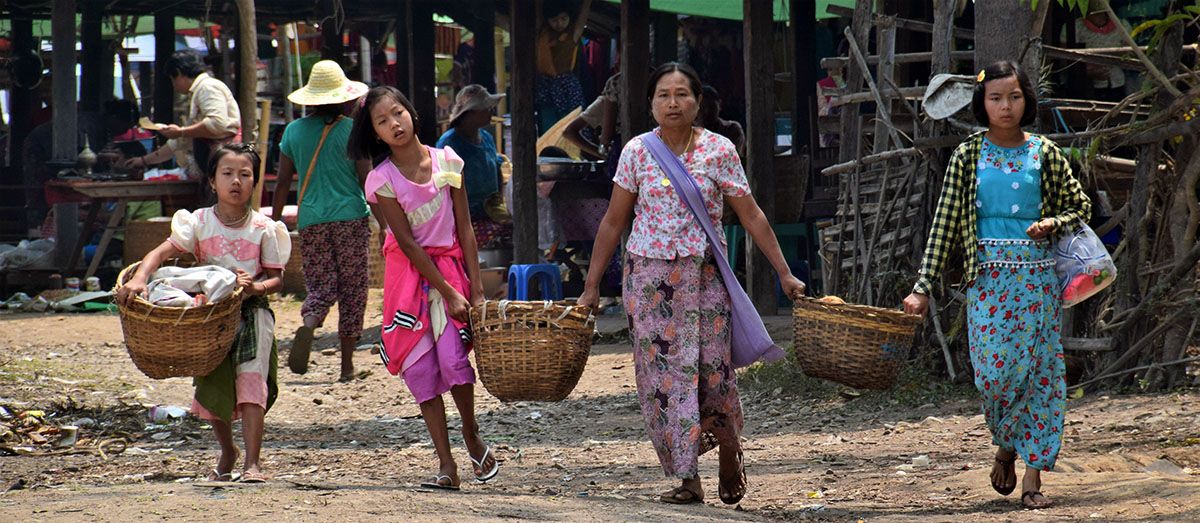 Food and drinks
Although we often heard that Myanmar's cuisine is not very good, we don't share that opinion. You can eat well there and, in the dishes, you can taste the flavours of Thai, Chinese and Indian cuisine. The food in a local restaurant is an experience. We have done it in several places. In Yangon we were in a small restaurant that few Western tourists saw. Both the staff and the visitors found it very special and recommended the most exotic things. We have no idea what we ate, some dishes were very tasty and sometimes there was something in it we didn't like.
Famous dishes in Myanmar are:
Kyar Zan Chet, this is a broth with chicken, mushrooms and coriander;
Ohno Kaukswe, a chicken soup with coconut milk and noodles;
Mohinga, a fish soup that is mainly eaten for breakfast, but also as a snack.
Rice is usually the basis of the meal. In local restaurants a steaming bowl of rice and a plate of soup is served. You can order all kinds of dishes, which you have to pay for. These are mainly curries with vegetables, meat or fish.
Tea is the drink in Myanmar. You will come across many tea stalls. In eateries you often get the tea served for free with your dishes. Of course, you can also order something else. Wine is not widely available. We visited a vineyard near the Inle Lake, but we didn't find the locally produced wine very special. If you want alcohol, you can drink beer. The local beer is good and not expensive.
Although the population does not normally drink a lot of alcohol, there is one big exception: during the Water Festival everyone gets pretty "wasted". You regularly meet people who are already very drunk in the morning.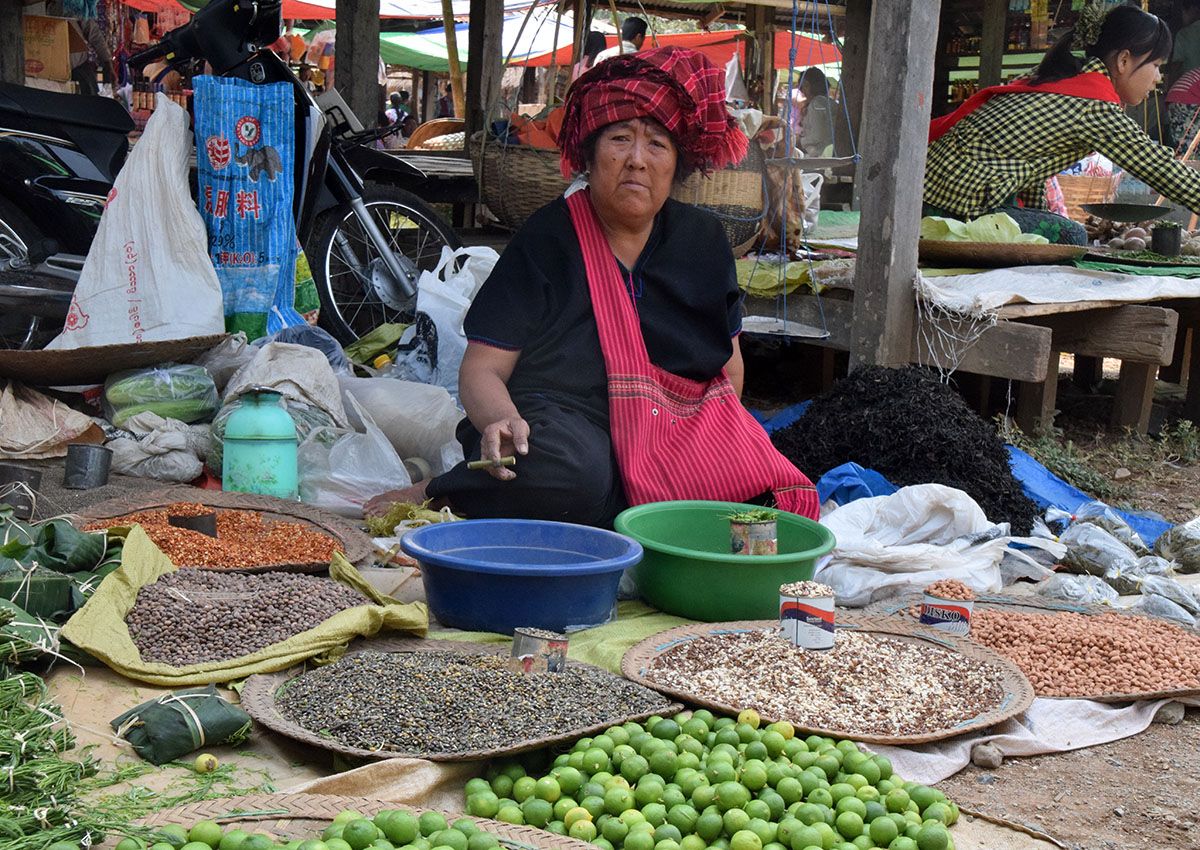 Getting around in Myanmar
Despite the bad reputation of flying in Myanmar (flights are cancelled, depart far too late, chaotic and unsafe conditions on board), we are very satisfied. We made several domestic flights in the country with different providers and everything went smoothly. Your hotel staff of can quickly help you book the flights. We once did it through a travel agency in Yangon, but it took us about an entire afternoon, so amateurish was it. In the end, my wife herself got behind the computer. We flew with very modern aircraft and never felt unsafe. The service on board was also perfect. We found it funny to see how our luggage was put on the cart at the very small airport of Thandwe and then neatly placed in front of us in the arrival's hall.
Road transport takes some time, despite the fast driving style of the drivers. The roads are not always good, but are slowly improving. We saw a lot of roadworks on the way. Remarkable that it is almost only women who do the heavy work and asphalting work in the heat. We avoided the night buses and took them during the day. The best thing is a minibus, which is reasonably comfortable and doesn't stop everywhere to pick up passengers. It is wise to check this carefully in advance, including the maximum number of passengers on board.
In the places we visited, you can often rent e-scooters for little money for the daytrips in the area. We also regularly cycled on bicycles from our hotel. Especially at the Inle Lake, Mandalay and Bagan it is very easy to do. In Yangon it is not recommended. In addition, taxis are very inexpensive and reliable.
A striking thing in Myanmar is that people drive on the right. However, also 90% of the cars have the steering wheel on the right! That makes overtaking very difficult, but the Burmese driver is not deterred by this.
Accommodation and transport during Thingyan (the Water Festival)
We were in Myanmar during this four-day party to end New Year's Eve. As this is a national event and everyone is off work, public life is actually quiet. The population visits family or goes to tourist destinations. This means that hotels are quickly fully booked for that period. If you plan to be in Myanmar in that period, you should book your accommodation and transport well in advance. The prices of hotels also skyrocket in that period.
Land transport is practically impossible, buses, trains and taxis don't or hardly ever go. Domestic flights continue. You really have to book these flights well in advance to be sure of a place. From the airport you can take a taxi to your hotel, but the fare is more than double the normal.
Thingyan is always mid-April. The period can always be different. In 2019, Thingyan falls from 13 to 16 April. After that it is New Year's Day. If you are in Myanmar during this time, make sure to have everything planned and organised well in advance. We met other travellers who had to stay in a not-so-nice place for four days because they could not book transport. That is a real waste of time.
It is an experience to witness this party in a big city. See also this our blog on the Water Festival.
Electricity
The mains voltage is 230 V with a frequency of 50 Hz. In Myanmar you can find many different sockets, namely the sockets of type A, C, D and G. We advise you to purchase a power plug adapter.​
Money matters
The local currency is Kyat (pronounced "chat"). Withdrawing money with your debit card is increasingly possible in the important tourist resorts. If you go into the remote areas, take some more cash with you just to be on the safe side. The chance that you can still withdraw cash is small. We heard stories that the ING debit card would not work at most ATMs. We were unable to check this. If you want to travel to Myanmar with an ING debit card, please contact the bank beforehand. You can also pay with Dollars. In Myanmar, they do want to receive a completely intact dollar note, so not one that has been crumpled, torn or missing a corner. Preferably also whole new notes. We had therefore stored the dollars unfolded in a sturdy plastic folder. This way it never led to problems with us.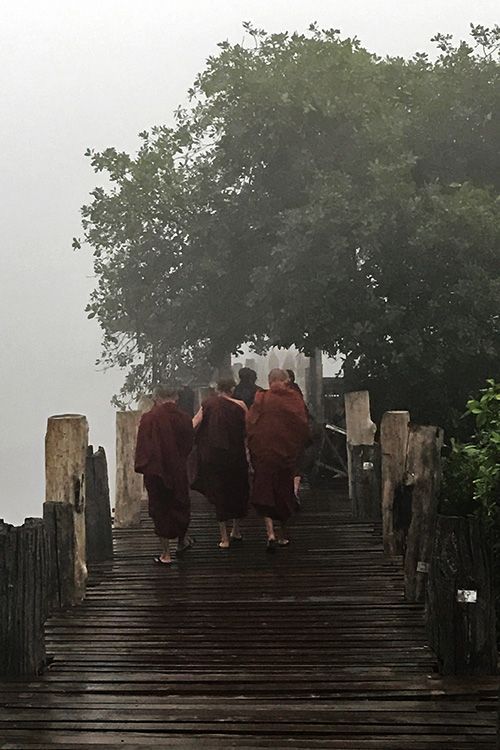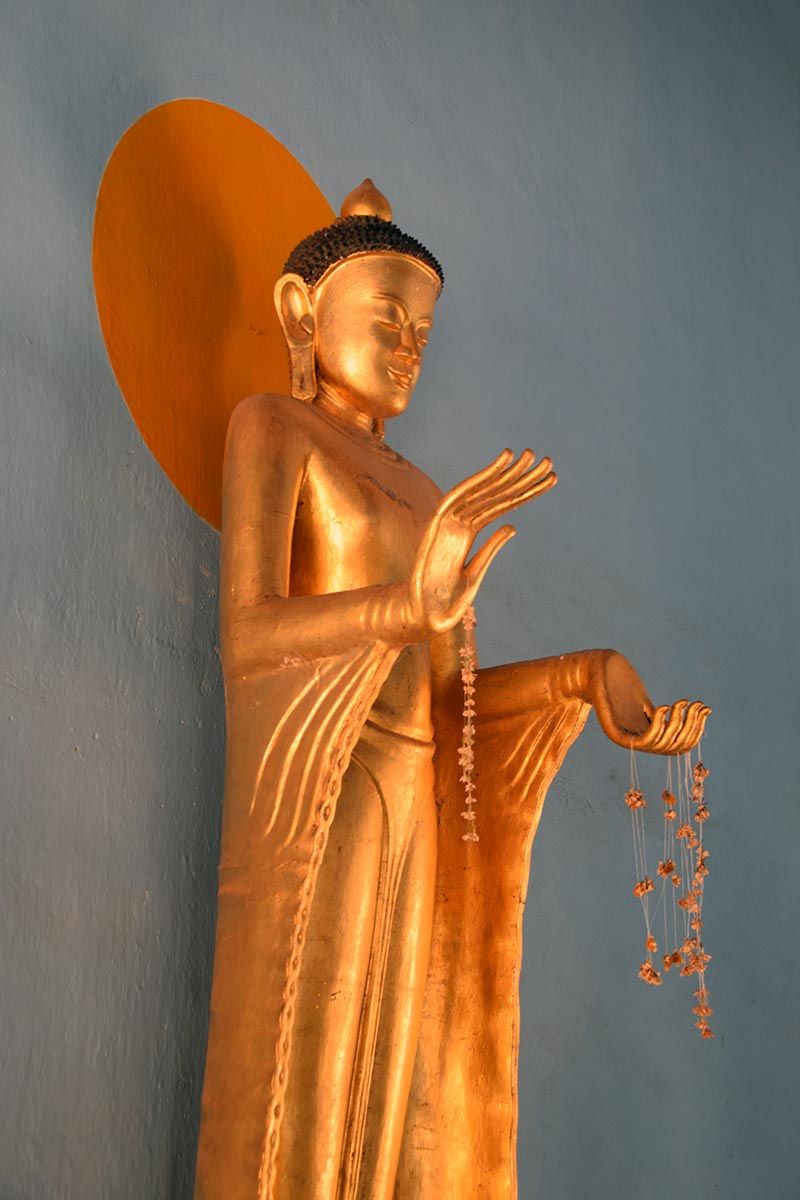 Do's and Don'ts while staying in Myanmar
Before you visit, remember that you are coming to a country that as yet has not been opened up to tourism very long. Many inhabitants have never seen Westerners before. It is therefore important to get yourself used to the customs of the country in advance, to avoid awkward situations. It also shows respect for the history, culture and customs of Myanmar.
| | |
| --- | --- |
| Do's | Don'ts |
| Show respect for the local population. Laugh in a friendly way when you say goodbye. Ask if you can take a picture and talk to locals without raising your voice. | As a woman, do not touch a monk. Never touch the heads of others, not even children. Do not show the soles of your feet to others or to Buddha statues either. |
| Buy a so-called longyi at the market, useful for the many temples you visit (the longyi was a standard item in our backpack each day). You also impress residents and make contact quite quickly. | Do not give money, sweets or other things to children. This encourages begging. Be careful with visits to so-called orphanages. These children often have a parent and you only facilitate the exploitation of children. |
| Dress in the proper way when visiting temples and other holy places. In other words, cover your shoulders and keep your knees well covered. Do not wear a hat or cap when entering a temple. Take off your shoes, even when you enter someone's home. | Do not throw rubbish on the streets or in nature, even when you are on a hike. Collect it during the day and throw it away somewhere responsible. Set a good example to the people. |
| Grease your face with thanaka, at every temple there is a place where you can do that for free. The population appreciates it very much. Another motivation for some contact. | Kissing in public is not appreciated. The same goes for hugging. |
| If you come to small villages where local tribes still live, it is useful to have a guide inform you about the customs in that tribe. | Do not disturb people who are praying or meditating. |
| Read the booklet of do's & don'ts for tourists (see below) | Never take pictures of people if they could be embarrassed by this. Never take pictures of police, military or political demonstrations. |
The Ministry of Tourism and Hotels in Myanmar has produced a richly-illustrated booklet that informs travellers about the correct customs in the country. This is available free of charge from most Tourist Information Centres in the important areas. Another similar booklet can also be found on the internet entitled: do's & don'ts.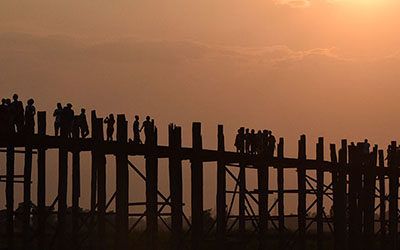 Mandalay as a city is fairly modern. In the city there are several beautiful teak monasteries that are definitely worth visiting. Moreover, Mandalay Hill should really be on your list when in town. We spent a day in a private taxi from the hotel where we...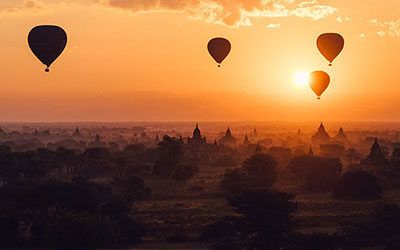 The old town of Bagan with its many beautiful temples was the highlight of Myanmar for us. What's more, when you see the temples looming up from the misty fields at dawn, it is a wonderful experience. You can of course see this at one of the various...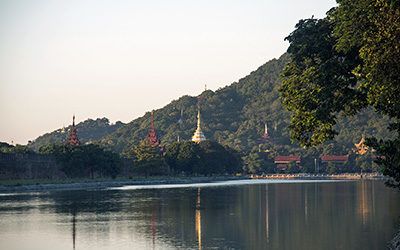 Mandalay, the former capital of Myanmar, is the second largest city in the country after Yangon. We find the city lovely and it is known for its cultural diversity. Half of the Burmese monks live here and the surrounding areas. The city is also a hub for...