By bike or scooter
If you want to escape the hustle and bustle of the old town of Hoi An, a visit to the hinterland is a good idea. You won't meet many tourists here and you have the chance to meet the locals they work on the land or in their own shops. We did it in two ways. The first was by bike via a "free biking tour". Students who want to practice English will lead you through the area and tell you about the various sights you encounter along the way. Afterwards, you can express your appreciation via a tip. You stay a bit closer to Hoi Anhere, but it is really fun to experience.
The second way was by Vespa Adventures. As the name suggests, a classic Vespa scooter will take you on a trip through the countryside and the islands around Hoi An. Of course, we got a bit further from the city than by bike. This organisation, active in more places in Vietnam, has several options for tours in the area. 
What do you see in Hoi An?
During both tours we visited so-called "Ancestor Houses". These are small temples where families honour their deceased ancestors. The important and rich families especially pay a lot of attention to this temple and it is nice to see how they make sacrifices for the deceased family members. We also visited the village of Thanh Ha, which is very famous for pottery. There was also a shipyard, coffee roaster and a small workshop where the whole family was busy manufacturing rice cakes.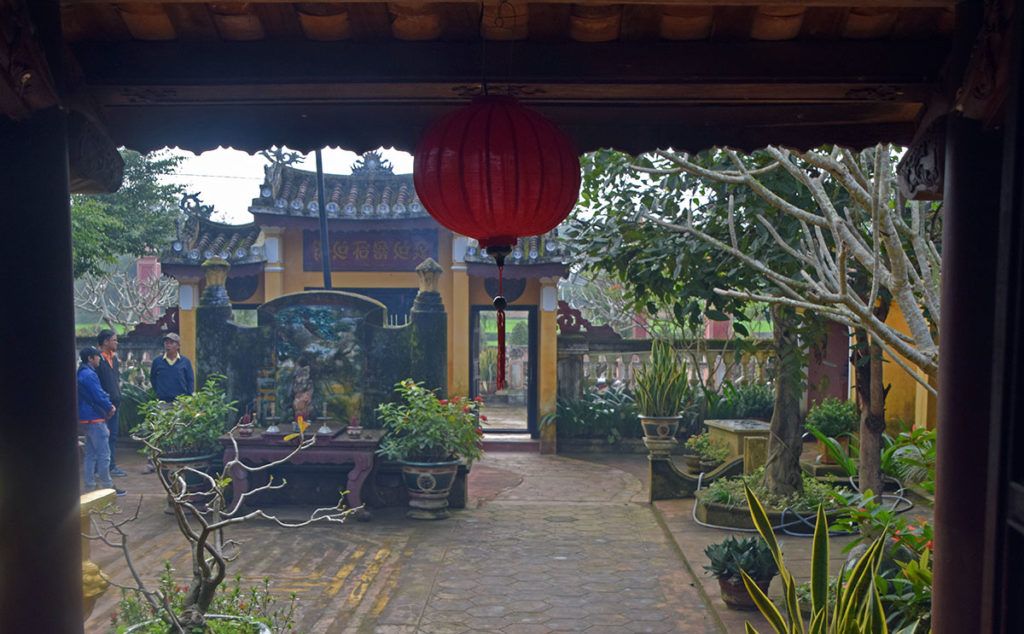 In between, you drive along beautiful paths between the rice fields. Here and there you see families working on the land and in between that, a few grazing water buffaloes. On Cam Kim island, we visited the woodcarving workshops. It is a nice way to get to know the life in the countryside of Hoi An. Although both tours make the same kind of stops, they are different because one visits different addresses. However, with one tour you certainly get a good impression of the hinterland. The choice is riding your own bike or just sitting on the back of a scooter.