Rowing to the Perfume Pagoda
From Hanoi we also went on a very nice, beautiful and interesting day trip to the Chua Trong, better known as the 'Perfume Pagoda'. The Chua Trong is a complex of pagodas and Buddhist temples in a protected nature reserve. This is located about 60 kilometres southwest of Hanoi on the Huong Tich, the fragrant mountain. The most famous pagodas on this complex are the Thien Tru (heavenly cuisine), Giai Oan Chu (where injustice is removed) and Huong Tich Chu, a cave where you see many images.
It is suspected that the first temple was a small structure on the spot where Thien Tru is now. According to legend, this place was discovered more than 2000 years ago by a monk who meditated in the area. Over the years, especially in the 18th and 20th century, some constructions were damaged, but later restored. This also was happening when we were there.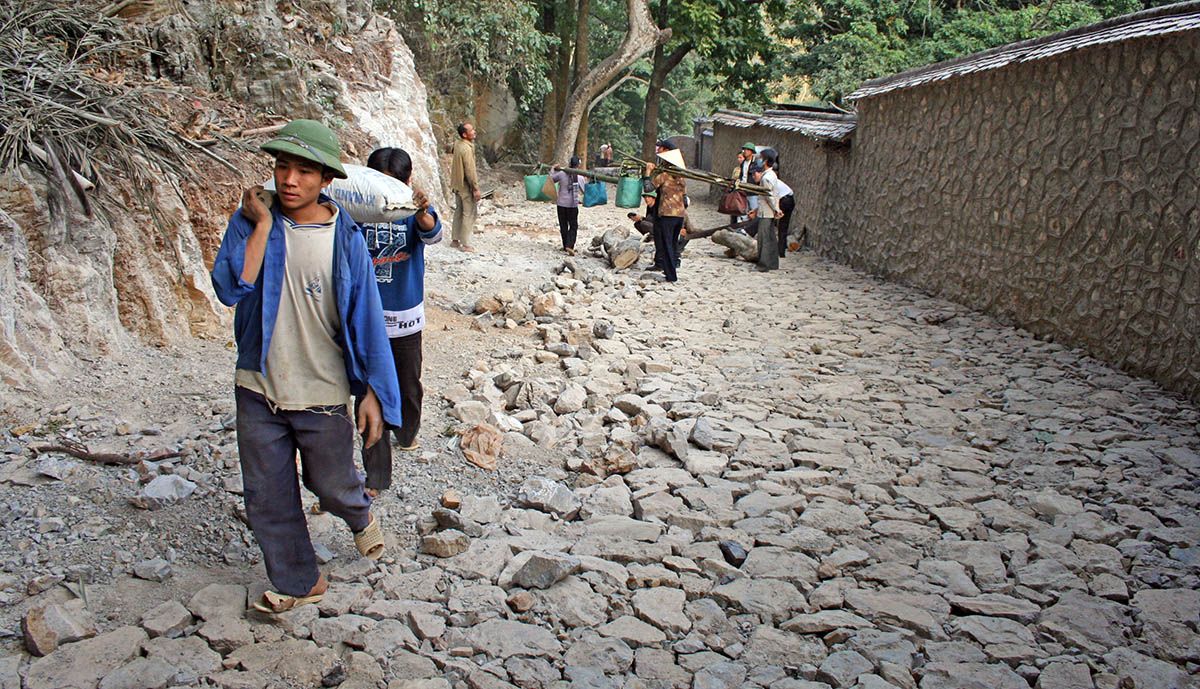 From mid-January to mid-March hundreds of thousands of Vietnamese go on pilgrimages to the Buddhist complex during the Huong Pagoda festival. There are several routes they can take for the pilgrimage, but the most popular is by boat from the Yen shipyard. This route is also the most popular among tourists. We found the boat trip you take with a rowing boat to be the best part of the whole day trip! Perhaps also because you don't have to row yourself but can enjoy the beautiful landscape of picturesque waterways along limestone cliffs during the trip.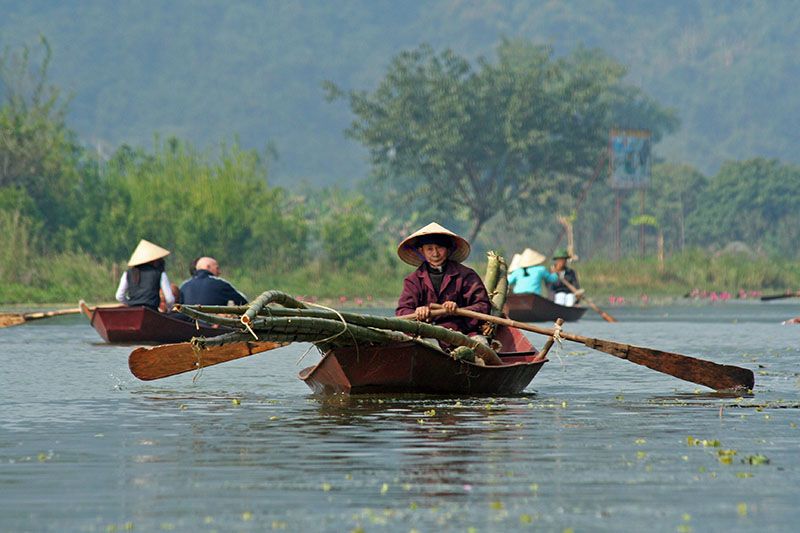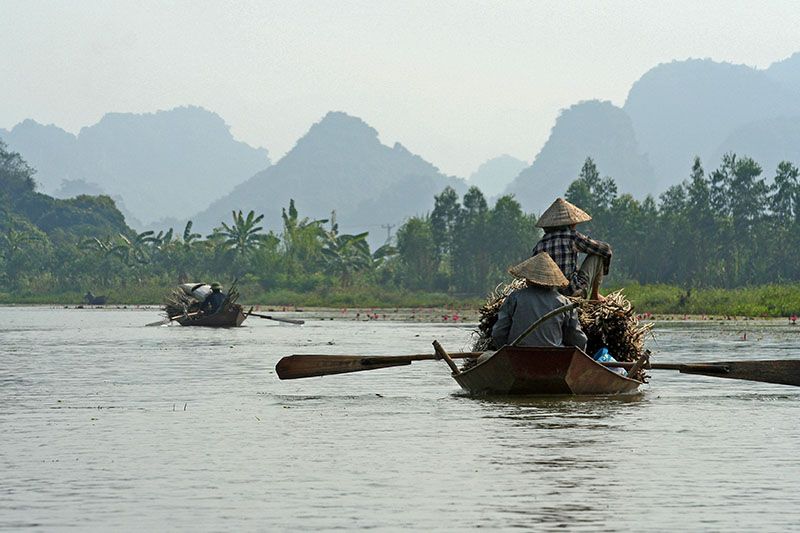 Practical matters
How to get there
The easiest way is to just book a tour in Hanoi. This costs about €20 to €30. They pick you up at your hotel and take you to My Duc. Here, the women from the local community take over the transport. They will take you to the sacred complex while rowing. By the way, lunch is usually included in the tour.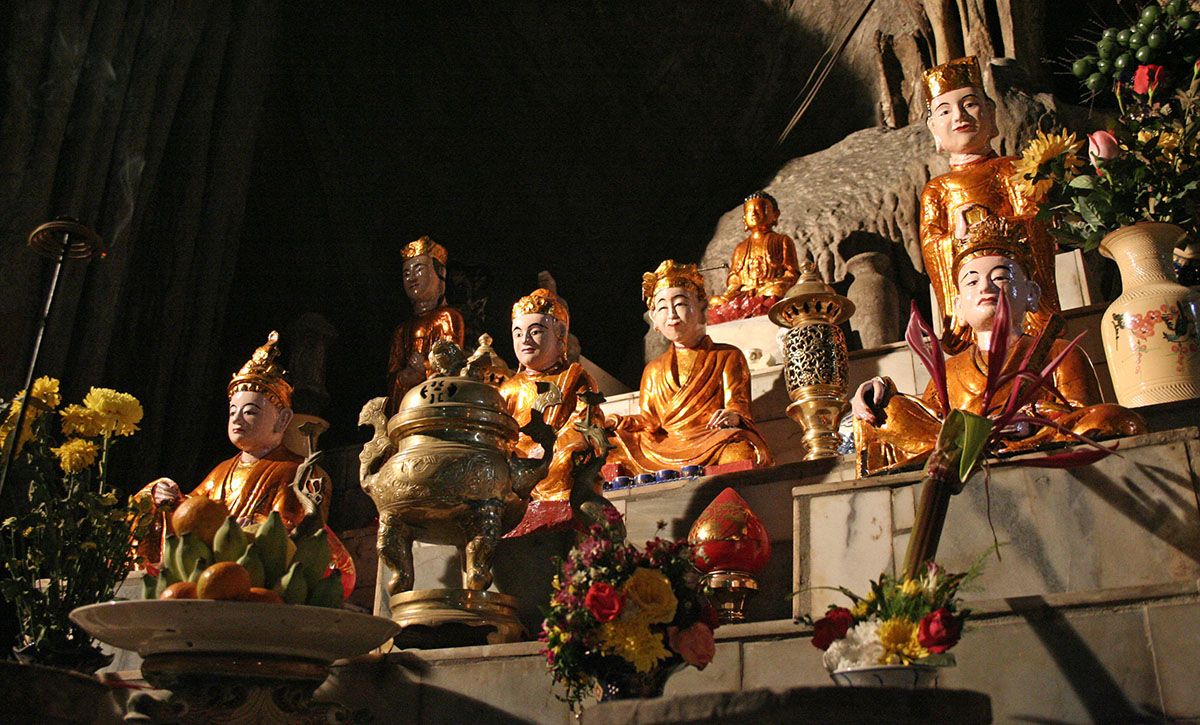 Hiking at the Perfume Pagoda
You have enough time at your destination to visit all the pagodas and the cave on foot. Even so much time that you can also walk up the mountain for an amazing view. The path leads past various cave dragons, is quite steep and when it rains also slippery. Nowadays you even have a cable car to get to the top. If you are not an experienced mountain hiker, it might be a good option to take that on the way there. On the way back, you can take the cable car again or walk.