Thailand in a nutshell
Approximately 40 million tourists visit Thailand every year, making the kingdom the most visited country in Southeast Asia. Not entirely unjustified, we think. Here, you will find almost everything an active traveller is looking for: green jungles, crystal-clear warm sea water, fantastic cuisine, impressive culture and very friendly people. This elongated, large country is exotic, yet familiar and with ideal facilities. There is a reason why the advice to travellers who have never been to Asia is to first go to Thailand.
The Thai culture on the mainland is strongly influenced by Buddhism, the dominant religion of the former Siam. In contrast to the Buddhist eastern neighbours, Buddhists in Thailand attend the Theravada school, with a heavier emphasis on monasticism. Thai temples (Wats) sparkle with gold and are recognisable by their graceful, multicoloured, pointed roofs. What you also see at almost every house or business is the 'spiritual house' (saan phraphuum) where ghosts live, so that they do not enter the house to cause problems.
Besides the Thai culture on the mainland, there are many other cultures in Thailand, including those of the "mountain tribes" in the northern mountainous regions of Thailand, the Muslims in the south and the indigenous islanders of the Andaman Sea.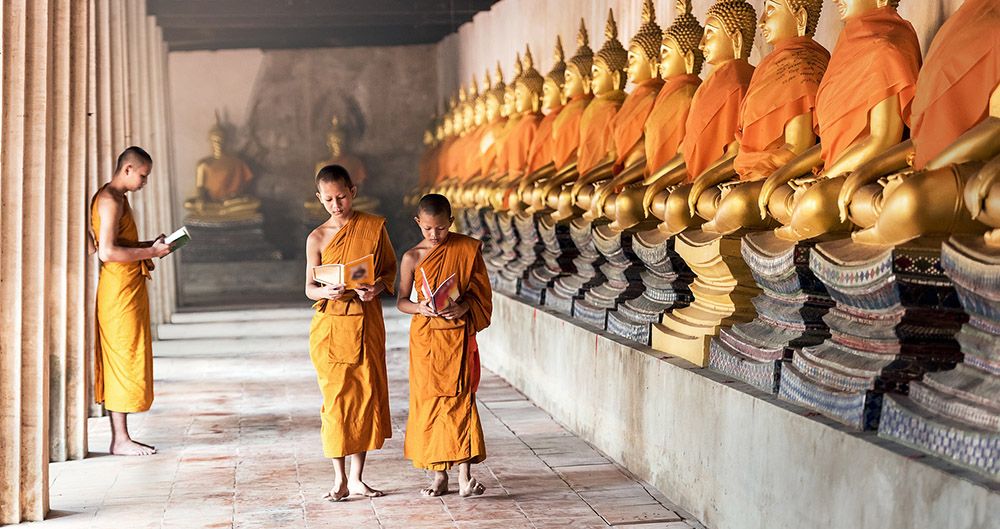 Accommodation in Thailand
In Thailand there is an abundance of accommodation in every price range. The best rates are in the rainy season when you can save up to 50%. This does not apply to the popular islands. The cheapest options are hostels and guesthouses. Besides the price, the advantage is that they often offer tours as well. You pay a bit more for this than when you arrange a tour via the Internet or at one of the many, small travel agents in the street.
Another cheap option are Thai hotels. You pay between €6 and €25 per night. The guests are mostly Thai. The bathroom is usually shared and Internet is not always available. We ourselves are more interested in comfort and therefore seek refuge in tourist hotels and (diving) resorts. You pay about €30 per night but there is usually a private bathroom with hot water and a swimming pool.
For prices from €60, you can also go to boutique hotels, which are popular and have risen sharply in recent years. They offer a limited number of rooms and more personal service. The quality varies a lot, so some preliminary research via a booking site like booking.com is highly recommended!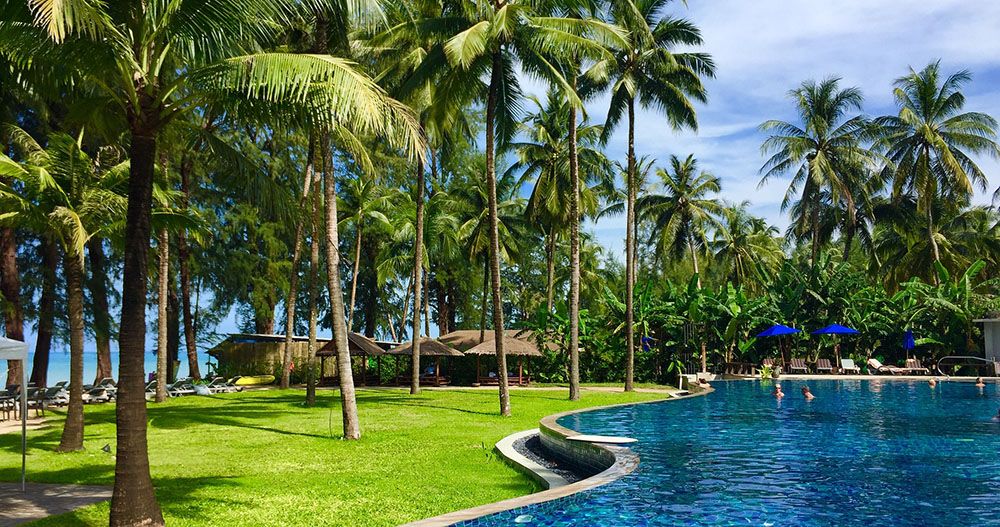 In big cities like Bangkok we have no problem spending one or two nights at more cost to get some extra luxury with all the modern amenities. For prices of about €120 and upwards, you can go to the luxury business hotels, such as the Sofitel So Bangkok, the Oriental, Sukhothai and The Peninsula. You will often find a fantastic roof terrace where you can enjoy the warmth, the view and a refreshing if overpriced beer or glass of wine on the last night of your trip.
Spending the winter
Thailand is not only a fantastic holiday destination. Many OAPs and pensioners swap their winter for a long stay in this pleasantly warm country. The low cost of accommodation (between €300 and €600 per month for an above-average apartment in a good location) and the low cost of living make Thailand a very suitable destination for spending the winter.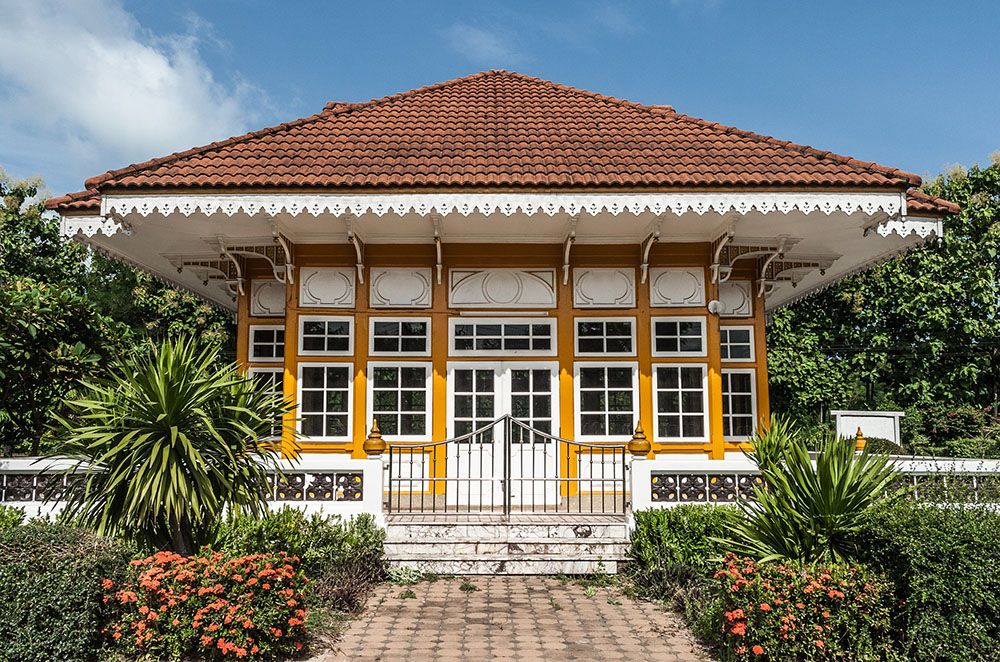 Travel advice for Thailand
Although we have always felt particularly safe in the tropical kingdom, there are some security risks for Thailand. Because of the risk of (bomb) threats, you shouldn't travel to the four southernmost provinces of the country at the moment. There are also risks in the border region with both Myanmar and Cambodia. Check current travel advice for Thailand.
Healthcare
According to the nederlandwereldwijd.nl website, the air quality in the north and northeast of Thailand is very poor. This is caused by the annual burning of agricultural land. When we were in the north we didn't notice this, so it is possible that this is only the case at the moment. Check the current situation.
In the border region with neighbouring countries Myanmar, Cambodia, Laos and Malaysia, and in the north, west (except Phuket) and south, malaria does occur in Thailand. So bring some emergency treatment with you. Even better, protect yourself from mosquito bites because other traveller's diseases (dengue, Japanese encephalitis and zika) can also be transmitted by mosquitoes in the country. Another advise is to vaccinate against DTP and Hepatitis A.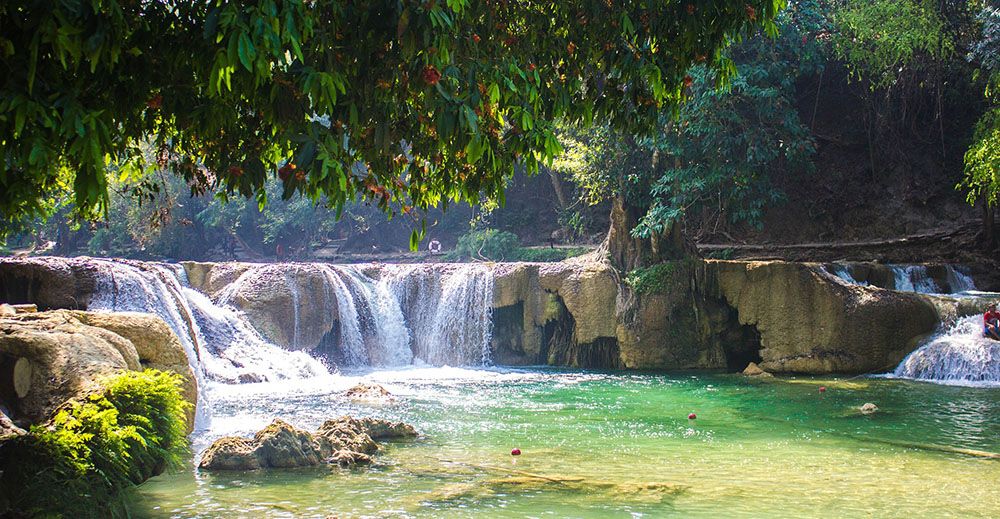 In addition, there's a warning against rabies (not only in dogs but also in monkeys for example) and Schistosomiasis (bilharzia), an infection caused by worms in fresh water. The medical facilities in Thailand are of high quality. However, it is advisable to bring your own travel kit. If there are also medicines that fall under the Opium Act (such as certain sedatives), then you must have a legalised, English medical certificate.
Best time to visit Thailand
Thailand has a tropical climate with three different seasons. Personally, we find the "winter" from November to March the most pleasant time to visit the country. It is dry and sunny, still a bit cooler than the rest of the year. Naturally, you get the most tourists then.
We have also been there in the "summer", namely the months of April and May. Expect very high temperatures in that period of well above 30 degrees Celsius. From June to October is "autumn". It rains a lot but fortunately not all day. An additional advantage of this season is that it is a lot quieter.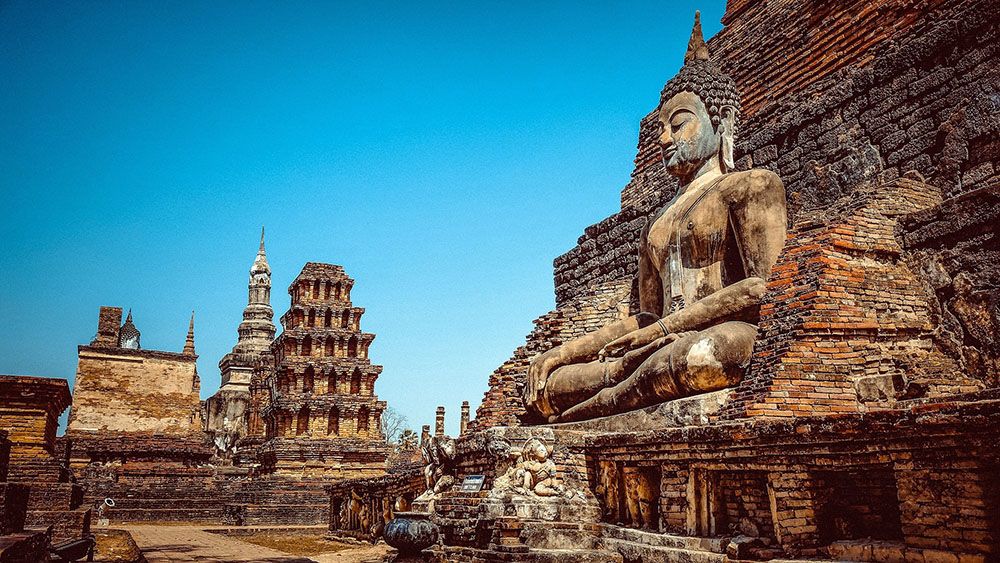 Visa for Thailand
You do not need a visa for Thailand if you stay for a maximum of 30 days. If you wish to stay longer, you can also apply for an extension of 30 days upon arrival. Or else you can travel before the first 30 days are up to a neighbouring country like Cambodia, after which you return to Thailand. You are then allowed to stay in Thailand for another 30 days.
Food and drinks in Thailand
The Thai cuisine alone is a reason for us to travel through this fine, tropical country. The delicious yellow, red and green curries, but also the fruit shakes, wok dishes, fresh fish and the famous Thai toad, are not to be sneezed at. Best of all, it is cheap too and of good quality, even at the street stalls!
We are always looking for the cosy eateries and food stalls at the night market, but you can indulge in culinary delights in an expensive but excellent restaurant in Bangkok too. If you are travelling with a group, ask the chef to surprise you with some dishes. As long as you indicate in advance how spicy you want the food to be, you won't be disappointed.
A glass of wine with your meal is okay, but the choice is not great and the price is usually higher than what we are used to in Western Europe. We usually have a cold beer with our food in Thailand. In the 18th century, foreigners brought beer to Thailand then since 1933, the Kingdom has started brewing its own beer. There are three Thai beers now: Singha, Chang and Leo. Additionally, tourists also drink Tiger from Singapore and Beerlao from Laos.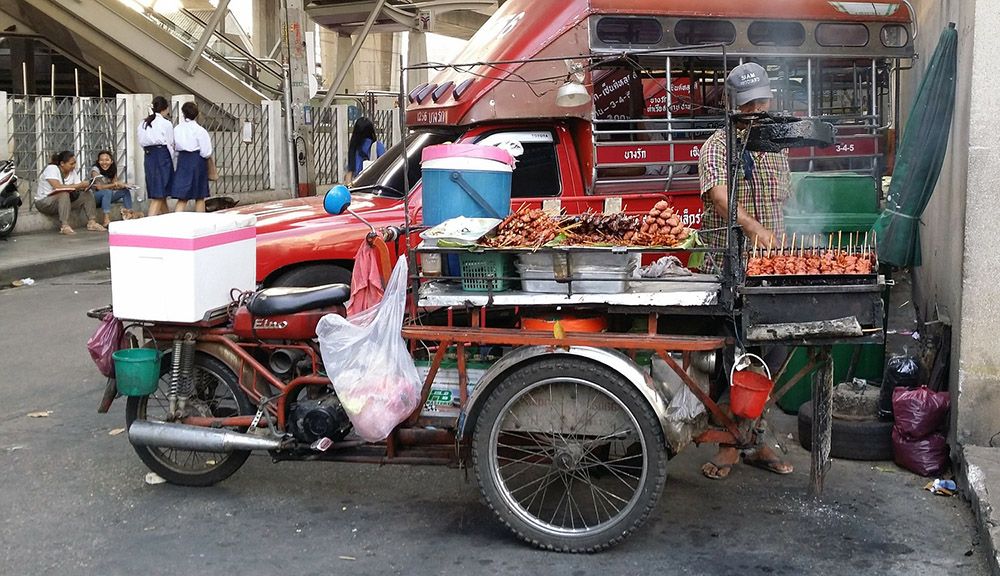 Transport in Thailand
Thailand is a pretty big country to travel through. Fortunately, there are many fast, cheap and efficient ways to get around this country. The first class or VIP bus is probably the most convenient option for travelling long distances. These are a bit more expensive than regular buses but the advantages are that you can also book them through your hotel or tour operator and there is much more comfort (including a lot of legroom).
By train
Another option is the train. They are usually cheaper than buses but due to their slow speed, they take much longer to cover long distances, like from Bangkok to Krabi. We took the night train to Krabi and went by second class. This saves you one night in a hotel. For us, second class was easy to do, but if you do want more luxury, book first class. For a train trip from Bangkok to Chiang Mai, for example, it will cost about €50.
Flying
If you prefer not to be on a bus for 10 hours or more and don't like the night train, consider taking a domestic flight. There are many airlines (including Air Asia, Thai Airways, Orient Thai, Thai Smile and so on) that can take you anywhere for amounts of around or over €50. It goes without saying that this option is less environmentally friendly than, for example, the train.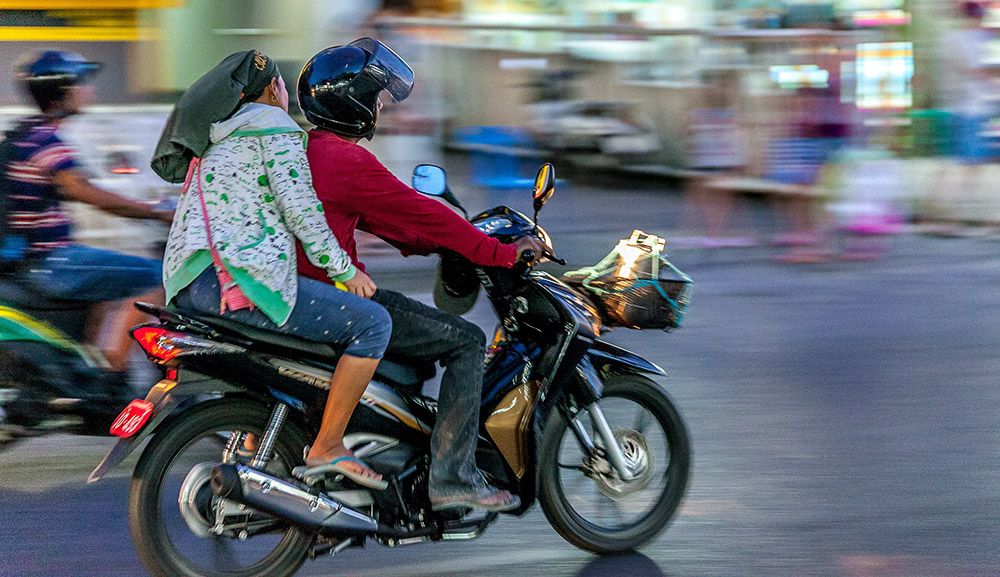 Minivans
For shorter distances, a bus is a good, comfortable alternative but we prefer a minivan ourselves. The big advantage of the minivan is that you will usually be picked up at your accommodation and delivered to your new accommodation. The disadvantage is the price and the limited space.
Tuk-tuk or scooter rental
For short distances, we usually choose the tuk-tuk or rent a scooter. The tuk-tuk is cheap and contributes positively to the pleasant Thai travel experience. Some disadvantages may be the heat and exhaust fumes from other traffic. Renting a scooter is something we like to do in Southeast Asia anyway. You will be free to go wherever you want. To avoid scams or other problems as much as possible, we advise you to book the scooter at your own hotel or resort. Then you can expect a rental for about €7 a day. Riding a rented scooter is not without risk, especially if you have no experience. The traffic is chaotic and everyone seems to ignore the rules. Wear a helmet in any case and don't drive at night.
By boat
Another means of transport is the ferry or longtail boat (the sailing tuk-tuk). They will take you to the many fantastic islands of Thailand. Bear in mind that ferries in particular do not have a good reputation when it comes to safety.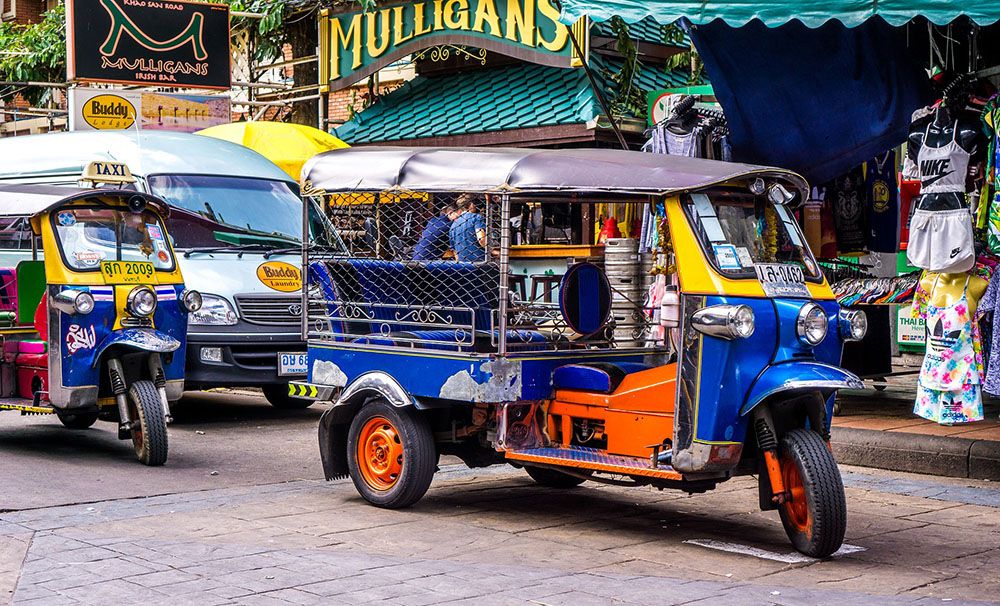 Electricity
The mains voltage is 220 V with a frequency of 50 Hz. In Thailand, type A, B, C, F and O sockets are used. We advise you to purchase a power plug adapter.
Money matters
The baht is the official currency of Thailand. In most places and especially in the cities, you will find plenty of ATMs. Paying by card is also very easy.
In comparison with most European countries Thailand is dirt cheap. Although prices differ between the north and the south and between the countryside and the big cities, you can expect about €30 for a wonderfully comfortable hotel with pool. But of course, this can be done much cheaper! For a delicious Thai meal at a restaurant we paid around €3 to €5. A beer at €2 is strangely enough quite pricey.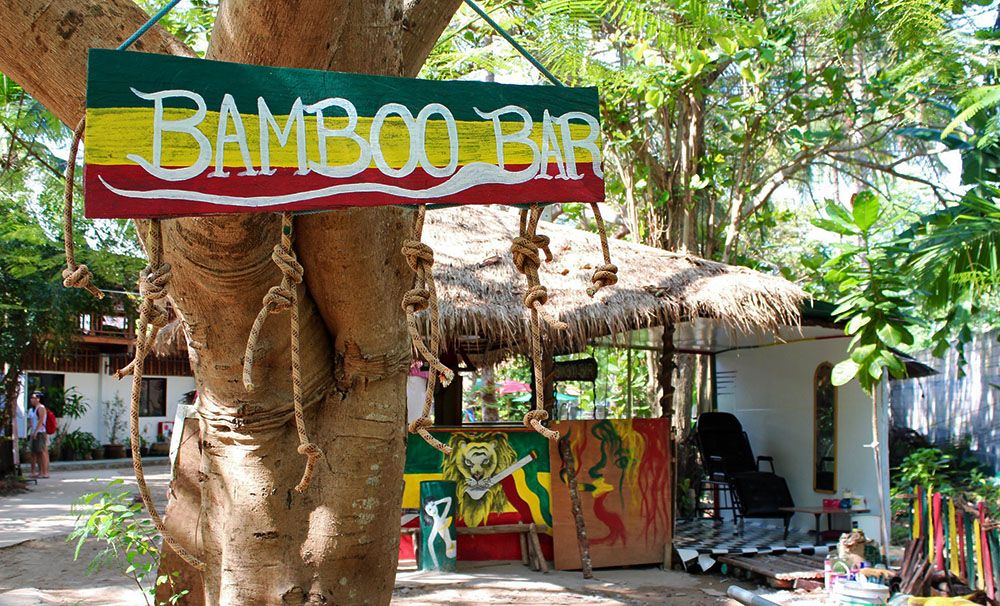 Highlights of Thailand
Due to its size and diversity, Thailand has many highlights to offer. So much so that it takes months to admire and experience them all. If you don't have that time, we advise you to add a week of Thailand to each of your trips to Southeast Asia. On our page, we start with a fair few highlights but hope to expand this with many more in the future.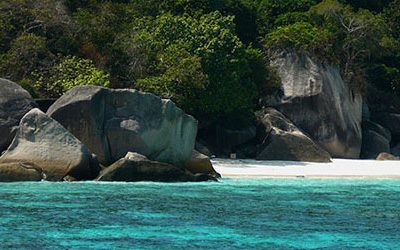 The Similan Islands and Richelieu Rock in the Andaman Sea west of Thailand and Myanmar, have stolen our diving heart. In the spring of 2019, we visited these islands together with a group of 8 active over-50s. Because we already saw a lot of the underwater world, we...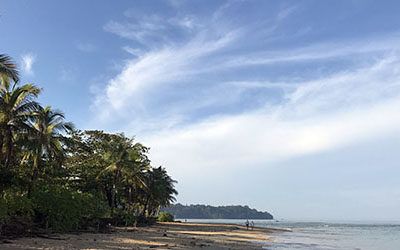 In the spring of 2019, we were with a group of active over-50s in the area of Khao Lak, from where we did many beautiful dives at the Similan Islands and Richelieu Rock. Luckily, we had some rest days between the diving days. While most of the group were...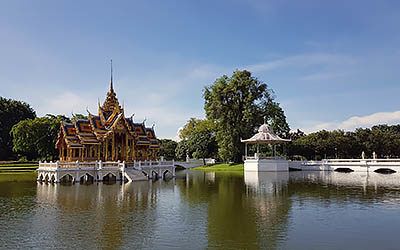 Bangkok has something beautiful and special for us. And it really is quite something. For us, the high-rise buildings, the busy traffic and the high humidity are not exactly reasons to visit the Thai capital. But through our many travels...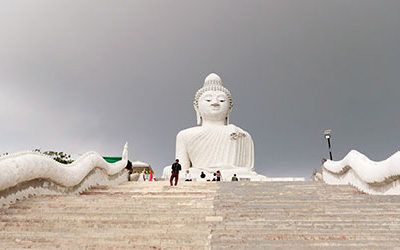 In the spring of 2019 we travelled with a group via Phuket to the more northerly Khao Lak to dive there. We had never been to Phuket before - partly due to the not-so-positive reviews from other travellers. But to be able to acclimatise sufficiently and recover from...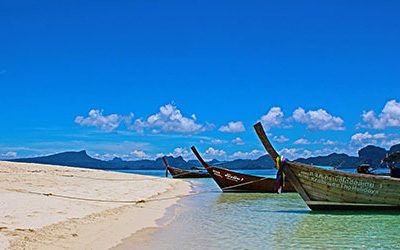 Although we are not fervent beachgoers, the mountainous area of Krabi in the southwest of Thailand, deserves, as far as we are concerned, a special blog on this website. The province is rich in beautiful, pearly white sandy beaches, crystal clear water...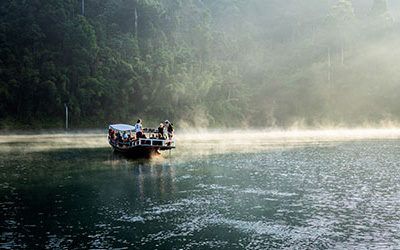 Khao Sok National Park is an almost 740-square-kilometre nature reserve in the southwest of Thailand. The park was founded in 1980 and is considered one of the most beautiful nature reserves in Thailand. It consists of a dense,...