Hiking in the Tsitsikamma National Park
If you have some more time to explore the south coast of South Africa, then as far as we are concerned, you should definitely not miss the Tsitsikamma National Park. The park is located on the beautiful Garden Route and is famous for magnificent forests, ravines, waterfalls, high mountains and a beautiful 50-mile-long coastline.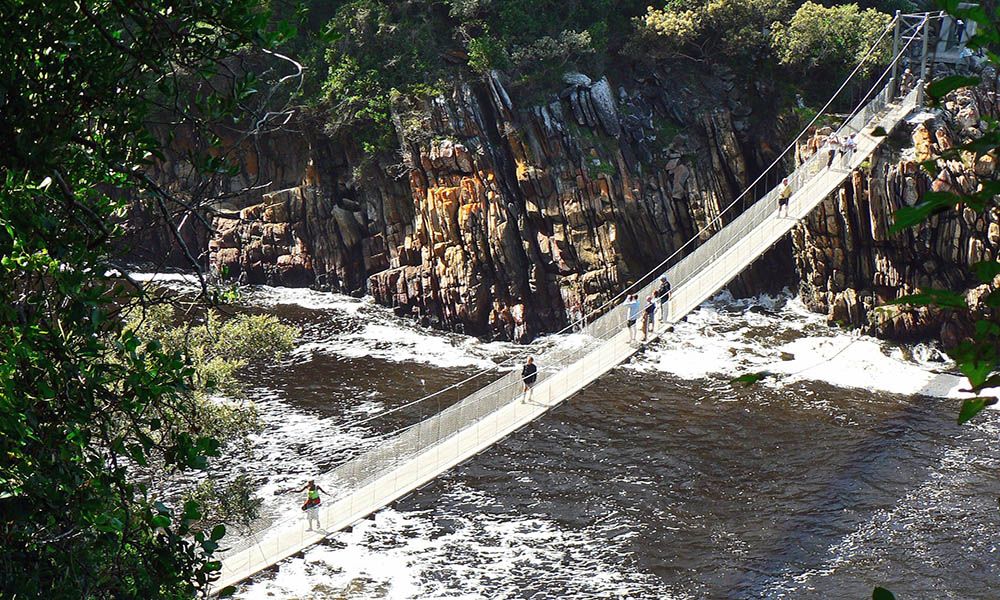 Walking tours in the oldest coastal park in South Africa
In the oldest coastal park in South Africa, many beautiful (very) short but also longer walks can be done. One of the popular walks is the 'Mountain Trail' from 2 to 6 days (depending on where you want to get on the trail). You sleep in cabins while your luggage is being transported so that you only have to carry a small backpack during the walk.
Short walks
If you are not a hiker but you still wish to enjoy the nature of this beautiful park, then consider the just over 500-yard short walk from the Storms River village on a plank path to the 800-year-old "Big Tree". If you have not had enough of walking, then you can continue with the "Rattle Nature Walk" of only 1.5 or 2.5 miles long.
Other activities in Tsitsikamma National Park
There are also several, fantastic options for kayaking at sea and on the Storms River, ziplining, mountain biking, horseback riding and even golf. In the vicinity of the park is also the Bloukrans Bridge, at over 700 feet, the highest place in the world where you can go bungee jumping.
The park offers plenty of good accommodations and different restaurants. Make use of this because the park has so much to offer that you can enjoy yourself for two to three days.