Isla del Sol and Isla del Luna
Lake Titicaca, situated on the border between Peru and Bolivia, is the highest navigable lake in the world and has an area of over 8,300 m2. For comparison, that is about as much as Devon and Dorset together! Bolivia used to have access to the Pacific Ocean. During a war with Chile this connection was lost in 1984. That is why the Bolivian Navy now practises in Lake Titicaca. The lake has a total of 41 islands, some of which are uninhabited. The best known are the Uros islands, Amantani in Peru and Isla del Sol in Bolivia.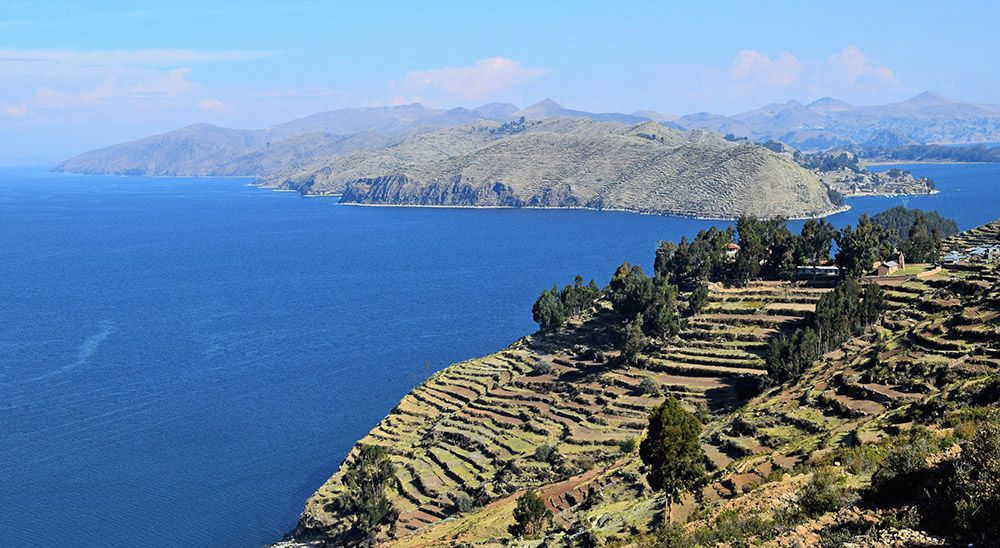 Isla del Sol
From Copacabana, you can take the boat to Isla del Sol. You can go for a direct trip, or a short stop on the island of Isla de la Luna. This island of the moon – according to legend an Inca king would order the moon to go to the sky – is very small. There are just over 100 people living here. There are some stalls where the population sells souvenirs and there are a few hotels. In just over an hour, you can walk over the whole island. The main attraction is the temple of the virgins. Here "chosen" girls were sacrificed to the moon and sun. If you continue to follow the footpath, you see beautiful views on the other side of the island. You then walk back along the same path and get back in the boat, on your way to Isla del Sol.
In the boat, you can already see that Isla del Sol is many times larger than the previous island. This elongated island has about 3,000 inhabitants and is about 74 km2 (for comparison: Terschelling is slightly larger). The island owes its name to the sun god Inti, who is said to have been born here. Upon arrival in the small harbour of the village Yumani, you will see several hotels, most of them with very nice views over the bay. Some are situated high up and you reach them via a steep walk. The path is called the "Escalera del Inca" (the Inca Staircase) and takes you up 200 metres higher. It is definitely worth spending a couple of days at Isla del Sol to see all the sights and beautiful viewpoints, because you have to walk everywhere on the island. When we arrived in October 2017, there was a conflict between the northern and southern part of the island. Unfortunately, we were not allowed to walk from south to north. The expectation at the time was that the problem would be solved quickly.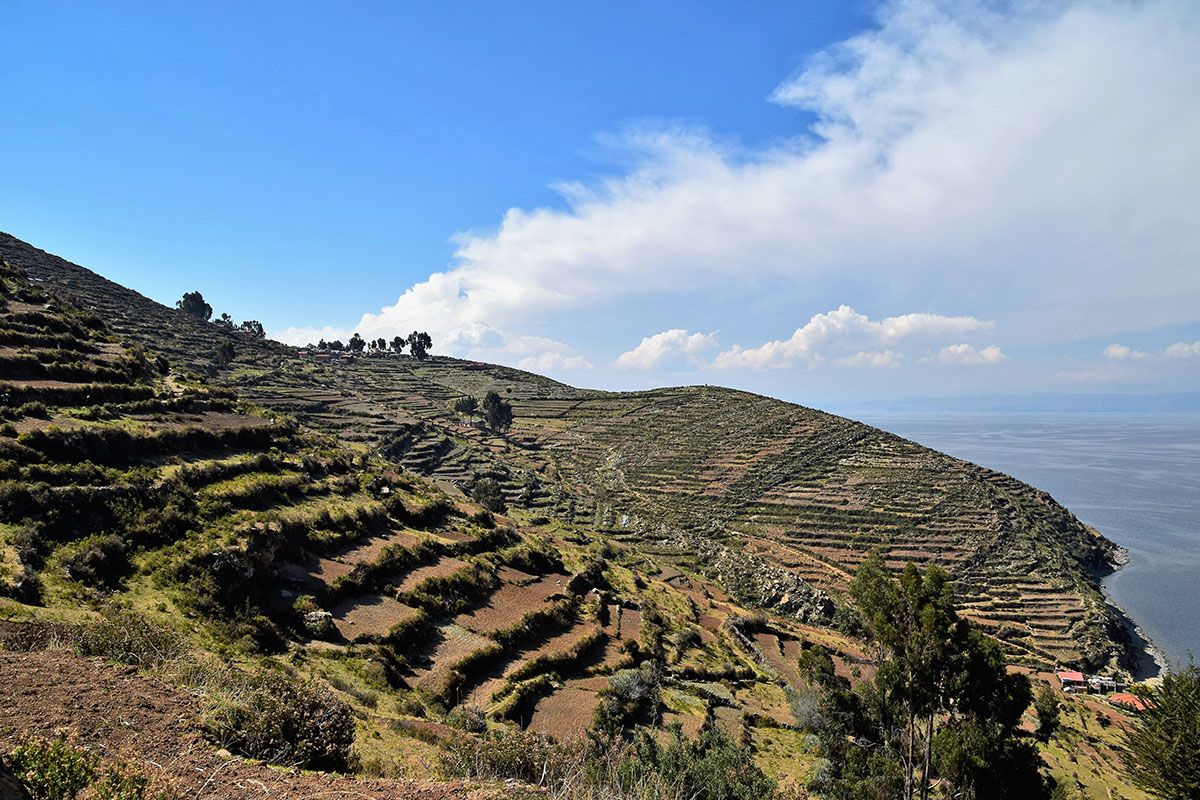 Yumani
The village of Yumani is the largest village in the southern part. You can visit the small church Iglesia de San Antonio. Most hotels and restaurants can be found in this village. If you continue westwards, you will come to Bahia Kona where you have a beautiful view. If you have the time, you can walk from Yumani to the headland with the beautiful name "Kakayo-Quena". At the end, you will see a small lighthouse. After that you walk back to Yumani. Count on half a day for this trip.
If you walk from Yumani along the east side to the north, you pass many fields on the way where the locals and the whole family work hard. You see small settlements and terraced farmlands. The friendly people don't mind having their picture taken and would happily have a conversation with you, using all sorts of body gestures. In the north of the island, you will find the nice village of Cha'llapampa. There are also many Inca ruins to admire in that area, with beautiful views. Unfortunately, we were not allowed to cross to the north. So, we cannot report much about it.
Finally, a practical tip if you stay overnight in Yumani: check where your hotel is. Some are high and require a steep climb up with your luggage. We had asked the locals but were sent the wrong way. With our backpacks we took the steep climb in the burning sun, only to finally find that our hotel, after a long search, was close to the harbour, without any significant climb. If we had been more careful we would have seen it on arrival. So, we were dragging our luggage around for almost an hour for nothing…