National Park Isalo: wonderful walking area
National Park Isalo: wonderful walking area
Madagascar has many national parks. One of the most beautiful is Isalo National Park. With an area of over 800 km², it is also the second largest park in the country. It is especially known for its beautiful rock formations. That's why Isalo National Park has been nicknamed "the Colorado of Madagascar". A visit to Isalo National Park is definitely one of the highlights of your holiday in Madagascar!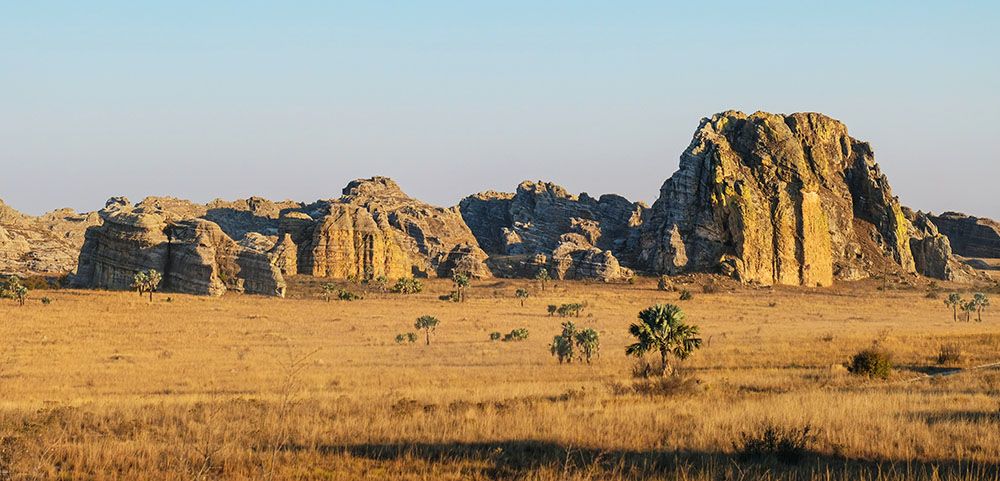 Isalo National Park, gorges and rocks
If you like a beautiful walk through stunning landscape with gorges, rocks, waterfalls, small fens and canyons, then you can indulge yourself here. The views of yellow-coloured savannahs are magnificent. But in another part of the park, you can imagine yourself in a tropical forest with metre-high trees. Isalo National Park is the most visited park in the country for a reason. Nature here is completely different from the other parks that we visited. Although you can also enjoy the animal life in the park, the landscape is the main attraction. A walk in the park will take you past the many highlights.
Hiking tours in Isalo National Park
Depending on the available time and fitness level, you can go on various hikes that vary in length and difficulty. The shortest takes two hours, but it is even possible to hike for a week in the camp. There is a small section where you can follow a circuit called "Via Ferrata". However, this is in an area that is almost 30 kilometres from the village of Ranohira. A Dutch couple that we met during our trip had been on the road for six days and had visited the remote Massif du Makay. According to them, it was a great trip in an entirely deserted area.
It is ideal to set aside two days for the park. As in other parks, a guide is obligatory. It's useful to meet the guide the day before then you can discuss your wishes and the guide can make suggestions for the day(s).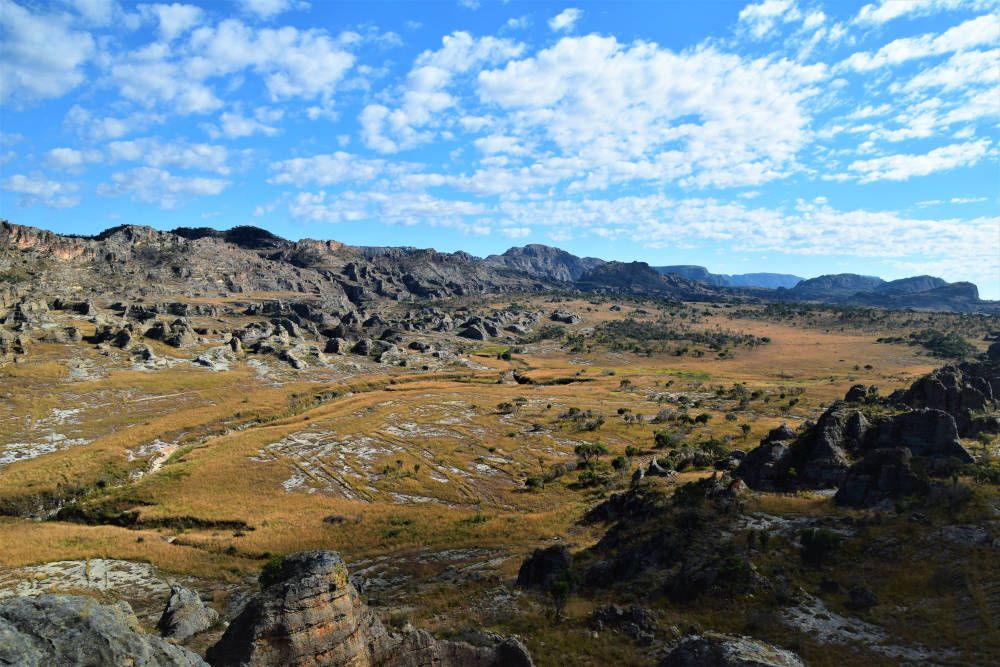 Highlights of Isalo National Park
Although walking in Isalo National Park is already very special because of the views and rock formations, these were our highlights:
Canyon des Makis and Canyon des Rats
This hike takes you through two large canyons. The hike goes through a narrow crevice and high rock faces loom up on either side. The path follows a small river through the canyons. We crossed the river several times by walking from rock to rock.
There was also a lot of scrambling over boulders. As I don't have good balance, it was sometimes challenging for me to stay on my feet. Fortunately, the guides are alert and lend a helping hand when necessary. The guide also made a walking stick for me. With this, I managed to get through the tour without any problems.
To get to the entrance of the Canyon des Makis, a car is needed. It is a route of 17 km on a bad path. It took us at least 45 minutes to get to the car park.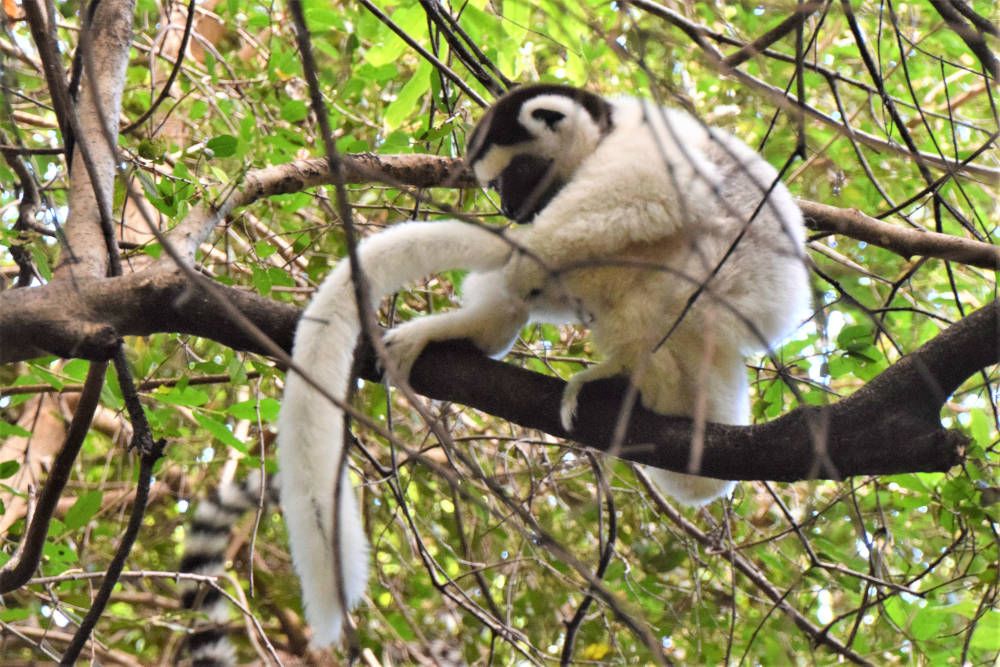 Cascade des Nymphs, blue and black pool
In the Namaza area, where there are many hiking trails, you can't miss the Cascade des Nymphs and the two natural pools. We were there at a very quiet moment and had the beautiful area all to ourselves. It was lovely swimming in the black pool. Under the waterfall, we could cool down from the exertions of the day.
The tombs of the Bara tribe
The Bara tribe is a small population in Madagascar, about 4% belongs to this minority. They are purely of African origin and travel around as nomads. Part of this tribe lives in Isalo National Park. They have numerous rituals and customs.
You will come across graves in various caves and crevices in the park. The Bara use these places to bury their dead, after first cutting their hair as a sign of mourning. It is special to come close to these natural graves, it gives a strange feeling. The Bara are also known for their polygamy and stealing zebus. A groom has to steal a zebu as a dowry. If he is arrested for this and disappears off to prison, his social status increases.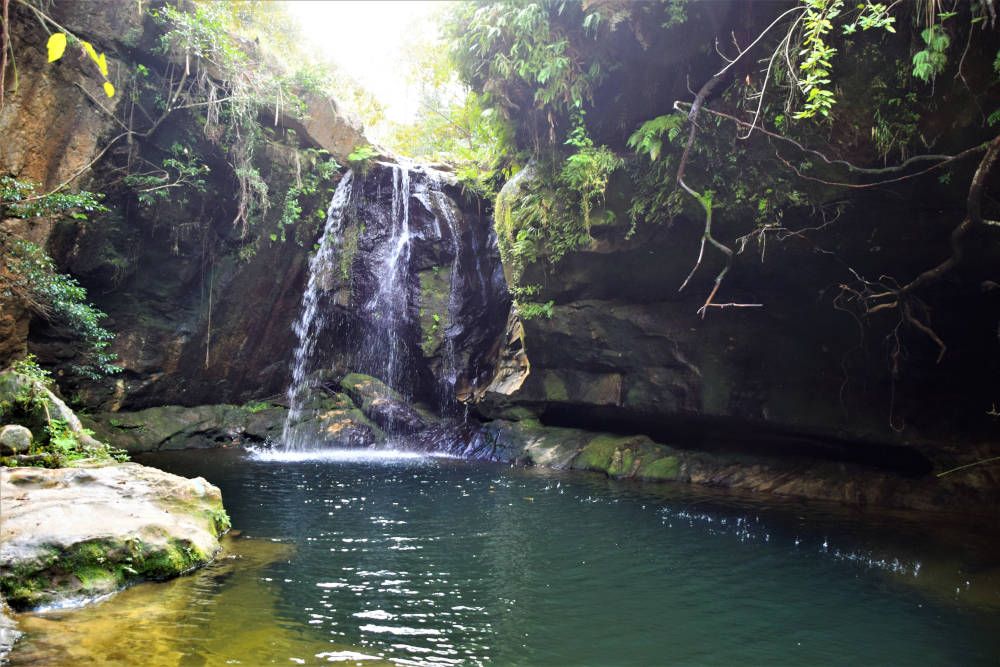 Piscine Naturelle
Unfortunately, we could not visit this natural pool during our trip. Due to a sand and mud shift, it was impossible to get there. Therefore, we had to miss this emerald green natural pool surrounded by tropical trees and plants. We heard from others who had been there last year that it is definitely a beautiful place to swim in a wonderful setting.
La fenêtre de l'Isalo
Especially at sunset, this place is very popular with tourists. From this natural "rock window" you have a beautiful view of the surrounding plains and rock formations. You will find this spot on the RN 7 to the south, about 1.5 kilometres from the hotel Relais de la Reine.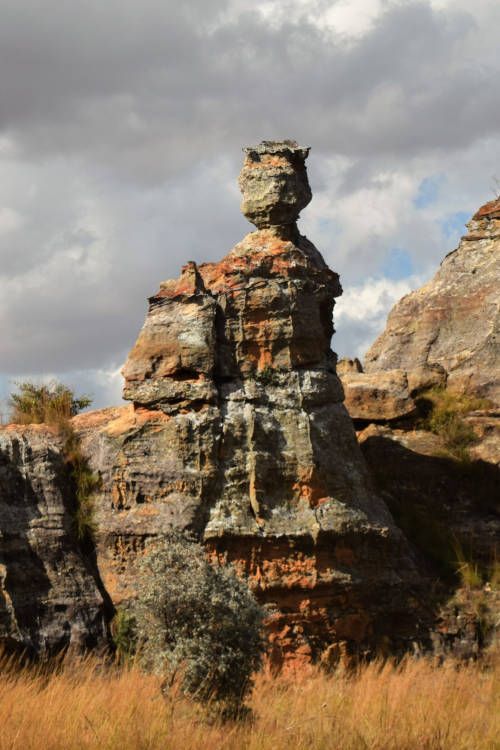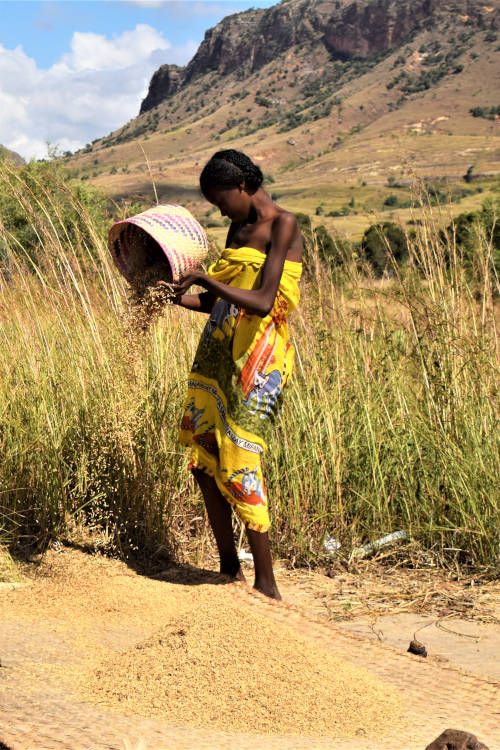 La Reine de l'Isalo
On the road from Ranohira to the south, after a few kilometres, you'll find a rock on your left that looks like a woman because of centuries of erosion. The Malagasy people call it the "Queen of Isalo". And indeed, without having to use your imagination too much, you will certainly recognise a stately lady with a hat in the rock. You will also find this image on the 1,000 ariary note.
Ring-tailed lemurs next to you during lunch
We had our barbeque at the Namaza campsite. There are a lot of ring-tailed lemurs in the area and they were in the mood for a bite. They are very cheeky and will come and sit close to you to have a bite. This is the best place to photograph these beautiful animals in the park. It is, however, forbidden to feed the ring-tailed lemurs.
Isalo National Park, practical information
Here you'll find all the practical tips for an unforgettable visit to Isalo National Park:
Isalo National Park is located near the village of Ranohira on the RN 7. The entrance to the park is still a few kilometres away. It is, therefore, convenient to have a car. The walk to the park takes at least an hour and is no picnic in the burning sun.
How much are the entrance fees and guides?
The entrance fee to the park is 65,000 ariary per person per day. On top of that comes the cost of the mandatory guide. This is 120,000 ariary per day. We arranged our guide through Momo Trek, based at the ITC lodge. This is an agency that is well known and offers various programmes in Isalo. Our guide Safidy was excellent. He spoke English well, listened to our wishes and told us a lot. He also informed us extensively about the culture and customs of the Bara tribe.
Depending on the route you walk, a driver will have to take your car to a different place to pick you up again. You have to pay for this. In our case, this was 20,000 ariary.
Where to stay in Isalo National Park?
It is possible to spend the night in Isalo National Park. There are several - simple - camping spots in the park. You can spend the night near the Canyon des Makis, near Namaza and near the Piscine Naturelle. We did not see the campsite near the Canyon des Makis. We did see the one at Namaza. This one is usually quite busy. As the Piscine Naturelle campsite is a bit further away, it is often quiet there, even in high season. In August, for instance, we slept there with only the other travellers in our group.
The campsite offers a covered dining table, a cooking area and a toilet. For a shower you take a dip in the Piscine Naturelle. It was wonderful to rouse yourself here at 6:30 AM in the fresh water! The previous evening, our guides Safidy and Johnny had entertained us with exciting African dances around the campfire, accompanied by three guitarists. The tiredness of the long walk that day was immediately forgotten! It was a very special experience to do this and to sleep in the simple tents in the middle of nature. The equipment was arranged by our trekking organiser Momo Trek.
You can agree with your guide in advance how you will have lunch. We had a barbecue on the first day at the campsite in the park. A delicious three-course meal with well-prepared meat and vegetables. On the second day, we were given a lunch box that was generously filled. Make sure you discuss this in advance with your guide or trekking organiser, otherwise you might walk around with a rumbling stomach. In any case, take enough water with you. You will be walking large parts unprotected and with the burning sun it'll be very hot.
Where to stay near Isalo National Park?
Chez Alice. We stayed in a fine bungalow with beautiful views of the park. The restaurant is very cosy and serves delicious food. This was the first place we came across in Madagascar with a lot of atmosphere and cosiness, nice seats, in short, a must. You can also drink good cocktails and rums here. The hotel does not have a website. For reservations, you can email chezalice@yahoo.fr. The hotel is popular, so advance booking is recommended.
ITC Lodge. The complex consists of a number of bungalows and a camping area. Perfectly fine and you can eat well there. On the complex is also Momo Trek, where you can book hikes in the park.
Isalo Rock Lodge. This is a super chic hotel with beautiful rooms and a great view. From the hotel, you can go off on some small walks. It is a really beautiful complex that you should definitely book for in the high season. It has a price tag, but for Western standards, it is still affordable. We found it a bit tight and minimalistic.