In our opinion, the best way to explore a region is by bike. You can go quite far and can easily stop anywhere you want to enjoy the beautiful surroundings. In addition, you can easily make contact with the locals. This often gives you great memories and photos. That's why we wanted to do a mountain bike tour along the lakes of Antsirabe. We could visit Lac Andraikiba and Lac Tritriva in this manner. A trip of 55 kilometres in total, for the most part over slightly sloping dirt roads with an occasional difficult climb or descent, awaited us.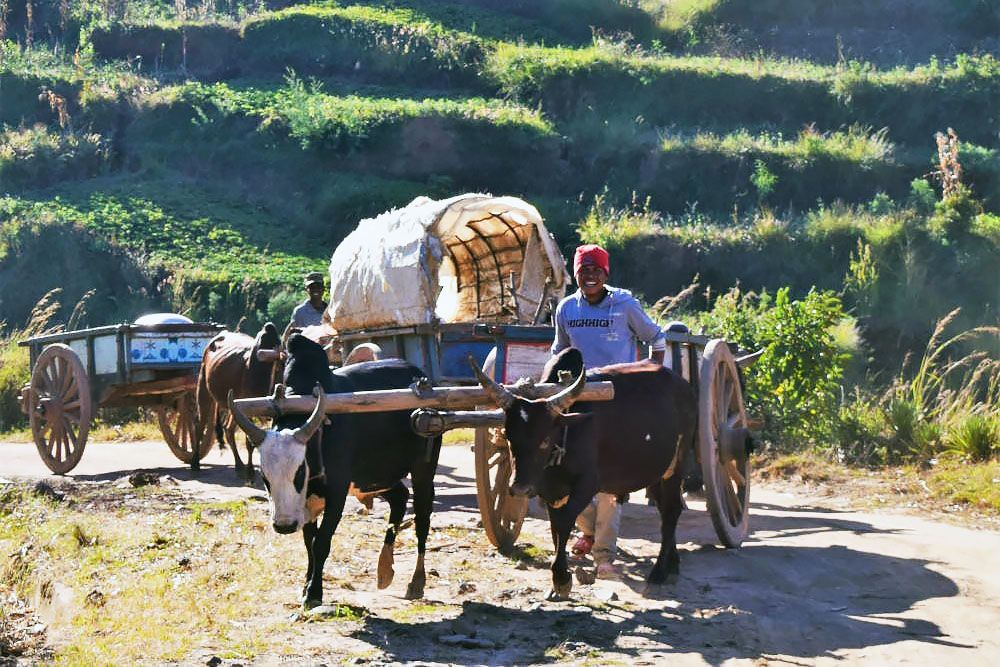 The start of the mountain bike tour in Antsirabe
We rented our equipment from Rando Raid Madagascar. A jovial Frenchman who has good bikes. Another option is to rent the bikes at the Green Park Hotel. That is cheaper, but the quality (the brakes for example) is poor. Jean Marc gave us helmets, gloves, locks and a repair kit. He also gave us a printed, hand-drawn route description including oral explanations. We couldn't go wrong with that.
The first, short part is through the centre of Antsirabe towards the RN 34. Although the thought of driving through a busy city for about seven kilometres and turning onto the Route National might deter you, it's not so bad. Especially in the centre of Antsirabe the roads are so bad that everyone is driving at walking pace. So, nothing can happen. Moreover, it is easy to cycle on the RN 34. The road here is a lot better and the traffic is not bad. Only at the Star-brewery, where the famous Malagasy Three Horses Bear beer is brewed, is it a bit busier with trucks coming and going.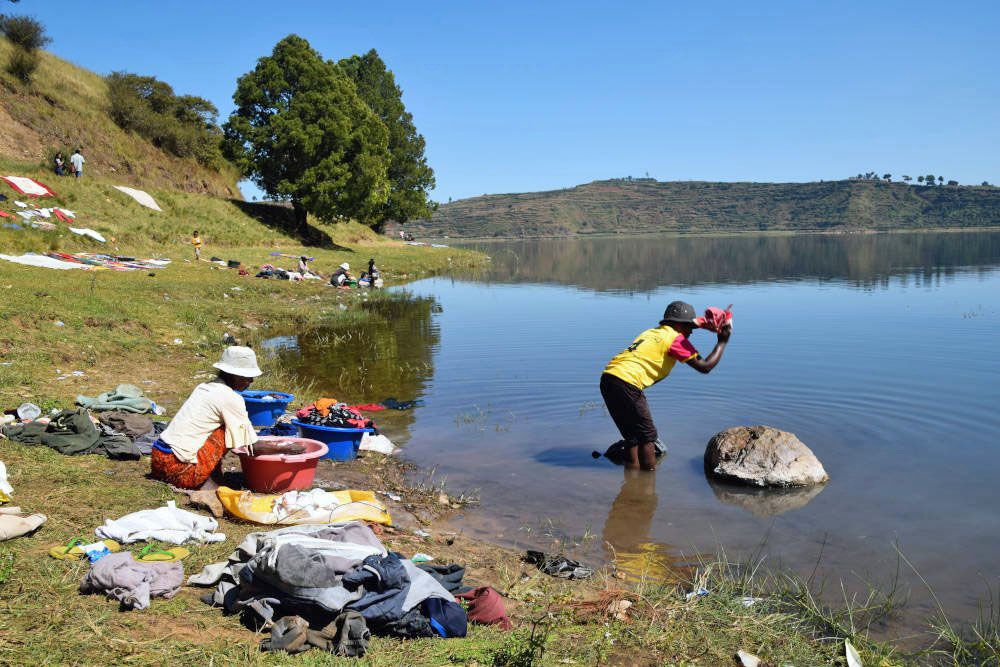 Lac Andraikiba, first destination on the mountain bike tour in Antsirabe
After a little under seven kilometres on the RN 34, we turned left to Lac Andraikiba. From then on, the road was a sandy path with many openings and holes. Luckily, we arrived at the lake without any issues. As our hotel, which is otherwise excellent, doesn't have such nice coffee, we needed some comfort. We parked our mountain bikes at a hotel. A big guard came to stand there, so they wouldn't be stolen! After a nice cup of coffee on the sunny terrace we started to walk around the lake.
Lac Andraikiba is a volcanic lake. It is very popular with the locals for picnics. We were here on a Monday morning. Monday laundry day is definitely applicable here. Everywhere you see women busy washing countless pieces of clothing. An intensive job, which takes a lot of time. The washing is put on the grass to dry.
The lake has a mythical meaning for the Malagasy people. Legend has it that a pregnant girl drowned here during a swimming competition, in which the winner was allowed to marry a rich nobleman. The girl's ghost would still be seen every morning on a rock near the lake. In addition, there are some local fady (taboos) around the lake. For example, one may not eat pork or wash silk items in the lake. These fady occur in various forms and meanings throughout Madagascar. For the local population it is very important to adhere to them.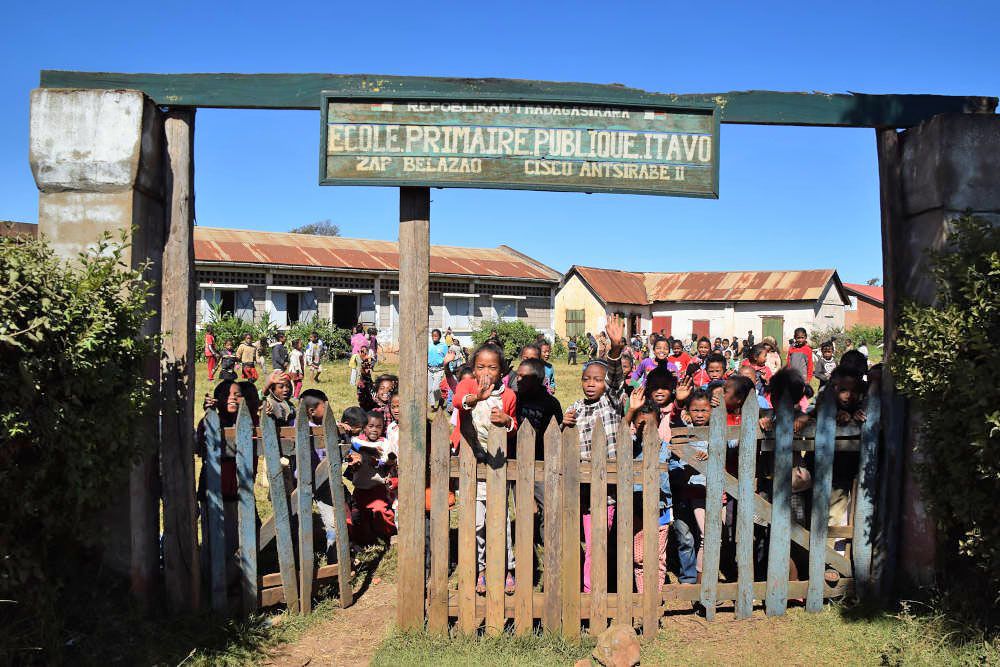 Beautiful route to Lac Tritriva
After we thanked the guard for taking care of our bikes, the trip continued through some beautiful landscape. Numerous rice fields, mountains and valleys passed by. Every bend in the road gave us a beautiful picture. Many people passed by with their fully loaded carts pulled by two zebus. You also see people with lots of stuff passing by, and women going by with all kinds of goods on their heads. Children shout enthusiastically "vazzaha" (or stranger) at us and run whole stretches with us. Once in a while, a small village looms up. Men play pétanque (jeu de boules) or sit staring at benches.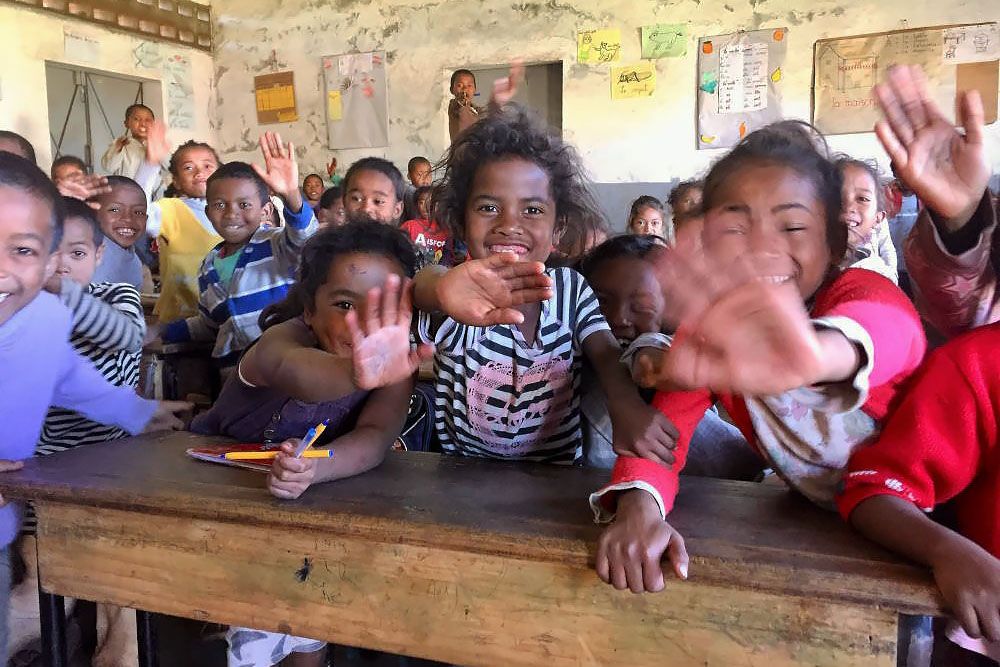 When we passed a school, the children ran straight to the fence to see us. The teachers came to the noise. They invited us in for a viewing. We visited several overcrowded classes, 60 children per class is more the rule than the exception. The children were very enthusiastic and sang songs for us. A great experience. Because the teachers don't get a salary, there is no money for that, we made a donation to the school. This was gratefully accepted.
Lac Tritriva, the second lake on our mountain bike tour at Antsirabe
At Lac Tritriva we first had a delicious lunch at a small restaurant, which is run by a young Frenchman Rémy and his Malagasy wife. With simple means he puts the most delicious things on the table. In the garden we could enjoy a beautiful view while enjoying a tasty lunch. The restaurant is called La Case à Tritriva and is a bit difficult to find. If you let the bike rental company, who knows him well, call you, he will wait for you in the village.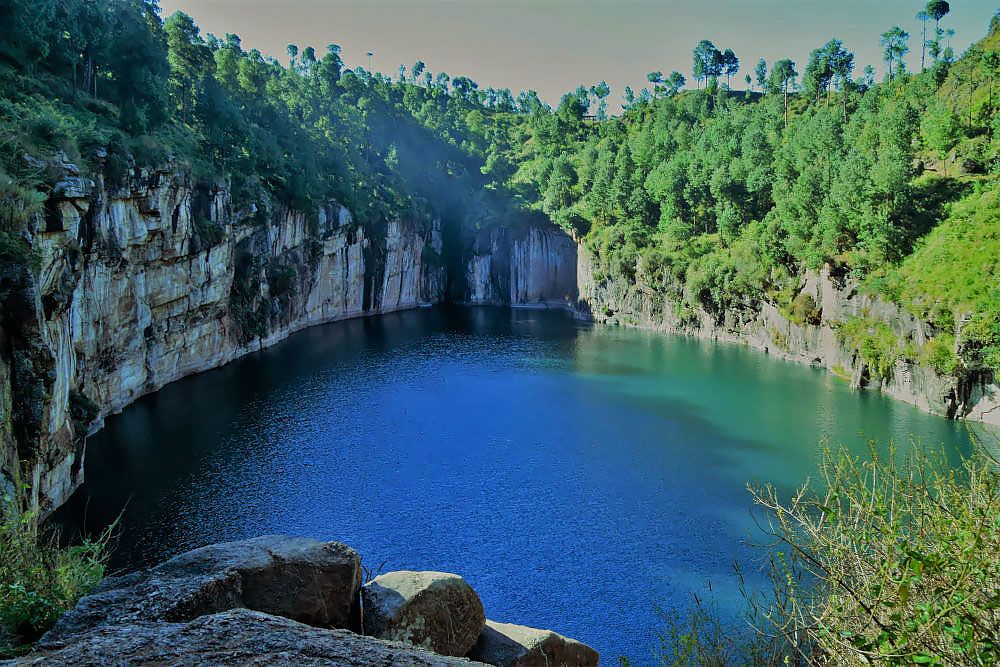 A ticket is required for a visit to Lac Tritriva, as well as a guide. You can walk around the lake in about 45 minutes. This is also a volcanic lake with high cliffs up to 20 metres high. Daredevils jump from here into the fresh water. There is a story about the lake that two lovers who were not allowed to marry each other because of the difference in class, drowned here. A rock represents the two arms holding each other.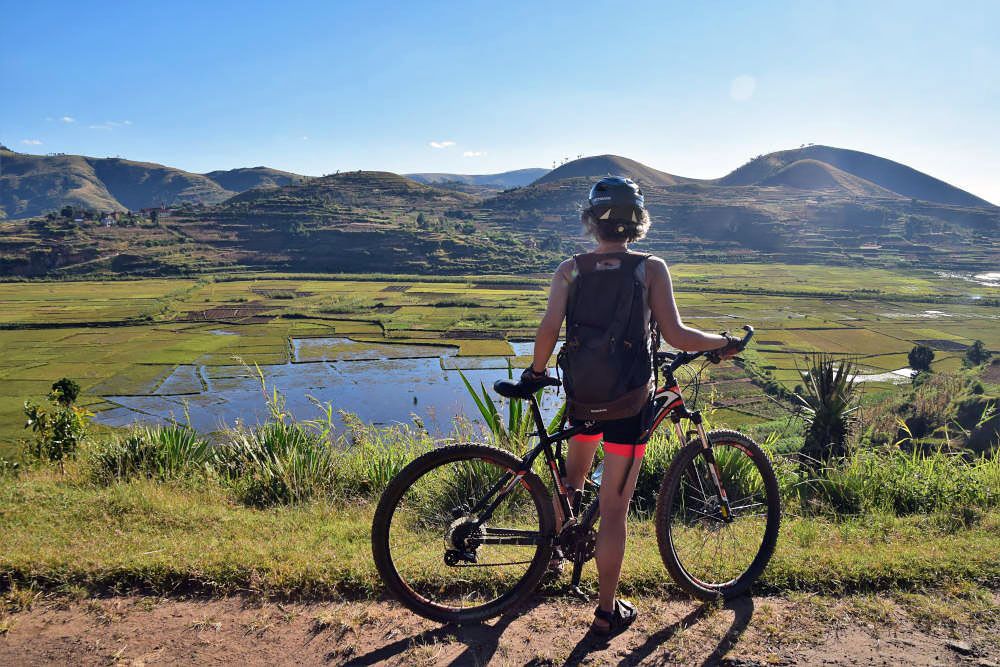 The last stage of our mountain bike tour in Antsirabe
From the lake, we went up and down through sloping landscape over loose dirt roads. Now and then it is wise to get off the bike, because it is difficult to keep the handlebar straight in the gravel during a steep descent. The views are fantastic. It's also nice to see all the passing people using the most peculiar means of transport.
After about eleven, sometimes quite tough, kilometres, the RN34 reappears. The last 20 kilometres are quite easy. Cycling on asphalt is of course less strenuous than ploughing through the loose gravel. Next to that, the road descends slightly in the direction of Antsirabe. This stretch also offers plenty of opportunities to enjoy the landscape and watch the locals hard at work in the rice fields. Suddenly we had to brake hard because a goose herder with all her geese crossed the road.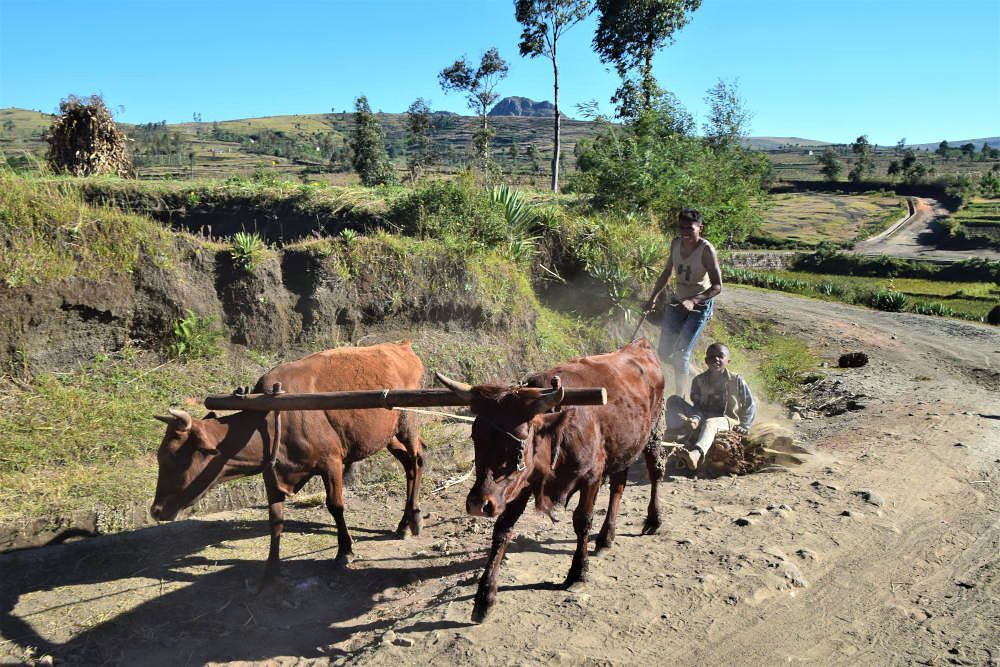 Practical matters
General tips
It is wise to bring your cycling shorts with you if you want to do this mountain bike tour in Antsirabe. This is more comfortable than regular shorts.
Take plenty of water and sunscreen with you if you want to go on this trip.
In peak season, there are several souvenir sellers with their stalls at the two lakes. They can be intrusive. If you don't like this, it's best to say "non, merci" and walk straight on. Don't give them any attention, because then they will keep chasing you.
The La Case de Tritriva restaurant is not always open, so check this in advance by sending an e-mail to lacasetritriva@hotmail.com or call with a local phone to 034 – 67 159 56.
The entrance to Lac Tritriva is 3,000 ariary per person and the obligatory guide costs 15,000 ariary.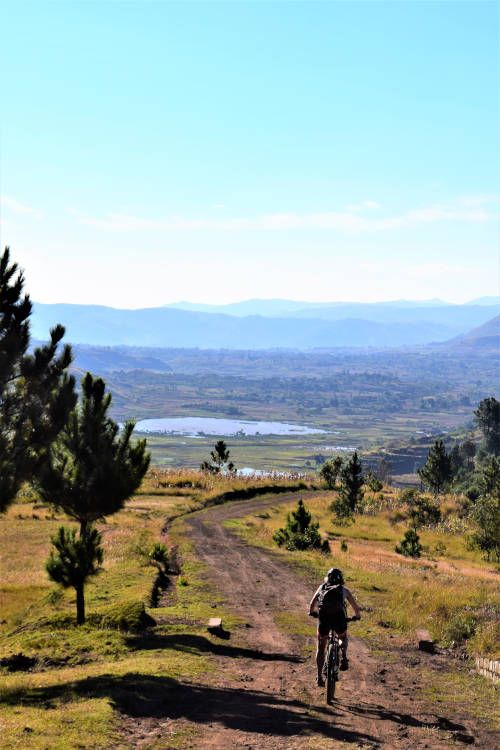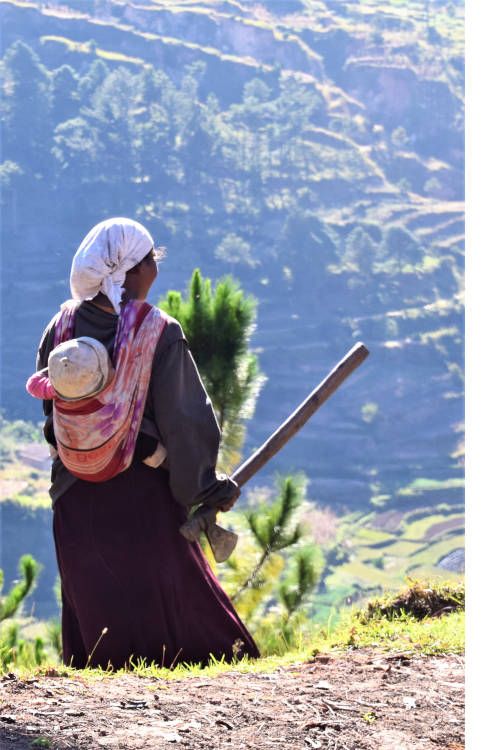 Where can I find good accommodations in Antsirabe?
In Antsirabe you will find plenty of accommodation, you can also find several hotels through booking.com.
We stayed in Hotel Antsirabe. A family-run hotel with large rooms with an ensuite. Choose a room at the back because of possible noise from the street. We could park our car in the garage. Dinner is great. Breakfast too, except for the coffee, which is lukewarm and bland. Good value for money overall though.
Another option is Eco Lodge les Chambres du Voyageurs. Beautiful, spacious rooms in a quiet area. Beautiful garden and a delicious breakfast.
Hotel le Trianon is housed in a renovated French colonial building with an alluring air. The rooms are large and the restaurant nice.
Other hotels in Antsirabe that are booked by Europeans and highly appreciated by our car rental company are: Residence Madalief, Green Park hotel and Chez Billy. We just don't have any experience with them, so can't give an opinion.