Tsingy de Bemaraha: adventurous walking tours
Tsingy de Bemaraha: adventurous walking tours
A unique natural park in Madagascar is the Tsingy de Bemaraha National Park. This is located in the west of the country, near the small town of Bekopaka. Despite the fact that it is difficult to reach, this park should be in your travel plans. The views of the razor-sharp, grey pinnacles are phenomenal and the trip through the park is certainly an adventure. The park is on the UNESCO world heritage list for a reason.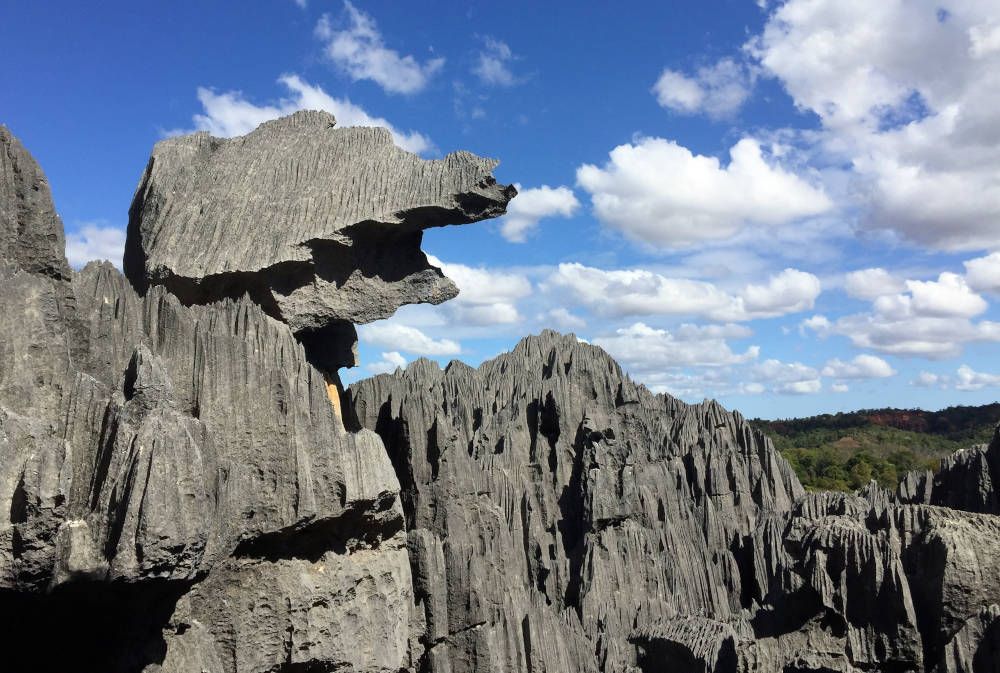 Tsingy de Bemaraha: unique nature reserve
The grey limestone formations in this area are the result of centuries of erosion by wind and water. In some places the pointed rocks tower a few hundred metres in the air. It is a very surrealistic landscape with spectacular views. In Malagasy, the name of the park means "walking on your toes over the points". Fortunately, we didn't have to do that, because the rocks are indeed razor-sharp.
There are no less than eleven species of lemurs in the park. Unfortunately, we didn't see all of them, but we mainly came here for the landscape. And that made a deep impression on us in the two days we were in the park. The park consists of two parts, namely Small and Big Tsingy. They are far away from each other, about 17 kilometres.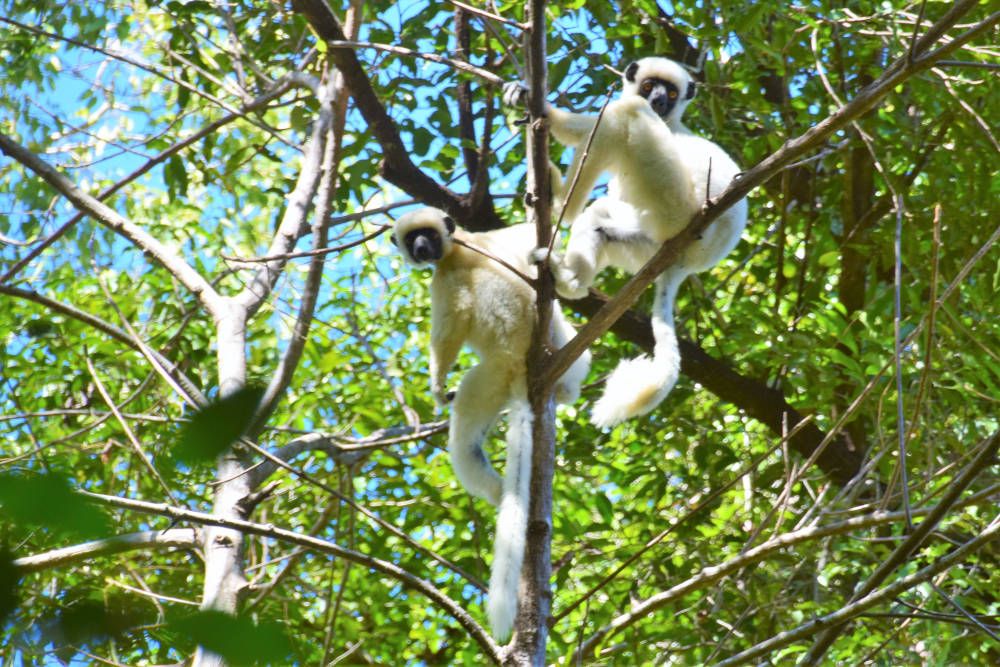 Small Tsingy de Bemaraha
The entrance to Small Tsingy is close to the village of Bekopaka, on the Manambolo River. In the park you can go on walks on seven different routes. Most visitors choose a walk of one-and-a-half or two hours. These are easy to do. For the avid walkers, there is a trip of about six hours, where you also have to abseil from a 25-metre-high rock.
We did the two-hour walk. On a fairly easy route, you pass some viewpoints and see pointed rock formations all around you. It is not called Small Tsingy for nothing, the view here is beautiful, but not super spectacular. The chance of spotting lemurs in this part of the park is relatively high. However, we did not see them.
We combined the visit of the Small Tsingy with a trip with a pirogue (a kind of dugout) over the Manambolo river. On the way, we did two trips to visit some beautiful caves. During the boat trip we saw a crocodile swimming next to us. Luckily, he was not hungry and left us alone.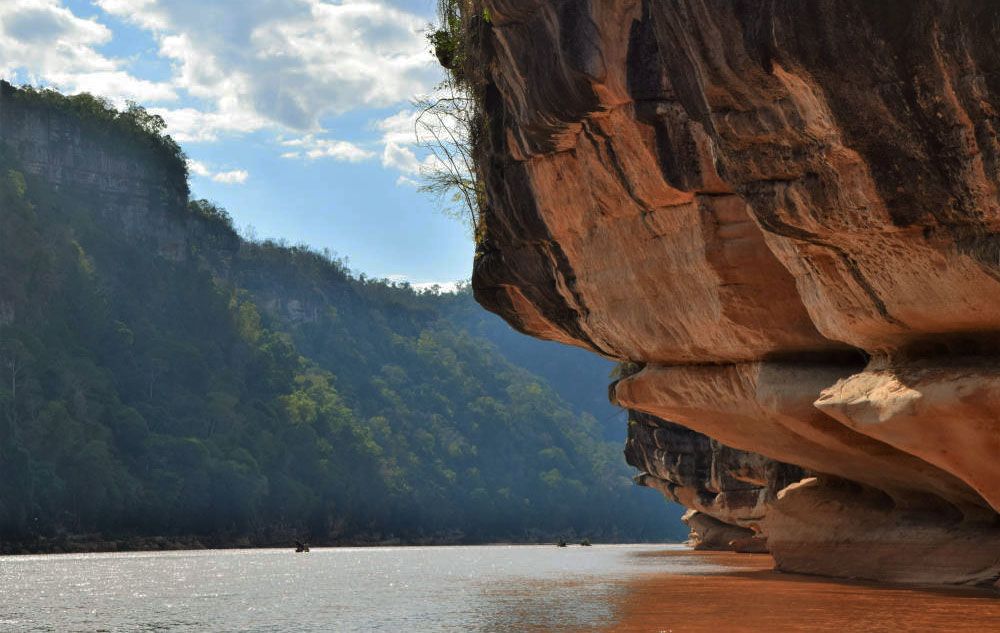 Big Tsingy de Bemaraha
The next day, Big Tsingy was on the schedule. Due to safety regulations we had to drive in a column, accompanied by two armed soldiers. It turned out that a car had been stolen recently and they didn't want to take any chances. We felt incredibly safe when we saw the soldiers. Huge beer bellies and flip flops. They would certainly catch bad guys in a chase!
In Big Tsingy, there are several walking routes from four to six hours' long. These take you to all the beautiful viewpoints of the park. On the way, you will be able to follow a challenging course. We were very surprised when we met four American women way over 70. They were doing the route in reverse order. Later on, we had even more respect for them when we had to crawl under a rocky crevice commando style.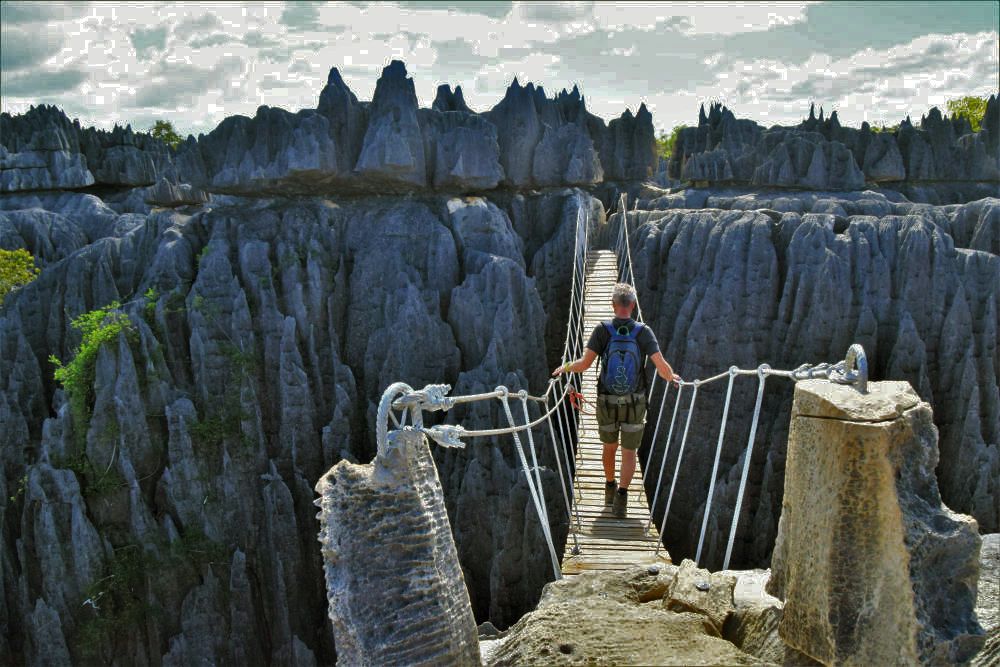 Views
During the hike you will come to some beautiful viewpoints. Here, you can enjoy a great 360-degree panorama. In clear weather, which is almost always the case, you can see for miles over the rugged rock formations. A great image that you won't forget in a hurry. Luckily it was relatively quiet in the park during our visit. We could enter the viewpoints without waiting and did not feel rushed while we enjoyed the views because there were no people waiting below. In peak season, from July to September, that may be different.
Via Ferrata
At various places during the trip, you can be secured with a steel cable. Thanks to this, nothing can go wrong. Your guide will give you the harness including the hooks at the start. It seems very dangerous, but it is not. No specific climbing experience is required, everyone can use the Via Ferrata. What's more, the guides are very helpful and patient when helping you in case of difficulties. They like to extend a hand and with their motivating words and handy tips, they know how to help people who are afraid of heights to climb and descend without any problems.
Suspension bridge
Another highlight is the suspension bridge between two rocks. It hangs above an abyss of about 60 metres. Luckily, you can again secure yourself with the harness. Although I'm not a hero and I am afraid of heights, I thought it was great walking over the bridge. It is a spectacular highlight on a day full of climbing and descending adventures, not to mention a beautiful photo opportunity.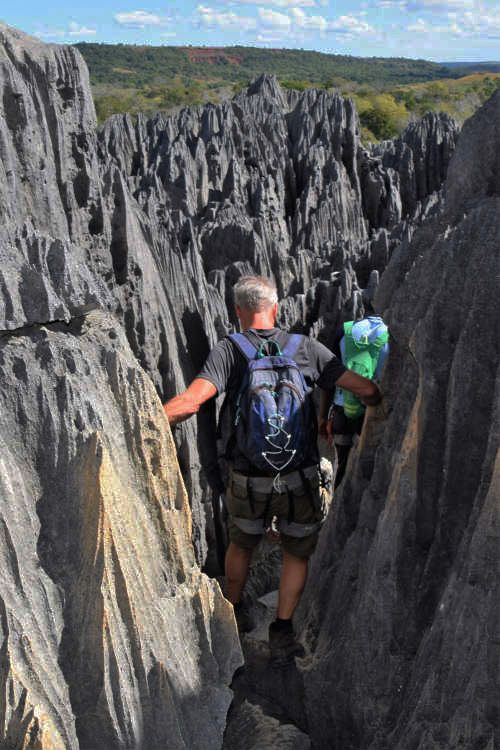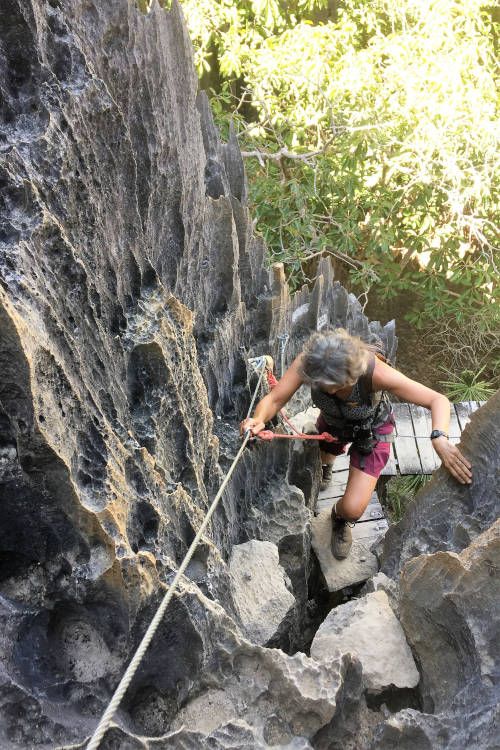 Small crevices, narrow caves
A trip through Big Tsingy means a very varied hike. Every now and then, we only just managed to squeeze past the narrow rock crevices. We needed to take our backpacks off regularly because otherwise we would get stuck. We walked through some caves and at some of them we had to cover a short distance on our knees to get to a place where we could walk normally again. For a little bit, we even had to do the commando crawl: on all fours with our bodies as low to the ground as possible, pushing our backpacks in front of us. We had even more respect for the American ladies we had met earlier after that!
During the trip we could regularly hold on to the rocks. From the worn-out spots we could see that a lot of people sometimes look for something to hold on to at the cliffs.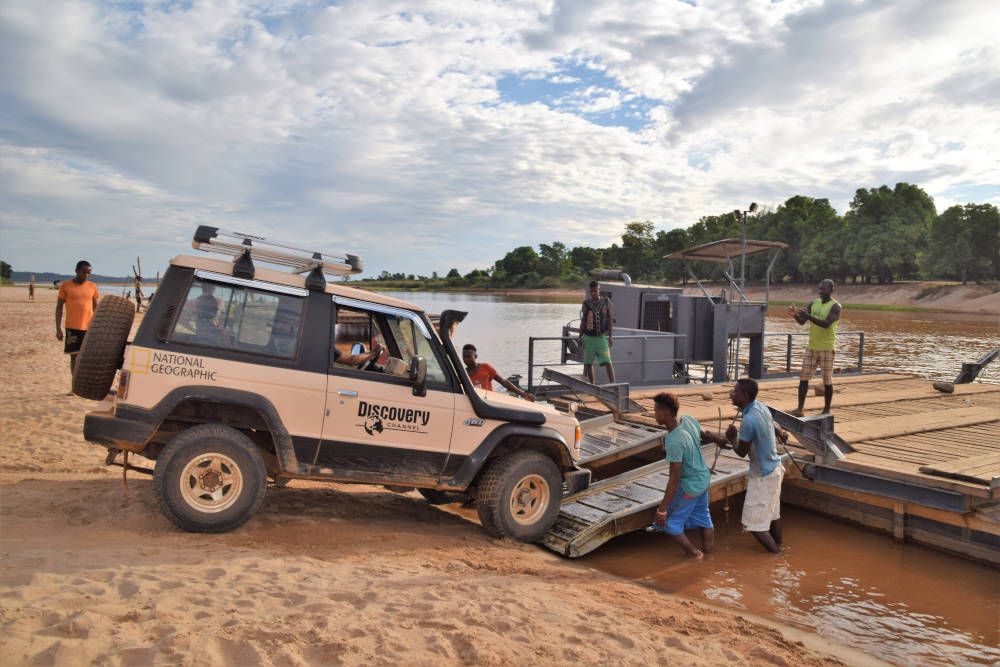 Practical matters
Here you will find all the information for an unforgettable visit to this beautiful National Park.
How to get there
Tsingy de Bemaraha is located near the small village of Bekopaka in the west of Madagascar. This place can only be visited by 4×4 from Morondava. The 190-km long route takes at least seven hours net travel time. There are two more crossings by ferry. The ferry at Belo sur Tsiribihina takes about 45 minutes (50,000 ariary one way). The second ferry is at Bekopaka. The crossing here is faster and costs 20,000 ariary for a return trip.
It is a difficult and tiring ride on dirt roads. A nice moment for relaxing is a lunch at the best restaurant in Madagascar according to connoisseurs, Restaurant Mad Zebu in Belo Sur Tsiribihina. Every guide knows of it and if you drive with a guide/driver, he is sure to stop here. It really is haute cuisine what they serve here.
If you have time you can consider spending the night in Belo. We did this on the return trip and it made the trip a lot more relaxed. We slept in the beautiful Hotel du Menabe. It is an old colonial building with good rooms and an excellent restaurant. The building doesn't look very special from the outside, but appearances are deceptive.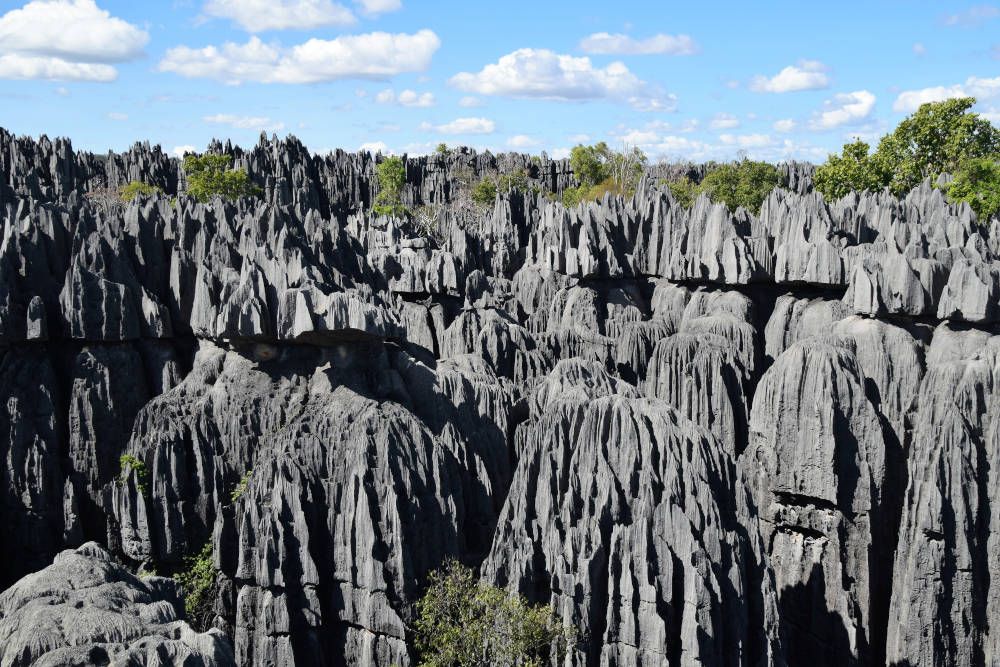 Access prices and guides
The entrance to the park is 55,000 ariary per person per day, including harness use for Big Tsingy. Please note: you cannot pay this in cash, a credit card is required! A guide costs 135,000 ariary per day (this can be paid in cash). We had guide Bien on the advice of someone, who turned out to be an excellent and helpful guide with very good English. Another good guide is Narcissus. If you prefer a guide, it is best to send an e-mail to the park three weeks in advance with this request. The park divides the guides in order to give everyone enough work. The e-mail address is bmr.cvecot.parks@hotmail.com.
In peak season, arranging your ticket in advance is very important. There are too few guides and harnesses available. Moreover, if you don't have a guide, you won't enter the park and that would be a real shame. So, arrange this at the latest by the afternoon that you arrive. On the day itself it will be difficult. A Dutch family was at the park office at 4am last year to arrange it.
Lunches
There's nothing for sale in Big Tsingy. So, arrange a packed lunch at the hotel or buy a large quantity of bananas in Bekopaka. Also bring enough water, it can be very hot there.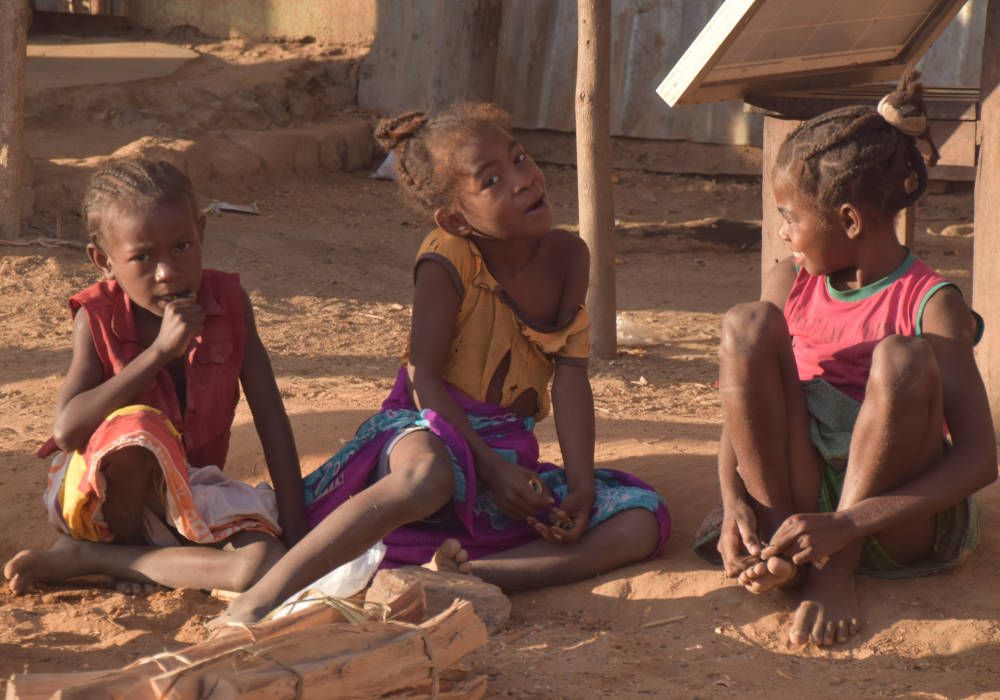 Hotels in Bekopaka
l'Olympe de Bemaraha: Excellent hotel with rooms and bungalows. We got an upgrade from the owner and could not complain about the comfort. The swimming pool at the hotel is lovely and the food in the restaurant is great.
Orchidee Hotel: Good hotel with neat rooms and bungalows. Be sure to choose a room with a large double bed, otherwise it will be a small double bed (120 cm wide). If you book this hotel, you will get the cost of the ferry in Bekopaka back. Choose the left ferry at the crossing (marked with a sign) and keep the receipt.
Soleil de Tsingy: Beautiful hotel with cosy bungalows. A lovely swimming pool rinses off the dust. Nice view from the restaurant and terrace but it does come at a cost.
Money matters
Please note that the price level in this area is higher than in other places in Madagascar. There are no banks in Bekopaka, so bring enough cash here. However, entrance to the park can be paid by credit card, as well as the more expensive hotels.