A fantastic road trip through Madagascar
A fantastic road trip through Madagascar
For us, the ultimate way to get to know Madagascar in every aspect was to do a road trip. And because we wanted to go on a tour, the only option was to rent a 4×4. This allowed us to cross from Tulear to Morondava. With our tough Hyundai Galloper, we were able to go on a fantastic trip for four weeks, which let us discover the different cultures and customs of the country. It took us to the most beautiful places in the country, where we could fully enjoy the population, flora and fauna.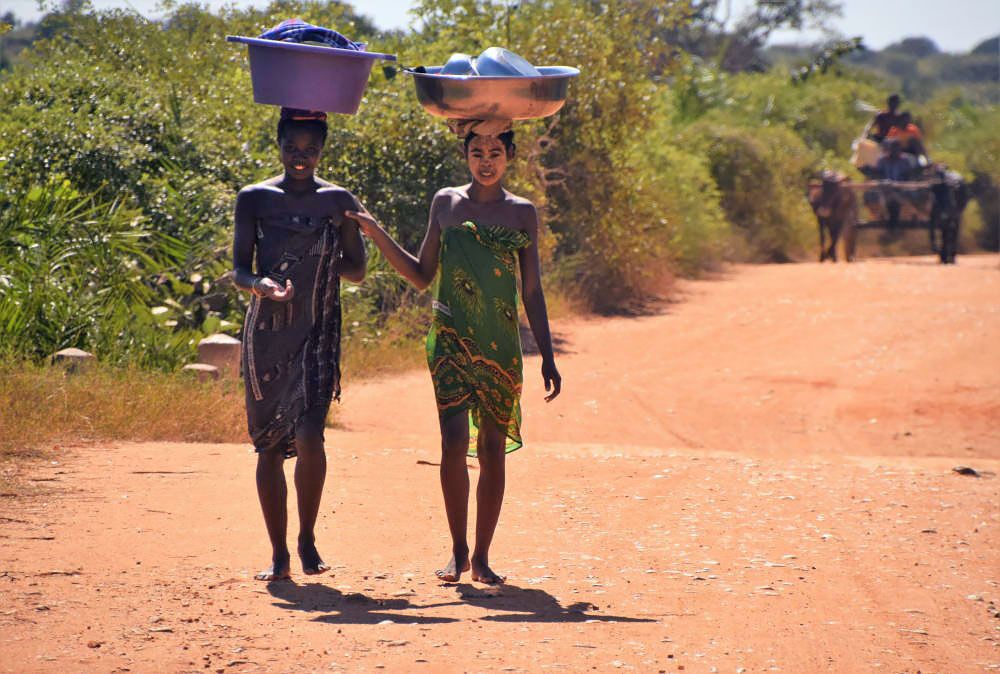 28 days before our road trip through Madagascar
We were lucky to spend four weeks on the road in Madagascar. Absolutely necessary for our tour. Because of the poor infrastructure, travelling is a time-consuming activity. There is a reason why people talk about the number of hours on the road instead of the number of kilometres.
Driving yourself in Madagascar is very exciting but also exhausting, especially during the first few days. The driver has to be constantly on the lookout for holes in the road. Sometimes I felt like Max Verstappen taking a chicane, swinging from right to left to avoid potholes.
Luckily there are some parts of the road that are fine and where we could even reach a speed above 100 kilometres. With the detailed information from our car rental company Cineroutes, we knew where to expect bad parts again and pay attention again.
And we noticed that, after about four weeks, we were a lot more relaxed with the road conditions. The route from Antsirabe back to Tana was done in reverse order on the first day. We found that road really awful. When we came back, we didn't mind and reached a higher average speed than on day 1 when we were really crawling on the road, afraid to drive into a hole.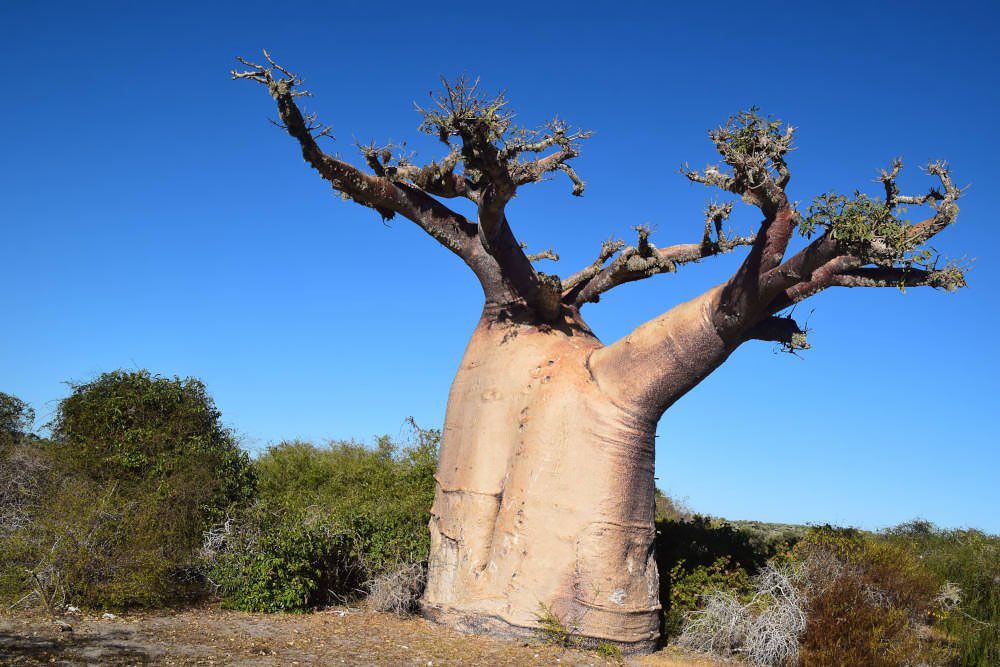 Less traffic
It should be noted that the road is not crowded with other car traffic. Only the taxi-brousses come and go, and some freight traffic. Furthermore, it is mainly agricultural carts towed by zebus, cyclists and pedestrians. When they hear a car coming, they often dive into the shoulder to let you pass.
Coming to a village was special. Already at a distance of kilometres, we knew where a market was. We saw long files of residents walking along the road, on their way to the market. Once we arrived in the village, we had to drive at walking pace. The market almost always takes place on the main road and at that moment, as a driver, you have little choice but to cautiously squeeze past the crowd, without hitting anyone or killing an animal. When we drove out of the village, we saw people walking for miles on the other side of the road on their way to the market.
The road is also used by the people to dry their rice. Sometimes on a sail, but often just on the asphalt. These bright spots look like new asphalt, but it's not wise to drive over them… you may have a little problem with the owner!
On some bad areas, you see a poor family busy shovelling sand into the pits. Grandpa, mother and all the children try to make the holes less bad. They also hope that the passing cars will reward them with some ariary. Grandpa holds his cap in his hand and every now and then receives a note. Sad to see that the national government does nothing to maintain the roads and leaves it to the local population.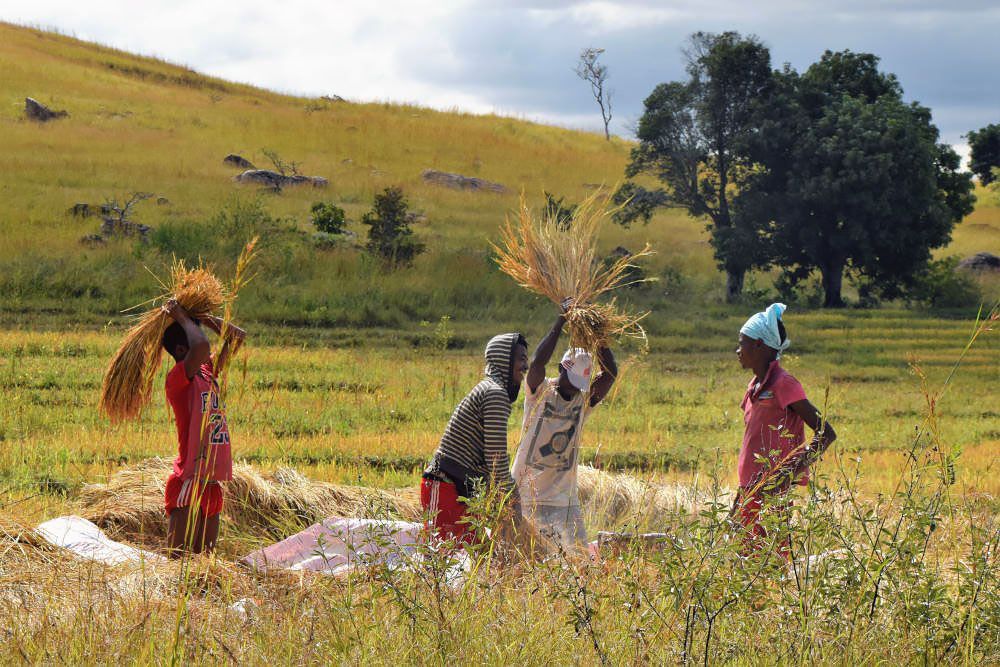 Off road riding during our road trip through Madagascar
We deliberately rented a 4×4 car to drive from Tulear to Morondava. There is no normal road here, only dirt roads. In addition, a 4×4 is necessary to drive from Morondava to Tsingy de Bemaraha, the beautiful nature reserve.
The distance from Tulear to Morondava is 545 kilometres. It took us four days to get there. By the way, it is advisable to drive this route with a "pisteur", a tracker. There is no route to be found in navigation apps and there are no route signs, just like in the whole of Madagascar actually. Our pisteur, Aime, knows this route like the back of his hand and is also a skilful driver. Furthermore, he could easily fix any problems with the car itself. Luckily, we didn't have to judge that skill, we didn't have any car trouble during our off-road crossing to Morondava.
We passed small settlements on this route. To earn some money, they made a "toll gate" out of some tree trunks. First, they asked for 30,000 ariary, but our guide insisted that 2,000 ariary is the maximum we pay. After some negotiation they agree to this. The children in the settlements had observed the art and made their own primitive barrier. Our guide was not moved. He gave them nothing and drove straight through the barrier.
Aime could also show us how to use the dirt roads and where the four-wheel drive is needed. We had never had any experience with this before. In the end, it turned out to be easier than expected and we were able to drive the route from Morondava to Tsingy de Bemaraha ourselves, without a pisteur. We didn't get stuck anywhere and were able to avoid all natural obstacles without any issues.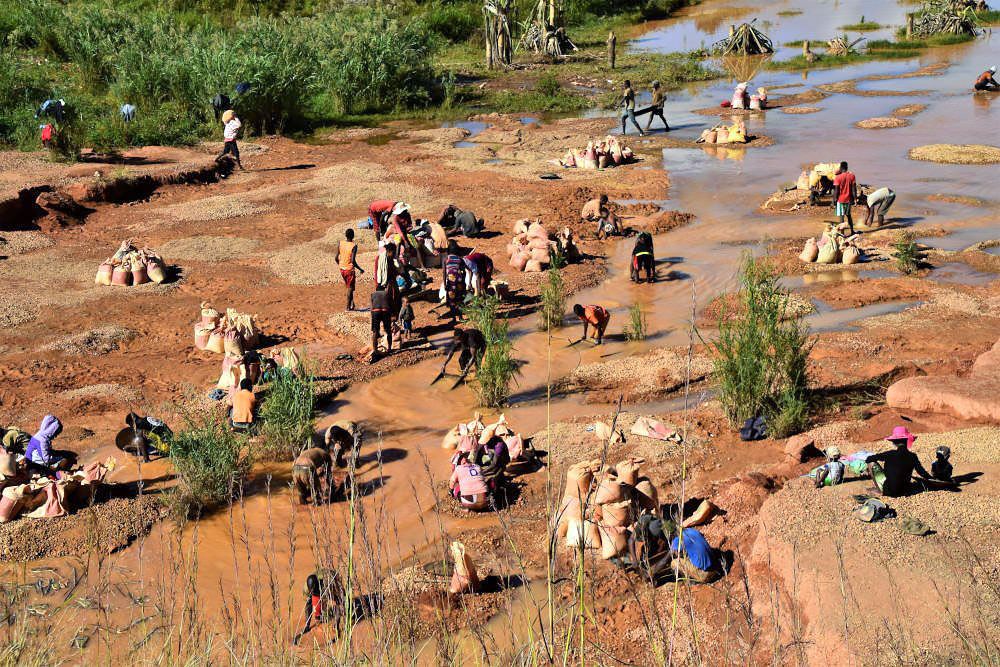 On the ferry
On the way, we crossed a river several times during our road trip through Madagascar. Often, they were quite dry and it was no problem at all to drive through them. Once it was a river with a lot of water. Our pisteur drove through it without any issue, the water went over the bonnet. I felt that the floor mat underneath me was getting a bit damp. We wouldn't have dared to do that ourselves, but Aime didn't think twice.
Some rivers can only be crossed with a ferry, called "bac" in Malagasy. It's a ramshackle thing where we always thought the cars were too heavy for the ferry. The first time they took the battery out of the car to start the ferry engine. After the crossing it was put back in place.
Driving on the ferry for the first time is exciting. The gangways are quite steep and in the loose gravel it is important to get enough speed to reach the gangway. Too much throttle means digging yourself in and then all the children are ready to dig you out again. That will cost you a tip. Fortunately, things always went well for us and we didn't need the helping hands. After a few times it becomes routine and it has become the most normal thing in the world to manoeuvre the bac.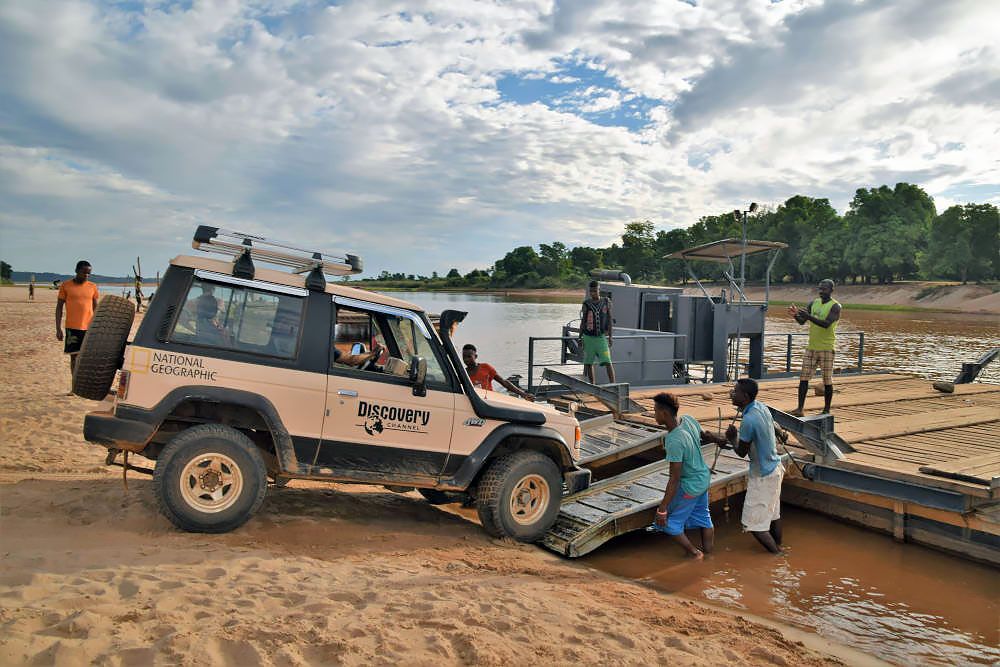 Road trip through Madagascar: Many views on the way
As vazaha, foreigners, we went wherever we could see a lot. Especially in the areas where there are fewer tourists. Not only did the children look admiringly at the car, the adults were also very curious. We had decided never to give begging children anything. It sounds bad, but begging should not be rewarded. However, we regularly handed out our large empty bottles of mineral water to the children. They can make great use of them filling them with rice, oil and other things. Mothers were always very happy with this simple gesture. Taking a picture after that was never a problem.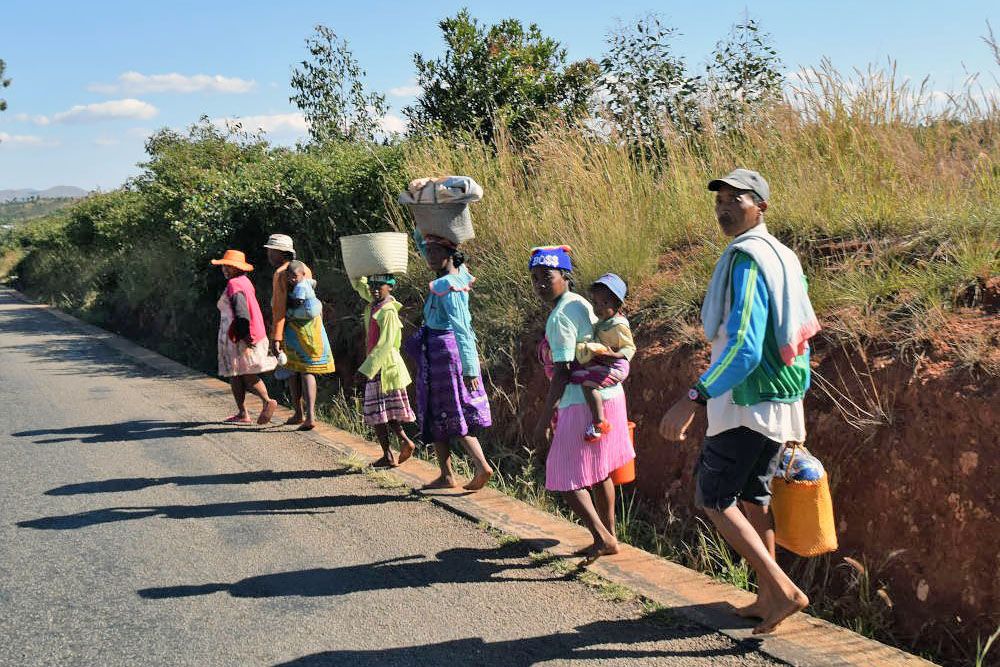 With the Western tourists, we had a lot of visitors for another reason. Our car had the National Geographic and Discovery Channel logos. We were regularly asked if we were journalists and if we were doing a report in Madagascar. When we used our mobiles to take a picture, they looked at us utterly confused.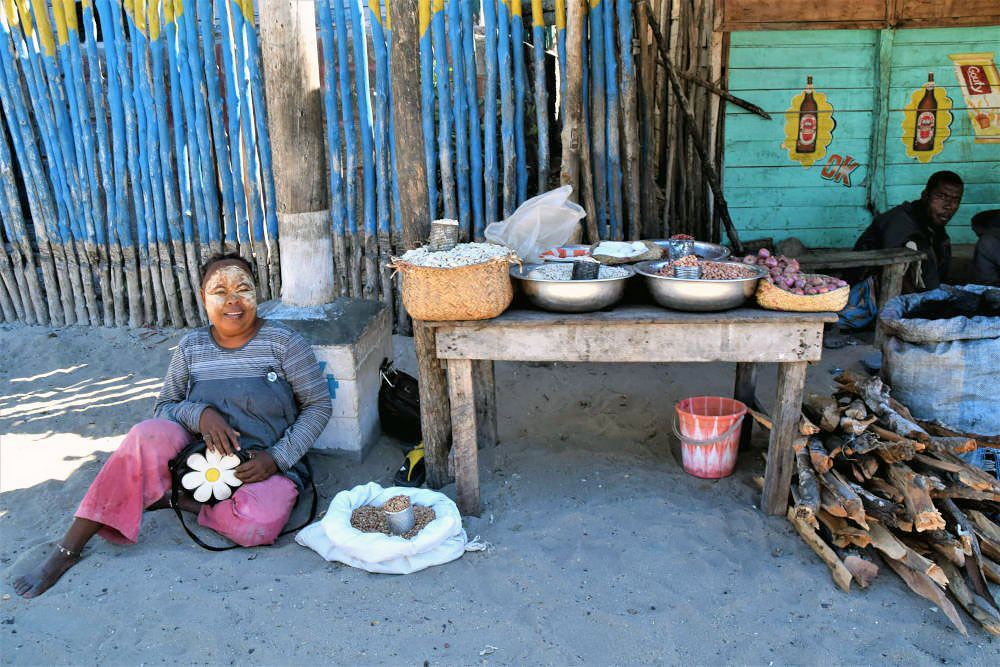 Our advice for a road trip through Madagascar
We had a great time in Madagascar and were happy that the two of us could travel around. That gave the greatest freedom and flexibility and with a car with a driver it is different. It is absolutely feasible for anyone who likes driving. Just bear in mind the long travel times. With our car rental company, you could rent a small Renault 4 as well as 4×4 cars. We found that less comfortable. Our advice is definitely to rent a bigger car. Even though you may not need the 4×4 on your route, the comfort is better.
If you are really going off-road and need a driver, a large 4×4 is recommended. There has to be a person in the backseat and with a small 4×4 that's tight. In addition, a larger 4×4 is easier and more comfortable to drive on the dirt roads. Actually, our Hyundai Galloper was just a little too small and uncomfortable with three people.