When we were just learning to ski and later snowboard, we couldn't get enough of this winter activity. We preferred to start our winter sports early in the morning and go on until cocktail time. In recent years, however, we have noticed that we want a bit more variety during a week in the snow. And that we are becoming more critical of accommodation and catering. We leave the slopes a bit earlier in the afternoon and then go and relax in our hotel's spa, for example. Or we head out and explore the region.
So too now, right at the start of the new winter sports season. This time we visited the ski resorts of Evasion Mont Blanc and the smaller Val d'Arly in the heart of Savoie Mont Blanc. Evasion Mont Blanc is less well known than the other huge ski resorts in France. But with 400 kilometres of slopes, it is still one of the great ski resorts. In the rural valley of the Arly, you will find just under 200 kilometres of slopes.
But apart from the great skiing opportunities, we were particularly pleasantly surprised by what else there is to see and experience. So much, in fact, that it is tempting to hit the slopes only in the morning. In this blog, we take you to the fine winter sports areas of Evasion Mont Blanc and the Val d'Arly. In particular, we look at what there is to do off-piste. But first we highlight Savoie Mont Blanc for a better picture of this fantastic region.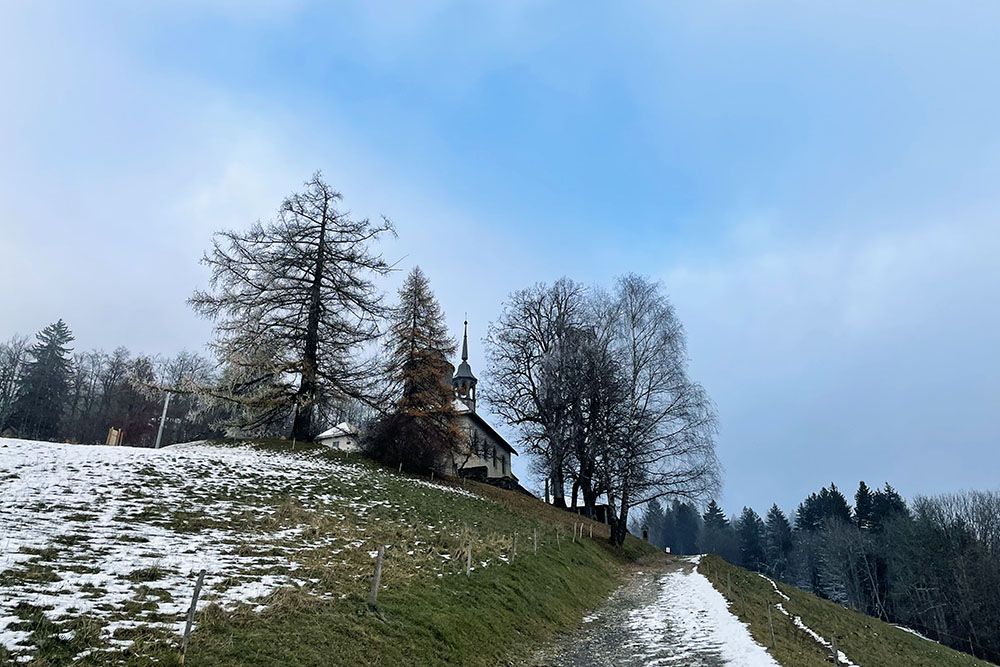 The Savoie Mont Blanc
The Savoie Mont Blanc region is the largest ski area in the world, located west of the Swiss and Italian borders. You will find beautiful mountain landscapes, from the snow-capped peak of Mont Blanc to the jagged peaks near Chamonix. The area consists of two departments: Haute-Savoie and Savoie.
Haute-Savoie is the northernmost part, located just south of Lake Geneva. You'll find places like Annecy and Chamonix. Mont Blanc is also located in this department. Savoie lies just south of it. This department is particularly known for the large-scale winter sports destinations Paradiski (Les Arcs and La Plagne), l'Espace Killy (Val d'Isère and Tignes) and Les 3 Vallées (including Méribel). The Evasion Mont Blanc and Val d'Arly we write about in this blog are in the south of Haute-Savoie.
By the way, the region is not only a winter sports paradise. In summer, Savoie Mont Blanc has a different face: peaceful alpine meadows, rolling wooded valleys, crystal-clear mountain lakes, beautiful forest walks, fantastic mountain tours and challenging golf courses.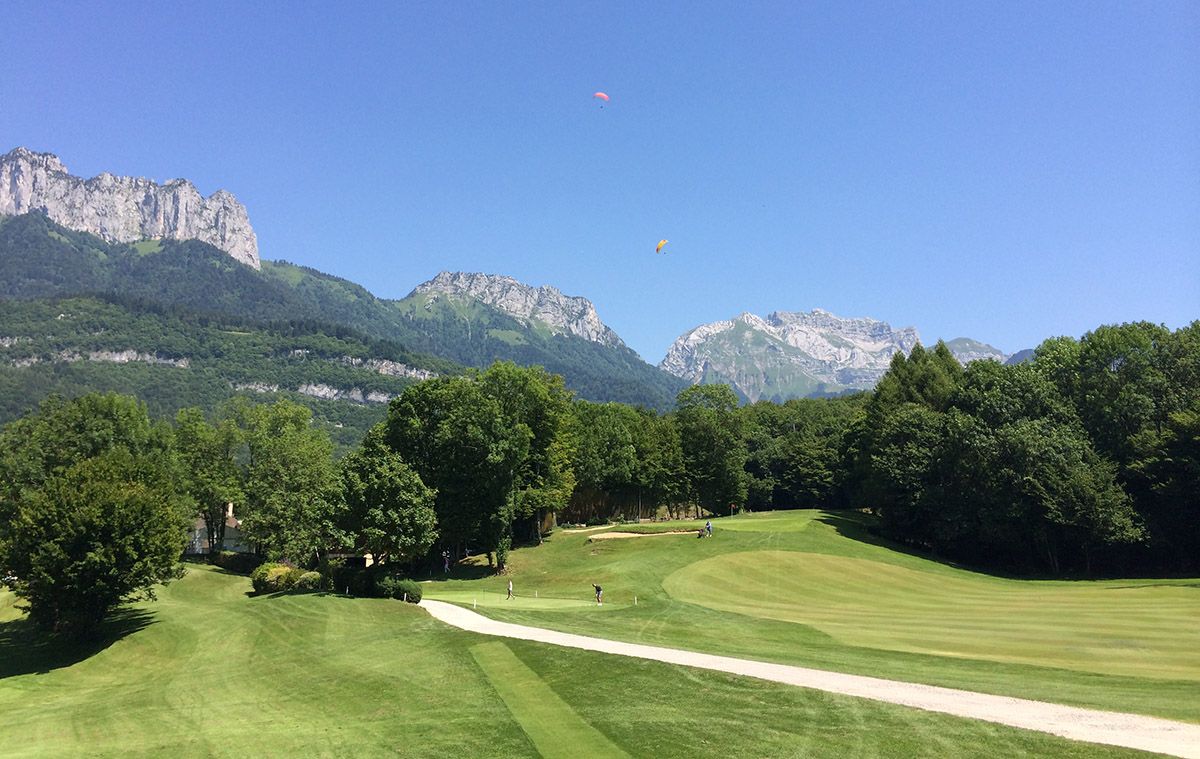 The winter sports areas of Evasion Mont Blanc and Val d'Arly
In the winter sports areas of Evasion Mont Blanc and the valley of Arly, you will find the perfect mix of authentic, cosy villages and world-class winter sports facilities. Do you want to ski without the crowds you find at many ski resorts in Savoy? And does an optimal winter sports holiday for you consist of so much more than just going down the slope? Then Evasion Mont Blanc and Val d'Arly are the ideal choice.
Evasion Mont Blanc is the larger of the two. The ski area stretches between the ski resorts of Megève, Saint Gervais and Les Contamines. You will find over 450 kilometres of slopes. What makes the area so beautiful is the wooded landscape where you always have a view of Europe's highest mountain. In addition, you won't find any colossal buildings for winter sports, but charming, picturesque villages with authentic chalets. There are a total of 220 slopes where beginners and experienced skiers will not be bored during their ski holidays.
In the heart of Savoie Mont Blanc lies the valley of the Arly. This is the ultimate ski area for the laid-back, more Boergondian skier. It is an exceptionally varied alpine valley, with beautiful forested slopes and vast alpine meadows. But all around you see nothing but numerous mountain peaks, and wherever you look Mont Blanc. With around 200 kilometres of slopes, it is a smaller ski resort than Evasion Mont Blanc. But this is more than made up for by what the resort has to offer off and on the slopes. Namely casualness, tranquillity and culinary pleasure.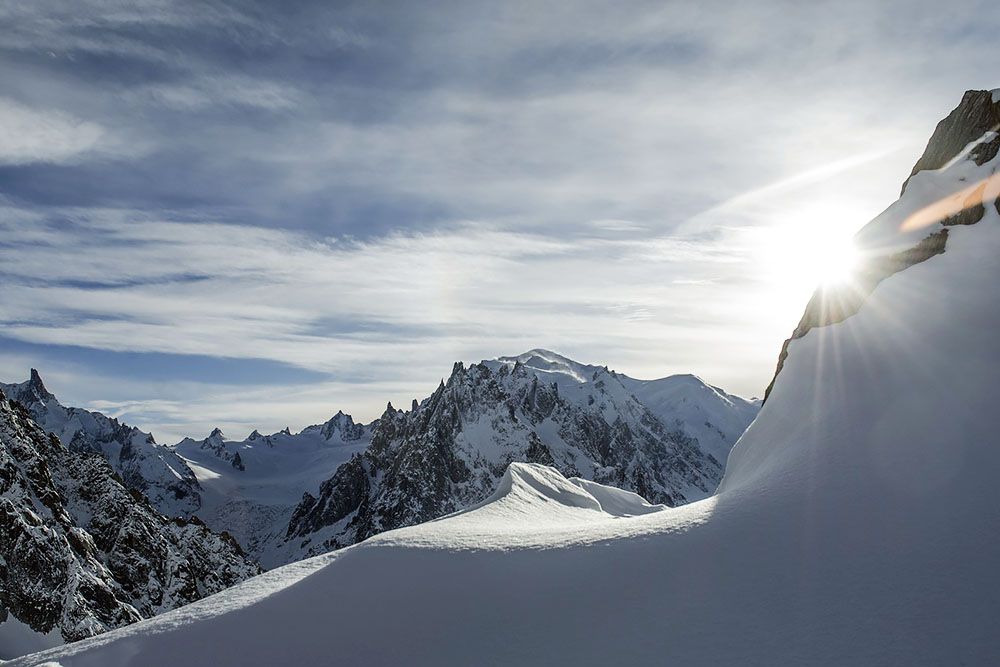 Beyond the slopes in Evasion Mont Blanc and Val d'Arly
We already mentioned it: the ski resorts in this part of Savoie Mont Blanc are an ideal destination for winter sports enthusiasts who want so much more than just skiing. This more or less also applies to ski destination Méribel in Savoie. Yet the area in the immediate vicinity of Mont Blanc has even more to offer the laid-back winter athlete beyond the slopes.
Easy elegance in the Evasion Mont Blanc
In Evasion Mont Blanc, winter sports life takes place mainly in the chic but utterly charming villages of Megève and Saint-Gervais-les-Bains. But the smaller, atmospheric villages of Combloux and La Giettaz are also popular among winter sportsmen and (summer) hikers alike.
We stayed a few days in picturesque Megève, where après-ski is elevated to culinary art. Apart from skiing, there is plenty to see and do not only in the village itself but also in the immediate surroundings. So much so that we have dedicated a separate blog to it.
Saint-Gervais-les-Bains is an old village that grew into a spa town in the 19th century thanks to its natural hot springs. Only later did Saint-Gervais-les-Bains develop into a ski and especially snowboard resort. Because of its location at the foot of Mont Blanc, in summer the village is mainly known among mountaineers and hikers.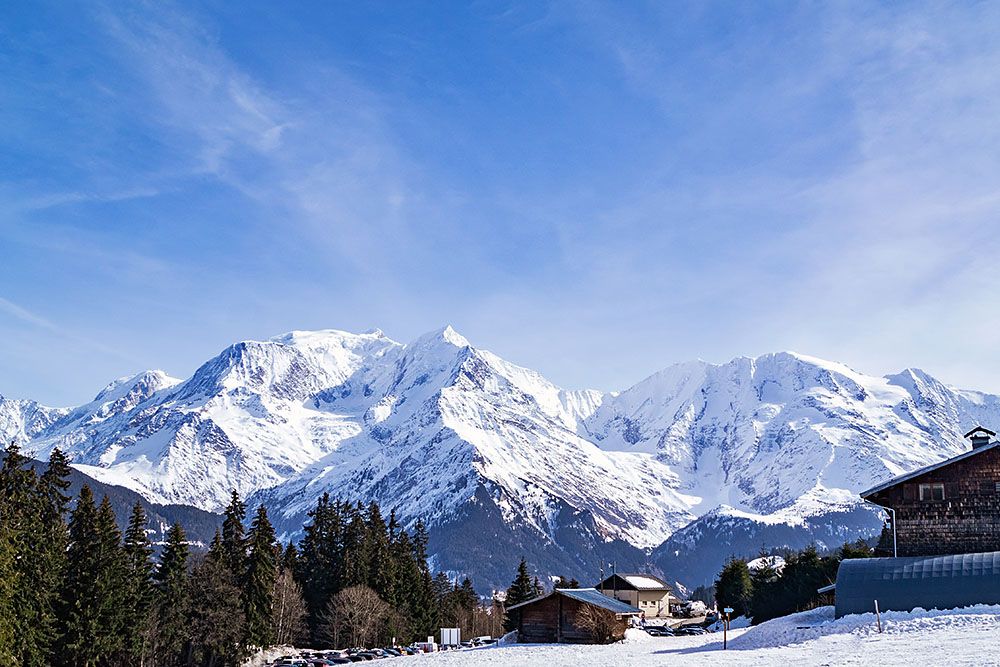 Authentic, charming villages in rural Val d'Arly
Besides Evasion Mont Blanc, we also visited the valley of the Arly. This valley stretches for over 20 kilometres between Megève and Albertville. It is an agricultural setting of wooded slopes, peaceful alpine meadows and picturesque, traditional chalets. You won't find trendy ski resorts here and certainly no concrete high-rises like in the big ski resorts of Savoy. Instead, you will enjoy the peace and quiet and the enchanting hospitality of the residents. In a way, life here can be called pure, as we experienced in the Montagnes du Jura. But right at the foot of Mont Blanc with excellent facilities for avid winter sports enthusiasts.
We visited some of the farming villages in the Val d'Arly during our stay. One of these is Flumet, the heart of local cuisine and produce. Cheese lovers can indulge in the Coopérative Fruitière du Val d'Arly. This cooperative with cheese shop has the most delicious cheeses from the region. You should also go there for ingredients for your raclette or fondue.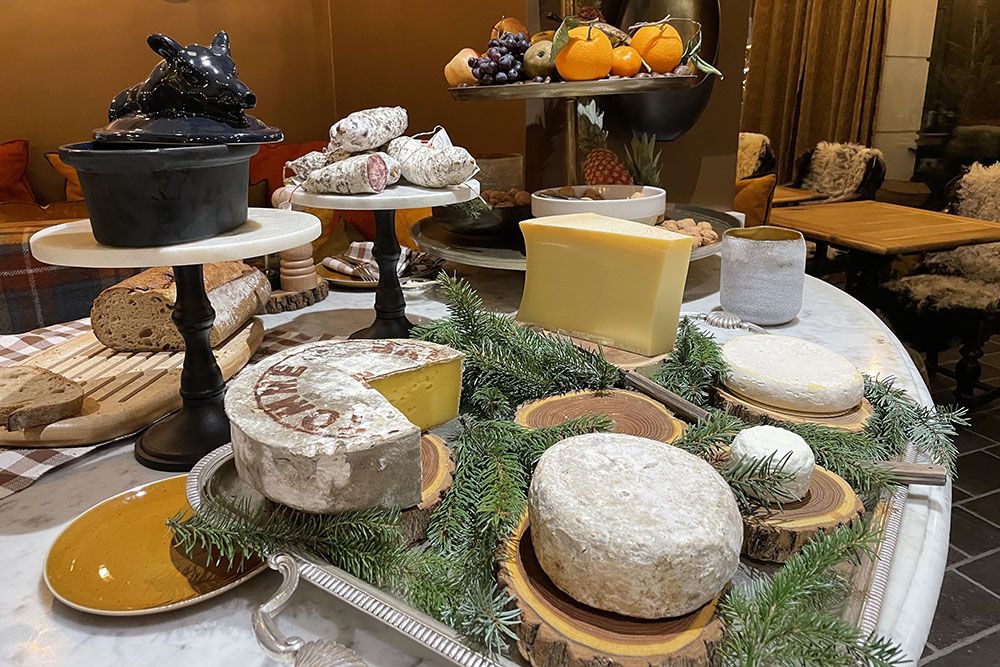 We also visited the two ultimate ski villages of Crest-Voland and Cohennoz. From there you can be on the slopes of Crest-Voland and in Olympic cross-country skiing area of Les Saisies in no time. Thanks in part to the easy slopes, tranquillity and beautiful mountain scenery, it is mostly families who stay here. We didn't ski there but instead did something we didn't even know existed: snowga. Or yoga, but in the snow. Led by yoga teacher Nancy Chardin, we prepared ourselves optimally for winter sports. After a one-hour session (10 euros p.p.), our bodies were more supple than ever before. The session did not take place in a stuffy room but in the lovely fresh air outside.
Reasonably close to Crest-Voland and Cohennoz as Flumet is the village of Saint-Nicolas-la-Chapelle. The ancient village, wedged between Mont Blanc and Mont Charvin, has remained particularly authentic. Actually surprising because, because of the beautiful landscape, we had expected big crowds there. Saint-Nicolas-la-Chapelle is pre-eminently a location for various outdoor activities. Both in winter but especially in summer. We did an unprecedented snowshoe hike here. Why the hike was even one of the highlights during our visit to the Val d'Arly, you can read in our separate blog.
At the invitation of l'Agence Savoie Mont Blanc, grijsopreis.nl visited the village of Megève in the Evasion Mont Blanc and the Val d'Arly to get to know this area better. This invitation does not affect the content of the blog. Our travel stories are always independent and objective.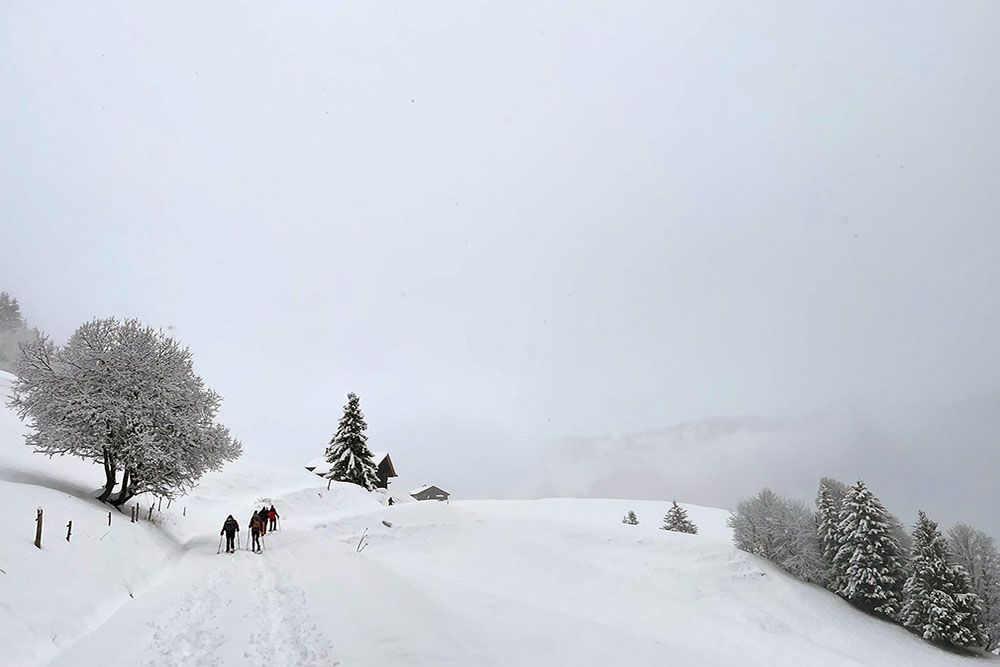 Practical tips for your visit to the Evasion Mont Blanc or Val d'Arly
Here you will find the answers to practical questions about your winter sports or summer holidays in the Evasion Mont Blanc or Val d'Arly....
How do I get to Evasion Mont Blanc and Val d'Arly?
The ski resorts of Evasion Mont Blanc and Val d'Arly are about 600 kilometres from Paris. They are best reached by car via Geneva. Once you leave the motorway, it is only 15 kilometres on the provincial road (as far as Megève).
We went by plane ourselves. The best options are Geneva and Chambéry. Here you then take a rental car. You can also reach the outdoor paradises by train. The quickest way then is to Paris and then continue by TGV towards Annecy. Final destination is train station Sallanches-Combloux-Megève.
Are Evasion Mont Blanc and Val d'Arly snow-sure winter sports destinations?
Partly because of their location close to Mont Blanc, both winter sports destinations score ample in terms of snow safety. Even the two relatively low-lying ski resorts of Val d'Arly (Espace Diamant and Les Portes du Mont Blanc) are particularly snow-sure.
Are the ski resorts of Evasion Mont Blanc and Val d'Arly connected?
In part, this is the case. The Val d'Arly consists of two ski resorts: the Espace Diamant and Les Portes du Mont Blanc. The latter connects La Giettaz with Megève and Combloux.
Where is the best place to stay in this part of Savoie Mont Blanc?
It depends. If you want relaxed winter sports then a stay in Val d'Arly is recommended. If you are looking for a bit more of a challenge and want to do longer treks, then Evasion Mont Blanc is where you should be. But the answer to the question also depends on how luxurious you want your winter sports holiday to be. And how active you want to be off-piste. For example, if you are an avid outdoor sportsman, then Val d'Arly is more your area. Besides winter sports, do you prefer wellness and a cosy village for shopping? Then look for accommodation in a village like Megève.
What must you definitely have eaten in this part of Savoie Mont Blanc?
As a cheese lover, the heart of Savoie Mont Blanc is more than good. The fondue Savoyarde is an exceptionally delicious cheese fondue. Raclette is another regional speciality. Here, the cheese is placed so that one side faces the flame. When the cheese melts, it is scraped off (raclage in French, which is where the name raclette comes from. You also have another, typically Savoyard dish: tartiflette. It is a casserole with potatoes, meat and Reblochon, a cheese from the region.
You may also be interested in