Enjoying picturesque and elegant Megève
Enjoying picturesque and elegant Megève
The first days of our visit to the winter sports destination Evasion Mont Blanc, we stayed in posh Megève. This village is often called the St Moritz of France but without the trappings. The beautiful town with its cobbled streets and ancient, wooden chalets is like an elegant fairytale. And although Megève has access to the most beautiful, snow-sure ski resorts, the village is especially popular among non-skiers. While their partners, children or friends do hit the slopes, they stay behind relaxed. For example, to shop, have an excellent lunch or be pampered in some of the best spas in the world. In this blog, you can read why you should definitely consider Megève as your winter sports destination.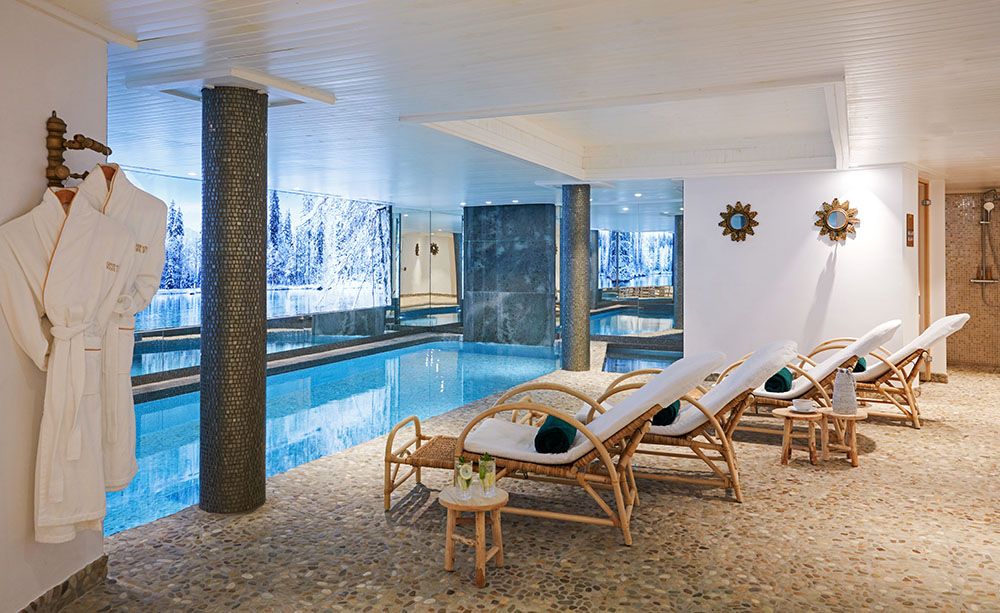 Photo by Gaelle Le Boulicaut
Megève
Curious about Megève's history and what the centre has to offer, we take an evening walk with a guide. We stroll through the car-free centre. From time to time we stop to take a photo of yet another idyllic spot. For instance, of the fast-flowing mountain streams through the village along which the most beautiful wooden chalets have been built.
The guide tells us that before the arrival of winter sports tourism, Megève was mainly a quiet, farming village. But an old village with a rich past dating back to the 12th century. We then walk past one of the remnants of that period. It is the priory founded by the Benedictines in the 12th century. The oldest part of the church, located just next to the priory, dates from the 13th century. At this time just before Christmas, the square with the priory looks like a typical Christmas card. Indeed, near the church and some other old buildings, there is a giant, particularly atmospherically lit Christmas tree!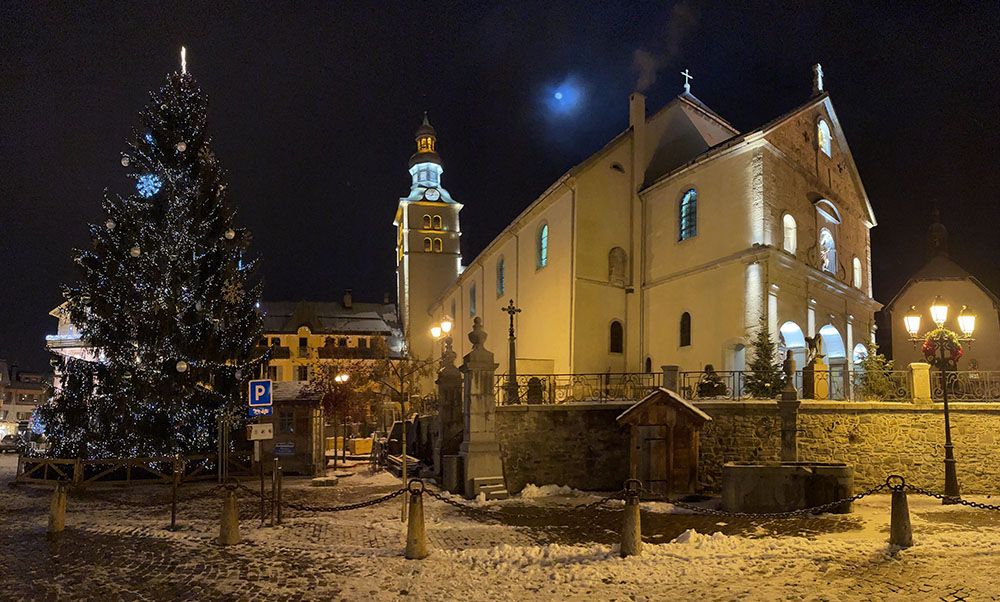 The history continues. In the 19th century, the first tourists came to Megève. They were mainly pilgrims hiking "Le Chemin du Calvaire". It wasn't until the early 20th century that people started talking about Megève's skiing possibilities. This was due to a journalist describing in her article that "Megève was made for skiing and skiing was invented for Megève". Soon after, the first ski race was held. During our walk, we walk past many large black-and-white photographs, all taken in those early days.
Yet it was not until the 1920s that Megève really became a winter sports destination. This was due to Baroness Noémie de Rothschild. During a stay in St Moritz in Switzerland, she came up with the idea of founding a similar ski resort in France. The beautiful surroundings of Megève lend themselves best to this, she believes. In a relatively short time, the first luxury hotels were built. In the meantime, the predominantly farming population provides a good infrastructure, including the first lifts. We like the fact that the village still seems to have that allure of yesteryear. Megève, we note, has remained true to itself.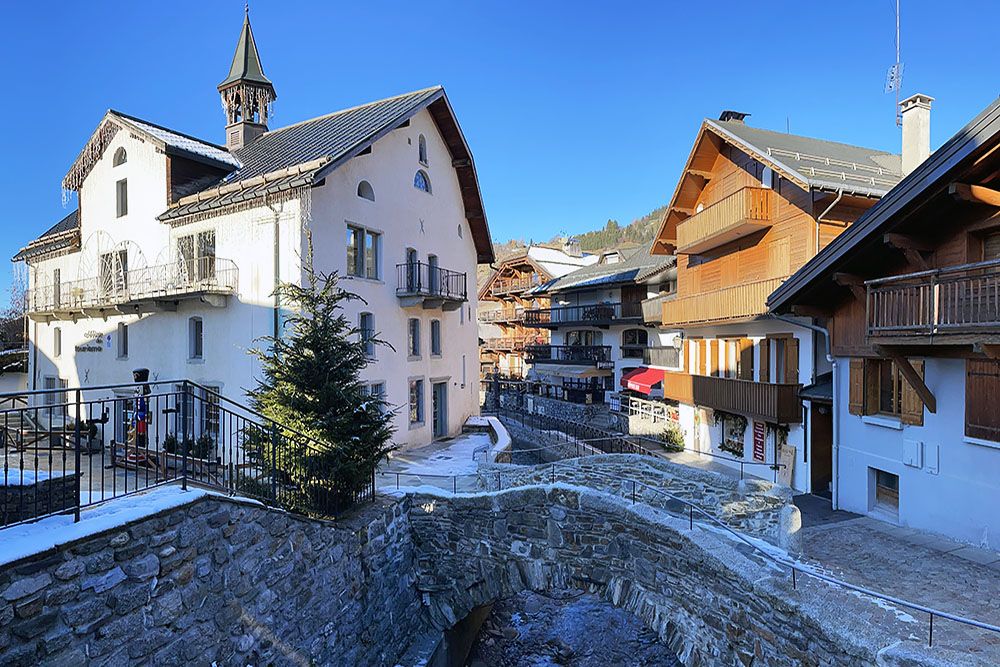 What to do in and around Megève
Apart from skiing, there is also a lot to do in Megève and its immediate surroundings in winter. We describe some of the activities.
Hiking
Megève is also seen by many visitors as a winter sports destination to completely unwind. To let things go and give body and mind the rest and recharge completely. To help us with that, on our first day we hiked through pristine mountain meadows to one of France's most remarkable calvaries. A special place full of peace and serenity. We then walked past giant beech trees and beautiful old chalets into the woods. Accompanied by our guide, who is also a mindfulness trainer, we learned to seek the peace and serenity within ourselves as well. Although that didn't quite work out, the walk was a beautiful, snowy start to our visit to Megève.
In the immediate vicinity of Megève, by the way, there are many more beautiful walks to be made. There are more than 30 trails for hikers of all levels and seasons. Most of them lead through the beautiful nature around Megève. In doing so, you always have breathtaking views of the Mont Blanc mountain massif. In addition, for the runners and trail runners among us, there are also several marked trails for summer and winter.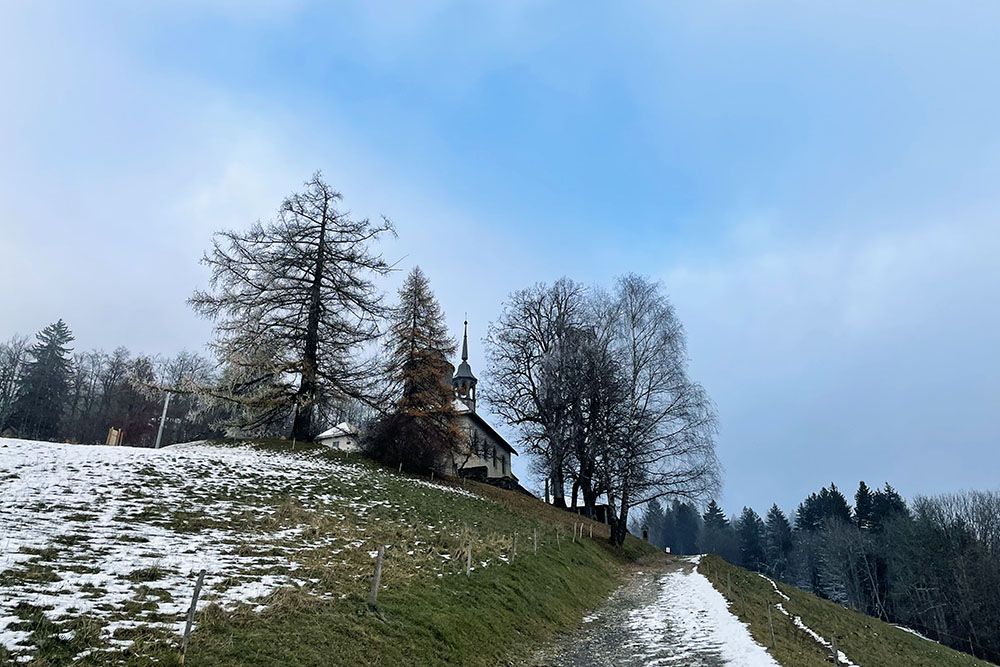 Shopping
For shopaholics, Megève is known for its stylish boutiques and fashion shops. You'll find both the big brands and the smaller ones here. And it's not just luxury shops that have set up shop in Megève. You also have sports shops, grocery shops, beauty salons, wine shops, art galleries, delicatessens, small boutique shops with the most unusual products, and so on. The beauty is that all these shops have an alpine look with elegantly decorated shop windows. You are therefore guaranteed an atmospheric shopping experience. Especially in the period around Christmas when the whole village is beautifully and especially cosily lit up.
Relax in the sports palace
To warm up again after a day in the fresh air, we dove into Megève's sports palace. At first, we only cared about the indoor and outdoor pool. Thanks to the lovely warm water and the beautiful view, we could enjoy ourselves in the outdoor pool for hours. But the sports palace has much more to offer. For instance, we also used the sauna and Turkish bath.
The sports centre also offers an extensive spa & wellness, gym, ice rink, tennis courts, climbing wall, curling alley and various other facilities. All in all, there is plenty to do to recover from a wonderful day of outdoor sports.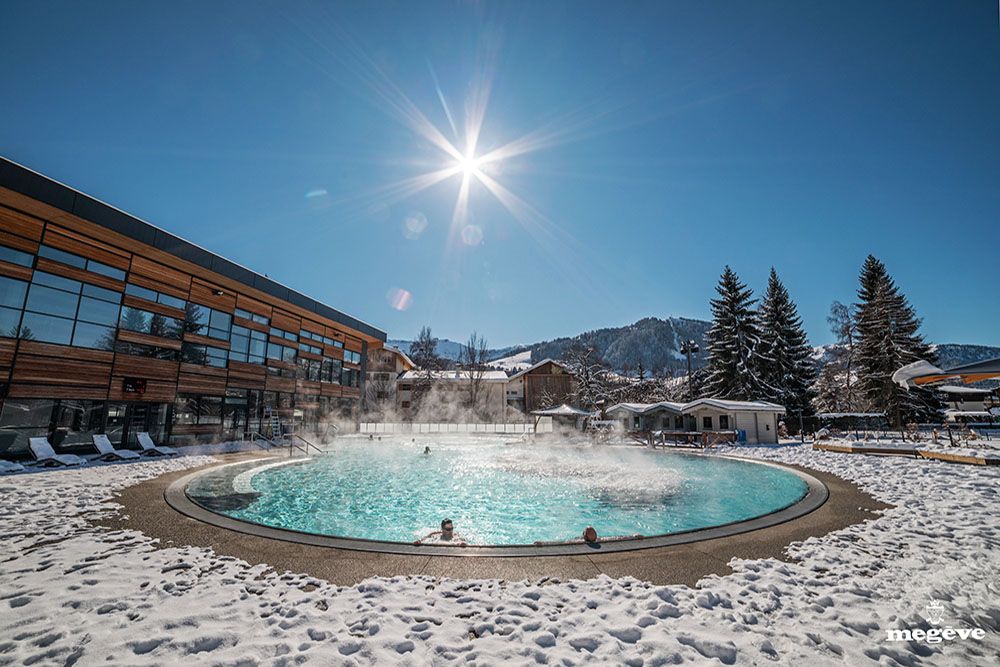 Photo by Marie Bougault
Other activities
Just outside the village, you also have a super fun toboggan run. You go down it fast but completely safe. What makes this toboggan run so great, we found, is the fantastic views of the slopes and the high ridges. Does the ride not take you long enough? Then go sledding on La Luge, a nearly three-kilometre-long slope from the top of Mont d'Arbois. Guaranteed to be a lot of fun for young and old alike! You can also take a fantastic dog sledge trip in the area – just like in the Montagnes du Jura. Prefer to go higher up? Then take a balloon flight over the Alps!
In summer, too, the Megève area is the French outdoor capital of Savoie Mont Blanc. Thus, in addition to hiking, there are many cycling and mountain biking opportunities. In addition, you can go paragliding. But what the region is best known for in summer are its excellent golf courses. Such as Domaine du Mont d'Arbois, founded by Baroness Noémie de Rothschild in the 1920s.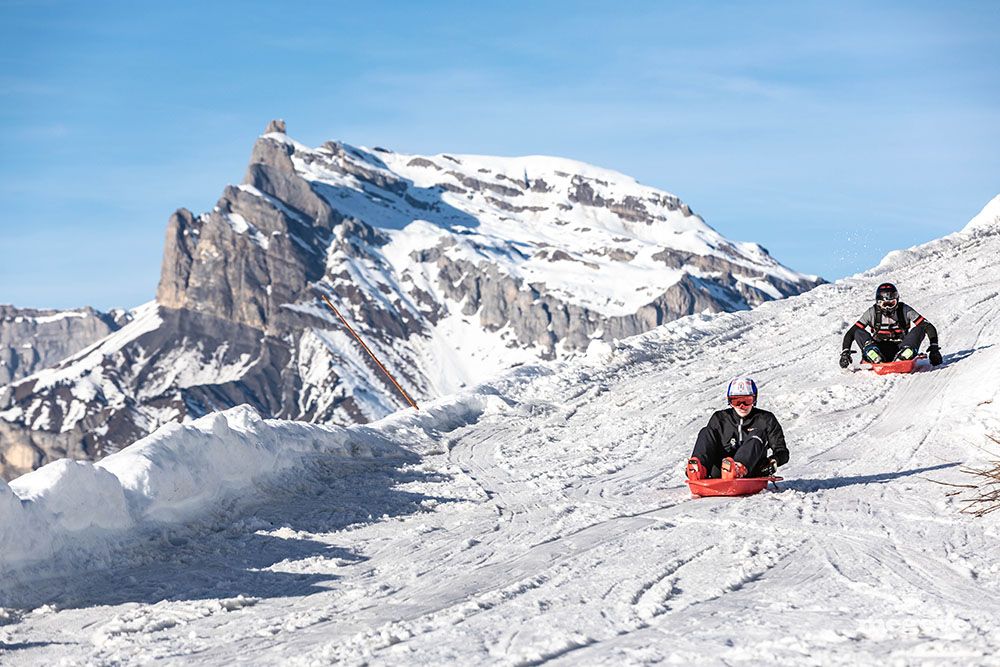 Photo by Simon Garnier
Some practicalities for your visit to alpine Megève
Can you ski well at the Megève ski resort?
For more than 100 years, the ski resort of Megève has been one of the best ski resorts in France. You have superb facilities, 450 kilometres of slopes and many excellent mountain restaurants. Because of this and the fantastic surroundings at the foot of Mont Blanc, it is a favourite ski resort among beginners, amateurs and advanced skiers alike.
Where can I eat delicious food in Megève?
What are good accommodations in Megève?
There is plenty of accommodation in Megève to choose from. There are large and smaller chalets, often with private pools and charming and authentic rustic interiors. You will also find quite a few fantastic, particularly attractively designed and decorated boutique hotels. Two great examples are the four-star Hotel Coeur de Megève and the five-star Grand Hôtel du Soleil d'Or. At this hotel, you can also shop for the most delicious chocolates in the cosy chocolaterie. And while you're here, visit the trendy lounge roof terrace too! We ourselves stayed at the three-star hotel Au Coin du Feu, an extremely cosy and comfortable hotel with its own wellness centre. Check out the full list of accommodation in Megève here.