France has always been a popular winter sports destination among British and Irish people. This is understandable, because in this country with huge skiing areas, you can go on the most beautiful day trips. Another big advantage of the French ski slopes is that they are usually wide and high. Therefore, both beginners and experienced skiers can still get their money's worth until late in the season.
An additional advantage of some French ski resorts is that they have much more to offer than just (après-)ski possibilities. A perfect example is Méribel, in the heart of the Trois Vallées. If you want to recover from all the sports activities on the slopes, you will certainly not be bored. How about (snowshoe) hiking, cycling or even horse riding? But even if you want to take it easy, there is plenty to do. In the chalet-style hotels, for example, you can enjoy a wonderful visit to the spa. After which you can end the day gastronomically in one of the many excellent restaurants.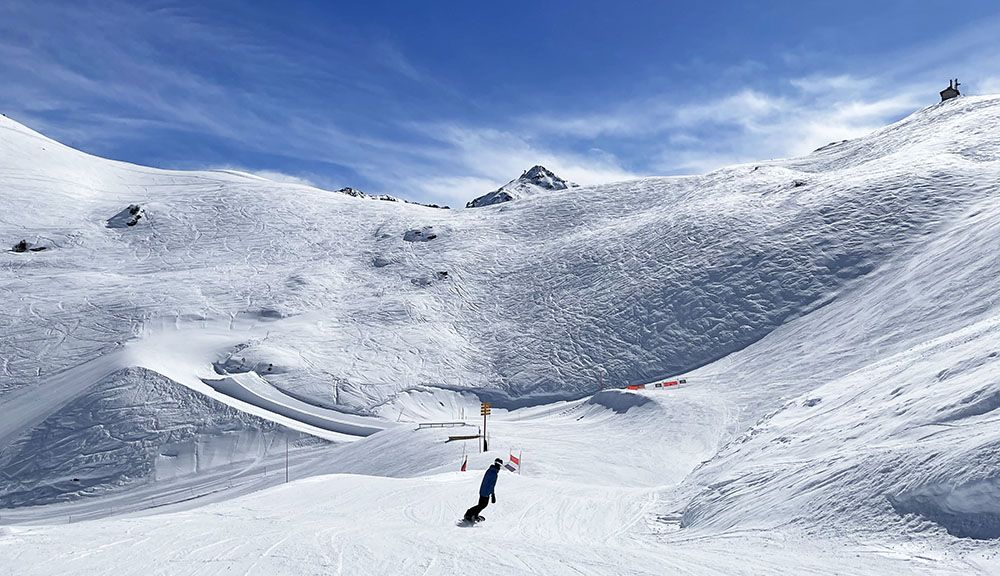 Les Trois Vallées
Les Trois Vallées in the Savoie Mont Blanc region, is one of the largest skiing areas in the world. Some even say the largest! You will find no less than 600 kilometres of uninterrupted slopes and 180 ski lifts. The choice is enormous: from woody, winding slopes to high, wide slopes with the most beautiful views.
Les Trois Vallées includes the following ski villages: Brides les Bains, Courchevel, La Tania, Les Menuires, Orelle, Méribel, Saint Martin de Belleville and Val Thorens. Experienced skiers can visit them all in one day via "le Grand Tour des Trois Vallées". But in the larger skiing villages like Méribel, this is actually not even necessary. Here you can easily enjoy yourself for several days.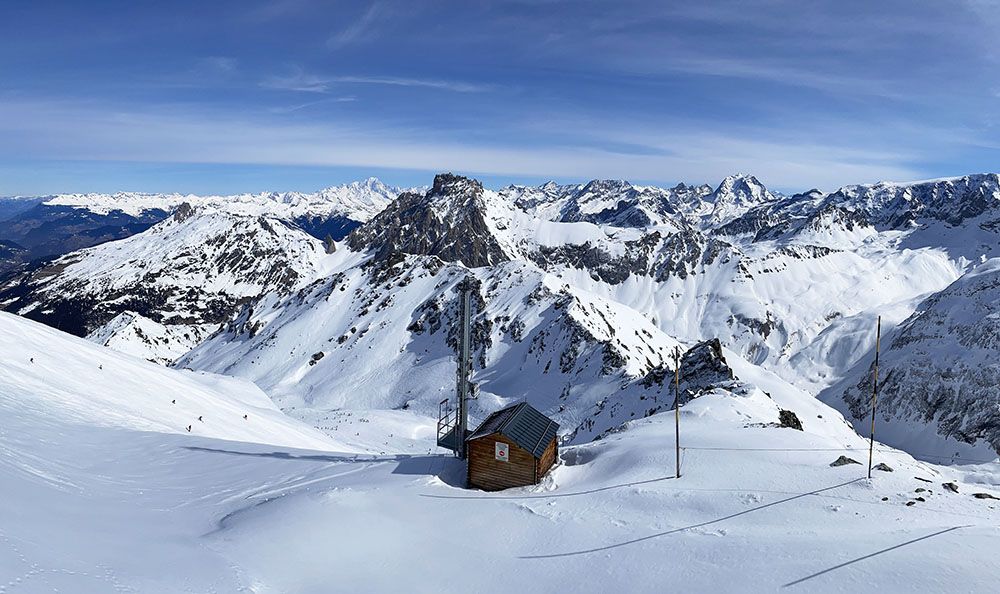 Ski resort Méribel, in the heart of Les Trois Vallées
Méribel is one of the most favourite ski resorts in the French Alps. We understand why. Thanks to its central location in Les Trois Vallées you can also reach the other, large ski areas of Les Trois Vallées easily on skis. What we ourselves find an absolute advantage of Méribel, is that you won't find any high-rise buildings. In the woody surroundings, you find charming villages with traditional, wooden chalets and chalet-style hotels. Méribel is known worldwide for its natural beauty and the breathtaking, snow-covered mountains for good reason.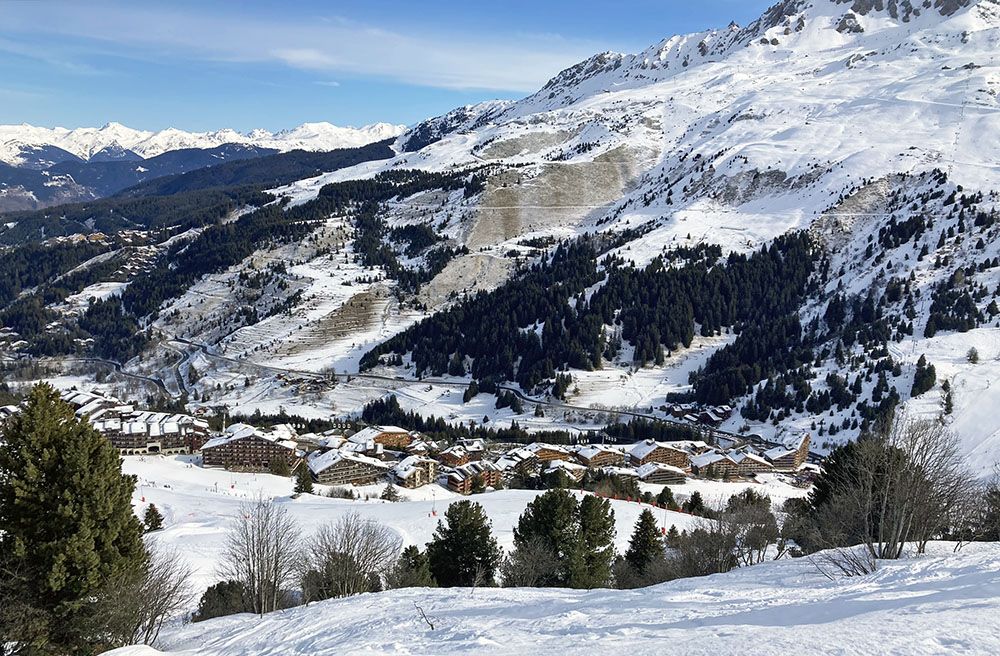 The skiing village of Méribel consists of several areas, starting at the picturesque Méribel Les Allues. The next place is the lively Méribel Village, located at 1400 meters. Here you have a lovely sunny square with shops, bars and restaurants. The ski slopes are easy to reach via a chair lift but also with the free buses. After Méribel Village comes Méribel Centre, at 1450 metres' altitude. This is the most vibrant village in Méribel. You'll find many bars, restaurants, shops and also the 'Parc Olympique': the big sports centre that was built for the Olympic Games in 1992.
Follow the road further up and you will arrive in Méribel Les Hauts (1600 metres). In the middle of large pine forests, you can not only ski but also go on beautiful snowshoe hikes. After Les Hauts follows at 1750 metres the last village on the road: Méribel Mottaret. We were here ourselves in mid-March. Partly because of its location directly on the highest slopes and lifts, we find this an ideal location. You can enjoy the relaxed atmosphere and fantastic views of the iconic Mont Vallon. And if you want a livelier après-ski, then the Méribel Centre is within easy skiing distance!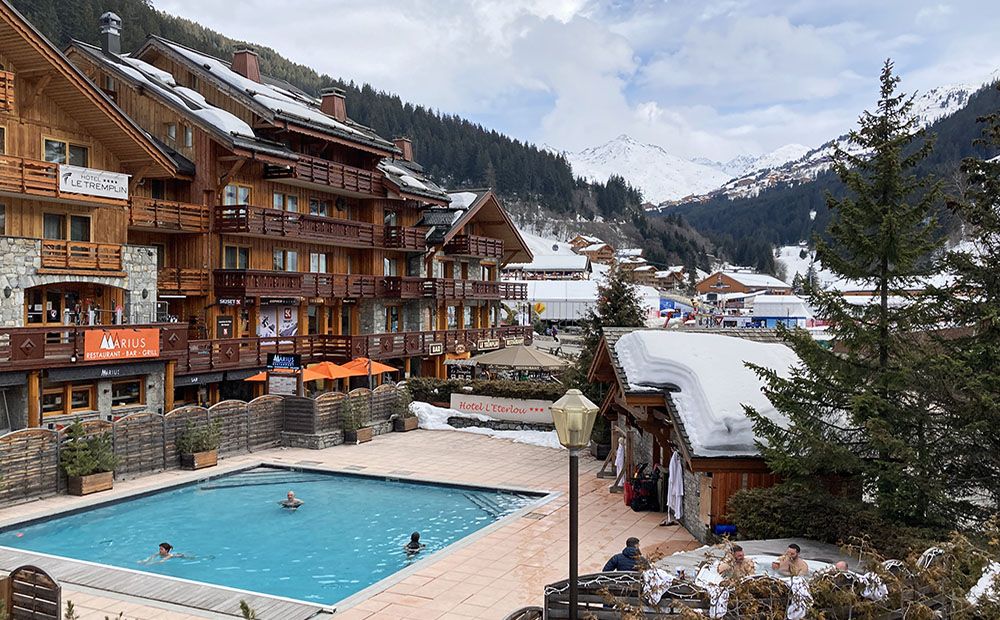 Plus points of the Méribel skiing region
The high-altitude Méribel is an exceptionally large, versatile skiing region with approximately 150 kilometres of slopes, ranging from 1100 to over 2950 metres' altitude. There are even slopes where you descend more than 1500 metres in altitude.
Perfect for average skiers and snowboarders who are looking for well-prepared green, blue and red slopes. But also the experienced off-piste skier will find what he is looking for in Méribel.
Central location from where the entire skiing region of Les Trois Vallées can be reached.
Modern facilities with numerous activities and amenities for when you don't want to hit the slopes.
Competitive lift pass price ratio.
Good English-speaking ski instructors.
Minor points of the ski resort of Méribel
Limited advanced on-piste routes.
Not cheap, although the lift pass rates are well proportioned to the number of lifts, and the 150 kilometres of high-quality slopes.
Méribel is – for good reason – a very popular ski resort. Therefore, it can sometimes be very busy. Especially during the school holidays. We were there in March when it was very quiet. It is really a relief not to have to wait for a lift anywhere. And at the restaurants on the slopes we could always find a place.
Although most lifts are modern, there are also some older lifts that are in need of replacement.
Méribel is a bit further away from the highways and airports. It takes a little longer to get to your destination.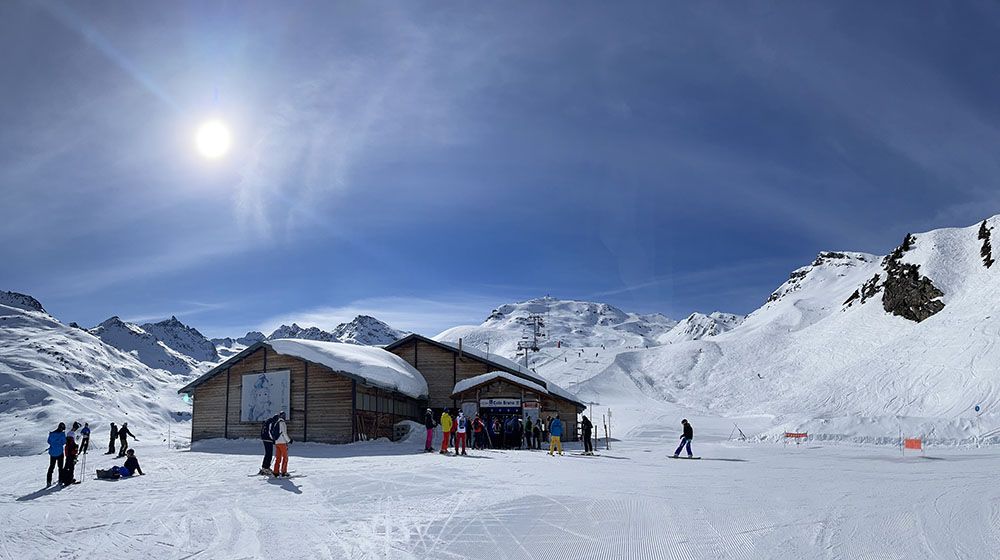 Other activities in the versatile Méribel
What makes Méribel a fantastic winter sports destination for us is that besides skiing you also have many other fun activities. For example, we went snowshoeing and sledding. But you can also go horseback riding, hiking, cycling (with a so-called 'fat bike'), swimming, indoor rock climbing, skating and even paragliding. If you want to take it a bit easier, you can visit one of the many wellness centres. Or follow a yoga session during a walk through nature. In Méribel, almost everything is possible. Soon, we will publish an extra blog in which we will discuss these super fun activities in more detail.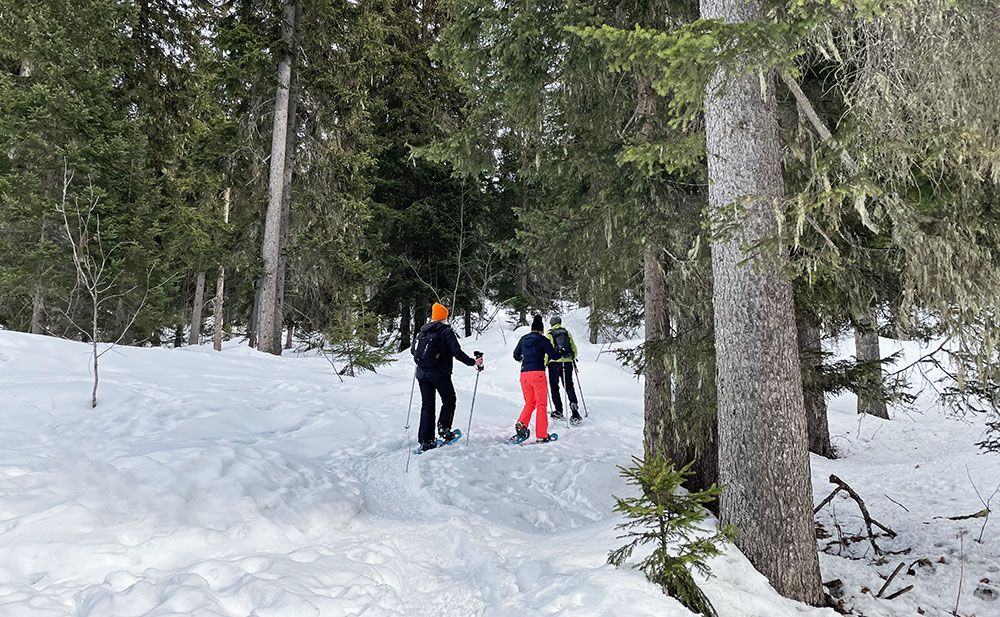 Other topics you may be interested in