If you want to do something really special that seems a little scary but is not, go into the Laos jungle for a few days on the Gibbon Experience. The goal is to spot the gibbons, but even if you don't see them, the trip is just fantastic: you sleep in huge tree huts, some even 50 metres up. And to reach them, you zipline through the jungle!
The Gibbon Experience organisation tries to protect the jungle in Nam Kan National Park by carrying out various local projects. To give tourists a chance to see some of the forest, a number of ziplines and tree huts have been built. By doing this circuit, you can spend 2 or 3 days in the jungle under guidance from some guides.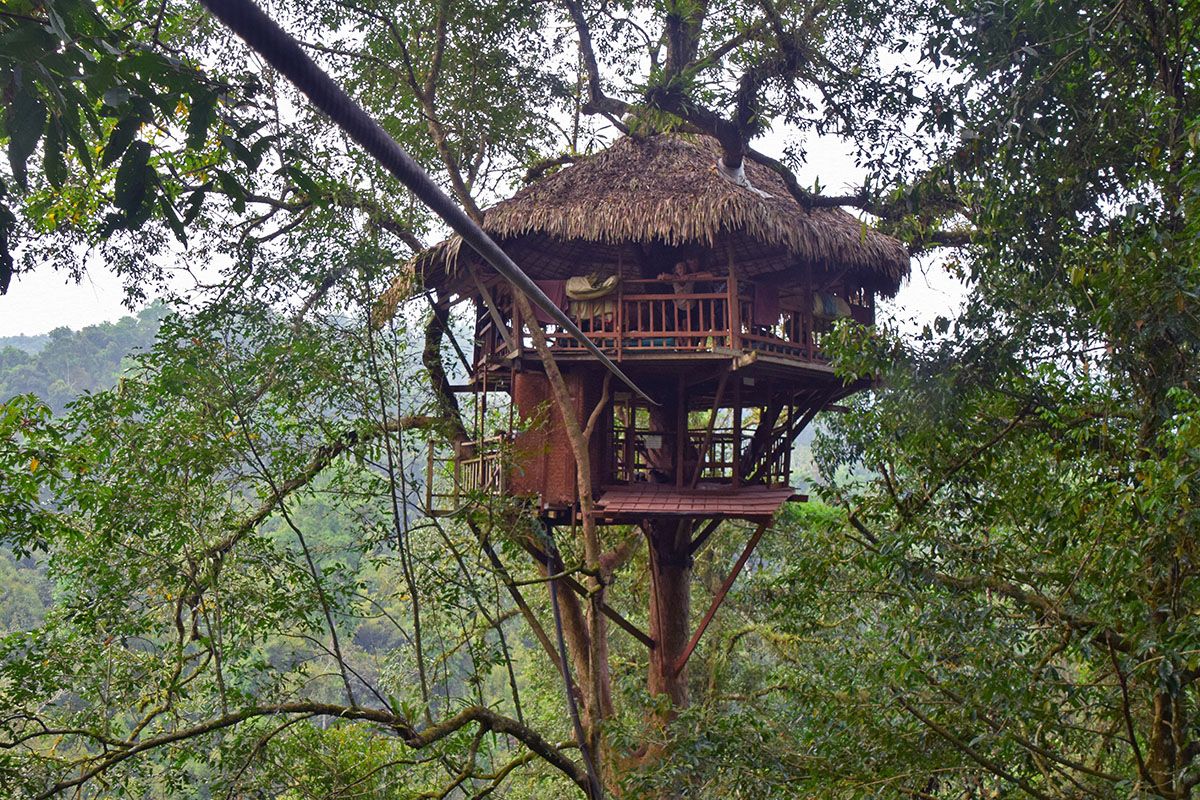 Gibbon Experience Tours
The "Express": 2 days and 1 night in a tree hut. You have more ziplines but less chance to spot gibbons. You walk quite a bit. Therefore, it is advisable to be in good physical condition.
The "Classic": 3 days and 2 nights in a tree hut. Here you get the best chance to see some gibbons. This programme is not physically demanding.
The "Waterfall": 3 days and 2 nights in a tree hut. Here you continue into the park. You walk 2 to 3 hours a day through the jungle, alternating with using ziplines. Our advice is to be in reasonable condition.
We chose the "Waterfall" option. I thought I was the oldest in the group at 56, but a Canadian was a year older. The few hours of walking a day were easy to do. Occasionally it gets steep, but you also walk on relatively flat terrain for the most part. There is enough time to take a breather when necessary. It was a great experience for us. Although I am afraid of heights and no hero, it was certainly not scary or dangerous. You always get good instructions; one guide is at your starting point of the zipline and the other waits for you at the end point. Nothing can go wrong if you follow all their advice. It is a wonderful feeling of freedom floating like a modern-day Tarzan through the jungle, with the jungle beneath you.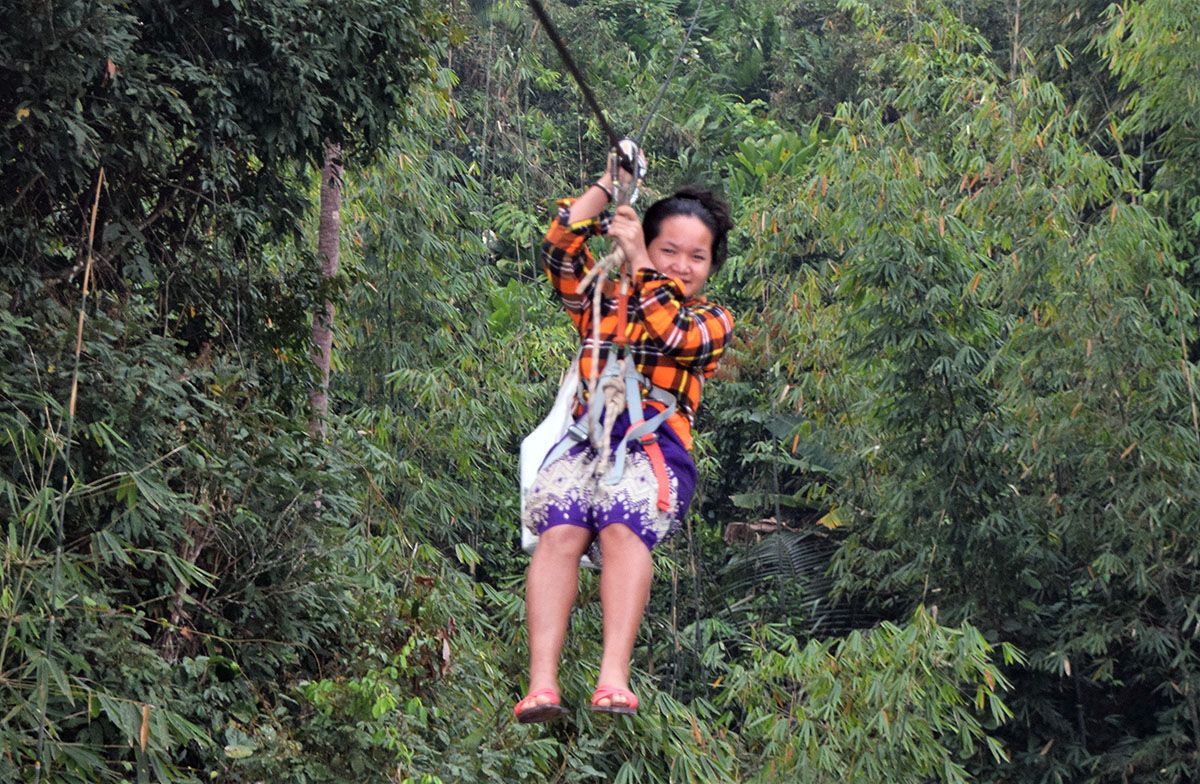 Sleeping in a tree hut
And then you land at the last zipline at the tree hut. They usually have two levels, there is even one with three. The real enthusiasts can then take a small course where after about four ziplines you get back to the tree hut. The guides won't go along, but you can't really get lost. Here too, if you follow all the safety instructions, everything goes well and nothing serious happens. You can take a lovely shower under a rain shower, where you have a beautiful view over the jungle.
If you suddenly see the zipline vibrate, you know that the guide has come with the local cook to bring the food pans. A very funny sight to see him fly into the tree hut, the pans in one hand! You enjoy a beautiful sunset in nature. You sleep on thick mattresses, under a mosquito net. All the bedding is provided for in the tree hut. At night, you can hear the different sounds of the jungle, very cool!
Early in the morning you can hear the gibbons. If you are lucky you can see them swinging about. They are usually a few hundred metres away, so it is difficult to see them. We were not lucky, we only heard them shrieking. A little after that, the cook comes with the coffee jug and you start into a nutritious breakfast. Then the ritual repeats: walking, ziplining, walking, enjoying and ziplining again. At a small lake with a waterfall, you can swim and rinse off your sweat. The third day, you walk back to the village where the trip started. The car is ready here to take you back to Huay Xai. The adventure with Gibbon Experience is over! Full of adrenaline, you can score another thing off your bucket list!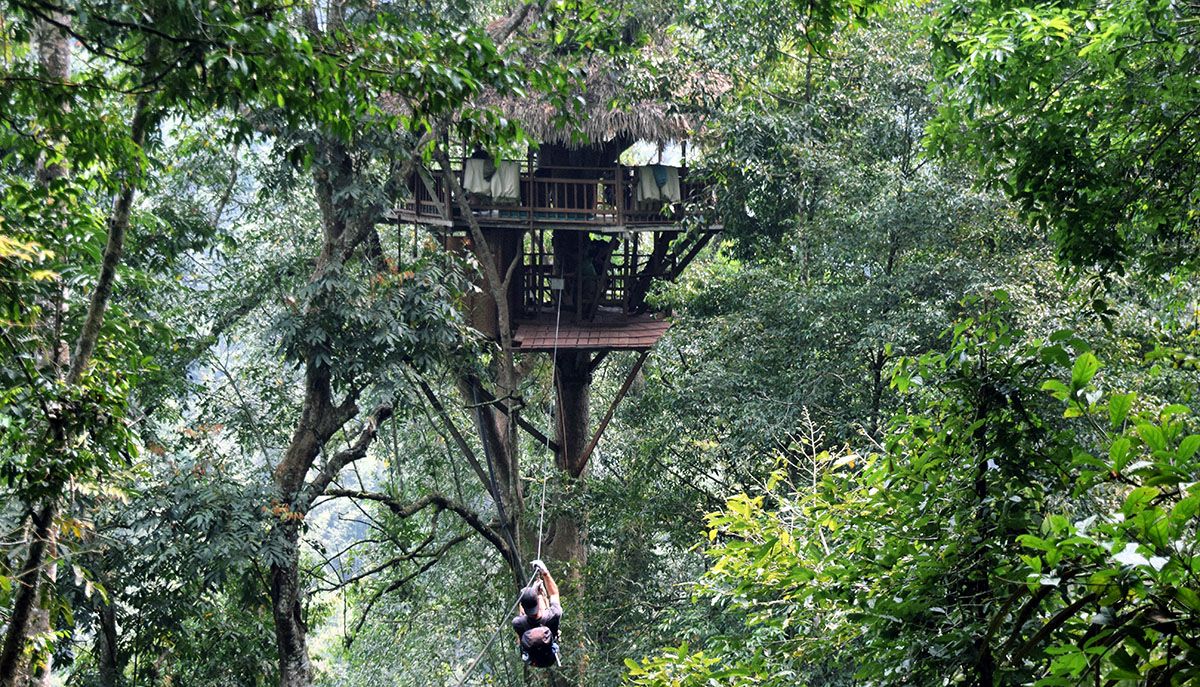 Practical tips
The "classic" variant is for anyone between 8 and 80, if you are able to walk for an hour and can cope with about 200 metres' altitude. In the dry season it is easier than in the rainy season. The other two variants require more walking, so it would be better to be a quite fit.
For people weighing more than 110 kg, it is not possible to participate.
Bring good walking shoes. With every variant you walk through the jungle for a short or longer time so good shoes are a must.
The zipline equipment is provided at the start of the hike. Make sure you tighten and fasten the "harness" every day. Then let the guide check if it is properly done.
Follow all the safety instructions given. Even if you decide to make a small circuit on your own at the tree hut where you stay overnight, keep all the rules in mind. Then everything will go well.
While ziplining, you can wear shorts and a tee-shirt. In the evenings it can cool down and a pair of long trousers and shirt with long sleeves is handy, for the mosquitoes too. You take your own things with you in a small daypack, so be picky about what you want to take.
A headlamp or a flashlight is handy for night-time.
Make sure your camera and phone battery are charged. There is usually no power in the tree huts. If necessary, bring a power bank with you. It would be a shame if you could not take pictures of this unique experience.
For us, the trip with Gibbon Experience was a superb highlight on our trip to Laos.