At the end of the winter season, we visited the wonderfully tranquil ski resort of La Rosière. Together with the Italian La Thuile, this ski resort belongs to the international ski area Espace San Bernardo. It is one of the few ski resorts in this part of the Alps with a favourable southern exposure. Here the sun shines an average of 2,000 hours a year. And thanks to its high altitude, the area is also snow-assured from December to the end of April. The unprecedented views of Mont Blanc completed the party for us. Still not convinced that Espace San Bernardo should be your next winter sports destination? We'll give you even more reasons to choose La Rosière as your home base for your upcoming winter sports holidays.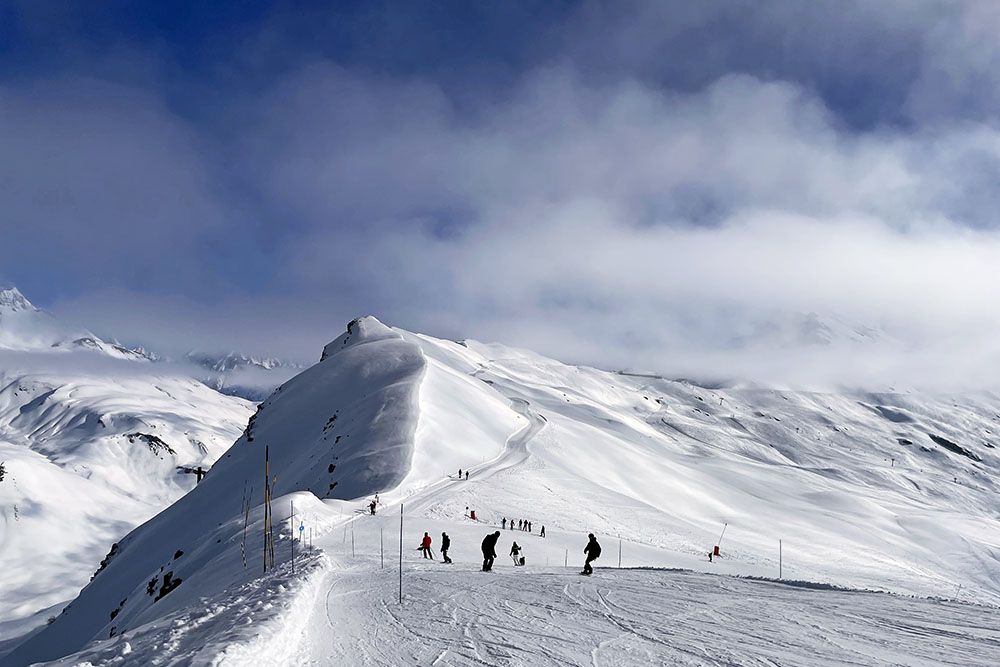 Ten good reasons to ski at Espace San Bernardo
We think these are the main reasons to choose winter sports at La Rosière, Espace San Bernardo:
1. Snow is guaranteed
The winter sports area of Espace San Bernardo is snow-assured from early December until well into April. The ski area starts as early as 1,441 metres in La Thuile in Italy. In La Rosière, you start at 1,850 metres. The highest point can be found at Mont Valaisan at over 2,800 metres.
2. Ideal for the relaxed as well as the experienced, fervent skiers or snowboarders
In the French part of Espace San Bernardo, relaxed winter sportspersons will find what they are looking for. Here the pistes are wide, undulating and not too steep. The Italian part has more red and black pistes. In addition, the real pros can enjoy heliskiing and off-piste skiing here.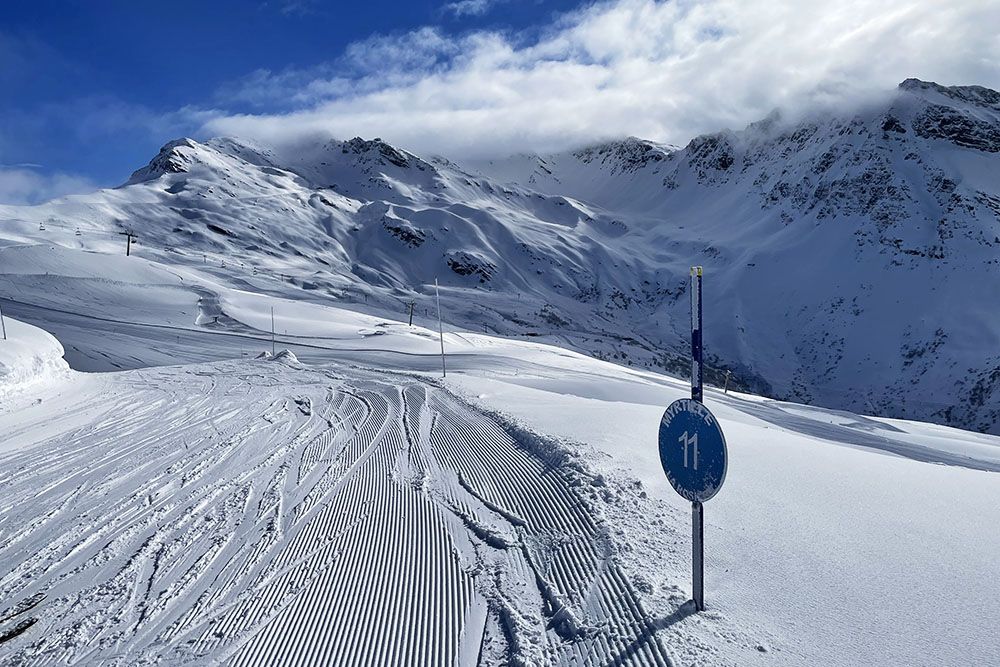 3. Extensive ski resort with excellently prepared slopes
The ski area comprises no fewer than 154 neatly prepared kilometres of slopes. This does not include cross-country and touring ski trails. You will find 8 green, 25 blue, 35 red and 14 black runs. About 80% of these are above 1,850 metres altitude.
4. Sufficient, quiet lifts
In the ski area, you have plenty of lifts. Partly because of this, it is remarkably quiet. Except for the start lift in La Rosière, we could usually take a seat directly in the lift. By the way, most lifts are chairlifts for up to six people. But you also have a gondola and some drag lifts. A little less ideal for snowboarders: a long drag lift goes from the French to the Italian part.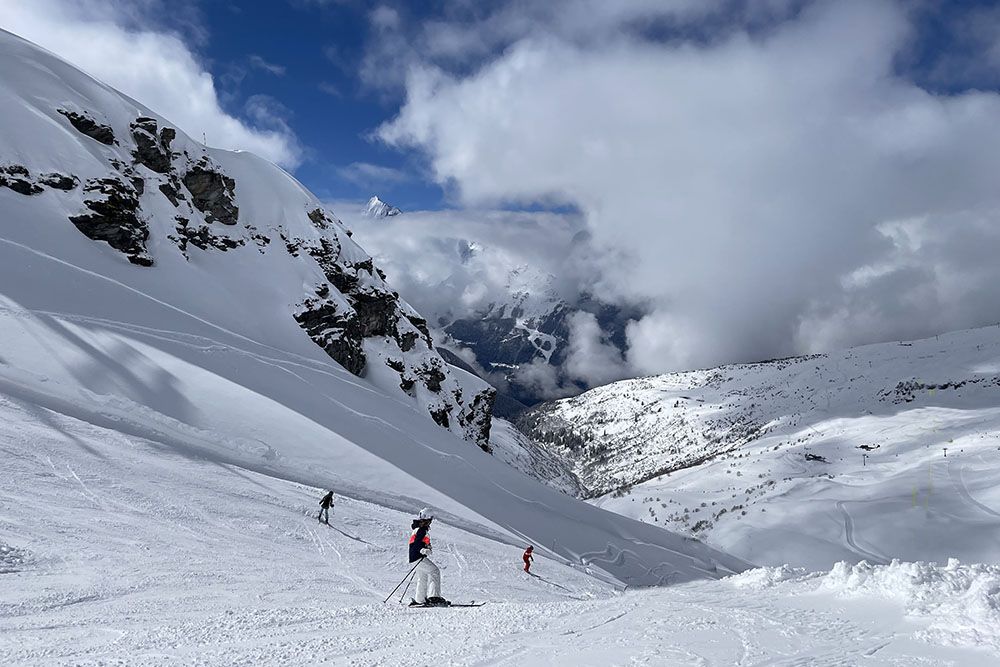 5. Many hours of sunshine
Thanks to its favourable southern location, the sun shines here for an average of 2,000 hours a year. During our stay, too, we had bright blue skies every morning! Incidentally, clouds did always drift over the ski resort in the afternoon. Make sure you have good ski goggles with preferably interchangeable lenses.
6. Exceptionally beautiful panoramas
Wherever you are in the area, the panoramas are nothing short of stunning. All around you see the highest, particularly impressive mountain peaks. At Mont Valaisan, you perhaps get the best views, including views of Mont Blanc.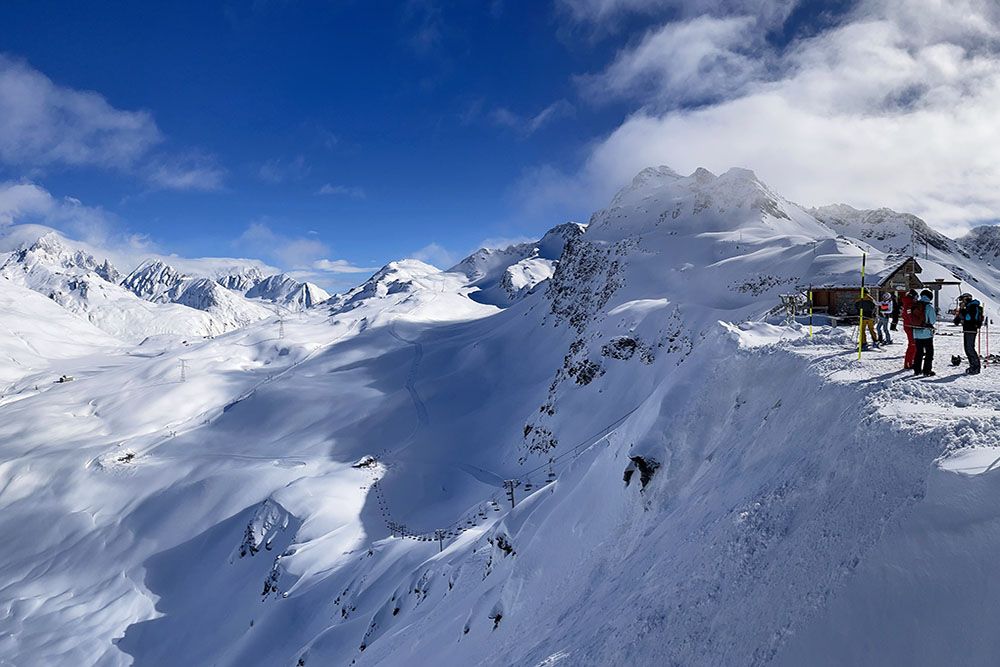 7. Ski in-ski out
Most chalets and hotels in La Rosière are virtually on the slopes. Only if you are really staying in the centre of the cosy village will you have to walk a few minutes to get to the ski lift.
8. Art de vivre and la dolce vita
In La Rosière, they know how to enjoy life. This is seen, among other things, in the wine bars and quality restaurants there in the ski resort. And in the fantastic spas some of the hotels have. By the way, if you really want top-class culinary enjoyment, cross over to Italy. In La Thuile you will find excellent (and affordable) restaurants.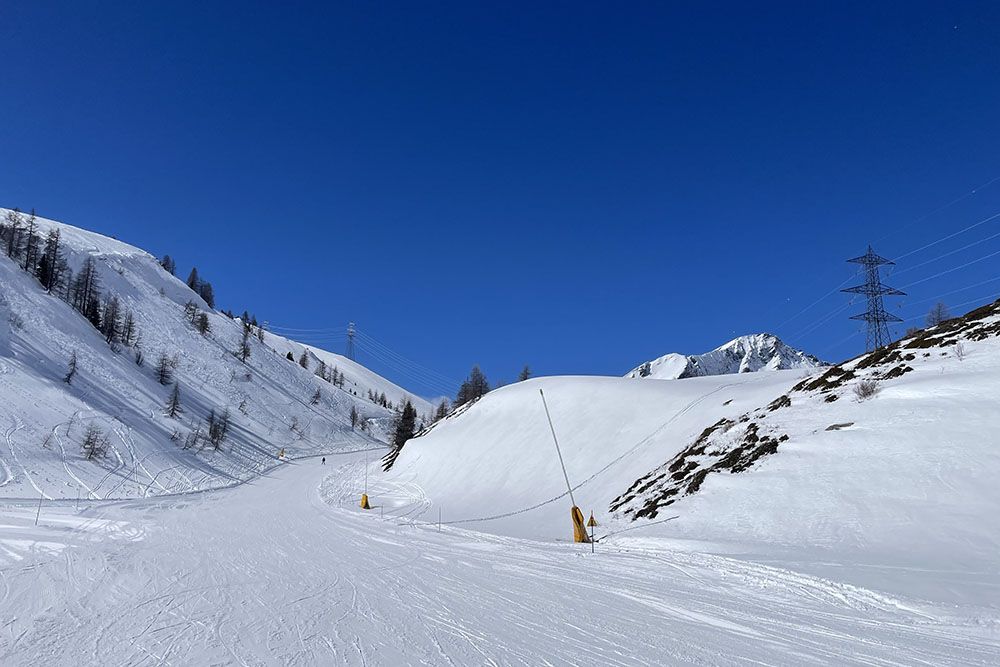 9. Peace and rest
La Rosière and Italian La Thuile are cosy, small ski villages where there is always something to do. But you won't find (overcrowded) après-ski like in Austria, for example. The ski area is ideal for families and older winter sports people who want more than just skiing. Young people and winter sports enthusiasts who like a bigger party usually head to nearby Paradiski.
10. Flocon Vert label for sustainable tourism
La Rosière is committed to preserving the surrounding, beautiful mountain area. Thus, the ski resort has taken action to offer guests an unforgettable experience while reducing energy consumption. One of the goals is to be carbon-neutral by 2037. Furthermore, 1,500 trees will be planted in the coming years. In addition, the ski resort is committed to protecting sensitive natural areas and animal species. In all likelihood, thanks to these measures, the ski resort will receive the so-called Flocon Vert (green snowflake) designation in spring 2023.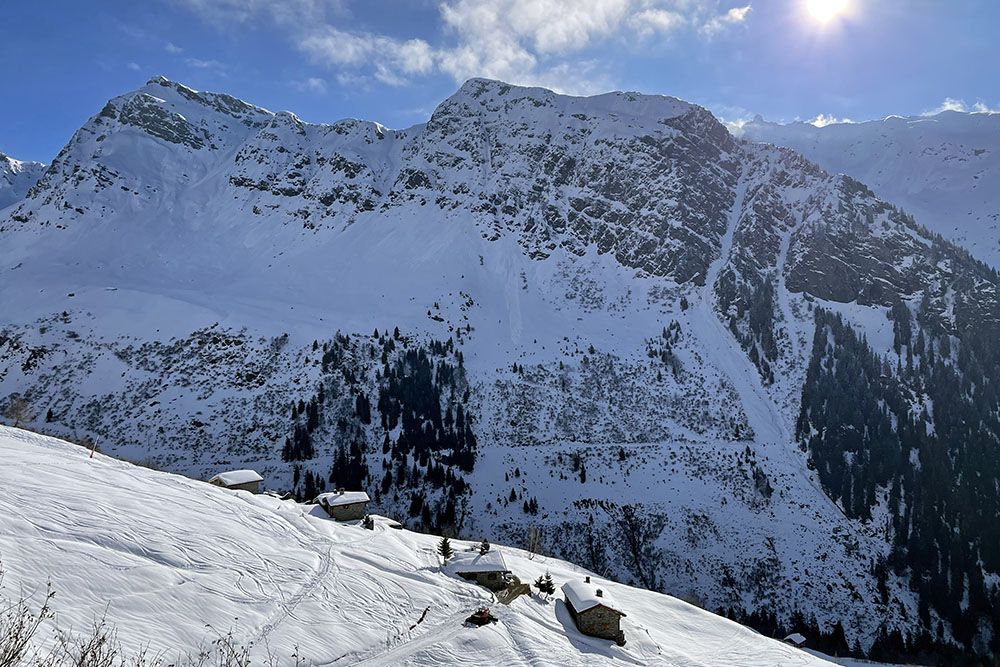 Other winter activities during your stay in Espace San Bernardo
The beauty of the Espace San Bernardo ski area is that there is so much more to experience than just skiing. For instance, in La Rosière there are almost 27 kilometres of hiking trails, accessible on foot or with snowshoes. About 12 kilometres of these trails are signposted and maintained. There are (snowshoe) walks that you can do directly from La Rosière. For some other walks, you have to take a lift first. You can also explore the beautiful area on your own by hiking or just with a guide. In a separate blog, we will elaborate on the many (snowshoe) hiking possibilities.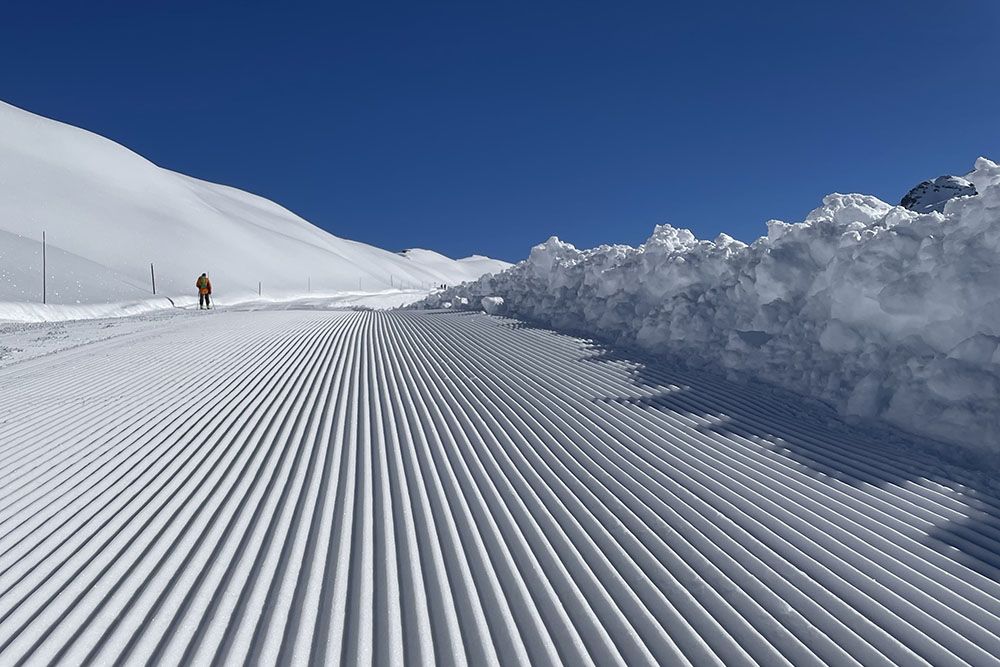 Besides walks through the snow, there is also other entertainment for young and old. For instance, there is an ice-skating rink, a cinema, a dizzyingly fast toboggan run and a location for paintballing or laser gaming. Prefer something less active by just resting from a sporty day on the slopes? Then pamper yourself at one of the luxury spas in La Rosière. This is possible at Spa Montagnes du Monde, Sky Spa and Alparena, among others. Or, of course, at your own hotel if it has a spa. Then visit one of the charming wine bars for a delicious apéritif, such as Larkyala or a real iglo bar. Then finish the evening with dinner in one of the many, exquisite restaurants.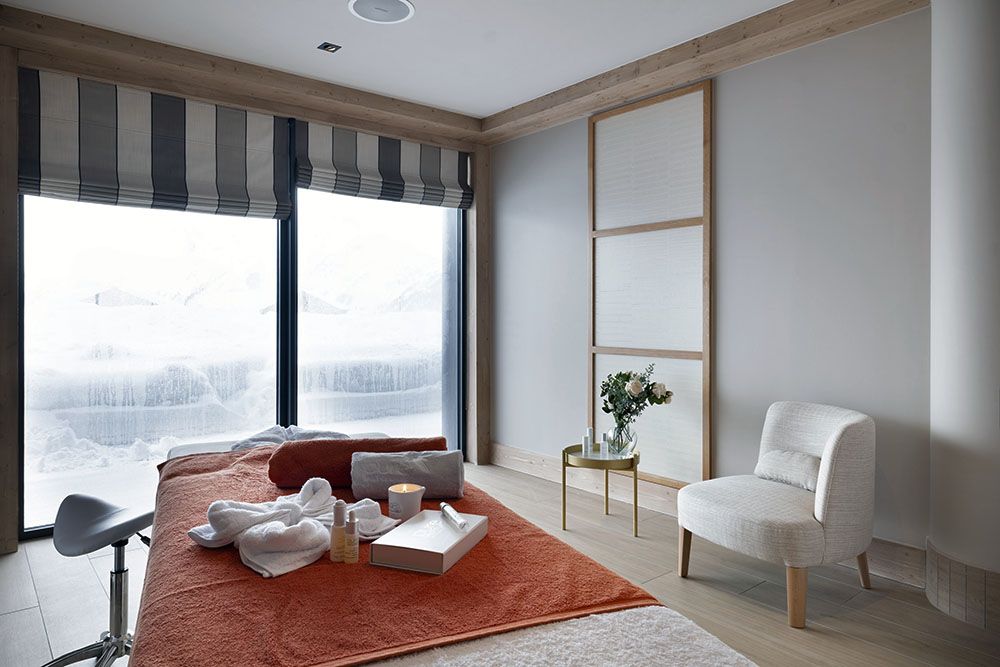 ©Studio Bergoend
Every Monday evening, there is a fairy-tale descent with (eco-friendly) torches. You can take part in this yourself if you can ski well, or, like us, just watch. Immediately after the descent, there is an elaborate show given by the instructors from the ski area. What you then get to see is truly spectacular. We found it an unmissable attraction during our stay in La Rosière!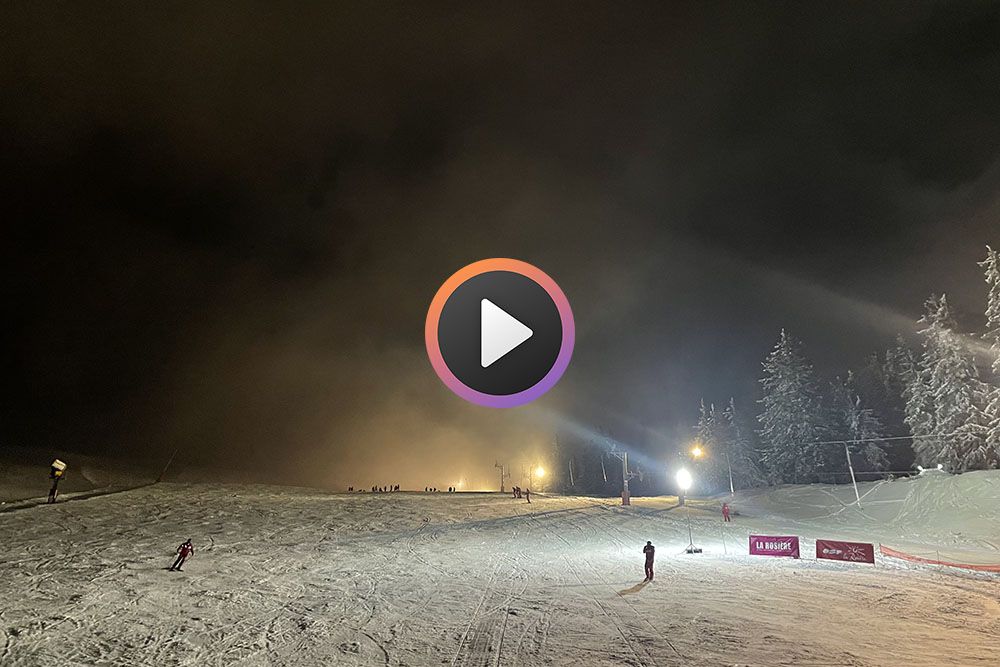 The X-PERIENCES ski pass
Ski passes in the French Alps are generally (a lot) cheaper than in neighbouring countries. For example, a six-day ski pass in La Rosière (including the Italian part of San Bernardo) costs just 260 euros. In addition, an ideal ski pass has been developed especially for winter sports enthusiasts who want more than just skiing or snowboarding: the X-PERIENCES ski pass.
The X-PERIENCES pass is a particularly good idea if you want to spend a week in La Rosière. This is because the pass is effectively the six-day ski pass but supplemented by the following interesting extras:
An extra half-day of skiing or snowboarding from 1 p.m. on the day before the first day of validity of your ski pass.
On Tuesdays, half an hour earlier than the official first lift up the mountain. You can then be the first to use the freshly prepared slopes. In addition, a mini breakfast (coffee/tea, pastries and orange juice) will be waiting for you in the new restaurant PARADiS.
Want to experience the mountains in a different way than skiing? Discover the Panoramic Mont-Blanc loop on foot or snowshoes by following the domain's prepared, marked and secured high-altitude trails.
Unlimited use of the ski lifts (within the validity period of your ski pass) as a (snowshoeing) hiker.
Free cancellation insurance (valid up to 2 days before arrival).
A wide range of activities other than skiing/snowboarding. Such as a one-off visit to the ice rink (including skate hire), cinema and toboggan run.
We visited this ski area at the invitation of l'Agence Savoie Mont Blanc and Domaine Skiable La Rosière – Espace San Bernardo. We compiled the content of the blog independently and objectively based on our own impressions.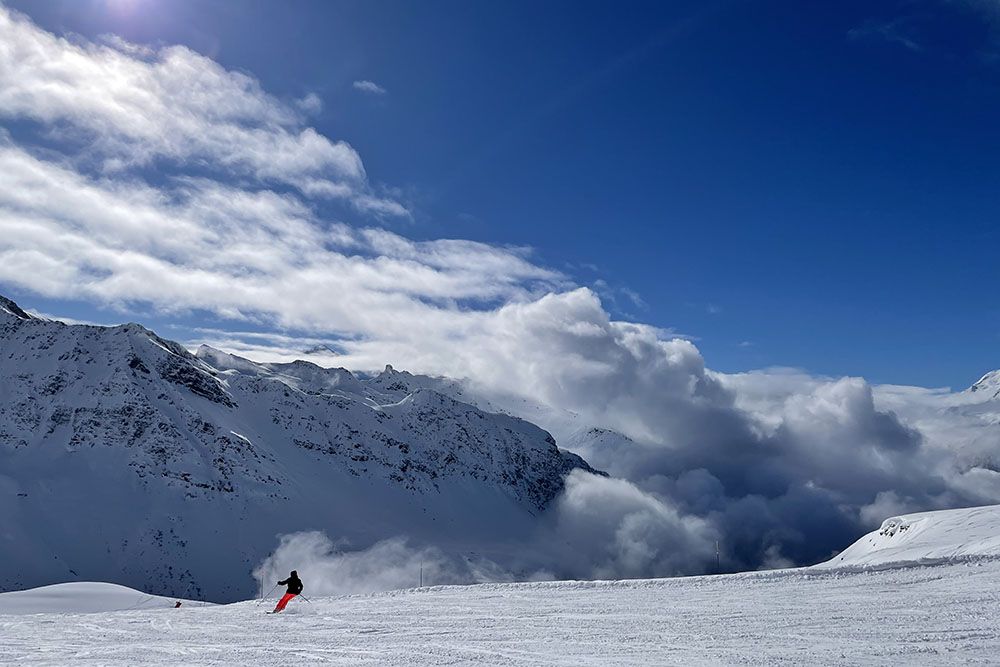 Frequently asked questions about a skiing holiday in Espace San Bernardo
Where is the ski resort of Espace San Bernardo located?
Espace San Bernardo ski area is located between Bourg-Saint-Maurice in Haute-Tarentaise (Savoie) and just across the border with Italy.
How do I get to Espace San Bernardo ski resort?
Train: The Espace San Bernardo ski area is easily reached by train. From Paris, take the TGV to Chambéry Challes. From there, a train goes all the way to Bourg-Saint-Maurice. The last part is by bus.
Car: From Paris it is about 700 kilometres to La Rosière.
By plane: The closest airport is Geneva. After that, it is another 147 kilometres away. It is then best to rent a car at Geneva airport. Another option is the shuttle service.
Is the area around La Rosière a nice ski resort?
Espace San Bernardo, where La Rosière is located, is a beautiful and snow-sure ski area up to over 2,800 metres altitude. You have 152 kilometres of pistes and excellently prepared slopes there. In the French part, you will mainly find slopes for the relaxed skier or snowboarder. The more adventurous and experienced skier will particularly enjoy the Italian part. The area has many hours of sunshine and unrivalled views of Mont Blanc, among others.
Is La Rosière in Espace San Bernardo also fun in summer?
Yes, absolutely! La Rosière is ideally located at the foot of the sunny, Italian side of Mont Blanc. In addition, the ski resort is near the National Park de la Vanoise, France's oldest national park. Here you will find all the ingredients for a fantastic outdoor holiday. For example, you have 500 kilometres of hiking trails. But the avid mountain biker will also find plenty to enjoy in this area. There is also a 9-hole golf course at 2,000 metres with stunning views of the valley. And furthermore, for the avid cyclist, there are several tough cols to choose from.
Where can I eat well in Espace San Bernardo?
Both the French and Italian parts of Espace San Bernardo offer delicious food. La Rosière serves the best Savoyard specialities such as raclette, cheese fondue (our favourite), tartiflette and croziflette. You can go to many restaurants for these in both the village and higher up in the mountains on the slopes. In the village we can recommend, among others, the atmospheric l'Ancolie. On the slopes, we had an excellent lunch at l'Antigel, among others.
Prefer Italian? That is also possible in La Rosière. We had a lovely dinner at the cosy Chez Rosa. Personally, we prefer Savoyard cuisine in La Rosière. For Italian dishes we then like to cross over to La Thuile in the Italian part of Espace San Bernardo.
What are some nice places to stay in La Rosière?
The beauty of the La Rosière ski resort is that you won't come across any high-rise buildings. No concrete flats like you sometimes find in other parts of the French Alps. In relatively young La Rosière, you will find mostly charming, cosy-looking wooden chalets. There is quite a choice of mostly excellent hotels. Many of these have in-house spa facilities such as our extremely comfortable Hôtel Alpen Lodge. There is also a wide range of chalets to rent.
You may also be interested in