The elongated Stubaital is not far from Innsbruck. The various villages offer skiing opportunities. We list them for you in this blog, so you can make the right choice for a winter sports holiday in the Stubai Valley.
Winter sports in Stubai Valley: Four ski resorts
With a winter sports holiday in the Stubai Valley, you can enjoy four different ski resorts. Each of these has its own character. We would like to introduce them to you.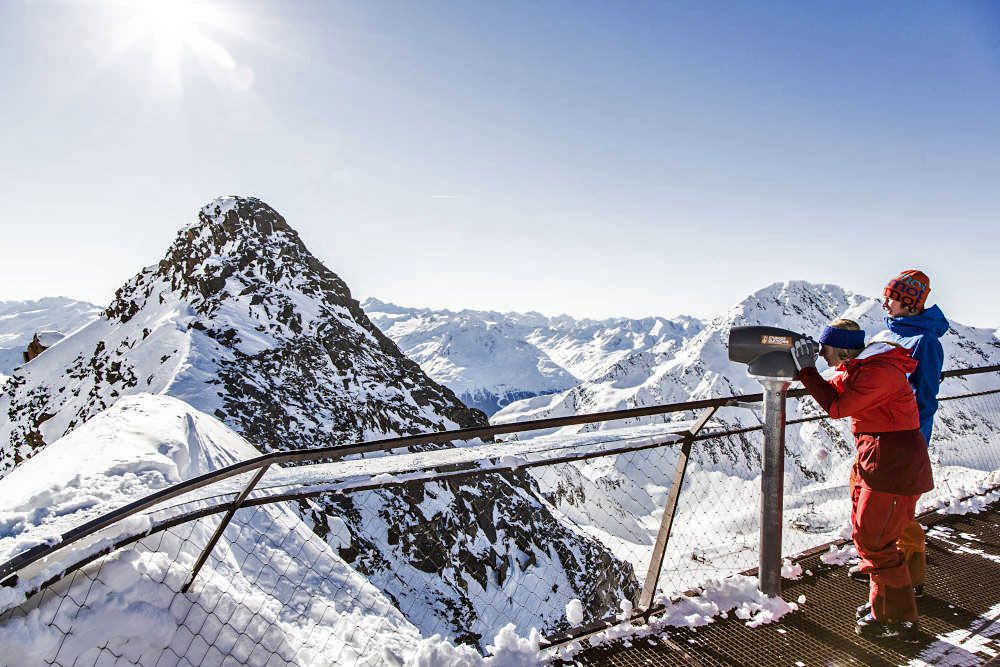 Mieders and Serles ski resort
Near Mieders lies the smallest ski area for a winter sports holiday in the Stubai Valley. That is the Serles area. Its biggest plus point would be the area's wonderful tranquillity and easy slopes. This makes Serles eminently suitable for beginners. An advanced skier will soon have seen it all here.
For the cross-country skiers among us, however, this is an ideal area. More than 40 kilometres of trails can be found here. It is also a nice area for hikers. You can go on beautiful winter walks through stunning nature.
The village of Mieders is not very big. It has generally managed to keep the Tyrolean atmosphere well with characteristic farms and houses. It is definitely not touristy. Don't expect lavish après-ski here.
Our advice: if you choose winter sports in the Stubai Valley for a cosy family holiday, Mieders is the place to be. If you are an advanced skier who wants to cover a lot of piste kilometres, then you should opt for the next area in the Stubai Valley.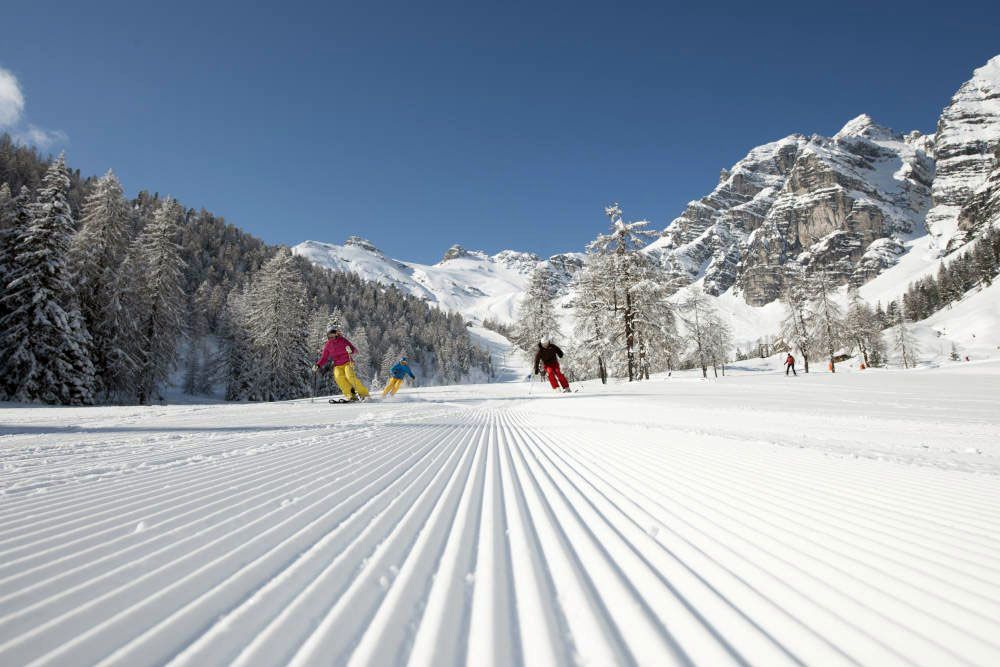 Fulpmes and ski area Schlick 2000
A little further into the Stubai Valley lies the charming village of Fulpmes. From here you can quickly reach the Schlick 2000 ski area. The main advantage of this ski resort is its enormous snow guarantee. From late November until well into April, the ski slopes are in excellent condition.
Schlick 2000 has almost 30 kilometres of slopes to offer. Of these, just over half are blue runs, a third consist of red runs and there are also several black runs. This makes it a varied area where every skier can have a great time.
An added bonus is the possibility of off-piste skiing in Schlick 2000. Advanced skiers can enjoy the many off-piste options here. The Panorama descent from the highest point of the area to the village is good for everyone. This is a beautiful run of about 3 kilometres in length.
Fulpmes is a delightful village where, at the end of the day, there are several cosy après-ski options. Especially at the valley station there are a few nice bars, but also in the village you will certainly manage to relax.
For special relaxation, you can go to Stubay. It is just over a kilometre from Fulpmes. Besides a large swimming pool, there is a beautiful modern sauna complex. From the panorama sauna and the outdoor pool, you have a fantastic view of the surrounding mountains. If you hold Innsbruck's Ski + City pass, entry to Stubay is free.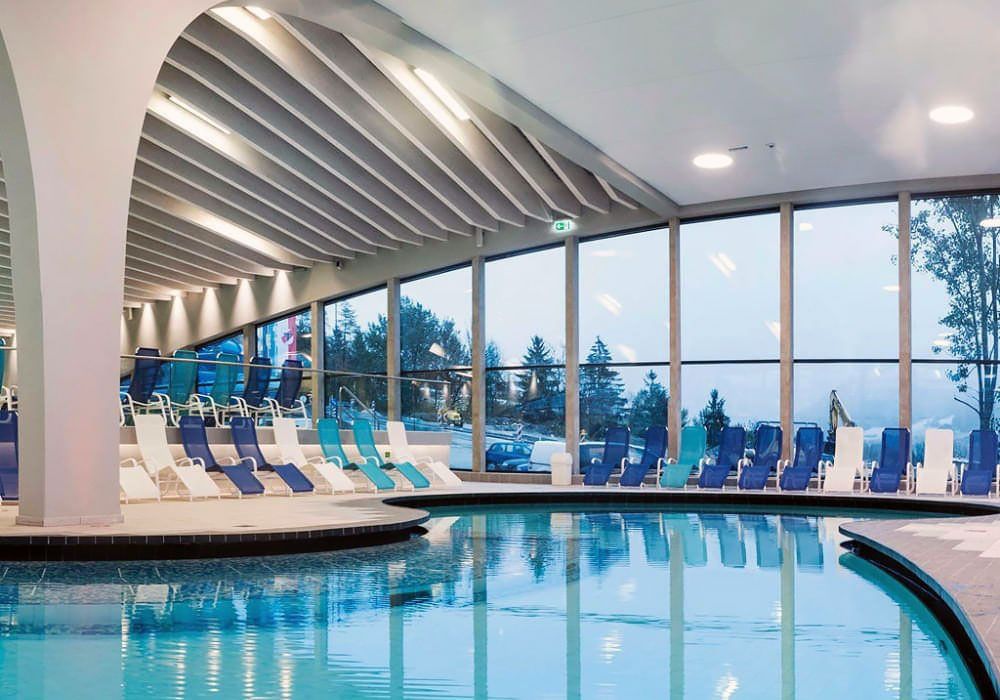 Our recommendation: Schlick 2000 is a nice ski area for a winter sports holiday in the Stubai Valley. Its variety and many off-piste options mean you won't be bored here any time soon. It is also a great ski area for beginners. If you want more, consider taking a day trip to the Stubai Glacier. Personally, we found Schlick 2000 a pleasant surprise in the Stubai Valley.
Neustift and ski resort Elfer
The Elfer ski area is very small. Nevertheless, there are some nice and challenging runs to be had. But if you like tobogganing, you can have a blast on the Elfer. Around Mount Elfer are the longest natural toboggan runs in Tyrol. There are also many well cleared hiking trails in the region for a wonderful winter hike through the beautiful winter landscape. Along the way, you'll pass many charming mountain huts.
The village of Neustift is centrally located in the Stubai Valley. It is also the largest village in the region with almost 5,000 inhabitants. Unfortunately, it consists of several village centres, so it lacks a really nice centre.
Our advice: Elfer is too small a ski area for most skiers. For a week of skiing, Neustift as a ski area itself offers too little. As Neustift does offer easy access to Schlick 2000 and the Stubai Glacier, Neustift is a good base.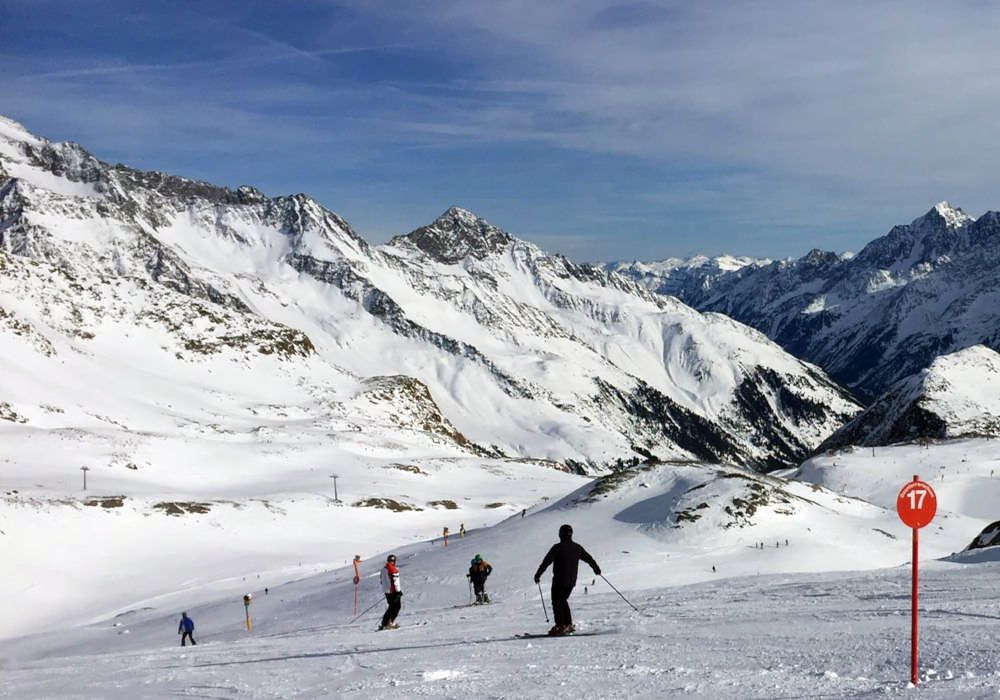 Stubai Glacier
At the end of the Stubai Valley looms the Stubai Glacier. The ski season here runs from early October to June. So, plenty of choice to book a week of winter sports in the Stubai Valley. This is Austria's largest glacier ski area and even one of Europe's largest glacier ski areas.
In total, some 110 kilometres of pistes await skiers. You will find a great variety of easy and wide blue slopes, to steep black runs with a gradient of 70%. Therefore, you can easily enjoy yourself here for a week, regardless of your level. Finally, there are several ski routes in the area. Unfortunately, for beginners, this does mean that they always have to take the gondola to the valley station. The ski route down is just too challenging for them.
Besides, at the top of the ski area you have phenomenal views of the Alps. In clear weather, you can see the Italian Dolomites sparkling in the sun. Be sure to take regular time to enjoy the beautiful panoramas you have at this ski resort. There is a beautiful panorama terrace at the top of the ski resort. It is definitely worth visiting this.
You will find several restaurants in the area. The cosiest restaurant is the Dresdner Hutte, located at 2,300 metres on the edge of the ski area. But at the various gondola stations you'll also find plenty of restaurants, some of them with service instead of self-service.
Our recommendation: Stubai Glacier is a great ski area with plenty of options for both beginners and advanced skiers. You can have a great time here for a week. Just keep in mind that from the start of the valley you will need about half an hour on the road to the glacier. Especially on nice days on weekends and in high season, the drive can take a bit longer due to traffic. You can stay overnight in at the valley station of the glacier ski area in a hotel. However, there is no village centre with facilities near the glacier.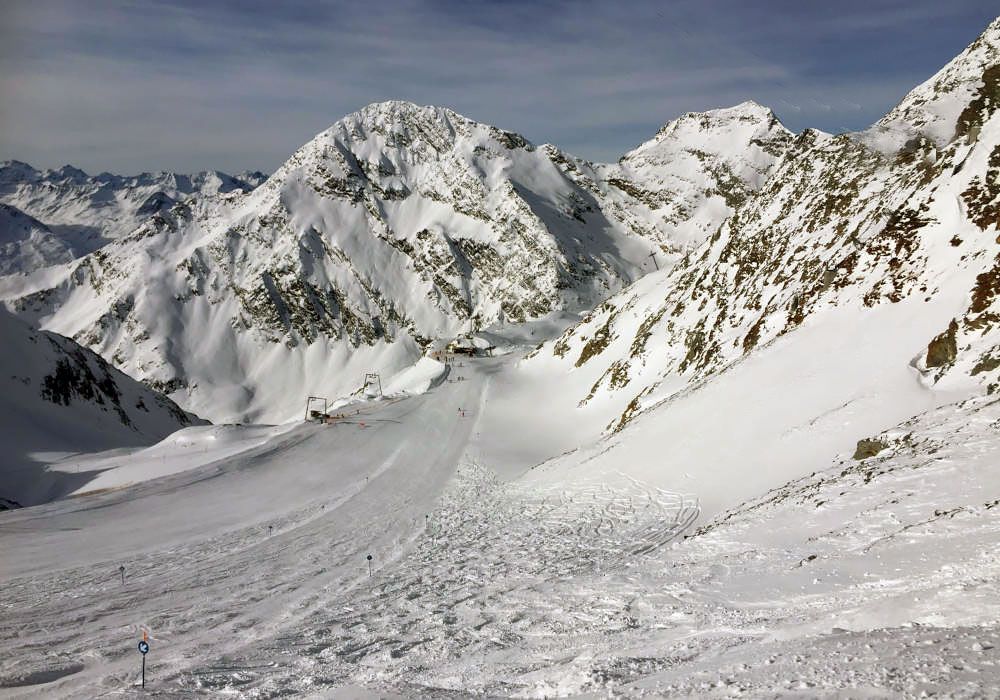 Winter sports in Stubai Valley: practicalities
How do I get to the Stubai Valley?
The Stubai Valley is easy to get to by car. From the exit on the Inntalautobahn, it's another half-hour drive to the glacier on a good road without hairpin turns and inclines. In high season and on weekends, the road is busier and takes longer.
The nearest airport is that of Innsbruck. From the airport it is another hour to the start of the Stubai Valley
The free ski bus from Innsbruck takes you to the Stubai Valley in an hour. Especially if you own the Ski + City pass, this allows you to combine a visit to the city of Innsbruck with one or more days of skiing in the Stubai Valley.
An excellent hotel in Fulpmes is Alpin- & Wellnessresort Stubaierhof. This **** star hotel has excellent rooms, several cosy restaurant areas and a fantastic wellness centre with several saunas, Turkish steam bath, swimming pool and relaxation areas. In addition, the hotel has a gym. From the hotel you can be in the Schlick 2000 ski area in no time. The free ski bus takes you to the Stubai Glacier in half an hour.
If you want to stay in centrally located Neustift, hotel Premium Activehotel Bergkönig is an excellent choice. This is also a **** star hotel. Rooms are spacious and usually feature panoramic views of the surrounding mountains. The breakfast buffet and dinner are great with lots of choices. Finally, for your relaxation, there is a 2000 m² wellness centre with all the facilities you could want.
Want another hotel, flat or guest house? Here you will find a complete overview of accommodation in the Stubai Valley.