Diving near the Similan Islands and Richelieu Rock
The Similan Islands and Richelieu Rock in the Andaman Sea west of Thailand and Myanmar, have stolen our diving heart. In the spring of 2019, we visited these islands together with a group of 8 active over-50s. Because we already saw a lot of the underwater world, we didn't have very high expectations. However, when we first descended below the surface of the sea near the Similan Islands, we knew it was going to be good.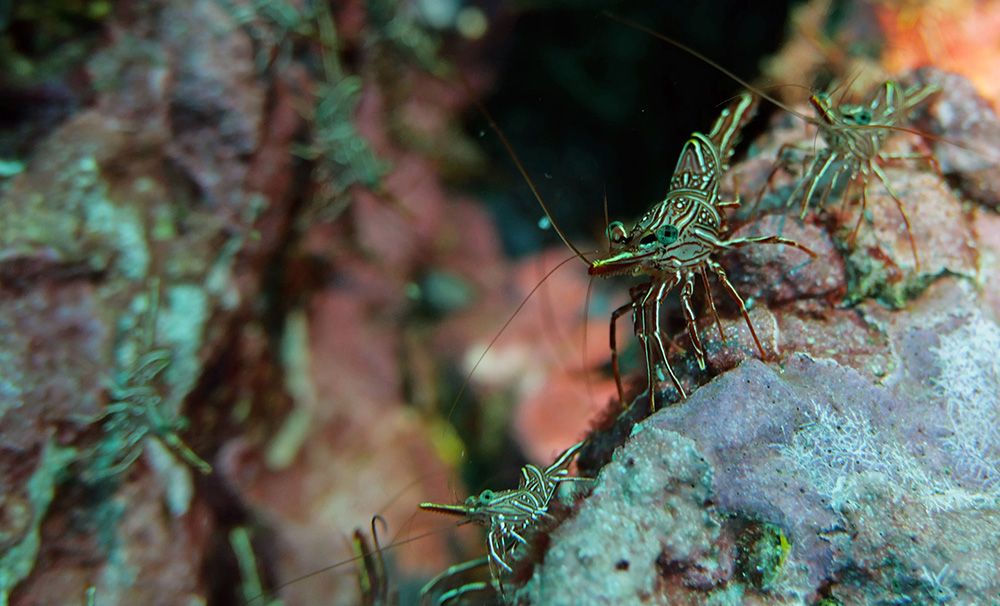 The dive sites at the Similan Islands
The first few days, we just visited the Similan Islands. Officially Koh Tachai and Koh Bon are also included but, in this blog, we mention the latter islands separately. Afterwards, we went on a mini-live-aboard (a submarine with cabins that we sailed in for three days) to Richelieu Rock. Although diving at the Similans is definitely worth it, we found Richelieu Rock to be by far the most spectacular diving area in Thailand.
Similan Islands
The park, which has been a UNESCO World Heritage Site since 1982, covers a total of 140 square kilometres and nine islands. The paradisiacal islands would do well on a postcard because of the tropical jungle and white sandy beaches. For us, however, it was all about the underwater world. Instead of a name, the islands have each been given a number. The first three are closed to tourists. Most divers come for islands four and eight. We dived on eight and nine.
There is an enormous diversity of (colourful) fish. The large schools make up for the damage to the coral in 2010 because of 'coral bleaching'. There are also steep reef walls, small caves and impressive rock formations. In many places you also have a chance to see large deep-sea fish, such as sharks, manta rays and other pelagic animals.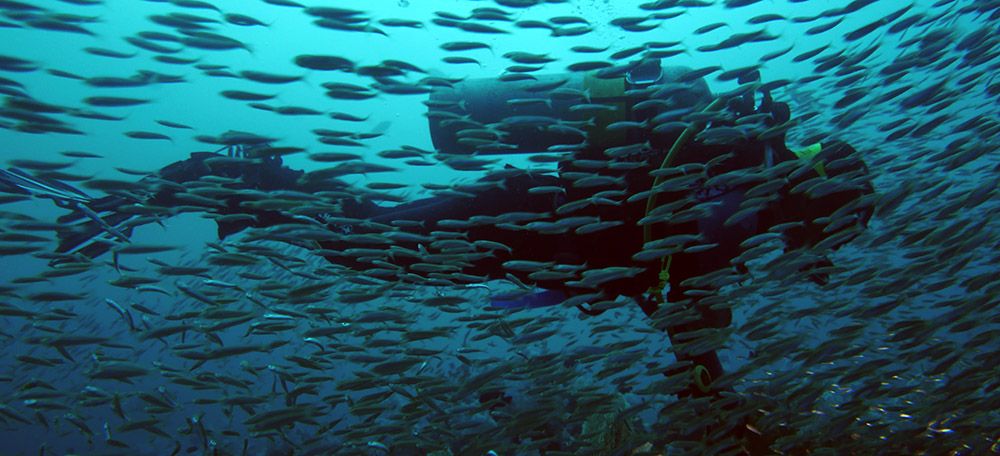 Koh Tachai and Koh Bon at the Similan Islands
On our way to Richelieu Rock we visited the dive sites Koh Tachai and Koh Bon.
Koh Bon
Koh Bon is a remote, small and uninhabited island, about 20 kilometres north of Similan Island 9. The island has the shape of a horseshoe and no beaches. Around Koh Bon you have very diverse dive sites with different diving conditions. You can do reef wall dives, 'normal' reef dives and current dives. The island is considered to be the best location in Thailand to see manta rays. We also came across these beautiful animals during our dives. Among most divers, the western ridge is the preferred choice. You will find colourful, soft corals and many small animals like shrimps, crabs and many species of nudibranches. The north side offers mushroom-like coral formations, butterfly fish and 'cleaning stations' for manta rays. Because of the mild to strong currents, there are also the hunting, larger fish species, such as barracudas, trevallies, snappers and batfish. In the bay you will also find many triggerfish, moray eels and sea snakes.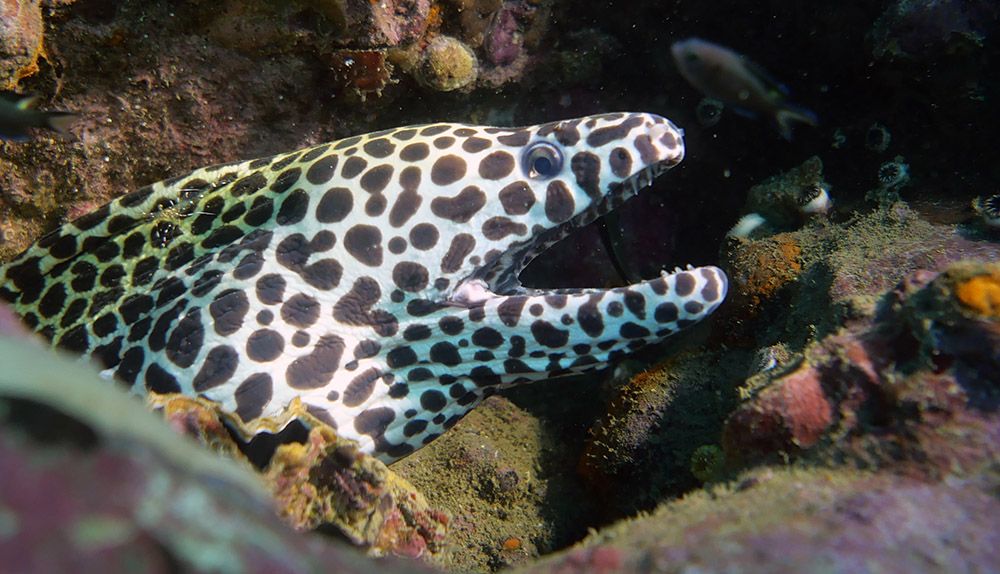 Koh Tachai
Koh Tachai is one of the more northerly dive sites and a favourite among many divers. It is a small but beautiful uninhabited island with snow-white sandy beaches, located about halfway between the Similan Islands and the Surin Islands. It is a bit quieter than at Koh Bon, where it was jam-packed with divers, especially at the end of the dive. The dive sites are characterised by a breath-taking landscape of underwater pinnacles, large boulders and fantastic marine life. With a bit of luck, you will also encounter whale sharks, manta rays and eagle rays. We came across a manta ray right at the start of the dive.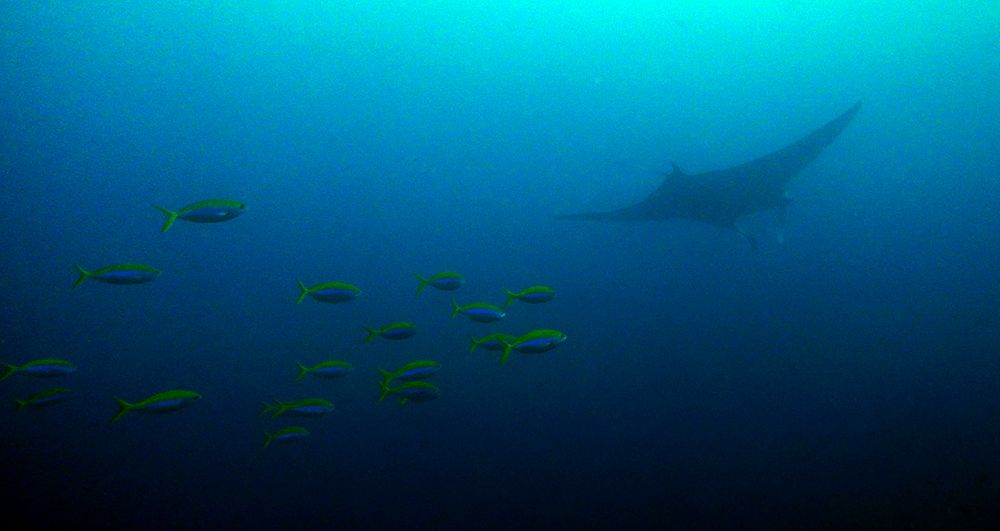 Richelieu Rock
Richelieu Rock is a world-famous dive site located in the national park of the Surin Islands. It is a large underwater mountain that only rises slightly above the water at low tide. Although the dive site itself is very large, you can see most of the landscape in one dive. But because there is so much to see here, you can easily do hundreds of dives without getting bored.
Richelieu Rock is covered with beautiful, purple soft corals. Among the corals you will find many small animals such as porcelain crabs, seahorses, moray eels, shrimps, various species of nudibranches and even the ghost pipe fish (a sea-eel-like species) and the peacock mantis shrimp (praying mantis shrimp species). You also have a chance to spot whale sharks, manta rays and sometimes guitar sharks.
What we found most special about Richelieu Rock was the enormous amount of fish. We have rarely seen so many fish of all sizes as here in the west of Thailand! During one of the several dives we did, the fish made it impossible for me to see my friend two metres away! The hunt jacks and other predatory fish attack the many small fish, which is a spectacle in itself that we could watch for hours! Bear in mind that there is quite a strong current at the dive sites around Richelieu Rock. Most dives are therefore done with an empty lifejacket in order to start the descent as soon as possible. If you usually have trouble with clearing at the beginning of a dive, please let the dive guides know.