The beautiful nature of Krabi and surroundings
Although we are not fervent beachgoers, the mountainous area of Krabi in the southwest of Thailand, deserves, as far as we are concerned, a special blog on this website. The province is rich in beautiful, pearly white sandy beaches, crystal clear water and beautiful coral reefs, caves and waterfalls. The Krabi region has more than 130 small and larger islands.
What makes Krabi different from many other tropical holiday paradises are the impressive, limestone rocks that seem to come out of the ground and the seawater like mushrooms. Add in the beautiful sandy beaches lined with palm trees and various active outdoor sports and you'll understand why more than two million tourists visit the region every year.
We spent a short week in Krabi and the neighbouring islands. This visit was a welcome end to a backpacking holiday through Cambodia and southern Vietnam. In addition to relaxing, we ventured into rock climbing, did a two-day diving trip to the Phi Phi Islands and visited some small fishing villages and beautiful beaches. Fully rested from the holiday, we flew back to our cold little country.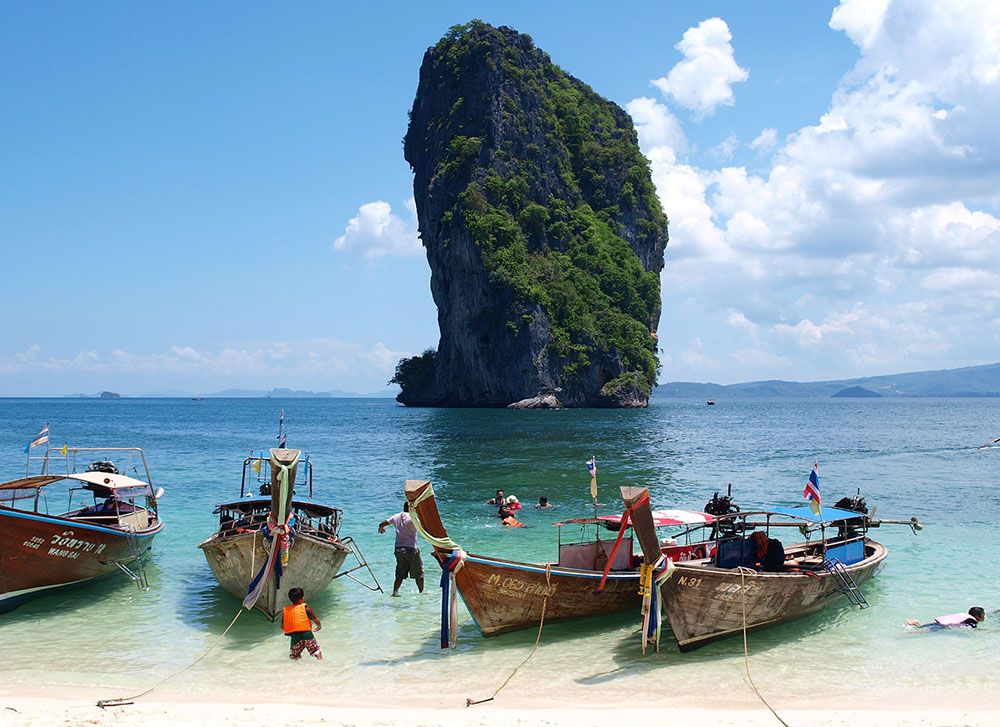 Sightseeing in the surroundings of Krabi
In Krabi, you can relax, or be active by going diving or rock climbing. However, you can also get a taste of culture by visiting one of the temples in the city or the night market. What many tourists do is a cooking course for Thai cuisine, something we did in Chiang Mai.
Nonetheless, where the area of Krabi, in our experience, best lends itself is just to enjoying the overwhelmingly beautiful nature by kayaking or by taking a walk to one of the many waterfalls for example. Here are some sights that we think you shouldn't miss when you visit Krabi.
Thung Teao Forest Natural Park
The Thung Teao Natural Park is home to many spectacular plants and animals. The simplicity and exceptional natural beauty of the park makes this destination different from the rest. The spectacular mix of colours is the first thing to stand out. In the park, there is also the 'Emerald Pool', a crystal-clear lagoon with warm water and direct views of a beautiful waterfall. With a bit of luck, you will see the Pita Gurney bird. Bring your swimwear, plenty of drinking water and anti-insect spray!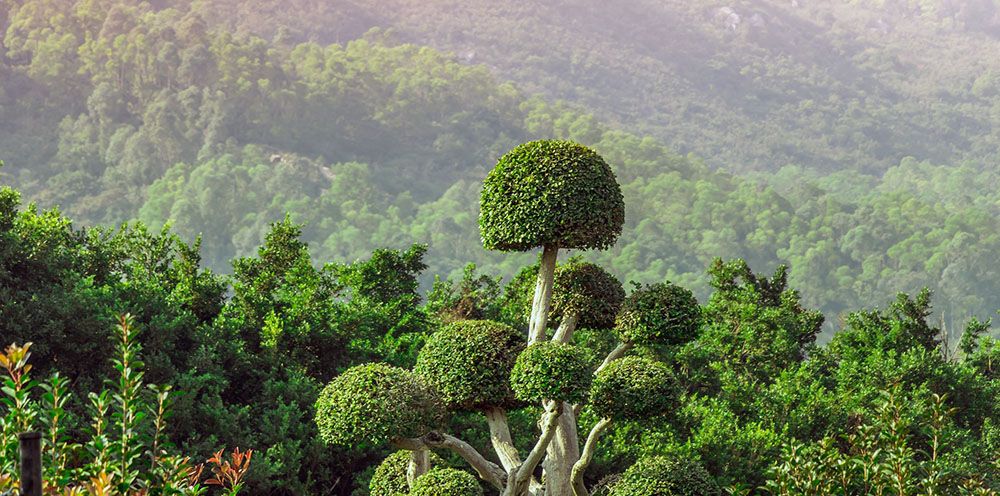 Sea kayaking on the east coast of the bay of Phang Nga
A fantastic, active and eco-friendly way to explore and experience the beautiful coastline full of sea caves, mangroves and impressive karsts is to continue kayaking at sea.
There are several locations in the region to go kayaking. For example, the surroundings of Ae Thalane offer, for example, magnificent mangroves and ravines. Bor Thor has ancient limestone caves and Koh Hong has a hidden lagoon. At each location you get beautiful views and interesting, wild animals such as monkeys.
One of the many providers of such kayaking excursions is Sea Kayak Krabi tours. They offer half- and full-day trips to Ao Thalane Bay, Hong Island and Ban Bo Tho (Ao Luek).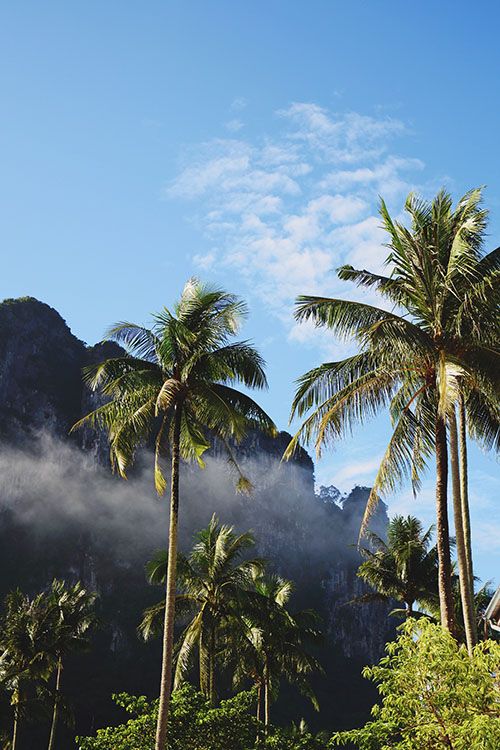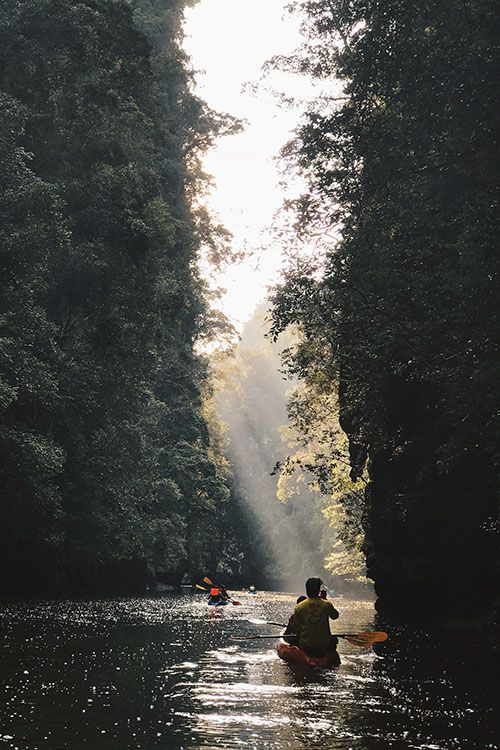 The caves and beaches of Railey
Some of Thailand's most attractive beaches are those of the Railey Peninsula. You can only get there by boat because the beach is surrounded by large limestone formations. Just the boat trip with a long tail boat is fantastic! You'll find beautiful white sand, breath-taking views, waving palm trees and fantastic limestone rocks rising from the sea and the land. Thanks to the wonderfully relaxed atmosphere, even we could easily spend a day here enjoying ourselves.
In fact, there are four beaches separated by limestone. The beaches of Railey West and Ao Phra Nang are by far the most beautiful of the four. On the peninsula, you can even spend the night and enjoy a refreshing drink at one of the many bars.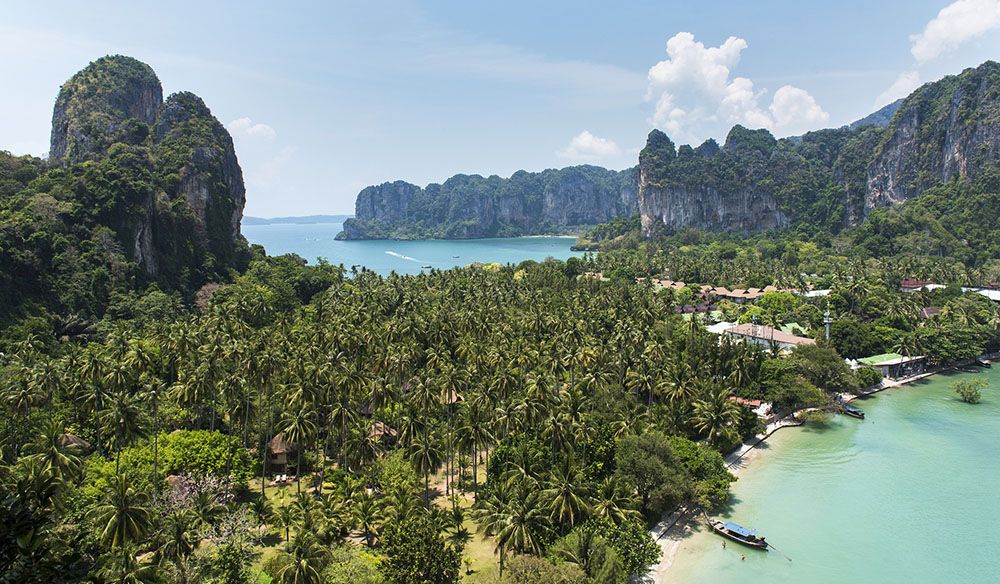 Koh Phi Phi
What did impress us was Koh Phi Phi. The islands were once the backdrop for the film 'The Beach' with Leonardo DiCaprio and have been world famous ever since. Koh Phi Phi with its turquoise water and beautiful beaches is a real tropical paradise, though one that you have to share with a lot of people. Unless you take the earliest boat from Krabi to stay a little ahead of the crowds. Once on the Phi Phi Islands, you can rent a kayak so you can go out by yourself and avoid the busy beaches.
You can also rent a boat for you/your travel group. You will be much more flexible in when you leave and where you go. Have the captain take you to Ao Nuy Bay and Phi Leh Lagoon for breath-taking beaches in any case. But Koh Phi Phi has more to offer, for example, the viewpoint, accessible from the village of Ton Sai, where everyone is taking selfies, but it is still a must-see.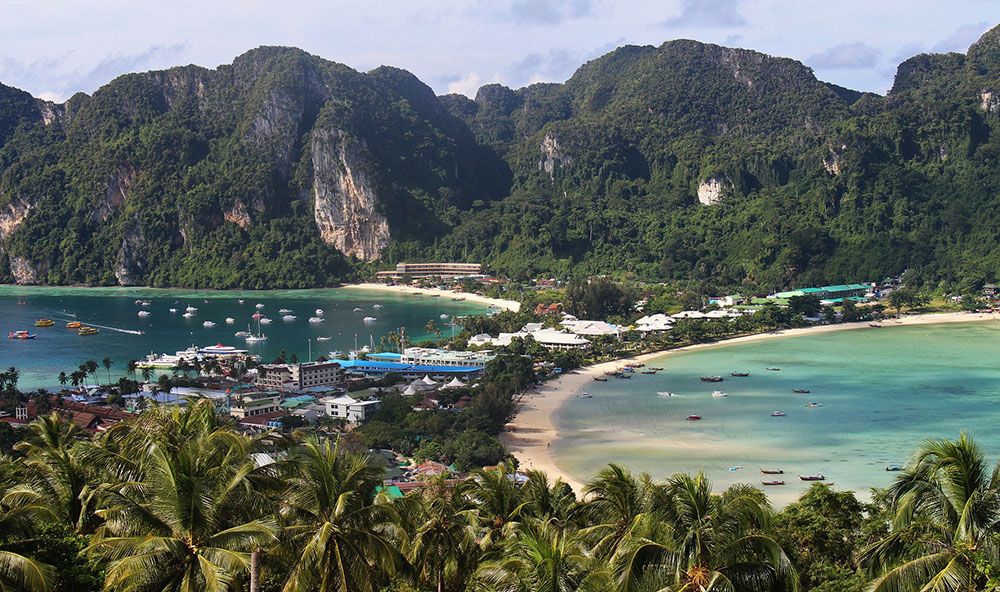 Practical matters for your visit to Krabi
Best time to visit Krabi
For blue skies, relatively little precipitation and not-too-high temperatures, you have to go to Krabi during the months of November to March. What's more, the chance of beautiful starry skies is greater and there is a nice cooling breeze blowing on the beaches. This is the most expensive period.
How to get there
We took the night train from Bangkok to end up in the city of Krabi. You may be on the road for a long time, but the advantage is that – if it's still light – you'll get to see quite a bit of unknown Thailand. In addition, it is of course less damaging to the environment than when you go by plane.
If you don't have much time, or if you combine Thailand with Malaysia, then flying to Krabi International Airport is the best option. There are several daily flights from Bangkok though you can also fly to Krabi from Kuala Lumpur.
For about €35, you can take the comfortable VIP bus too from Bangkok to Krabi. The ride takes about 10 hours.
Transport in the vicinity of Krabi
Several tourist attractions can easily be accessed with the Songthaew, a pick-up with two seats facing each other in the back. But because Krabi consists mainly of coast and islands, you'll get more transport here by water. When it comes to small distances, we usually took the long tail boats.
Accommodation
There is a lot of accommodation available in the province of Krabi, ranging from guesthouses and hotels to apartments, luxury resorts and even villas. Find accommodation in the city of Krabi, in Ao Nang Beach or Koh Phi Phi.
Food and drinks
Because of the millions of tourists who visit Krabi every year, you will find a very extensive, international cuisine here. Not surprisingly, however, there are many fish dishes on the menu but you must also try the softer coconut curries that dominate traditional, southern Thai cuisine.