Located in Austria's Vorarlberg province, Silvretta Montafon in the Montafon Valley is the largest ski area. We enjoyed skiing there for several years and marvelled at the relative tranquillity there.
Silvretta Montafon: 140 km of skiing pleasure
The merging of the Hochjoch and Silvretta Nova ski areas has created a nice large ski area with a total of some 140 kilometres of pistes. Over 50% of the slopes are above 2,000 metres in altitude. Both ski areas are very different in terms of level.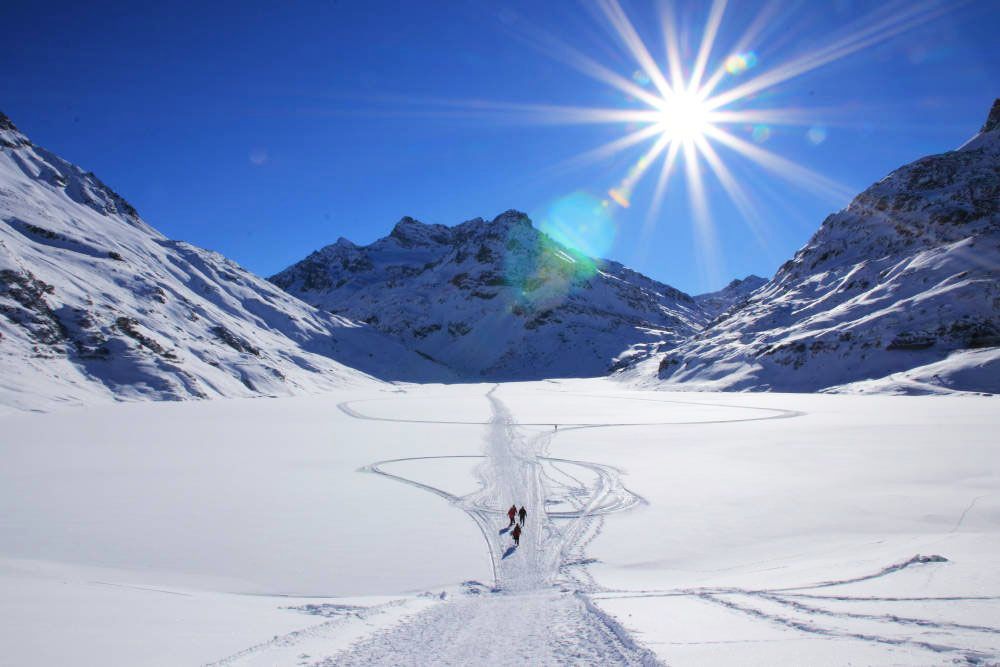 Hochjoch
Beginner and relaxed skiers are right at home in the Hochjoch area. The wide, predominantly blue pistes will not make things too difficult. In addition, it is actually always really quiet so you can enjoy your turns and delight in the views.
A special feature in Hochjoch is skiing through Europe's longest ski tunnel. At almost 500 metres, this tunnel forms a connecting piece on the blue run 1a. The tunnel is well lit. You also keep up enough speed, so there is no need to push.
The longest descent in Vorarlberg can also be found in Hochjoch. At a whopping 12 kilometres, the Hochjoch Totale is without a doubt one of the highlights in Silvretta Montafon. At 12 km long, this slope is among the longest valley runs in Vorarlberg. From the Alpilagrat, which is also the highest point of the ski area, you make the descent to Schruns. The first part is very relaxed and leads over blue slopes (with the ski tunnel as an extra too). The second part is a bit trickier over red pistes. But for an average skier, this tour is definitely doable.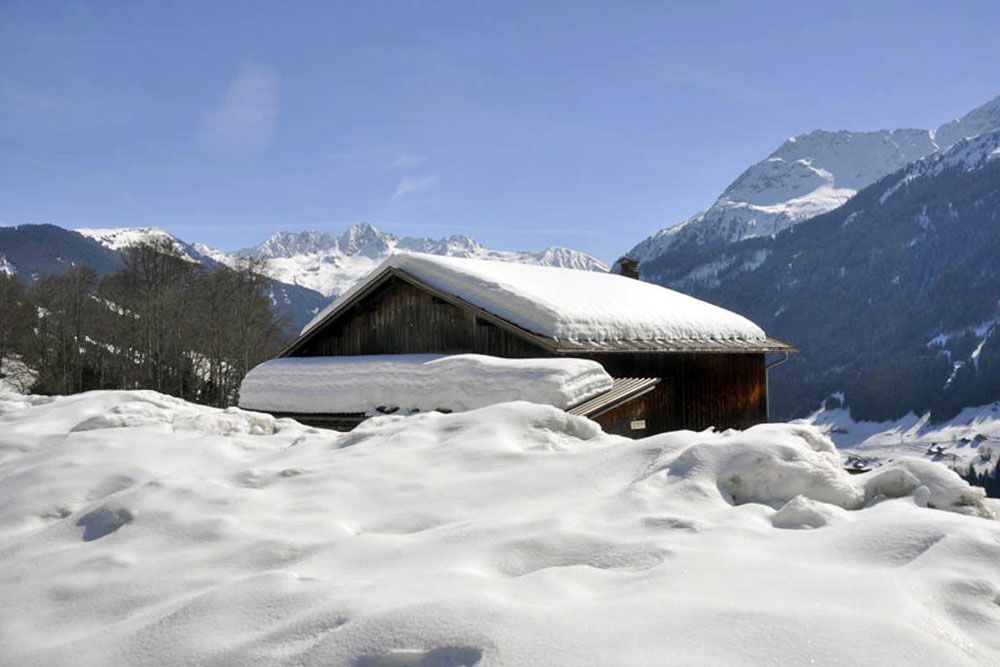 Silvretta Nova
This area offers something for every skier. There are lovely wide pistes where you can have fun carving like on a natural halfpipe. But you'll also come across many challenging red slopes that'll make advanced skiers happy.
We ourselves are not skiers who go off-piste. If you are a fan of that you can indulge yourself at Silvretta Nova. There are very nice opportunities in this area to glide off-piste through the fresh snow.
Real pros can find seven slopes with gradients of up to as much as 81%. These runs are not called the "Black Scorpions" for nothing. We found runs 40, 41, 42 and 43 at the Schwarzkõpfle and Madrisella lifts amazing. Especially early in the morning, when the slopes are still quiet and perfectly prepared waiting for you, then it is really nice skiing on these runs. A lovely blue run is 20a. From the end station of the Valisera II lift, you glide easily to the valley station of this gondola. The big advantage is that this descent is very quiet.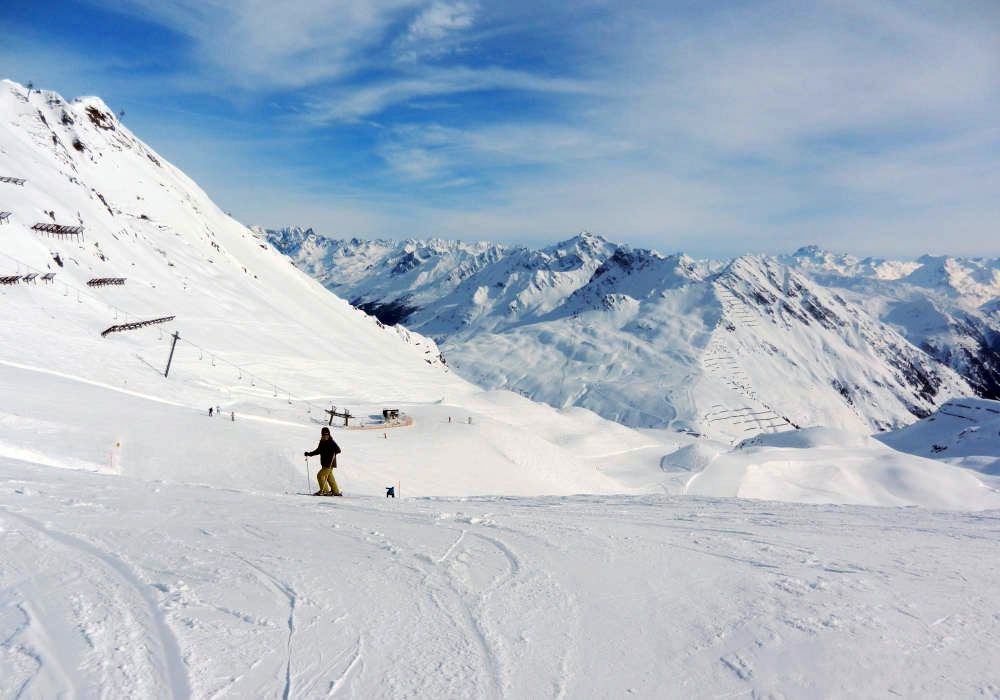 The pros and cons of the Silvretta Montafon ski area
Advantages
Easily accessible over motorway and short stretch over good provincial road
Enough variety and challenge for the advanced skier
Sufficient blue runs for beginners
Wonderfully quiet pistes on weekdays
A relatively low-price level
Disadvantages
Busier at weekends (day trippers from Germany)
The Pfändertunnel near Bregenz is busy on weekends and spring holidays
Connection between Hochjoch and Silvretta Nova only by gondola
Few valley descents to the villages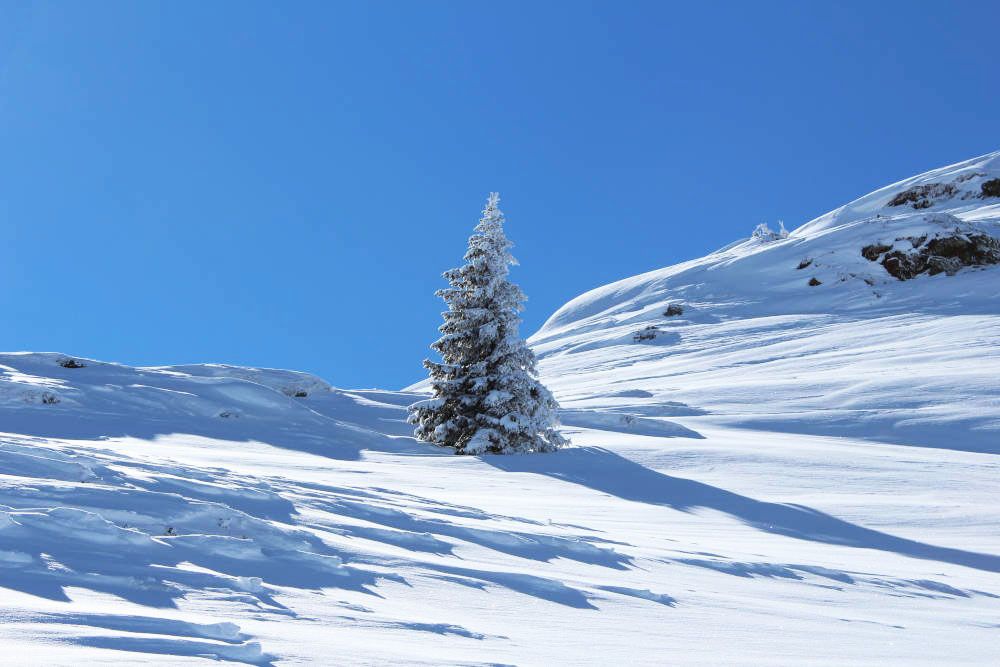 Accommodation in Silvretta Montafon
There are several options for accommodation in the Silvretta Montafon ski area. Many providers offer flats for small and larger parties. You can also find hotels in Montafon in all price ranges. Overview of accommodations in Montafon.
We rented the very really cosy "Enzian" house several times when we were with a large group. Here you get to use the spa and swimming pool of the nearby sports hotel Grandau. Both accommodations are close to the valley station of the quiet chairlift Garfrescha in Sankt Gallenkirch.