Cycling through the Battambang hinterland
Battambang is a nice city, located on the Sangker River. After Phnom Penh it is the country's second city with about 150,000 inhabitants. Yet the city does not emit a feeling of stressfulness. It is relaxed and there are beautiful colonial buildings to see, especially along the river.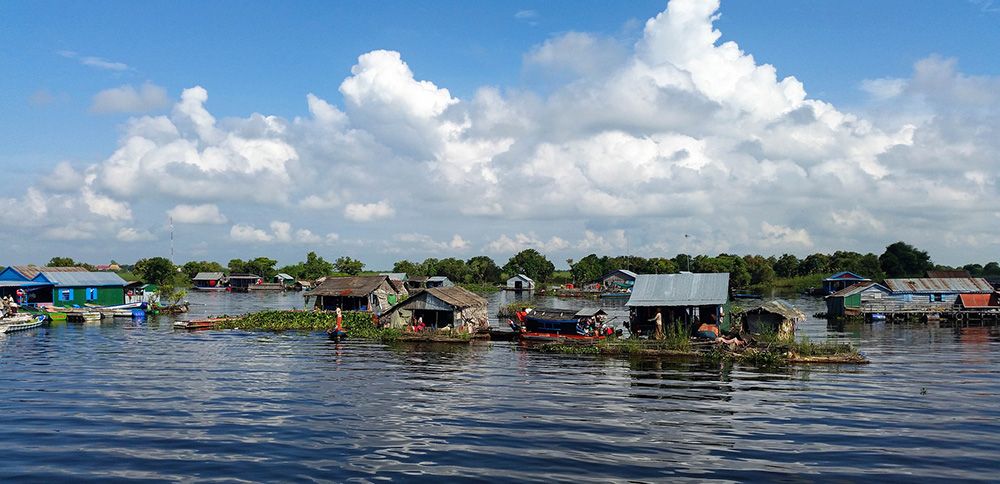 Battambang Countryside
The Battambang countryside invites you to enjoy it. This is possible in different ways. For example, you can rent a moped for a day and drive around. You can also arrange a tuk-tuk. The driver can tell you a few things about the area. Finally, you can also go on a bicycle tour. The roads are unhardened, but good for cycling and there are no steep climbs. We did the latter, accompanied by a local guide. This lets you see a lot more of the lifestyle customs and you can also visit a number of "factories" where you hear how the products are made.
This way, you see a rice paper shop, a family that sells dried bananas, a company that makes "sticky rice" and of course you come to a "happy water" factory. You can see how rice is fermented and made into a very strong alcoholic beverage. Of course, you have a glass and feel good as it burns a way down your throat. You can also visit a factory where the fermented fish becomes a fish and pasta dish. Get ready for a pungent scent. The landscape on the road is beautiful.
On various markets that you pass, you see the locals doing their shopping. A peculiar thing is how they leave the meat in the blazing sun for hours to "slow cook". Our guide said that what is not sold in the evening goes into cooling. For example, the next day it can still be in the market stall.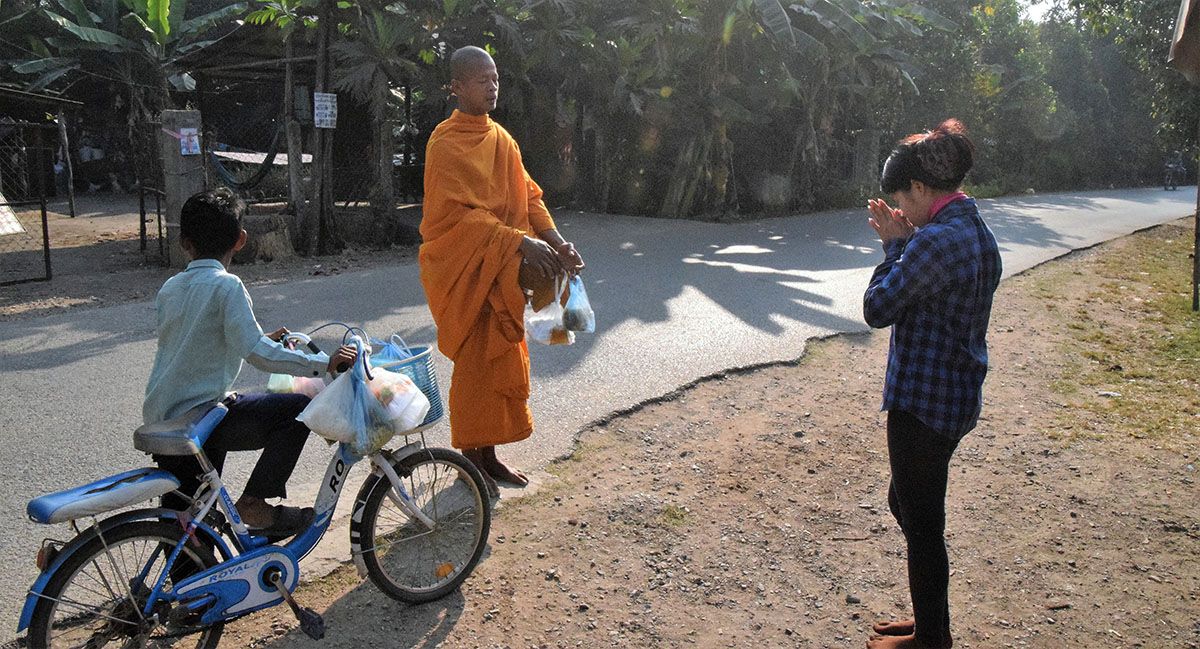 Bat Cave
One of the attractions of Battambang was until recently a ride on the bamboo train. By renovating the railway, the train (actually only a flat wagon made of bamboo) runs only a few hundred metres. It's not really worth it. It is very interesting to visit a cave near Battambang. This Bat Cave is located at the bottom of a mountain with some beautiful temples. On top of the mountain, you have a nice view of the surroundings. In addition, you see many monkeys lying and scrambling about. They try to steal your food and drink. So, pay attention to your belongings and make sure you don't get injured through getting scratched by a monkey.
If you are back at the Bat Cave for sunset, the terraces are already overcrowded. Everyone waits when thousands of bats leave the cave. About half an hour long the air is black from all the bats that fly away in a large, wide group.