San Diego, the birthplace of California
San Diego, the birthplace of California
During our tour last autumn through southwestern USA, we also visited San Diego. This coastal city on the Pacific Ocean is located just north of the Mexican border. Despite its size, we found it a pleasant, laid-back city. In any case, a city where you can easily spend several days if only for its lovely climate and picturesque coastline.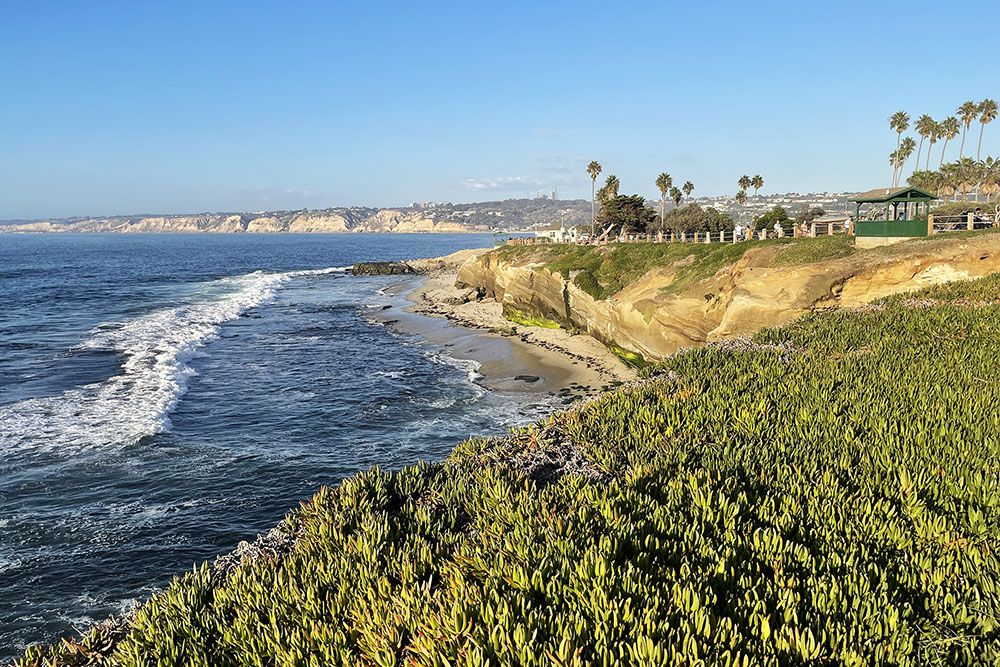 Brief history of San Diego
Before the arrival of the Europeans in 1542, the area had been inhabited for a long time. Spanish settlers claimed the bay but had not yet established a settlement there. Nor did they when the Spanish explorer and entrepreneur Vizcaino mapped the coast here. He did, however, name the area after the Spanish Catholic saint, San Diego. It was not until the mid-18th century that a mission post named San Diego came here. This was the Spaniards' first mission post in California. A century later, the settlement really began to grow when the railway was built. Today, San Diego is home to more than 1.3 million people. The city is known for its navy, theme parks, wonderful climate, many parks and a beautiful coastline.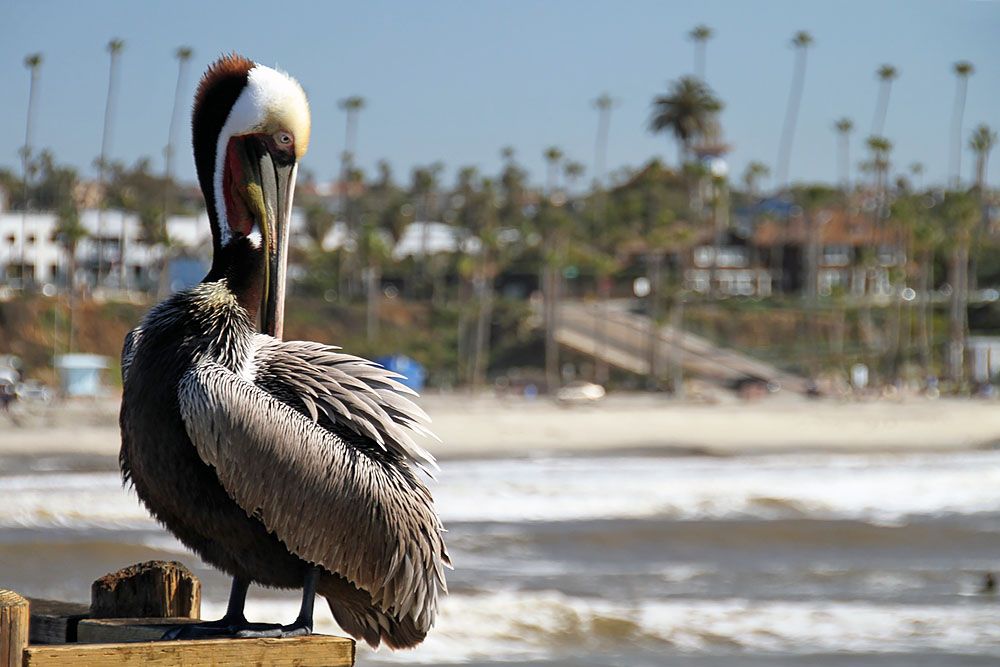 The highlights of San Diego not to be missed
San Diego has something for everyone. Whether you love hiking, culture or nature. The sights are numerous. Therefore, to help you make a choice, below is a small selection of highlights that should not be missing from your city break.
Old Town San Diego and Presidio Park
Old Town in San Diego is the site of the Spaniards' first settlement in California. This happened in 1769 with the foundation of the mission post. Since then, little seems to have changed. In fact, the district is something of an open-air museum. You'll find historic mud-brick buildings from the city's early days. But some streets from back then have also been beautifully preserved. The most beautiful of the so-called adobes (mud houses) is the Casa de Estudillo from 1827. It is one of the oldest surviving pieces of Spanish architecture in California.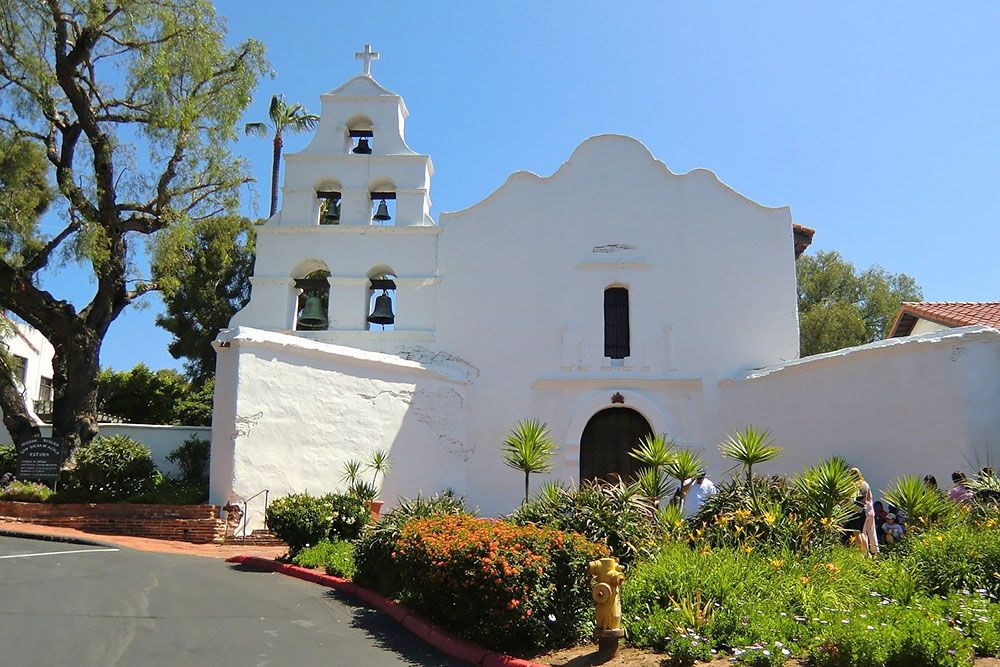 Old Town's free-access, historic park offers more than just historic buildings. As in many other outdoor museums, you can still see the old crafts. There are also many cultural festivities, including Dia de Muertos. The Mexican-American quarter is also the place to listen to Mariachi bands and eat real Mexican food. To do so, head to Café Coyote, El Agave or Tahona Bar.
Bordering the built-up area of Old Town is Presidio Park. The most popular attractions in this park are (the replicas of) the mid-18th-century fort and church. And the iconic Junipero Serra Museum. The 40-hectare park sits on a hill overlooking Old Town, the San Diego River Valley and the Pacific Ocean.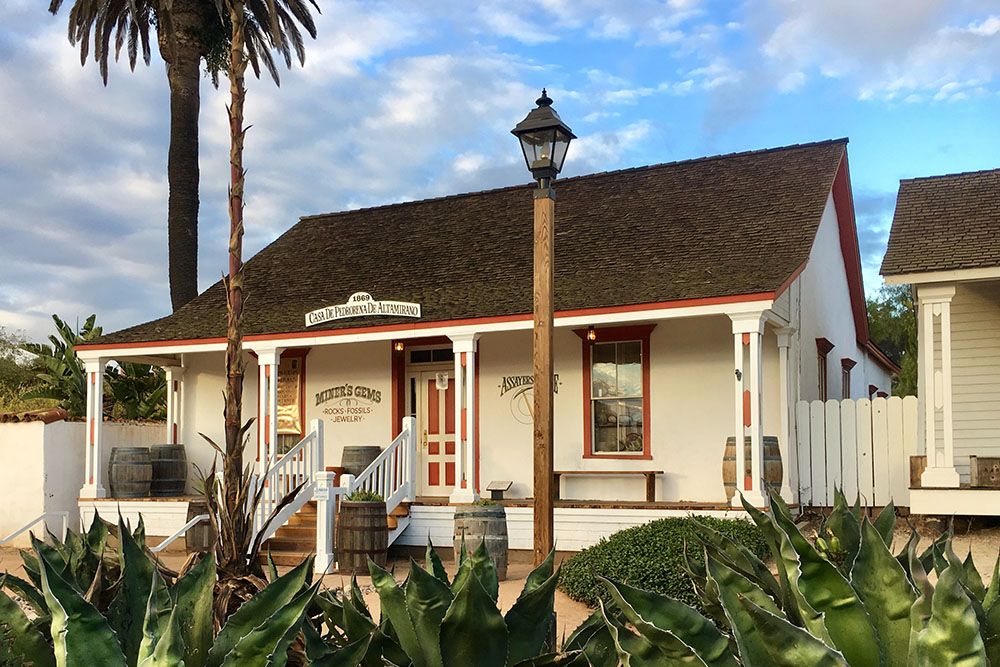 Balboa Park
Just north of the city centre is the beautiful Balboa Park. This park covers a whopping 1,200 hectares, making it one of the largest city parks in the US. Most people visit the park because of the famous San Diego Zoo. But it is precisely the botanical gardens, the 15 museums and other, mostly architectural sights that make the park so special as far as we are concerned.
In Balboa Park, you can easily spend half a day having a great time. It is a fabulous spot for a walk, a bike ride or a picnic. One of the walks you can do there is through "Palm Canyon": a tropical oasis with no fewer than 58 species of palm trees. It is a fairy-tale walk along winding paths and wooden footbridges through a shady, lush canyon.
This park hosted major exhibitions in 1915 and 1935. The permanent exhibition buildings are a welcome reminder of this. One such building is the Botanical House. This magnificent structure contains over 2,100 unique plant species. Together with the beautiful pond with lilies and lotuses, this is one of the highlights of the park that you'll have to see. Another highlight from 1915 is the California Tower. You have a fantastic view here of just about the entire park.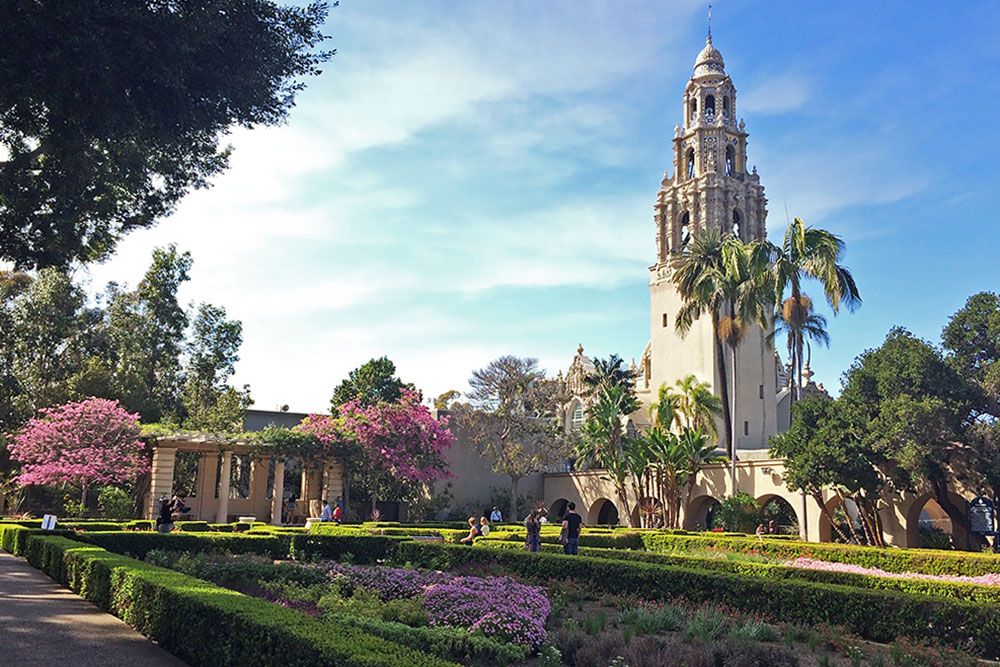 La Jolla
One of the neighbourhoods you absolutely must see is the posh La Jolla neighbourhood. This district is located on a rocky headland jutting out into the Pacific Ocean. When you think of La Jolla, think of beautiful coastal landscapes full of little bays where you can see seals and sea lions sunbathing on the sand but also charming cafés, boutiques and particularly good restaurants. Definitely a fine place to end the afternoon if only for the beautiful sunset.
Incidentally, from La Jolla you can also easily reach the famous Torrey Pines. This 2000-hectare nature reserve has a rugged coastline with high cliffs. A better view of the ocean is hardly imaginable especially during the whale season from December to April, when these sea giants swim by. The park offers beautiful hikes. In addition – for the golfers – there is an unprecedentedly beautiful public golf course.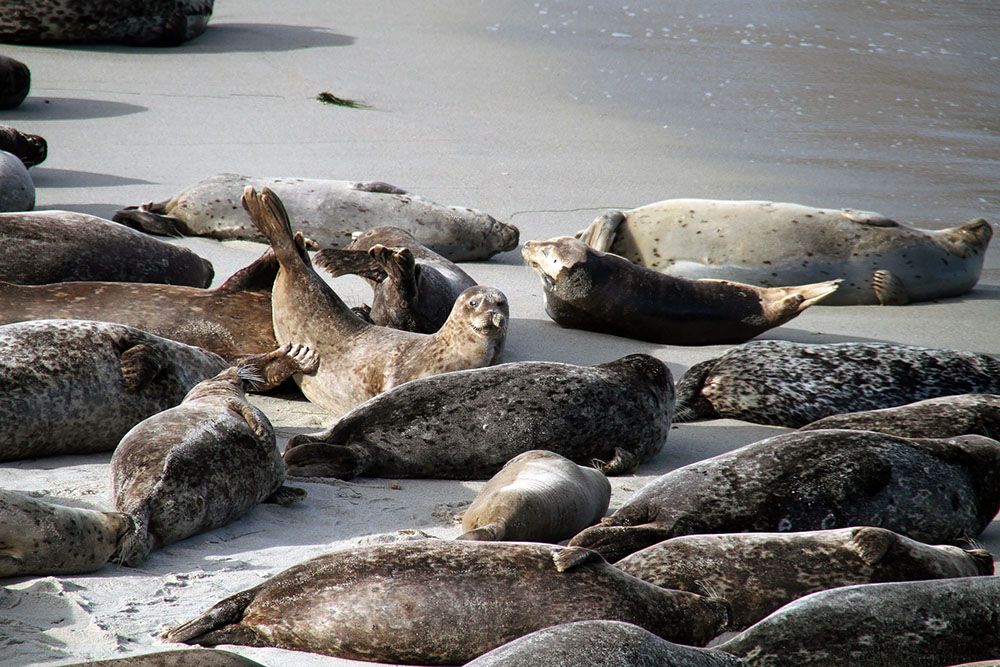 Seaport Village and the USS Midway
Just south of the "Embarcadero" (the mooring pier for cruise ships and others) is the Seaport Village shopping centre. This shopping village is just a bit too touristy for our taste, but still nice to have been there for a while. Indeed, you have many cosy-looking restaurants and cafés, each with a view of the bay. In summer, there is live music at the weekend.
Near Seaport Village is an absolute must-see: the USS Midway. This is the longest serving aircraft carrier in the world. Commissioned in 1945, the ship was still deployed in the Vietnam War and during Operation Desert Storm. Since the aircraft carrier was permanently docked in 2004, it is a particularly interesting, interactive museum. You not only get to see historical flying equipment, but also, for example, the galley, sleeping quarters and engine room.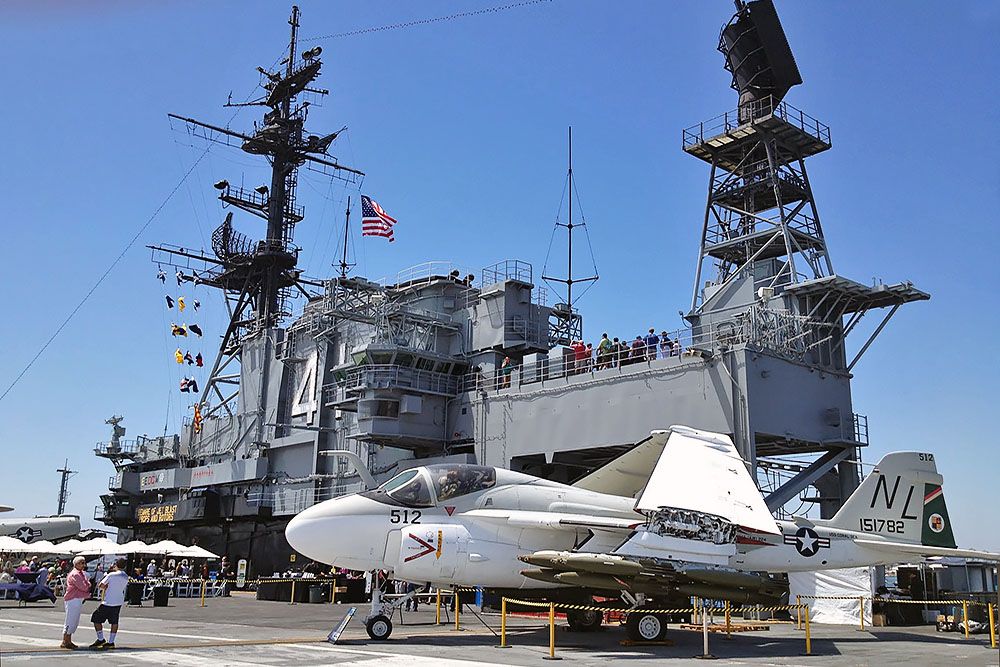 Coronado
Across the water seen from Seaport Village is the Coronado Peninsula. It is not a suburb of San Diego but its own city. The easiest way to get there is via the iconic, over-3,400-metre-long San Diego Coronado Bridge. By rental bike, for instance! The island is particularly famous for its naval base, but best known among tourists for its amazing beach.
Coronado's pride and joy, by the way, is the Hotel del Coronado: a beautiful Victorian-looking hotel on the beach. Opened in 1888, the hotel was then the largest resort hotel in the world. Among others, Charlie Chaplin, Clark Gable and no fewer than 16 US presidents have once spent the night there. Daily tours of over an hour are available through the building and ornamental gardens.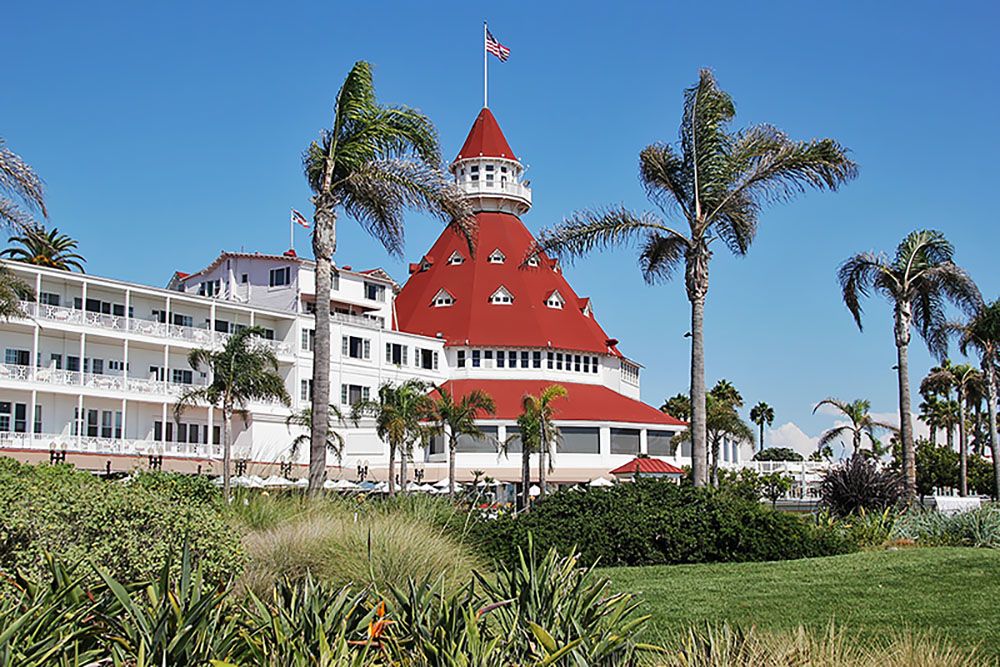 Point Loma and the Cabrillo National Monument
West of San Diego Bay lies Point Loma: a long rocky peninsula with beautiful, rugged nature and fantastic views. It was here where the first European expedition set foot to West America in 1542. There are some memorials and national cemeteries there. But apart from that, this is the also the place for hikers and whale watchers.
While here, also visit the lighthouse that is now an interesting, small museum. But don't forget the Cabrillo National Monument either. From the monument, you get perhaps the most beautiful view of the San Diego skyline. On clear days, you can even see the mountains of Tijuana in Mexico from here! Near the monument, by the way, are also the tide pools. There are some nice walks you can do here.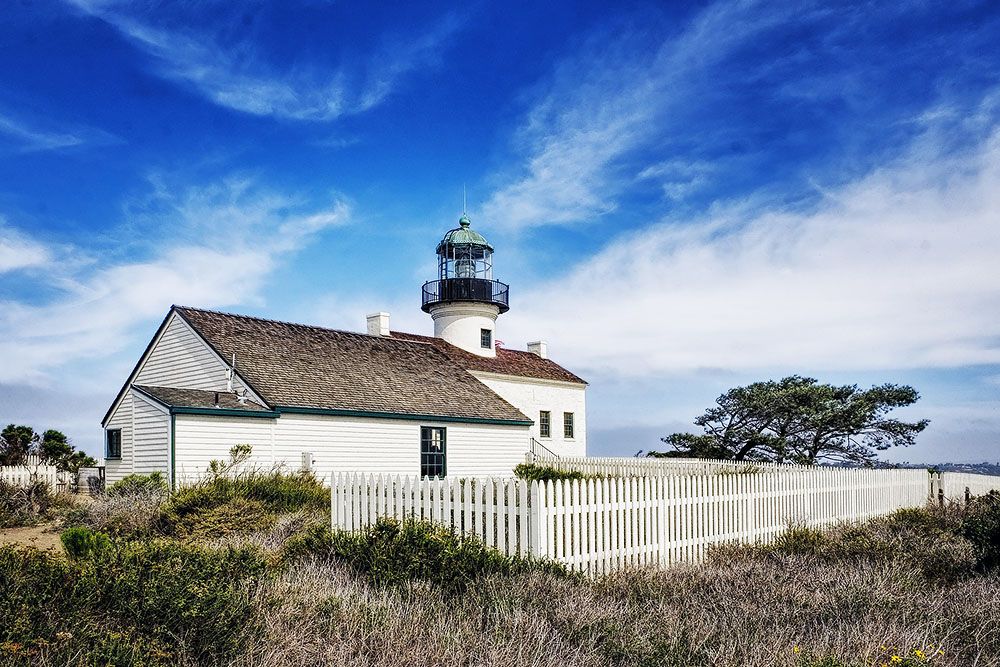 Petco Park
Petco Park is the baseball stadium of the San Diego Padres. The stadium is one of the nicest American baseball stadiums. Even if you have little or nothing to do with this popular sport, a visit to the stadium is a must. Especially when the Padres are actually playing. The stadium is then all conviviality with (fun-loving) enthusiastic fans, delicious food and craft-brewed beers. A Padres game is obviously more than just baseball, it's a super fun experience! Order your tickets to a Padres game here.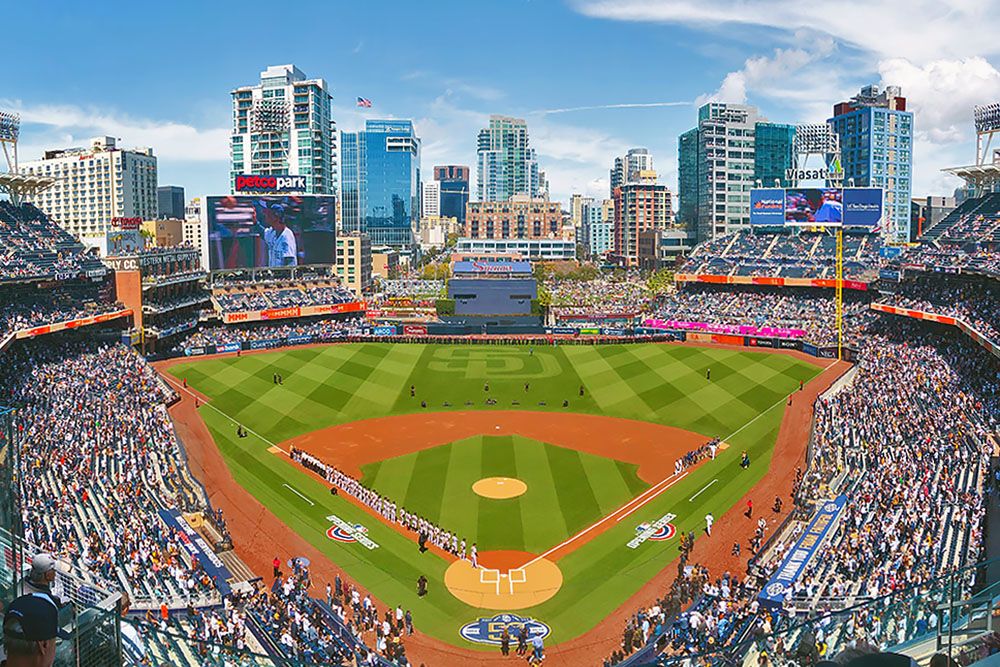 Petco Park
Practicalities for a city break to San Diego
Here are the answers to frequently asked, practical questions about San Diego.
What is the best time for a city break to San Diego?
Thanks to its mild Mediterranean climate, San Diego is a great destination for a city break all year round. However, you do regularly get cloudy weather in May and June. The summer months can be quite hot, especially if you go more inland. In the winter months, although it is mild, the chances of precipitation are also higher. In that respect, March, April and October are the best months to visit. Incidentally, we were there in September and found it extremely pleasant during the day but it cooled down considerably at night. So keep that in mind.
What is the best way to get around San Diego?
San Diego has an excellent public transport network of trams and buses. If you want to travel by public transport, it's best to take the Premium Regional Pass: for $12 you can use all buses and trams for a day. Just keep in mind that the bus and tram lines are not always well connected. In that sense, travelling by your (rental) car is often a convenient alternative.
Perhaps even more fun and definitely better for the environment is to get yourself around by bike. San Diego is a bicycle-friendly city with a surprising number of bike paths and routes. In the city, for instance, you have the approximately 38-kilometre-long Bayshore Bikeway: a fun route along the water from downtown to Coronado. More than half of the bike path is completely car-free. Also check out the map in Google Maps with bike paths in San Diego. There are many locations where you can rent a bike. Most rentals have a wide range, often consisting of ebikes, mountain bikes and city bikes.
How many days should I set aside for a city break to San Diego?
You will need at least two to three full days to see most of San Diego's interesting sights. Do you also want to see one or more theme parks around San Diego, such as SeaWorld? Then plan for at least three full days.
Where should I be to have a nice meal or a drink?
Almost every neighbourhood in San Diego has a wide variety of restaurants, from oriental or Mexican to Italian or seafood. If you are in the mood for fish (or even fish tacos!), Mission Beach and Ocean Beach are the place to be. If you want really good food, go to the La Jolla neighbourhood by the sea. But you can also find many excellent restaurants downtown. Here you can also find authentic Mexican food. For sophisticated cuisine, by the way, you should go to Little Italy.
If you like speciality beers, San Diego is the place to be. There are more than 100 breweries in the city. Many include a restaurant and many also organise beer tastings.
What is some good accommodation in San Diego?
San Diego offers a particularly wide choice of accommodation. Let your choice be guided by which neighbourhoods you prefer to stay in. For example, because that is where most of the sights are. Or because you get the best view of the sea there. Then choose your accommodation type. Such as bed & breakfast, luxury hotel or resort, flat or motel. Below, you will find the range of accommodation for a few large districts:
Special tours in San Diego
Book special tours with our partner GetYourGuide here. We earn a modest commission for your booking at no additional cost to you. The commission helps us maintain this travel blog.
You may also be interested in