Maui is the second largest and, as far as we are concerned, one of the most beautiful islands in Hawaii. The island was created by the merging of two volcanoes. Here you will find diverse microclimates with unique flora and fauna. Between the two volcanoes lies a narrow, fairly flat valley where Maui's main towns are located. What makes the island a fantastic tropical holiday destination is its versatility. For instance, you can go on the most beautiful hikes through the unprecedentedly fabulous nature of the dense, tropical rainforest. But if you are more in need of some relaxation, you can enjoy beautiful beaches, for example. Or one of the many good restaurants to be found on Maui.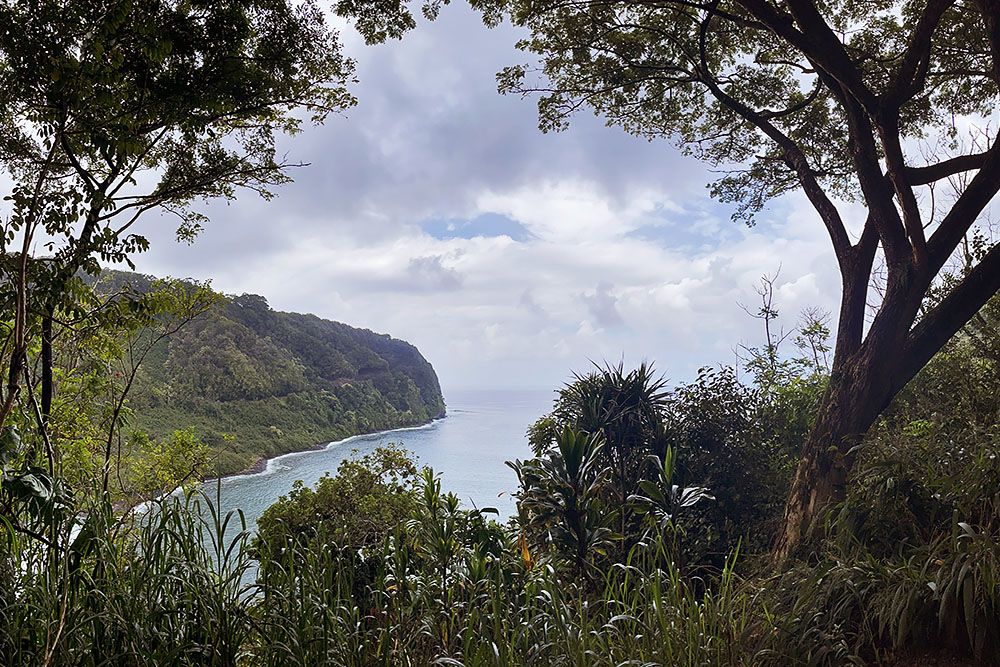 The most beautiful hikes on Maui
Maui offers fantastic hiking opportunities, from laid-back routes along the coast or through bamboo forests to more challenging trails through mountainous terrain. Most hiking trails can be found in the east around Haleakala National Park. Or in the forest reserves of Ko'olau, Hana and Kalu but also in the west around the forest reserve of West Maui and near the Iao Valley you can find the most beautiful walks.
There are so many hiking trails on the island that you could easily spend several weeks on Maui. Don't worry if you can't spend that much time on the island. Because below we come up with our top 7 (in alphabetical order) to make the choice a little easier for you. Most routes have a link to the hike on alltrails.com, where you can find more details and the GPX track.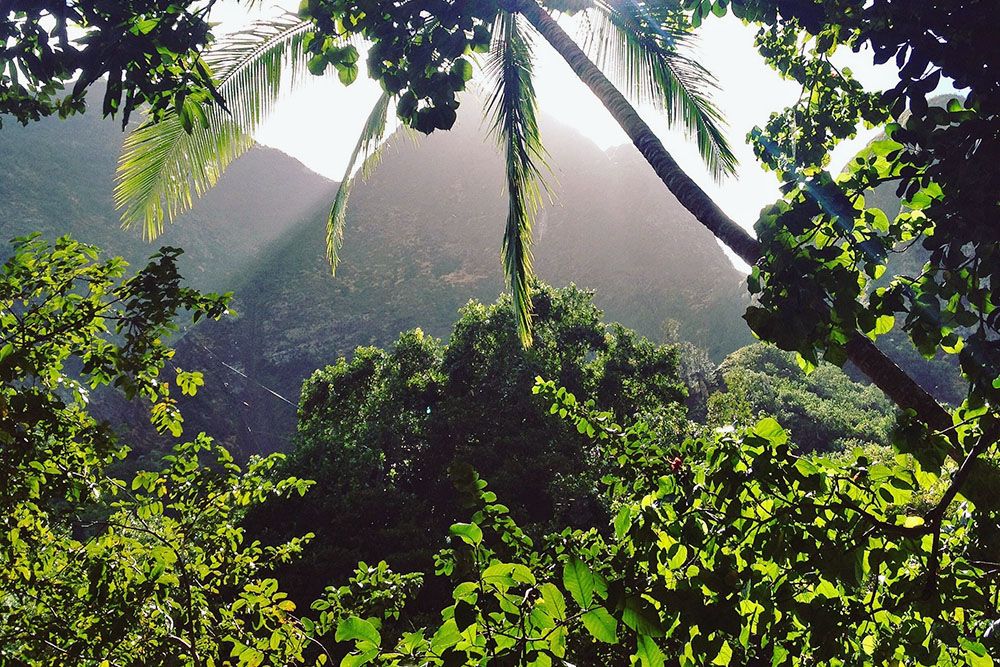 Iao Valley state Park (easy)
The Iao Valley is a fantastic hiking area in midwestern parts of the island. The lush green landscape of the valley is particularly famous for the 400-metre-high, pointed rock, the "Iao Needle". The easy hike of less than a kilometre leads through jungle full of beautiful, tropical plants. In the late 18th century, one of the most famous battles in Hawaiian history took place here. You can read more about it on the information boards. You have to pay $5 entrance fee for this hike.
Lahaina Pali Trail (intermediate)
The Lahaina Pali Trail in western Maui is a 15-kilometre trail with over 500 metres of elevation gain. Not easy for that reason, but the spectacular views of the island, the sea and the nearby islands make up for a lot. Especially in the winter months, the tip is to rest in a mountain meadow and watch the sea. After all, chances are you will see whales passing by!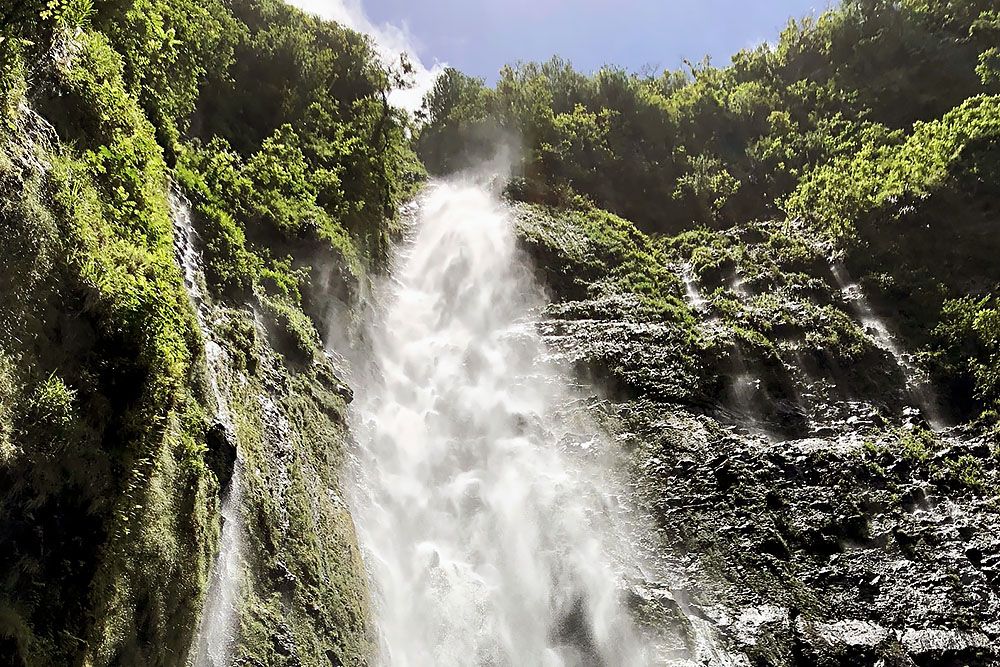 Pipiwai Trail (intermediate)
The Pipiwai Trail is located on the famous "Road to Hana" in Haleakala National Park. Start of the hike is near the beautiful Ohea Gulch (the seven sacred springs). You will find a huge bamboo forest and a beautiful banyan tree. The trail leads to two amazing waterfalls: the Makahiku and Waimoku falls. This is definitely one of our favourite hikes but unfortunately also one of many others. It gets crowded here pretty quickly so make sure you get there on time.
Sliding Sands Trail (challenging)
One of the most beautiful hikes on Maui does not even lead along the coast or to a beautiful waterfall. Instead, the nearly 18-kilometre-long Sliding Sands Trail takes you to the barren crater of Haleakala. In doing so, you will pass through an unusual, highly interesting lunar landscape of ancient lava, stark vegetation and cinder cones. Start the hike early in the morning to get ahead of the heat. Take plenty of water with you!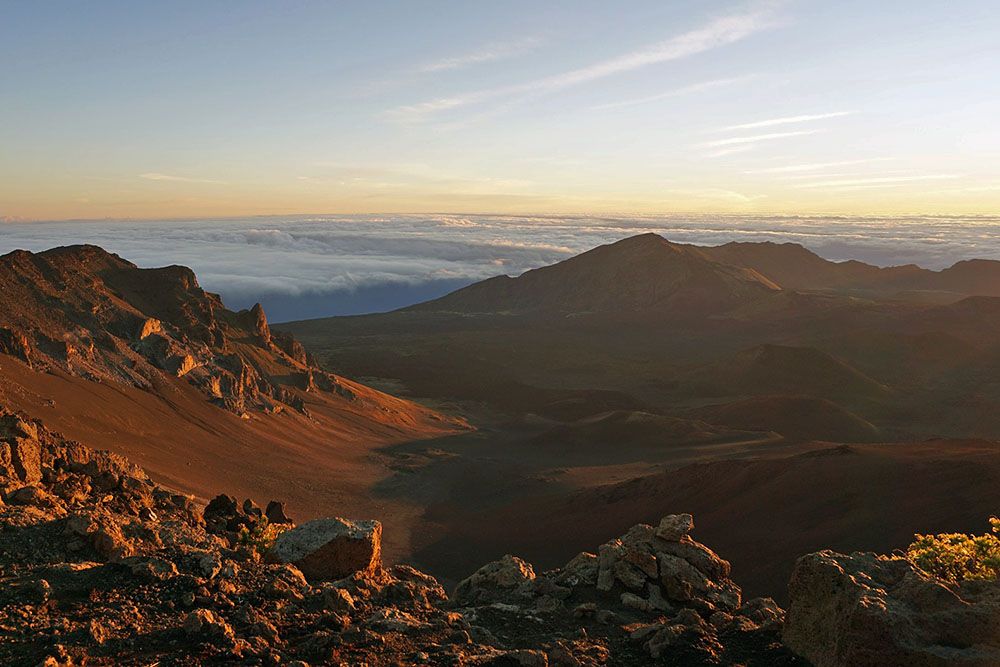 Twin falls (intermediate)
Along the "Road to Hana" are many hikes that lead to waterfalls. One of the most popular of those hikes is the Twin Falls Trail: an unadulteratedly beautiful hike to two small waterfalls. It is reputed to be an easy hike but due to the many roots, especially the way back is not easy everywhere. You can get fresh fruit at the car park. Delicious!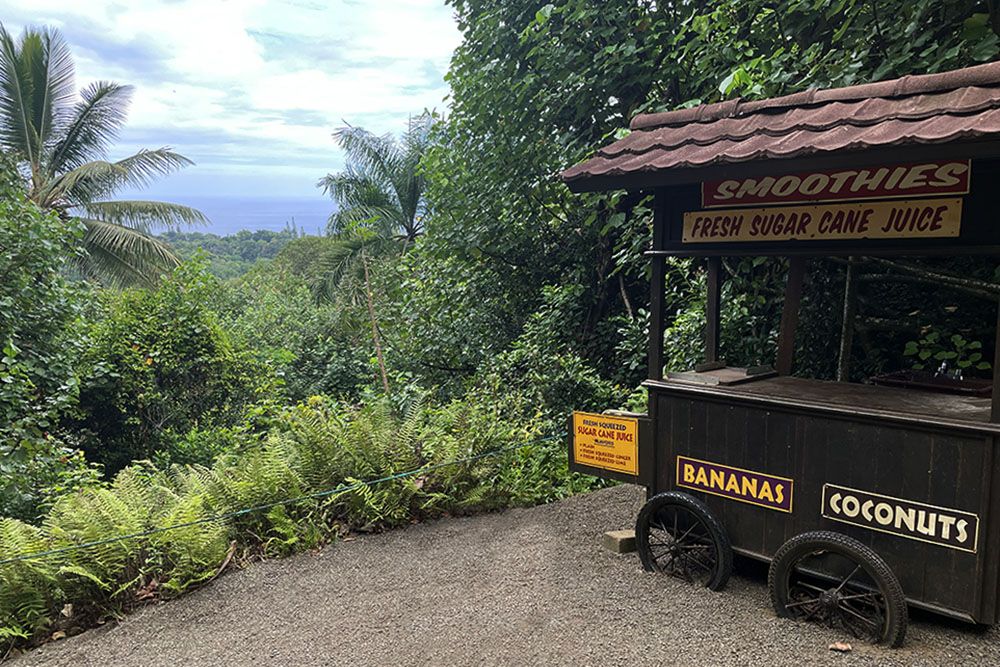 Waihee Ridge Trail (intermediate)
The Waiheʻe Ridge Trail in western Maui is a route for the more experienced hiker. Although the hike is less than seven kilometres long, it will easily take you 2.5 hours. This is because you have to conquer almost 500 metres of altitude. It is a very nice walk on a well-trodden path. Your final destination is Lanilili Peak where you have a beautiful view of a waterfall, the sea and the nearby island of Lana'i. Put on durable walking shoes for this hike and bring plenty of water.
Waikamoi Forest Ridge (easy)
Still fairly at the beginning of the "Road to Hana" is the Waikamoi Ridge Nature Trail. As the name suggests, this is a hike through Maui's beautiful, lush green nature. It is a short hike through a small bamboo forest and a large rainforest. Easy in itself, except if it has rained heavily shortly before. The trail then turns into a slippery mud path.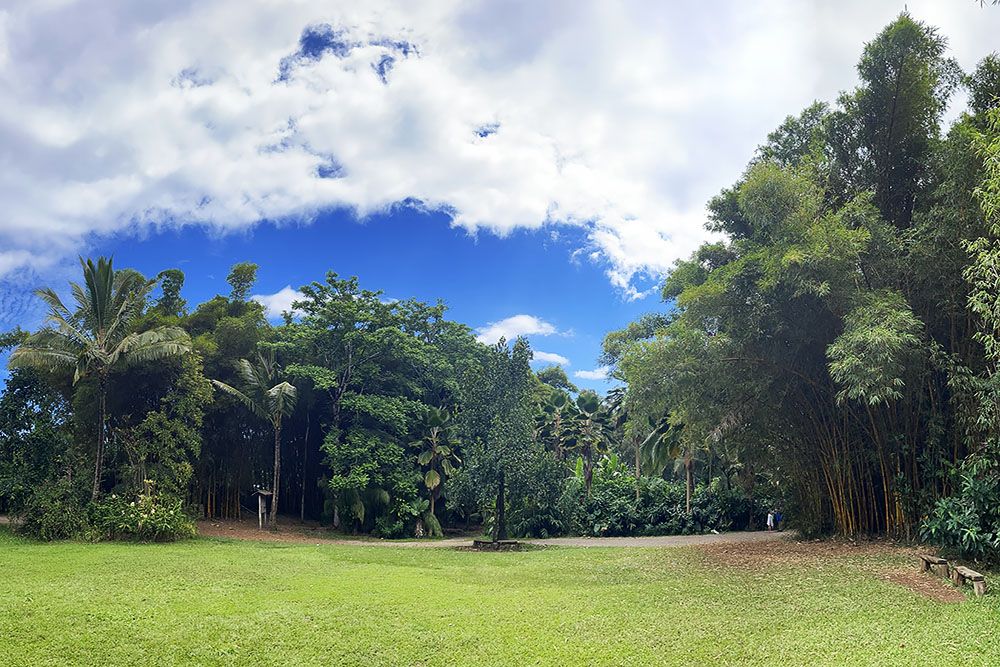 Other activities on Maui
There is much more to do on Maui than just hiking. For instance, there are no fewer than 14 fine golf courses. You can also go mountain biking, diving, snorkelling, kayaking, swimming, fantastic shopping and, of course, surfing.
In the winter months, especially in February and March, Maui is the place for whale spotting. Thousands of humpback whales migrate to Hawaii's warm waters then. One of the providers of whale safaris is the Pacific Whale Foundation. This foundation is committed to protecting the marine world. All profits from their cruises support marine research, education and conservation programmes.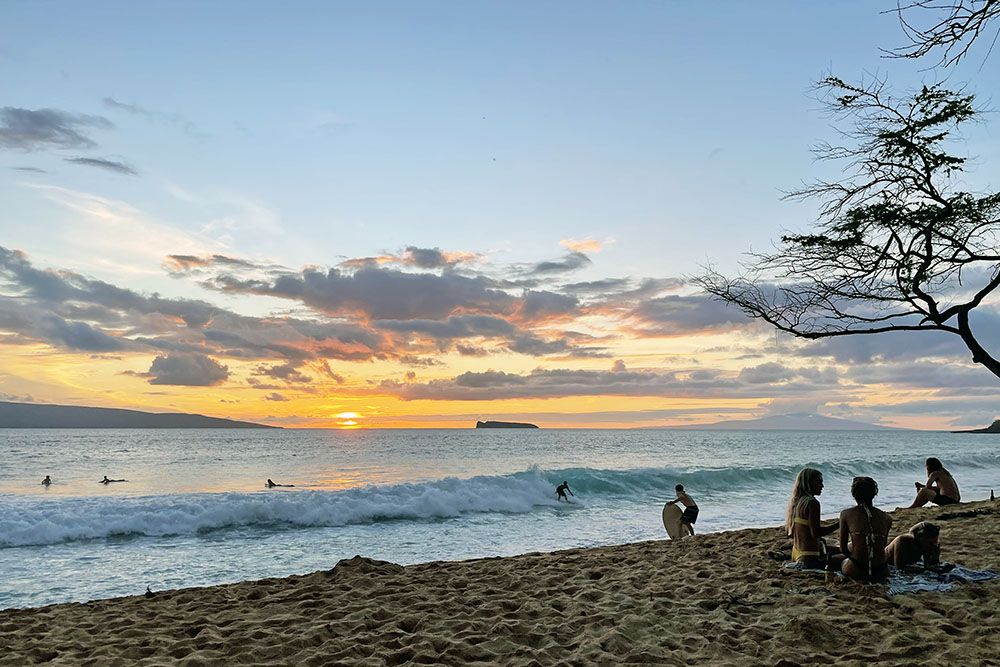 Road to Hana
What should not be lacking in any case from your visit to Maui is a road trip on the "Road to Hana". This drive along Highway 36 to Hana in the east is the most beautiful coastal route we have ever driven in our lives! The road winds along steep ridges through tropical jungle all the way to Hana, the easternmost point of Maui. Along the way, you pass dozens of waterfalls and amazing viewpoints. Along the route are numerous hiking trails. We have described some of them above.
In principle, it is possible to drive around the entire eastern part of Maui in one day. However, you will be in the car all day and barely have time for hiking. The tip is therefore to stay overnight in Hana. There is not much accommodation here so it is important to book in time. Keep in mind that especially in the rainy season, the road may be closed after Hana due to flooding.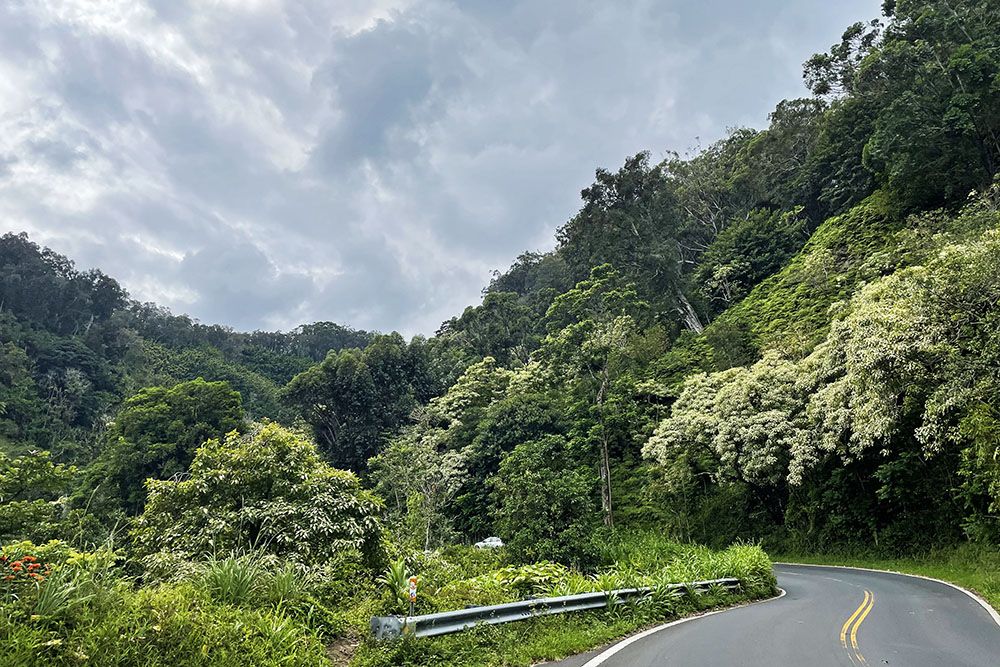 Frequently asked questions about visiting Maui
What is the most beautiful island in Hawaii?
Tricky question to answer as tastes (read: areas of interest) vary enormously. Many people think Kauai is the most beautiful island in Hawaii. We can see why. Yet we also find parts of Maui exceptionally beautiful like the coastal road to Hana. The interior part of Oahu is also fantastic if you like steep, jungle-covered ridges. And if you are intrigued by active volcanoes, you really need to go to Hawaii (Big Island).
How many days should I set aside for Maui?
If you visit Maui (also) to play a lot of golf and/or enjoy the beach life there, set aside at least a full week for the island. If, like us, you come there mainly to hike, count on about four days. Incidentally, Maui lends itself perfectly to a hiking holiday that involves island hopping in Hawaii.
The easiest (and cheapest) way to reach Maui is by plane. This can be done directly from the mainland US, but most travellers fly to Maui from Oahu. Frequent flights with Hawaiian Airlines between the islands are surprisingly cheap.
What is the best way to explore Maui?
Although you can explore Maui by public transport, many places are not accessible by bus. For this reason, our advice is to rent a car. Car rental on the pricey island is relatively inexpensive.
What is the best travel time to visit Maui?
The best travel time to visit Maui is from April to early October. There is relatively little rainfall during these months and temperatures - including the sea water - are pleasant. If you come to the island specifically for whale watching, January is better. June and July are the busiest and therefore the most expensive months.
What is there to see and do on Maui?
Maui's main attraction is its breathtakingly beautiful nature. The "Road to Hana" is the most beautiful round trip we have ever taken in our lives. On the drive, you meander through the tropical rainforest located east of the island, passing cliffs, idyllic coastal towns and hundreds of waterfalls. Along the way, you can take fantastic walks and enjoy unprecedented views. But the west of the island also offers excellent hiking opportunities.
Besides hiking, Maui offers countless good opportunities for golfing, mountain biking, diving, snorkelling, kayaking, swimming, shopping and, of course, surfing. And in the months of February and March, Maui is the best location in Hawaii for nature-friendly whale watching. During those months, thousands of humpback whales pass the island.
What are good accommodations on Maui?
There is an extraordinary amount of good, but also relatively pricey, accommodation on Maui. They range from guesthouses, bed & breakfasts and flats to the most luxurious resorts and holiday villas. Most accommodation is on the west coast of the island, where there is less rainfall. We ourselves stayed at the pleasant Days Inn by Wyndham Maui Oceanfront. This relatively affordable hotel is fantastically located on a beautiful sandy beach and reasonably close to supermarkets and shopping malls.
You may also be interested in