Hiking fun in Joshua Tree National Park
Hiking fun in Joshua Tree National Park
About 2.5 hours' drive from both Los Angeles and San Diego is Joshua Tree National Park. This nature reserve, encompassing a total of nearly 800,000 acres, is best known for the many yucca-like trees that grow there: the so-called "Joshua trees". The park is very popular among hikers, like us, and nature lovers in general. But sometimes you will also find a stray U2 fan. You can read why that's the case at the end of this blog. First, we'll tell you why the park is absolutely worth a visit.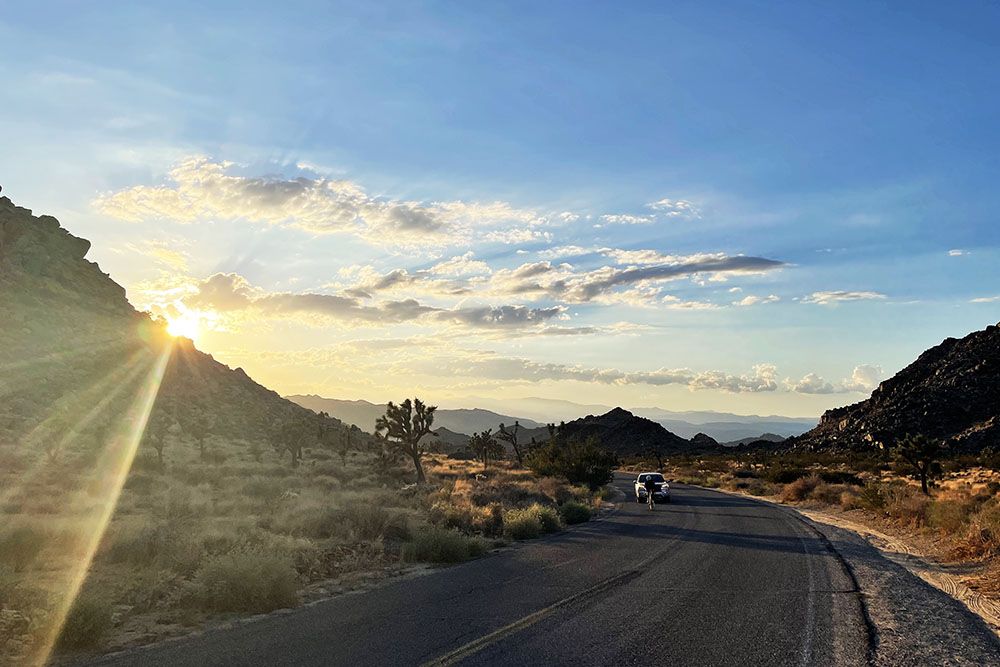 What makes Joshua Tree National Park special
At one of the park's three main entrances, we strike up a conversation with a staff member. We ask him for tips. For instance, we want to know what we should definitely see. In addition, we are curious to know what the fun, unique sights are to see once you have seen the main attractions. The friendly staff member points out that our second question in particular is a tricky one. People come here for different reasons. Some come for the bizarre landscapes, others for the wildlife or solely for the special flora. Still others come to find themselves. And there are also visitors who simply want to go for a nice walk.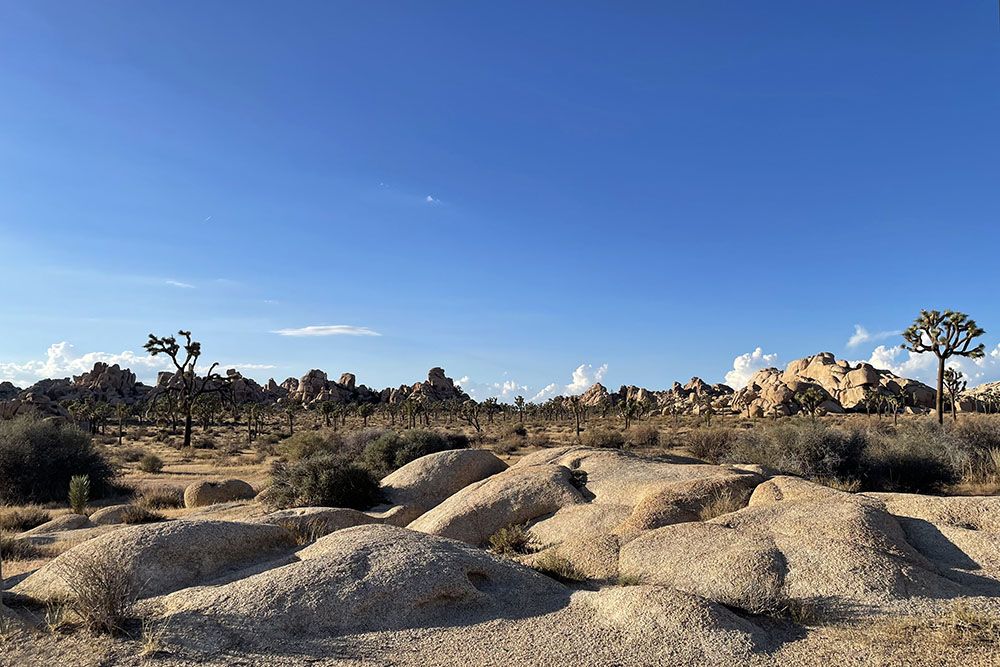 There is a lot to do in Joshua Tree National Park, but admiring the Joshua trees is the main attraction. As soon as we drove into the nature reserve in our hire car, it is really striking how bizarre those Joshua trees look. Technically, by the way, Joshua trees are not trees at all. They belong to the yucca plant family. It was itinerant Mormons who gave the name Joshua Tree to this plant species in the 19th century. This is because its shape reminded them of the prophet Joshua. Thus, the branches of the tree reach to the sky just as the prophet's arms do in the Biblical story.
A neatly constructed road winds through the hilly desert landscape. At every bend in the road, we stop the car to take pictures again. Not just of the giant yuccas, but especially of the landscape. Think palm-studded desert woodlands (where water occurs naturally), cactus fields, canyons and huge sculpture-like boulders. It is those huge rock formations in particular that we simply cannot get enough of. What a unique and bizarre landscape.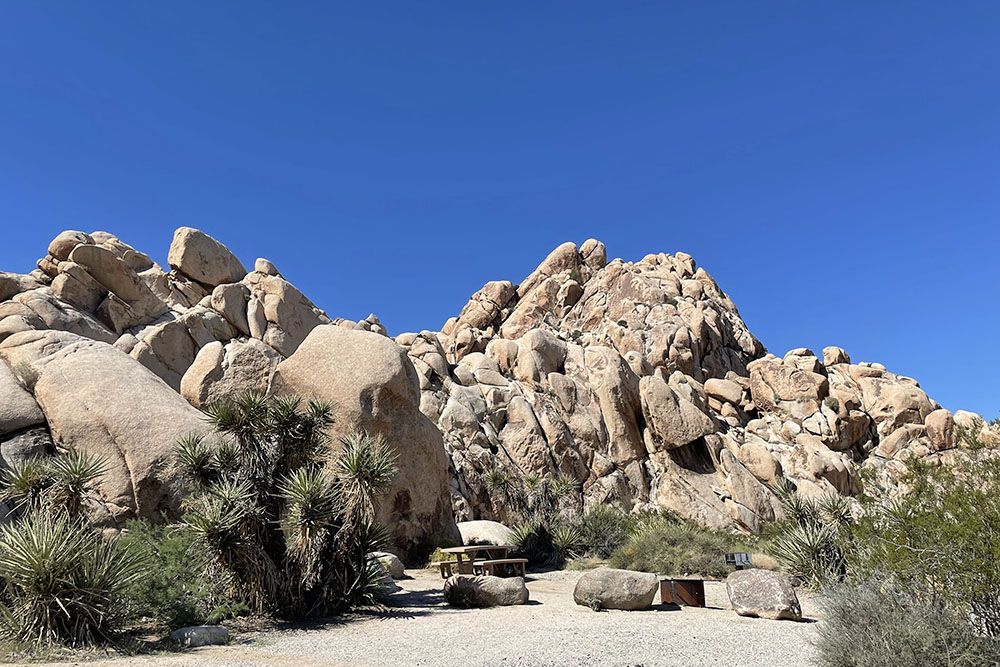 Flora and fauna in Joshua Tree National Park
Besides Joshua trees, the nature reserve also has many (other) unique plant species that are found almost exclusively in this part of the US. In the lower, southern part of the park (Colorado Desert), you will find Opuntia and shrubs, among others. In the higher, northern part (part of the Mojave Desert), you will find Joshua trees. But also Californian scrub oaks, Mojave yuccas, ocotillo, wig trees, junipers and many cactus and grass species. In spring, wildflowers cover the sand and cacti bloom in vibrant colours.
In terms of fauna, many species of lizard, tarantulas and rattlesnakes can be found. And furthermore, burrowing owls, vultures, ravens, American kestrels, desert thrush, ladder woodpeckers, troupials, golden eagles and roadrunners. Coyotes are also often spotted, as are rabbits, antelope squirrels and kangaroo rats. In addition, big-eared kit foxes and even bobcats occur. Most of the above animals are mainly seen early evening to early morning.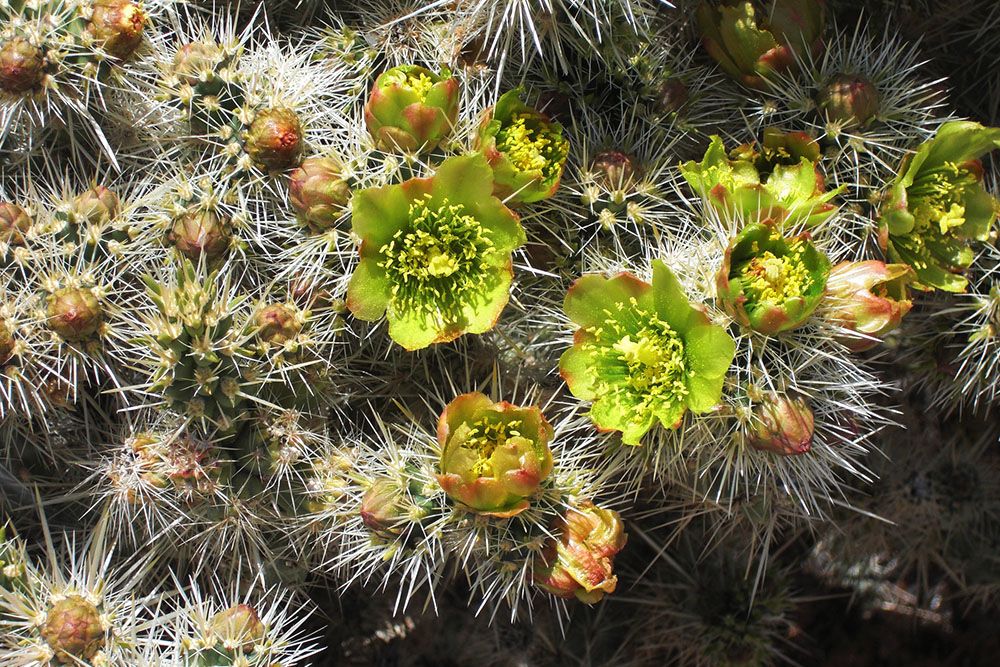 What to do in Joshua Tree National Park
The park offers rock climbing, bouldering, hiking, mountain biking, horseback riding, camping, visiting historic mines and oases, and so on. You can also take part in guided hikes for free, and interesting lectures and evening programmes provided by park rangers and volunteers. You will learn more about how people, animals and vegetation have adapted to survive in the desert. But also about the geology of the park.
Hiking in Joshua Tree National Park
The reserve offers fun, mostly short hikes. On the park's official website, you will find both an overview map and an overview of all hikes. On this page, you will also see some warnings for hiking in winter and in summer. The advice for summer is especially important to avoid heat stroke, among other things. Even though the walks are so short, take plenty of drinking water with you!
We walked almost all the short walks, except the one in the far south of the park. The nice thing is that almost all of them are really different. Even if you see lots of rocks and Joshua trees on each of those hikes. Can't make up your mind? These are our favourites: Barker Dam, Desert Queen Mine, Discovery, Hidden Valley, Skull Rock and Wall Street trails. But also the Black Rock Canyon Panorama Loop. You'll find a brief description of each trail in the overview above.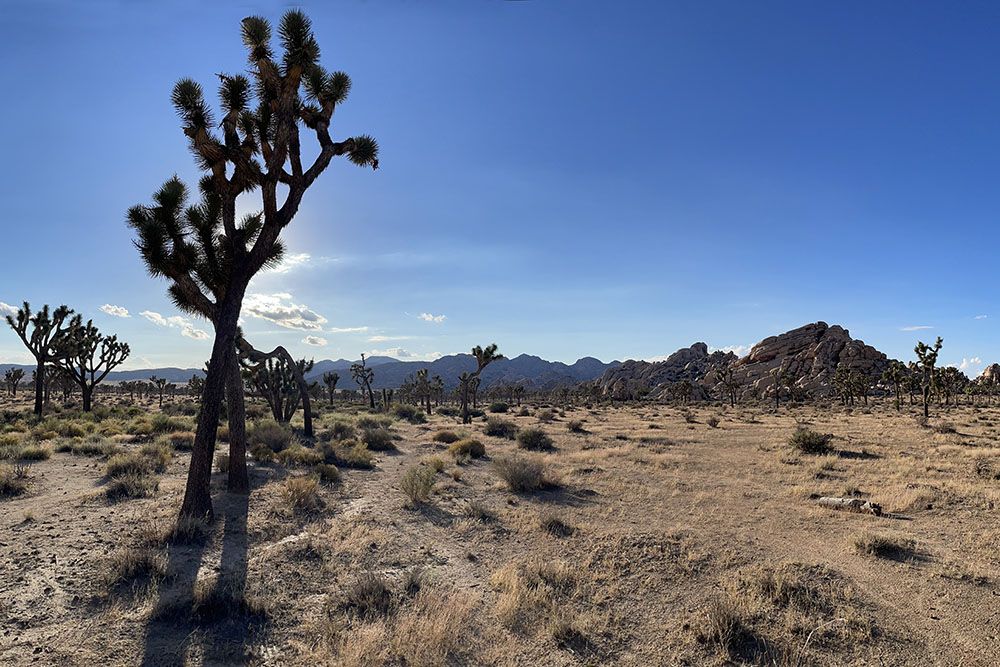 What you must have seen anyway in Joshua Tree National Park
In the reserve, there are some oases that are interesting to check out. Like Lost Palm Oasis, Fortynine Palms Oasis and especially Cottonwood Springs Oasis. You also have Barker Dam, which was built over a century ago to store water for livestock and mining. Nowadays, it is a place where you will find many animals because of the rainwater in the reservoir. The walk to it is one of our favourites.
Another must-see is the beautiful view at Keys View over the Coachella Valley. From the car park, you can walk straight to the viewpoint, which is almost 1,600 metres above sea level. It is a very popular spot to watch the sunset. On rare clear days, the view across the Salton Sea reaches as far as Mexico. When we were there, we did see Palm Springs but certainly no further than that.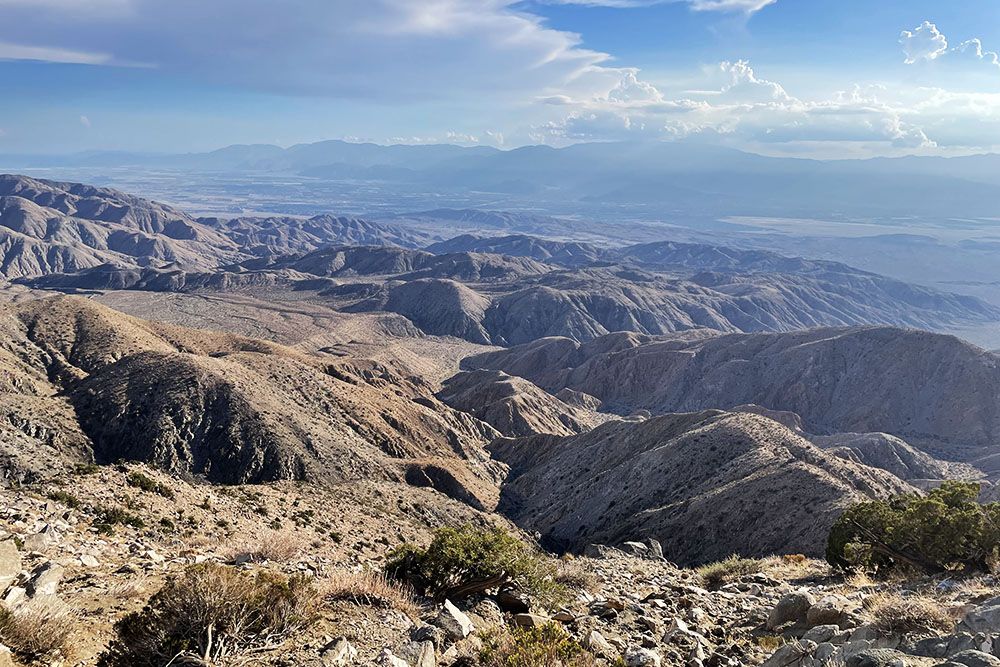 What is the story behind U2's "The Joshua Tree"?
In 1987, Irish rock band U2 released its best-selling album: The Joshua Tree. The back of the album cover features a picture of a lone Joshua tree somewhere in the middle of a desert in California. Dutch photographer Anton Corbijn took the picture back in 1980. He later presented the photo as an idea for an album cover. The band members of U2 were immediately enthusiastic.
Many fans have since gone in search of this lone Joshua tree. It was only in 2003 that the real location was discovered by a fan. Contrary to what many people thought, the tree was not in Joshua Tree National Park, nor in the immediate vicinity. "The Joshua Tree", which is now dead, was instead found near Death Valley National Park. A plaque has been at the tree ever since. The spot has become a pilgrimage site of sorts.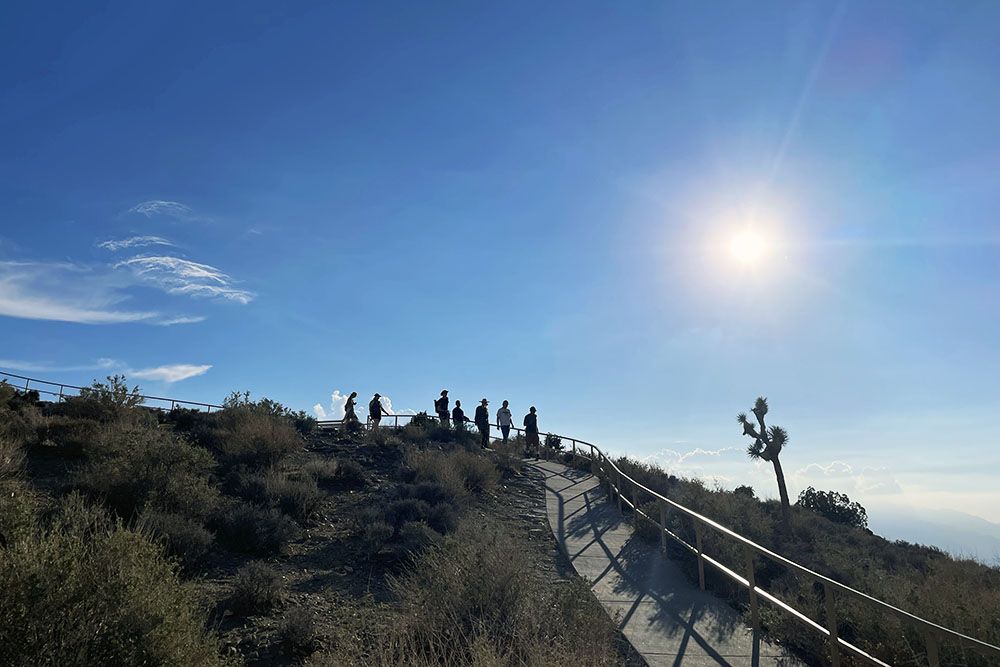 What you want to know to plan your visit to Joshua Tree National Park
How do I get to Joshua Tree National Park?
Joshua Tree National Park is located about 225 kilometres east of Los Angeles. For the northern entrances, namely at Joshua Tree Village and Twentynine Palms, take Highway 62 (Twentynine Palms Highway). For the southern entrance at Cottonwood Springs, take Interstate 10.
How do I get from A to B in the park?
The easiest way is just by car. The main roads through the park are neatly paved. Incidentally, several unpaved roads through the park are also fine to do with an ordinary car. There are plenty of parking places where you can park your car for a walk.
Many of the trails and roads in the park are also excellent for mountain biking. In high season, however, the main roads are not convenient because of the heavy traffic. You are not allowed to ride your mountain bike on the trails. For a nice mood impression, watch this video on YouTube.
Are there also petrol stations and shops in the park?
No, there is actually nothing in the park. So fill up your car completely before entering Joshua Tree National Park. And stock up on plenty of drinking water anyway (we drank a gallon a day) and also some food.
What is the best travel time to visit Joshua Tree National Park?
Spring and autumn are the best times of year to visit the park. In winter it can be really cold there, even with frost in the nights. In summer, on the other hand, it is often around 40 degrees during the day. We were there in early October when temperatures were particularly pleasant.
Is there any catering in the park?
There are no restaurants or shops in the park, but there are numerous establishments in Twentynine Palms, Joshua Tree and Yucca Valley. In Joshua Tree Village you have most of the cafes and restaurants. What surprised us is the quality of an Indian restaurant in the latter village. Highly recommended if you like this spicy cuisine.
Where is the best place to stay near the park?
Plenty of accommodation can be found in the towns of Twentynie Palms, Joshua Tree and Yucca Valley where you have the park entrances. By American standards, these are perfectly affordable!
You can also stay overnight in the park itself at one of the many campsites. With prices around $15 to $20, these are perfectly affordable. Bear in mind that there are often no facilities. Not even water. However, there are clean toilets. More information can be found on the park's official website. You can also book your spot here.
You may also be interested in