Milan is a city often skipped by tourists on their transit to the Great Lakes. Yet this millennia-old city has much to offer. During World War II, Milan was badly damaged by bombings. But in the decades of reconstruction, Italy's financial capital managed to make an excellent recovery. Today's Milan is a thriving, cosmopolitan city full of historical and modern attractions. The former capital of the Western Roman Empire is also the place for fashion and shopping enthusiasts. And, of course, for the football-loving travellers among us. But Milan is also a great place for culture vultures. Reason enough to visit the many highlights of Milan during your stay in the north of Italy!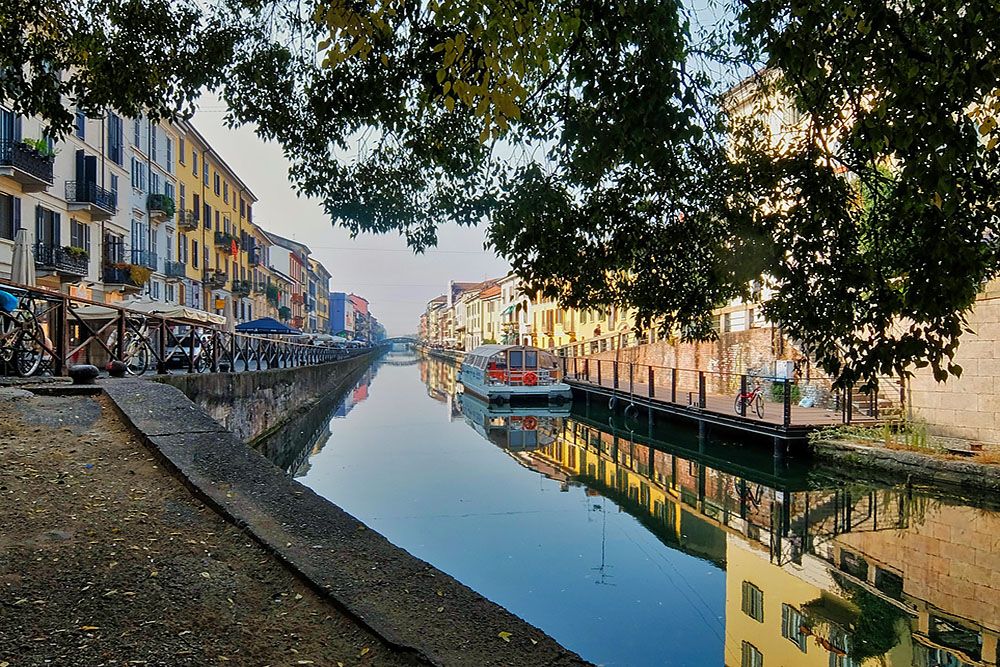 The highlights of Milan
There are many wonderful sights in Milan. Think beautiful ancient churches and palaces, excellent museums, theatres and an absolutely world-class opera house. But also modern, architectural gems and beautiful streets and squares. Don't miss the following highlights on your visit to Milan:
Duomo Cathedral
Milan's Duomo (Cathedral) is one of the city's biggest tourist attractions. The monumental cathedral is the largest church building in the world after St Peter's in Rome and Seville Cathedral. Construction began in the late 14th century, but work was not completed until 600 years later.
The cathedral is an architectural masterpiece. Both inside and out. On the outside, you have many impressive gargoyles, 2,300 white marble statues and 136 pinnacles. Furthermore, the heavy, bronze doors contain beautiful decorations that tell of Milan's history. But the absolute highlight on the outside of the Duomo is the roof terrace. Here you have an unprecedented view of Milan. On a clear day, you can even see the Alps. You reach the terrace by stairs or lift.
With its five opulent naves and 52 columns (one for each week), the inside is also well worth a visit. Among the columns, you will find several works of art and some particularly elaborate sculptures. You can also admire beautiful, colourful stained-glass windows, sarcophagi and tombs of several archbishops. And a crucifix made by the master Leonardo Da Vinci himself. Behind the choir is the cathedral's treasure chamber. In it lies much medieval gold and silver.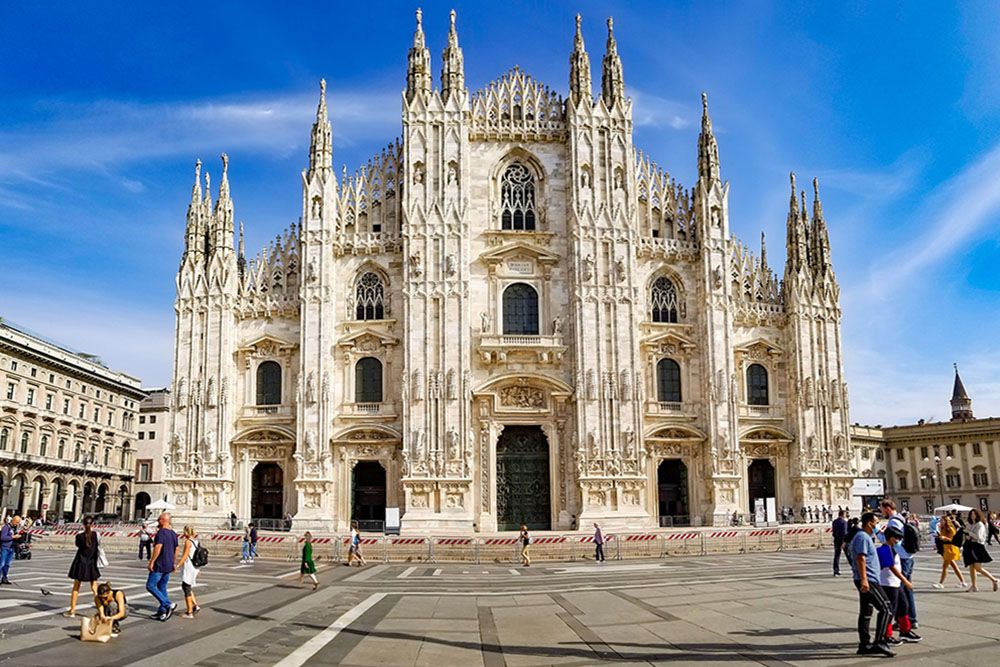 Santa Maria delle Grazie
Milan has some of the oldest churches in Italy. They are often even older than those in Rome. This is because Milan was the capital of the northern part of the late Roman Empire. One of the ancient churches is the 15th-century Santa Maria delle Grazie. Not for nothing is the house of worship on the UNESCO world heritage list. In fact, the church's refectory houses Leonardo da Vinci's fresco of The Last Supper.
Tip: this iconic, sublime masterpiece is so famous that you need to book well in advance to admire it. Book a 'skip the line' ticket once you've booked your city break.
Castello Sforzesco
The 14th-century Castello Sforzesco is an elegant and impressively large castle. This actually only becomes visible when you enter the central courtyard. The castle is particularly famous for the workshops Leonardo Da Vinci gave there during the Renaissance. Apart from the castle itself, there is a large number of small museums and collections. They contain many interesting objects and historical information about the castle and Milan.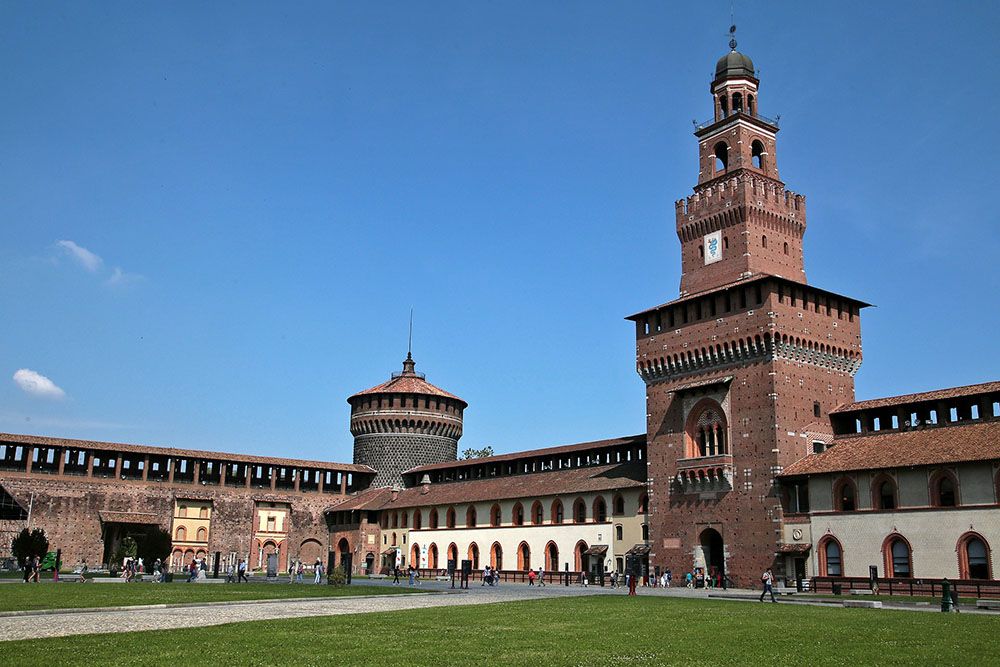 Grand Galleria Vittorio Emanuele II
The Grand Galleria Vittorio Emanuele II is an extravagant 19th-century mall with beautiful arcades. As soon as you walk into this mall, you get more the impression of being in the hall of an opera house or palace. You will find shops from chic brands such as Louis Vuitton, Prada and Versace. Unsurprisingly, you won't find any bargains in this mall.
The squares of Milan
As in many other Italian cities, you have beautiful squares in Milan. The most famous is Piazza del Duomo, in the heart of the historic centre. There is a host of top-quality shops, restaurants and bars. The square is a perfect starting location to explore the rest of the historic centre. Keep in mind that this is where most tourists are, resulting in high prices at restaurants.
For a quieter and smaller but equally beautiful square, head to Piazza dei Mercanti. This square was Milan's trading centre during the Middle Ages. Along the square are several beautiful buildings that played an important role in earlier times. Like the Palazzo della Ragione, which was the market hall, city hall and palace of justice. Another interesting, historic building is the Loggia degli Osii from the early 14th century. From the balcony, verdicts were pronounced by Milanese judges at the time. The beautiful balcony is decorated with an eagle holding a prey. This symbolised justice.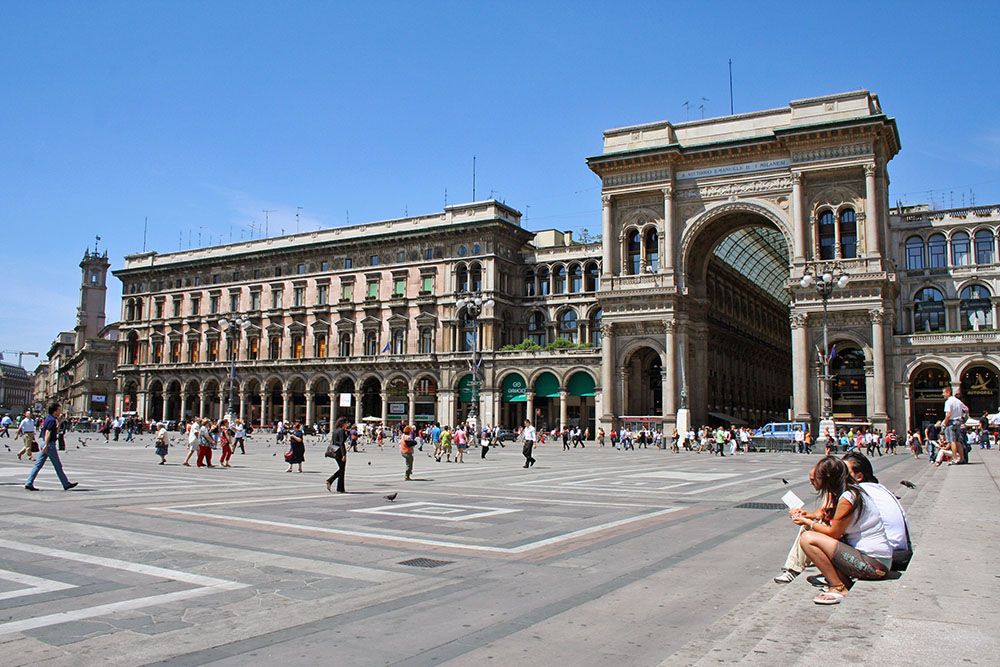 Museums
For art lovers, Milan offers a wide variety of art museums, mainly from the Italian Renaissance and Baroque periods. A great example is the Brera art gallery (Pinacoteca di Brera). Here you will find some of the finest artistic works in Europe. The art gallery is housed in the Palazzo Brera, a former monastery. In the early days, you also had a cultural centre set up by the monks there. And a school, an astronomical observatory and library. One of its most famous masterpieces is Raphael's 'Marriage of the Virgin Mary'. You'll also find the very famous masterpiece 'Last Supper at Emmaus' by Caravaggio.
But besides the many art museums, you also have plenty of choice in historical museums. Like the Archaeological Museum of Milan, or the (other) small museums near Sforzesco Castle. What we also found to be a fantastic museum is the Leonardo da Vinci National Museum of Science and Technology. This museum contains many of his works but also a huge collection of other important scientific and technological objects. You will find collections including model cars made from da Vinci's drawings. And reconstructions of his flying machines.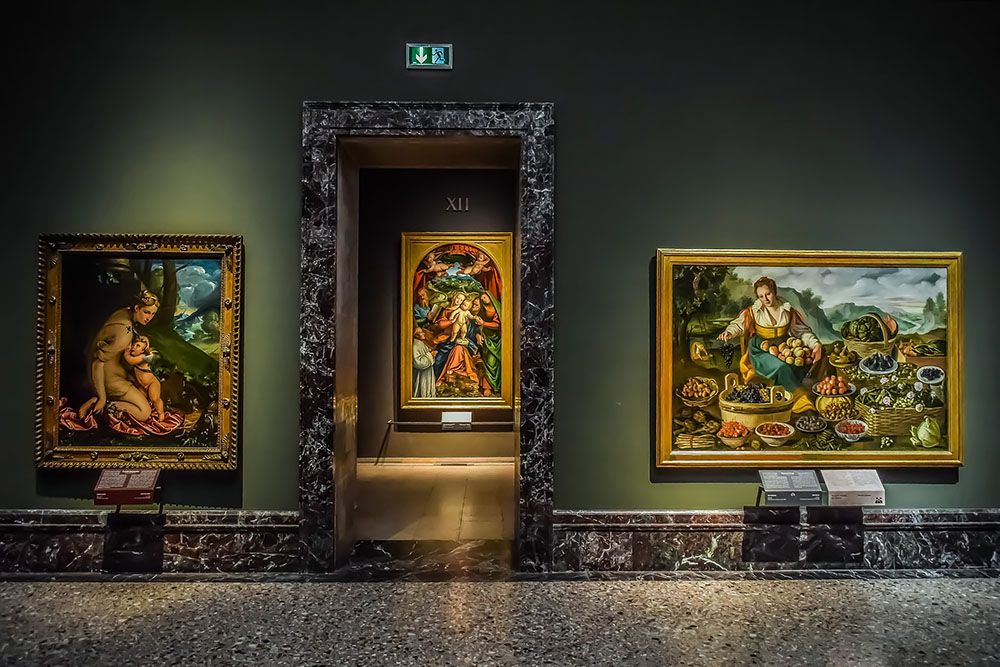 La Scala Opera
La Scala Opera is undoubtedly one of the most beautiful opera houses in the world. The grandeur of the main hall with its chic seats and magnificent stage definitely makes a visit worthwhile. Few operas in the world have hosted so many great artists. The Scala Opera owes this in part to its unprecedentedly good acoustics. If you have time, be sure to attend one of its fantastic performances!
San Siro Stadium
The San Siro stadium is probably one of the best known and most famous stadiums in the world. And with a capacity of over 80,000 spectators, it is also one of the largest in Europe. Both AC Milan and Inter Milan play in this impressive stadium. World Cup matches were held here in 1934 and 1990. In 2026, part of the Winter Olympics will take place there. At least if the new stadium on the same site is ready by then.
Book a guided tour of the stadium. You will see the dressing rooms, among other things, but you will also be allowed onto the pitch. Don't forget to visit the joint museum, too. You will find out more about the history of these two celebrated Italian clubs.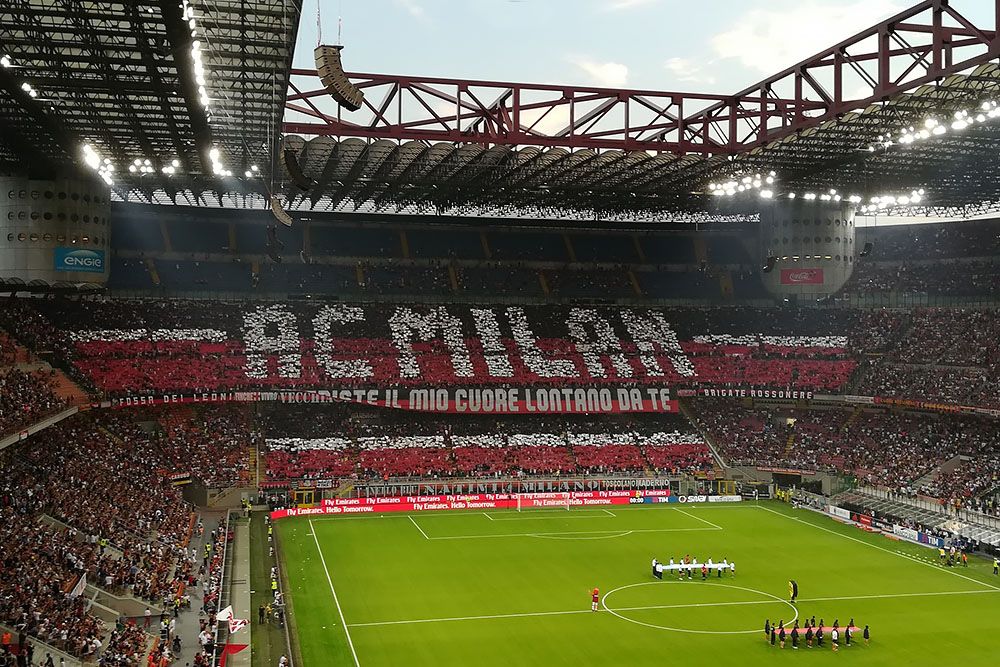 Parks in Milan
Although Milan does not have as much greenery as several other cities in Italy, there are several parks and gardens scattered around the city. The most visited park is Parco Sempione, which is also home to the Sforzesco castle. This delightful park from the late 19th century is beautifully landscaped. It contains a large number of footpaths, cycle paths and wooded areas. You will also find many sculptures and ornate fountains. The park is also home to the Torre Branca: a tall observation tower with panoramic views over the city.
The Brera district
This charming district north of the Duomo is the place to be for small clothing boutiques by up-and-coming designers. But in the cosy, cobbled streets with beautiful 18th-century buildings, you will also find many charming restaurants and bars. It's a great place to grab some food, drinks, shop or just stroll around.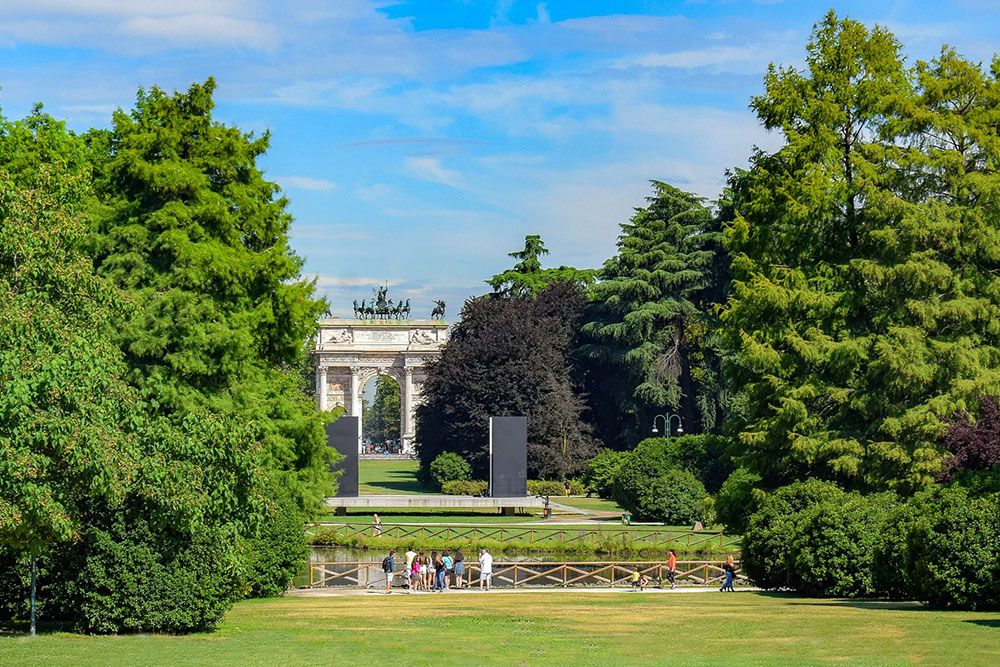 A bike tour along the many highlights of Milan
On a city break, we like to take a guided bike tour on the first day. For us, it is an ideal way to get a good impression of the city. Besides, we learn a lot of interesting facts about the city from the guide. Once we start visiting some of the highlights on our own, we know our way around. By then, we have quite a bit of prior knowledge. This greatly benefits our visit. As in many other big cities in Europe, this is possible in Milan at Baja Bikes. Accompanied by an English-speaking guide, you get to learn a lot about the city. You're sure to see Milan's main highlights in three to three and a half hours.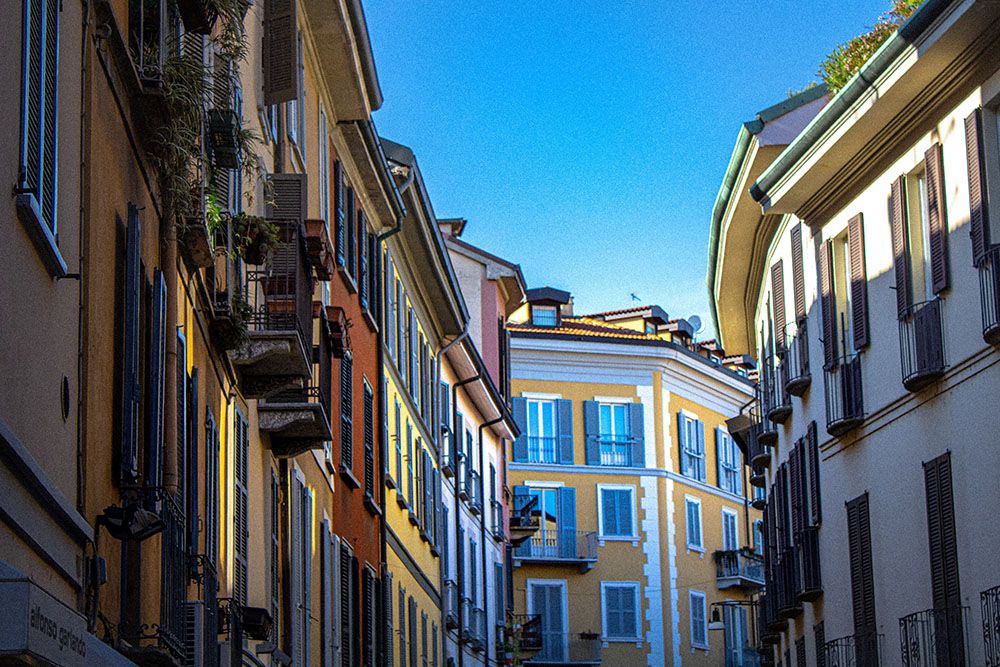 Practicalities for your visit to the many highlights of Milan
Flying is the easiest and quickest way. Many flights go to Malpensa and Linate airports. Malpensa is 40 kilometres outside the city centre. The train is then your fastest option to travel to the city. Linate is just 7 kilometres outside the city. There is a good bus service.
How do I get around Milan?
Although Milan is a large city, many of the main attractions are within walking distance of each other. On top of that, several of the city's highlights, such as Corso Vittorio Emanuele, are only accessible to pedestrians. If you want to see more of the city, a bicycle is an excellent means of transport. You can rent a bike from AWS and Rossignoli, among others. Visit the website bikedistrict.org to find cycle-friendly routes around the city.
Prefer public transport? Milan has a good metro network. A day ticket may be the most economical option. You also have a hop-on-hop-off bus in Milan. A bit more expensive than the metro but a fun way to see almost all the highlights of the city. And in the process - thanks to the audio tour - also learn something about the city!
What is the best time to visit Milan?
The best travel time for Milan is in spring and autumn. In the summer months of July and August, it can get oppressively hot. In addition, many shops and restaurants are closed in August due to their summer holidays. It is cold in winter, but Milan is really nice during the Christmas period.
How many days do you need to see the highlights of Milan?
You will definitely need two days to see the city's highlights. For some sights, it is wise or even necessary to book in advance. Like for a visit (without queuing) to the Last Supper Museum.
What should you definitely have seen in Milan?
Milan has many sights, including ancient churches and palaces, excellent museums and charming, historic neighbourhoods. What you shouldn't miss during your visit to Milan is:
The Duomo cathedral
Santa Maria delle Grazie, containing Leonardo da Vinci's fresco of The Last Supper
Castello Sforzesco with its many small, interesting museums
The glamorous Grand Galleria Vittorio Emanuele II shopping arcade
The graceful, medieval Piazza dei Mercanti
Some of the many, excellent museums. In any case, the Leonardo da Vinci National Museum of Science and Technology should not be missing from your visit
La Scala Opera, one of the most beautiful opera houses in the world
San Siro Stadium, the famous football stadium of both AC Milan and Inter Milan
The wonderfully peaceful and beautifully landscaped 19th-century Sempione Park
The charming Brera district with its cosy boutiques, restaurants and bars
Compared to many other, large cities in Italy, Milan is fairly pricey. Fortunately, there are many ways to save money and still have a fun city break. For example, instead of going to Duomo Square for a drink, go to one of Milan's many other, fun squares. And if you want to do some good shopping, visit the summer sales in early July. Furthermore, do you plan to visit a lot of museums and use public transport a lot? Then consider buying the Milan Pass. This pass gives you access to eight of the city's main highlights. Otherwise, you can travel by public transport or the hop-on-hop-off bus.
Where can I eat in Milan?
Milan is full of fun and mostly good places to eat delicious food. Here you can expect traditional Italian cuisine, with home-made ingredients and dishes. Throughout the city you will find trattorias, wine bars and (luxury) restaurants serving the tastiest Milanese and Italian dishes. But for quality at a reasonable price, you shouldn't be in Piazza del Duomo anyway, nor near the main train station. Instead, seek out the less touristy areas, such as the Brera district. Find a list of the best or most unusual restaurants in Milan here.
Where can I stay in Milan?
There are more than 5,000 hotels and flats in Milan to choose from. Let your choice depend on the neighbourhood you prefer. And whether there's parking, for example, if you're coming by car. In the city centre, try to avoid the area around the main train station as much as possible. The hotels there are clean and not too expensive. But the area, especially at night, is a bit restless and also a bit shabby.
Special tours in Milan
Book special tours with our partner GetYourGuide here. We earn a modest commission for your booking at no additional cost to you. The commission helps us maintain this travel blog.