Wellington, New Zealand's surprisingly fun capital
Wellington, New Zealand's surprisingly fun capital
One of our most favourite travel destinations is New Zealand. Thanks to the huge variety of landscapes and climates, we can have a great time here for many months. We found the cities we visited in New Zealand to be slightly less special than the rich, cultural-historical cities in Europe. Nevertheless, there are some cities that are absolutely worth a longer visit than a day (or even two!). For instance, as a home base for many trips in the beautiful surroundings. One such city is Wellington, the world's southernmost capital.
The country's second-largest city offers a mix of culture, heritage, fine restaurants, trendy bars, art galleries, cosy shops and nice cafes. This against a backdrop of hills, a rugged coastline and a beautiful harbour. And both within, but especially right outside, the city you have countless walking and cycling routes in the middle of beautiful natural landscape. In this blog, we'll describe some of the many highlights in the "Windy City".
Are you passing through by ferry to the South Island, or have you just come from there? Then plan two days in Wellington to see all the sights mentioned in this blog!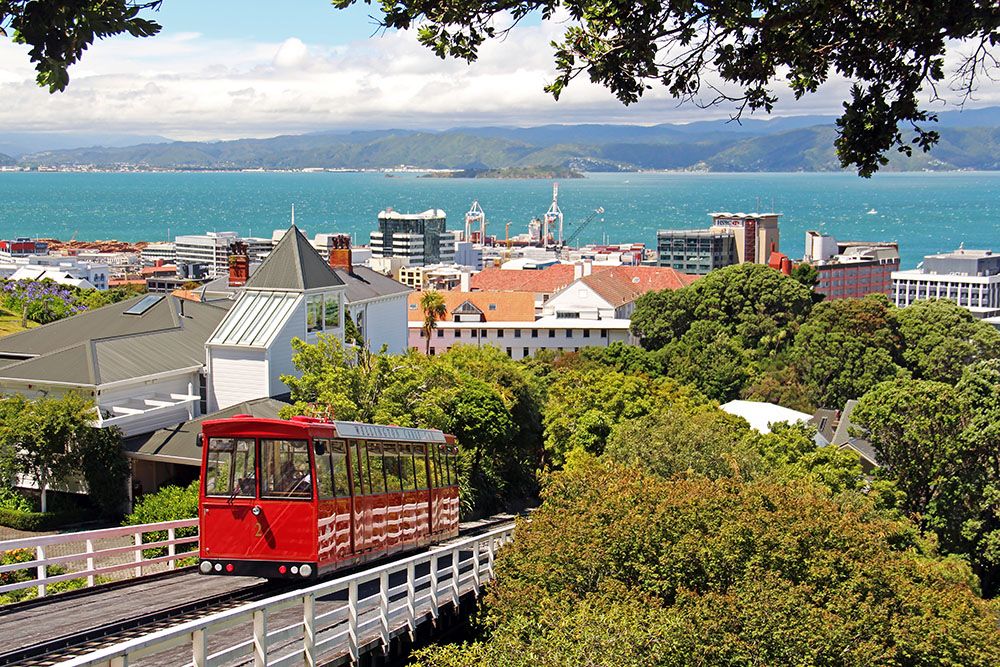 Wellington in a nutshell
Since its discovery by the Polynesian explorer Kupe in the 10th century, the area around Wellington was inhabited by Maori. Subsequently, Wellington was colonised and occupied by the British. In 1835, New Zealand became independent. There are some museums in Wellington that ascribe attention to each of these periods. A great example is the particularly interesting Te Papa Museum. The old buildings in the city date exclusively from the last two periods of Wellington's history. However, you can find Maori culture through art, folklore and cultural activities in the city. Wellington became the capital of New Zealand in 1865. Before that, it was still northern Auckland but the government wanted a more central city as its capital.
Wellington gained great fame when the city became one of the filming locations for the Lord of the Rings films. For example, the very first day of filming for The Lord of the Rings trilogy took place at Mount Victoria. This is where the forests of Hobbiton were filmed. Yet the city was known among filmmakers before that. Indeed, Wellington, also known as "Wellywood", is the epicentre of New Zealand's film industry. Here you will find several studios owned by filmmaker Wētā, among others. This company provided the special effects for not only the Lord of the Rings trilogy, but also both Avatar films! The film studios and filming locations are among Wellington's best sights.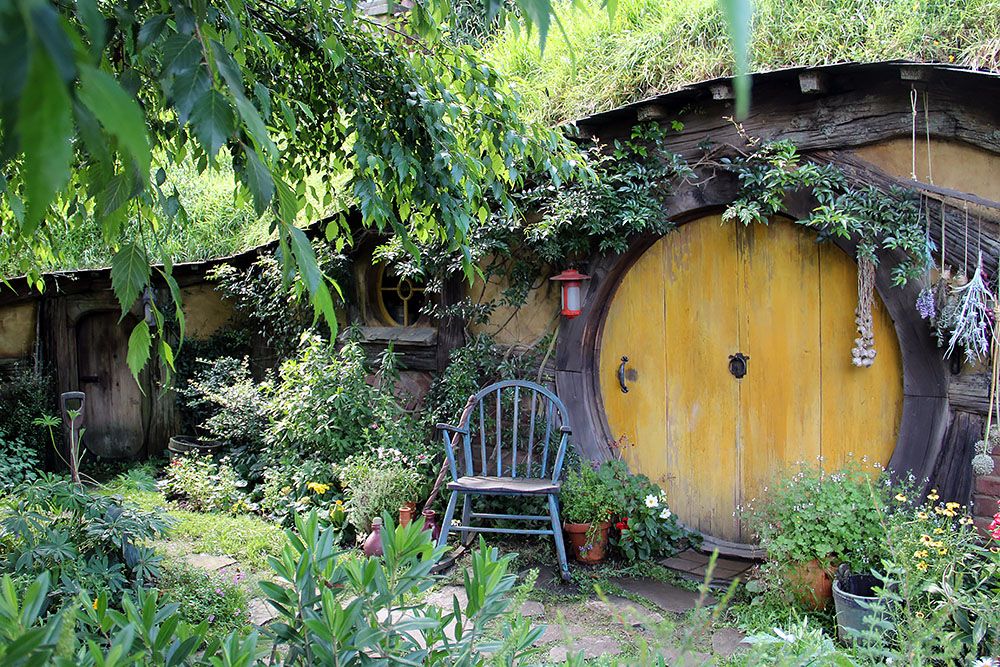 Highlights of your visit to Wellington
Set among steep forest-covered hills, the small capital has a surprising amount to offer. Our suggestion is to start in the compact city centre. This can be done using a simple city tour. You can also create your own walk in Google Maps based on the sights you would like to see anyway. Then download the map on your phone so you can do the walk even without an internet connection. Below are some of our suggestions for sights not to miss during your visit.
Te Papa Museum
As far as we are concerned, one of the absolute highlights of Wellington is the Te Papa Museum. Here you get an interactive insight into New Zealand's social and natural history. You can easily spend hours in this museum. Read our separate blog for more information on the museum. You'll find the museum near the Wellington Waterfront.
Courtenay Place and Cuba Street
For the cosiest bars and restaurants in Wellington, Courtenay Place and Cuba Street are the place to be. Courtenay Place is the bustling part of Wellington. It is known for its entertainment and nightlife. Many restaurants are open till late and most bars stay open until sunrise. The quirky, partly car-free Cuba Street has a somewhat bohemian vibe. You'll find dozens of cafes, small alternative shops, music venues, artworks and restaurants. Really fun to stroll through.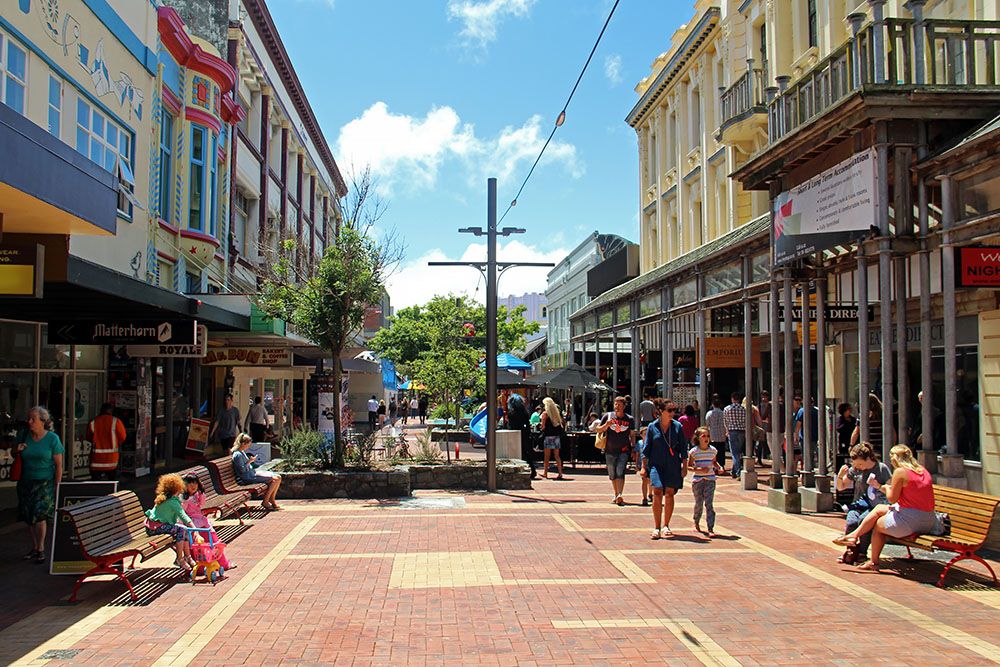 Parliament buildings
The Parliament Buildings complex consists of four buildings: the Beehive (an iconic landmark of modern architecture), Parliament House, Parliament Library and Bowen House.
The Parliament grounds are open to the public. You have free guided tours of the buildings there from the visitor centre. In some cases, you then also visit the House of Representatives.
Weta Workshop
Are you a film buff who has always wanted to know how the special effects of Lord of the Rings or Avatar were created? Then a visit to the Weta Workshop should not be missing from your city break to Wellington. The tour starts in the Weta Cave where you have a kind of small museum and shop. You'll find many props here and you can watch fascinating interviews. You get a thorough insight into the film industry. During the 45-minute tour of the Weta Workshop, you can see (behind glass) the special effects artists really at work. Entrance to the Weta Cave is free. A fee of around €30 applies for the guided tour.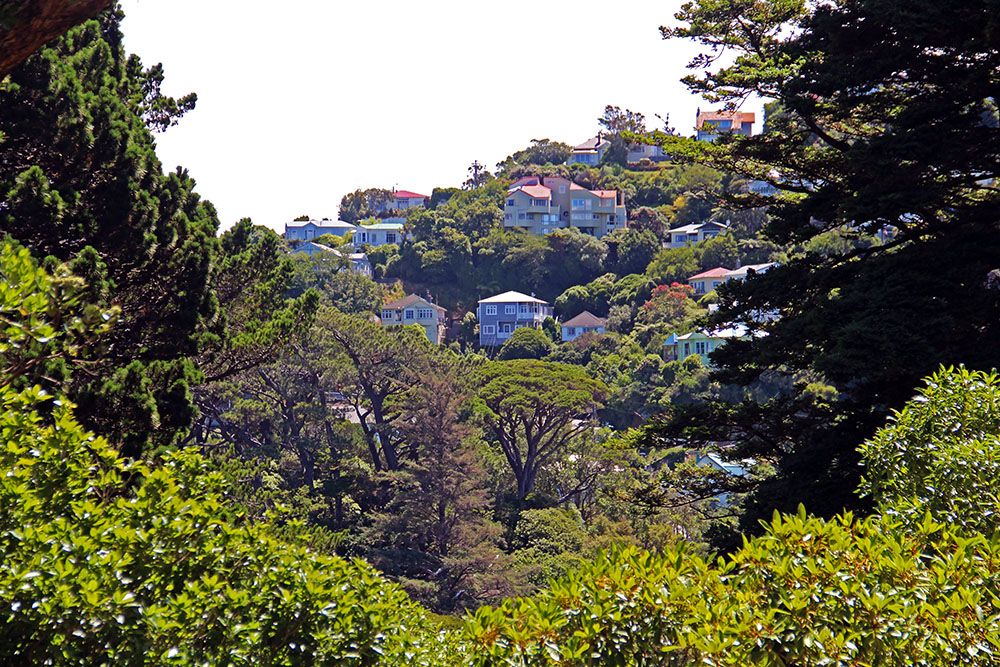 Botanical garden
Wellington's botanical garden is located on the slope of the Kelburn. You will find ancient native trees as well as exotic species. There are also (flowering) plant collections, a herb garden, a duck pond, a Victorian-style greenhouse and an extensive rosary. There are also several sculptures and other works of art. The botanical garden is a popular spot for locals. This is because you can take a lovely walk and enjoy beautiful views. It also hosts regular events, such as free concerts.
A nice walk of about 10 minutes takes you from the city centre to the botanical garden on the Kelburn though you can also take the bright red tram over the historic cable car. During the ride, you'll enjoy beautiful, varied views of the city.
Old St Paul's
Built in 1866, Old St Paul's is part of New Zealand's heritage. The small church is known for its Gothic revival style and beautiful ornate wooden interior. A south transept was added in 1868 to protect the church from high winds. Several more extensions followed later, including a ambulatory: a covered walkway around the main altar. This is unusual because a chancel is usually only found in cathedrals (or other large churches).
The church is now a historical site. For instance, you will find memorial plaques especially for those who died in World War I. And there are flags of the New Zealand Navy, among others. Masses are no longer held there.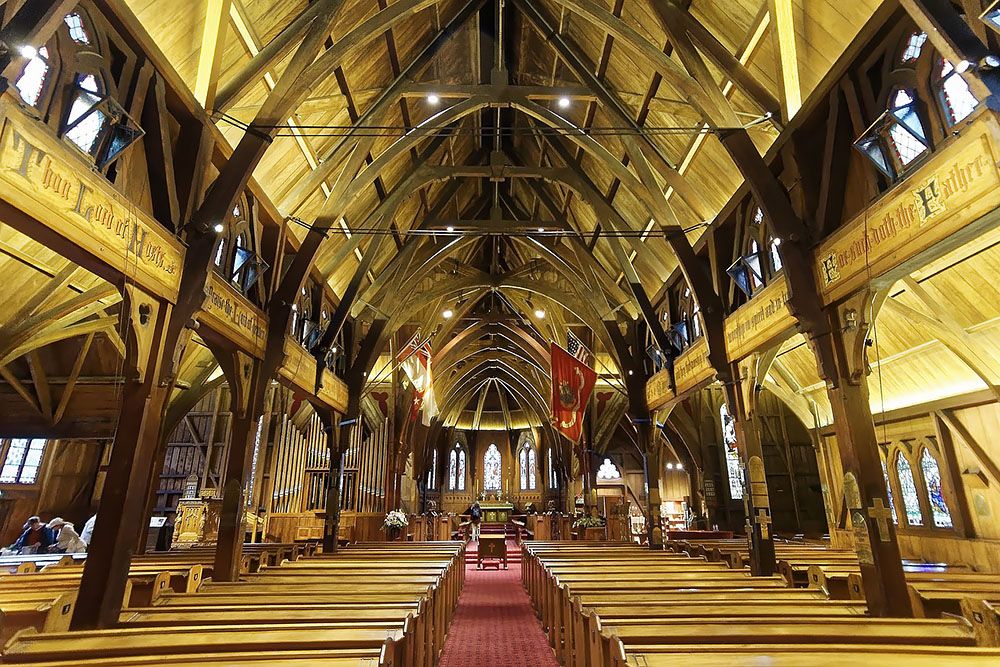 Mount Victoria
One of the highlights of visiting Wellington is literally and figuratively Mount Victoria. The view from this hill over the city is fantastic. The hill is one of the filming locations of the Lord of the Rings trilogy as well as several other films. The walk to it from the city centre takes about 1.5 hours.
Other walks in Wellington
Apart from climbing Mount Victoria, you can take more fun walks in Wellington. First of all, you have a short walk along the Wellington Waterfront. It's a very relaxing place with a small harbour and some works of art. Besides walking, you can cycle, pedal and kayak there. The route leads from the late 19th-century post office to the Te Papa Museum. Interested in Wellington's cultural heritage and ready for a slightly longer walk? Then consider walking the Maritime Trail or the Old Shoreline Trail. Both trails start at the Waterfront.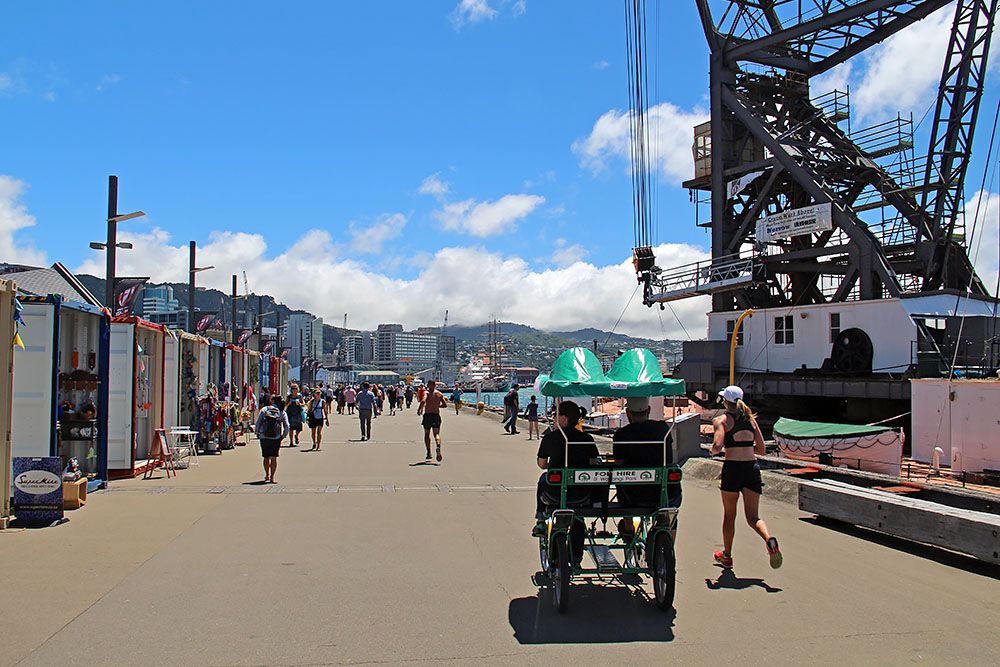 If you are in good hiking condition, the popular City to Sea Walkway is highly recommended. This walkway starts in downtown Wellington and takes you to Island Bay on the south coast. It is a beautiful, excellently signposted day walk that you can walk in both directions. Along the way, you'll pass the botanical garden, several observatories, the famous cable car and no less than 14 parks and reserves, among others. You will have spectacular views of downtown Wellington, Island Bay, Government House, Mount Victoria, Mount Kaukau and Cook Strait. But also the more distant mountain ranges of Tararua, Rimutaka and Kaikoura.
Zealandia Ecosanctuary
Just two kilometres from the centre is the large Zealandia nature reserve. Here you will find many of the (endangered) native birds. It is also home to more than 100 kiwis, which may only show themselves after dark during a guided tour. There is a lot to do in this unique nature reserve. You can enjoy hiking on a total of 32 kilometres of scenic trails. Furthermore, you can take a whisper boat trip and enjoy the exotic bird world. Zealandia is also famous for the Tuatara lizard, the only rhynchocephalian left on earth. Allow about two hours for a visit to this nature reserve.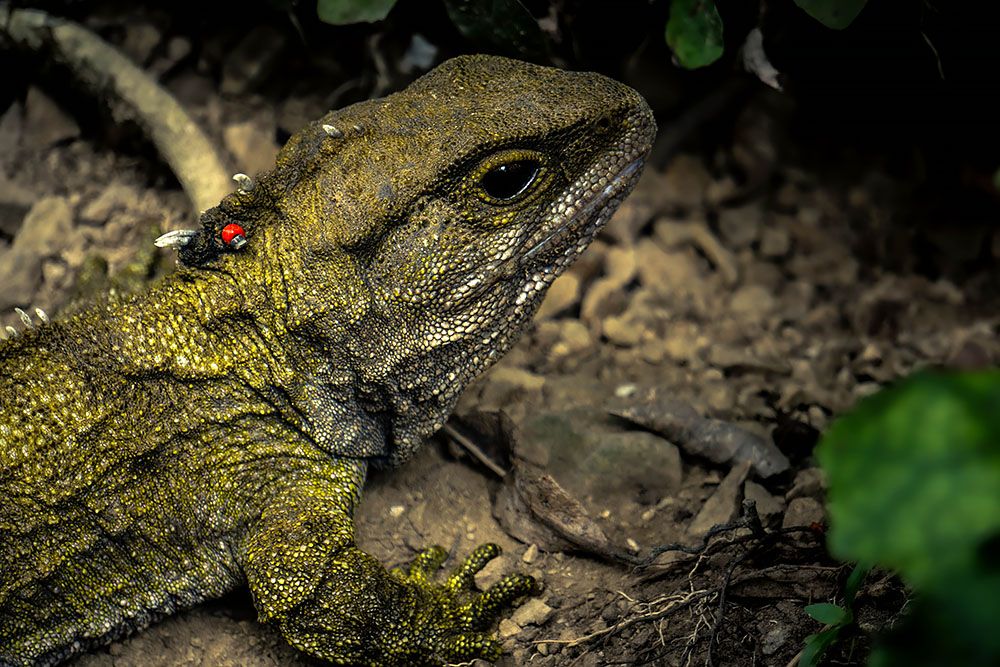 Practical tips for your visit to Wellington
Where is Wellington located?
Wellington is located at the south-western tip of New Zealand's North Island. The city is the southernmost capital city in the world.
What is the best travel time to visit Wellington?
The best time to visit the "Windy City" is from mid-December to mid-March. There is comparatively little rainfall and pleasant temperatures then. However, keep in mind that December in particular is high season.
How do I get around the city?
Wellington's city centre is particularly compact and pedestrian-friendly. You can therefore explore most of the city on foot. Outside the centre, it is best to get around in your rental car or by public transport. Wellington has an extensive and well-maintained public transport network of (electric) buses, trains, a cable car and ferries. If you plan to use public transport a lot, take a so-called Explorer Day Pass.
What are the sights of Wellington I should not miss?
Nestled among steep, forest-covered hills, small Wellington has a surprising amount to offer. Think urban sights as well as beautiful nature in the immediate surroundings.
Downtown highlights not to be missed are the Wellington Waterfront and the Te Papa Museum. But also Cuba Street, Courtenay Place, the Parliament Buildings, the Weta Workshop (film studio that provided special effects for Lord of the Rings and Avatar) and Old St. Paul's Church.
Natural attractions not to be missed include the Botanical Garden and the large Zealandia Nature Reserve. Furthermore, there are many walks to be taken from the centre to the surrounding hills and forests. One walk that should not be missed on your visit to Wellington is the one to the top of Mount Victoria. Another beautiful but longer walk is the popular City to Sea Walkway to Island Bay.
What is Wellington known for?
Wellington is known for its sometimes strong winds, hence its nickname "Windy City". Another nickname of the city is "Wellywood", because of its many filmmakers and studios. In addition, Wellington is New Zealand's coffee capital. You'll therefore find many cafes where you can get a delicious mug of coffee.
Where can I eat out in Wellington?
Wellington has an especially high number of restaurants and cafes per capita. You can go from fish and chips to international cuisine. Pub food is often of excellent quality too. But treating yourself to a good culinary treat is also possible in the capital. You need two months to try all the really good restaurants.
Where to stay in Wellington?
Special tours or activities in Wellington, New Zealand
Book special tours with our partner GetYourGuide here. We earn a modest commission for your booking at no additional cost to you. The commission helps us maintain this travel blog.
You may also be interested in