The most idyllic beaches, the enchanting capital Stone Town and a fantastic herb tour. These are just some of the highlights of the beautiful Zanzibar. In our blog we take you to the 10 top highlights of Zanzibar.
For our annual New Year's Eve celebration abroad, we travelled to the semi-autonomous archipelago of Zanzibar off the coast of Tanzania at the end of 2019. Our expectations of Unguja, the approximately 90 km long and 40 km wide main island, were not particularly high. The sole purpose of our visit was to celebrate the new year in Nungwi in the far north. Luckily, we had more time left to explore the island because what a positive surprise Zanzibar turned out to be!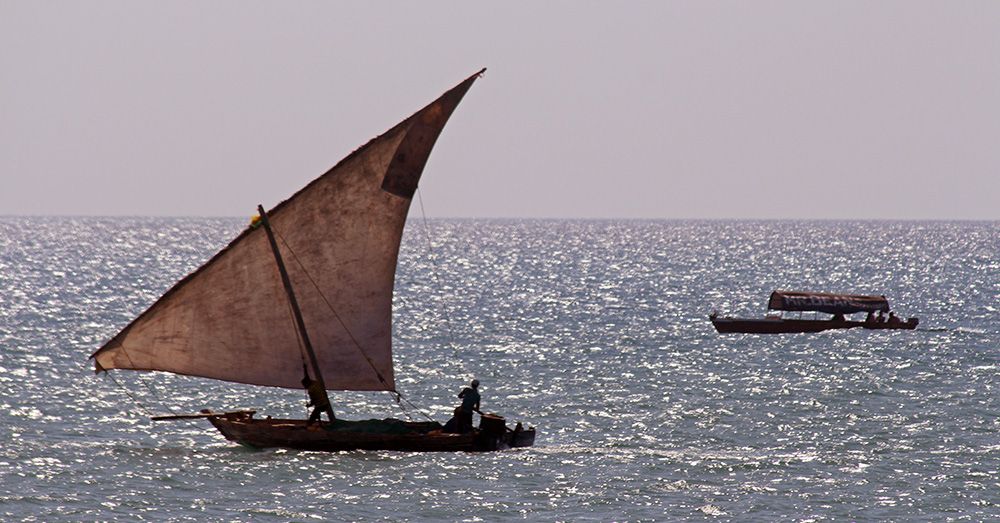 Top 10 things you should definitely see or do on Zanzibar (Unguja)
Stone Town
Stone Town is the bustling and enchanting capital of the island. It is a city of enormous historical and artistic importance in East Africa. Its architecture, especially from the 19th century, is a unique blend of East African, Moorish, Arabic, Persian, Indian and European elements. It is with good reason that the city has been on the UNESCO World Heritage List since 2000. Your visit to Zanzibar is not complete if you haven't strolled through the narrow streets of Stone Town. Check out our Top 10 places of interest in Stone Town.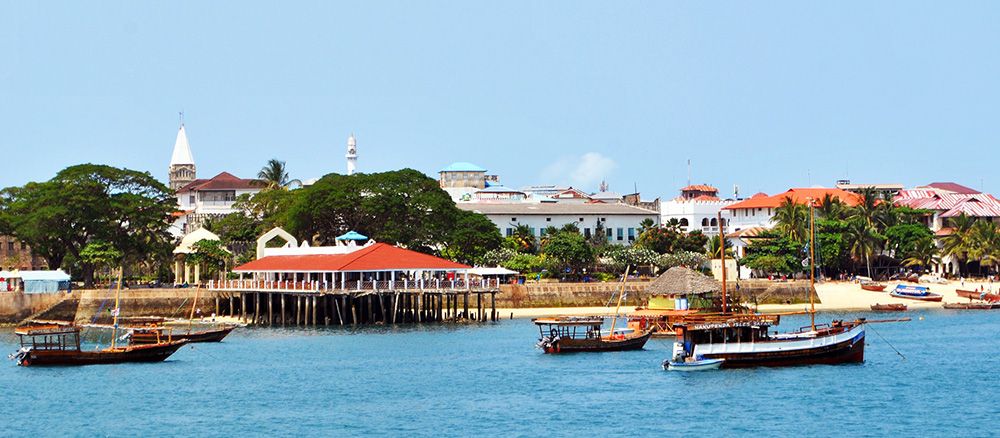 Nungwi and Kendwa Beach Life in the northwest of Zanzibar
In the northwest of Zanzibar, you will find the incredibly beautiful beaches of Kendwa and Nungwi. The pearly white sandy beaches are very popular among tourists, partly because you can still swim there even at low tide.
The beaches of Kendwa are even more beautiful than those at Nungwi, because at low tide there isn't any seaweed. It is also a bit quieter in Kendwa than in Nungwi. Not only fewer tourists, but also fewer beach vendors trying to sell you all kinds of excursions. Accommodation is more upscale than in Nungwi.
We spent the New Year's Eve celebration on the beach of Nungwi and found it a fantastic experience. The days before and the day after were wonderful as well. Admittedly, you do have quite a few beach vendors there, but most of them were not at all intrusive. Not even during our long walks on the beach.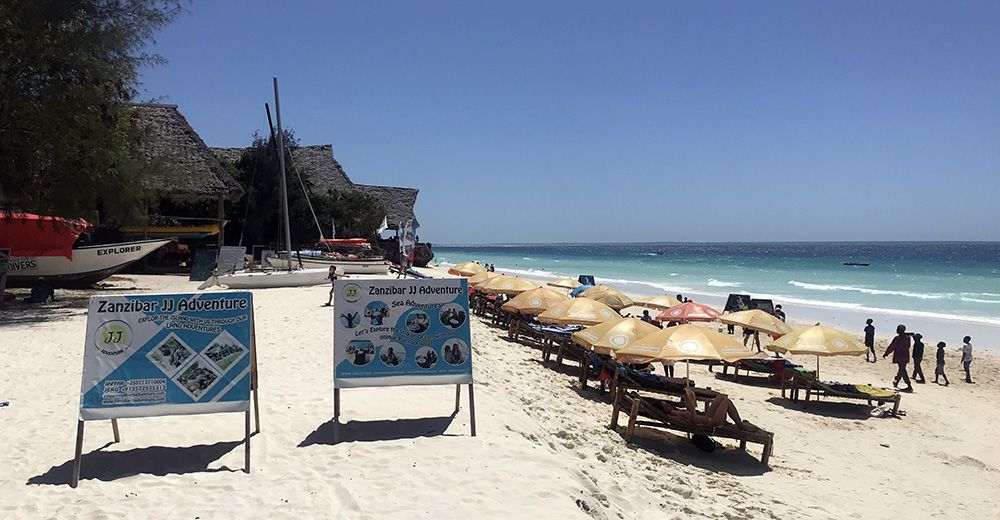 Besides sunbathing, swimming, some reading and having a drink at one of the many cosy beach bars, you can also do more active things there. One of those things is diving. You have to go to the small island of Mnemba on the northeast coast of Zanzibar, but the diving centres in Nungwi sail in that direction. In the end we didn't do this, but it seems to be very nice. Chances are that you will encounter dolphins there!
If you prefer to be active on the surface, consider cycling with Zanzibar Cycling Adventures. During their bike ride of about 3.5 hours you cycle through rural villages and along. You will learn more about the culture and history of the island and also get the chance to swim in a cave with crystal clear, brackish water.
If you are more into nature, be sure to visit the Mnarani Aquarium, located near the old lighthouse in Nungwi. The aquarium is actually a lagoon fed by tidal water. The purpose of the aquarium is to rehabilitate and investigate sea turtles caught in fishing nets. The volunteers there are doing a very good job. Apart from protecting both older and young sea turtles, they are creatively trying to do something about the problem of waste plastic.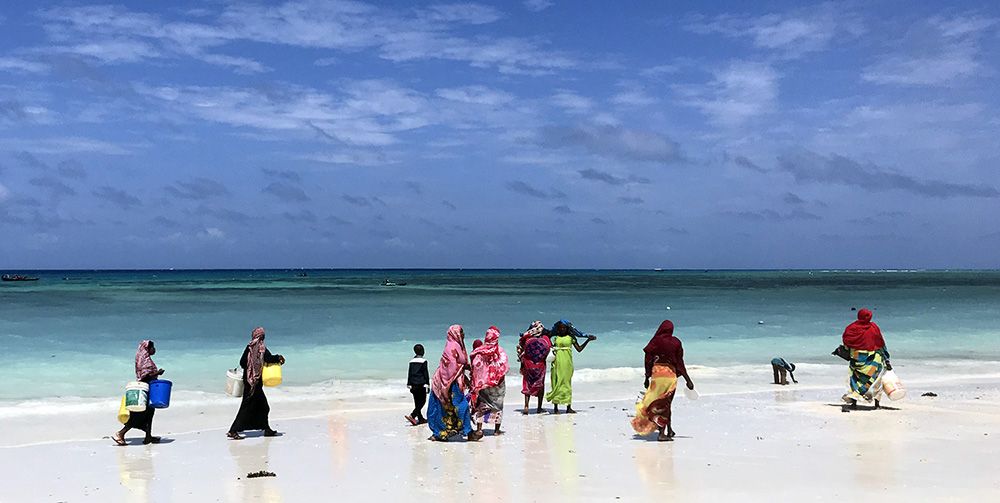 Spice Tour
Centuries ago, the spice island of Zanzibar was an important stopover in the international spice trade. Today it is one of the few places in the world where saffron is produced, as well as many other spices such as cardamom, ginger, cloves, pepper, lemongrass and nutmeg.
One of the most popular excursions you can take on Zanzibar is the so-called 'spice tour'. This tour takes you along some of the many plantations where spices are grown. You will learn more about the origins, properties and uses of cloves, nutmeg, rambutan, lemongrass, the iodine plant, henna, lipstick, vanilla, ginger, black pepper, the shamoo plant, cardamom, cinnamon and turmeric.
The tour, which is very worthwhile, can be booked almost anywhere. One of the locations is the Mnarani Aquarium in Nungwi which invests part of the proceeds in the protection of sea turtles. Of course, you can also go to GetYourGuide for the excursion. Check out a combination of cycling and spices as well!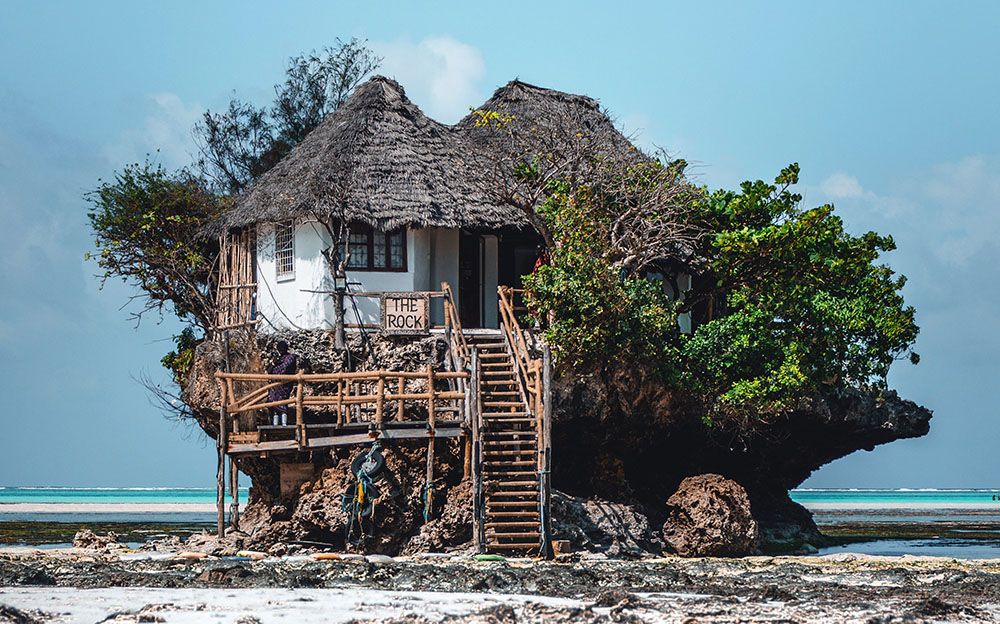 Dining at The Rock
The Rock is without a doubt one of the most idyllic restaurants in the world. The restaurant is located on top of a small rock in the middle of the turquoise sea. During low tide you can walk to the restaurant, at high tide a boat sails up and down.
Even before the restaurant became world famous by social media in a short time, you could go there and enjoy it at random. When we were at Zanzibar you had to book in advance, especially if you wanted to go there at the weekend. Unfortunately, we didn't eat there ourselves, but it seems that delicious fish dishes are served there.
Jozani Chwaka Bay National Park
Once upon a time you had nothing but woods and mangroves all over Zanzibar. Luckily on the island you still have the Jozani Forest, Tanzania's only national park. The park of 50 square kilometres offers a rich biodiversity in both flora and fauna. In addition to very tall trees, you will also find the red colobus monkey, which only grows on this island because of its diet of 70 different plants and berries. You can also admire small antelopes, chameleons and 50 species of butterflies and 40 species of birds.
You can book your walk through this fantastic natural park at TripAdvisor and GetYourGuide. Of course, you can also visit the park on your own. Please note that in addition to the entrance you will also need a guide.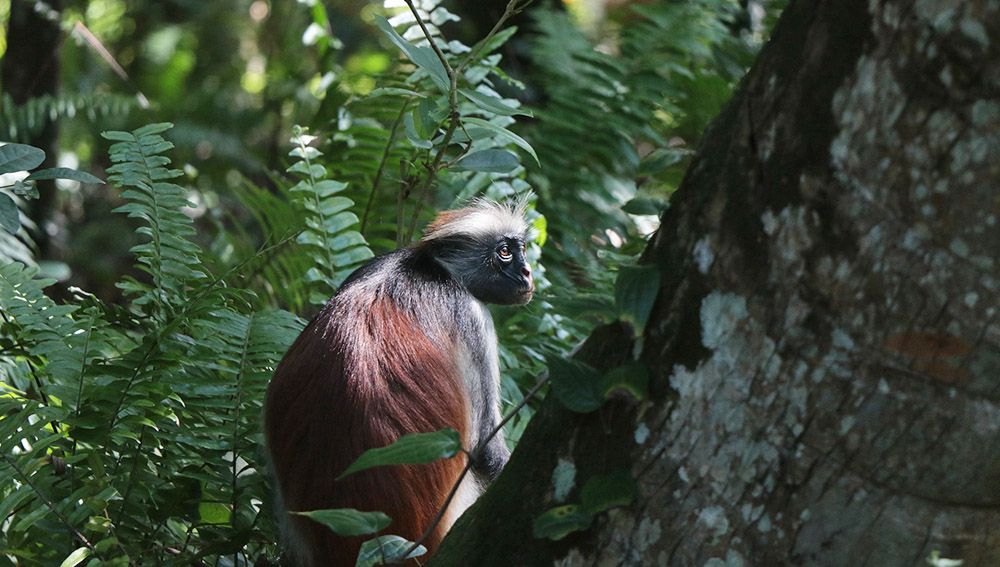 Prison Island
Contrary to what the name suggests, Prison Island, located just north of Stone Town, is no longer a prison but a hotel. At the end of the 19th century it was still the intention to detain slaves and/or violent criminals, but instead patients were housed there with yellow fever.
What makes the island definitely worth a visit is the large colony of giant tortoises. Reportedly, the average age of the turtles is over 150 years and their weight is around 200 kilos! In addition, you can laze, sunbathe, swim and snorkel.
Due to its location near Stone Town, it is best to book this excursion if you do not have enough time during your visit to Zanzibar to go to the beautiful beaches in the north. At most hotels you can book such an excursion. Of course, TripAdvisor and GetYourGuide can also help you.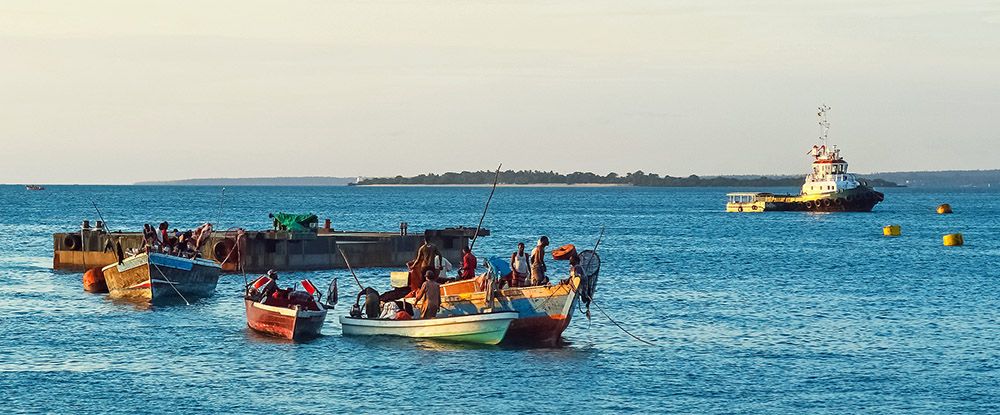 Visiting the village of Jambiani
Jambiani is one of the oldest and most traditional fishing villages of Zanzibar, located in the southeast of the island. It is a small village, or in fact several villages within walking distance of each other. However, you can also rent a bike or scooter to explore these villages and the surrounding area…
Jambiani is so nice because it is not as commercial as for example in the north of Zanzibar. You will only find small-scale hotels and restaurants here. You also have a fantastic sandy beach with even fewer stones on the bottom than in Nungwi and surroundings. In Jambiani you will also find many seaweed farms for which the villages are famous. The seaweed is used to make soap and other skin care products.
In Jambiani you can take an interesting walk to learn more about the life of the local people. Even more fun is to go out to sea early in the morning with the fishermen in their dhow to go fishing! You can also go to the nearby caves of Kuumbi. And for the rest, Jambiani is just there to relax from, or to recharge you for, the climb of (part of) Kilimanjaro.
The population here is predominantly Muslim. Out of respect for their culture, adapt your clothes to this when you leave the beach or your hotel. As a man wear a shirt and as a woman wear a canga (brightly coloured) around your waist.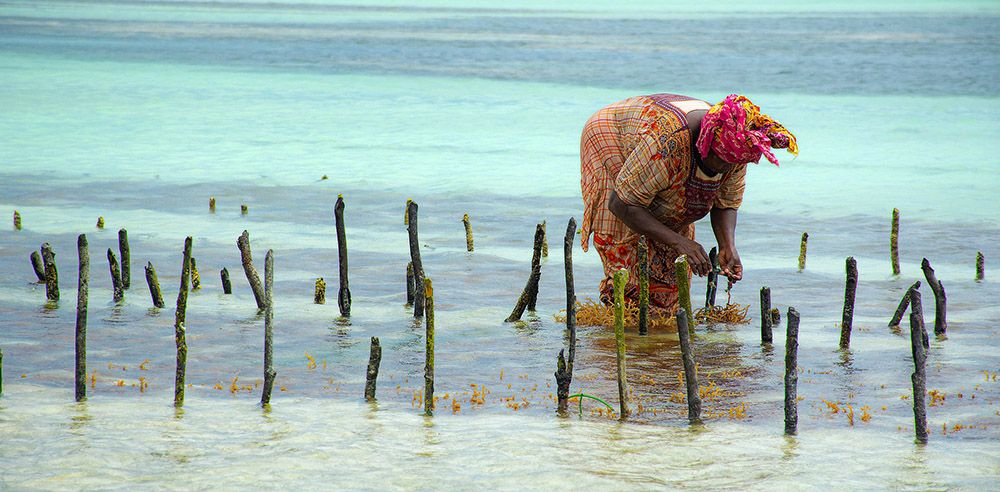 Cooking class
On the spice island of Zanzibar you can't really avoid taking a cooking course. Once you've tasted the island's delicious spicy dishes, you'll want to be able to prepare them yourself. Often just doing the shopping before a meal is an experience in itself. After your visit to the local market you will usually get a completely different impression of the country and the culture than if you only spend your holidays on or right by the sea.
Not entirely surprisingly, most cooking courses at Zanzibar are combined with the Spice Tour. These can be booked with GetYourGuide, for instance. If you have already done the Spice Tour, or are not interested in it, you can also go directly to a cooking school. One of those schools is the Zanzibar Traditional Cooking Class, located near Stone Town, which grows all herbs and vegetables in its own garden. Another school is Tangawizi Cooking Class, located in Janbiani. They have a lot of recipes to choose from.
Bicycle tours on the island
One of the most beautiful ways to explore the wonderful island of Zanzibar, in our opinion, is by bike. At Bike Zanzibar there are many possibilities to discover small and even large parts of the island by bike. Think of day trips in Jambiani, to the Janzani Forest and the Spice Tour.
Even more special, however, are the multi-day bike tours that you can do with Bike Zanzibar. These tours offer you a unique introduction to the island and its friendly people. You will also get to beautiful places where no other tourist can be found. Examples of multi-day tours are the four days from Jambiani to Stone Town, the four days from Stone Town to Matemwe, and a great round trip from Jambiani of seven days.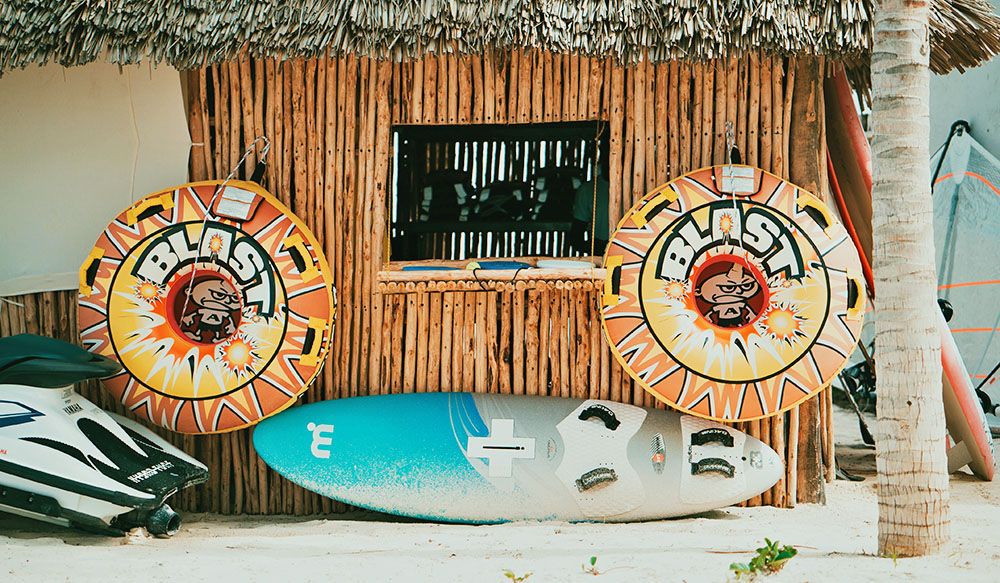 Water sports
With so much beautiful turquoise, warm and crystal-clear seawater around the island, Zanzibar is a great place for water sports enthusiasts. We mention some of the possibilities.
Freediving
Freediving is a form of diving where the diver can stay (long) under water by holding his breath. The term 'free' refers to the fact that with this form of diving you are not dependent on a compressed air system. The sport is gaining popularity worldwide among all age groups.
On Zanzibar there are also several fantastic opportunities to do freediving with another, licensed buddy or under the guidance of an instructor. Whether you want to photograph sea creatures, take spear fishing in an ecologically responsible, sustainable way, follow a course or break personal records, Zanzibar has it all.
Extreme Blue Water Freediving takes you from their two locations in Nungwi or Stone Town to beautiful locations. Adventure Travel, with a dive centre in Nungwi, also offers opportunities for freediving at a location where dolphins are virtually guaranteed.
Scuba diving
Although Zanzibar has a lot to offer on land, you'll find most of the natural beauty in the blue, endless depths of the Indian Ocean. The marine life of Zanzibar has it all. Think sailfish, dolphins, humpbacks, tuna, barracudas, horse mackerels, groupers, turtles, and so on.
Though there are many dive sites at Nungwi, Stone Town and even further south, for the best dive sites you have to be at Mnemba. The small island of Mnemba is just off the northeast coast of Zanzibar. Here you will find famous dive sites like Wattabomi and the Big Wall.
If diving with compressed air is your thing, consider staying in Matemwe for several days. Nungwi is of course also possible, but keep in mind that you will be on the way to the dive site for a longer period of time and that you will pay more for your dives. There is no shortage of dive centres in both places.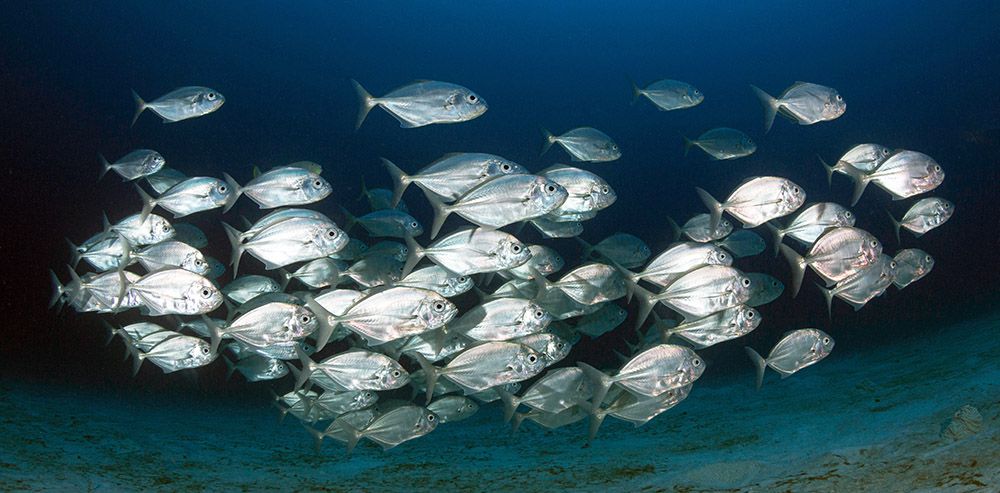 Snorkelling
As with compressed air diving, you'll find the best snorkel sites near the small island of Mnemba just off the northeast coast of Zanzibar. For most beaches, you have to swim far from the coast to find the beautiful sea creatures near the reef.
Another option is to take a boat trip with a Dhow or catamaran to one of the smaller islands to the west or southeast of Zanzibar. One of the providers of such a boat trip is The Safari Blue, for 70 dollars per person they provide a day to remember. During the sailing day you are not only on but also in the water. Swimming, snorkelling, dolphin spotting, etc. A delicious barbecue, drinks and snacks are also included in the price!
Stand-up-paddling
This form of water sports was created in Hawaii by the lifeguards who went on their surfboard to keep an eye on the novice surfers. A long paddle allows you to stay on your board. We did it a few years ago on the Vecht near Weesp, but surfing on the warm, ripple-free sea water in the mangroves of Zanzibar is a very special experience!
The mangroves are the perfect place to go to see so much more than just white sandy beaches and palm trees. The mangroves are the nursery of tropical seas. You will find all kinds of species, very small fish and also many birds.
Stand up paddling, by the way, is a fairly intensive activity. After a few hours you will not only feel like a thirst-quenching drink at a beach club, you have also done a full body workout.
You can go to many tour operators to go to the island and have a drink. For example, at Surf Zanzibar or Aquaholics Zanzibar. In Paje you can also just rent a sup board, for example at GetMyBoat.com.
Kite surfing
Zanzibar offers kite surfers all the space they need to make beautiful downwinders and to compete with dolphins. The best spots for kitesurfing can be found at Paje in the southeast of Zanzibar. This kite spot is suitable for both beginners and advanced kite surfers. The best time of the year for kitesurfing is from mid-December to February. Lovely weather and a great breeze from the northeast.
There are several kitesurf centres in Paje. One of them is the Kite Centre Zanzibar which opened its doors for kitesurfers already in 2006. Another centre is Zanzibar Kite Paradise. In Paje you can find plenty of, sometimes really great, accommodation. However, you can also check with your kitesurfing centre if they have any attractively priced combinations of surfing and accommodation.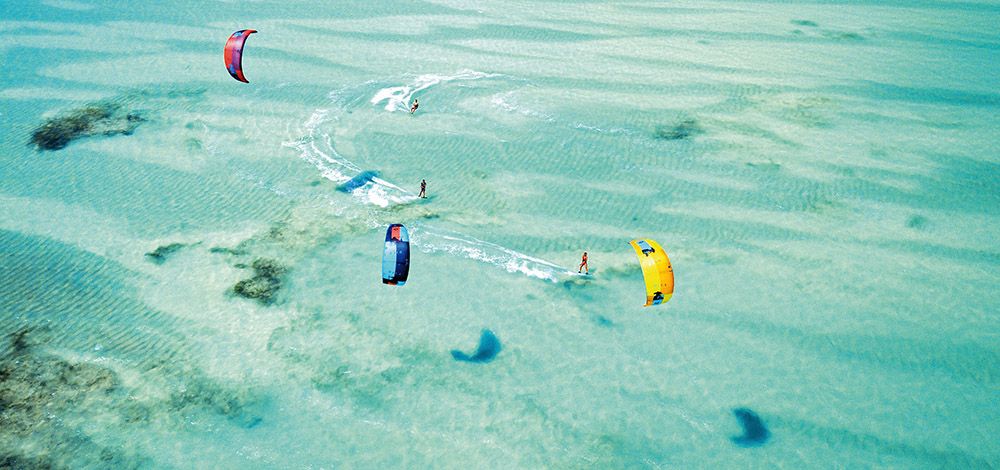 Practical matters
What is the best time to visit Zanzibar?
The best travel time for Zanzibar is either in the local winter from June to October, or in the (hot) summer from December to February. The advantage of the winter period is that it is not too hot. A disadvantage is that it can be crowded with tourists and therefore more expensive.
The advantage of summer is that it is often cloudy both during the day and at night. It is also a bit less crowded and therefore cheaper. By the way, it is still busy during New Year's Eve.
The only period in which it is better not to go to Zanzibar is from March to May. This is really the rainy season in which many accommodations shut their doors.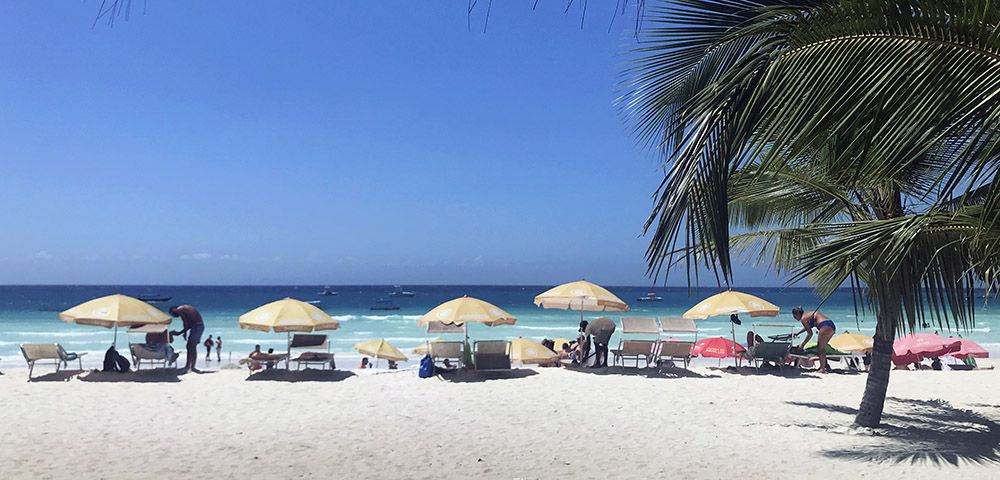 Where to stay in Zanzibar?
Accommodation in Tanzania is pricey compared to surrounding countries such as Kenya. On Zanzibar, however, prices are even higher. This is especially true in their winter months, but also during the holidays you have to think more about western prices.
During our stay at Zanzibar we stayed at the Airport Palace hotel near Stone Town, at the Antonio Garden Hotel in Stone Town and at GOasis in Nungwi.
We found the Airport Palace a bit disappointing. Plus points are the nicely decorated, spacious rooms for a decent price, the free pick-up service from the airport and the free breakfast. We were disappointed with the location and the lack of space outside your room to socialise.
The Antonio Garden Hotel in downtown Stone Town was fantastic! Beautiful, comfortable rooms in a great location in the heart of the historic city. The restaurant and pool bar were also great. The only disadvantage is that you have to drag all your luggage through the narrow streets because the taxi can't come to your door.
The GOasis resort was lovely and above all very comfortable. Particularly friendly and helpful staff. Both under the roof and outside there was enough space to sit and have something to eat and drink. The pool was fantastic. It is not directly on the beach. We actually liked that because we had a reason to keep moving. It is only a short walk along dirt tracks to the beach, and definitely safe! The only drawback we found was the size of the beds. Our room had three double beds, but none was big enough to sleep in as a couple.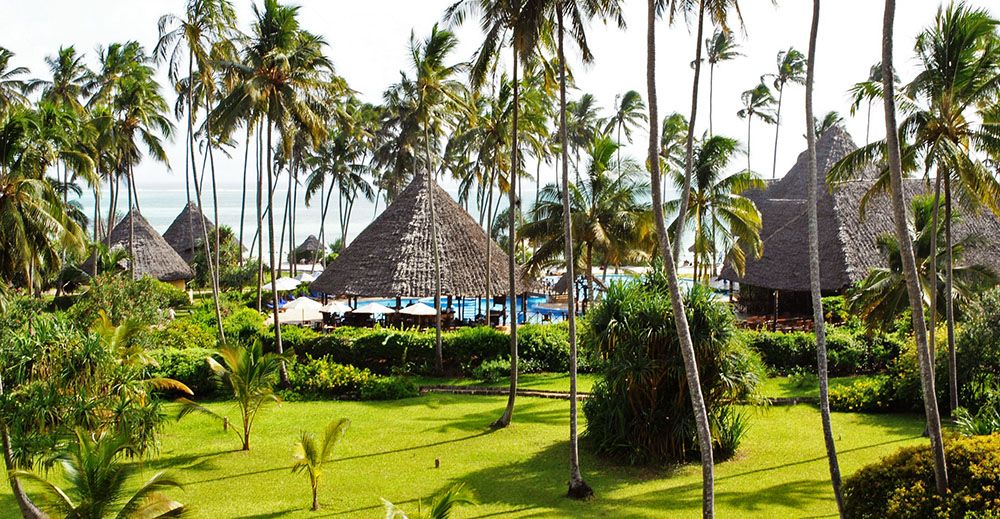 How to get to and from Zanzibar?
There are many airlines that fly directly or with one stopover from Europe to Zanzibar. We ourselves visited the island with a scheduled service of the national airline Air Tanzania. When departing from the island, keep in mind that the departure hall is very small and that the air conditioning does not always work.
How to get around Zanzibar?
Because of the size of the island you are dependent on taxis, taxis or shuttles for your transport between the larger towns. Especially the shuttle is an excellent option to travel from Stone Town to Nungwi/Kendwa or Paje/Jambiani for a relatively low amount of money. More information about the shuttle service in Zanzibar.
The cheapest way to travel is by the way with the Dala Dala, small busses that are usually overcrowded. We did not travel with them. The most expensive but most comfortable way to get from A to B is with a taxi van. Especially if you can share the costs with fellow travellers this is a pleasant means of transport. It makes you much more flexible and brings you nicely to the door of your hotel.
Car rental in Zanzibar is also possible, but we have no experience with this. We heard good reviews about Kibabu Cars Zanzibar. The question is whether car rental in Zanzibar is worth it at all. Except for a few excursions, you will probably stay within walking distance of your hotel or resort.
Map of Zanzibar with the top 10 places of interest
You may also be interested in