Most tourists think of regions like Andalucia, Catalonia or Valencia when they go on holiday in Spain. Or they go to northern Spain for 'something different'. Like to the Basque Country or Castilla y León. But those who do not look beyond all those regions miss a particularly interesting Spanish holiday destination. Namely the small, unknown Mediterranean region of Murcia, located between Andalucia and Valencia. Here you will find many historical cities, colourful folklore and lovely beaches, as well as stunning nature where you can do some fabulous hikes. This makes Murcia an attractive, diverse region for a unique road trip in Spain.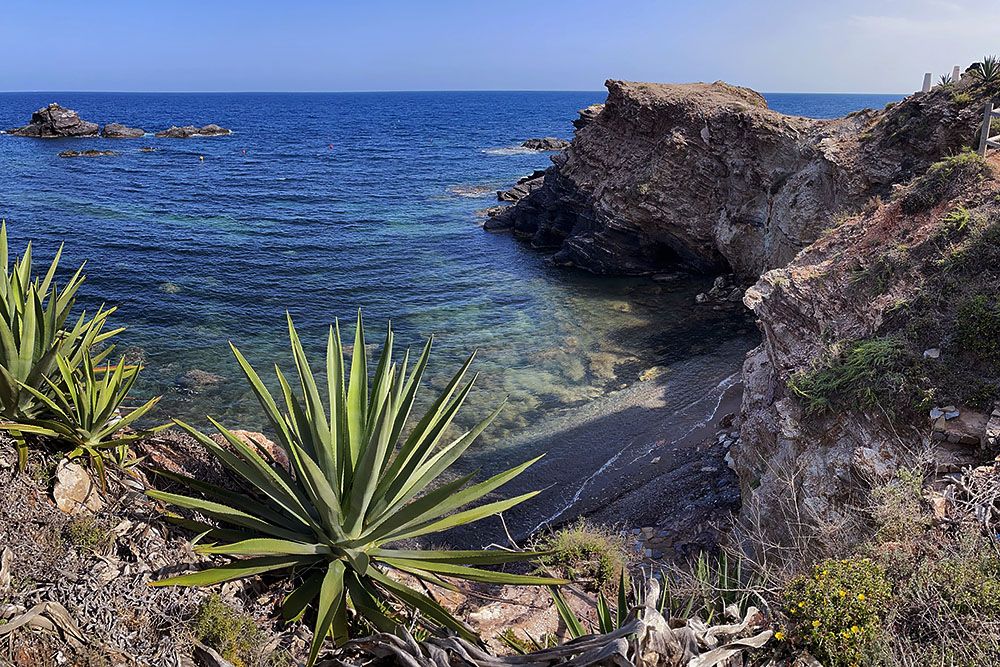 Travel through the Mediterranean region of Murcia
Want to get to know the small but diverse region of Murcia? Then plan for at least one week. Reserve three to four days for the necessary culture in the many historical cities. In addition, assume a few days for walks through the impressive nature. Then finish your trip off with two days of relaxation on the La Manga peninsula.
We have gone ahead and mapped out a possible route for you. From Alicante airport, for instance, we will first go to Murcia, the region's capital. Then we travel via Caravaca de la Cruz to the Sierra Espuña nature reserve. We then visit Cartagena after which we return to Alicante via La Manga for our return flight.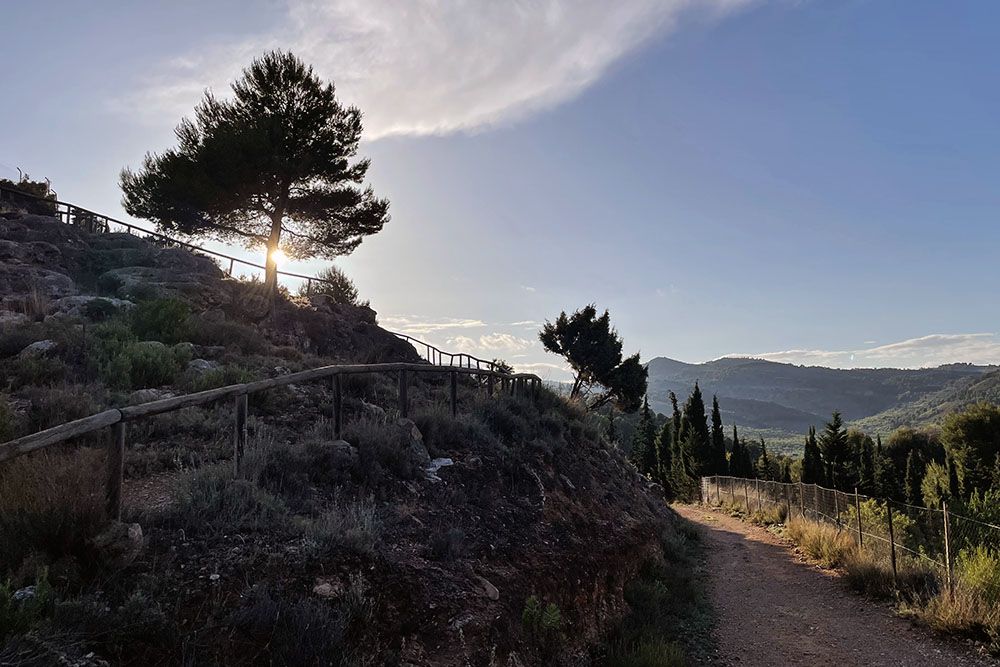 The beautiful, historic cities of Murcia
We start our tour of the Murcia region in the capital city of Murcia. The big city was founded by the Moors in the 9th century. Remnants of the Moorish early period can be seen in the still visible city wall. After the Christians expelled the Moors in the 13th century, Murcia became one of the cultural cities of King Alfons X of Castile. This caused great growth of the city. Murcia peaked in the 15th century when irrigation systems for the 'huerta' (orchards) were built. Several centuries later, Murcia again experienced economic prosperity. Some beautiful pieces of Baroque art and architecture still bear witness to that period.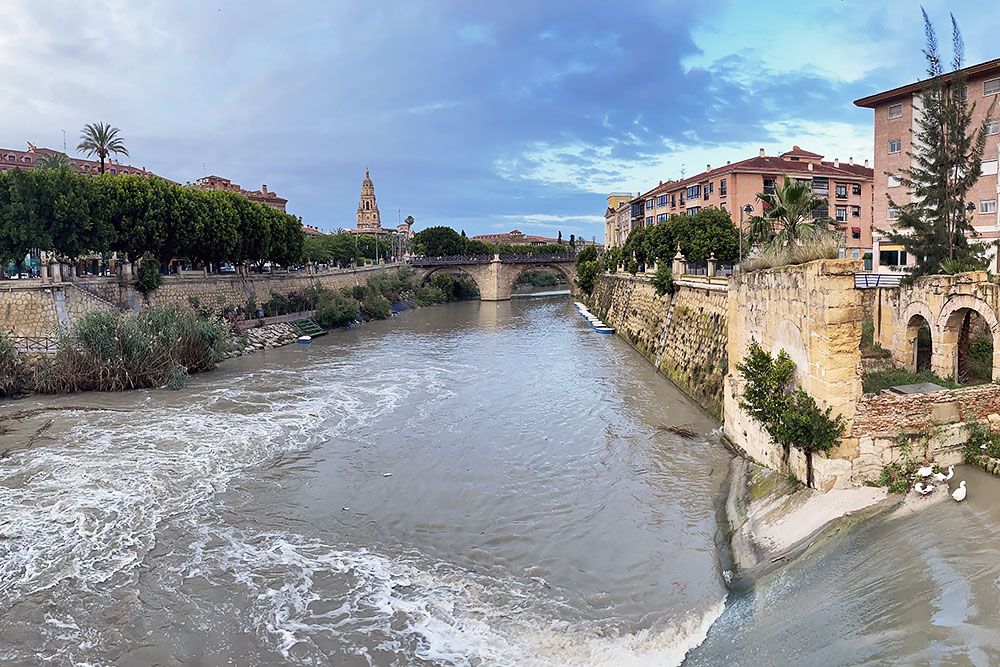 Thanks to its inland location, Murcia is a wonderfully quiet city in the summer months. Most of the inhabitants then head to the coast. In the other months, the bustling student city is particularly lively. Not only on the terraces in the sometimes narrow, typically Spanish alleys but especially in the many parks and squares. A great example is the Plaza de las Flores. Here you can enjoy the flower market and the great view of the city hall and cathedral.
Perhaps the most important sight in Murcia is Santa Maria Cathedral. The cathedral is built in various architectural styles including Renaissance, Rococo and especially Baroque. Other highlights in the city include the Real Casino de Murcia and some fantastic museums. If you are there at Easter, you will fall head over heels in love with Murcia's folklore. This is because during that period both the Semana Santa and the Bando de la Huerta take place. But Murcia has much more to offer! And so, we will take you on a city trip to the beautiful city of Murcia in this travel blog.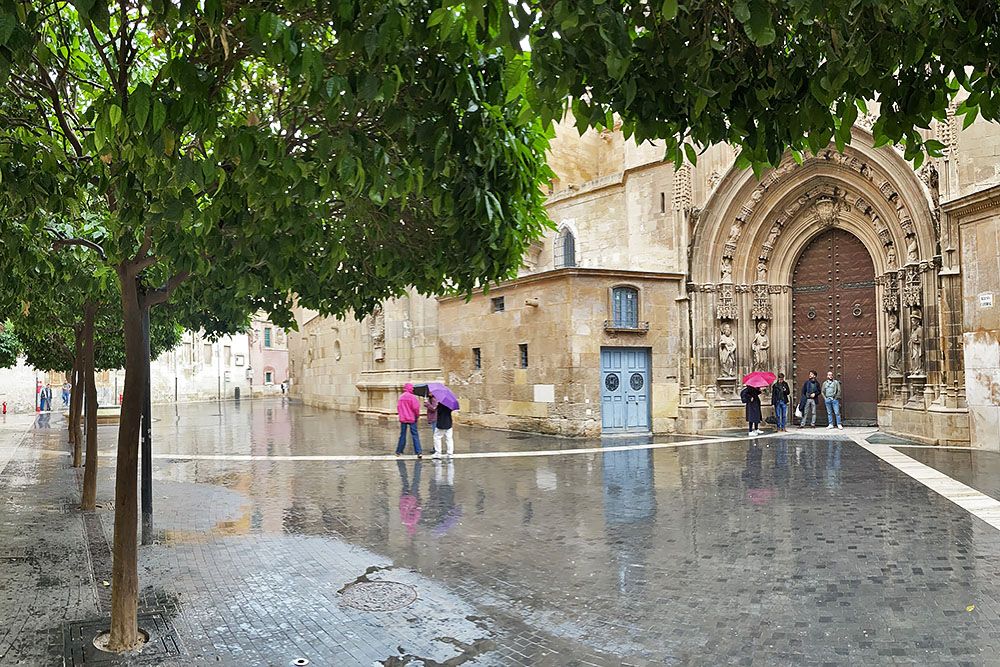 Caravaca de la Cruz
Another town that should not be missing from your visit to the Murcia region is Caravaca de la Cruz. It is one of the most enchanting towns in Murcia. Caravaca de la Cruz is rich in history, culture and religion, full of fascinating sights and folkloric events.
One of the main attractions is the Basilica de la Vera Cruz. The 17th-century basilica is known for its impressive architecture, stunning works of art and beautiful frescoes. In one of the chapels of the large basilica you will find the Holy Cross (under guard). Only during the Fiestas de la Cruz, celebrated annually in May, does the cross leave the church. There are many activities then, including processions and mock battles between Moors and Christians. The whole city celebrates exuberantly.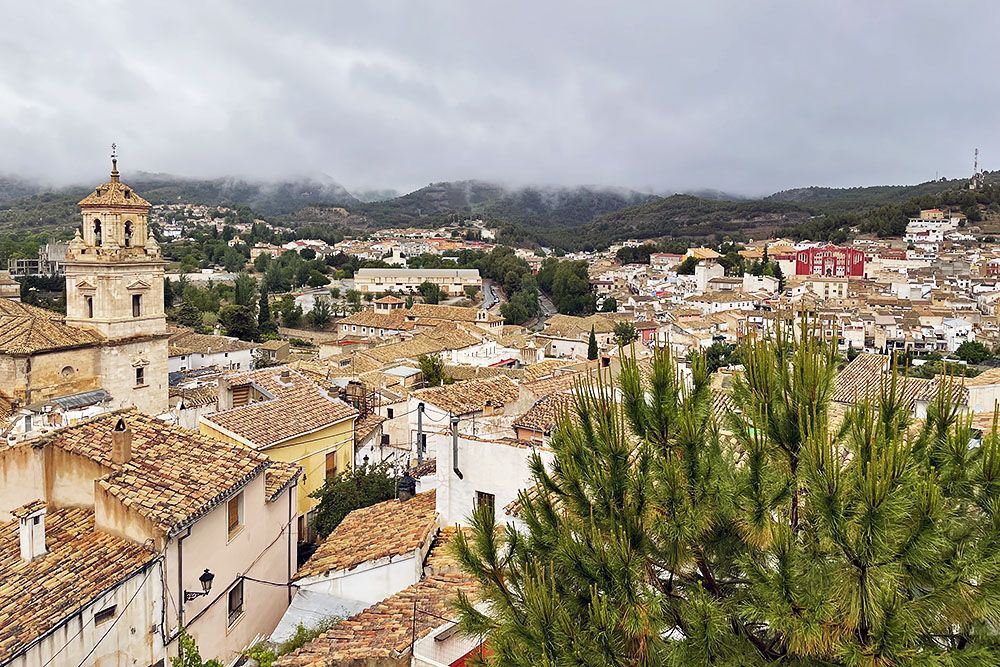 Incidentally, the main highlight during the Fiestas de la Cruz is the race with 'wine horses'. In pairs of four, locals run 80 metres up the hill. But between them there is a horse decorated with embroidered armour. Contrary to what we expected from a religious festival, the embroidery tells horrifying stories. Unfortunately, we were just too late to attend the festivities. But in the interesting museum, we still found out a lot about it. Absolutely to be recommended!
In a later blog, we will soon describe the city's many other attractions. We'll also tell you more about other festivals in Caravaca de la Cruz.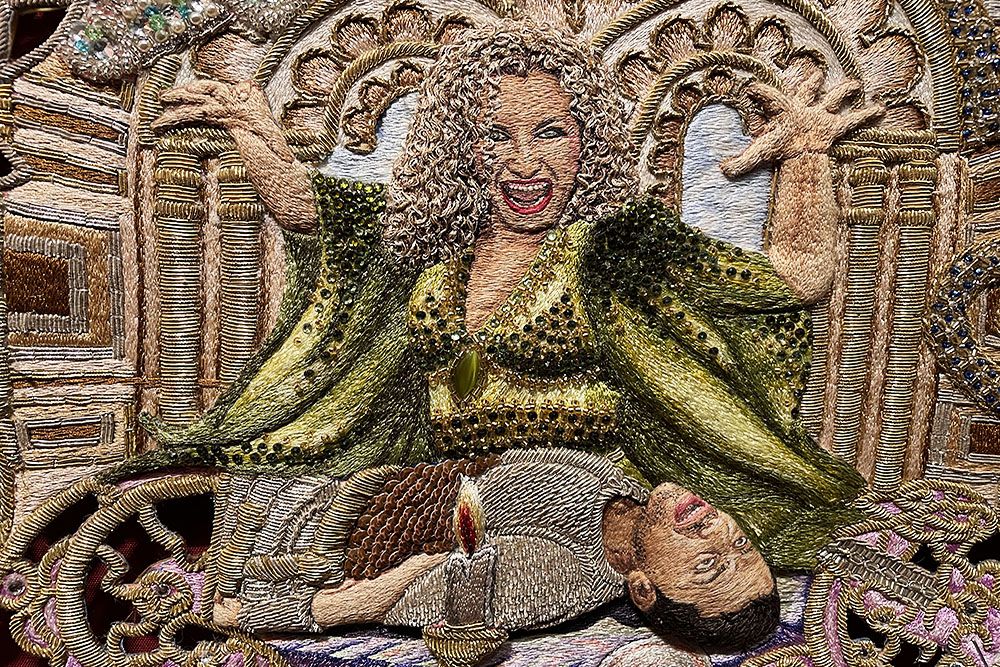 Cartagena
A city that impressed us a lot during our tour of the Murcia region is Cartagena. In this old port city, you will find many monuments, archaeological sites and special historical buildings. One of these is the Roman theatre from the 1st century BC, which is incredibly well preserved. Perhaps because it was still hidden underground a few decades ago.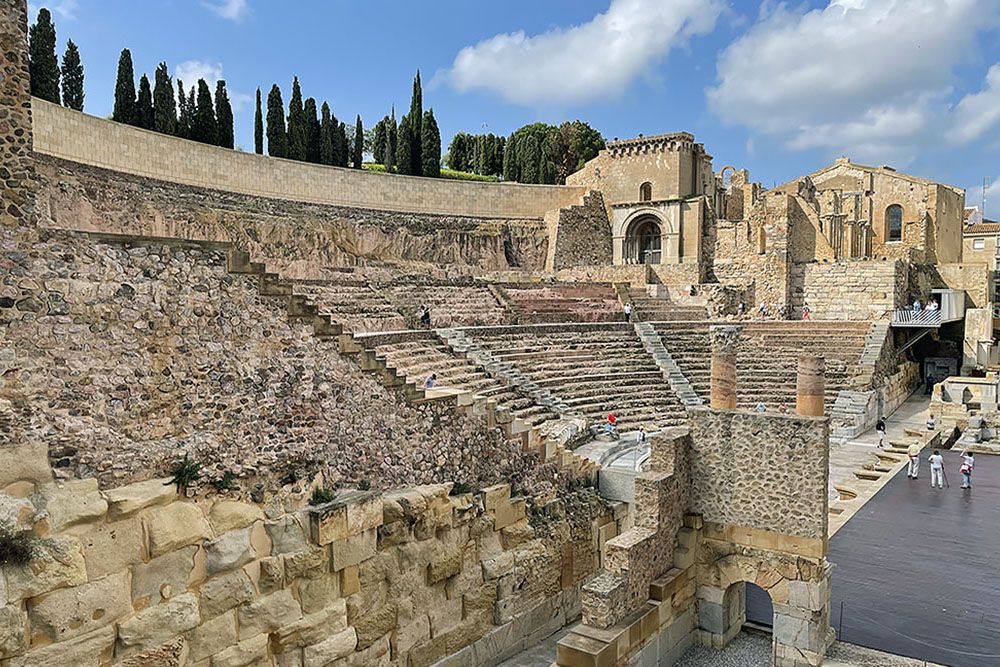 Another highlight in Cartagena is Calle Mayor. This street forms the heart of the city and is dotted with restaurants, shops and charming bars. It is a great place to experience Cartagena's lively atmosphere and Spanish culture. But your break to the port city of Cartagena is not complete without a visit to the naval museum. This museum highlights the city's importance as a naval base throughout history. It also contains exhibitions on military history and submarines, among others.
In Cartagena, we took a guided city tour. Very enjoyable because you get to see the main highlights of the city. You also get to know a lot more about the city and its history.
Having said that, you can also have a fun and particularly interesting city walk without a guide. Anyway, check out the sights mentioned earlier. We will soon publish a separate blog especially about the Cartagena highlights that are not to be missed. Here you will find plenty of inspiration for your city trip to this fantastic port city.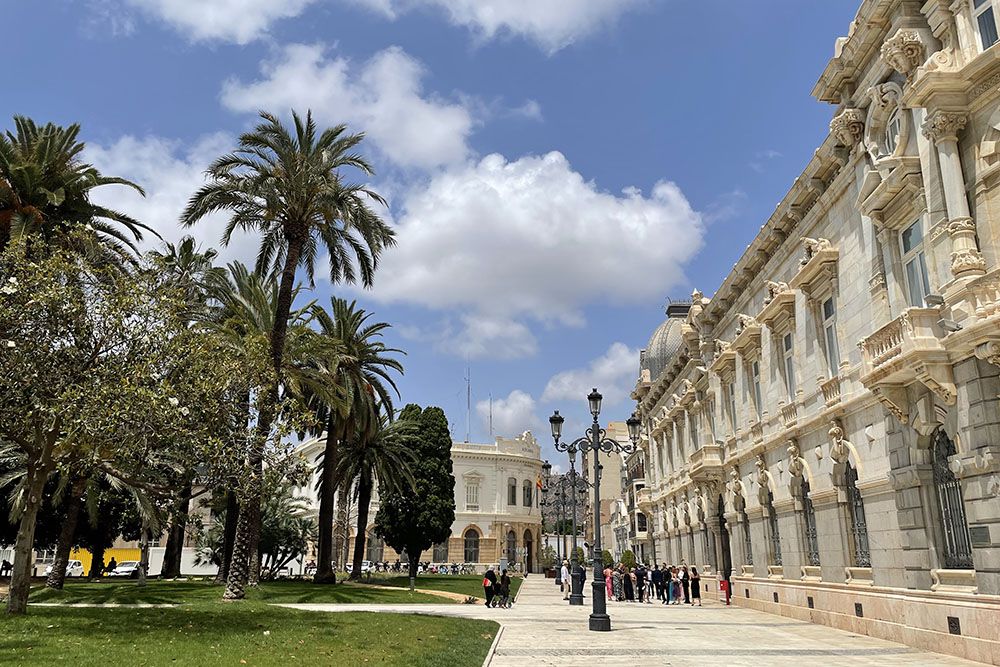 Other towns and villages to see in Murcia
The region of Murcia has other old towns and picturesque villages that are definitely worth a visit. Like Lorca, a city full of beautiful old buildings in Baroque and Renaissance style. One of the city's highlights is the 11th-century castle, located high atop a hill. Another attraction is the centrally located Plaza de España. It is a perfect place to take a stroll and enjoy fantastic food in one of the many restaurants. Here you will also find the impressive city hall and an old monastery. Furthermore, in Lorca you have the only synagogue from the Middle Ages that was never turned into a church.
Moratalla, a hilltop village, is a particularly picturesque village in the region. Among outdoor enthusiasts, the natural surroundings of this village also score high. Do you have more time to spend in Murcia? Then be sure to visit the charming villages of Aledo, Cehegin and Calasparra.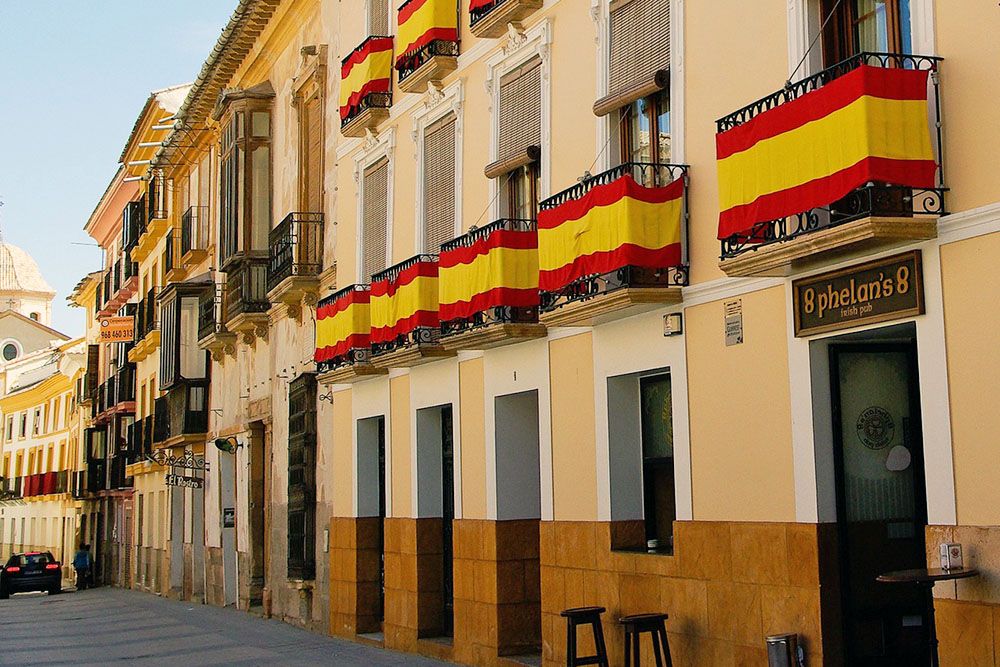 Sierra Espuña
Sierra Espuña is one of the most beautiful hiking destinations in Spain. This mountainous region offers a unique combination of breathtaking landscapes, varied hiking routes and historical sites. Inhabited since prehistoric times, Sierra Espuña has seen countless civilisations come and go. Like the Moors and the Romans. Ancient ruins, Roman baths, old farms and 16th-century snow pits (ice cellars) and churches are reminders of its rich history.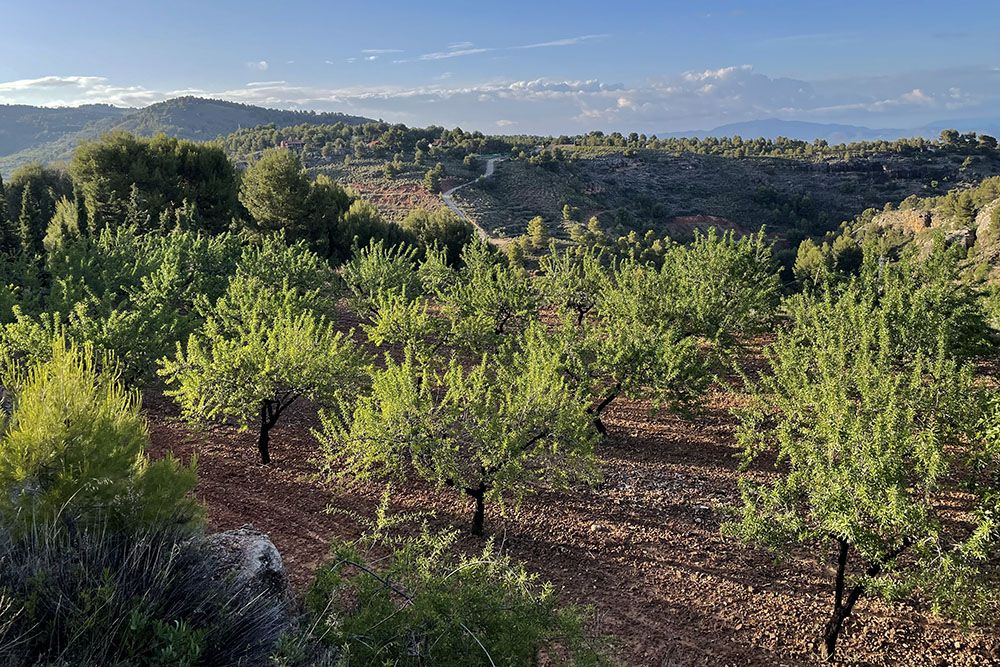 Flora and fauna
Sierra Espuña is home to a wide variety of flora and fauna. These include birds of prey, wild boar, Barbary sheep, wild cats, martens, squirrels, genets and badgers, and many species of (predatory) birds, butterflies and reptiles. However, the Natura 2000 site is particularly known for its flora. And that is special, because in the late 19th century, Sierra Espuña was almost completely deforested.
At the Ricardo Codorniú visitor centre, we read about forestry engineer Ricardo Codorniú, after whom the visitor centre is named. In the late 19th century, he started a reforestation project. In this he was extremely successful. Ricardo Codorniú has since been called the 'Apostle of Trees'. He spent the rest of his life educating on ecology. The Sierra Espuña is now home to more than 1,000 species of trees and plants. This corresponds to a third of all plant species in the entire region of Murcia.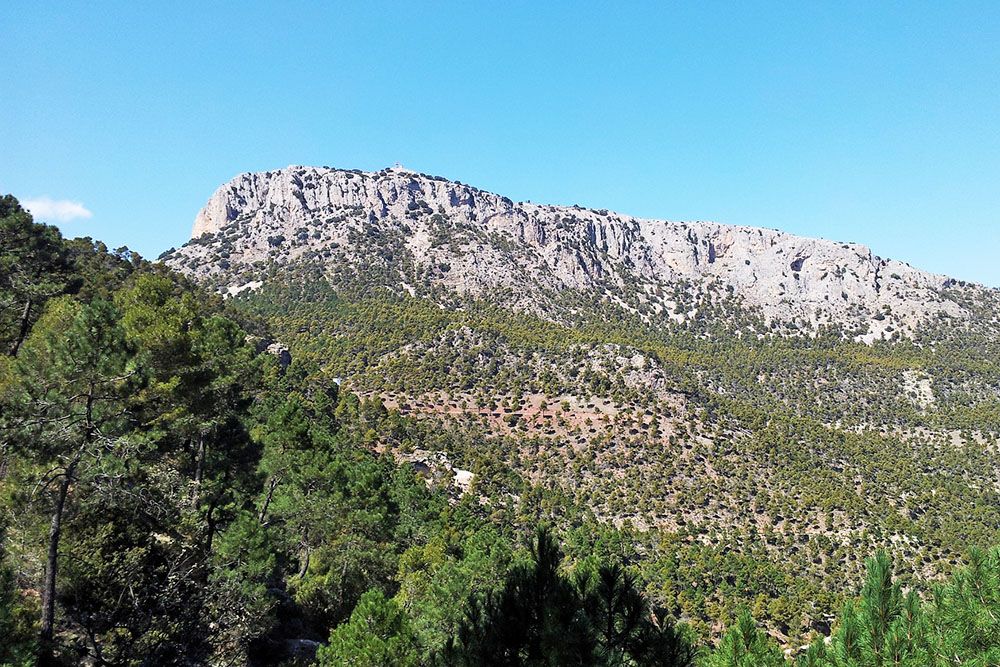 In addition, Sierra Espuña is home to many aromatic herbs. We learn all about them during a
workshop
on traditional, medicinal plants from the area. During the very interesting workshop, we also learn about so-called '
nendo dangos
': clay balls containing all the seeds and minerals needed for a tree to germinate and grow. The seed balls are a unique, particularly eco-friendly method of forestry. Parts of the Sierra Espuña were devastated by forest fires years ago. Led by forestry students, schoolchildren reforested the area with these bulbs.
Hiking routes
Whether you are a beginner or an experienced hiker, the Sierra Espuña has something for everyone. Through the enchanting landscape of rugged mountains, vast forests and lush valleys, several hiking routes lead. They vary in length (duration) and difficulty, among other things. For more inspiration, check out Espuña Turística's website or spain.info. You can find hiking routes at alltrails.com, among other places. You can also download route GPX files here.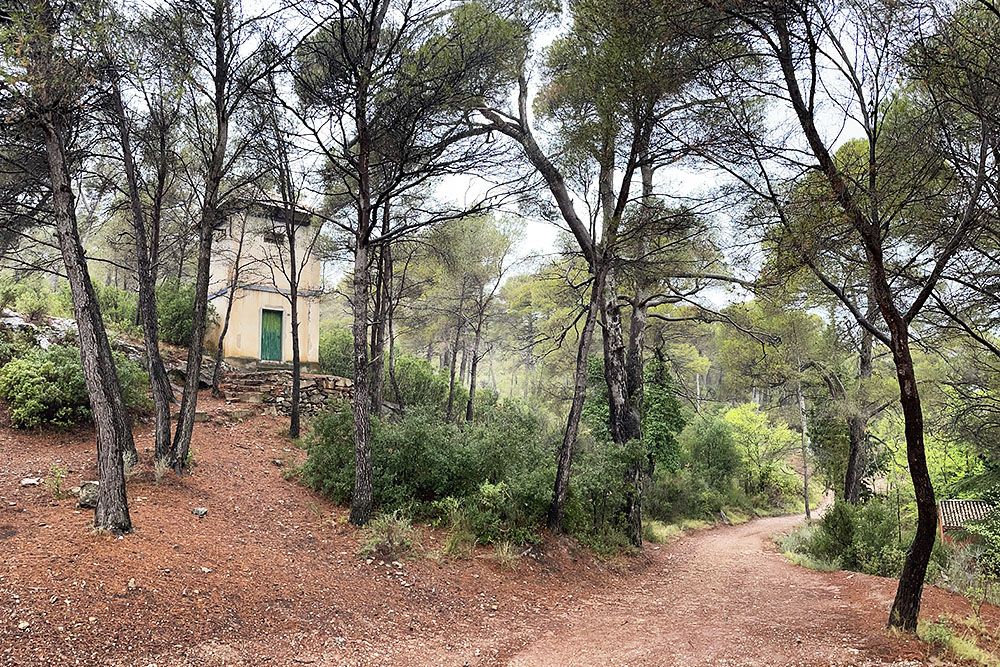 Active relaxation on La Manga peninsula
During our holidays, we prefer to be active. But we also usually like to end our holidays relaxed. On La Manga Peninsula, you can do both. Active relaxation, shall we say.
La Manga is a narrow sandbar over 20 kilometres in length east of Cartagena. On its western side, the headland opens up Europe's largest seawater lake, Mar Menor. This shallow lake is known for its beautiful beaches and super blue waters. The lagoon lends itself perfectly to water sports. Such as windsurfing, kayaking and swimming. But also sailing, which we spent a morning doing.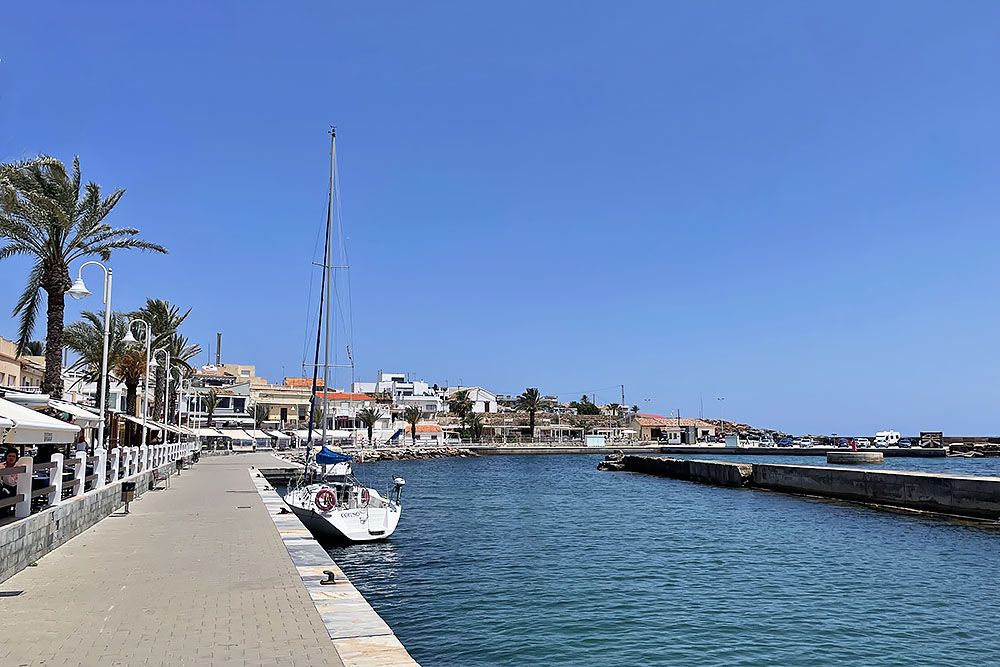 Lovely seaside resort on a marine reserve
On the eastern coast of the peninsula lies the Mediterranean Sea. Here, too, you have fine beaches with many nice bars and some excellent restaurants. Most people go there to relax on the beach or to swim. This part of the Mediterranean is also popular among divers. Indeed, you will find a wide variety of marine life and some fantastic wrecks.
But the peninsula also caters for avid hikers. You have several fine hiking trails there. Although you can also do some walks in the north, most routes are in the south. For instance, we took a wonderful walk to the Cabo de Palos lighthouse. Here you walk along steep cliffs with many small bays attached. Wonderful! Want to see a bit more of the peninsula itself? Then consider the route along the Mar Menor lagoon.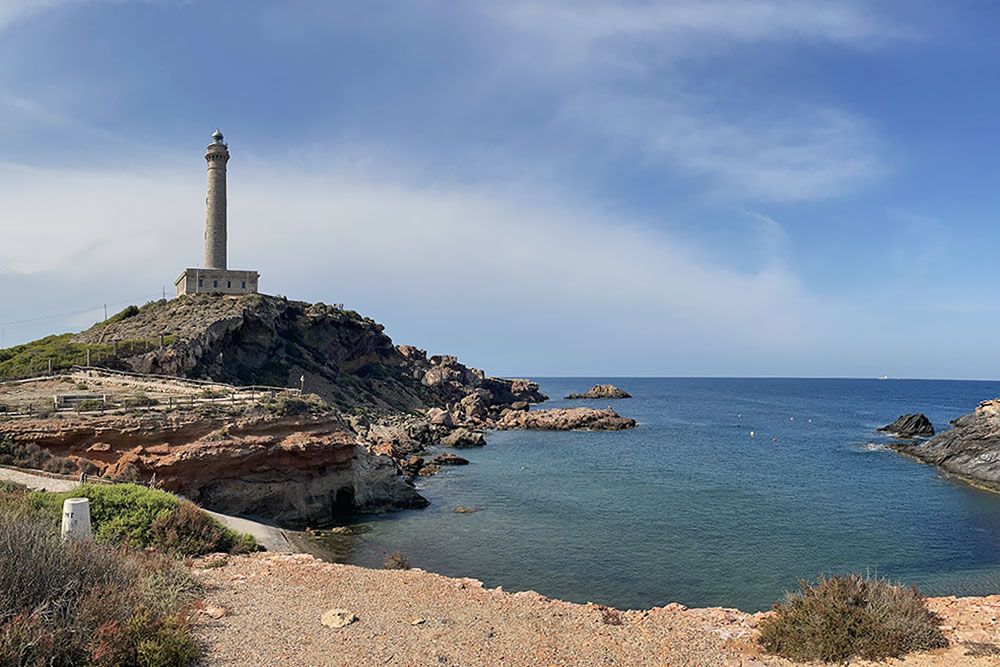 We made this fantastic round trip through the Mediterranean region of Murcia at the invitation of Instituto de Turismo de la Région de Murcia (ITRIM). We compiled the content of the blog independently and objectively based on our own impressions.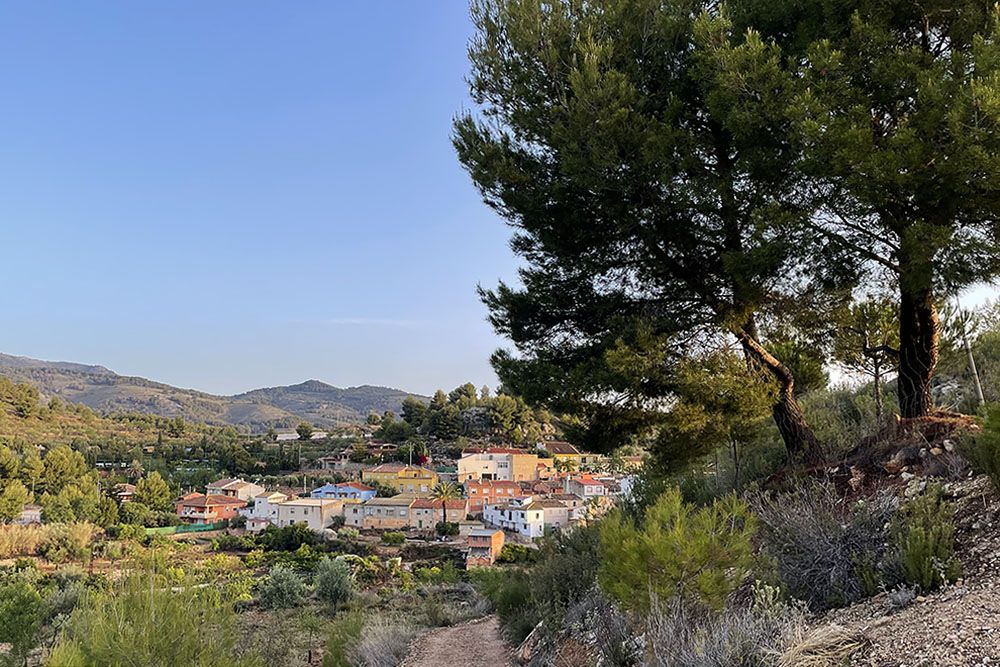 Practicalities for your visit to the region of Murcia
Where is the region of Murcia located?
The region of Murcia is located in the southeast of Spain. Murcia is sandwiched between the regions of Andalucia to the southwest, Valencia to the northeast and Castilla-La Mancha to the west.
How to get to the Murcia region?
By car, you reach the region via either Clermont-Ferrand and Barcelona, or Bordeaux and Zaragoza. If Murcia is the only region you visit during your trip, then plane is the best travel option. Although Murcia has its own airport, your best option is to fly non-stop to Alicante. At the airport, you'll then proceed with a rental car.
Where is the Sierra Espuña natural park located?
The Sierra Espuña Natural Park is located in the Sierra Espuña mountain range. This mountain range is located amid the historic cities of Caravaca de la Cruz, Cartagena, Lorca and Murcia.
What is the best travel time to visit Murcia?
The Murcia region is good to visit almost all year round. The months with the best temperatures and least rainfall are April to June and September to November. During the winter months it can get cold, especially in the Sierra Espuña. March statistically has the highest rainfall.
Some good accommodation in the Murcia region?
In general, the hotel scene in Murcia is just a little less developed than in neighbouring regions. In recent decades, the Murcia region has been more the food producer of Spain than a tourist resort. One exception is the La Manga peninsula. Here you will find ample accommodation. Tip: we stayed at the extremely comfortable Hotel Poseidón La Manga. Really worth a recommendation, also because of its wonderful spa.
Caravaca de la Cruz
Cartagena
Murcia (city)
Sierra Espuña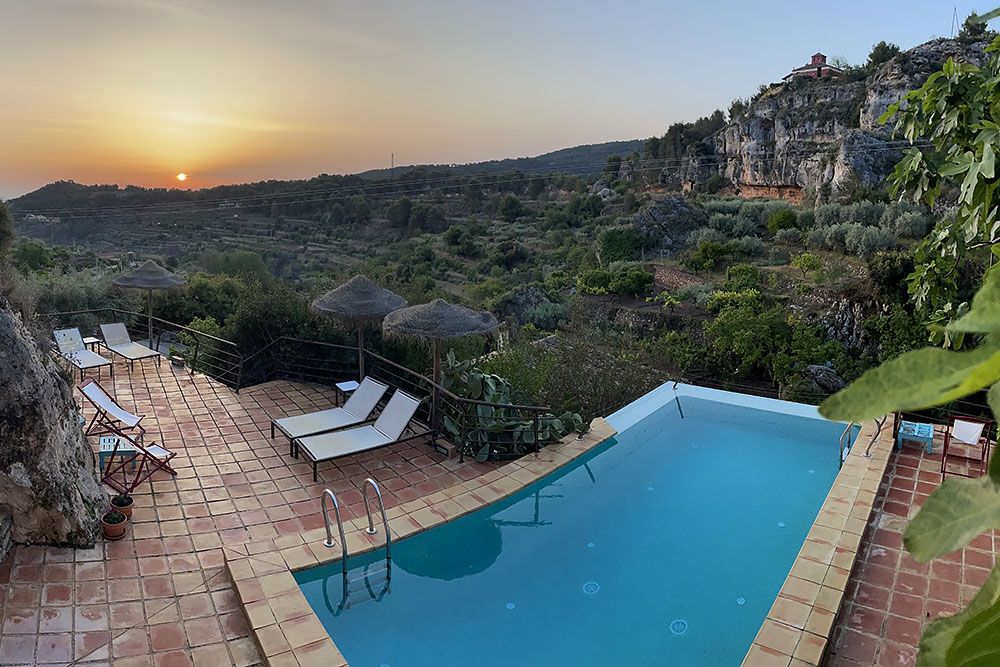 Other topics you may also be interested in