Less than three years ago, we had the pleasure of celebrating New Year's Eve in Sydney, Australia's largest but also oldest city with nearly 6 million inhabitants. Sydney was founded in 1788 as a penal camp on the instructions of the British government. The colony was initially named 'New Albion', but shortly afterwards it was named after the then British Home Secretary, Lord Sydney. It is a city that we think is incredibly nice and it is certainly not a punishment to stay there for many days.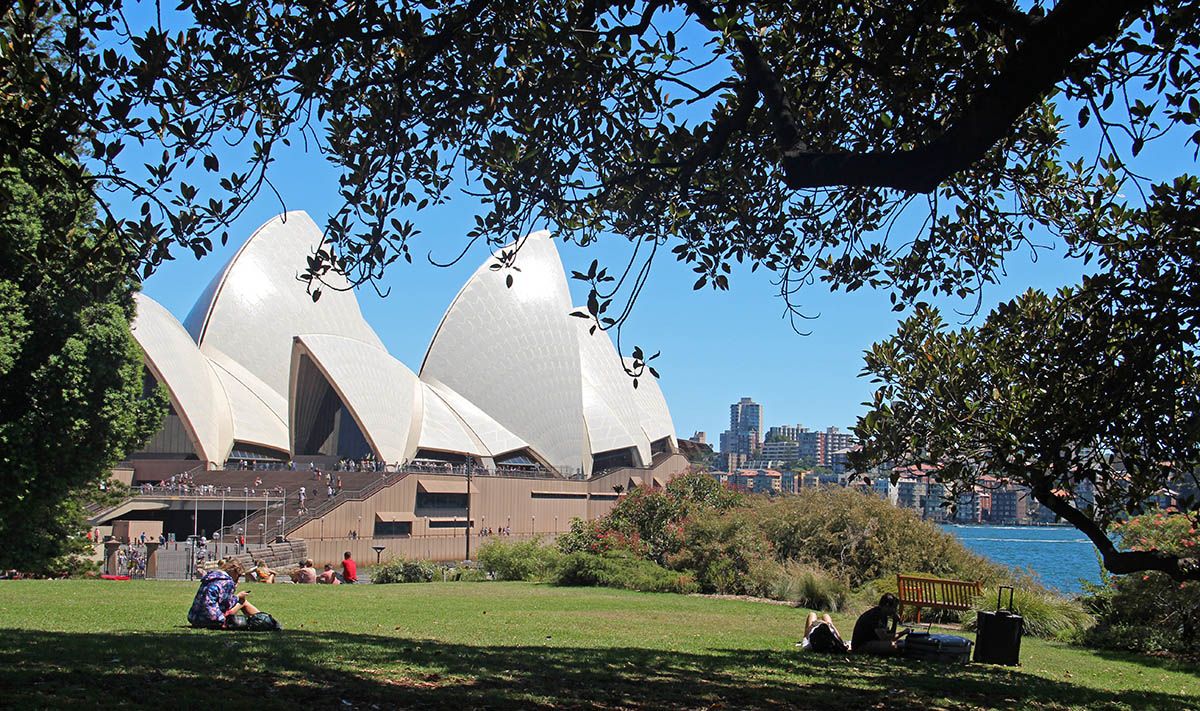 Celebrating New Year's Eve
This had been on our bucket list for a long time: celebrating New Year's Eve in Sydney. What's more, now that we have experienced it, we can only say that it is absolutely worth including on everyone's bucket list! First of all, this is because of the truly amazing fireworks display at the Sydney Opera House and Harbour Bridge. On the other hand, it's a great event where, thanks to the wonderful climate, even in the middle of the night you don't get cold in your summer clothes. There are many ways and possibilities to attend the fireworks display.
For free
Many people look for a place in a park to bring in the new year for free with thousands of others. This is possible in parks that are usually a little further from the harbour and where you don't always have a view of Harbour Bridge. We think the biggest disadvantage of this option is that you have to take your space in the morning and wait twelve hours amid thousands of others in the sometimes-colossal heat. Alcoholic drinks are forbidden by the way, so even a glass of champagne is not included in this option.
Paying
If you want to be assured of sufficient to good views of the fireworks and possibly have a drink, then there are many more possibilities. For example, you can visit the botanical gardens or the zoo across the water. Another possibility is at the Opera House itself, or at one of the many restaurants or cafes along the harbour.
We went for the option with the best reviews, namely from a boat on the water. You'll have fantastic views of both the Opera House and Harbour Bridge and drinks and snacks are included, depending on your package. An additional advantage is that you don't have to go there until the evening and you don't have to queue up for a long time or find a place anywhere. We booked a VIP-arrangement with Fusion Cruises and were very satisfied with it.
At sydneynewyearseve.com you'll find an overview of the many options available to celebrate New Year's Eve in Sydney. This website also offers a map with both paid and free locations. If you want to enjoy the fireworks display to the fullest, like us, keep in mind that you need to buy a ticket online at least six months in advance and that such a ticket is quite expensive. Depending on what you want that can be 100 to thousands of euros per person. We paid over €300 per person for our VIP-cruise.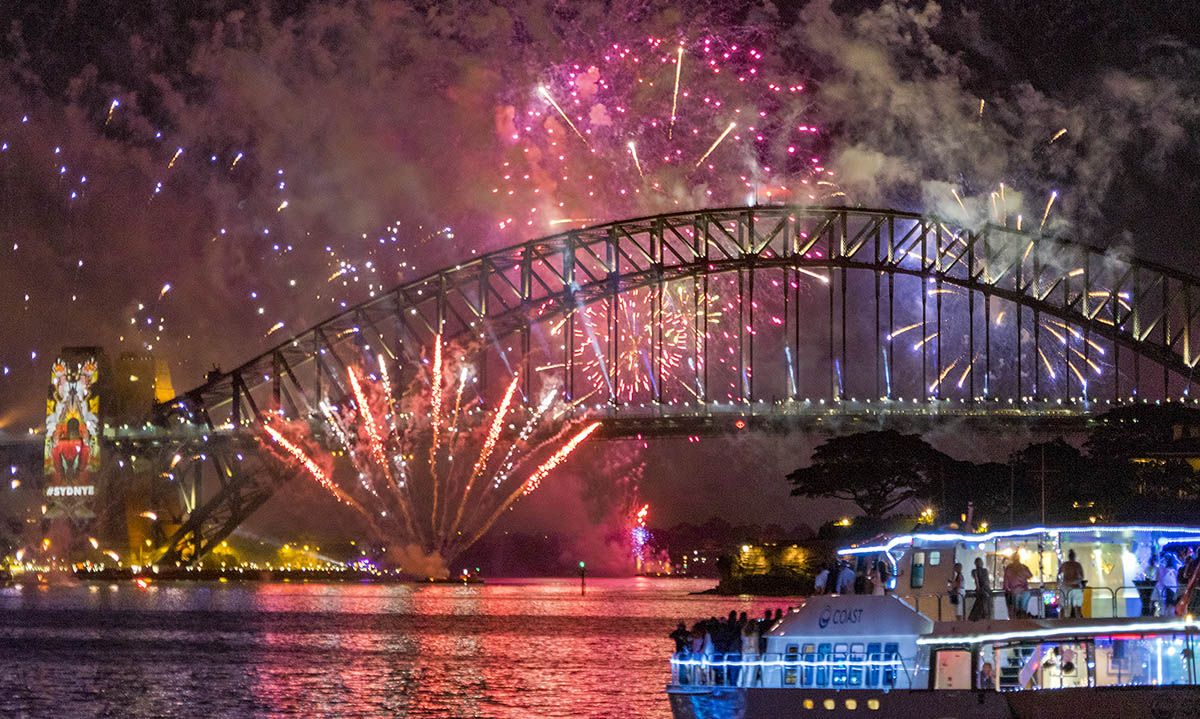 These fireworks pictures were taken by our Dutch friend Michel Boonstra with whom we also celebrated New Year's Eve with other friends.
Other Sydney attractions
Apart from the fireworks display on the first of January, there is much to see and do in Sydney. Here are just a few of the many beautiful sights:
Sydney Opera House
The iconic Sydney Opera House, a UNESCO World Heritage Site since 2007, is a building for opera and other performing arts. It is so common in photographs that it has become a symbol of Sydney. The Opera House was designed by Danish architect Jørn Utzon, who won the competition in the mid-1950s with his design. He loved sailing, something you can see in the roofs of the building.
There are more than a thousand different spaces, of which the Concert Hall with one of the largest organs in the world and the Opera Theatre are the most important. Even the rehearsal room, which is also a recording studio, is so large that an entire symphony orchestra fits inside.
You can also just visit the Opera House without going to a performance. Tickets for a tour can be purchased online. Especially in the high season it is smart to order tickets at least one day in advance.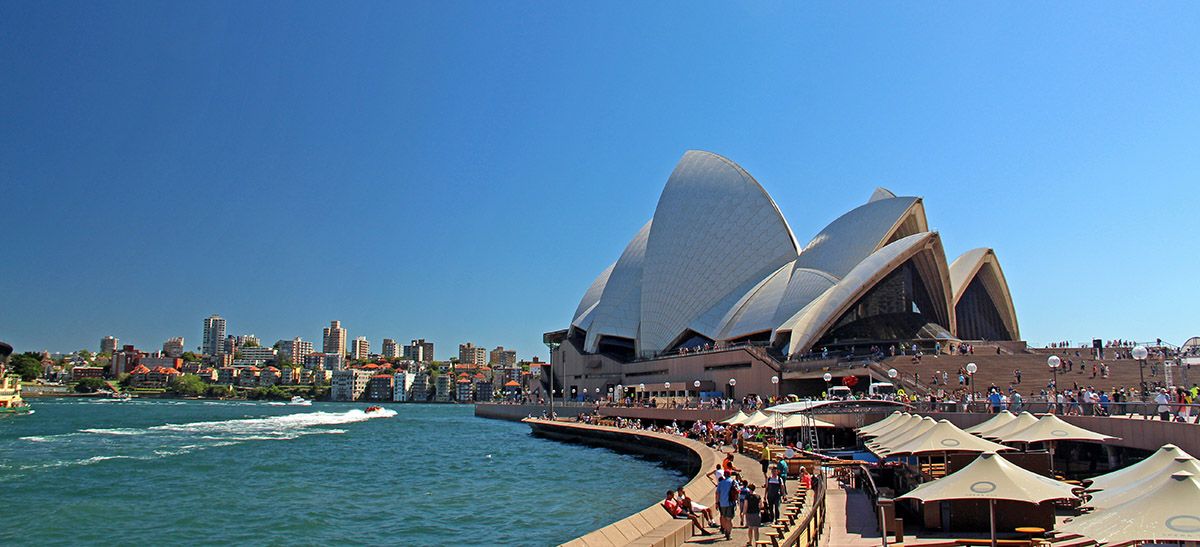 Harbour Bridge
The Sydney Harbour Bridge, like the Opera House, is an iconic symbol of Sydney. Over 500 metres wide and 134 metres high, the steel bridge is the widest arch bridge in the world. Harbour Bridge is the result of a work acquisition project and was opened in 1932. The bridge has eight lanes of traffic, two train tracks, a bicycle path and a footpath.
If you are in good physical condition, you can also (safely) climb the high bridge under supervision with complete equipment, including climbing harness. On the advice of friends of ours we wanted to do this as well, but we finally changed out mind because the trip takes a lot of time (more than three hours) and is quite expensive. Once at the top, you will be rewarded with a fantastic view over Sydney and the surroundings.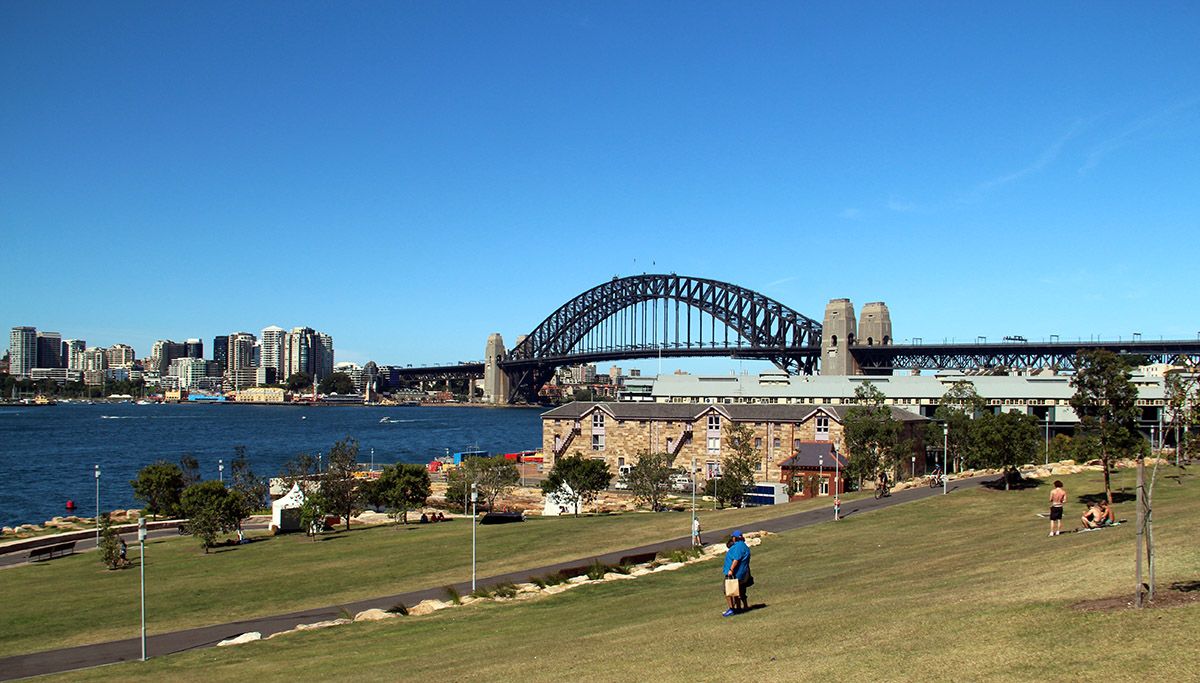 Royal Botanic Gardens
Near the Opera House you will find the Royal Botanic Gardens, consisting of dozens of beautifully landscaped gardens. In total there are more than a million trees, shrubs and plants. In the lower gardens, including the garden at the Opera House, there is often people having lunch and running. The botanical gardens are most visited on New Year's Eve when thousands of people sit on the grass well in advance, so they don't miss any of the fireworks display.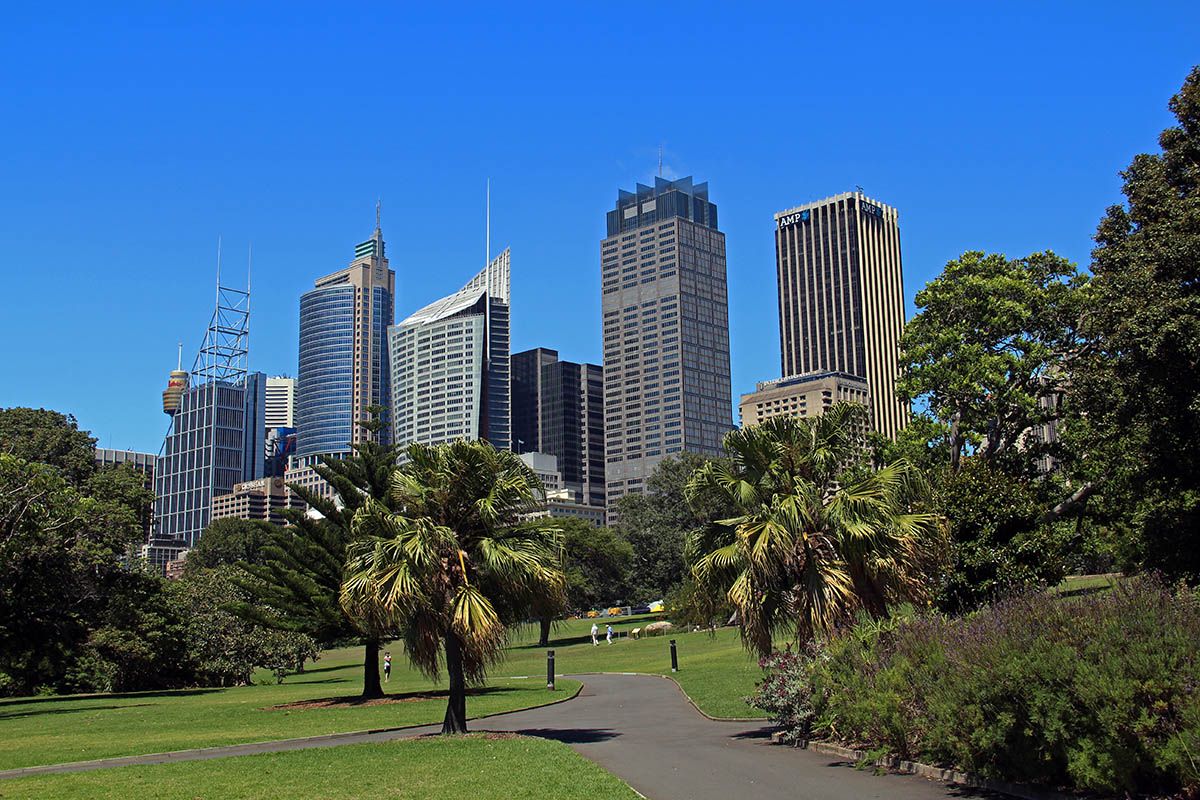 Darling Harbour
Darling Harbour is a lively nightlife district around Sydney Harbour. You'll find many restaurants and cafes there. This is one of the locations where many people celebrate New Year's Eve. In the port area you will also find the Sydney Aquarium, where more than 11,000 marine animals live, the Australian National Maritime Museum, the Chinese Garden of Friendship and the Powerhouse Museum.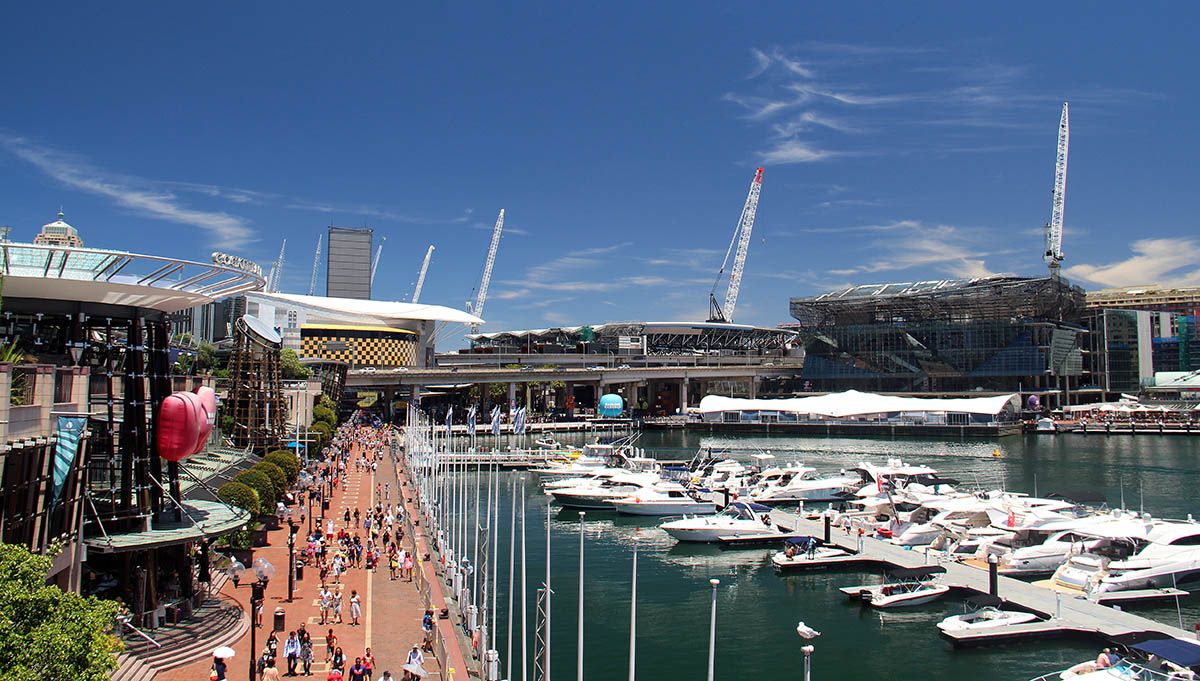 Bondi and Bronte Beach
Bondi Beach is a famous beach where Australian beach and surf culture originated. We had heard a lot about it but found the beach, where many British and Dutch tourists spend their holidays, a bit disappointing. We went for a walk along perfectly accessible paths along the beautiful coast to Bronte Beach. This beach is a bit smaller but has more charm in our opinion. You have many cafes and it is easily accessible by public transport.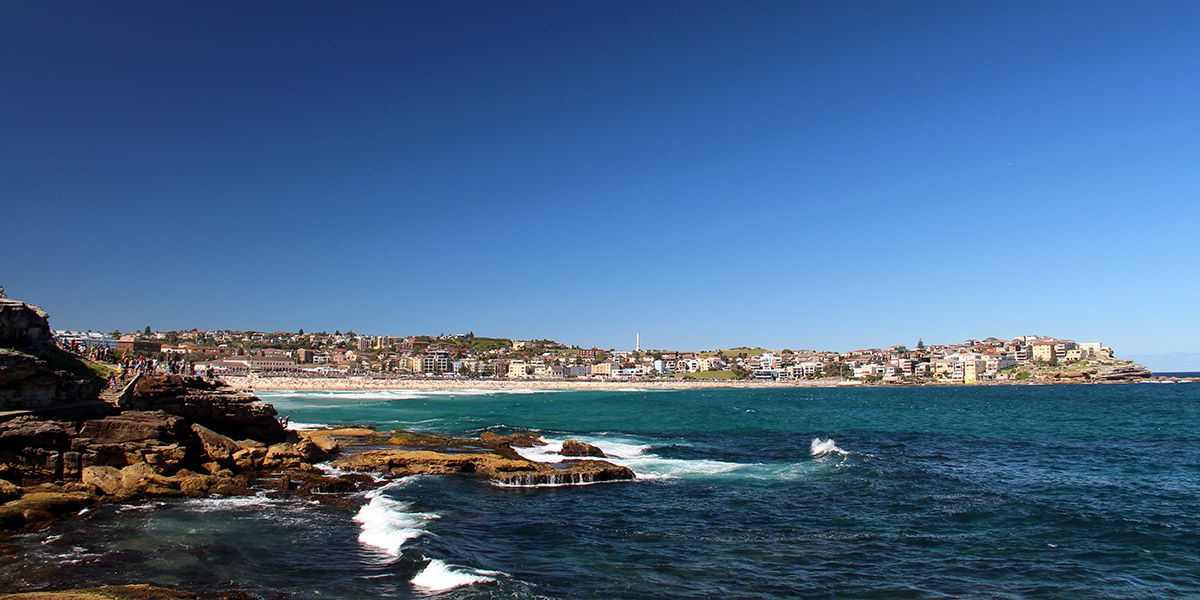 The Rocks
During our visit to Sydney we especially liked the 'The Rocks' district for a stroll. It is an old district where the colonial history of Australia is still clearly visible. You'll find beautiful, meandering, cobbled streets and cosy pubs and terraces. Also, 'The Fortune of War' is here, the oldest pub in the city from 1828.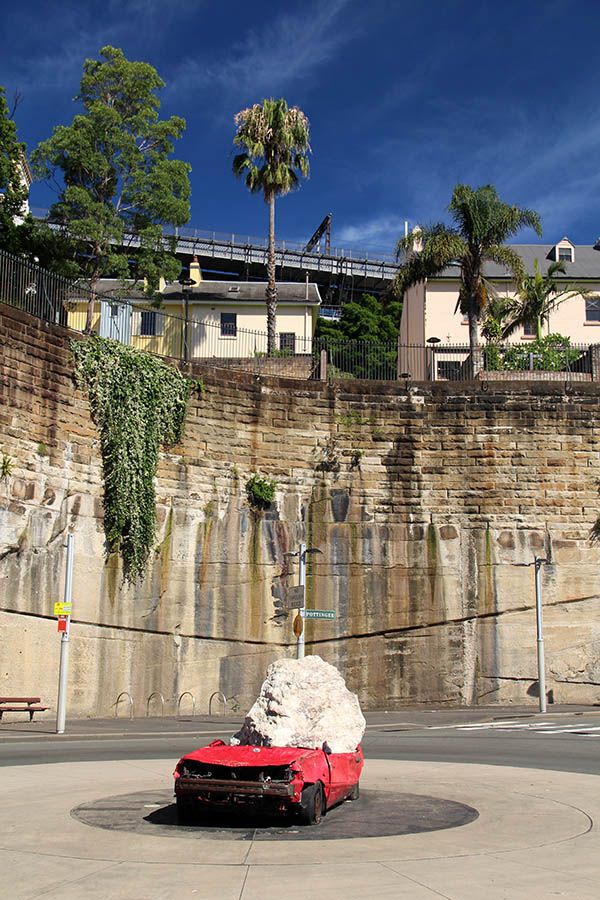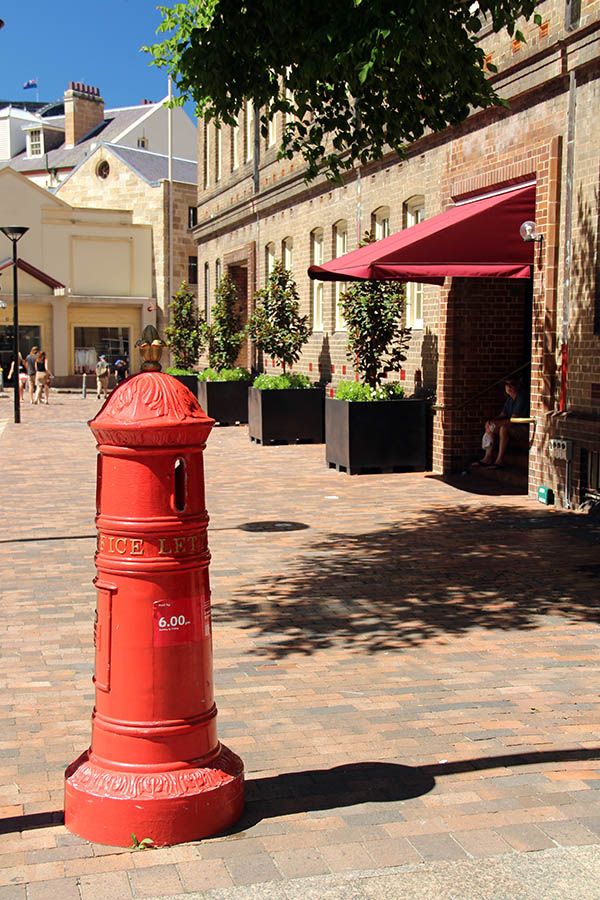 Practical info for your visit to Sydney
Best time to visit Sydney
The Olympic city has a subtropical climate where it never really gets cold. In principle, the months October to April are the best months to be there. Exceptions may apply to December and January because it can get quite hot in the city. In addition, these months are the high season. Not only tourists but also the Aussies are enjoying their holidays. High prices are the result. If you do not necessarily want to celebrate New Year's Eve as we did, then the months of October, November and February and March are better.
Accommodation in Sydney
Sydney is Australia's financial and trading centre and a tourist attraction as well as a city. It is one of the most expensive cities, not only for its inhabitants but also for holidaymakers. Especially in the months of December and January you will notice this in the price of accommodation. Fortunately, there is plenty to go around, but depending on the location in the city, you may spend a lot of money for your accommodation. We have been there at two different locations. First near Bondi Beach, later closer to the centre in the Haymark district which we found a bit more pleasant. Click here for an overview of about 2000 accommodations in Sydney.
Transport within the city
In Sydney, public transport is well organised. First of all, there are many bus lines. The buses run on a regular basis. Also, you have the Sydney Explorer Bus, an excellent hop-on-hop-off option that takes you past the major sights. Another popular means of transportation in the city is the ferry that can take you to the many sights around the harbour. We also took the ferry to Manly, a fun, tourist suburb of Sydney with oceanfront beaches. If you are thinking of using public transport, then purchase the SydneyPass. This allows you to travel at a reduced rate of x-number of days (3, 5 or 7 days) on the ferry, trains, buses, Explorer buses and canal boats.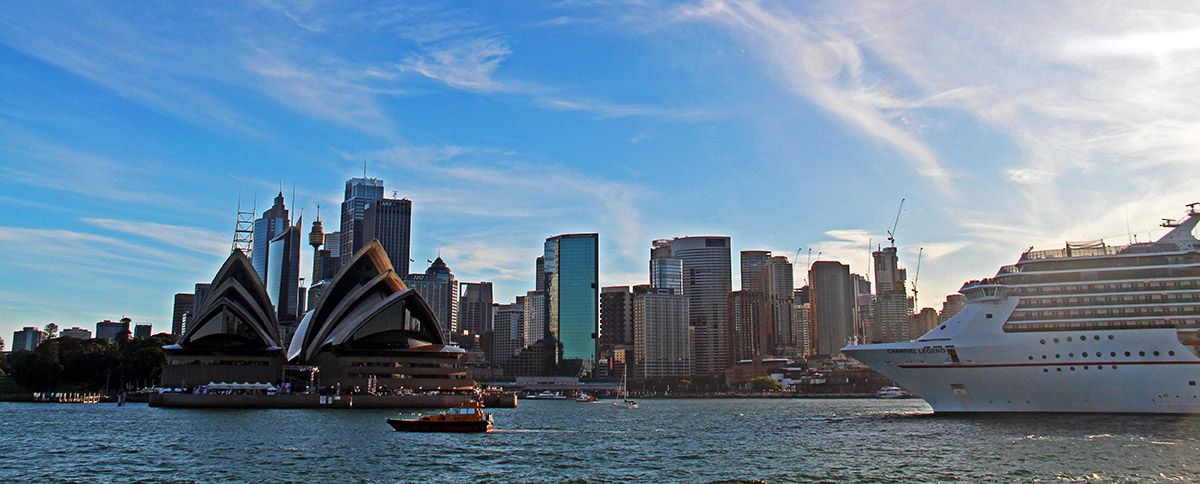 Other topics you may be interested in