Many visitors to Mexico pass up the capital on their way to sunny beaches, underwater paradises or cultural cities. But that is a shame, because the city has a lot to offer. You get to know the country well by visiting the city, or better understand it at the end of your trip. But how do you find your way in the metropolis? In this blog on the mighty city, you will read all about the cultural, culinary and exciting attractions.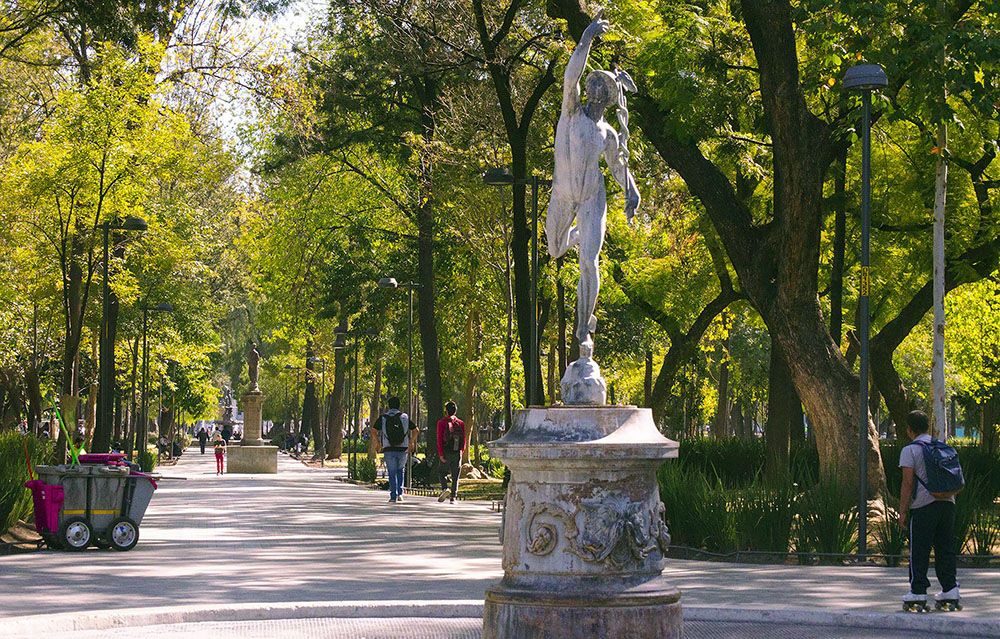 The top 10 highlights of Mexico City
Only have one day in Mexico City? There is much to choose from the following twelve highlights. With two days or more, you can see them all, even from the air.
Zócalo Square
Zócalo Square (Plaza de la Constitución) lies right in the middle of Mexico City. It is a historically central and convenient starting point for a visit. The square is so big that 100,000 people can fit in it, which happens regularly during political and cultural events.
In the middle of the square is a flagpole with a gigantic flag that weighs 230 kilograms, and is the pride of many Mexicans. It is a popular spot for meeting people, performing under it and, of course, taking photos. From this spot, you can take in the almost 700-year-old plaza and the surrounding buildings.
Mexico's history is visible in the cathedral, the palace and the gallery. But especially in the colourfully dressed natives who sell their goods here. An overview of Zócalo square:
The National Palace
The National Palace (Spanish: Palacio Nacional) is the seat of the Mexican government. The palace was built in 1563. After devastating fires in the 17th century, it was rebuilt in its present form. The famous artist Diego Rivera painted enormous murals in the palace, depicting turbulent episodes in the history of Mexico. Tourists may visit the palace.
Cathedral
The Catedral Metropolitana is the largest cathedral in Mexico and even in Latin America. It was built on the site of the Aztec temple of the Tenochtitlan era. The cathedral is considered one of the best examples of the Mexican Churrigueresque style. But you will also find other architectural styles in it such as Baroque, Renaissance and Neo-classicism. Inside you can admire the twenty-five-metre-high carved Baroque altar of the kings. Here, canonised kings and queens are depicted. There are also many beautiful paintings on display and the building itself is imposing inside and out.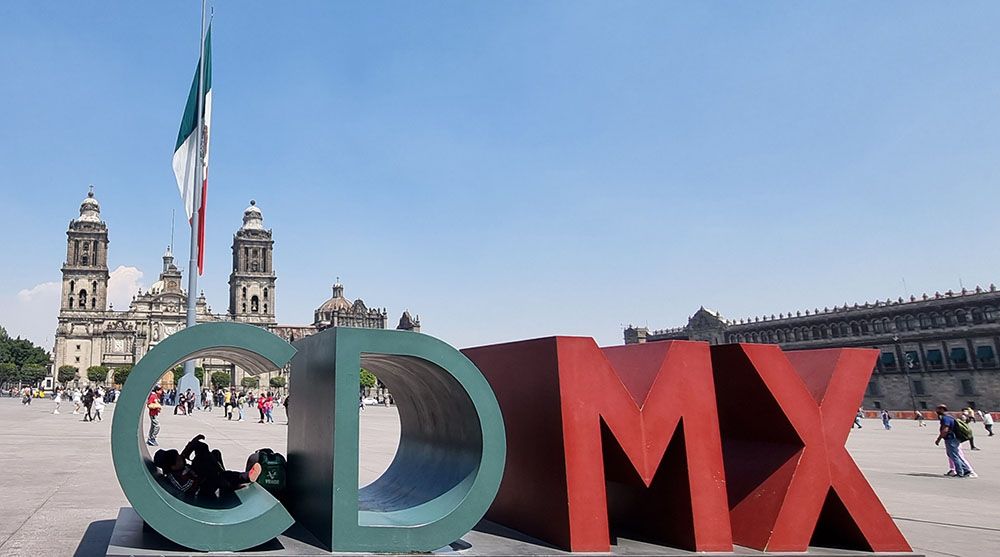 Portal de Mercaderes
Trade has been conducted here since Spanish rule in 1521. And even now, it is mainly gold that shines in jewellery shops. But you can also get your money's worth in the souvenir shops in this busy arcade.
Great hotel with fabulous terrace and views
Another option to overlook the plaza in style is from the roof terrace of the Gran Hotel Ciudad de Mexico. It is on the corner of the Portal de Mercaderes with the Museum Salon de Cabildos. The hotel is historic, grandiose and features art nouveau details. The rooftop terrace is also accessible to non-hotel guests, with a reservation for brunch or dinner. Or spoil yourself and book that 'gran' room with a grand view.
Shopping, eating and drinking
Need to recover from the impressions of the Zócalo or find new inspiration? This is possible in the shopping street Avenida 5 de Mayo. It runs from the Plaza de la Constitución to, among others, several museums. Apart from shops, you will also find coffee shops, luncheons and bars here. From small owners to the well-known national and international chains.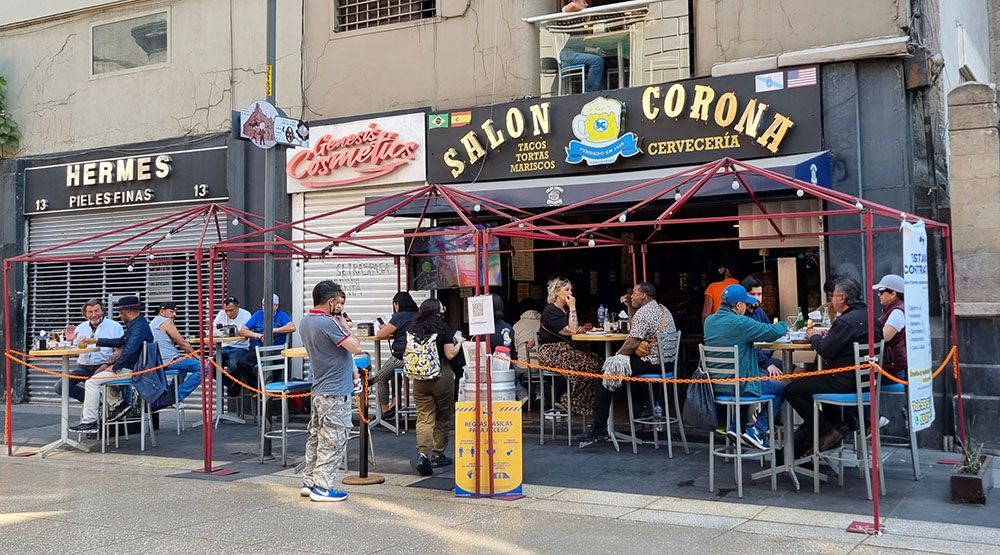 Palacio de Bellas Artes
When you arrive at the Palacio de Bellas Artes (Palace of Fine Arts) you will first notice the beautiful white Art Nouveau building, the grotesque columns and the copper-coloured round dome. Inside, you will again see giant murals painted by artist Diego Rivera and others. As a cultural centre and original theatre, it offers changing exhibitions as well as, for example, ballet performances.
Outside the Palacio on the square and in the neighbouring Alameda Central Park it is often crowded. People gather here to have a nice chat, to sell their merchandise on rugs or to protest. Or just to find peace and quiet, although that seems to be a bit of a challenge.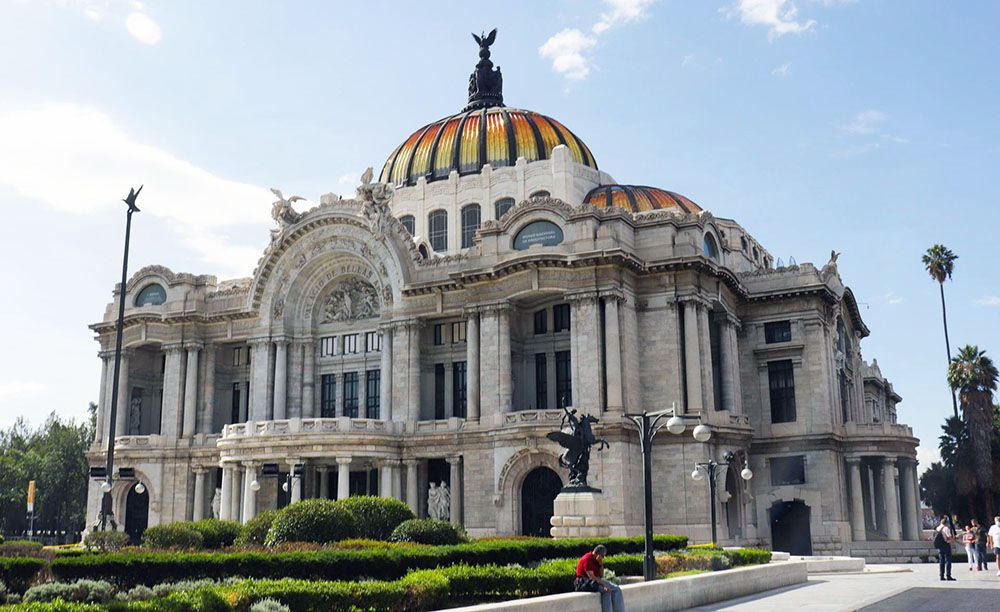 Museo Mural Diego Rivera
If you have not had enough of Rivera's frescoes, go to his own museum on the west side of Alameda Park. The park and the artist's dream are central to the fresco called "Sueño de una tarde dominical en la Alameda Central" (Dreaming of a Sunday afternoon in Alameda Central). The history of the work of art was given added weight by the fact that the original location, a hotel, was destroyed in an earthquake in 1985. With great precision, the fifteen-tonne wall was moved to its current location and the museum was built around it.
Museo de Arte Popular
For equally colourful but different art, go to the Museo de Arte Popular in the Reforma district. It's not far from the classic museums mentioned above and offers its own unique take on Mexican art. It starts with a fully painted Volkswagen Beetle in reception. Then you move from ancient statues and household objects to contemporary masks and bowls, and finally to… death.
This is a popular theme in Mexico, perhaps even an obsession. And not only on 2 November, the Dia de Muertos. This is expressed in many ways: children already see it in their toys. Think of painted skulls in all sizes and skeletons that are displayed in the house or carried in parades. The extensive Spanish and English texts are accessible and give a good picture of this subculture.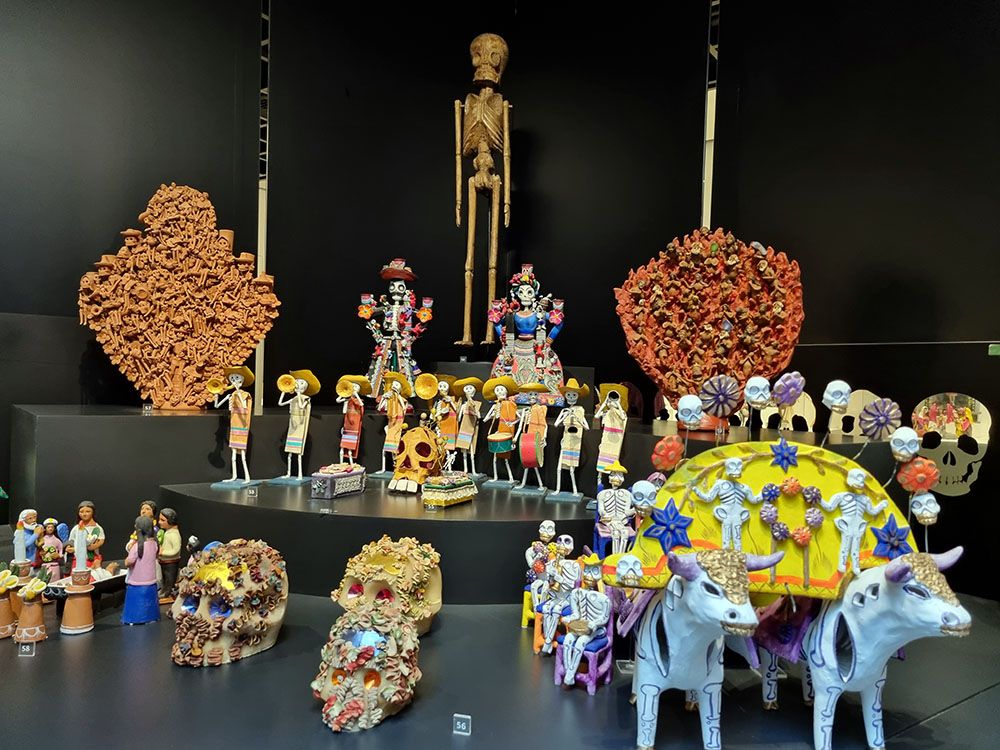 Frida Kahlo
When one speaks of Mexico, one talks of Kahlo. Her works of art, and even more so the image of her face with its colourful garland of flowers in her hair and continuous eyebrows, are famous worldwide. Especially outside her motherland, she is perhaps even more famous than her former partner, the aforementioned Diego Rivera.
But if you really want to get to know her, a visit to her home Casa Azul is a must. After her death, Rivera converted the blue house into a museum, exactly as she wished, in order to share it with the public. Just as she always shared her life and art with many. In the museum, with its original furnishings and through photographs, you can see how she lived. Equally interesting are the exhibitions of her outfits and specially tailored clothes, precisely because she was tormented by illnesses and limitations. She put her own spin on this in all her colourful outfits and positivity. Take a taxi from the historic centre to Casa Azul.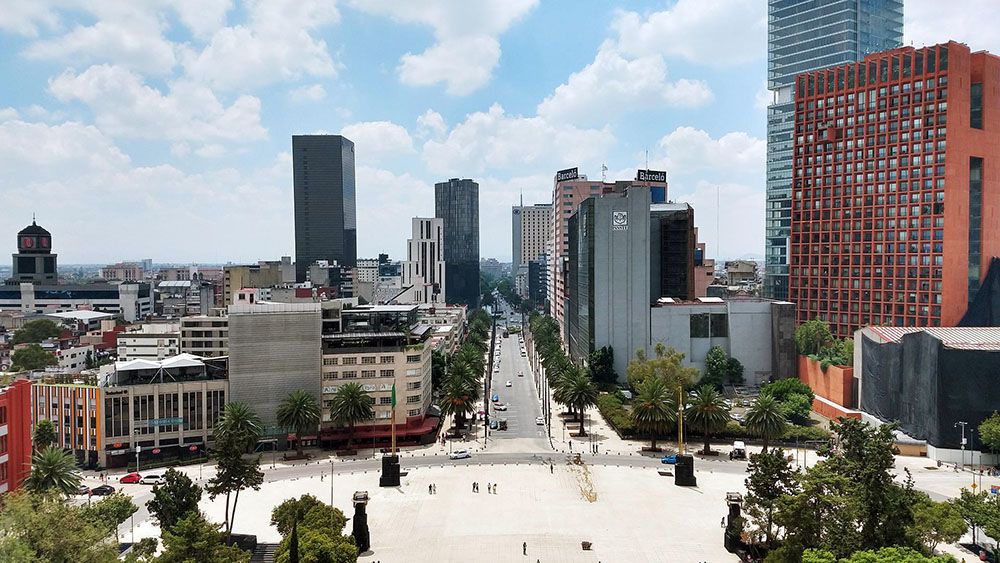 What else to see and do in Mexico City
The aforementioned attractions are all located in or near the historic centre of Mexico City. But this gigantic city of almost ten million inhabitants naturally has more interesting things to offer.
Popular neighbourhoods in Mexico City
Like everywhere else in the world, hip and trendy is changing. These two neighbourhoods are all the rage right now: Roma Norte and La Condesa.
Chic and with a clear European influence, with villas in art nouveau and art deco style. In these two districts, you will find the most beautiful houses with manicured gardens, perfectly landscaped parks and wide avenues. Our advice? Just stroll around, rest on a terrace every now and then and let another Mexico pass you by.
Street Art
At Street Art Chilango you see art and street life of a different order: street art or graffiti. The city, especially Roma Norte, is full of paintings and for lovers this is the place to see it. A nice contrast to the otherwise so tidy appearance.
Other small museums and art galleries offer a large and diverse range of artworks to look at, or buy, of course. There are too many to mention here, so go and find them yourself.
Cooking course in Mexico City
Mexican cuisine: who doesn't know tortillas, baked beans and enchiladas? Colourful and often spicy. Throughout the city and especially in Roma Norte you'll find plenty of restaurants in all price ranges to spoil your taste buds.
But if you really want to challenge yourself, take a cooking course. And to make it even more challenging, make sure you master the basics of Spanish. However, copying these chefs will probably get you a long way too.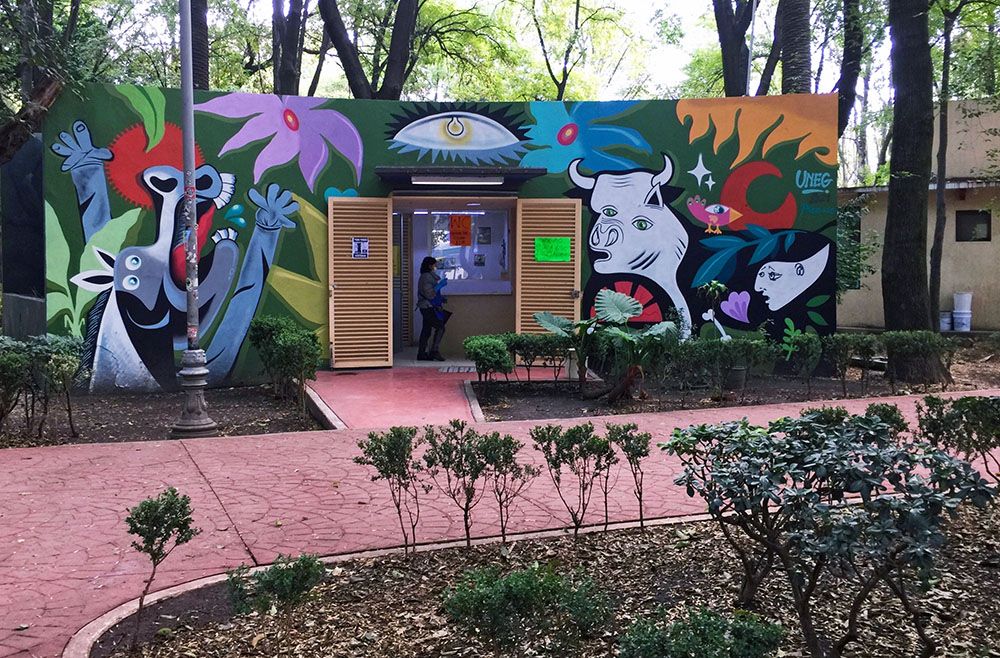 Activities and sights outside the city
Outside Mexico City there is plenty to see and do. For example, at Teotihuacan, about fifty kilometres from the city, you will find the impressive pyramids of the Sun and the Moon. You can also take a balloon ride over these Aztec pyramids. Soon, there will be an extra blog on this website, in which we will go deeper into both highlights.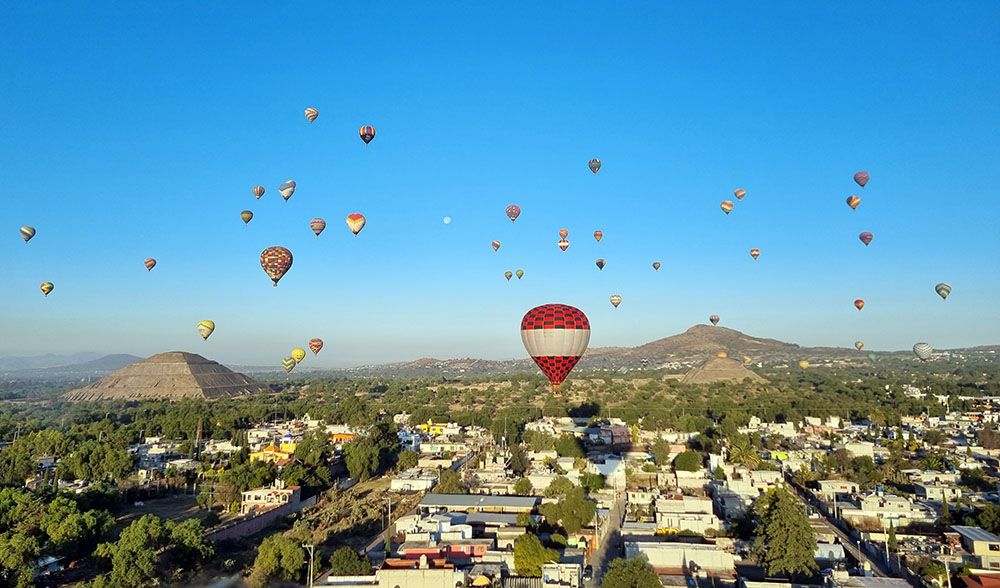 Practical tips for your visit to Mexico City
The answers to the following frequently asked questions will help you prepare for your visit to Mexico City.
Is Mexico City a safe city?
The gigantic Mexico City has the same problems as other world cities in all its districts. Use your common sense, be prepared, do not wear (flashy) jewellery and take at most a little cash; you can pay by credit card almost everywhere.
How do I get around Mexico City?
During the day it is safe to walk almost everywhere, but check with your hotel about the current situation to be sure. Do not go on foot beyond the street of your hotel after dark.
Never take the infamous green Volkswagen Beetle taxis. Also, avoid the city bus, as it is crowded and takes a long time to get anywhere. What you can do, however, to cover long distances safely and learn a lot about the city at the same time is to take the hop-on-hop-off bus. Touristy? Certainly! But we really liked this bus ride.
Opinions are divided about the metro: during the day, in a group and not during rush hour, the metro is recommended. The metro is very fast, clean and cheap. Always pay attention to your belongings (a metro journey with suitcases from the airport is therefore not recommended) and to each other. Do not take the metro in the evening, take a taxi instead.
In the dark, even if you travel in a group, always take a regular taxi that you book at your location - or via Uber. Not familiar with Uber yet? Download the app on your phone, it is indispensable nowadays. Bear in mind that the traffic is very busy. Do not travel too far during rush hour (see also the tip on choosing a hotel).
What else do I need to think about when visiting Mexico City?
Mexico City is located at a high altitude of over 2200 metres. This means that you burn quickly and that you should therefore apply sun cream properly, even when it is cloudy. And the altitude can make you feel light-headed (especially just after arrival, in combination with the time difference). Drink plenty of water and not too much alcohol or caffeine if you are sensitive to this.
What is the best time to visit Mexico City?
The best time to travel to Mexico City is in spring, due to the cold winters and hot, rainy summers.
Where is the best place to eat in Mexico City?
The Sanborns restaurant on Avenida Francisco 1 Madero is located in a building that is not called Casa de los Azulejos (House of Tiles) for nothing. Located on a side street of the plaza near the Palacio de Bellas Artes, it is the most beautiful and classically decorated restaurant of this major chain. Waiters and waitresses in white and black dress rush by with a cup of coffee and great-looking cakes, or with larger dishes for lunch or dinner.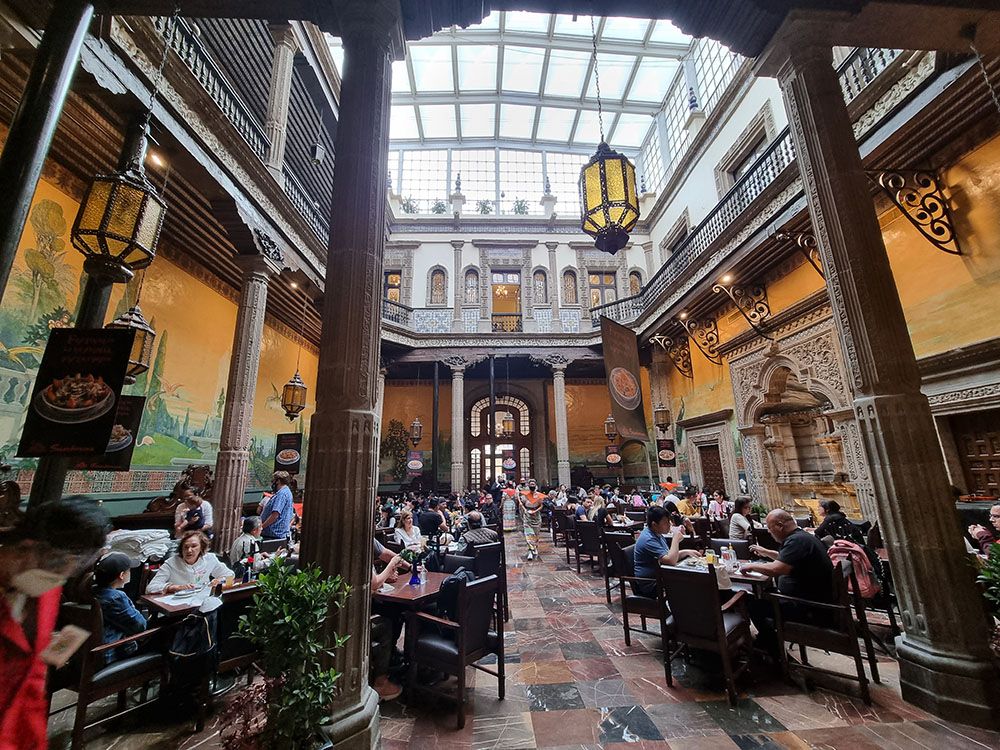 Is a 1950s diner-style restaurant more your thing? Just opposite the columns of the Palacio de Bellas Artes on the busy pavement is another Sanborn restaurant entirely in this vein and perhaps less crowded than the previous one.
The city and each of its neighbourhoods has a wide range of culinary choices, from bargain to exclusive and expensive, from local street stalls to star-studded international restaurants. Much will depend on how long you stay in the city and your transport options and wishes. In a city like this, besides doing your own research on the Internet, the up-to-date knowledge of the hotel's receptionist or concierge is worth its weight in gold.
How do I choose a hotel for my stay in Mexico City?
It depends, of course, on your budget and wishes. For the top 12 sights in this blog, a hotel in the Old Town or Reforma district is convenient. The described Gran Hotel on the Zócalo is beautiful, but expensive. Every international three- to five-star hotel chain is amply represented, including in other parts of the city. You will find more boutique hotels in the districts of La Condesa and Roma Norte. Click here for a list of accommodations in Mexico City.
How long do I need to visit Mexico City?
We think that two full days in the city is enough to visit most of the highlights mentioned in this blog. Depending on how tired you are after the long flight, the time difference and the altitude. And of course, your further travel plans.
Other topics you may be interested in