The bucket list destination of Peru, perhaps even of South America. One of the seven wonders of the world and of course a UNESCO World Heritage Site. A visit to this beautiful city has to be in your itinerary. You can walk around for hours and try to imagine how the Incas once built this and lived there.
History
Very little is still known about the history of Machu Picchu. There are various theories about the origin and purpose of the city. It is believed that the construction of the city started around 1450. As it lies between a number of holy mountains, the city probably had a religious function for the kings and their entourage. In total, less than 1,000 people lived in Machu Picchu. About 100 years later, they left the city.
Why is not entirely clear. Perhaps they were afraid that the Spanish rulers would take the city. There is also a theory that the residents died of a smallpox epidemic and therefore wanted to flee. The Spaniards never discovered Machu Picchu. Only in 1911 did the American archaeologist Hiram Bingham find a totally overgrown city. The name Machu Picchu means old mountain. The mountain you see in all the pictures behind Machu Picchu is called Huayna Picchu, which means young mountain.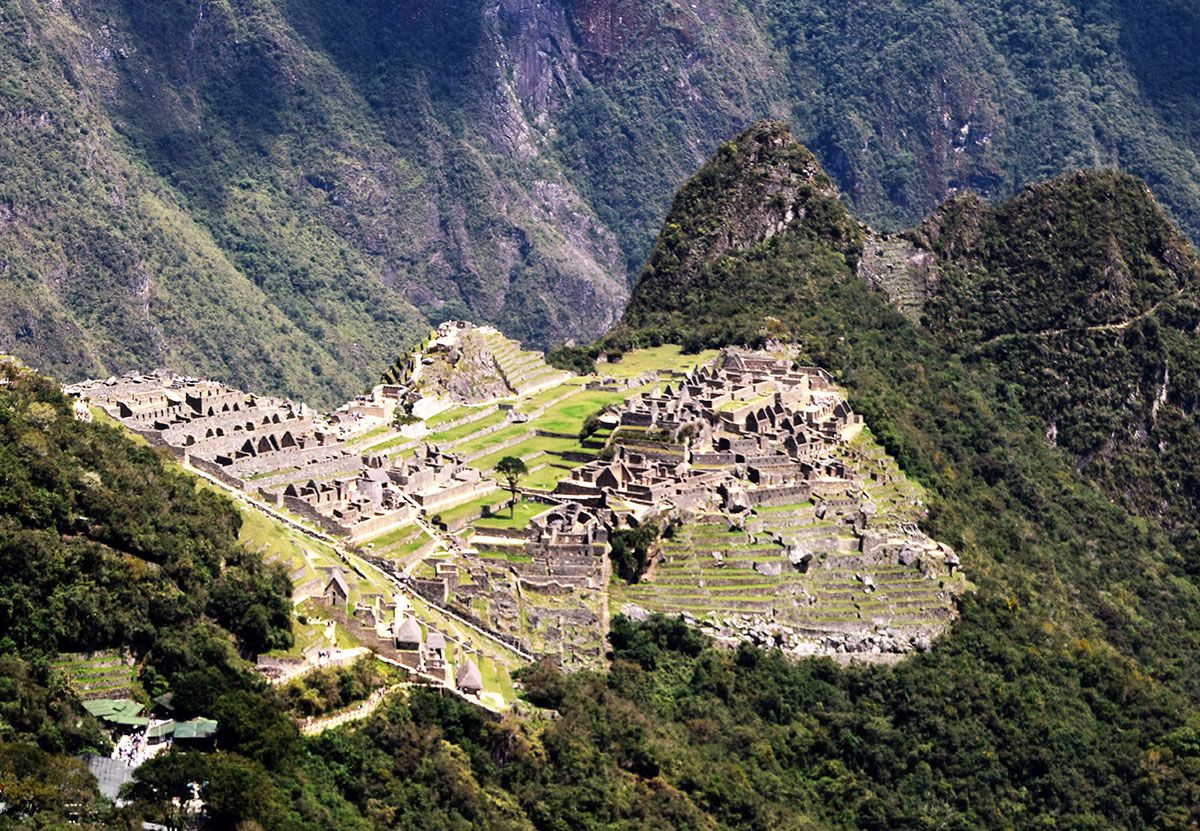 How to get there
There are three ways to get to Machu Picchu:
By train from Cuzco to Aguas Calientes. From here you take the bus or walk through the forest (steep and difficult, good fitness is required!) to Machu Picchu. Many day trippers do this. They arrive sometime mid-morning. With a ticket from midday 12 pm to 6 pm, they can then access Machu Picchu. That means waiting for a while before you enter. The train journey is quite expensive but comfortable via Perurail or Incarail.
By bus from Cuzco to Hydroelectrica and then a walk to Aguas Calientes. A cheaper option but that means that from Hydroelectrica you have about two hours of a boring stretch along the track to Aguas Calientes. Here, you take the bus or walk through the steep forest path to Machu Picchu.
Via the Inca Trail, Lares Trail, Jungle Trail or Salkantay Trail. In four or five days, you walk an impressive tour that ends on the last day at Machu Picchu. If you are in reasonable shape and have time, this is the best option. Read more about the Salkantay Trail we did in 2017 here. Remember that the Inca Trail is fully booked months in advance. For the other tours, you can book later or on site in Cuzco.
If you come by train or bus from Cuzco, it is better to arrive on the first day in Aguas Calientes, spend the night there and visit the Machu Picchu early on the second day. You can then return in the evening by train or bus, or possibly a night stay in Aguas Calientes.
Accommodation in Aguas Calientes is a bit more expensive than elsewhere in Peru. The quality can be a bit disappointing as can the service. The tourists will come anyway, is apparently the thinking. We stayed in a nice hotel through our Salkantay Trek-organisation but this hotel doesn't seem to exist anymore. So, check Booking.com for well-rated hotels.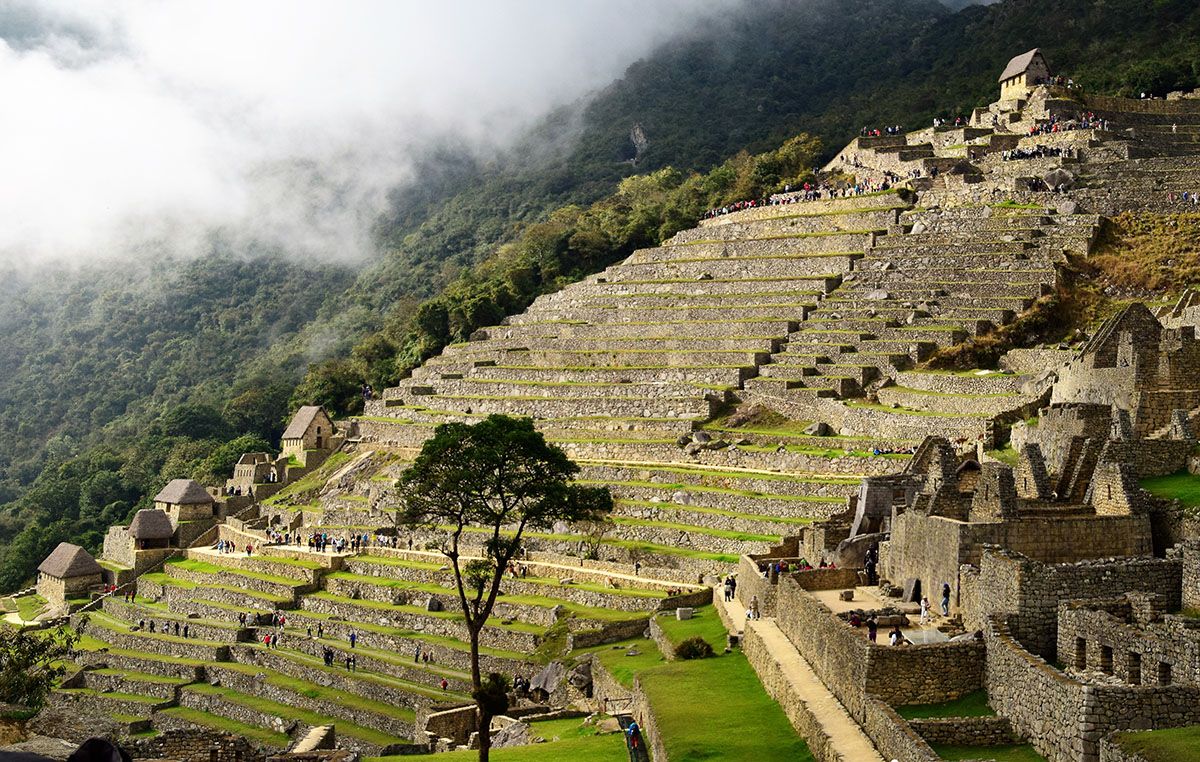 Viewpoints around Machu Picchu
Although a visit to Machu Picchu is impressive, you can also go to the mountain behind Machu Picchu, the Huayna Picchu. You can visit Machu Picchu Mountain too. For both mountains count on a tough, strenuous climb of a few hours. A couple in their mid-40s on our Salkantay Trail group climbed the Huayna Picchu and found it extremely tiring and difficult. The view is phenomenal. There are two possibilities to start the climb: between 7 am and 8 am or between 10 am and 11 am. For this, you need an extra ticket, which you buy immediately with your entrance ticket to Machu Picchu.
It is not possible to visit both the Huayna Picchu and Machu Picchu Mountain. Apart from the fact that you do not have time for that, it is also far too tiring. A free option, always appealing to the Dutch, is a walk to the Sun Gate. This takes about 45 minutes to an hour on a fairly easy and slightly uphill path. Here you also have a nice view over Machu Picchu. During our visit, we visited the Sun Gate and found it definitely worthwhile. Finally, you can walk to the Inca Bridge as well. We didn't find the bridge so special but the view was beautiful here too.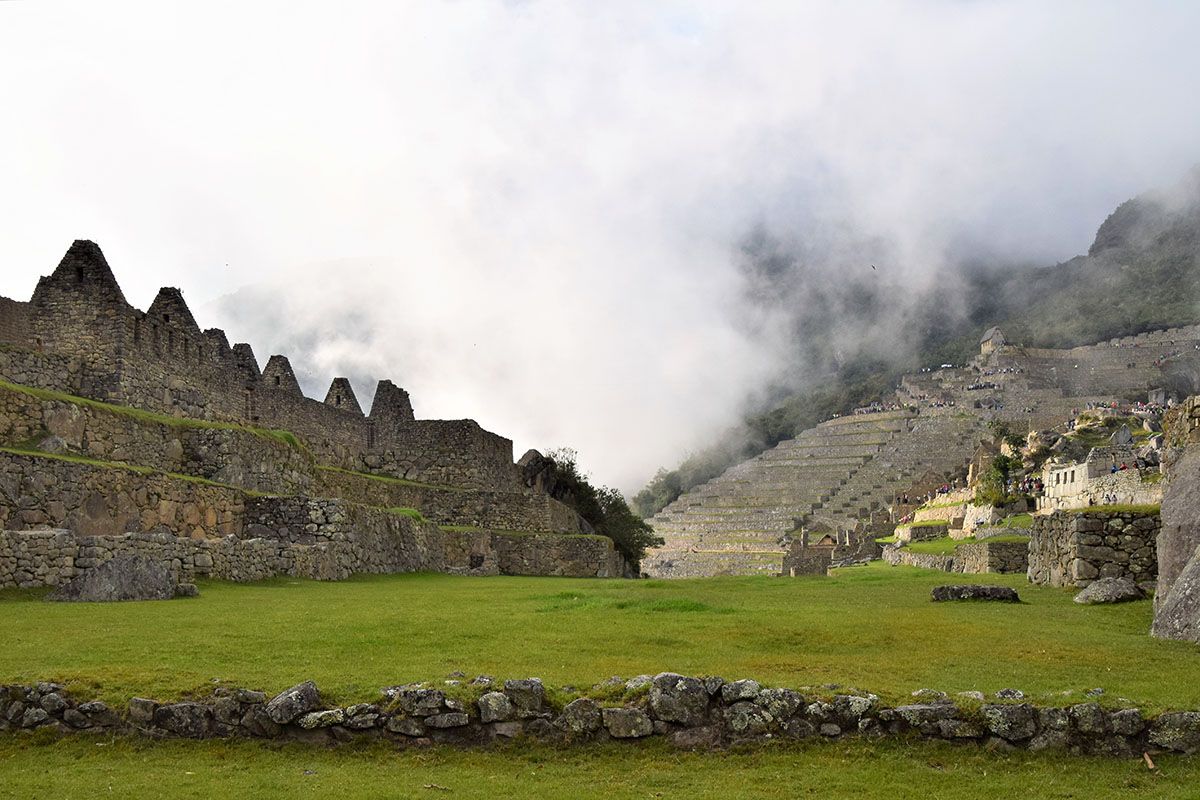 Practical matters
The government has been regulating tourist flow to Machu Picchu for years to protect its heritage. Therefore, the following measures were introduced in July 2017:
A ticket has a time slot. There are two possibilities: a ticket from 6 am to 12 pm or from 12 pm to 5:30 pm. We were there at 6 am and walked around until about 2:30 pm. We were not checked after entry.
You are required to take an official guide, you cannot enter Machu Picchu on your own. We had the guide through our trekking organisation. After 2 hours, we were free to do what we wanted and have everything our own way and visit our own route. That was not a problem then. By the way, a good guide really adds something: you learn a lot more about the inhabitants, the houses and temples, the customs and history. When the guided tour is finished, you can just go inside again (you can enter 3 times within your time slot).
There are three fixed routes, which you may not deviate from. We weren't bothered by this either.
There are no toilets inside Machu Picchu. So, you have to show your ticket outside the entrance gate and then upon re-entry.
Officially, you may not bring water and drinks. Our backpacks were not checked and we had some bottles of water and some snacks with us. Your backpack should not be too big (maximum 40X35x20 cm).
You are not allowed to climb on walls or buildings. It is also prohibited to lean against walls or buildings. If you do, you will hear a piercing whistle from a guard and you will get a warning.
You must bring your passport with you when you visit. Tip: at the toilets next to the entrance gate you can put an official "Machu Picchu stamp" in your passport.
You are not allowed to bring: alcohol, sticks with a sharp point, umbrella, drone, tripod, pushchair or buggy, musical instruments, speakers and shoes with high or stiletto heels. Which also seems logical to us if you want to climb the Huayna Picchu…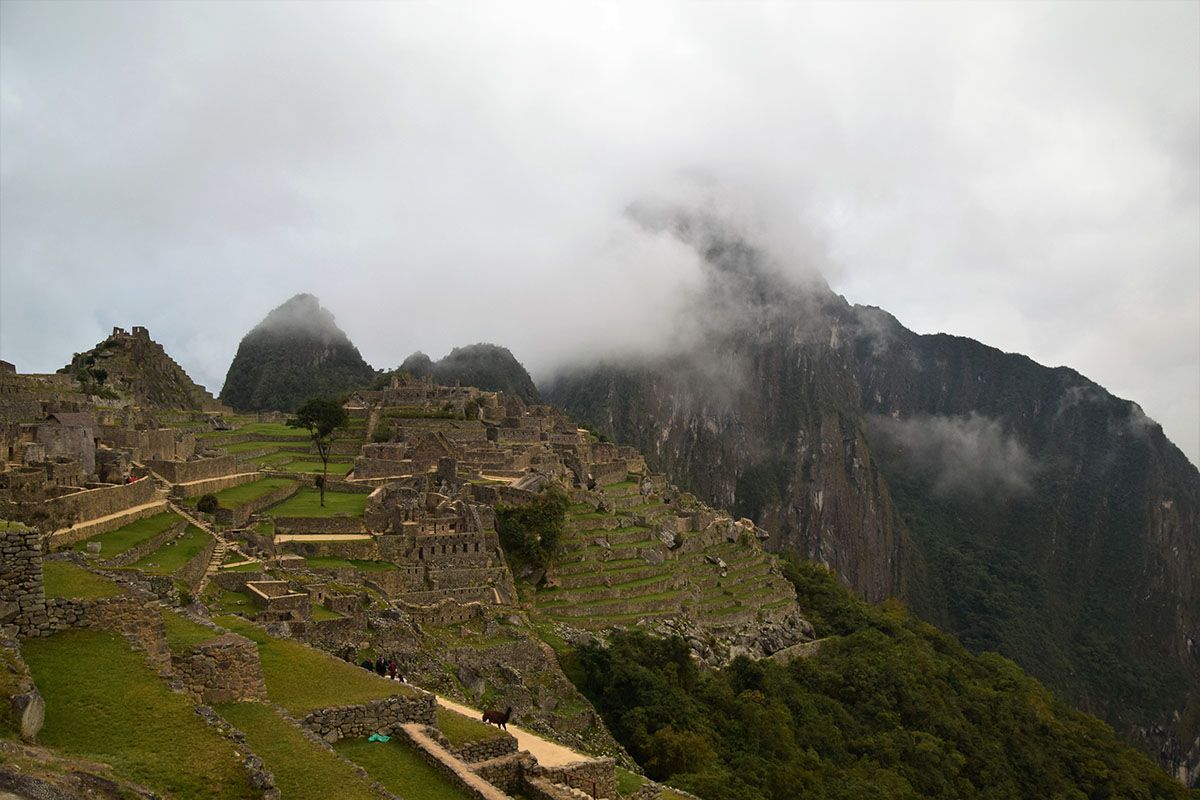 Walking from Aguas Calientes or by bus?
After 4 days on the Salkantay Trail, we didn't feel like walking from Aguas Calientes to Machu Picchu. You have to leave at about 3:30 am so as to arrive at the entrance gate to stand at around 6 am. The road is flat at first but after a while, you go through the forest in a steep route up. You always cross the bus route on the way, which ascends in numerous hairpin bends. At the gate, we saw many sporty people who had gone up. They were soaked in sweat, pretty tired and if you walk around Machu Picchu for a couple of hours and want to visit one of the mountains, you'll have to take a good look at yourself first.
By bus is a relatively expensive option. A single trip costs around €12. Here too, you have to get out of bed early, if you want to be upstairs first. At around 3 am, we were waiting on the footpath and we were not the first. Around 4, the first shops open and you can buy a cup of coffee and some food. At 5:30, the first buses leave upstairs. At 5:45 am we were at the entrance gate, where many walkers were already waiting until the gate opened. Still it was something to see everyone there in those long queues waiting for the bus. Furthermore, it is less tiring at least. When we had visited Machu Picchu, we descended in the afternoon on foot.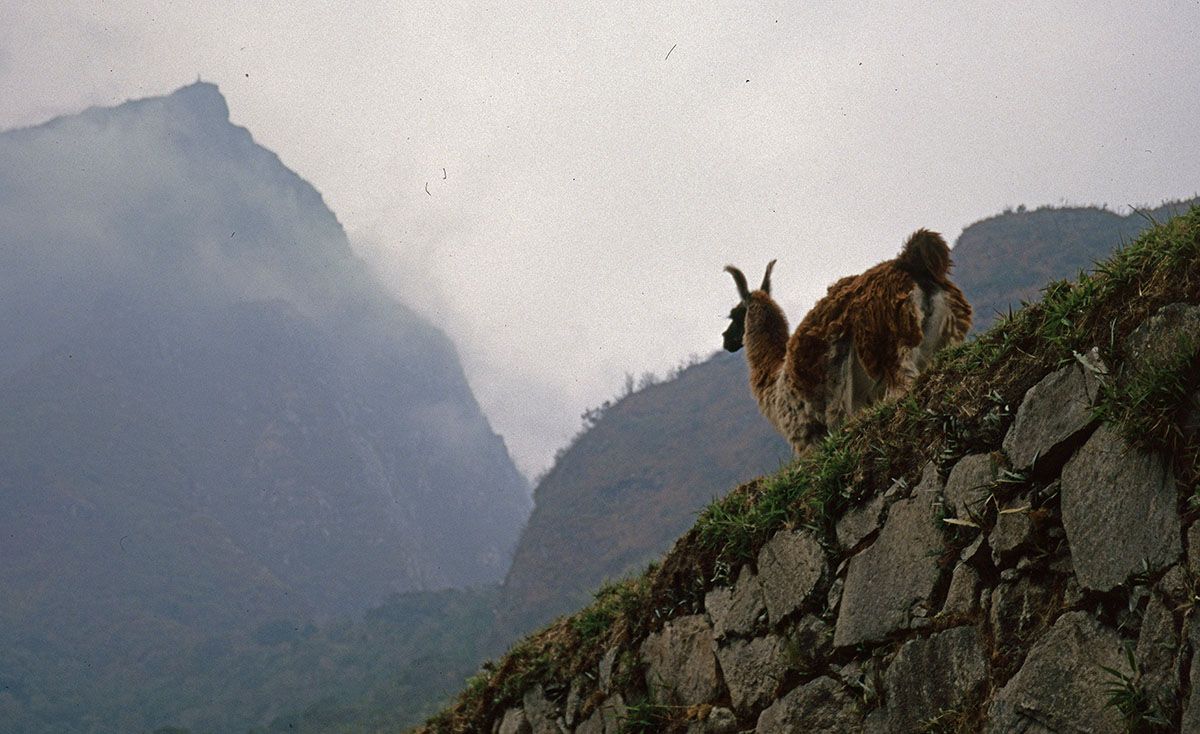 Machu Picchu visits in the morning or afternoon?
That is a difficult choice. Both options have something. If you want to climb one of the mountains it is simple: this is only possible in the morning. If you are inside around 6 am, you have a chance to see a beautiful sunrise at Machu Picchu. However, it is often cloudy and foggy. That also gives a mystical effect but the famous photo that everyone takes is sometimes not possible. In the afternoon, it is often much quieter. Our experience was that there is no check to see if you are still present outside of your time slot. We mainly used the afternoon to take pictures without hordes of tourists and then returned to Aguas Calientes.