Kalimantan in a nutshell
Kalimantan is the Indonesian part of Borneo, the third largest island in the world. Most of the only 12 million inhabitants live on the south and east coast. The interior consists mainly of a 130-million-year-old rainforest and is one of the most biodiverse areas on earth. You will find about 15,000 flowering plant species, 3,000 tree species, more than 200 mammal species and more than 400 bird species.
Most people who travel to Kalimantan do so to see the endangered Borneo orangutans in Tanjung Puting National Park. These great apes can also be found in Sabangau National Park. Unfortunately, this park has been thinned out by both legal and illegal logging to such an extent that there is little wildlife left.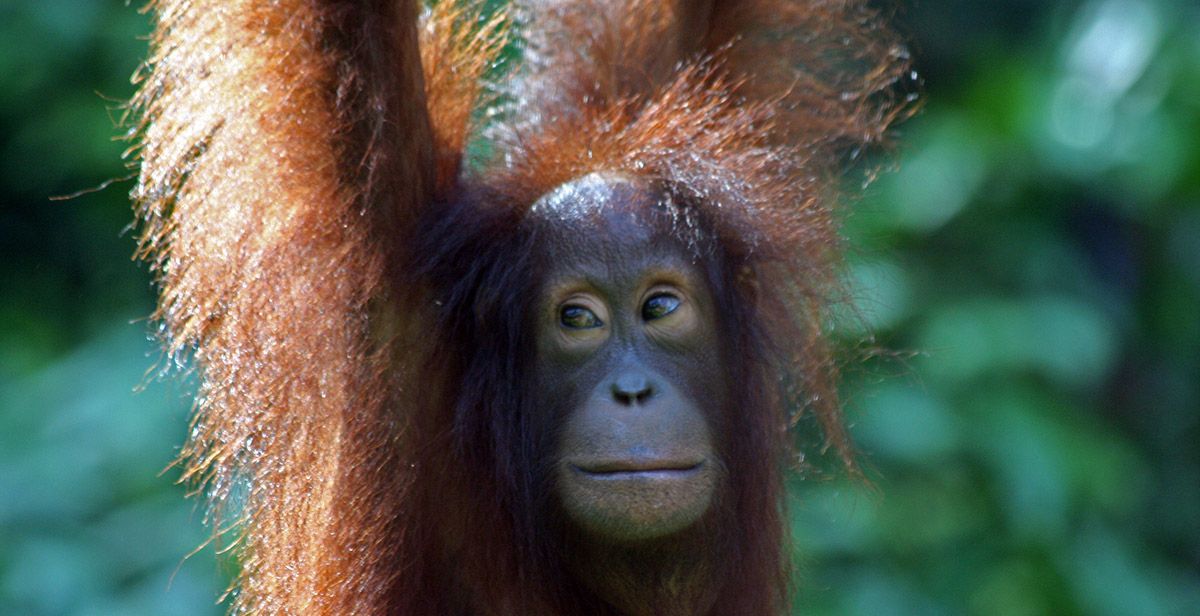 We were in Kalimantan on our way through to see orangutans in Malaysian Borneo, and unfortunately, we had to ignore the – allegedly – incredibly beautiful and especially large jungle in the interior. What remained was a visit to some large cities, namely Banjarmasin with its floating markets, the oil city Balikpapan, Samarinda and Tarakan.
We saw a lot of poverty during our transit but (strangely enough) also a lot of cheerfulness, friendliness and cordiality. Especially our visit to Banjarmasin left a deep impression on us and that is why we would like to comment on it to it in this blog.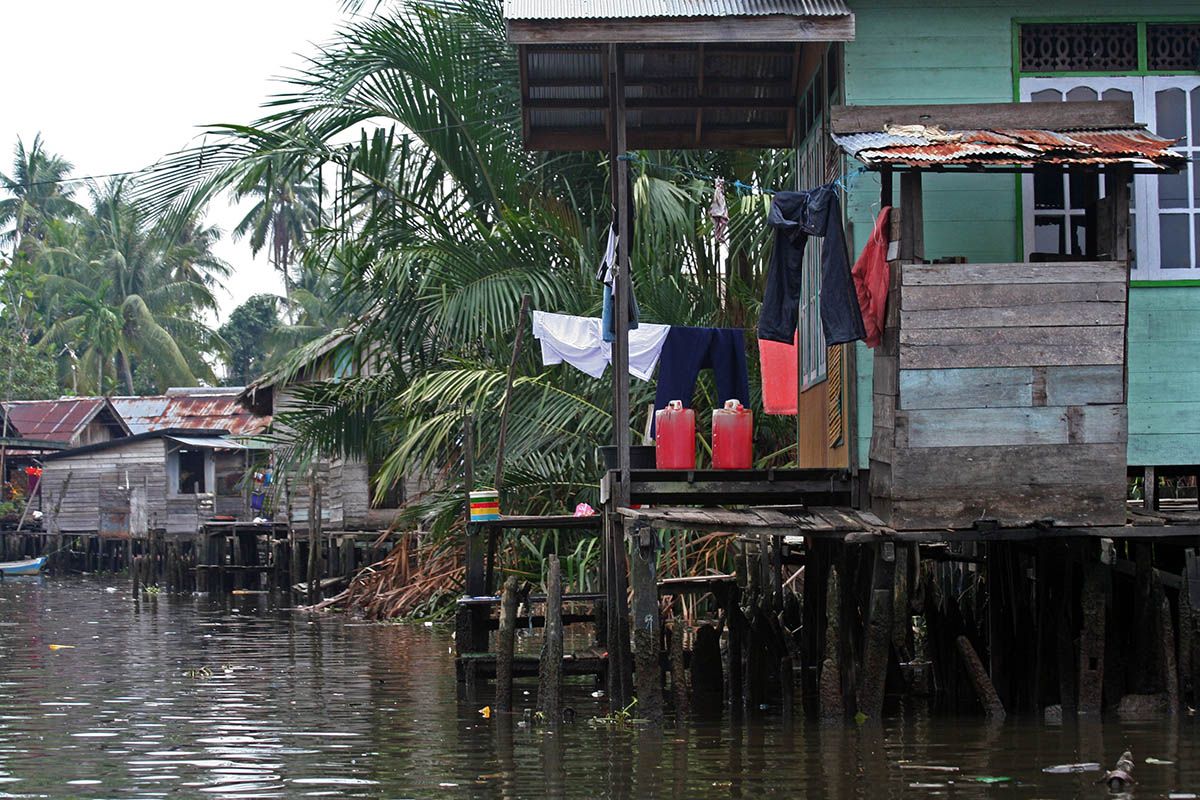 Accommodation
Apart from some homestays and sometimes even reasonable luxury resorts that you can find on the coast in the northeast or on islands like Maratua, we saw, unlike on many other Indonesian islands, few small, charming homestays or guesthouses. There were mainly larger hotels, especially in the oil town Balikpapan. And in principle, there are enough of them. In the real interior, there is not much else if you are not in the touristic areas, such as Tanjung Puting National Park, but now and again you get some nice accommodation.
In the latter park, you can also go on a river cruise, in which you bivouac on board one of the many available boathouses. Not very comfortable, but an ideal way to admire the orangutans from the river. At the Sebangau National Park you have, besides the standard homestays and hotels, also a kind of tree hotel, the Bukit Raya Guesthouse. We did not stay there ourselves but it looks promising. Just something different.
We advise you to have a look at the map of Kalimantan on Booking.com. Depending on where you want to go, you can zoom in on the map and then immediately many accommodations become visible.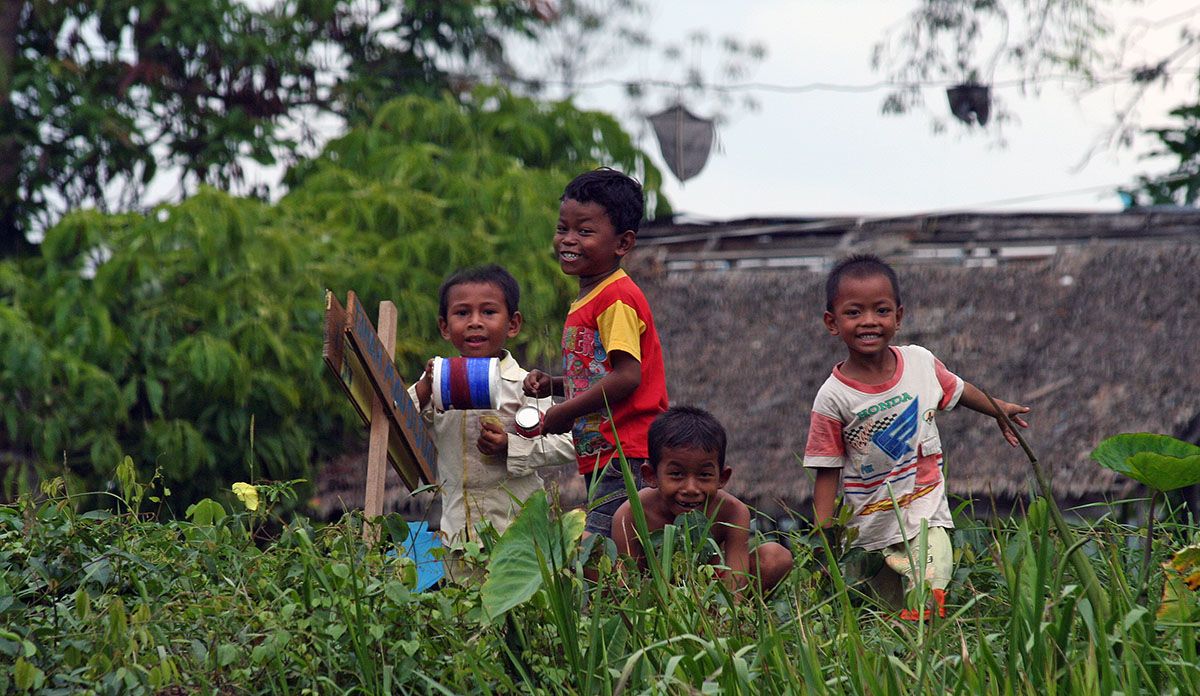 Healthcare
Vaccinations against DTP and hepatitis A are recommended for the whole of Indonesia and therefore also for Kalimantan, as well as for MMR if you have not had measles or have not been vaccinated for them before. In addition, yellow fever vaccination is compulsory if you have been in a country with a yellow fever within seven days of going to Kalimantan. It is possible that before visiting Kalimantan you should also be vaccinated for typhoid fever and – especially if you go into the jungle – for rabies. Get advice from your tropical doctor.
Malaria is present on the island of Kalimantan. Your tropical doctor can tell you whether you only need to take emergency treatment or whether it is best to take tablets. Throughout Indonesia, however, there is also dengue fever for which there is no vaccination. It is therefore wise to protect yourself against mosquito bites, regardless of any anti-malarial tablets. Dengue mosquitoes are mainly active during the day, so bring anti-insect spray with you with a high DEET percentage (50%).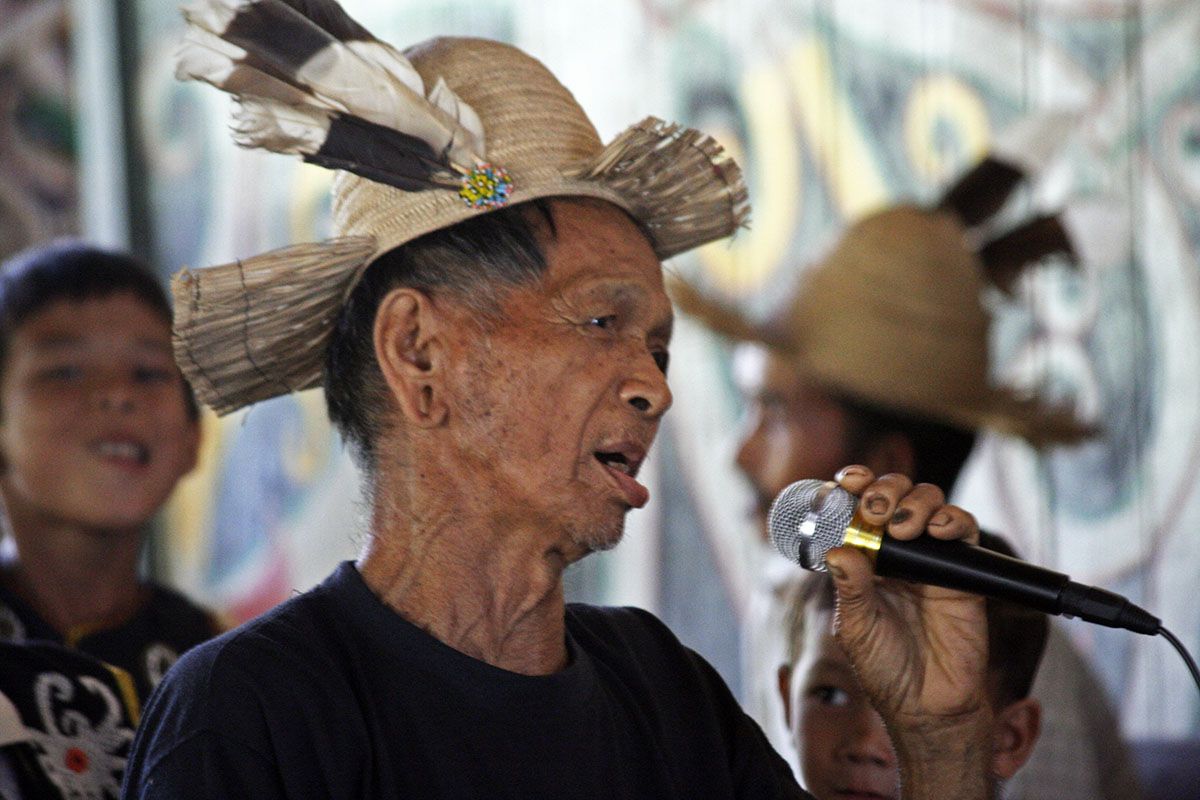 Best time to travel to Kalimantan (Borneo)
Kalimantan has a tropical climate with two rainy seasons. From March to May it rains more than average. From November to January it rains significantly more than average, especially in the south and west. The best travel time is in our summer, so from the end of June to September. By the way, we were there in mid-November and had little rain so don't let the climate tables guide you too much.
Transport in Kalimantan
Travelling in Kalimantan is different from most other Indonesian islands. To explore these areas, you have to find out a lot yourself (because hardly anyone speaks English) and above all have a lot of patience. It all starts with your flight to the immense island. The main airport is that of the oil city Balikpapan, where surprisingly few domestic flights are to and from other Indonesian islands. We flew from Yogyakarta on Java to the airport of Banjarmasin in the south.
From Banjarmasin you can take a plane or bus to Balikpapan. We took the bus but immediately regretted it. The price difference with flying is very small and the night bus takes 16 hours to cover the distance, it is not worth it (watch out for pickpockets too). From Banjarmasin to Tanjung Puting, in order to see the orangutans and other wild animals, you will have to use small planes that take you to Pangkalan Bun, the entrance gate of the area.
From Balikpapan, by bus you get to Samarinda reasonably easily. If you want to continue, like us, to Tarakan in the northeast, it is best to take the bus back to Balikpapan to take the plane from there. Otherwise you'll waste too much time and money(!). Here, the transport to Malaysia continues by boat. The time the boat sails in the morning is unbeknownst even to the locals, so be there early and wait. Have your passport stamped in time before boarding!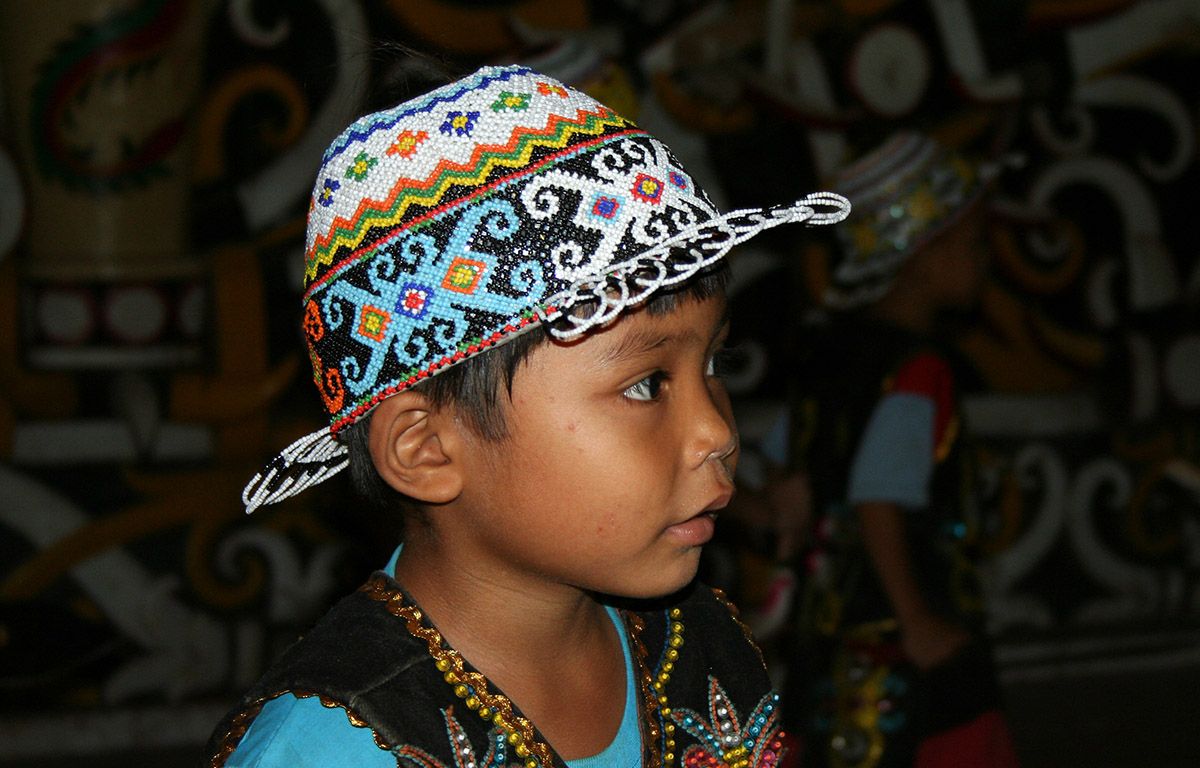 Highlights of Kalimantan (Borneo)
Op doorreis naar het Maleis deel van Borneo hebben we enkele steden bezocht in het zuiden en oosten van Kalimantan. Hieronder belichten we een tweetal steden, namelijk Banjarmasin en Samarinda, die wat ons betreft echt thuishoren in de categorie cultuurhighlights. Maar naast genoemde steden heeft dit prachtige eiland nog veel meer te bieden. Denk daarbij aan onder meer duiken en jungle trekkings, iets wat wij een volgende keer dat we naar Kalimantan gaan zullen doen en over zullen bloggen.
Duiken
Er zijn mooie duikstekken bij het Berau-atol ten oosten van Oost-Kalimantan. Je hebt daar de prachtige, tropische eilanden Derawan, Sangaliki en Maratua. Derawan is het grootste broedgebied van Indonesië voor de groene zeeschildpad. Ook in West-Kalimantan kan er gedoken worden, en wel bij Batu Payung en Radayan in de omgeving van Singkawang en de Karimata-eilanden. Mochten wij terug gaan naar dit op twee na grootste eiland ter wereld, dan zullen we zeker een duikje maken en daarvan melding maken op deze website.
Jungle trekking
Alhoewel flinke stukken oerwoud helaas zijn weggekapt, is er vooralsnog genoeg oerwoud voor de avonturiers onder ons over om prachtige trekkings te doen door de jungle. Je kunt bijvoorbeeld vanuit Banjarmasin een tour boeken van 5 tot meer dan 11 dagen naar de Meratus Mountains. Een andere optie is een meerdaagse trekking door de hooglanden van Apokayan. Je bereikt de hooglanden met een klein vliegtuigje vanuit Samarinda. Wil je orang oetans zien, dan moet je naar het Tanjung Puting National Park dat je kunt bereiken vanuit Banjarmasin.