Day at the beach at Ile aux Cerfs
On the east coast of Mauritius, just off the coast just south of Trou d'Eau Douce, there are two islands together called Ile aux Cerfs. We used to go there a lot and were fortunately able to go there again recently. The "Island of the Deer" is a true 87-hectare paradise for water sports enthusiasts. In our opinion, it has one of the most beautiful beaches in Mauritius.
What to see and do on Ile aux Cerfs
The island is known for its beautiful, turquoise lagoon that lends itself more than excellently to a wide range of water sports. One of the activities you can do here, with or without another person, is parasailing. If you're not too afraid of heights, this is something for your bucket list, especially because of the fantastic views of the lagoon!
Other activities include a speedboat ride, water skiing and wakeboarding. You can also snorkel here but – to be honest – you'll have to be taken by boat somewhere where you have some coral. Because near the beach there is nothing but sand.
Most people don't go to Ile aux Cerfs for active water sports, but just for a lovely relaxing day at the water's edge. The real sun-worshippers get their money's worth here, especially since there is not much shelter on the beach itself. So, apply plenty of sunscreen is the general motto, but preferably with sunscreen products that are not harmful to the vulnerable underwater world. And around noon, take your time at one of the restaurants or beach bars.
By the way, most visitors stay close to the pier where you are dropped off by the shuttle from Pointe Maurice. If you want to avoid the masses as much as possible, this is especially true for the weekend, then walk a little further along the coast. There are many other beaches where it can be surprisingly quiet!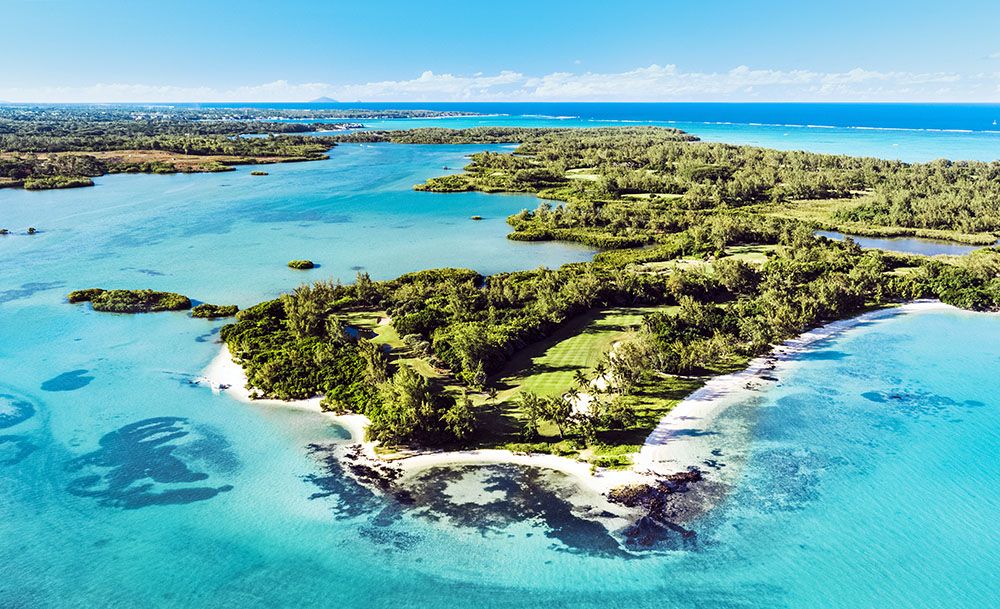 Photo by Ile aux Cerfs Golf Club
The beautiful golf course of the Ile aux Cerfs Golf Club
The construction of the 18-hole golf course at the Ile aux Cerfs Golf Club took place at the end of the 20th century, under the protests of environmentalists and fishermen. But the course is now in a fantastic position, and at first sight, in harmony with the natural beauty of the island and the lagoon.
To avoid having to carry your golf bag around the island, the course offers a shuttle service from the pier at Pointe Maurice (in Trou-d'Eau Douce) to the pier at Ile aux Cerfs Golf Club and back. There are departures every twenty minutes.
In our blog about golfing on the most beautiful golf courses in Mauritius, we pay even more attention to golfing on the beautiful course of the Ile aux Cerfs Golf Club.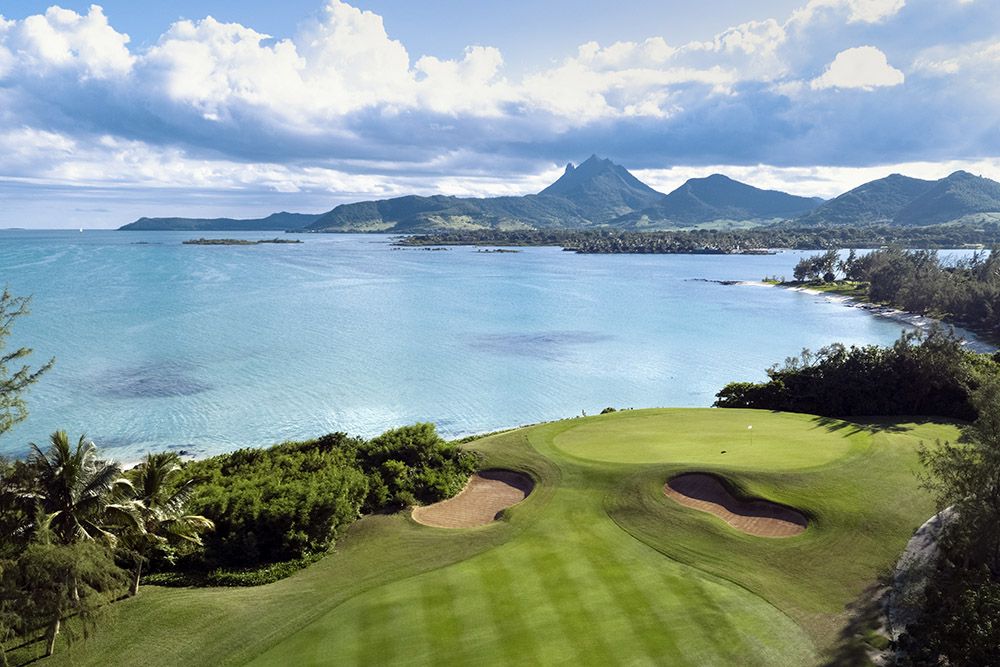 Photo by Ile aux Cerfs Golf Club
Practical matters
How to get to Ile aux Cerfs
The island is open to the public from 9:00 a.m. to 6:00 p.m. From the village of Trou-d'Eau Douce, a shuttle departs every half hour from the pier at Pointe Maurice to the Ile aux Cerfs Masala pier of the island from 9:30 a.m. onwards.
You can also take a catamaran to the island. There are many providers who usually take you to the island via a detour to or from the waterfalls in the nature reserve of Grande Rivière Sud Est. Some of them include a delicious barbecue.
Best time to visit the island
At weekends, it can be pretty busy with day trippers. If you are staying on Mauritius for at least a week, we would advise you to go that way on a weekday. The best months to visit Ile aux Cerfs are October and November but it is also wonderful from June to November.
Accommodation
At Ile aux Cerfs there is a luxurious 5-star hotel, called the Shangri-La's Le Tussocks Resort & Spa. It won't surprise you that this is not cheap, but it is a fantastic location for when you have something great to celebrate, for example. Last time we were on the small island, we stayed in a comfortable villa in Trou-d'Eau Douce, chef included.
Food and drinks
On the island there are several restaurants, including a cosy beach restaurant which you can enter barefoot, a bar-like restaurant where they serve pizza and La Chaudière Masala for delicious curries. There are also two bars where you can enjoy a refreshing drink or a cocktail. They are reasonably priced. An option is therefore to bring enough food and drinks.