Most people do not immediately think of Finnish Lapland as a destination for their winter sports. Such a shame because this part of Europe in particular has a lot to offer snow lovers! Admittedly, the ski resorts are a lot smaller than in the Alps. But the wonderfully quiet pistes and the many months of guaranteed snow make up for a lot. Finnish Lapland is also the place where you have a good chance of seeing the Northern Lights. And if you don't want to go on the long slopes, there are plenty of other activities to do. How about a ride with huskies, a reindeer or a snowmobile? It's all possible in Finnish Lapland.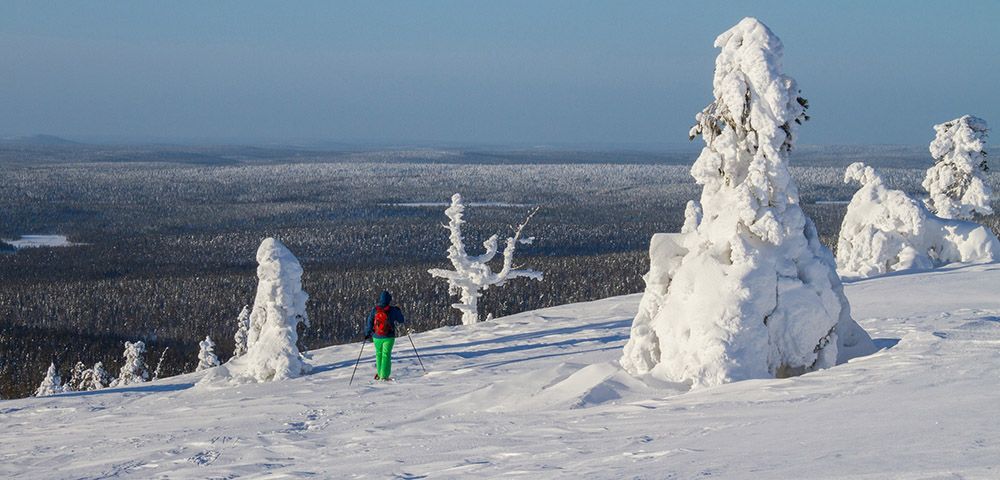 The best winter sports areas in Finnish Lapland
In Lapland you can ski, snowboard and cross-country ski! The most famous ski resorts can be found near the Finnish villages of Levi and Äkäslompolo. Levi is a true ski-in ski-out destination and Lapland's liveliest ski resort. Äkäslompolo is a village on the edge of Pallas National Park. A 5-minute drive away you will find the Ylläs ski resort there.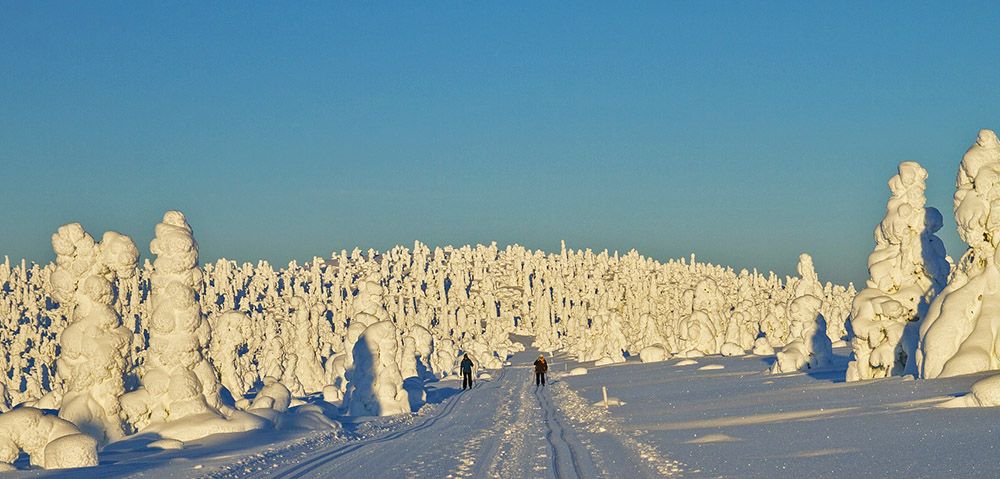 Levi: 44 kilometres of skiing fun
The winter wonderland of Levi is less than half an hour from Kittilä airport. You will find a total of 42 slopes, 17 of which are lit until the evening. Most of the slopes are for the beginner or relaxed skier. There are three slopes for skiers looking for a bit more of a challenge. One of these is the black run where World Cup competitions are held. On the last stretch, you have a 52% slope! By the way, the longest piste is 2.5 kilometres.
In total, there are 27 lifts. The biggest, most important lift is in the centre of the ski resort. Levi itself is not a big village. Yet you have as many as 60 restaurants and plenty of accommodation. What we like about the ski resort is that everywhere on the mountain you will find small huts with wood fires and barbecues. You can grill your own homemade sausages here!
Another big advantage of Levi is that you have other winter activities in the surrounding area. For example, husky sled tours and snowmobile safaris. But especially cross-country skiing. Indeed, in Levi you have 230 kilometres of trails for beginners to experienced cross-country skiers. Is it too dark to see the trails? In nearby Rakkavaara, you have 28 kilometres of lit trails.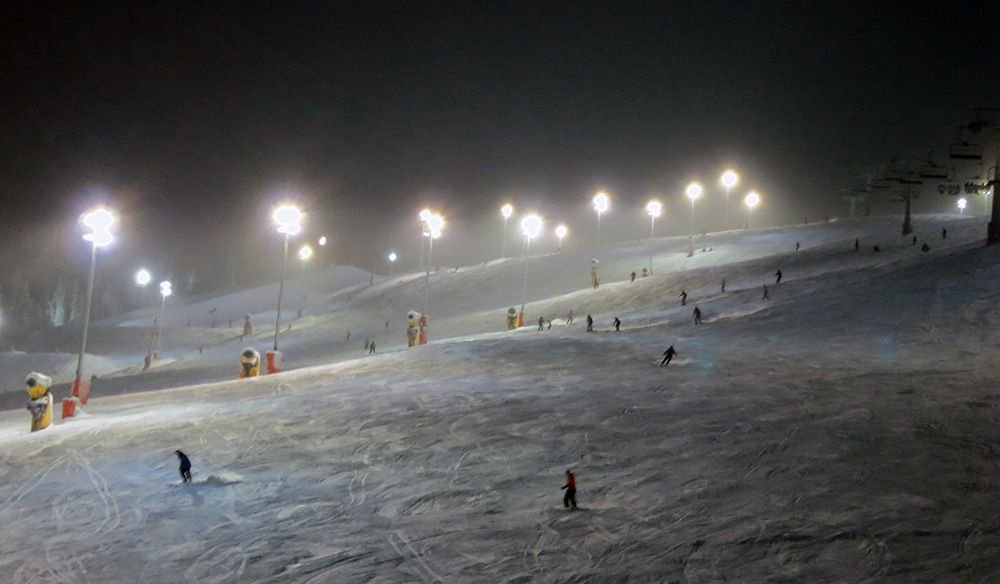 Ylläs: one of Finland's largest ski resorts
With more than 60 slopes totalling 50 kilometres, Ylläs is Finland's largest ski resort. You also have the longest piste in the country there, at three kilometres. Many of the slopes are floodlit. Most of the slopes are particularly suitable for beginners. But there are also many red runs for the more advanced among us, including a Super G run. There are also plenty of opportunities for off-piste skiing, organised or otherwise. What else makes Ylläs a fine ski resort is its perfect tranquillity, excellent snow and floodlit slopes.
In terms of activities, there is everything from ice fishing and safaris to the northern lights to snowshoeing and reindeer expeditions. Furthermore, with 330 kilometres of trails, Ylläs has the largest network of trails in Finland. In Pallas-Ylläs National Park, in addition to well-prepared trails, you have 20 cafés and shelters. Ideal if you want to warm up with a cup of hot chocolate.
The ski resort of Ylläs is located in beautiful, natural surroundings near the villages of Ylläsjärvi and Akäslompolo. They are a bit smaller but cosier than Levi. Despite the small scale, you will find plenty of bars, restaurants, hotels, flats and traditional log cabins. One of the drawbacks of this ski area is that you have to take the ski bus to the 22 ski lifts. Fortunately, these drive back and forth. Another disadvantage is that the area is a bit further away from Kittilä airport.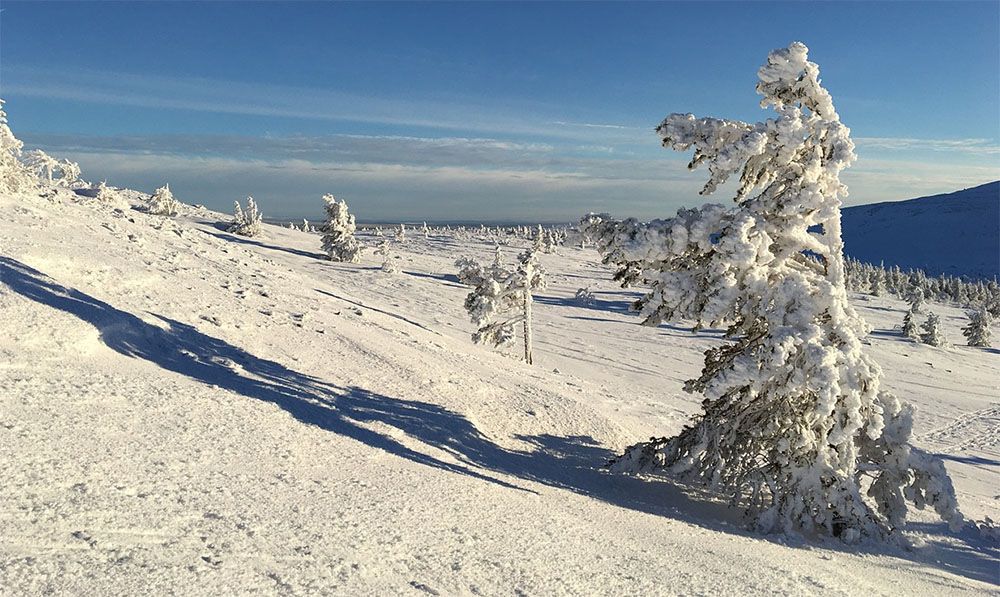 Other, interesting ski resorts in Finnish Lapland
Besides the ski resorts of Levi and Ylläs, Pyhä, Ruka and Salla also offer interesting winter sports opportunities. These areas are located a little further south, towards Rovaniemi.
Pyhä
With 14 kilometres of slopes, Pyhä is a somewhat smaller ski area. You have slopes for beginners as well as advanced skiers. Here, for instance, you have the Huttu-Ukko, Finland's steepest slope. It is used by the national ski team for training.
Pyhä itself is a small village with not too many modern, hotels and flats. Apart from a few piste-side bars, you have few après-ski options here. Pyhä is therefore more of a ski resort for those looking for peace and quiet. Not only after skiing but also on the wonderfully wide, snow-sure slopes.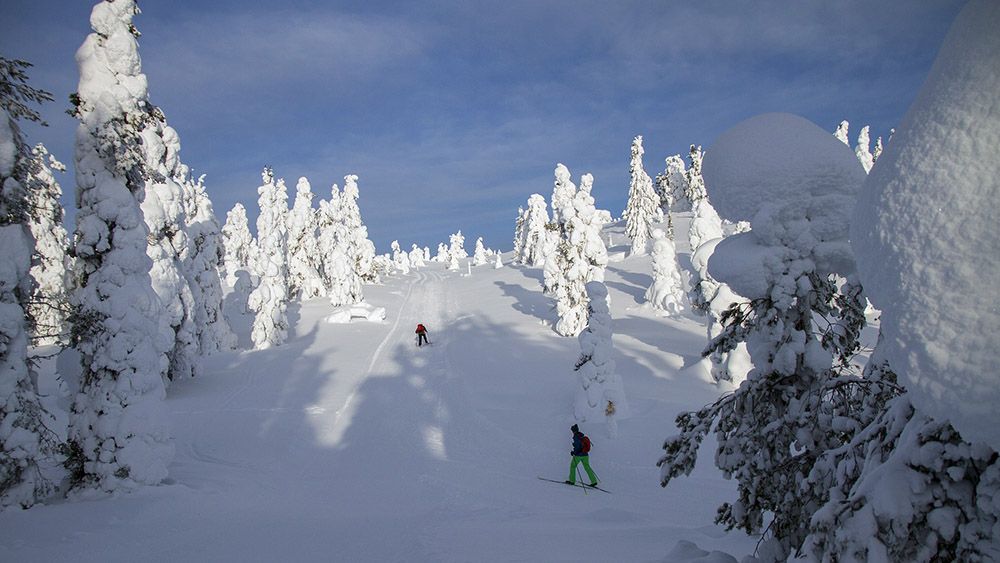 Ruka
Ruka is more the ski area for the beginner, with quiet, wide slopes. Yet the (slightly more) advanced skier will also get his money's worth here. For instance, the excellently prepared slopes are ideal for improving technique. This applies in particular to the red slopes on the west side of the mountain. On the northern slope you also have some black runs. There is also a freestyle area where, over a decade ago, the World Cup freestyle competitions were held. You have a total of 24 kilometres of pistes and 21 lifts.
What makes Ruka a pleasant, wooded ski area is that there are no queues at the lifts. In addition, most slopes are floodlit. In the village, you'll find plenty of accommodation and restaurants. And all within a snowball's distance of the lifts! One of the cosiest places to stay is just outside the village. Here you will find traditional wooden huts with a cosy fireplace and private sauna.
Salla
For skiing in pristine Finnish wilderness, head to the eastern town of Salla. With 10 kilometres of slopes, it is a small but wonderfully peaceful ski resort. The slopes are mostly sheltered from the wind, and offer the most beautiful views. On a clear day, you can even see Russia. And what else makes it a special and fun ski area are the warming huts on the slopes. Here you can warm up a little in front of the open fire, as well as grill sausages for lunch.
For accommodation alone, Salla is an interesting ski area. You mainly stay in cosy, traditional wooden huts with their own sauna and wood fire. Another advantage of the area is its wide variety of activities. Apart from skiing and snowboarding, you have 160 kilometres of cross-country trails. You can also go on an excursion to the northern lights and go snow scootering. You can even get your reindeer driving licence!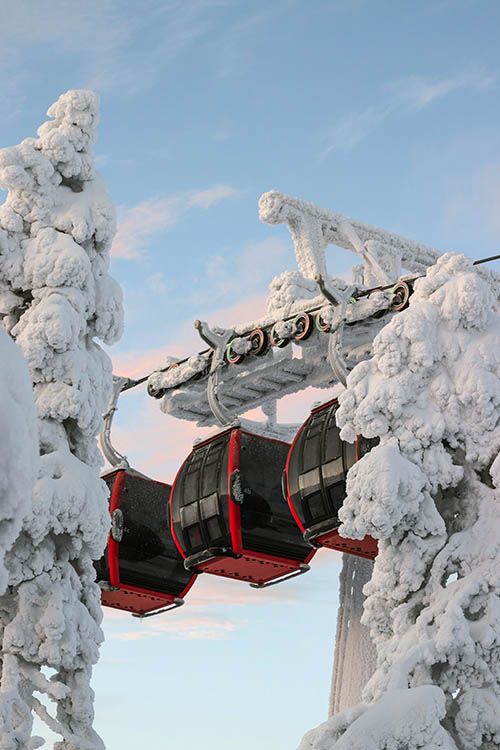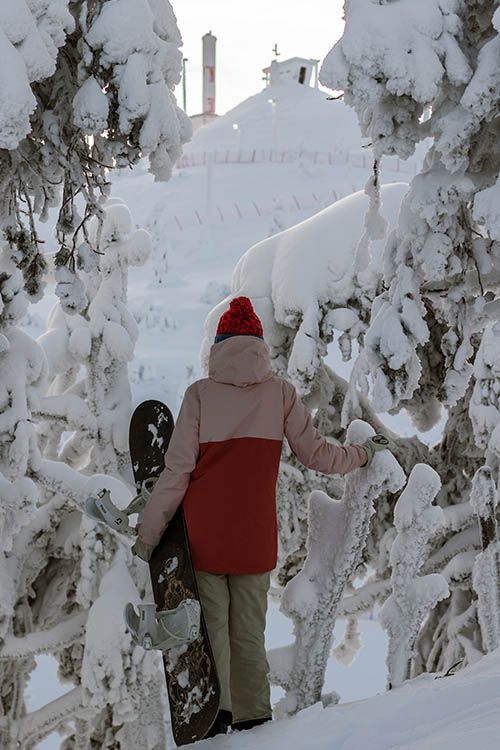 Practical information for a winter sports holiday in Finnish Lapland
Our tips will help you best prepare for an unforgettable winter sports holiday in Finnish Lapland:
What is the best time for a winter sports holiday in Finnish Lapland?
The Finnish ski season runs from December to February. But because of its location at the Arctic Circle, you have almost 100% snow security there until May. For a magical winter wonderland, you should head that way around Christmas. After all, it is Santa's home for a reason!
Around the holidays, the days are a lot shorter than in spring. But the ski resorts have lit slopes so you can keep skiing until the last lifts (around 5 PM). However, it does tend to be colder during that period than in spring. We ourselves skied there both in early January and mid-March. We particularly liked March because of the beautiful blue skies. But even then it can be bitterly cold.
How do I get to Finnish Lapland?
The fastest and most practical way to travel to Finnish Lapland is by plane. Levi and Ylläs can be reached fastest via Kittilä airport. Pyhä, Ruka and Salla can be reached via Rovaniemi or Kuusamo airport.
How do I get to the ski resorts?
Levi and Ylläs are a relatively short distance from the airport. Pyhä and Salla are at a significantly greater distance from their airports. Ruka is reasonably close to Kuusamo airport. Most tour operators offer all-in packages where transfers to and from the airport are also included. If you want to get to a ski resort on your own, the bus is the most common means of transport. However, bear in mind that especially at destinations like Salla, you will spend a lot of travelling time.
Where can I stay overnight?
There is plenty of accommodation in most ski resorts. Most tour operators offer relatively well-priced package holidays including beautiful, sometimes very special accommodation. Of course, you can also book everything separately. For inspiration, check booking.com for the ski resorts of Levi, Pyhä, Ruka, Salla and Ylläs.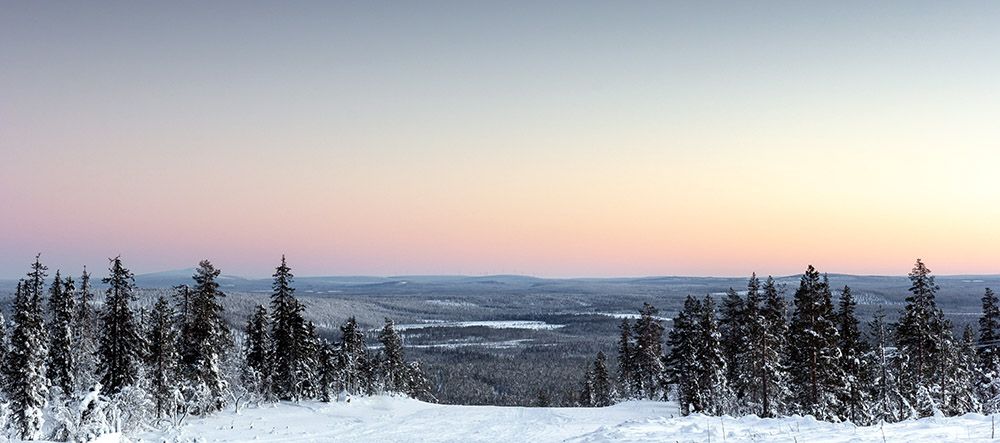 You may also be interested in: