Winter sports in Val Gardena
Every year, millions of people in Western Europe head to the snow to go skiing, cross-country skiing or hiking in Austria, France, Germany, Italy and Switzerland. For some reason Italy is less popular than for instance Austria and France. We find this unfair! We have been skiing in Italy for years to our great pleasure, especially in Val Gardena. It seems far away but in reality, is actually only an hour longer to drive to than most places in Austria.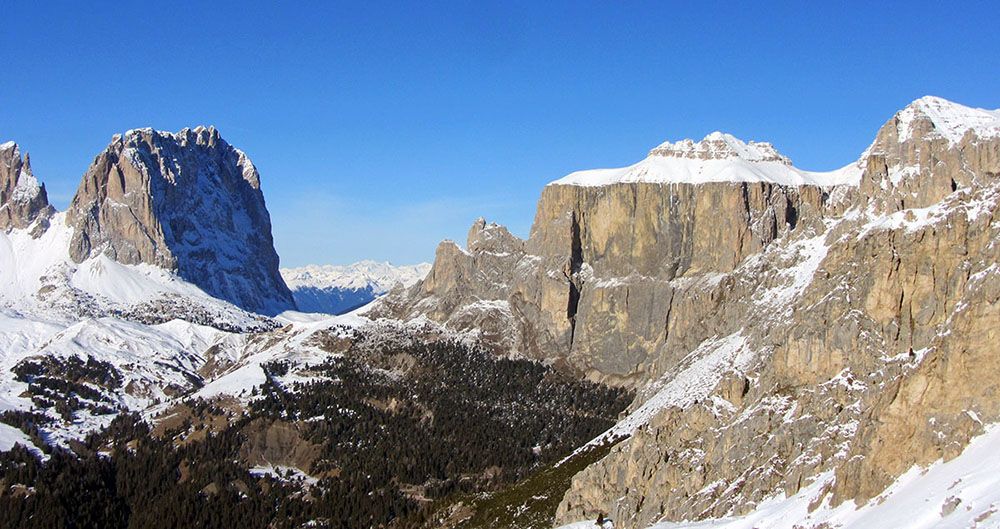 Ski area size
Val Gardena itself has, together with family-friendly Seiser Alm, about 175 kilometres of slopes. But it forms a whole with three other beautiful areas: Alta Badia, Val di Fassa and Arabba. And then you suddenly have a few hundred consecutive kilometres extra at your disposal! For this, it is necessary to buy the Dolomiti Ski Pass. That certainly pays off, because if you want to make the world-famous Sella Ronda trip, you cannot do without that pass. It is also not much more expensive than the pass for Val Gardena alone. With this Dolomiti Ski Pass you can use a total of 1200 kilometres of pistes. However, these are not all consecutive, so you are dependent on your own transport or ski buses.
Location
Val Gardena is located in the province of South Tyrol, easily accessible by the Brenner Autobahn. From Utrecht it is about 990 kilometres' drive. The last 20 kilometres are on a good provincial road without many climbs and hairpin bends. The first village in Val Gardena is Ortisei (Sankt Ulrich), then follows Santa Cristina and finally Selva (Wolkenstein). Because this area used to belong to Austria several times, everyone here speaks German.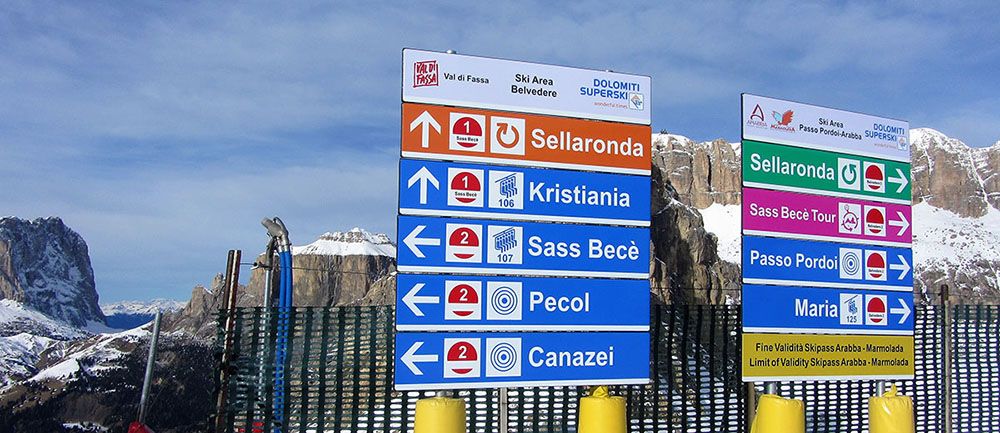 The advantages
Superb nature
The mountains here are completely different from the Alps. Actually, with all descents you have a view of beautiful, capricious rock formations. The vertical rock faces of the Sella massif and the Sassolungo are impressive. You will also find many beautiful frozen waterfalls. A day of skiing is also a day here enjoying the beautiful views of the mountains.
Great tours
You can actually ski here for a week without having to make the same runs many times. There are many fun trips to make that are actually good for each level. The most famous is the Sella Ronda. During this day trip, you ski around the Sella mountain range and do the different ski areas. But there are other beautiful ski tours to do. A few ideas for day trips can be found later on this page. We have done them all and were very enthusiastic about them.
Short waiting times
We have been there three times, of which twice was the first week of the Christmas holidays. Those two times it was very quiet. At almost all lifts we could just walk right through. The cable car to the Marmolada glacier was slightly busier but there too was just 10 minutes. The last time we went was in March. It was a bit busier then but the waiting times were also limited in that time. We don't know what it is like during our popular spring holidays.
Delicious food
You will find very cosy mountain huts in the area where you can eat really well. They are often restaurants with waiters too. Most Italians sit here comfortably enjoying the wine and fine food. Skiing is not so much of an afternoon, but the "dolce vita" you can experience here. And the prices are really good. So, don't put your sandwiches in a lunch bag but enjoy the great Italian cuisine.
Good slopes
The slopes are well prepared. Even in times of scarce snow, the Italians, who are masters in preparing snow-short slopes, can snow the whole area with snow cannons. We were there once when no flake had fallen in the weeks before, yet more than 95% of the slopes were open. The slopes are not difficult but for advanced skiers there are plenty of opportunities too. There is a wonderful, 12-km-long descent, "la longia". From Seceda you ski to Ortisei. What's more, the World Cup Saslong descent is located in this area. A black slope but excellent for the advanced skier to do.
Charming villages
Ortisei and Selva in particular are very nice villages. In Ortisei you can find nice shopping streets around the beautiful church and the square. The villages are authentic and you will find a lot of woodcarving, which is what this region is world famous for. There is also quite a lot of possibilities in the après ski area. Do not expect Austrian conditions, but you can have a pleasant evening after a day of skiing. There are nice bars especially in Ortisei and Selva. At the valley resort of Saslong in Santa Cristina, everyone is happily outside by the open fire having a drink.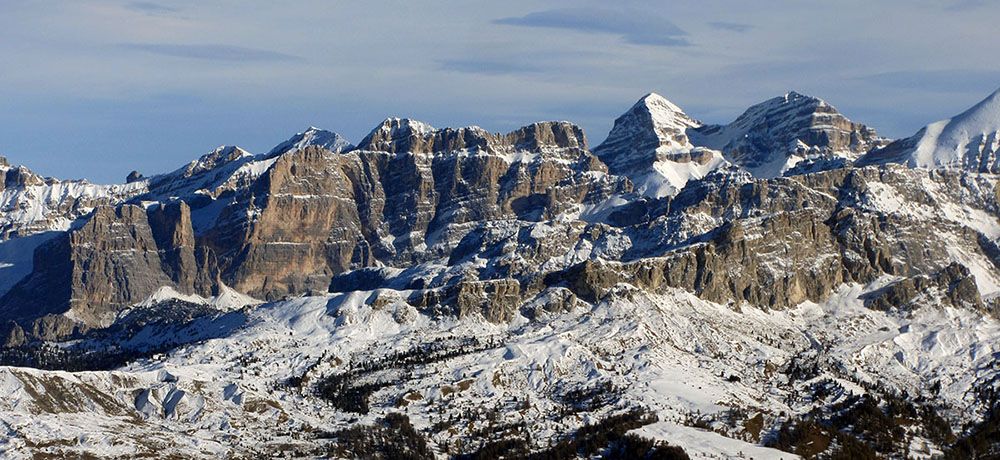 Suggestions for ski tours
All the ski tours we describe here are suitable for skiers of a reasonably average level. We did them all and we are certainly not experts on the slopes. They are also suitable for snowboarders. However, you will occasionally come across some flat parts.
Sella Ronda
The tour of tours in this area. Around the Sella massif you ski in four different ski areas. You can do it clockwise (orange variant) or counter clockwise (green variant). In total, you ski more over 26 kilometres and you do not take the same lift. We find the orange version a bit more challenging, but very good. The green is a little simpler. Depending on your ski speed and the number of great nice mountain huts you visit on the way, you will be about 6 hours at least on the tour. In any case, make sure you are in Val Gardena again on time, otherwise you will miss the connection to the last lifts. You start the trip from Selva and Santa Cristina, which is well indicated everywhere. On the way you will come into three other ski areas. You can, if you have enough time, also do some beautiful descents here. However, it is certainly worth the effort to just set aside a day for each area.
To the Marmolada
This is the highest point you can reach in the region. It is a long trip to get there. It is wise to ski as early as possible from Val Gardena to Arabba. From there several cable cars go to Porta Vescovo. Then you come skiing and through a number of lifts from Malga Ciapela. A cable car goes in three stages to Punta Rocca, 3270 metres. There, you have a beautiful view over the peaks and valleys. After that it is time to ski again and enjoy challenging descents on your way back to Arabba.
To the Lagazuoi
This mountain is located in the beautiful ski resort of Alta Badia. From Val Gardena this is the next ski area that you come across when you do the "orange" Sella Ronda. The special thing is that to reach the remote Lagazuoi, you first have to do a taxi ride to the starting point of the cable car. At the cable car's end point, a wonderful descent begins, where you can also see beautiful frozen waterfalls. At the end of the descent you finish on a flat area. Here the farmers and their horses are ready to take you back to the connecting lift a bit further on. Everyone grabs the long rope and slowly the horses pull you along. Quite funny to experience. When you are here you should actually also do the lovely blue 9/11 descent to San Cassiano and then the 17 to La Villa, which is beautiful through the forest.
Seiser Alm
This ski area is ideal for those who want to ski in a relaxed way. From Ortisei the cable car leads to this slightly sloping mountain pasture, with over 60 kilometres and 21 conveniently arranged lifts. Here you can make a so-called "hexen tour", where you can take in all the lifts of Seiser Alm. It is really an area for the quiet and less demanding skier. The slopes are fairly flat and easy. The real pro would have less fun here. Back you come via the cable car (there is no descent possible) to Ortisei or you can take a short ski bus to Monte Pana, where you are back in Val Gardena.
Grande Guerra tour
This tour takes you through an area where armies from Italy, Austria and Germany fought during the First World War. The whole trip is 82 kilometres' long. Of these, more than 30 kilometres are on the skis. The rest is via the lifts and a part by bus. You ski through the areas of Alta Badia, Arabba, Marmolada and Cortina d'Ampezzo, a fashionable ski resort. We did not do the whole tour, but we did parts in the first three areas. In total, you have to take a day off in preparation for this whole trip and then ski hard.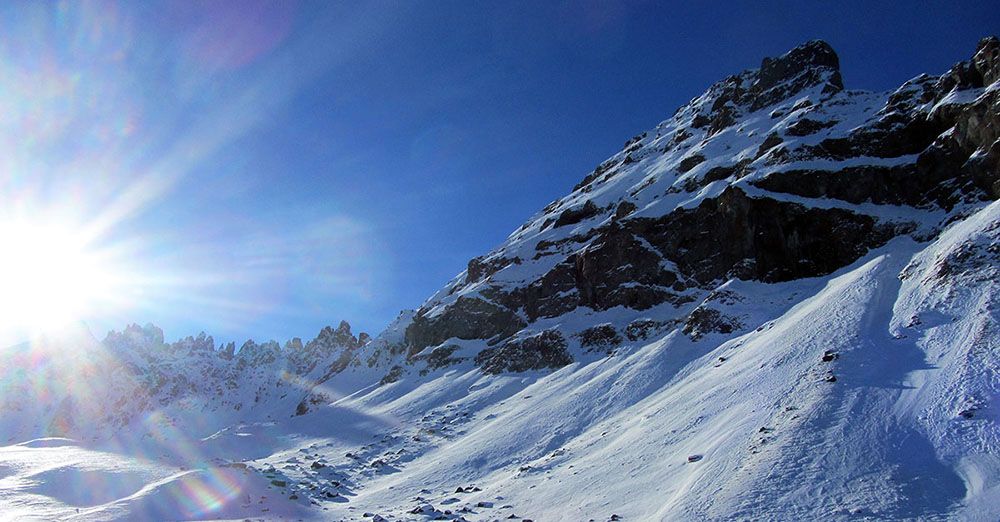 Practical tips
The shortest route to Val Gardena is via the Fernpass. Especially in high season and in bad weather this is no fun. Waiting for hours is often your fate and when it snows, you will have to assemble the snow chains. When in doubt about the crowds and the weather you should avoid this route.
You can drive more comfortably via the Brenner Autobahn. Although it is a few kilometres longer but you do get to use a good road where the traffic is actually flowing. The Brenner Autobahn is a toll road. Order your E-ticket online and follow the specially indicated lanes at the tollbooths. The barrier will open automatically when your licence plate is scanned. There are never any waiting times here. You can order your E-ticket via the following link: online ticket Brenner Autobahn.
Buy a Dolomiti Super Ski pass instead of a Val Gardena Ski pass. The first is only a fraction more expensive and you will need this pass when you get outside Val Gardena. For example, if you want to do the Sella Ronda, then the Dolomiti Super Ski pass is required.
We stayed twice in an apartment of La Rives in Santa Cristina. Here there are several large, fully furnished apartments to book. The friendly owner can tell you a lot about the area and is always there for you. It is a bit outside the village, but via a – slightly ascending path – you walk to the bus stop in 200 metres. One year we stayed in hotel Genziana in Selva. You are right on the slopes here. The hotel has a beautiful wellness area and the food is fantastic.
Other topics you may be interested in