White water rafting in Bali
In our opinion, rafting is a super fun, adventurous activity for young and old, where you can conquer a 'wild' river with a raft. Although it sometimes seems a bit rough, in practice it is not that bad. As long as you are in reasonable condition and are still in good shape (even if you are sitting!) you will only have some (slight) muscle pain at worst. What makes rafting so much fun is of course the wild water, but also team spirit, adventure and the often-beautiful surroundings of the river.
Rafting on the Ayung
In Bali there are two well-organised opportunities to do 'Whitewater rafting'. One is on the Ayung, the longest river of the island. The trip over the water leads through a beautiful green landscape with towering rocky outcrops and waterfalls, and even Hindu tombs adorned during ceremonial prayer days.
Although the rafting itself only takes 2 to 2.5 hours, you are out for around 4 hours because you also get explanations, life vest and helmet fittings, etc.
There are several organisations that organise and arrange white-water rafting on the Ayung River on Bali, such as Bali Bintang rafting, Baliraft, Peramatour and white-water rafting, you have spent between €20 and €25. In that amount you will usually be picked up at your hotel. And of course, a lunch and a welcome drink.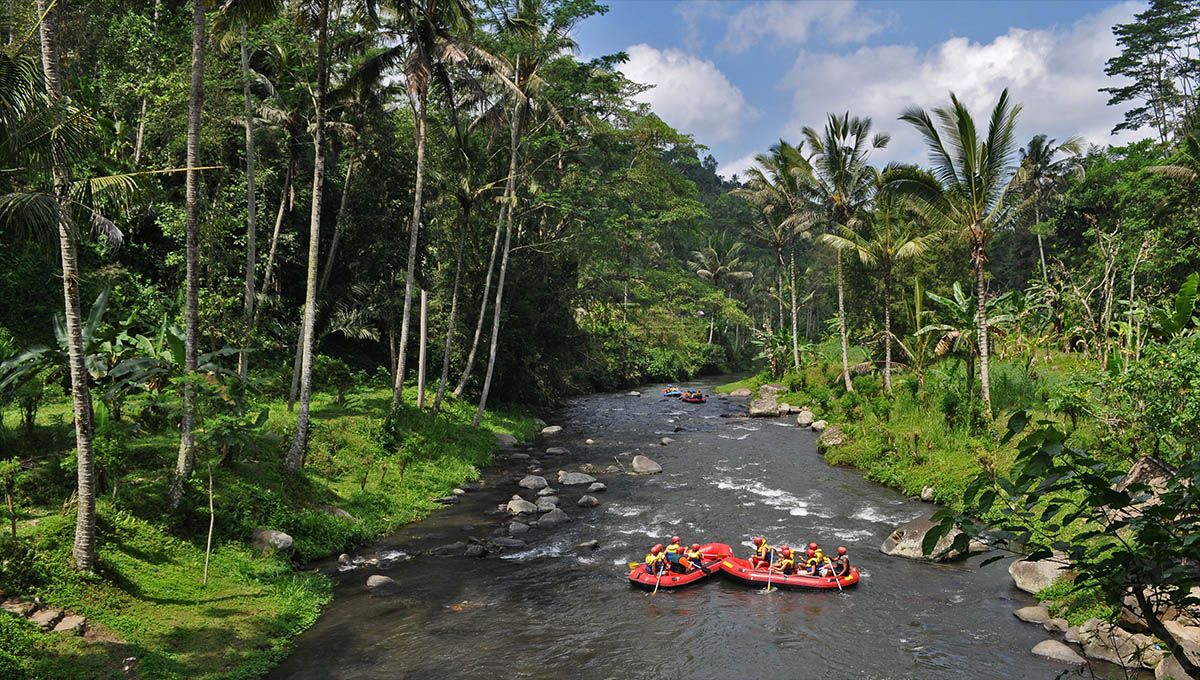 Telaga Waja
The Telaga Waja is located in the east of Bali at the 2150-metre-high Mount Abang. The trip with the raft is a bit more difficult than the one over the Ayung. It takes you a total of 2.5 hours to cover 16 kilometres through the beautiful nature and along the sawah. Just like the trip over the Ayung you pass a beautiful waterfall.
For this excursion you can visit Baliraft, Peramatour and Whitewater Rafting. For an amount of around €20 to €25 you will get a beautiful, adventurous and fairly strenuous experience. Also, on this excursion you will be picked up from and brought back to your hotel. Lunch and welcome drink are also included.