Pancake Rocks and Moeraki Boulders
Pancake Rocks at Punakaiki
One of the youngest National Parks in New Zealand is the Paparoa National Park near Punakaiki located between Westport and Greymouth on the west coast of the island. This area has one of the most beautiful coastal regions in the country. The main attraction in the park are the "Pancake Rocks". When you see the rocks, you immediately know why they have that name: they really look like a big pile of pancakes rising up from the sea.
Dolomite Point
Near the town of Punakaiki is an Information Centre. Here, walks are available that you can do in the area. The best viewpoint on the Pancake Rocks is at Dolomite Point. You can reach this after a 10-minute walk from the Information Centre. You can see what the centuries-long process of wind and waves has formed in the soft stone of the rocks here. The erosion has created layered formations, which indeed look just like a stack of pancakes.
Blow Holes
At high tide and strong seas, a large load of foaming water comes out of the various Blow Holes along the coast. The high pressure with which the water enters the narrow blowhole creates a large fountain. This is impressive to see. If you are close, you will get soaked a big rain shower. In sunny weather, this also produces beautiful rainbows, making the area even more photogenic.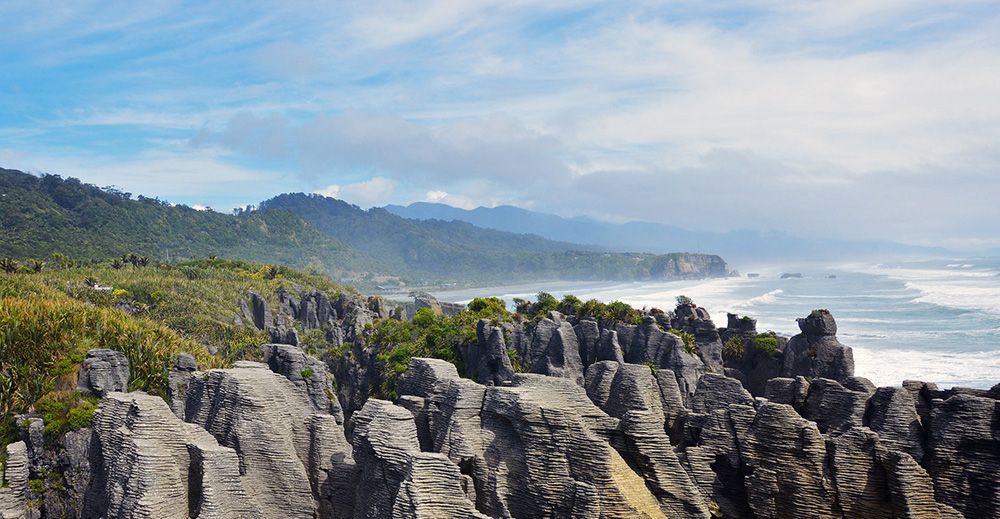 Moeraki Boulders
On Highway 1 from Dunedin to Hamden, in the southeast of the South Island, shortly before you approach Hamden, come the road directions to Moeraki Boulders. It's definitely worth a nice little stop. There are many hundreds of boulders on the beach. Some have a diameter of no less than 4 metres.
According to Maori legend, the canoe of the gods is stranded just off the coast. The food baskets and pitchers fell out of the boat and later washed ashore onto the beach where they were petrified in the following years.
The geological explanation is less exciting. The boulders were created 4 million years ago by volcanic activities and then washed up on the mainland. It is special to see. If you visit this place at lunchtime, you can visit the small cafe above the beach. There is a beautiful view of the beach, the Moeraki Boulders and the sea here to enjoy.