Happy New Year from silver-travellers.com!
We have made it a kind of habit to end the old year each year at a (unique) destination outside the Netherlands and make a toast to a beautiful, healthy and travel-full new year. We are often asked which of these destinations we find most special. As an answer to that question you will find our top 3 below.
By the way, our good intention is to make this news item a theme page in the new year. On this page, we will place extra destinations where we think you can celebrate New Year's Eve in a unique or special way.
Dubai
You might not expect it, but in Dubai in the United Arab Emirates you can actually have a crazy party. So good that together with a friend of ours we even celebrated New Year's Eve twice.
The first time, we had tickets for a party on the roof terrace of one of the most iconic locations in Dubai's nightlife, '360'. The establishment at the end of a sort of pier, lived up to its name by offering visitors an amazing 360-degree view of the Burj Al Arab, the Jumeirah Beach Hotel and the sea. The fireworks display was one of the most beautiful displays we have ever seen. The party itself was so special and cosy that we only went back to our hotel at 6:00 am. Unfortunately, 360 has been permanently closed since the spring of 2018.
The second time we had tickets for a party at Zero Gravity, a fantastic beach, bar and restaurant with an ideal location between the bustling districts of Al Sufouh and Jumeirah Beach Residence, near Dubai Media City and Dubai Marina. There were many performances even after the countdown. The fireworks were spectacular again. What makes the place special is that during the whole festive evening you can just stand barefoot in the sand with a good glass of champagne.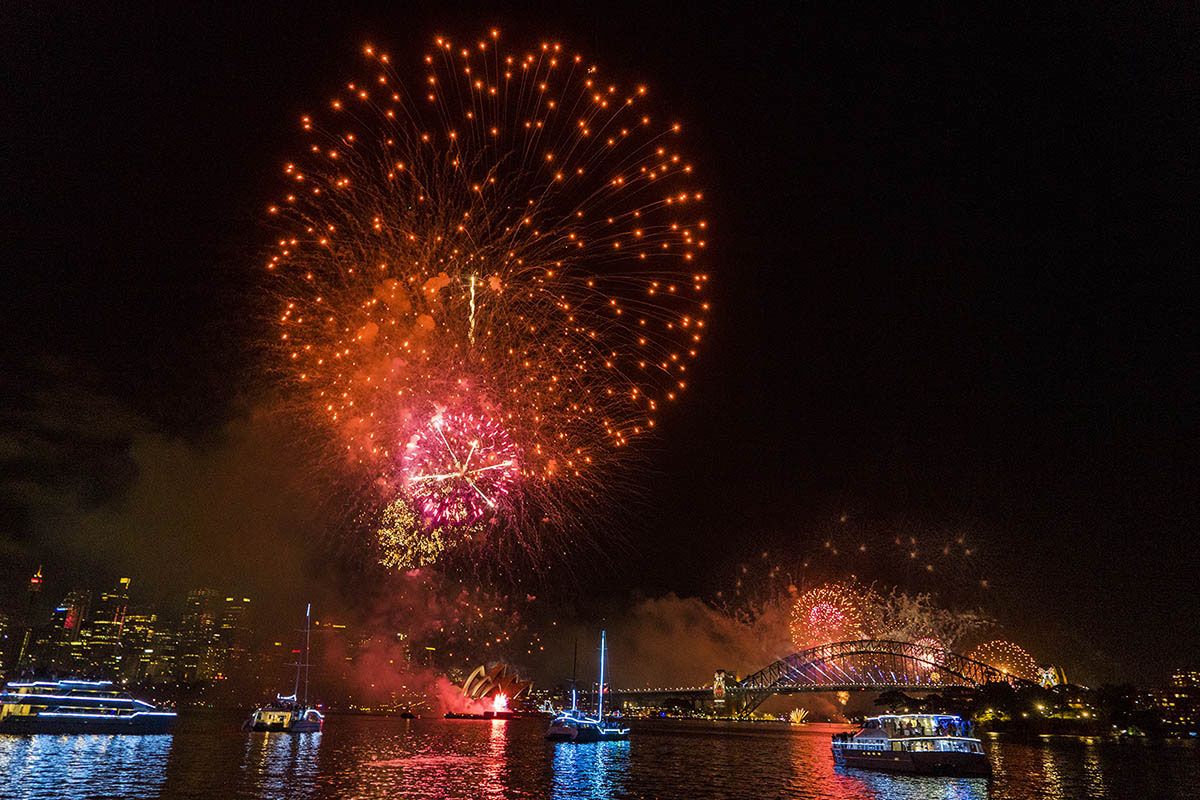 Sydney
It had been on our bucket list for a long time to bring in the new year in Sydney. Now that we have experienced it, we can only say that it is absolutely worth a mention on everyone's bucket list! New Year's Eve in Dubai was especially nice because of the combination of party and fireworks. In Sydney, however, we found it even more special. We didn't go to a special party here, but spent the last three hours of the old year and the first hour of the new year on a boat with friends.
There was a dance floor and a bar on board but we spent almost all of the time on deck to enjoy the beautiful first-class view of the Opera House and Harbour Bridge. The fireworks show was out of this world, it was so impressive. On this site, we have dedicated a special blog page to it.
Moscow
Celebrating New Year's Eve in Moscow was quite unreal. We didn't really celebrate here and even the fireworks were a bit disappointing. Yet we still found it rather special. Really a unique experience that we wouldn't have wanted to miss for anything. Maybe just because we first had to wriggle through a human fence of hundreds of anti-riot squad officers to get into Red Square. And then you're there. You look around you at a fantastic but ice-cold world of white with beautiful buildings that you used to only see in encyclopaedias or the illustrated world atlas. You realise that it wasn't so long ago that it was unthinkable for western tourists and Russians to wish each other all the best in Red Square.
After the fireworks, the square was completely empty in just ten minutes. Where all those people went to is still a mystery. We went back to the hotel to wish each other all the best with some bubbly and to have a party of our own.