Mountain hikes on snowshoes, a great experience!
Do you ever want something different than an umpteenth skiing holiday in the Alps? Then a mountain hike on snowshoes is an adventurous alternative! We did it recently and came back with unforgettable memories, although very tired bodies. The multi-day snowshoe hike took us into the middle of the majestic Alps. It was a week to remember!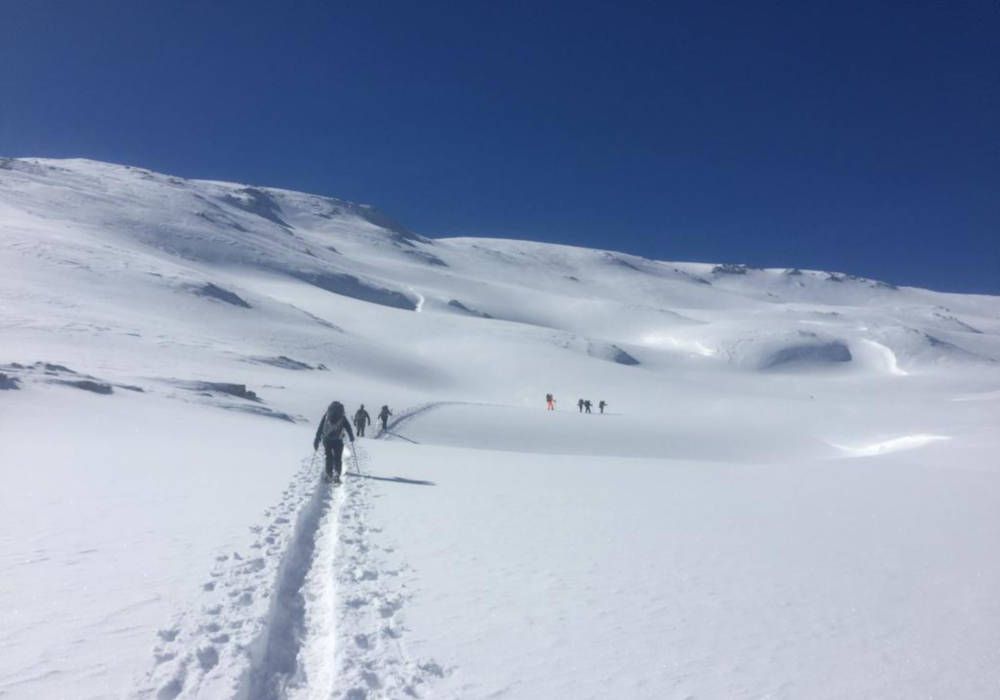 Hiking on snowshoes is not difficult
This is much easier than learning to ski or snowboard. If you can walk, you can basically also walk on snowshoes. Of course, there are some things to consider. For example, you have to make sure that you put your feet further apart than when just walking or skiing. Otherwise, you'll always stand on your own shoes or trip and fall, ending up left behind in the snow. Fortunately, it is a nice feeling, so such a fall is quite fun, especially for the others behind you. In addition, walking uphill and downhill and "traversing", a special technique that allows you to cross steep and difficult terrain, can take some getting used to.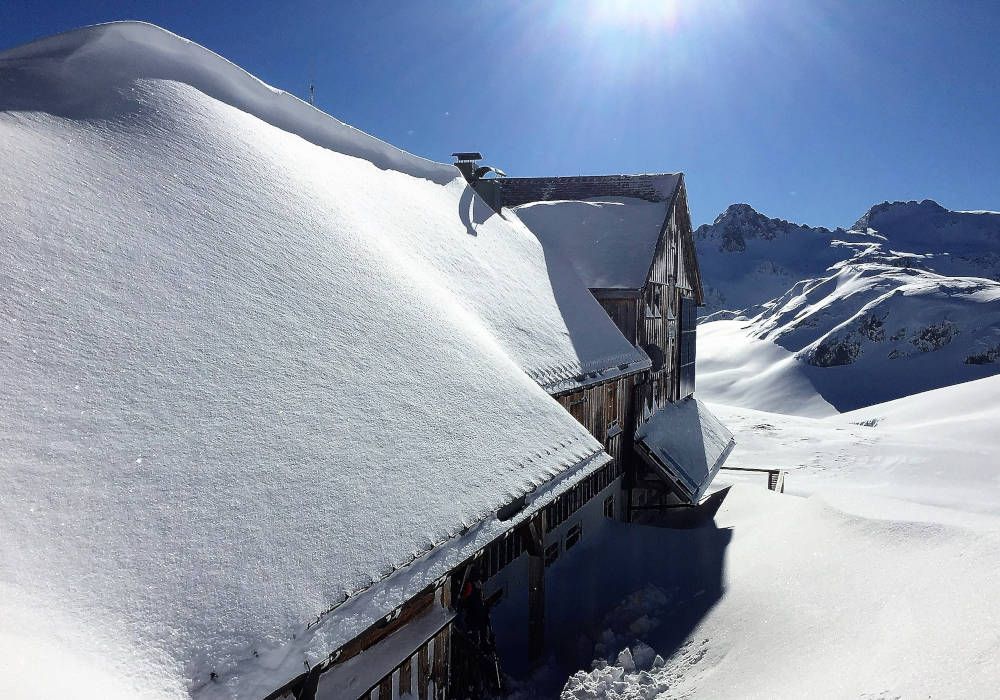 Snowshoeing is a wonderful work-out
You're out in the open all day. Occasionally a steep climb. Another steep descent after that. You are doing a healthy job while walking on snowshoes. By walking a bit wider, you might feel your groin. When a nice pack of fresh snow has fallen, you have to lift your legs. you feel your muscles are really going at it all day. At the end of the day they might be burning. No gym can beat this! But the view of the beautiful mountain peaks, the feeling that you are almost alone in a vast winter landscape, makes you forget that muscle pain quickly. There is a reason why endurance athletes use snowshoeing as an ideal training method in winter. It is also perfect training for your core stability.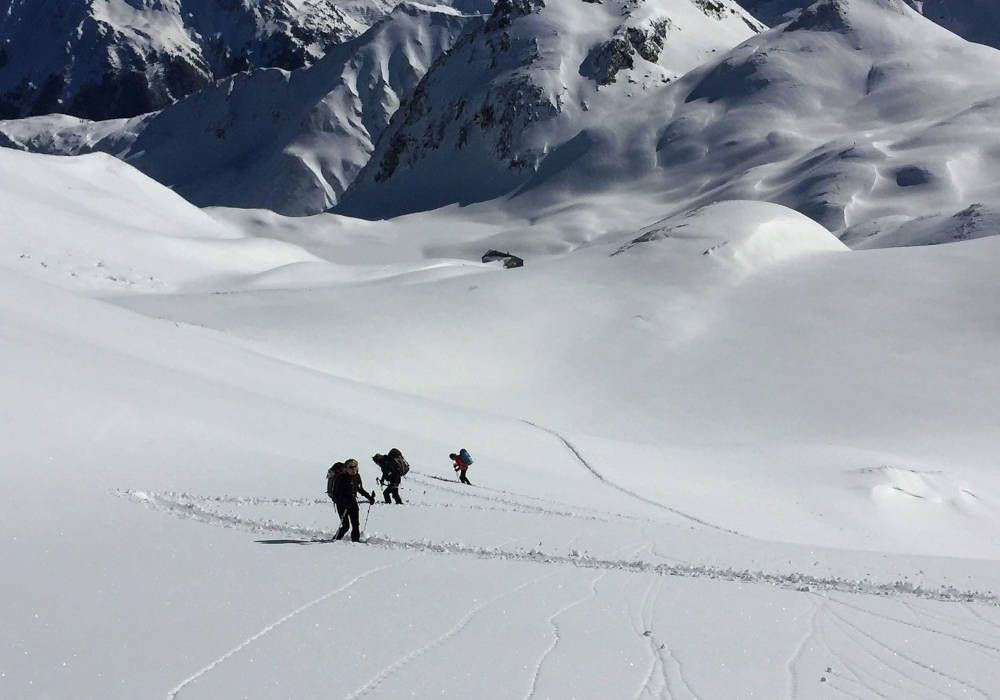 Our multi-day mountain hike on snowshoes
We recently did a challenging eight-day snowshoe hike in the Rätikon massif, on the border between Switzerland and Austria. We hardly had any experience with snowshoes. A few years ago, we once went on a trip in Finnish Lapland, just for a few hours. That was child's play with what awaited us in Switzerland. We didn't know what we were doing, but the adventure took us into the mountains. The programme sounded very challenging: daily hikes of about eight hours, bridging many altimeters and staying overnight in unmanned mountain huts. The food for the whole time in your backpack, along with your own personal belongings. In short: you just have to get carrying!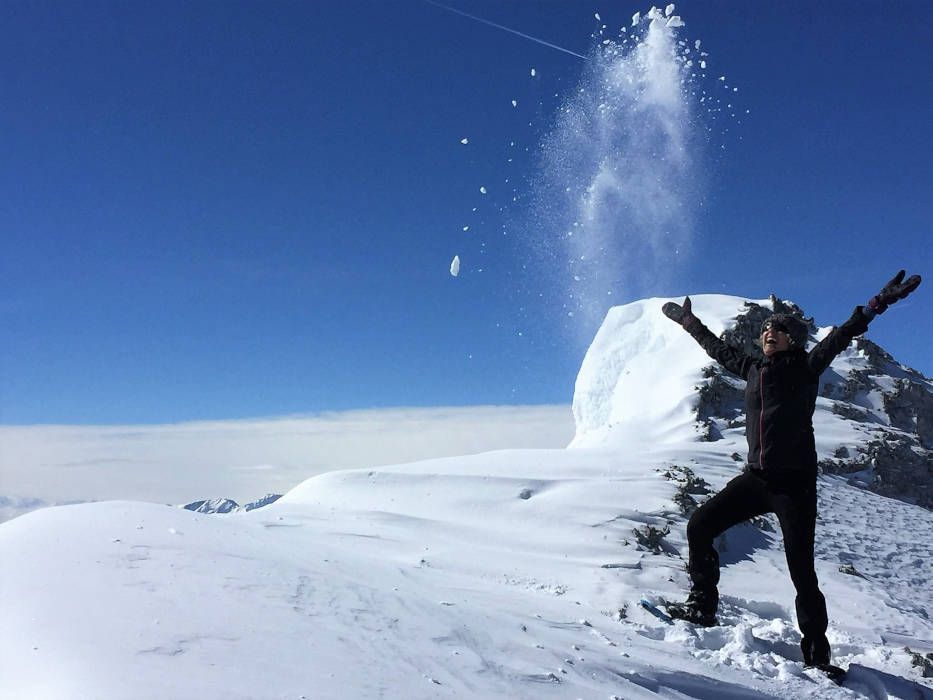 Departure from Hostel Ascharina in Sankt Antönien
The evening before our trip we met guide and International Mountain Leader Allard from Bergwandelen.com and the other participants in Herberge Ascharina. Surprisingly we found that most of them were around or over 50 years old. Only one participant of 25 years old completed the group. It was nice to sleep in a comfortable bed and use a lovely shower. Time to wash our hair once more and enjoy a nice warm jet of water. The rest of the week, the washing would be done in the snow…
Our equipment was explained to us and we got a backpack. Whew, it was already heavy! We hadn't considered the presence of a shovel, an airbag and a "dipstick" for tracing someone under the snow. Besides that, we all got a transmitter. It constantly sends a signal during the trip. If someone were to end up under the snow, he or she would be easy to find. When Allard had distributed some of the food to everyone for breakfast and dinner, the backpack weighed even heavier. Luckily, there was just a little space left for our own stuff for that week. One consolation: every day the backpack became less full and lighter in weight. And off we went: packed and loaded with our snowshoes into the white world. Maybe we wouldn't meet anyone for the rest of the week.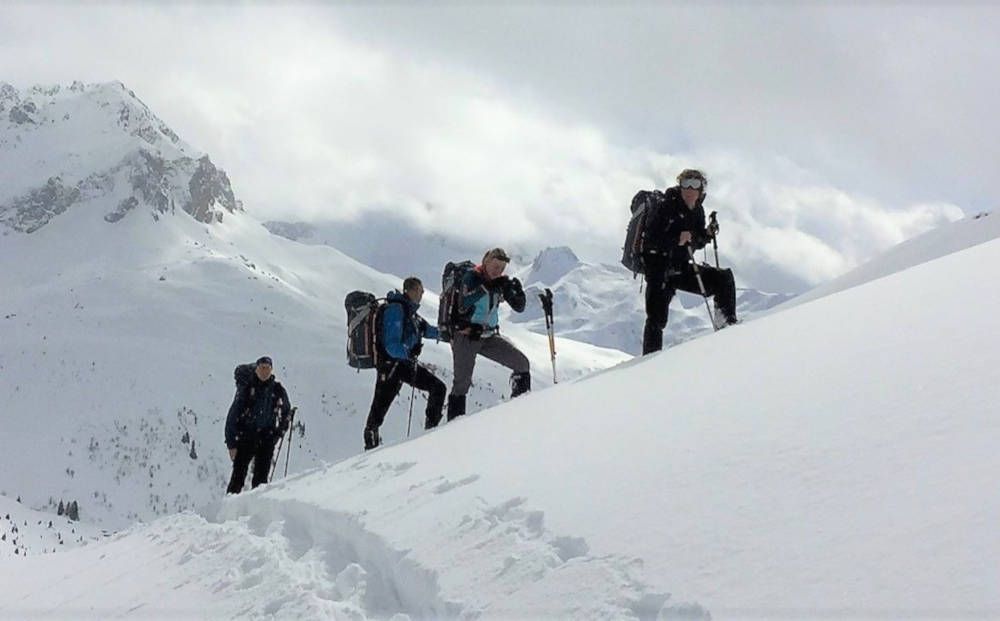 The highlights of a mountain hike on snowshoes
During such a week you walk in a deserted mountain landscape, where the snow is virgin white and untouched. No sign of other runners or skiers. That makes it a magical experience. The views are spectacular, especially when you can enjoy a 360-degree panorama on a mountain top. Luckily it was sunny and clear that day. As far as the eye could see we saw mountain peaks and masses of snow.
During the trips you feel at one with nature and you experience your own insignificance in this impressive, awe-inspiring winter landscape. Due to the large amount of snow that sometimes fell during those days and nights, the avalanche risk increased. Allard taught us how the structure of snow under the influence of the weather can change dramatically in a short period of time and how avalanches could be created. On some parts we were obliged to keep a good distance from each other, so that the pressure on the snow did not become too great. Although it seems dangerous, everything was very responsible and controlled. However, we had to change our routes a few times. That's why we were not able to do the programme we had planned in advance.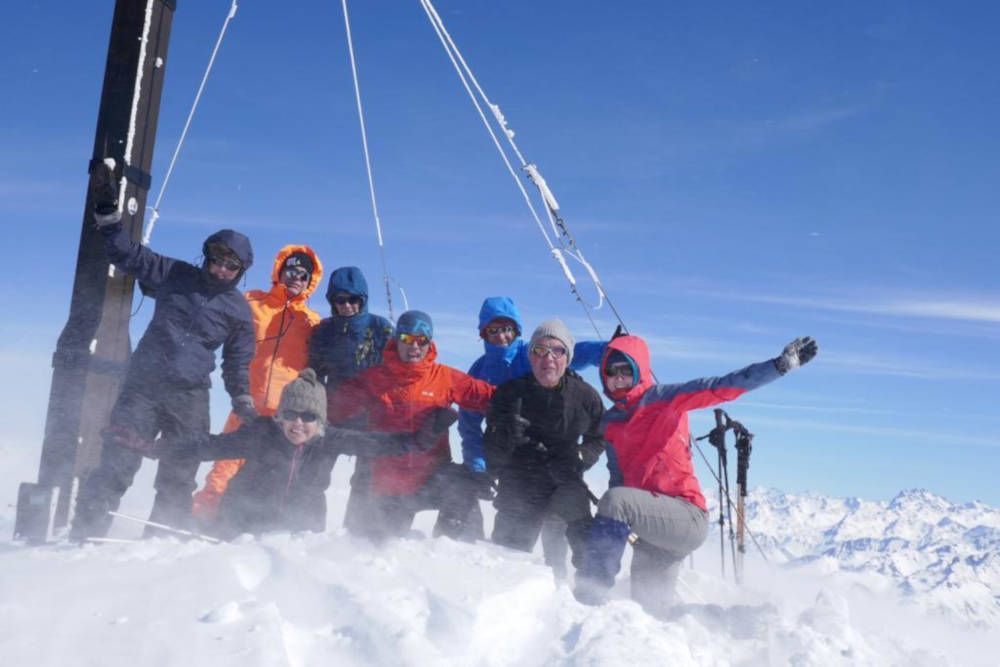 Spending the night in unmanned mountain huts
We spent every night in an unmanned mountain hut. That was primitive, but certainly had its charm. Before we could enter, part of the group was busy clearing the door and windows of snow. The others, on entering, lit up the stove and shovelled bins full of snow into large pans to boil water. A few people prepared a delicious three-course menu (soup, a main course of freeze-dried food and a delicious nutritious dessert). This gave us enough energy, because during the day we were burning a lot of calories.
If you wanted to wash, you dived into the snow and were nice and fresh again. At least in terms of temperature. The toilet was an old-fashioned "poop box". If you were lucky, it was on the inside of the hut. But it could also be outside. The first one who wanted to go to the toilet after a night with lots of snowfall, had the bad luck of having to clear the path and toilet entrance. But after a few days this primitive stuff became very normal for us. Back to basics and when you get back home you appreciate the luxury you were used to much more.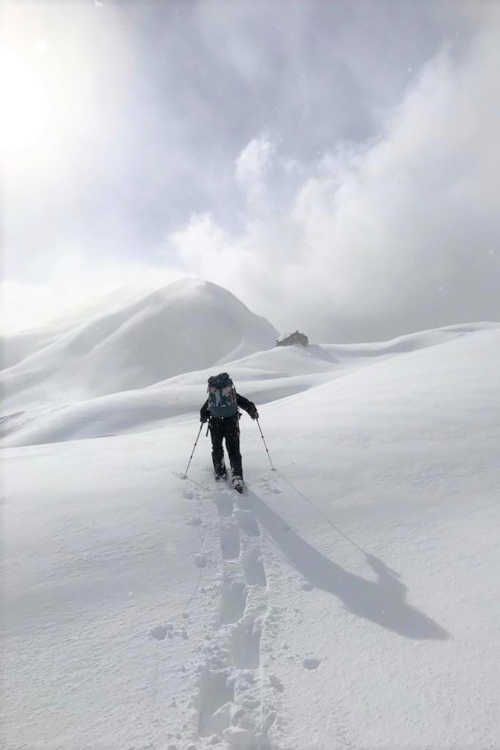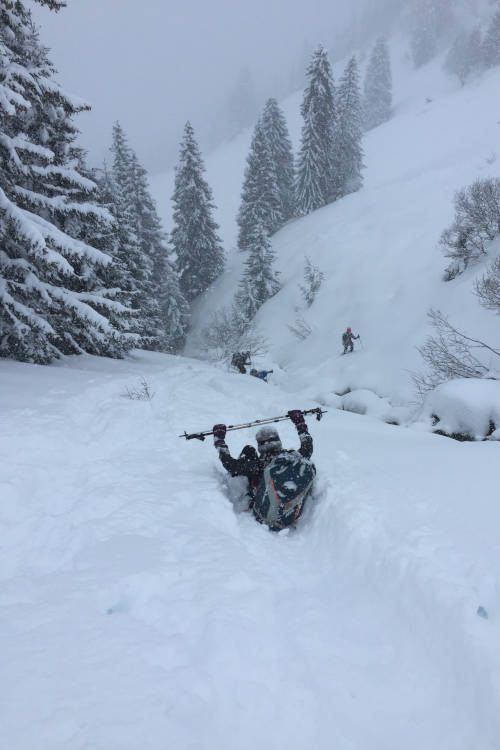 Back in Herberge Ascharina
We got back to the inn on Friday night. Oh, how nice it is to be in the shower, to wash your hair, to shave your beard off and to put on clean clothes. In the days before that, I always wore my thermo-underwear. Luckily nobody was completely fresh anymore under their arms and the stench didn't stand out!
The end of a great week, in which we pushed our boundaries, was a very nice cheese fondue. Everyone was so hungry, that we worked in about 400 grams of cheese per person and a delicious, extensive salad. We had to replenish our supplies! We thought we had earned the glass of wine after all this effort.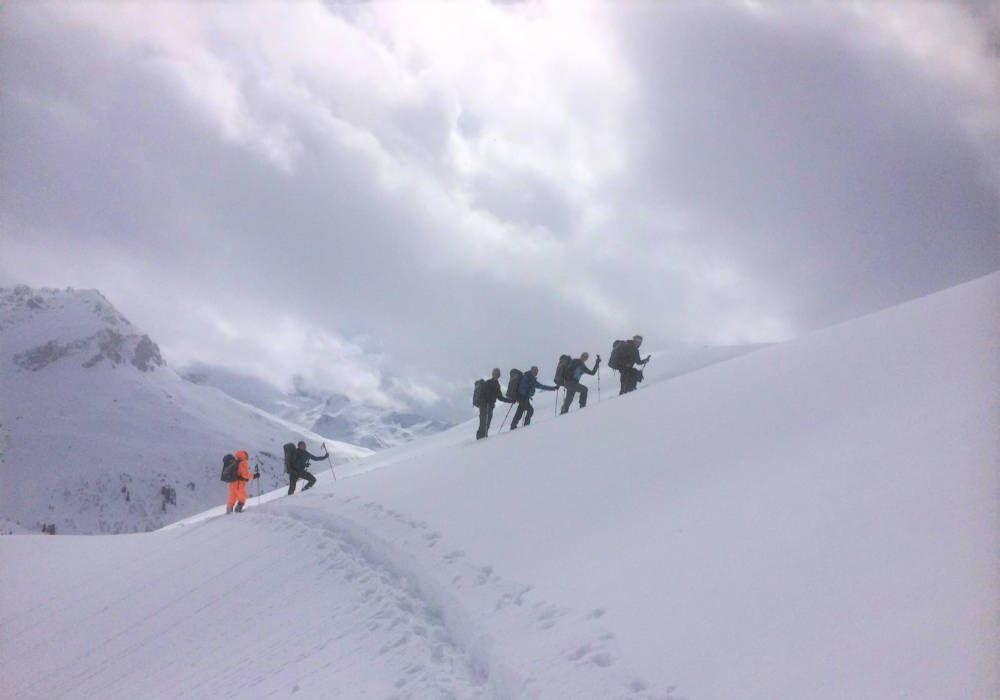 Organisation
We booked this tour with Bergwandelen.com. This Dutch organisation takes care of eco-friendly mountain hikes in summer and winter. Our guide Allard, who also speaks English!, was very knowledgeable, professional and responsible. Depending on the weather and the physical shape of the participants he would adapt the route. He is also a very nice and relaxed guide. We had opted for a rather heavy-going tour. Bergwandelen.com also offers other mountain hiking tours on snowshoes. There is a "light snow week", where you can do shorter daytrips with manned huts. You will enjoy a comfortable stay and only walk with a light day backpack. That's why a mountain hike on snowshoes is possible for everyone. It is an unforgettable experience, we highly recommend it!