In the Maldives you can spend the night in a hotel or guesthouse. But in our opinion, staying in an island resort offers the best "Bounty" experience. Imagine pearly white sand beaches, turquoise lagoons, coconut palms and luxurious beach houses. Yet also nice beach bars and cosy, good-vibes restaurants in the open air.
Stay in an island resort
On some of the paradise islands of the Maldives, there are several resorts. But the majority of the resorts have their own island. In total, there are 88 island resorts to choose from. Enough choice for an unforgettable once-in-a-lifetime beach holiday as a temporary Robinson Crusoe.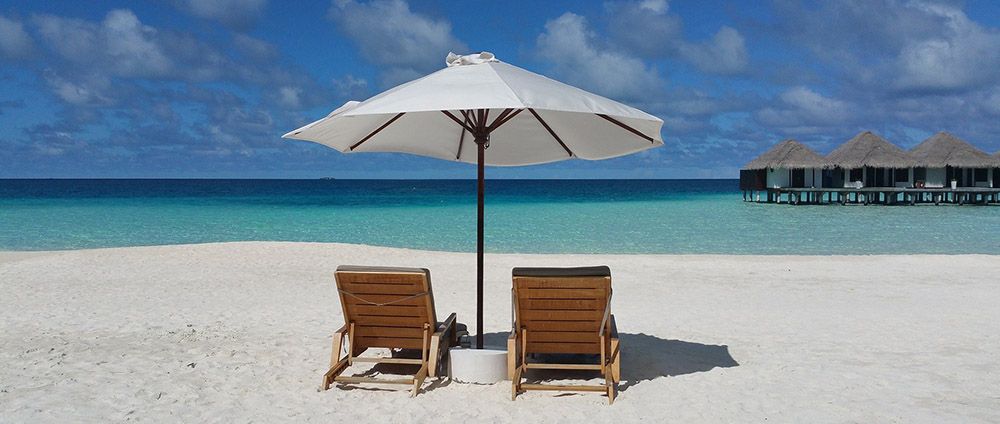 Choosing an island resort: what to look out for?
Paradise on earth? Yes, it is! At least, that is what it looks like. However, there is a "but". Personally, we like variety and being active. In the Maldives, this is less obvious than, for example, in New Zealand.
The islands are very small. In only 10 or 15 minutes, you walk completely around your island resort. You can therefore not expect much variation. Is that a bad thing? Only you can answer that question. Personally, we would not want to spend every holiday in the Maldives. But the one time that we were there, we had an incredible time! With the right expectations, you can have an unprecedented dream holiday here.
Another important point to consider is how active you can be. Even more important is how active you want to be. This of course differs per person but also per holiday or occasion. The immediate reason for us was to dive. But we also met many people who loved to do (almost) nothing. Just enjoy a good book and a refreshing beer or cocktail. With the sound of a lapping, incredibly beautiful sea in the background.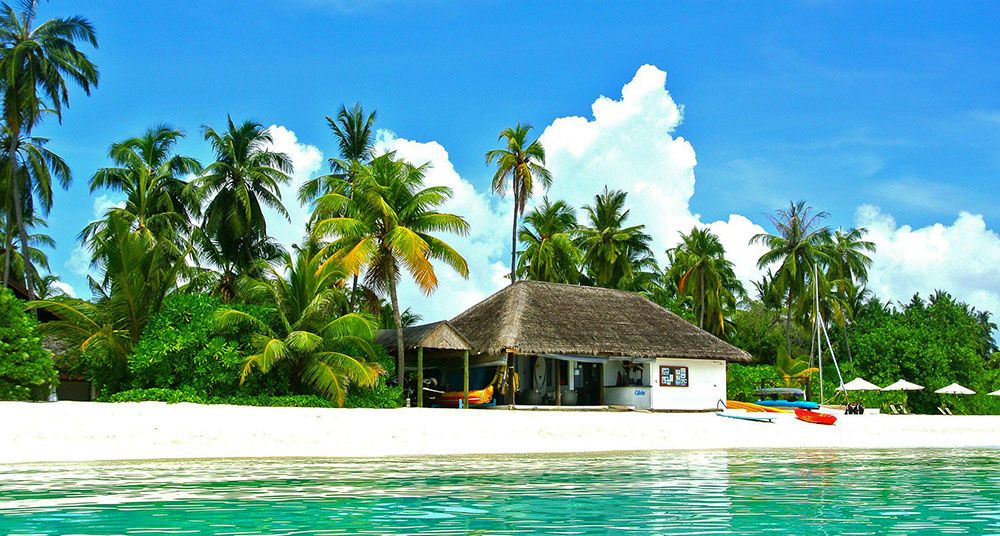 What specifically should you pay attention to when choosing an island resort?
Facilities
For us, the most important thing was what (sports) facilities the resort offers. For example, how extensive is the water sports centre? Do they only offer sea canoes and hobby boats? Or can you also snorkel and dive there? Is there a swimming pool in addition to the sea? Can you play any other sports, such as volleyball, table tennis or tennis? Is there a gym?
Type of resort and level of luxury of the island resort
Roughly there are four types of resorts that also vary in luxury. First, there are the holiday resorts. This is where families in particular go. They are a little less luxurious than the real luxury or wellness resorts. However, they generally offer many facilities to ensure that each member of the family has an unforgettable holiday.
Then there are the luxury resorts where couples in particular go. These can be either wedding couples or people who have something special to celebrate together, for example. Like a silver or golden wedding anniversary. Some resorts offer almost absurd luxury. Think, for example, of a private swimming pool or beach at your own cabin with designer furnishings. Some, of course, are even more beautiful but also more expensive than others.
A third category are the so-called wellness resorts where both solo travellers and couples go. It goes without saying that the guests are not lacking anything in this type of resorts either.
A fourth category is the dive resort that we went for. These resorts are mostly less luxurious because the guests are under water for an important part of the day. These resorts are often a bit further away from Malé. The quality of the beach is also less important than the quality of the house reef.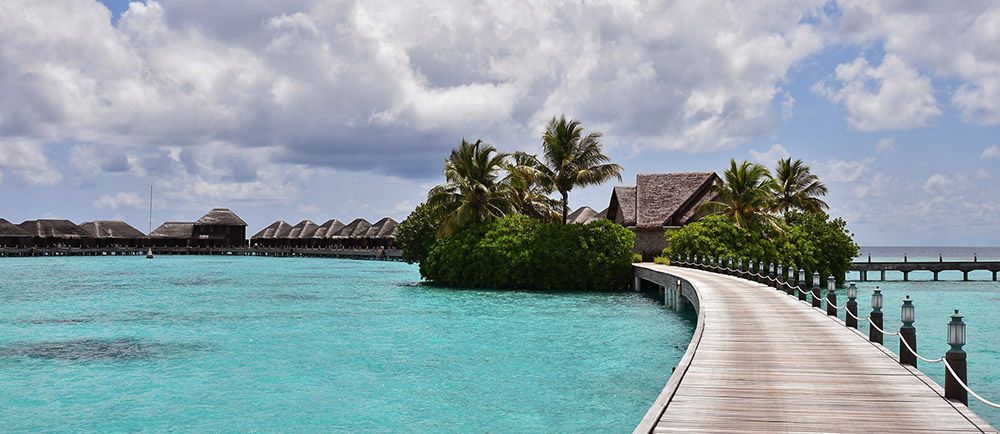 Type of hotel room of your island resort
You've probably seen them in photos: huts on stilts above the turquoise sea. In the Maldives, too, there are many island resorts where you can stay in one of these idyllic huts. We have also done this once (Indonesia and Malaysia) and found it a fantastic experience. But it also has some disadvantages which you should be aware of.
They usually offer less privacy because the walls offer little sound insulation. In addition, for the facilities of the resort, you always have to walk to the island itself. Not bad, you might say, to do that a few times a day. But experience has shown that you regularly have to walk back the whole way because, for example, you forgot your charger. Another possible disadvantage is the sound of the sea. In calm weather, the sound of rippling water is very pleasant. If a storm breaks out, there is a good chance that you will not be able to sleep at night.
Location of island resort
When choosing an island resort, also consider the travel time and costs to and from the airport. For example, our journey time with a luxury speedboat to our resort in the Ari-atoll was quite long. We did not mind being at sea. But after a tiring outward journey, you probably want to reach your resort as soon as possible. Instead of a boat, you can also take a seaplane. However, you should bear in mind that the travel costs will be considerably higher.
So why go to distant island resorts at all? Quite simply, the further away you are from Malé, the quieter the islands. And for us divers, the better the dive sites.
One more thing to take into account: the language. Many resorts, especially the smaller ones, focus mainly on one nationality. For example, we were at an 'Italian' resort. Fantastic food, but less sociability. Although the Italians spoke reasonable English, you had less connection with the other guests. If this is important to you, choose an island where more English speakers travel. Or go to a larger resort.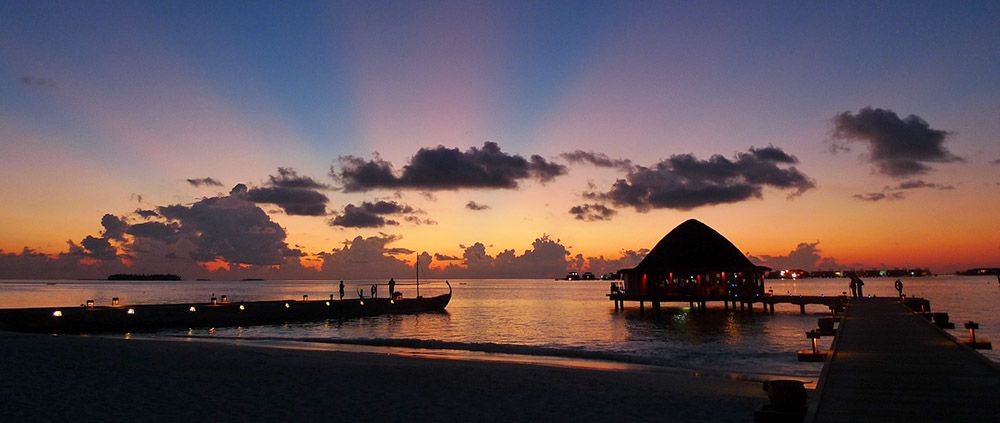 Top 5 most beautiful island resorts in Maldives
In fact, it is impossible to draw up a top 5 of most beautiful resorts in the Maldives. Tastes differ because. Moreover, everyone has different criteria based on which a resort is selected.
To inspire you, we have put together a top 5 of beautiful island resorts. We have been guided by reviews from travellers on various booking sites and travel blogs. And also a bit of our own taste.
The list will undoubtedly give you some ideas for your dream holiday after Covid. See what you like and what is important to you. And dream away at the prospect of undertaking such a journey one day.
Anantara Dhigu Maldives Resort
The Anantara Dhigu Maldives Resort is located on Dhigufinolhu in the South Malé Atoll. The speedboat takes you there in 30 minutes from the airport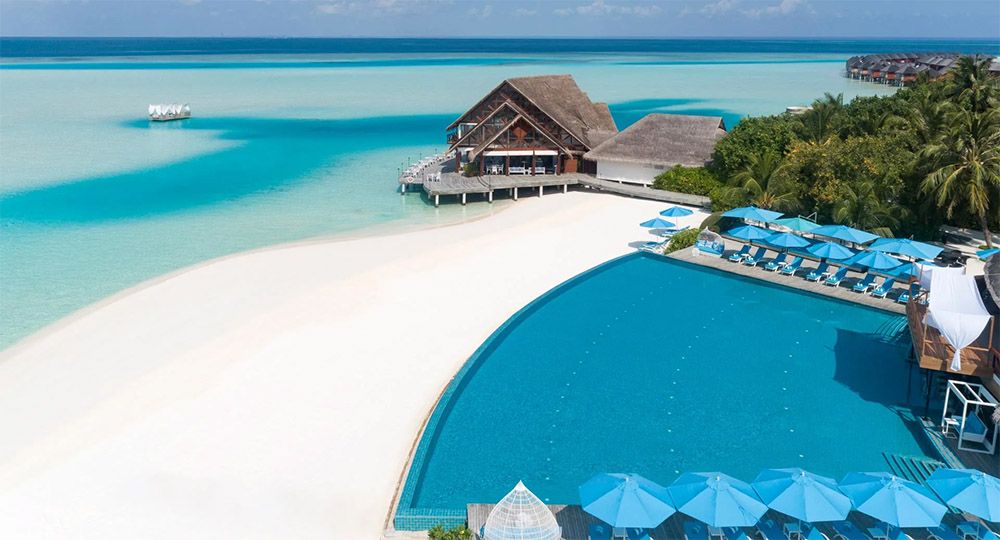 Photo taken at the Anantara Dhigu Maldives Resort
COMO Cocoa
Makunufushi in the South Malé atoll is where you can find COMO Cocoa. Travel time by speedboat is 40 minutes.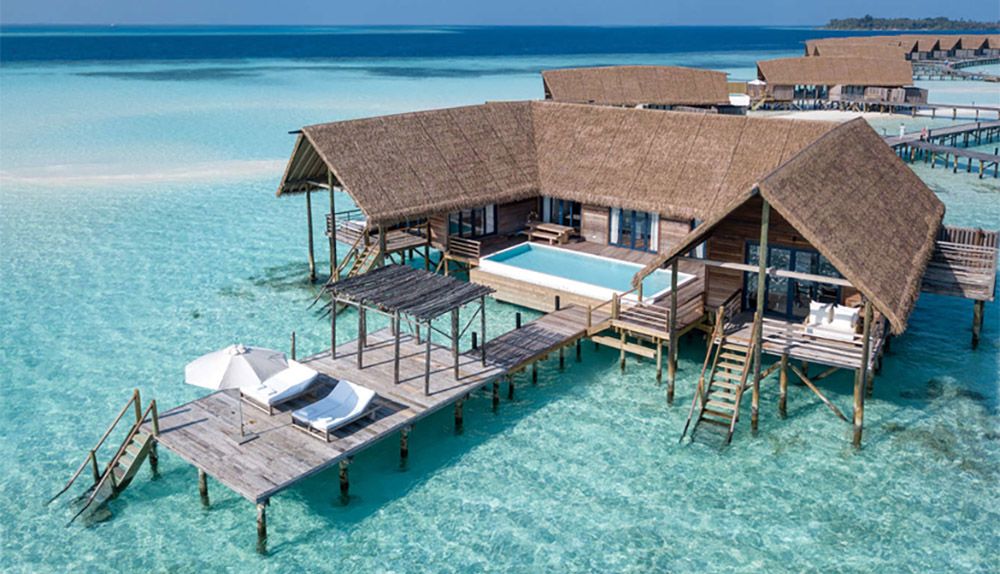 Photo taken by COMO Cocoa
Gili Lankanfushi
Gili Lankanfushi is located in the North Malé Atoll just 20 minutes by speedboat from the airport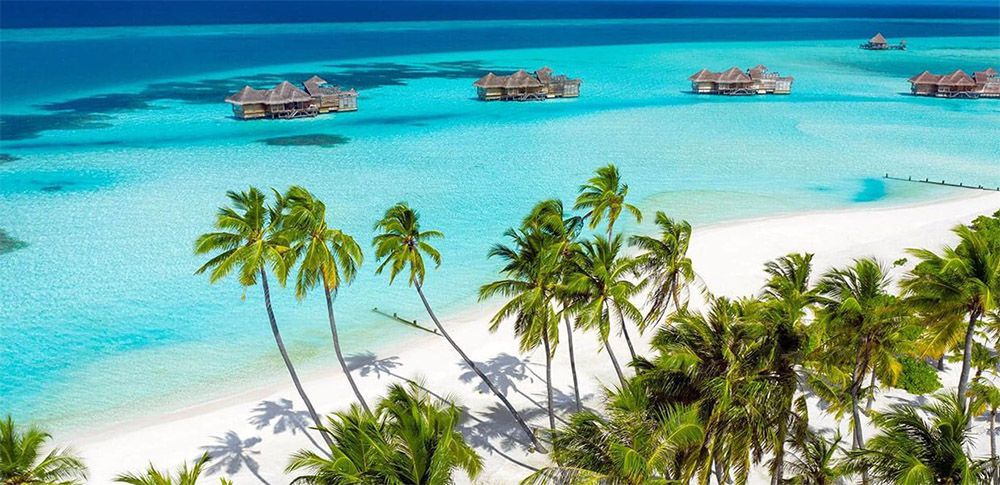 Photo taken at Gili Lankanfushi
Kuredu Island Resort
About 145 kilometres north of Malé, the Kuredu Island Resort is located in the Lhaviyani atoll. You get there by seaplane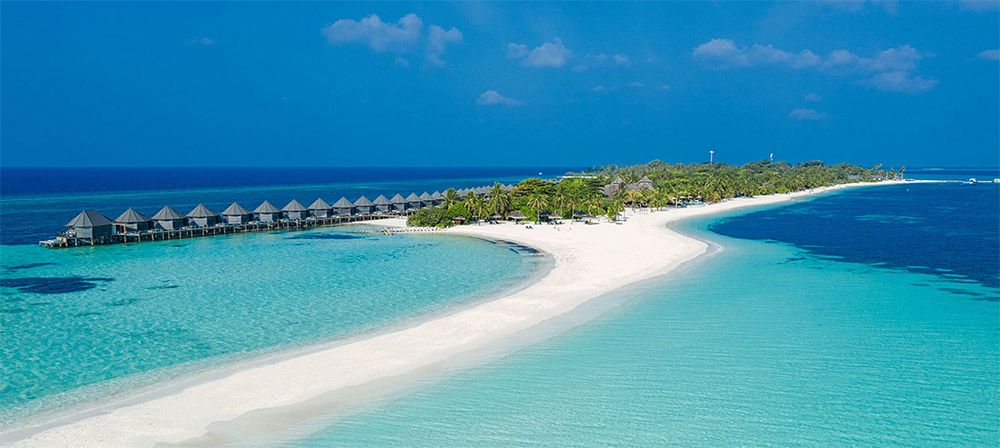 Photo taken at the Kuredu Island Resort
Meeru Island Resort & Spa
Located 55 minutes away by speedboat from the airport is the Meeru Island Resort & Spa.

Photo taken at the Meeru Island Resort & Spa.