Kayaking at Gam and Waigeo
Perhaps the best and most fantastic way to explore the islands of Raja Ampat is to go kayaking. No exhaust fumes and noise from outboard motors, but only the sound of the crashing seawater and the many birds that inhabit the heavily wooded islands. Raja Ampat is considered by many to be the world's best destination for sea kayaking.

At some homestays and resorts you can make use of their plastic canoes. These are not really kayaks, but more propellants that you sit on instead. They are not really suitable for the (impetuous) outdoor water. You can also paddle in the vicinity of your accommodation. We did this from our resort at Batanta and didn't want to miss it because you really feel one with nature.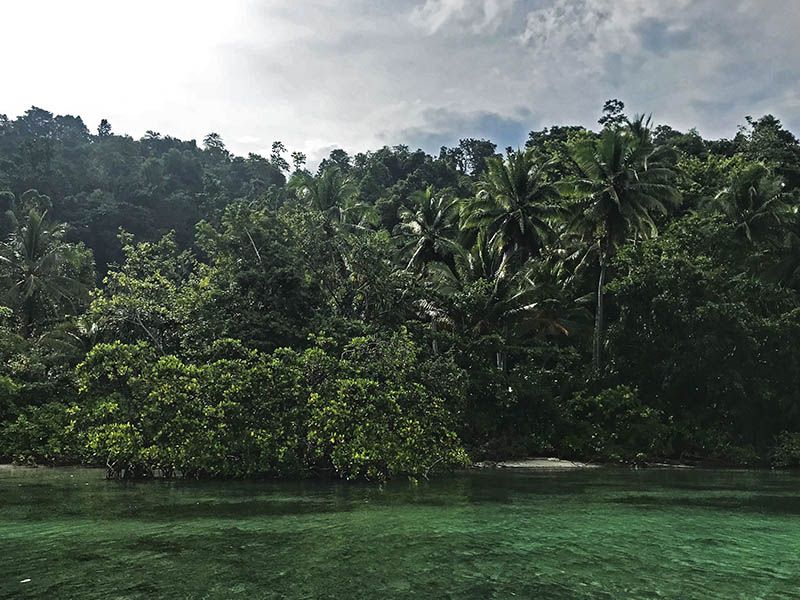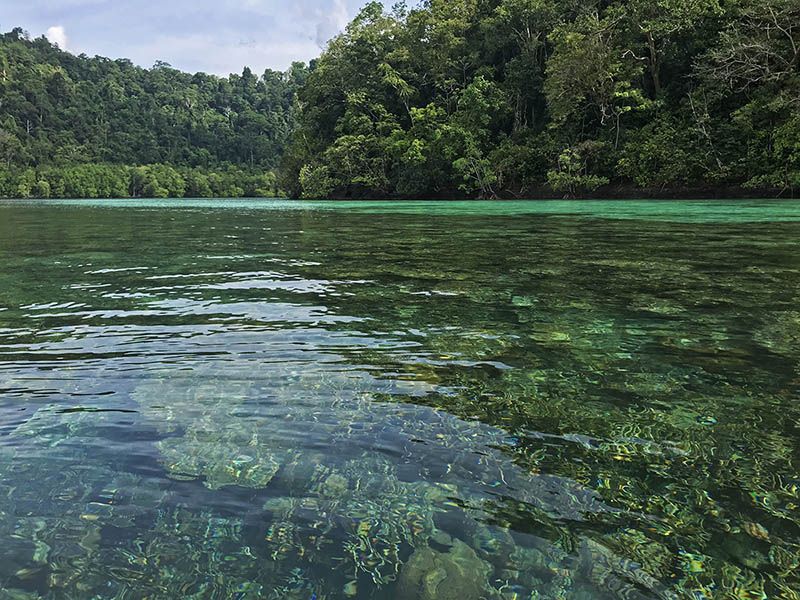 But Raja Ampat has so much more to offer kayakers than just the small bay at the house reef at your homestay or resort. If you really want to make trips to the most amazingly beautiful places on earth, then there are only two options in Raja Ampat: either you take your own kayak, or you join an organised trip.
The advantages of an organised kayak trip are that everything else is arranged for you, such as overnight stays at homestays and picking up and returning to Sorong. There will also be a guide who knows the area like the back of his hand. These organized tours are certainly not cheap but you get quite a lot in return, if only for the intense experience and the thrill of being one with nature in some of the most beautiful places on earth.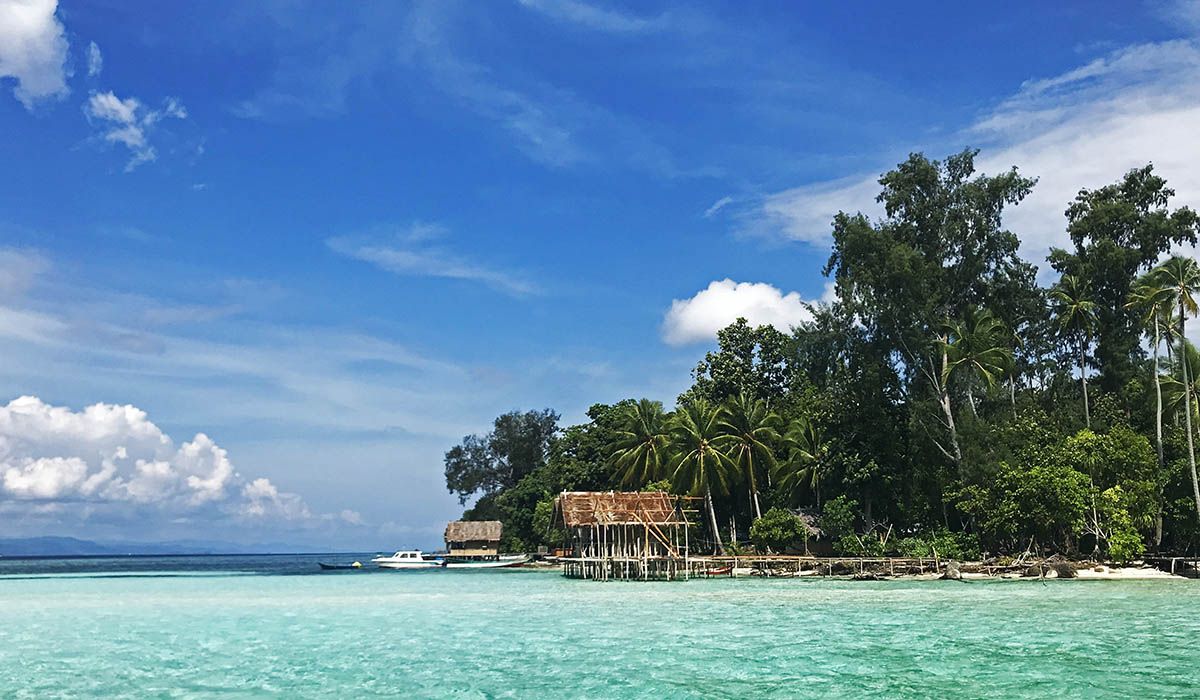 The tours last at least 5 days. That may seem a lot and strenuous but in practice it is not that bad. The bottom line is that you're paddling for a few hours, seeing totally different things every day and letting the beautiful nature affect you. In the afternoon you arrive at your guesthouse where the cottages sit very idyllically on stilts in the water. From that moment on it is great to relax, eat, drink, read, chat, or do nothing.
Thanks to the rugged coastline of the many islands of Raja Ampat, which consists of many peninsulas, small bays and hundreds of mini islands, there are also many opportunities for novice kayakers in a safe, comfortable environment to learn some technique and conditioning. But also, the more experienced kayakers will find what they are looking for in Raja Ampat, thanks to the sometimes-strong current in the open water.
There are two organizations offering kayak tours, namely Millekul Adventures near the island of Mysol, and Kayak4conservation for the region around the Dampier Strait (between Kri/Mansuar and Waigeo/Gam).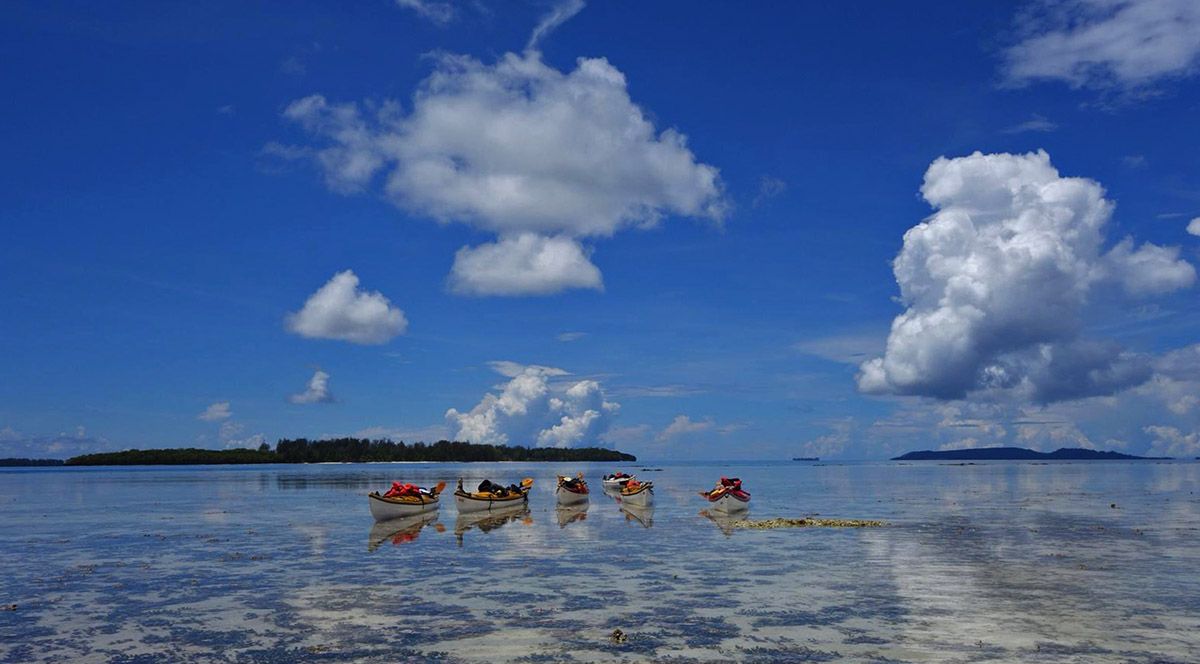 Misool
Millekul Adventures, located at Panun in the east of Mysol, has 16 sea kayaks. They offer something for everyone. For example, you'll have short trips from "only" four days to expeditions of one and a half weeks. You then paddle to the farther away and to the nearby Karst islands where you will have coral reefs, caves and even a jellyfish lake. You can also go to the "Papaustralia" islands where you will have the chance to see dugongs and go to the Blue River where you will camp in the jungle. We ourselves (unfortunately) were not on Misool.
Dampier Strait
Initially it was our intention during our three weeks in Raja Ampat not only to dive but also to go kayaking at Gam and Waigeo. Because of our tight time schedule (and travel budget) we eventually had to choose between diving in the Dampier Strait or kayaking. We opted for diving with the hope that we would not be able to kayak here too much later. One of our friends who has guided kayaking expeditions several times as a guide in this area, told us about two locations where we definitely had to go kayaking, namely 'the passage' and 'hidden bay'. We finally saw the passage with a motorboat, hidden bay unfortunately remained hidden for us.
Kayak4conservation offers several expeditions, varying from 5 to 11 days on the water. These are tours to Airborek, Gam, western Fam or northern Wayag. If we would go back again to participate in one of the amazingly beautiful kayaking expeditions, we would definitely opt for the 9-day kayak tour to Kabui Bay. This tour includes the 'Blue Water' mangrove forests, the mini-fiords of Beser Bay, the coral reefs of 'Yenbraimuk', the magical Hidden Bay, the Passage, the Batu Pencil and the Mushroom Islands. We had already seen a few places by motorboat.