In the Ica region, a few hours south of Lima, you will find a wonderful oasis in the sand dunes: Huacachina. Around an artificial lake is a number of streets with mainly hostels, hotels and restaurants. Although this town attracts many young backpackers, it is also suitable for the somewhat older traveller. Thanks to the many backpackers, there is a cosy atmosphere in the town.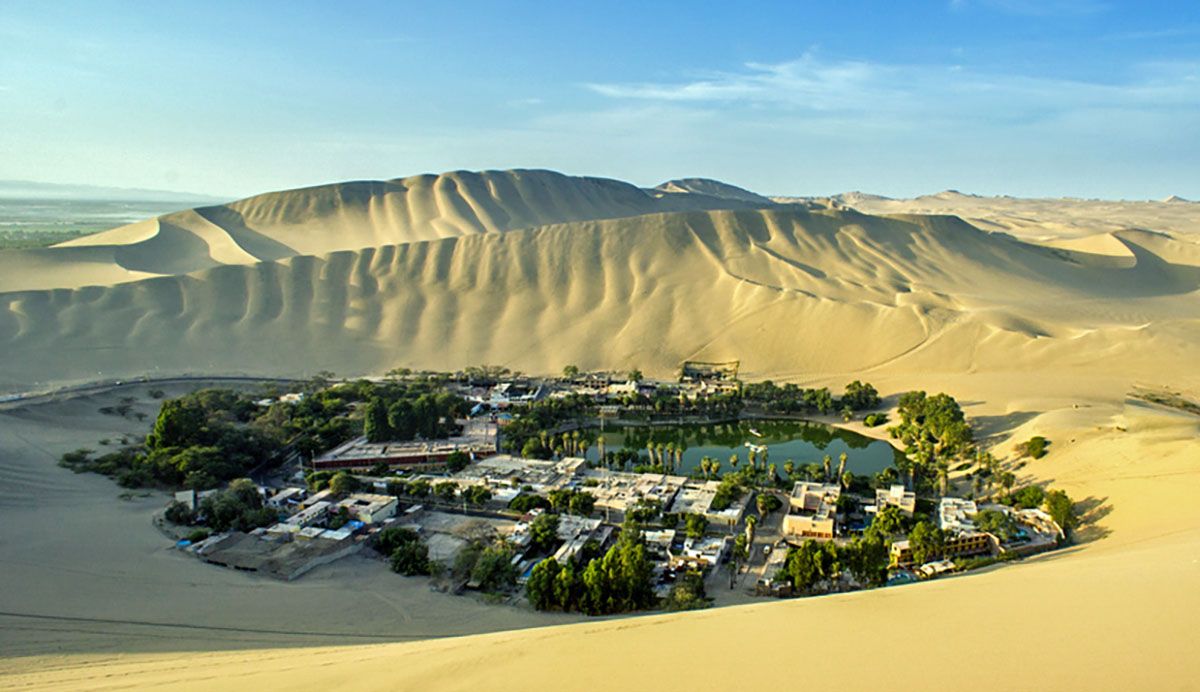 You can climb the dunes around Huacachina. It takes some energy but you get a nice view of the oasis in return! You can even take a nice walk over the top of the dunes around the village. You can walk around in just over an hour. It is best to do this in the morning when it is not so hot.
Driving a buggy
However, the real thrill is a buggy tour including sandboarding! Every afternoon, many brightly coloured buggies leave the village with great roar. They take you for a spectacular ride through the dunes. The driver drives higher and higher up the dunes, then starts the descent at full speed. A real adrenaline rush! Since you are well strapped in with the belts, nothing can happen. So, you tour through beautiful dune landscape with regular steep climbs, followed by a fast descent.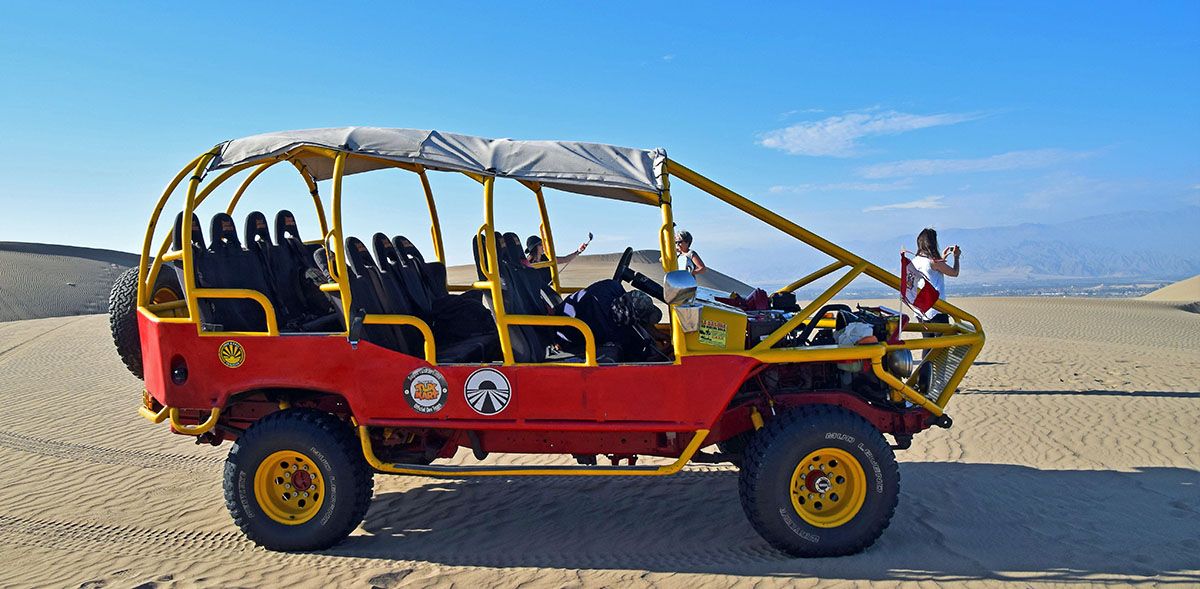 A few times, you stop above a mountain and get a sandboard from the driver. He waxes the board for a while, often with an old candle, and gives you instructions on how to descend safely. Neary everyone descends lying flat on their stomachs. A few try to stand on the board but that's extremely difficult. The first mountain is not that high but the driver drops you off at a higher dune every time. So, lying on your board, you whiz down a lot of slopes. When the whole group has finished, the driver picks you up again with his buggy. If you decide you don't want to sandboard you can of course just drive along with the buggy.
For dessert, the driver will take you to a beautiful point, where you can admire an amazing sunset in the dune landscape. Beautiful to see in a surrealistic landscape. Then the trip is over! The driver will take you back to Huacachina and it's time to get the sand out of your hair and clothes!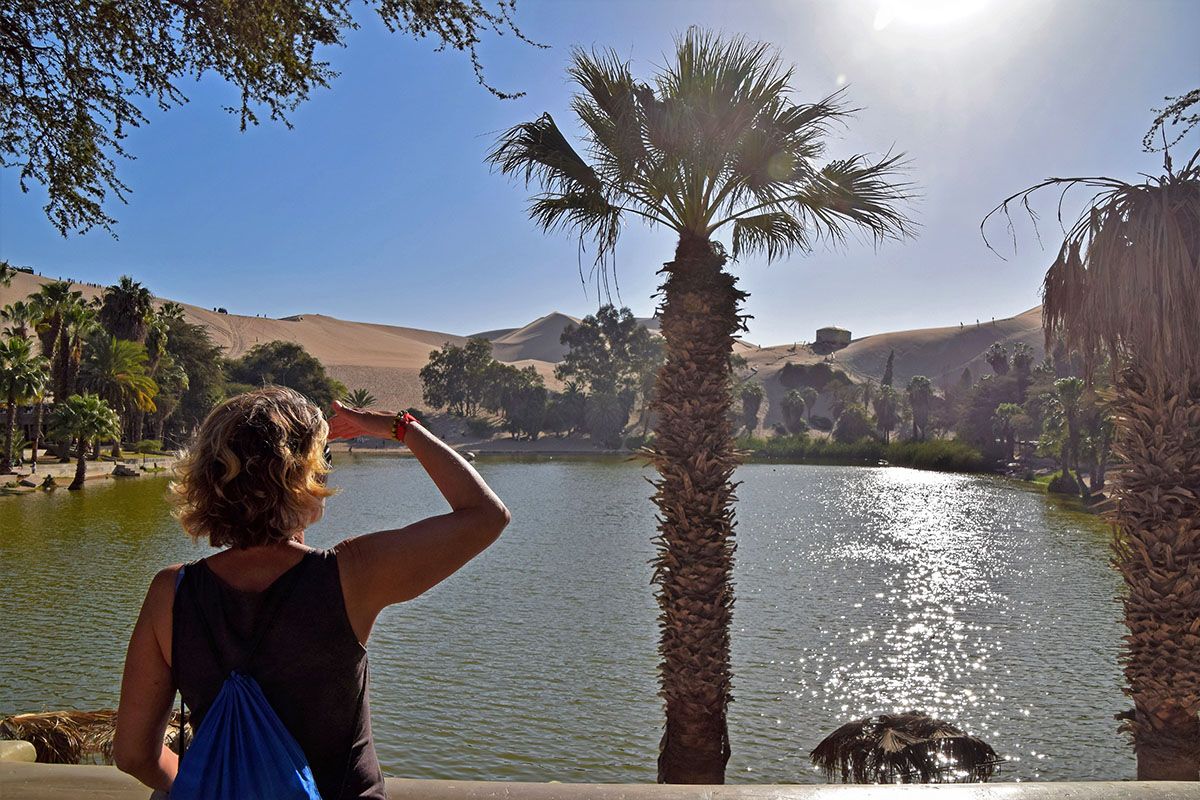 A few tips for your visit to Huacachina
Ask around Huacachina for a reliable buggy tour organiser and driver. You can book a tour through any hotel but there are a few drivers who drive irresponsibly fast and take many risks when descending.
In any case, you should bring sunglasses and a face towel (available everywhere in Huacachina). The sand gets in everything and you don't want to be biting sand all day during your trip. If you wear hard contact lenses, it's better to take them out during the ride.
Wear closed shoes, don't walk barefoot on the sand because it can be extremely hot.
We went in shorts and T-shirt. When sandboarding, you should make sure that your arms and legs really stay on the board and not hanging off the edge. This results in scrapes and even burns. In long trousers and long sleeves, you reduce the risk a little but you can still have bother if your arm or leg touches the sand during the descent.
Bring enough water and sunscreen in the buggy. It is best to leave your camera in the buggy when sandboarding.
Nevertheless, don't let these warnings stop you from experiencing the thrill of a dune ride and sandboard descent. If you follow the safety instructions, nothing will go wrong and you'll have an adrenaline rush for two hours! It's an experience for everyone, young and old.