Most people think champagne comes from the vineyards near Reims and Epernay. These cities are considered the champagne capitals of France. But there are more champagne regions in northern France. We spent a few days in the champagne region Côte des Bar, near the charming little city of Troyes. There, we encountered small champagne houses in equally small picturesque villages. At the kitchen table, we sat with the champagne farmer and his wife for a tasting. An unforgettable experience. Hence, the Côte des Bar champagne region is an ideal place to enjoy some bubbly. The beautiful nature with rolling hills covered with vines and quaint villages make this region an ideal holiday destination.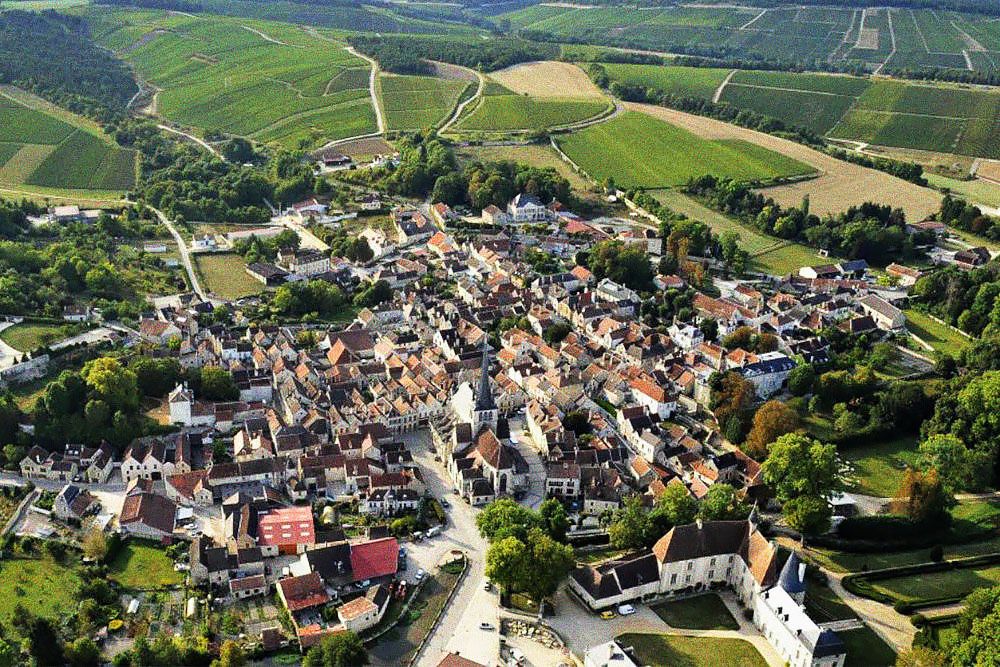 Champagne
Champagne is a sparkling wine. Only the sparkling wine made in the defined area in northern France is allowed to call itself champagne. The Benedictine monk Dom Pérignon is considered the one who discovered the method of preparing champagne, "méthode champenoise". In the 17th century, he was also the one who created the muselet, the wire basket that goes around the cork. The Moët et Chandon winery has therefore named its best champagne after the monk.
In our home country, people drink champagne mainly when there is something to celebrate. Naturally, corks pop at the new year. At a wedding, birth or a birthday, a bottle is sometimes placed on the table. It is very different in France, especially in the villages of the champagne regions. There, champagne is a drink that people drink at any time of the day.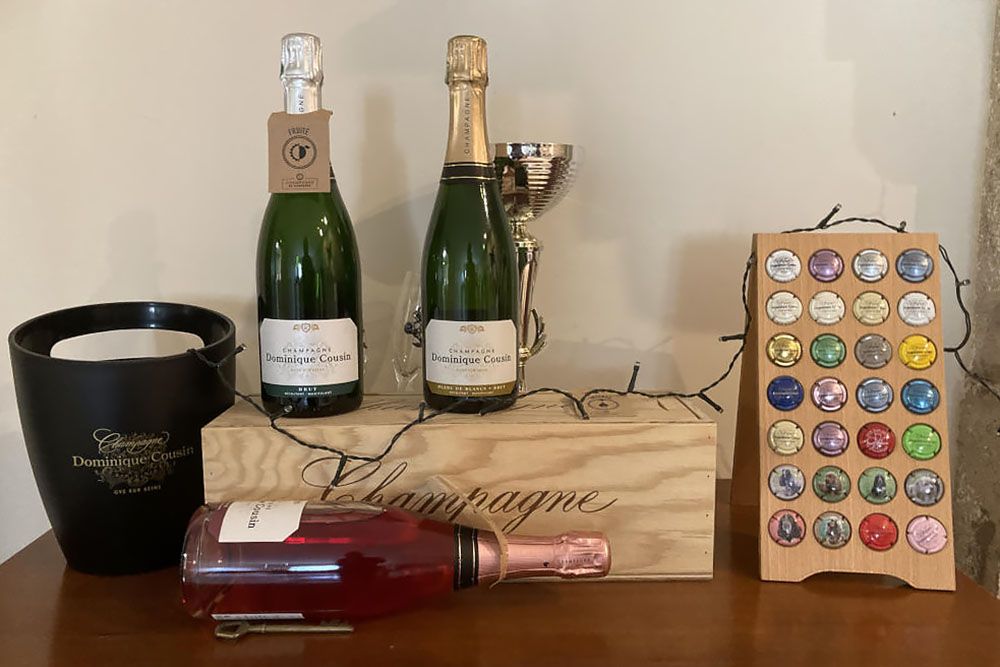 Regions in Champagne
Champagne has been a legally protected "appellation d'origine contrôlée" since June 1936, with strict area boundaries. Occasionally, these are changed. The last time this happened was in 2008. The Champagne region starts roughly from the French Ardennes and continues as far south as Langres.
The Champagne region has four regions:
Marne. This includes Reims, Epernay and Chalons-en-Champagne. This is known as the holy triangle of the Champagne region. You will find many renowned wineries.
Ardennes. This area is sparsely populated and very green. The main town is Charleville- Mézières.
Haute-Marne. Chaumont and Langres are the major towns in this region.
Finally, there is the Aube region. This region in the south-west of the champagne region has Troyes as its capital. To the south of Aube lies Côte des Bar. An unknown but oh-so-beautiful champagne region.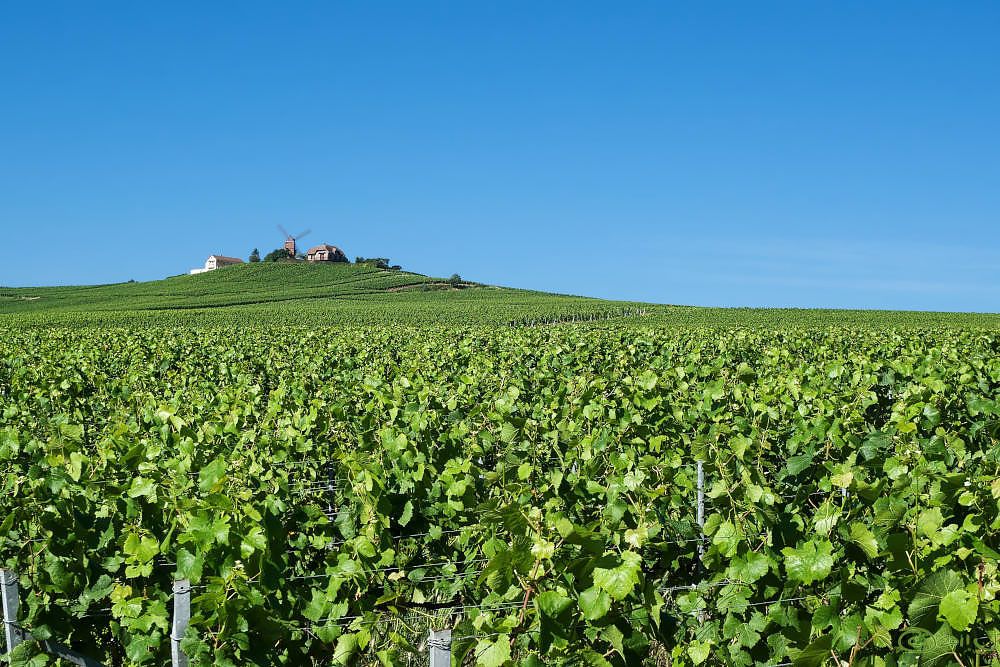 Champagne region Côte des Bar
This is France's southernmost champagne region. If you go even further south, you enter Burgundy. The area takes its name from the two towns of Bar-sur-Seine and Bar-sur-Aube. We leave those towns out during our visit. Our main aim is to discover the small villages in this unknown champagne region. That is the charm of Côte des Bar: no big commercial champagne houses, but small estates. Here, we have the chance to sip a glass of bubbly at the table with the owner and his wife and learn all about the unique production process of champagne.
The Côte des Bar champagne region used to be unpopular. Farmers sold their grapes to the big wineries in Reims and Epernay. Yields were not that high and the area was known as an inferior champagne region. That almost led to the decline of the official champagne classification a century ago. However, that intended action by producers from Reims and the surrounding area was unsuccessful.
Recently, winemakers have put a lot of time into renewed cultivation and production methods. The quality of champagne improved greatly and many new vineyards were added. This made the Côte des Bar champagne region increasingly popular. Still, the area is very much unknown to tourists. And that's a shame, because there are several nice villages to discover.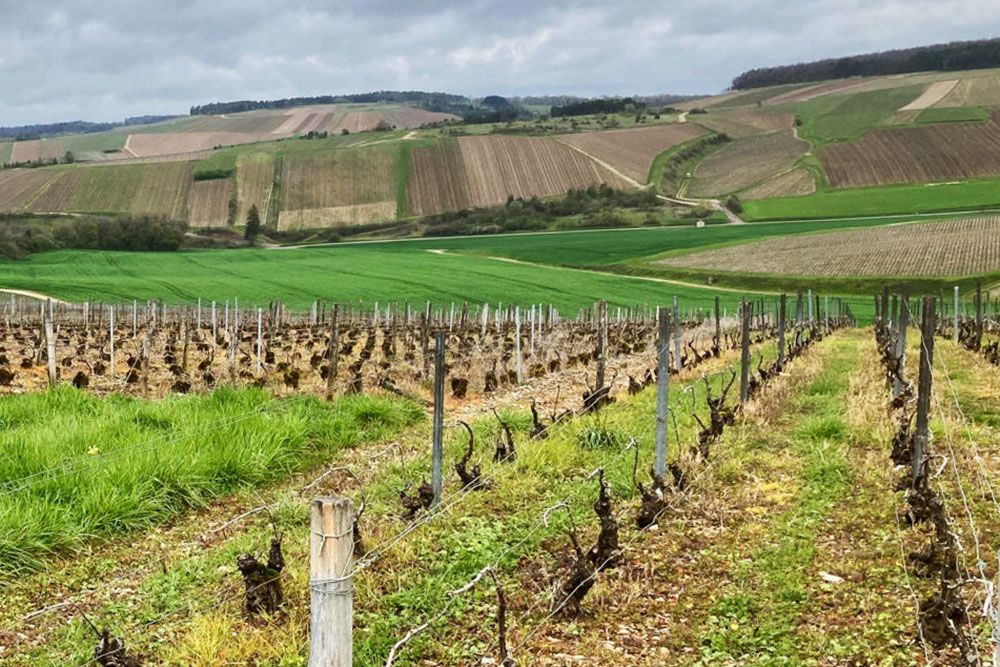 Les Riceys
Les Riceys is a municipality made up of three small villages: Ricey-Haut, Ricey-Hauterive and Ricey- Bas. Although the villages are not large, Les Riceys has an excellent reputation. It is the largest wine village in the entire Champagne region. In addition, it has the honour of even having three Appellations d'Origine Contrôlée (Champagne, Coteaux Champenois, Rosé des Riceys). The Rosé des Riceys is unique and famous. It ranks as one of the best rosé wines in the whole country. It was the favourite wine of Louis XIV, the Sun King.
Besides champagne and vineyards, the villages are all particularly charming. Beautiful cobbled streets, fine mansions, unusual churches and two castles give Les Riceys a handsome appearance. We are going to visit one of those castles. That's Chateau de Taisne in Ricey Bas.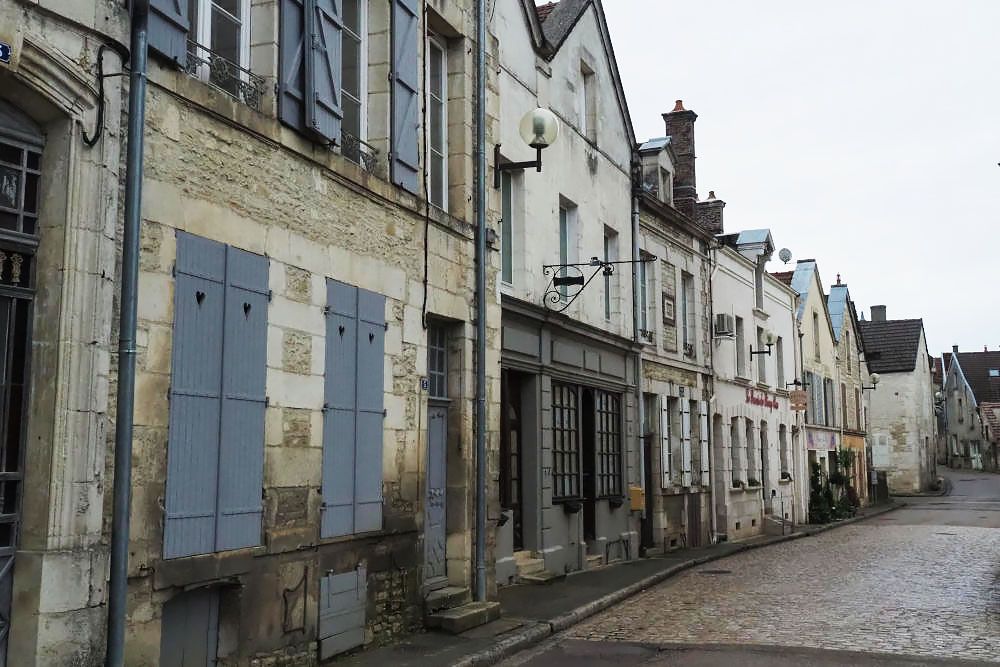 Château de Taisne in Champagne region Côte des Bar
Lord Charles de Taisne is already approaching us as we enter the grounds of Château de Taisne. He talks enthusiastically about the château. Robert de Ricey built a keep on this site in the 11th century. This tower was later destroyed. A new castle took its place in the 15th century. For a long time it was the residence of the bishops of Chalons-sur-Saône. Now, it has long been owned by the De Taisne family. For several years now, the owner of the château has been growing grapes on the vineyards of Les Riceys to make champagne. This champagne bears the name Taisne Riocour, a reference to the family names of Charles' parents. They breathed new life into the family vineyard from 1837.
We tour some of the castle's public rooms. These are used for weddings and other gatherings. Just at that moment, his wife Ségolène was showing an interested couple from Paris around. They were considering celebrating their wedding day at this romantic venue.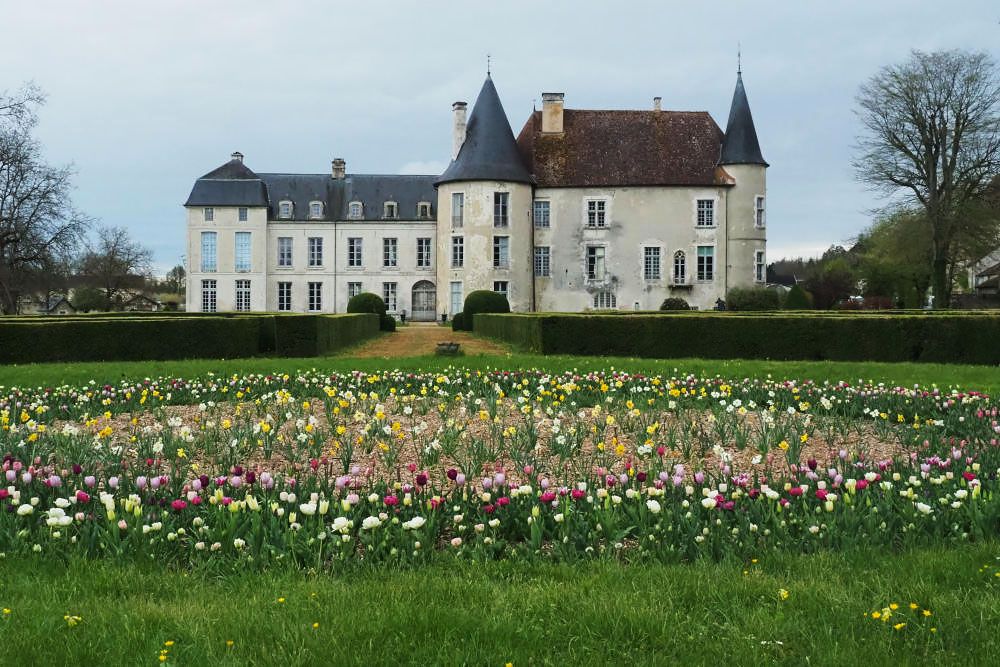 Behind the castle is a beautiful French-style garden. The tulips are just blooming and it adds even more atmosphere to the garden. The view from the garden is superb. The garden turns into a large park with avenues lined by immense plane trees. It's lovely walking in this park that covers some 50 football pitches. The castle opens up the park for walks. A picnic is even possible. We could hardly imagine a more idyllic spot.
Charles invites us for a glass of champagne in their living room. We didn't turn that down, of course. From their own estate, and all. The bride and groom-to-be also join us for a glass. Together with the homemade gougères (airy French cheese puffs), it was a tasty end to a memorable visit.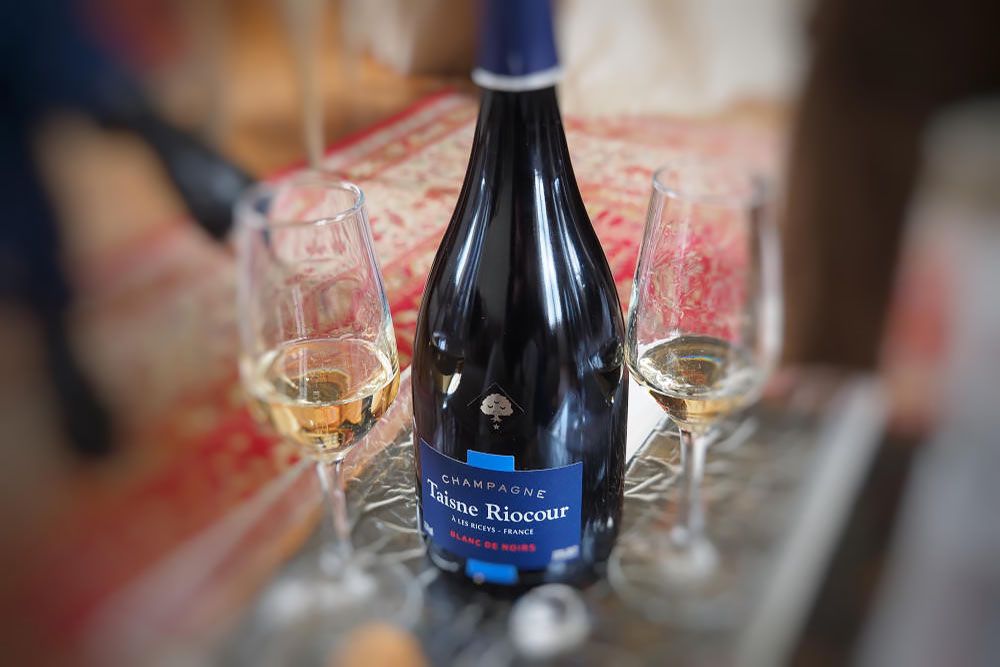 Essoyes, Renoir's village
On the River Ource lies the small village of Essoyes. Naturally, the place owns several champagne houses and vineyards. But perhaps Essoyes is best known for the impressionist painter Renoir.
Pierre-Auguste Renoir was a painter living in Paris. There he met his model Aline, a girl of simple descent from Essoyes. Ten years later, they married. They always stayed in Essoyes in summer. The village has a small but interesting museum on Renoir's life and work. There are none of his original canvases hanging up. Despite that, it is definitely worth a visit. Our guide Chris then takes us to his former home and studio.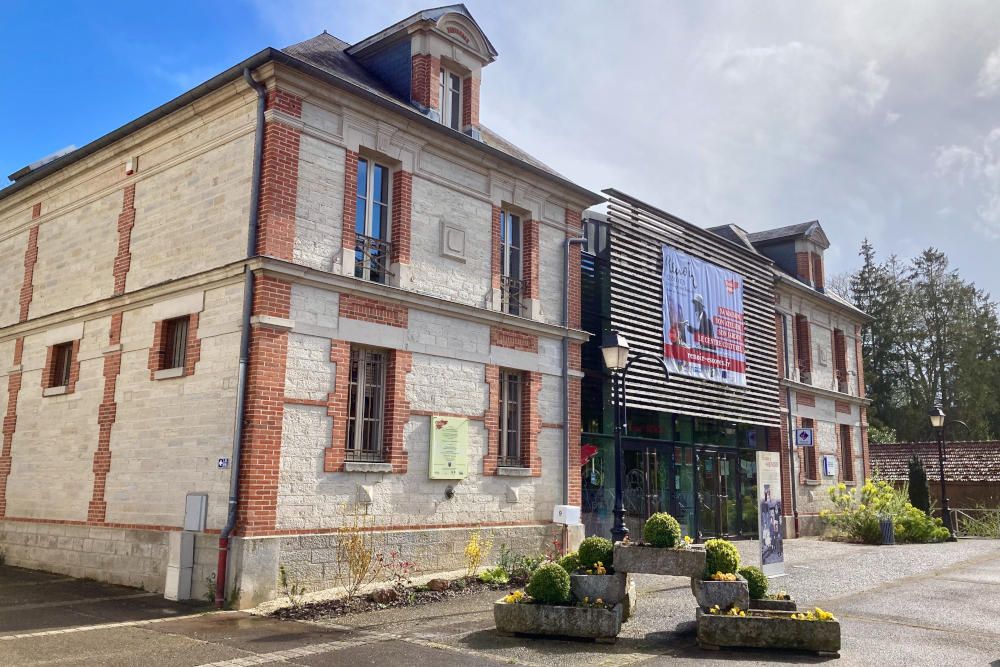 The house was also Renoir's studio for the first few years. Later, the family built a separate studio. This way, the children did not disturb Renoir's painting work. We also visited the studio. Among other things, there was the chest that was used to send paintings, also an old wheelchair belonging to the painter. Renoir increasingly suffered from rheumatoid arthritis that paralysed his fingers. To still be able to work, he tied the brush to his wrist.
Finally, we took a short walk around the village, past special places that reminded us of Renoir. For instance, we visited the grave where Renoir and his wife Aline are buried.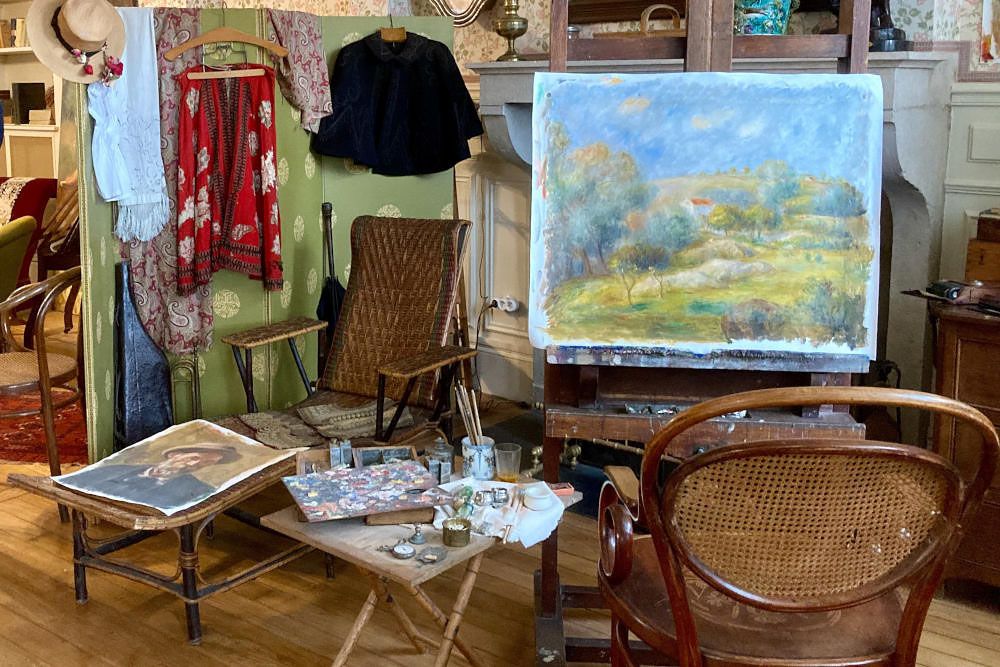 Gyé-sur-Seine in champagne region Côte des Bar
We are on our way to yet another small and, to us, unknown wine village. Gyé-sur-Seine has a few hundred inhabitants. It lies between the towns of Les Riceys and Essoyes. Our destination is Dominique and Marie Cousin's winery. Dominique and Marie talk incessantly about champagne production. They do everything in pairs. Only at harvest time do they use helpers to pick the grapes.
As a well-rehearsed duo, they show how champagne is fermented and then given its real cork. Because during the first fermentation, the champagne bottle temporarily has an ordinary crown cap. In a day, they process about 1,500 bottles.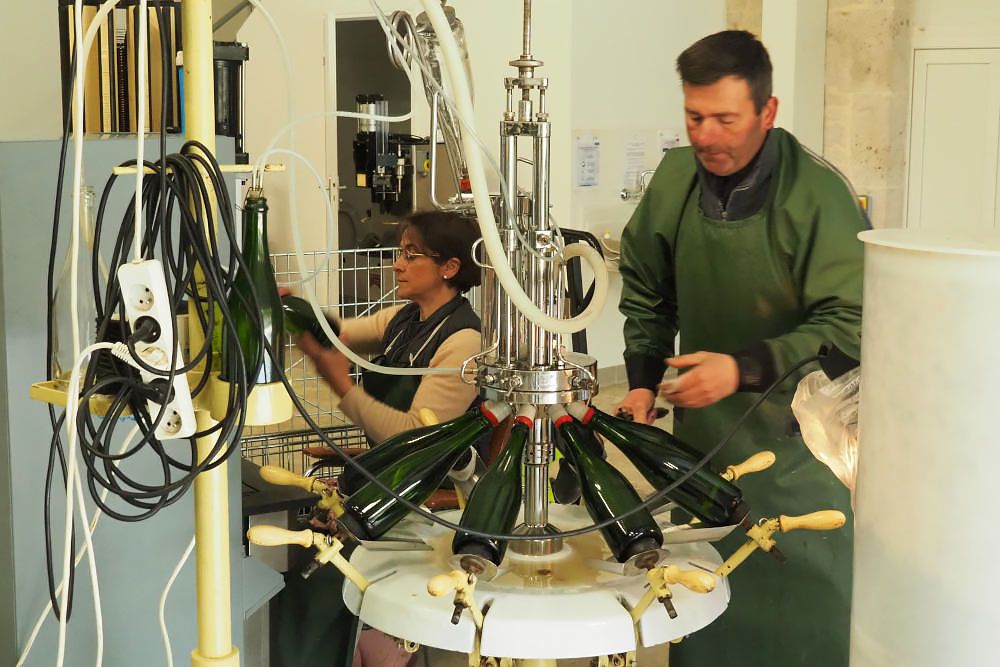 Dominique and Marie still use the traditional "dégorgement à la volée" method for this. At breakneck speed, they perform the following operations in succession:
Uncork the bottle
Dispose of the primary fermentation residue
Invert the bottle
Fill the bottle to compensate for the lost moisture (liqueur d'expédition). This mixture ultimately determines the type of champagne: brut, extra brut, sec, extra sec, etc.
Place the real cork
Attach the wire basket (muselet)
We are impressed by their work and speed. The process does raise our thirst, the champagne makers observe. So, they take us to the kitchen table and open a bottle. So just after ten o'clock, we sit down to our first glass of champagne of the day.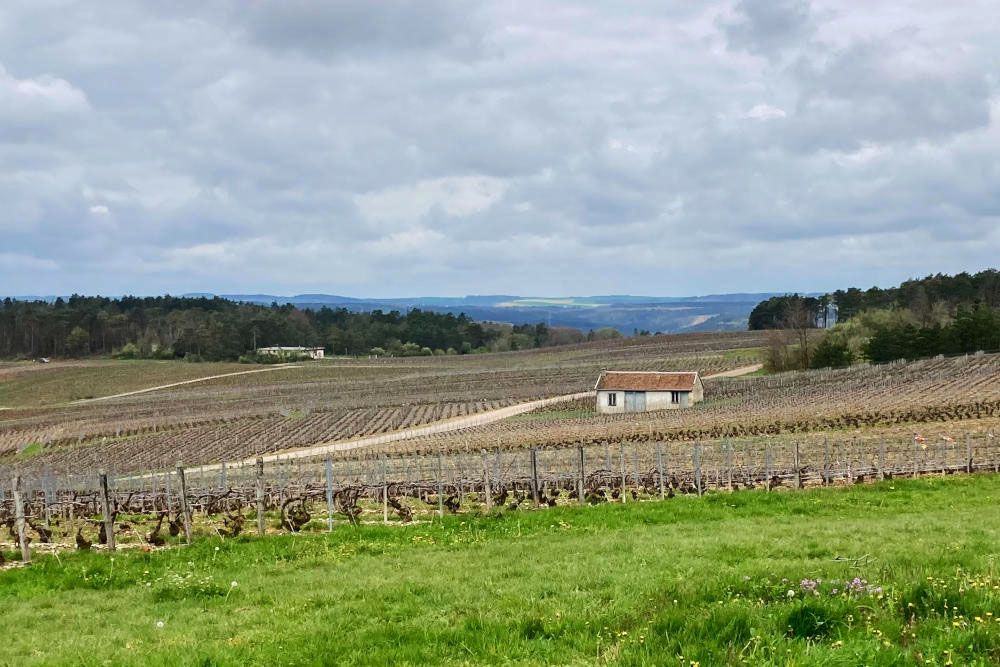 Cadoles, typical of Côte des Bars
Dominique and Marie take us to a beautiful viewpoint near their farm. From there, there's a great view over the rolling vineyards, fields and forests. At the point is a large statue of Mary. She watches over the vineyards like a guardian angel.
They then take us to the starting point of the walk past the cadoles, a typical phenomenon that is really only found in this region. Cadoles are dry stone houses on the edge of vineyards. They are made of flat stones laid on top of each other. No mortar, loam or other binding agent was used in their construction. They are shaped like an igloo. For the winter, it was a place to take shelter in bad weather. In addition, the cadoles served as storage space.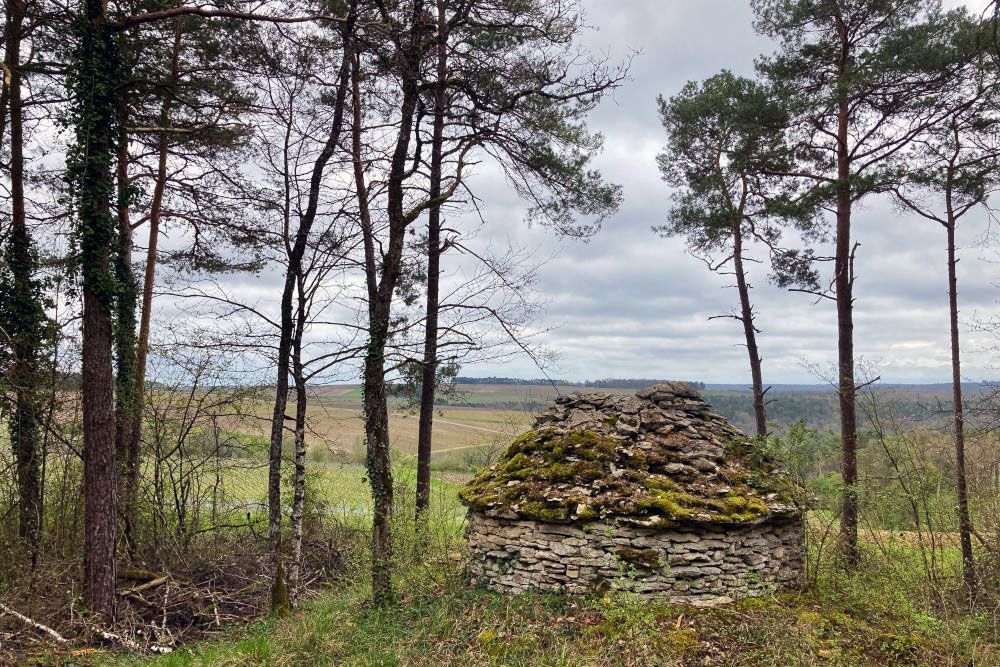 Most cadoles can be found in the area between Les Riceys, Courteron and Gyé-sur-Seine. They all have a number. This makes them easy to find on Google maps. They are often different in design. We come across them in several variations. The walk from Courteron also shows us the beauty of the landscape.
With this walk along the cadoles, a short visit to this unknown champagne region Côte des Bars came to an end for us. A reason for us to come back again, because this region still has a lot of beauty to offer. For instance, another thing on our wish list is to visit the picturesque Colombey-Les-Deux- Eglises. This village is also home to Charles de Gaulle's tomb. We also like Bar-sur-Seine, with its half- timbered houses.
At the invitation of Agence Régionale Grand Est, we visited the Côte des Bars champagne region. We compiled the content of the blog independently and objectively based on our own impressions.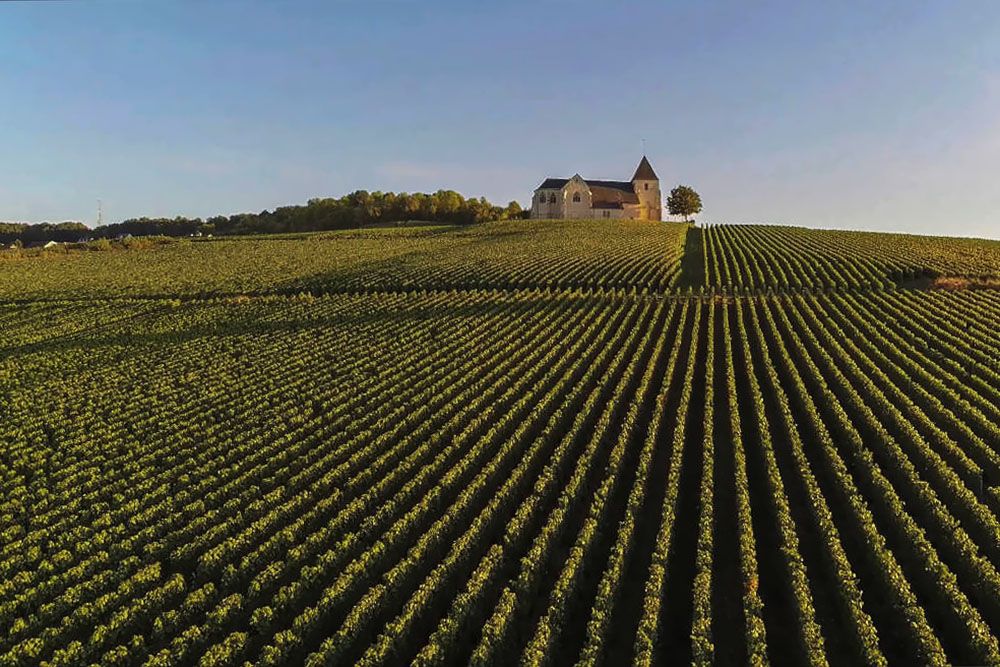 Frequently asked questions about champagne region Côte des Bar
Where is the Côte des Bar?
The Côte des Bar is the southernmost Champagne region. It is located in the Aube department and borders Burgundy. You can reach Côte des Bar in about 2 hours from Reims. The cosy city of Troyes is a 30-minute drive away.
How do I get to the Côte des Bar?
The easiest way to explore this Champagne region is by car. Then you can reach the various places quickly.
What are the nicest villages in Côte des Bar?
Les Riceys, consisting of three villages, is beautiful with fine mansions, several churches, some castles and many chapels. Another pretty village is Essoyes. If you are interested in the life and work of impressionist painter Renoir, this place should not be missed. Colombey- les-deux-Eglises and Bar-sur-Seine are pretty villages.
Which major champagne city is close to Côte des Bar?
Troyes is the nearest large city to the Côte des Bar champagne region. This cosy city with many half-timbered houses and other attractions, is an excellent base to explore the region. Troyes is about 30 kilometres away from Côte des Bars.
Where can I get a good meal in Côte des Bar?
What are good accommodation options in Côte des Bar?
Other topics you may be interested in